Although it might be a daunting task, decorating a home can be surprisingly exciting. After all, there are various choices to make. There are rooms to furnish, walls to paint and a decent quantity of upholstery, décor, and hardware to choose from.
Luckily, you're not the only one trying to create a beautiful space, and many interior designers are more than willing to provide tips on how to decorate a home.
So whether you want to give your house a quick makeover or take on a major renovation, these tips might help you!
Tip #1: Add Color to a Wall
One of the most economical decorative changes you can make to your home is painting the walls, and even painting one wall is a cost-effective (and incredibly cool) improvement.
Tip #2: Use A Slipcover To Give A New Look
To give your area a fresh look, get a basic slipcover as opposed to a brand-new sofa.
Tip #3: Remove Unattractive Items 
Consider what you should get rid of before worrying about what you can and cannot afford to acquire. Items that are out of date, worn out, or damaged may be ruining the appearance of your home. If they're not necessary, getting rid of them might offer your home a fresh start.
Tip #4: Enhance Your Curtains With Trim
Instead of purchasing new curtains, upgrade your current set by adding an iron-on accent to simple curtain panels.
Tip #5: Add Framed Prints
A room can be completely changed by framed images, which don't have to be pricey. Try your hand at creating your own work of art and frame it to hang alone or as a component of a gallery wall if you're truly up for the challenge.
Interesting Reads:
DIY Home Decorating Tips - Cheaper Ways To Update Your Home's Look
Home Staging Tips For Beginners For An Easy Sale
Everything You Should Know About Home Renovation And Transforming A Home On The Market
Tip #6: Use Faux Plant
Faux plants can be used to create stylish décor at an affordable price. Choose a cost-effective solution, then present it on a lovely stand or in a custom-made pot. 
Tip #7: Buy It On Sale
Try to purchase it on sale if you have your heart set on something that is out of your price range. Get notifications or sales alerts from shops you want to get an email or SMS in advance if any of their items will reduce its price soon.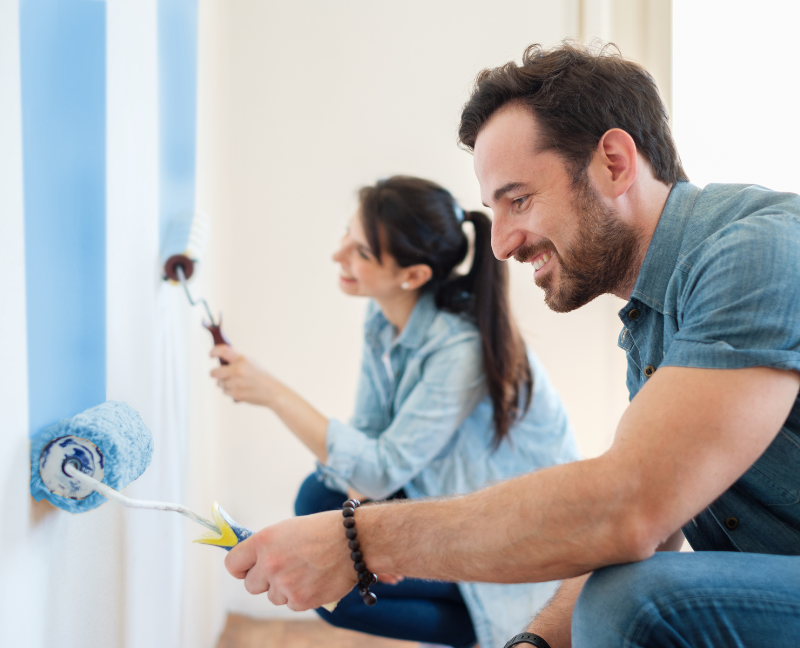 Tip #8: Organize Cords
Cord concealers are available from reputable sellers like Amazon. Making your home appear effortlessly tidy and organized will depend greatly on if you can hide unsightly cords and wires from the TV or light fixtures. 
Tip #9: Re-Decorate An Old Ladder
Your garage's rusty wooden ladder might become your newest favorite decorative item. Use one to keep extra towels or throw blankets after cleaning it up with some sandpaper and possibly a coat of paint. 
Tip #10: Visit A Flea Market
Purchasing used (pre-loved) furniture and home accessories is a terrific method to save money on items that would otherwise be quite expensive. You never know what secret treasures you'll find in a flea market or thrift shop. 
Tip #11: Re-Paint An Old Table
You can give an old-end table a brand-new look with a little paint and creativity. Think about adding gold paint to the edge of a plain black piece. 
Tip #12: Use Plate Sets As A Wall Art
Plates may make for some very stylish wall décor whether you never use the china from your wedding or the set you scored from an H&M sale. Install the customized plates on an empty wall for a quick update.
Tip #13: Re-Decorate Old Vase
Want to add a beach vibe to your room? Then using a glue gun and jute rope, re-decorate an old vase or dish for a rustic touch.
Tip #14: Update Kitchen Cabinets
The kitchen is one of the most utilized rooms in the house, so painting the cabinets will give it an instant facelift.
Tip #15: Move The Furniture
Looking for ways to decorate a home on a budget? Well, your wish is our command!
One of the cost-free decorating concepts simply needs creativity, time, and muscles. By rearranging the furniture, you can give your space a fresh feel.
Tip #16: Personalized Bookcases
Re-design a bookcase either by repainting or using removable wallpaper. 
Tip #17: Purchase A New Mirror
A new mirror hung above the vanity or sink is the fastest way to update an outdated bathroom. Luckily, there are many reasonably-priced options you can choose from online.
Tip #18: Recycle Wine Bottles Into Vases
After your next dinner party, save a few wine bottles and turn them into unique vases. With a little hot water and soap, the labels come right off, leaving behind a slim vase suitable for containing a few fragile stems. 
Tip #19: DIY Woven Baskets
You can find affordable woven baskets at almost any retailer, online and offline.
Woven baskets are only good at keeping your space clutter-free; it also gives a quick Bohemian touch to the room.
Tip #20: Mix And Match
Eclectic designs are frequently the simplest to reproduce across the board for interior design. Why? Mixing, not matching, is the key to this aesthetic. It will be far more economical to search for furniture and décor because there is no need to acquire a certain side table or that precise shade of blue.
These are just some decorating tips on a budget that you can consider. If you have more techniques, feel free to share them in the comments below.