To celebrate and honor the life and achievements of Dr. Martin Luther King Jr., numerous establishments in Indy are Offering Free Events and Admissions this Monday, January 16, 2023.
3000 N Meridian Street, Indianapolis, IN 46208
Phone 317-334-4000
Free Admission! Some special events may require advanced tickets.
Celebrate and enjoy special activities and performances dedicated to the achievements and legacy of Dr. Martin Luther King Jr. at the Children's Museum this January 16, 2023, from 10 am - 5 pm.
13400 Allisonville Road, Fishers, IN 46038
Phone: 317-776-6000 or 800-966-1836
Tickets are only available at the ticket desk on the Day of the event.
Celebrate Identity, Belonging, Community and Love throughout the Day
this January.
500 W Washington St. Indianapolis, IN 46204 | 10 am - 5 pm
(317) 636-9378 | Free Admission
Celebrate Martin Luther King, Jr. Day by learning about famous quotes from Dr. Martin Luther King Jr. and participating in a community art project at the Eagle Commons Hallway.
Eugene and Marilyn Glick Indiana History Center
450 West Ohio Street, Indianapolis, IN 46202
(317) 232-1882 | Free Admission | Donations Encouraged
Storytelling, service activity, musical melodies, and beats of Keisha Ballinger and the University United Methodist Church Praise Team await everyone visiting the Indiana Historical Society on Martin Luther King Jr. Day, Monday, January 16, from 10 am - 5 pm.
Those who wish to contribute to a local community project can bring new children's clothes, books, or cash donations for Charity Cares Early Academy. 
650 W Washington St. Indianapolis, IN 46204
(317) 232-1637 | Free Admission | Donations Encouraged
Celebrate Dr. King's dream and explore the story of the fight for civil rights. Learn some of Dr. King's most iconic speeches and experience activities themed around civil and human rights. 
Visitors who plan to make donations are encouraged to make monetary donations of any amount via Dip Jars to Gleaners Food Bank instead of non-perishable items.
1200 W Washington St, Indianapolis, IN 46222| 9 am - 4 pm
317-630-2001 | Free Admission
Everyone with generous hearts and a sense of adventure are invited to the Zoo! Hardier animals will be out to enjoy the Day, including Arctic foxes, sea lions, walruses, tigers, brown bears, and others. 
The Zoo is Open for Free on Martin Luther King Jr.'s Day. Donation dip jars will be on site for monetary donations benefitting Gleaner's Food Bank. Food pantry donation items will be given to The Exchange at the Indianapolis Urban League.
Walker Theater 617 Indiana Ave., Indianapolis, IN 46202
(317) 236-2099 | Free event, but registration is required.
Madam Walker Legacy Center is a 501 C3 non-profit organization and Indiana Avenue's last iconic building dedicated to promoting and supporting cultural education, social justice, entrepreneurship, and youth empowerment.
This Monday, January 16, 2023, at noon, they will be hosting their 41st Annual Day of Celebration with their featured speaker Tamika D Mallory, Time 100's award-winning social justice leader and movement strategies.
Get your Free Tickets Here!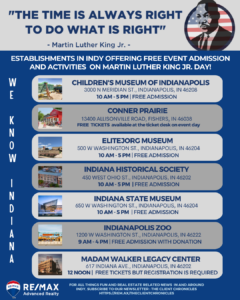 Note: We've rounded up the list based on the information these establishments have posted on their website and official social media accounts and have no control over any changes or ticket availability; we've provided links to their official website; feel free to check to confirm before going.
If you're a home buyer searching for a home, RE/MAX Advanced Realty's roster of real estate agents is READY TO ASSIST YOU FOR FREE throughout the year! Give us a call at 317-298-0961 or visit our website at www.indyhomepros.com 
RE/MAX Advanced Realty just listed the Iconic Mug-n-Bun for Sale! This vintage drive-in has been serving fine food on Indy's West side since 1960. Located just a stone's throw away from Indianapolis Motor Speedway, Mug-n-Bun has been a staple to the community for 63 years. They have served generations of Speedway diners, including race lovers, tourists, and Hoosiers.
Featured on an episode of the television series Man Vs Food,  Mug-n-Bun Indiana is well known for their burgers and homemade root beer . They also serve tenderloins, hand-dipped onion rings, milkshakes, and healthier options like grilled chicken, salads, plus so much more! Mug-n-Bun has something for everyone, and one can eat however they want with their various dining options - In car service for the drive-in traditionalists, at their outside picnic area, or at their indoor seating.  They also accept call-ins for pick-up orders and offer the option to rent their facilities for special events.
Currently owned by master electrician Jay Watson, the business was purchased 23 years ago as his retirement project. Now that he is 63, he decided that he is ready to get out of the restaurant business, hence the decision to put the booming restaurant business up for sale.

Listed at $2,199,000 by RE/MAX Advanced Realty's top commercial agent Keith Turnbill, 5211 W 10th St. Speedway, IN 46224 is located right at the heart of Speedway on nearly 2.50 acres.
The sale includes:
The drive-up restaurant
A sit-down restaurant
A pizza shop
A residence
Plus, all the restaurant's equipment, furniture, and fixings.
All that one could need to keep the business running.
In an Interview with Indy Star, Mug-n-Bun owner Jay Watson said that he is proud of both the service and delicious food they have served throughout the decades.He hopes that whoever buys the Mug-n-Bun will continue the business. If there's one piece of advice he can give to whoever buys his business, it's the same advice he received shortly after taking over. "Don't change anything" If ain't broke, don't fix it.  With over 3000 positive Mug-n-Bun reviews  on their google page, many agree with Mr. Watson.
Have you already dined at Mug-n-Bun in Indiana and tried the Mug-n-Bun special? What are your favorite dishes?How do you feel about the sale of this iconic Drive-in in Speedway? What's your favorite memory while eating at this diner? Leave your thoughts in the comment section below!
If you have any real estate related questions about the listing, contact RE/MAX Advanced Realty Greenwood Office's Head of Commercial Division, Keith Turnbill at 317-626-0800 or drop by our office at 65 Airport Pkway Ste 140 Greenwood, IN 46143
Thinking of a fun activity this holiday season? How about watching Christmas Light Displays? Walk or drive through with friends and family, and watch glistening shows of Christmas lights sparkling in the night sky this Holiday season at different locations in and around Indy.
Blue Jacket's Fantasy of Lights
Franke Park
3411 Sherman Blvd, Fort Wayne, IN 46808
Available through December 31
Sun- Thurs 5:30 pm - 9:00 pm
Fri - Sat 5:30 -10 pm
$10 / personal vehicle
$20/ 15 passenger van
Feast your eyes and witness over 110 larger-than-life displays and 270,000 LED lights as you drive through a winter wonderland.
Charley Creek Gardens Yule Time Stroll
Charley Creek Gardens
551 N. Miami St. Wabash
Dec. 13 - 23
6 pm - 9 pm
Free
Families and friends can walk through the garden with beautifully lighted pathways for free this holiday season! A special holiday treat awaits if you Stop by the Education and Resource Center.
Indianapolis Zoo
1200 W Washington St, Indianapolis
Available Until December 30
5 pm - 9 pm
Until 10 pm every Fri- Sat
Prices at the Gate:
Adult $32.75
Child $28.75
Senior $30.75
Children Under 2 Free
50% off on select days if you purchase tickets online.
Voted in the Top 5 of USA Today's 10 Best Zoo Lights for three years in a row, Christmas at the Zoo Indianapolis is a fantastic location for the entire family to see the animals and enjoy the warm glow of the holiday lights.
Indiana State Fairgrounds
Available Until January 1
6 pm - 10 pm
$30/ car (up to 8 passengers in a single vehicle)
$50 for 9-15 passengers
Jam to Christmas music played through your car stereo as you watch Indy's largest synchronized light show with over 1 million lights.
Merry Madison & More Lights Tour
Madison Main St.
601 West First Street, Madison
Available Until Dec. 31
Free
Enjoy a magical driving tour experience around Madison for free! The town is all lit up, from Main Street, the Historic Broadway Fountain, Festival of Trees, the Riverfront, and Hanover Tinsel Twinkle Trail to all the businesses and residents taking part in the tour.
NEWFIELDS
4000 N Michigan Rd, Indianapolis
Available Until January 8
Ticket Prices Vary, and Advanced Tickets are Required.
Take a stroll in the historic garden and experience the wonder of over a million and a half lights glittering on one-hundred-year-old trees. The Landscape of light has a new feature " Huckleberry Funk's cover of Donny Hathaway's "This Christmas," and Old favorites return, including Landscape of Light dancing to the Nutcracker with the historic Lilly House as the backdrop.
Be sure to visit their official website for more info on the light displays mentioned above.  If you're looking for a new home this holiday season, we can help! Visit www.indianapolisrealestate.com or call 317-298-0961 to speak with a trusted real estate professional.
Home is where the heart is; for many, that's in Indiana. It is sometimes referred to as "The Crossroads of America" due to its central location and extensive network of interconnected roadways.
You might ask, "Is it a good idea to move to Indiana?" To answer your question, this article will outline some of the most captivating and significant advantages of relocating to Indiana, whether you are looking for apartments for rent in Indianapolis or homes within the state.
Many tourists and families with young children choose to have their vacations in this state because it is a well-liked vacation destination.
In addition, some of the questions you have can be answered by reading the rest of this post. However, you should get yourself ready because we will go over several essential benefits of why you should consider moving to Indiana.
Why Should You Move To Indiana?
Below are the seven fascinating pieces of info about moving to Indiana that you may indeed consider why you should move to Indiana:
1. AFFORDABLE COST OF LIVING
The cost of living in Indiana is around 18% lower than the average in the United States, making it one of the most affordable states in today's country to make your home. This can be attributed partly to the fact that the cost of housing in Indiana is far lower than the average cost across the country. Because Indiana has a relatively low cost of living compared to other states, it is easier for people to make a living there. The average sale price of a home across all 50 states is $412,000, whereas the median sale price in Indiana is $255,000. This compares to the national average sale price of a home, which is $412,000.
2. ACCESSIBILITY TO NATURE
The Indiana Dunes National Park and the Indiana Dunes State Park can be found in the area located further north and next to Lake Michigan. Both of these parks may be found in the Indiana Dunes region. More than 200,000 acres of property are included in the Hoosier National Forest, which may be found in the state's southeastern part.
Living in Indiana has its benefits, one of which is the state's commitment to preserving its natural resources. In addition to its state parks, Indiana is also home to three national parks, making the total number of parks in the state a stunning 24. You can also have access to a large number of lovely green parks as well as other amazing outdoor sights if you want to move to Indiana.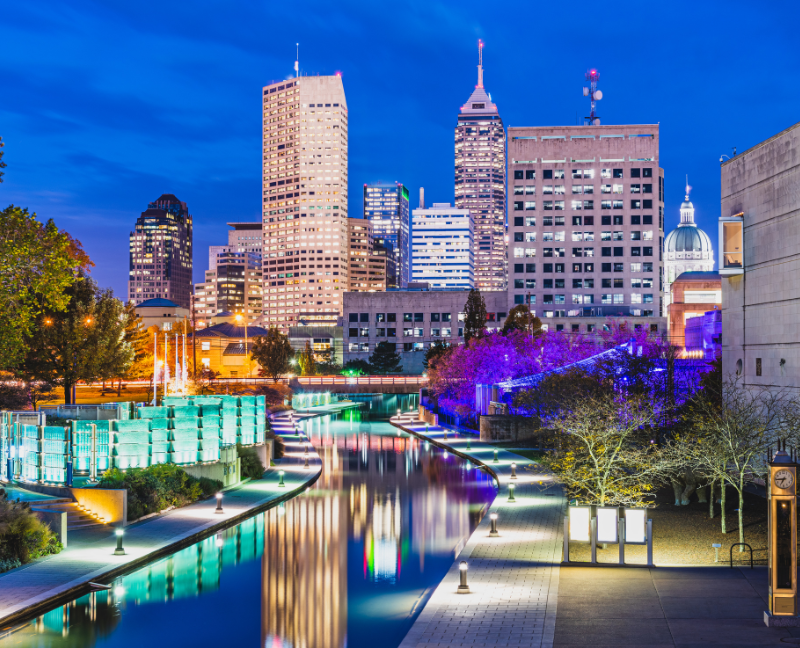 3. THE THRIVING FOOD SCENE IN INDIANA
You'll be able to satisfy almost any food craving in Indiana, which is home to various restaurants serving various cuisines. The state of Indiana, also known as the "Hoosier State," is well-known for a variety of different foods, including peanut butter and hamburgers, chicken and waffles, dough, chili and noodles, and popcorn. The state's restaurant and food scene are very fantastic. A fun fact is that Orville Redenbacher, famous for the popcorn brand that bears his name, was born in Indiana.
4. THERE IS MINIMAL TRAFFIC
If you have ever lived in a city or a city-like location with a lot of traffic, like New York City, Chicago, or Atlanta, you are familiar with the battle it can be to get to and from work on time, as well as to keep dinner reservations on schedule. Moving to Indiana will allow you to spend less time commuting. Also, you can have more time to engage in the activities you enjoy, whether settling in a large city or a small town. There is some road traffic on busier roads, but it is still manageable.
5. YOU HAVE A LOT OF THINGS TO DO
You can also go to Lake Michigan and participate in sports like boating, kite surfing, scuba diving, and fishing while you're there. Indiana offers quite a few to choose from if you're interested in visiting museums, including the Indianapolis Museum of Art, the Children's Museum, and the Indianapolis Motor Speedway Museum, amongst others. In addition, day visits to neighboring cities such as Chicago or Cincinnati are easily accessible from Indiana, making this state an excellent choice for vacationers.
Click this link to check out more fun activities to do in Indiana.
6. THE WEATHER
If you appreciate living in a place where you can experience all four seasons and their benefits, you should move to Indiana. The summers are mild, with highs averaging approximately 85 degrees. Despite this, the winters may get chilly and snowy, with the lowest temperature averaging 18 degrees in January.
7. THE SPORTS
Not only do the educational programs of Indiana's colleges consistently rank among the best in the nation, but the state's universities also have a strong reputation in the realm of collegiate athletics. The state of Indiana is home to Indiana University and Butler University, both renowned for their basketball programs. The University of Notre Dame has one of the oldest football programs in the country. As a result, it is nationally recognized for its college football team.
Several professional sports clubs, such as the National Football League's Indiana Colts and the National Basketball Association's Indiana Pacers, call the state of Indiana their home (NBA). Last but not least, this state is the site of two iconic auto races, the Indy 500 and the NASCAR Brickyard 400, both of which you should watch.
In the United States, Indiana is one of the states with some of the most breathtaking natural attractions, as we can see from the information presented above. It is a good idea to move to Indiana if you want to move to a city with affordable housing options, a low cost of living, and a thriving art and music scene.
Living in Indiana is a wise decision because of its high level of safety and protection. Some one-off events take place here every so often, which can make things more entertaining. Indiana is an excellent choice for those looking to move to a state that offers a higher quality of life.
If you're interested in moving in or buying a new home in Indiana, REMAX Advanced Realty is here to help. Reach out to us by clicking this link. 
Tis' the season to be jolly! A feast for your senses awaits Hoosiers and everyone visiting the Hoosier state this holiday season with all the fun and festive things happening in and around Indy. Below is our must-see guide that will surely get you into the holiday spirit!
401 E Michigan St, Indianapolis, IN 46204
Thu, Dec 1, 2022 - Sun, Dec 4, 2022
Thu, Dec 8, 2022 - Sun, Dec 11, 2022
Thu, Dec 15, 2022 - Sun, Dec 18, 2022
Located in the heart of Mass Avenue's Arts District is the Christkindlmarkt, where you can be bright this holiday season and feast your senses with live entertainment, good food, and drinks.
1200 W Washington St, Indianapolis, IN 46222
November 19 - December 30 ( Close Christmas Eve and Christmas Day)
A beloved holiday tradition now its 53rd year! Meet Santa and Mrs. Clause while visiting your favorite animals at the Indianapolis Zoo. Beautiful new decors have been added to enhance your holiday experience.
Enter at Gate 12 - located on 42nd Street
Nov 11, 2022 - Jan 01, 2023
ONLINE RESERVATIONS ARE REQUIRED
Witness a synchronized show of over a million lights and Christmas music played through your car stereo.
501 Madison Ave, Indianapolis, IN 46225
This December Classic Activity is a guided tour through the monument circle to see the beautiful holiday lights, along with a few other downtown spots that have holiday cheer.
The Amp Marketplace at 16 Tech
1220 Waterway Blvd, Indianapolis, IN 46202
Every Saturday from November 5, 2022, through April 29, 2023
Take family and friends to enjoy live music and good food, let kids play in the area, and find some of Indiana's best local produce, artisan food, sustainably raised meats, dairy products, unique baked goods, and more!
Eiteljorg Museum of American Indians and Western Art
500 West Washington Street, Indianapolis, IN 46204
Sat, Nov 19, 2022 - Mon, Jan 16, 2023
Get into the holiday spirit at Jingle Rails: The Great Western Adventure G- scale model train wonderland.
More than 30 features, including:
Indianapolis Motor Speedway
Indianapolis' Soldiers and Sailors Monument
Lucas Oil Stadium
OneAmerica Tower
Mt. Rushmore
The Grand Canyon
Old Faithful geyser (it actually erupts!)
Golden Gate Bridge
Las Vegas Strip
Hoover Dam
The Children's Museum of Indianapolis
3000 N Meridian St, Indianapolis, IN 46208
Santa is very busy this time of year, but he's made some special arrangements - from Gingerbread Houses to Countdown to Noon and everything in between. Create holiday memories with your family at the special Jolly Days events with The Children's Museum!
Indiana State Museum and Historic Sites
650 West Washington Street, Indianapolis, IN 46204
9am - 10am | Dec. 2, 9 , 16, 23, 30
Families with kids aged five and under can come to the Indiana State Museum during the early opening hours to engage in interactive story times with Santa, North Pole elves, a ride on the Snowfall express through a winter wonderland, and more.
Historic Athenaeum (December 1 & 2)
Arts for Lawrence's Theater at the Fort (December 15, 16, 17 & 18)
Enjoy 8 Winter Classic Movies and a free hot chocolate with every ticket at the Heartland Film's Merry Movie Nights.
It's a Wonderful Life ( with Ugly Sweater Contest)
Thurs | Dec 1 | 7 pm
A Christmas Story
Fri | Dec 2 | 7 pm
The Grinch
Thu | Dec 15 | 6:30 pm
Elf
Fri | Dec 16 | 6:00 pm
White Christmas SING-A-LONG
Fri | Dec 16 | 8:15 pm
The Polar Express
Sat | Dec 17 | 6 pm
White Christmas
Sat | Dec 17 | 8:15 pm
National Lampoon's Christmas Vacation
Sun | Dec 18 | 7 pm
Tinseltown: Where Everyday Is Christmas (Indianapolis)
Nevermore Union Station
39 W Jackson Pl, Indianapolis, IN 46225
A pop-up bar for those over 21, and family-friendly sessions are available for those under the drinking age. This event is overflowing with holly, jolly Christmas spirit - expect Santa, elves, presents, tinsel, festive tunes, and lots of winter warmer drinks.
Eugene and Marilyn Glick Indiana History Center450 West Ohio Street, Indianapolis, IN 46202
5 pm - 8 pm | Dec. 6, 13, 20
The perfect downtown spot for fun and libations as IHS will open late with special evening hours during the Festival of Trees on select Tuesdays, where visitors can view the beautiful and specially-decorated trees after dark. Adults over 21 can sample a selection of bourbon.
NEWFIELDS
4000 Michigan Road, Indianapolis, Indiana 46208
5 pm - 9 pm |Nov. 20 - Jan. 8 2023
The tradition continues at the Garden at Newfields with more than a million and a half lights aglow, bringing wonder and warmth to the holiday season.
The events we've listed above are based on the research we've conducted and are subject to change, make sure to visit the event's official website for updates and complete details of the deals.
Curious about Indiana's current real estate market? Below are the Market Statistics comparing October 2022 transactions to the prior calendar month (September 2022) and the same time in the preceding year (October 2021).
Single Family Homes - October 2022 Market Statistics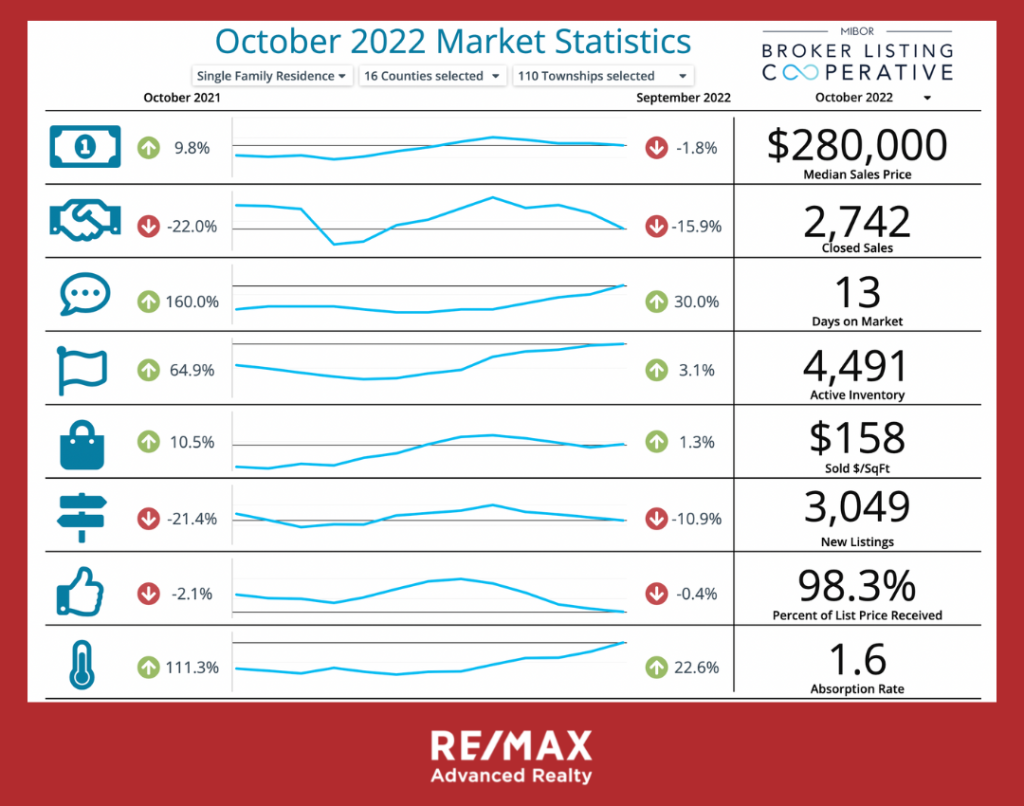 Condos - October 2022 Market Statistics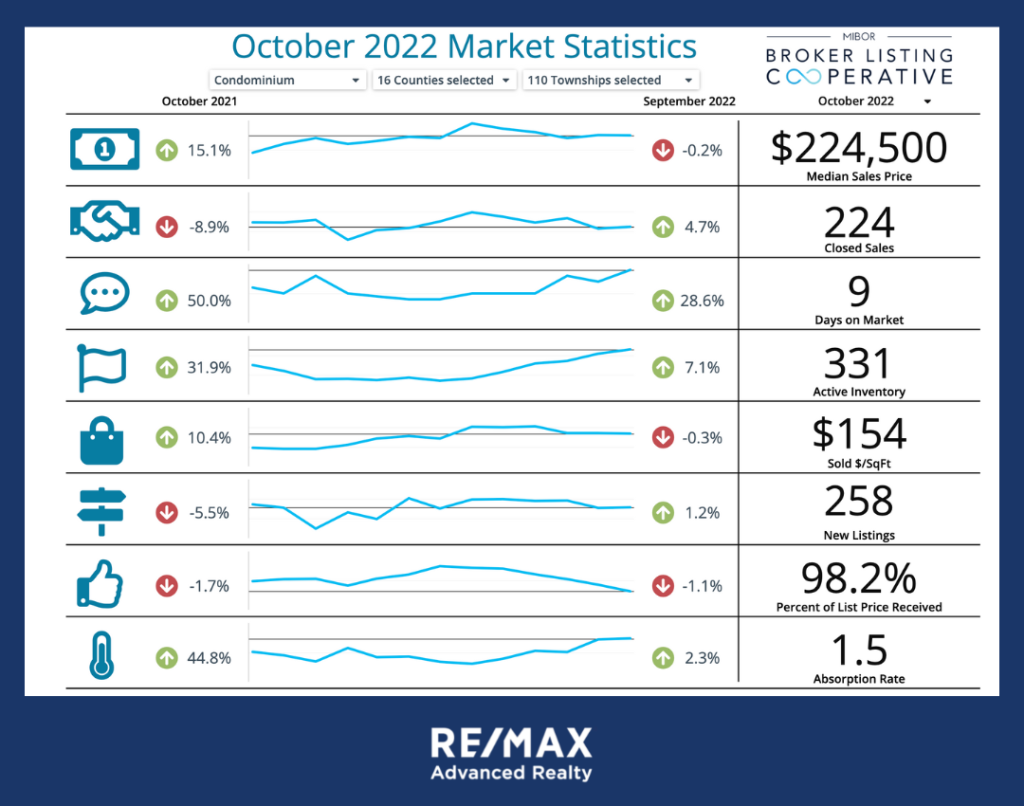 For October 2022, closed sales for single-family homes dropped to 15.9%, while condos increased by 4.7% compared to the previous month. For both markets, closed sales dropped as compared to October 2021; 22.1% for single-family homes and 8.9% for condos. However, median sales prices remain higher in comparison to the same month in October 2021 - single-family homes increased by 9.8%, and condos increased by 15.1%. Single Family Homes were on the market for 13 days, about 8 days slower, while condos were for 9 days or about 3 days slower during the same period last year.
Given the current interest rates, it is not surprising that home sales in October were down compared to the same time last year. However, home prices continue to climb, which is very different compared to the usual housing history. It's interesting to see the changes in the market, and if you are looking to buy or sell, it is important to work with an experienced real estate agent to help you navigate the market.
Below are RE/MAX Advanced Realty's October 2022 Transaction and Total Sales Volume Statistics.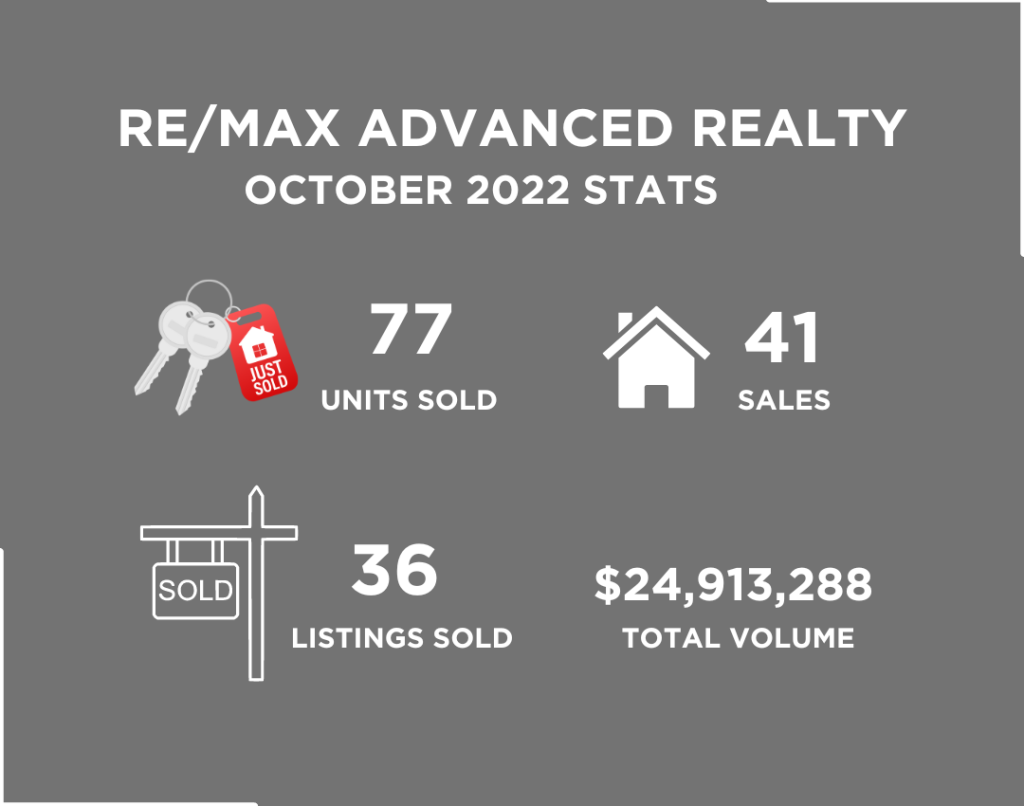 Reach out to your RE/MAX Advanced Realty trusted professionals by calling 317–298-0961 or visiting our website at www.indianapolisrealestate.com.
See below to see the October Housing Market Update of a Single property type home per County in Indiana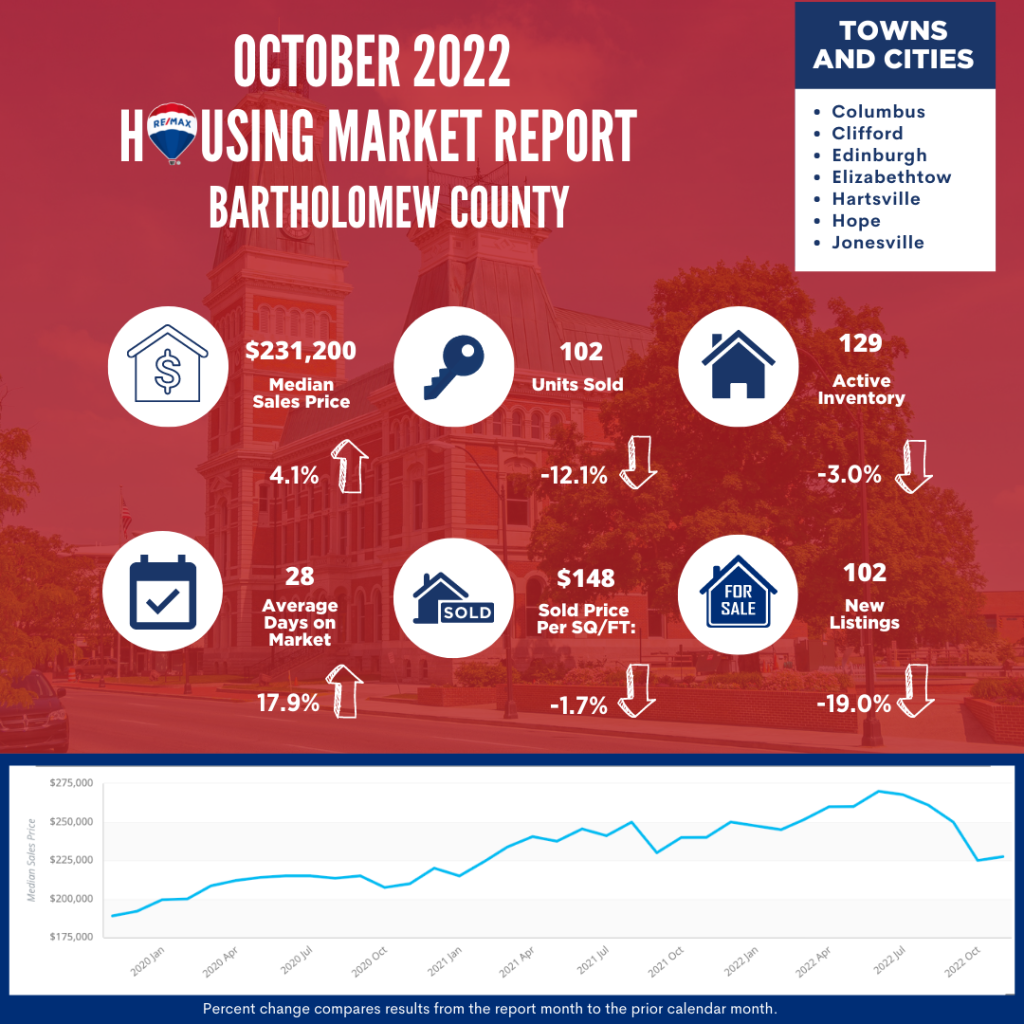 Located in the Southeastern part of the state, with Columbus serving as the county seat, Bartholomew County lies mainly in the level areas surrounding the East Fork of the White River and its tributaries. The majority of the County's economy is made up of agriculture, manufacturing, and tourism.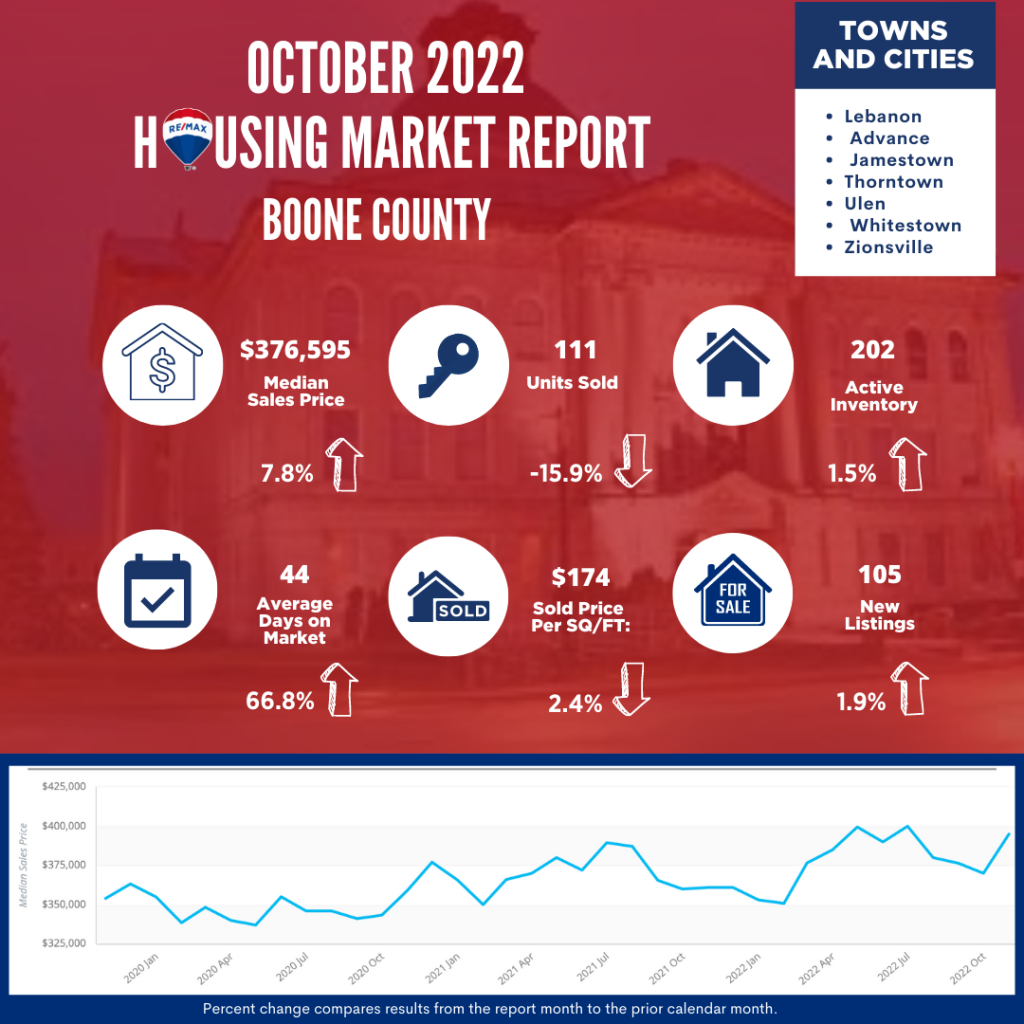 Located in the Northwest area of the Indianapolis Region, Boone County is home to great communities, including Zionsville, Lebanon, and Whitestown. A strong member of the corn and soybean belts in the Midwest, it continues to thrive from its agricultural heritage and background.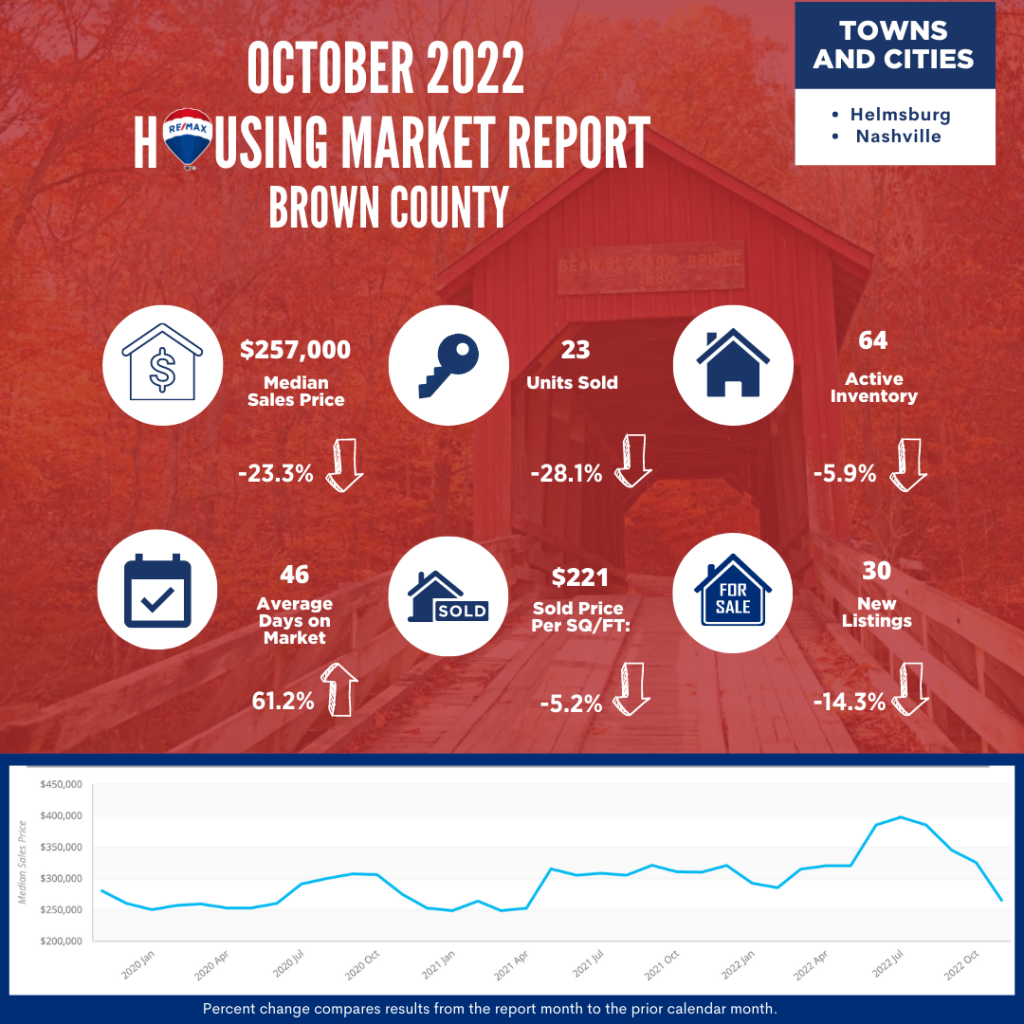 A County believed to have two histories; Brown County celebrates its past with two known stories. One traces to the founding and development of the Art Colony; the other is focused on the local residents and culture. In truth, it's the beautiful blending of both.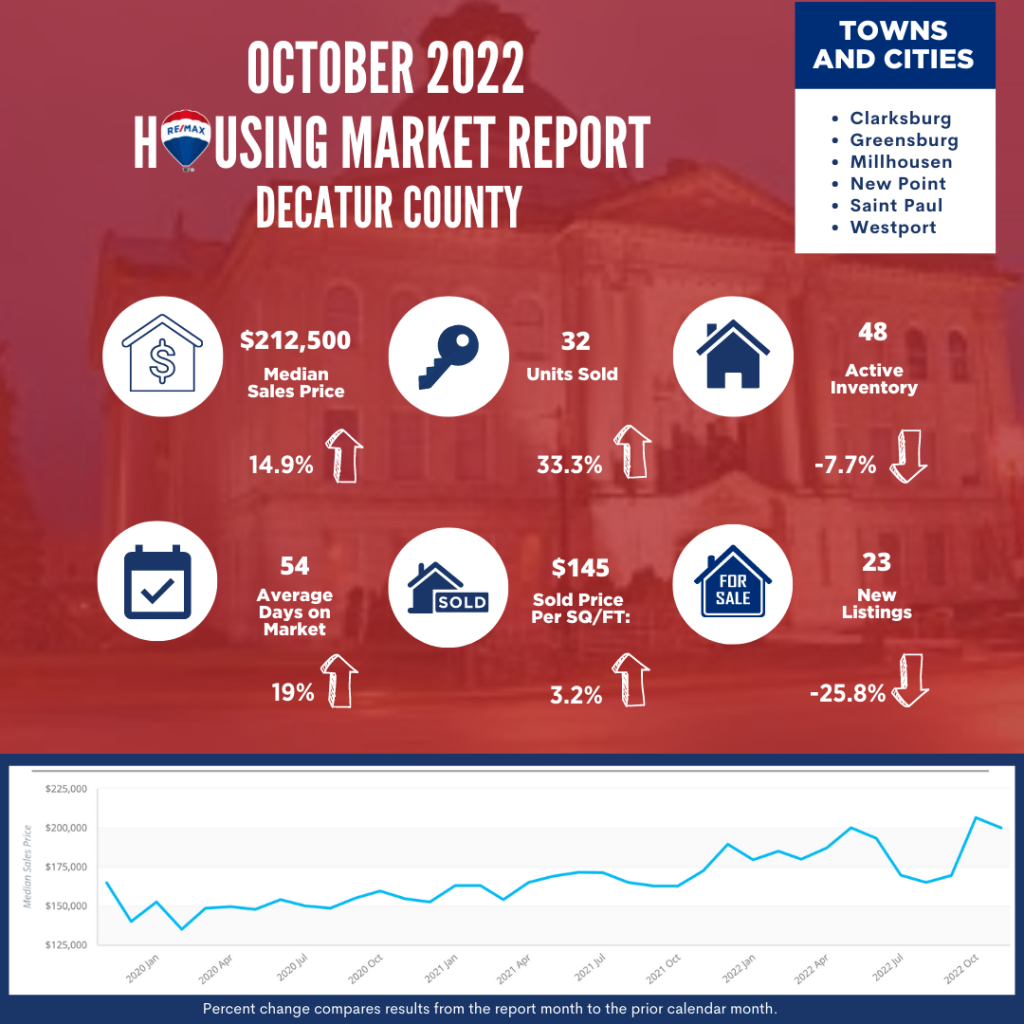 Located at the intersections of Interstate 74 and State Road 3 and Southeast of Indiana, with Greensburg as the County seat; Decatur County is known for its courthouse tower, with a tree growing at the top. Several publications mentioned this tree worldwide, including an episode on the television show" Ripley's Believe it or Not," which inspired thousands of visitors to come to Greensburg each year.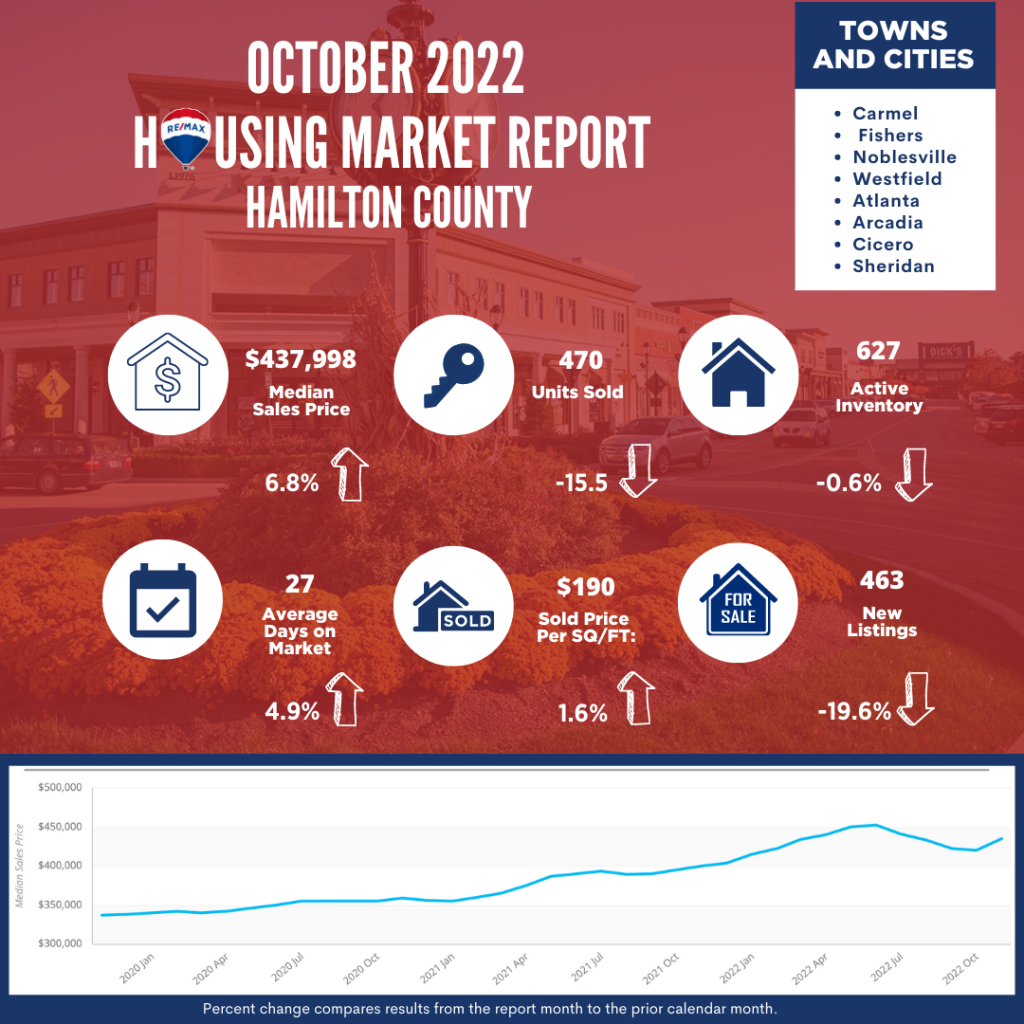 Located on the Northside of Indianapolis, Hamilton County is home to some of Indy's rapidly growing communities including Fishers, Westfield, and Noblesville. Cities of Hamilton County routinely score high marks in quality of life ratings and are regularly recognized as the "Best Place" to live, work, and play.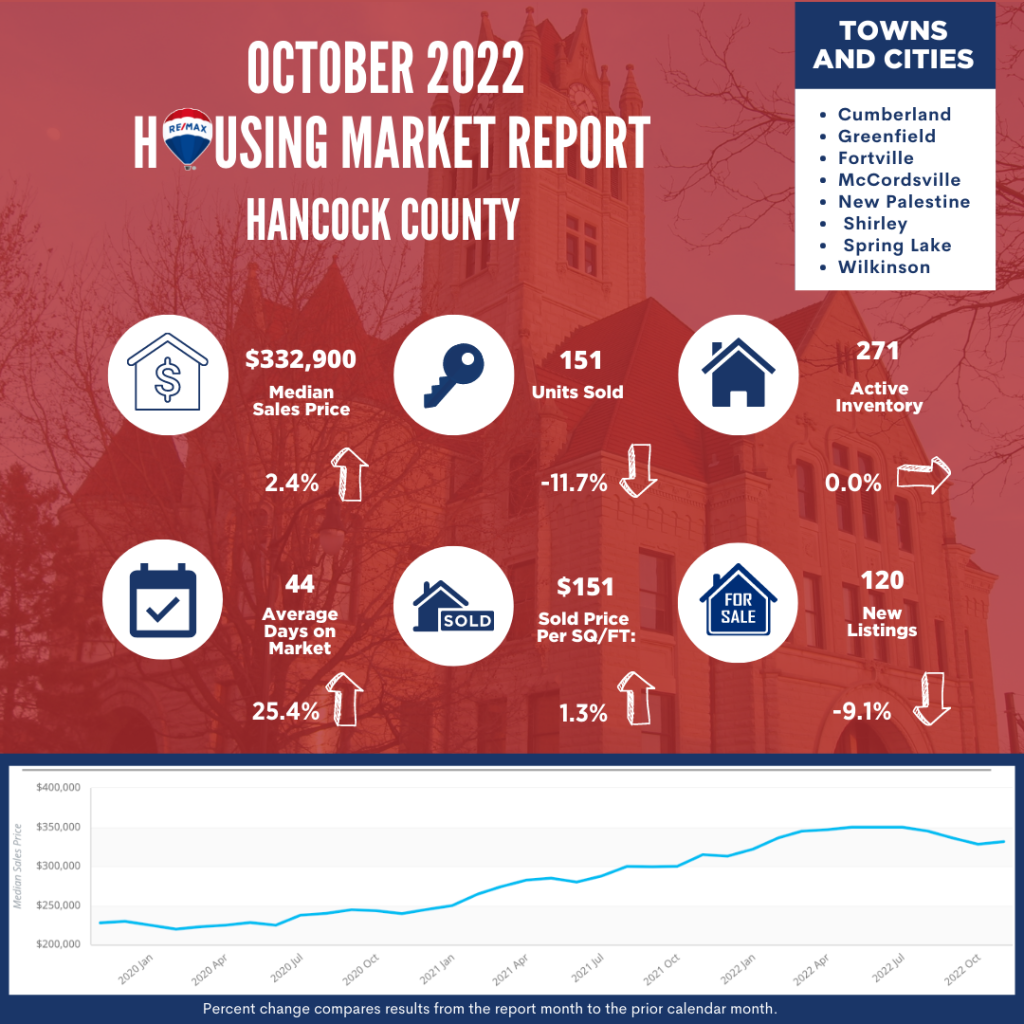 Located on the east side of the Indianapolis Region, Hancock County embraces growth while preserving the small-town atmosphere which makes its communities unique and vibrant.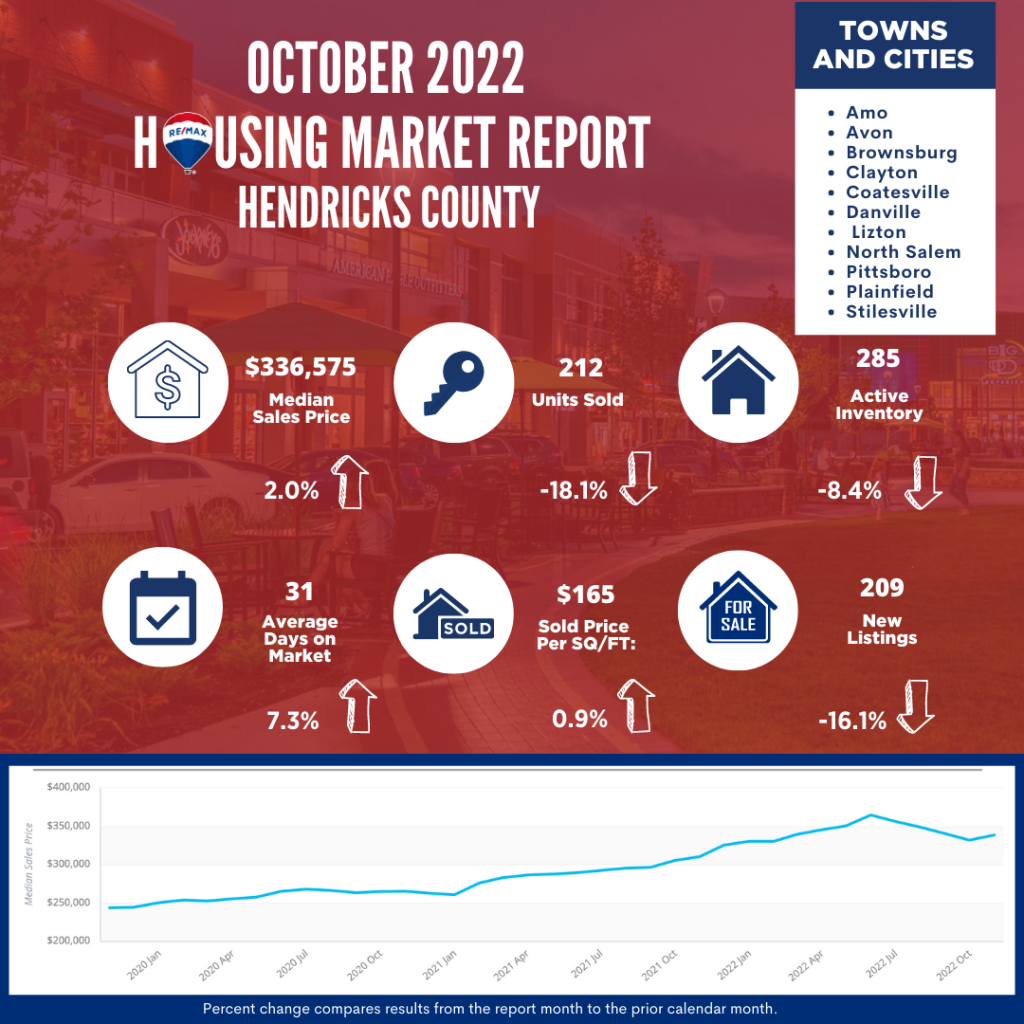 Located on the west side of the Indianapolis Region and with parts of the country only a 10-minute drive to downtown Indy, Hendricks County provides a variety of lifestyle opportunities - from rural areas, to vibrant main streets, and so much more.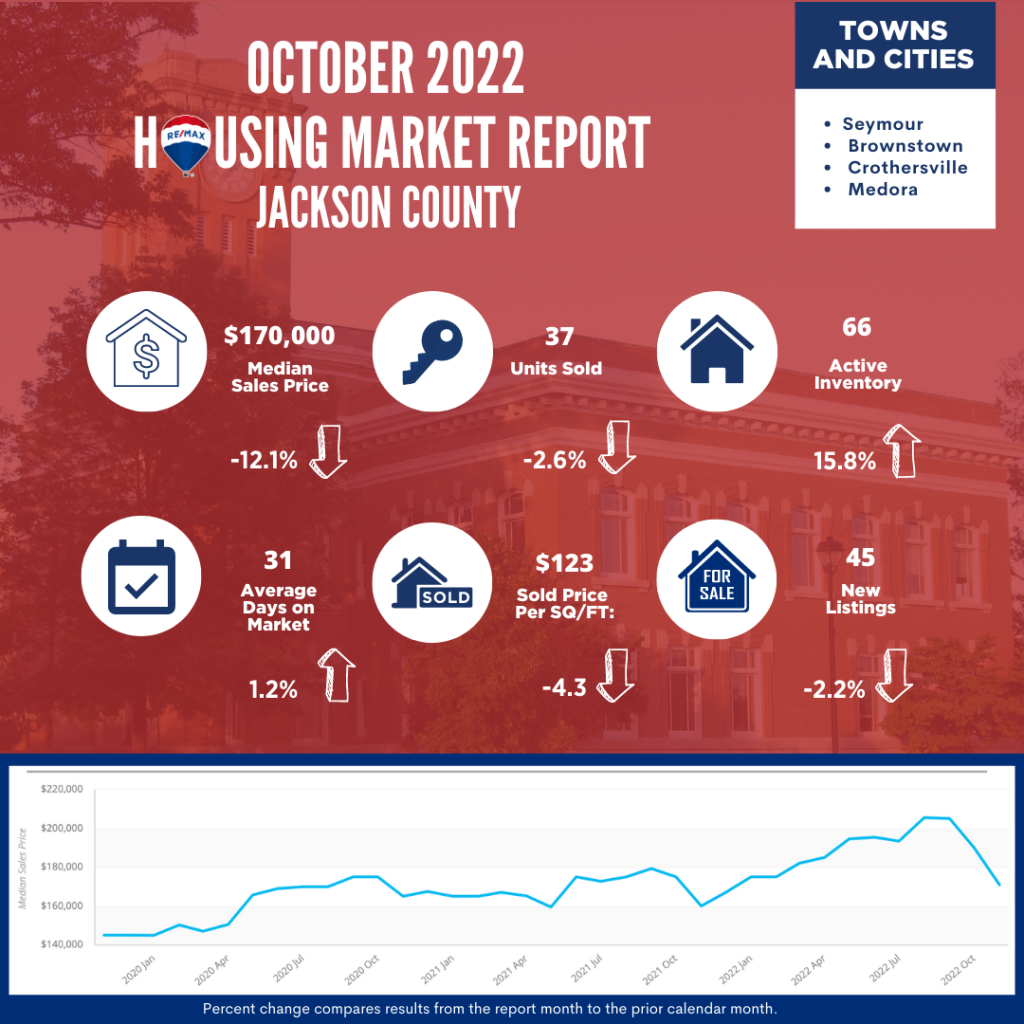 Nestled in the beautiful rolling hills of South Central Indiana, Jackson County is a thriving industrial center that offers the comfort of safe and friendly neighborhoods with its small towns, family-owned farms, charming local festivities, rich historical sites, and abundant public recreational areas. It is also home to the Medora Covered Bridge - the longest 3-span covered bridge in the world.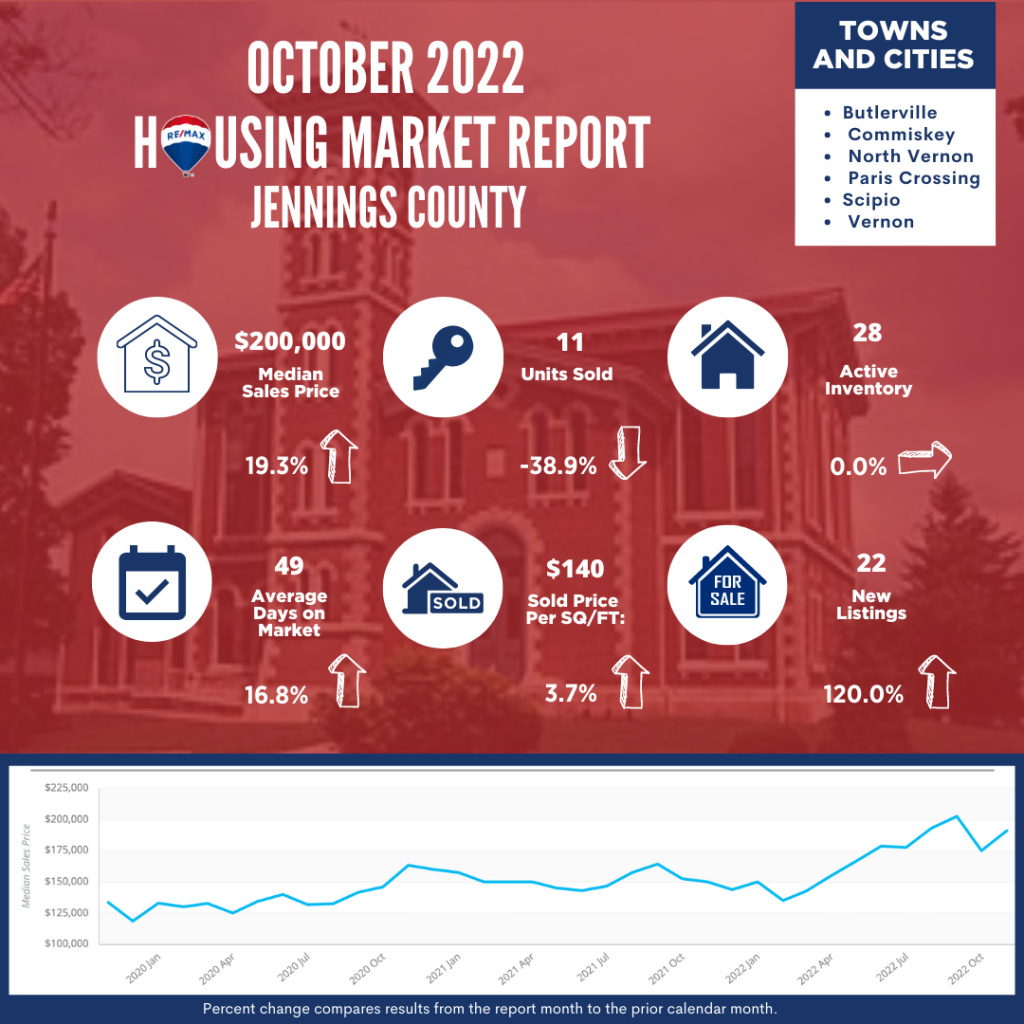 Conveniently located in the center of an imaginary triangle and just a 1 1/4 hour drive to between Indianapolis, IN, Cincinnati, OH, and Louisville, KY, there is something for everyone in Jennings County. Natural beauty, local festivals, events, and activities are abundant and year-round.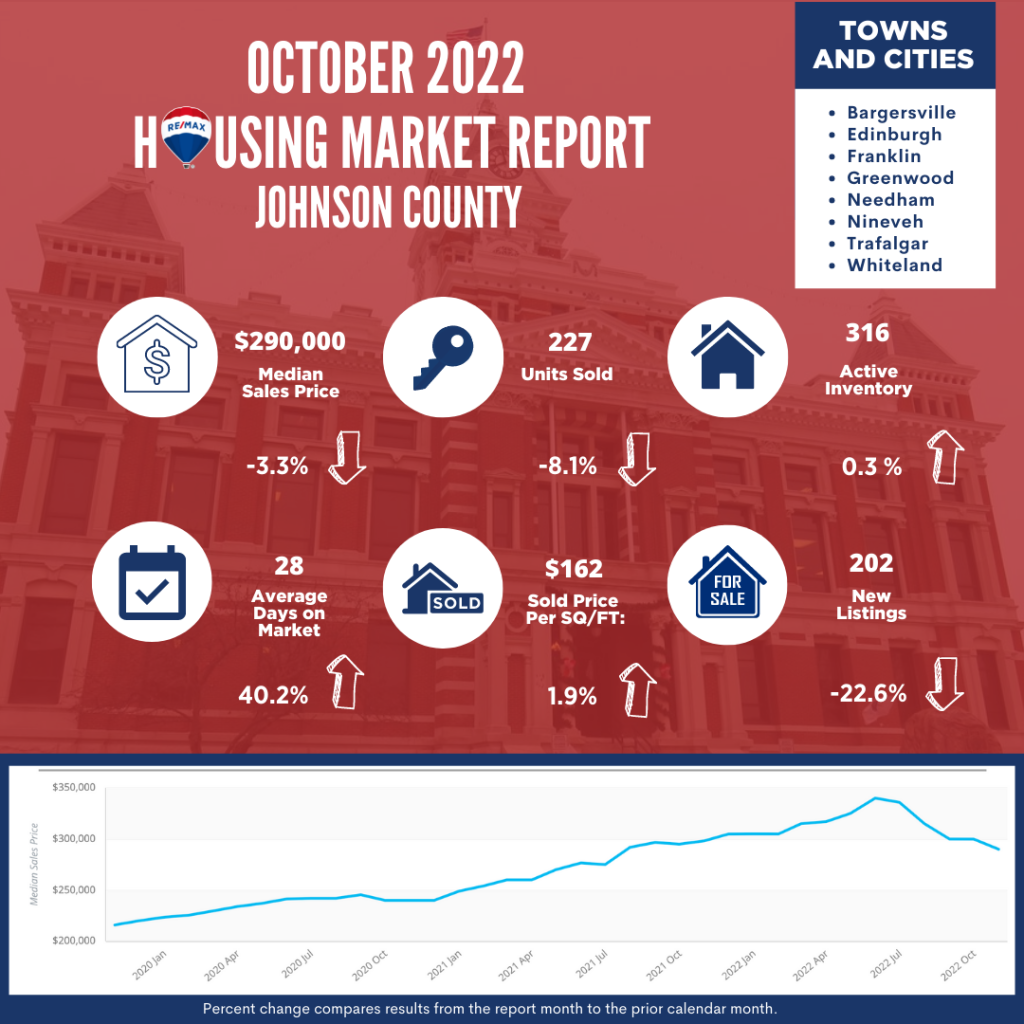 Located just south of downtown Indianapolis, Johnson County offers a unique mix of suburban and historic neighborhoods, with abundant rural land for country living. Residents and visitors have various activity options, including festivals, arts, and family-friendly activities.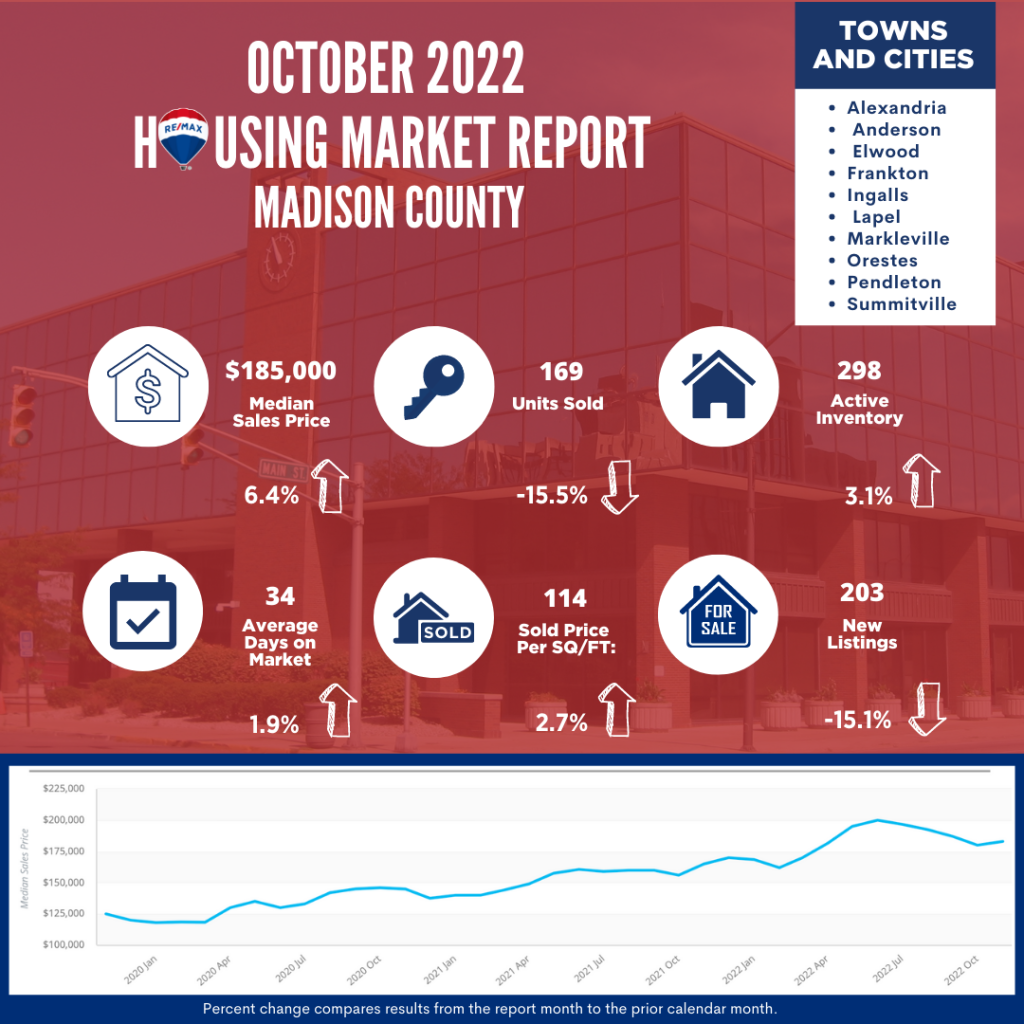 Madison County offers a country living environment rich in history, arts, culture, entertainment, and natural beauty. Various festivals, historical sites, and recreational activities are available in this very relaxing environment in this laidback community.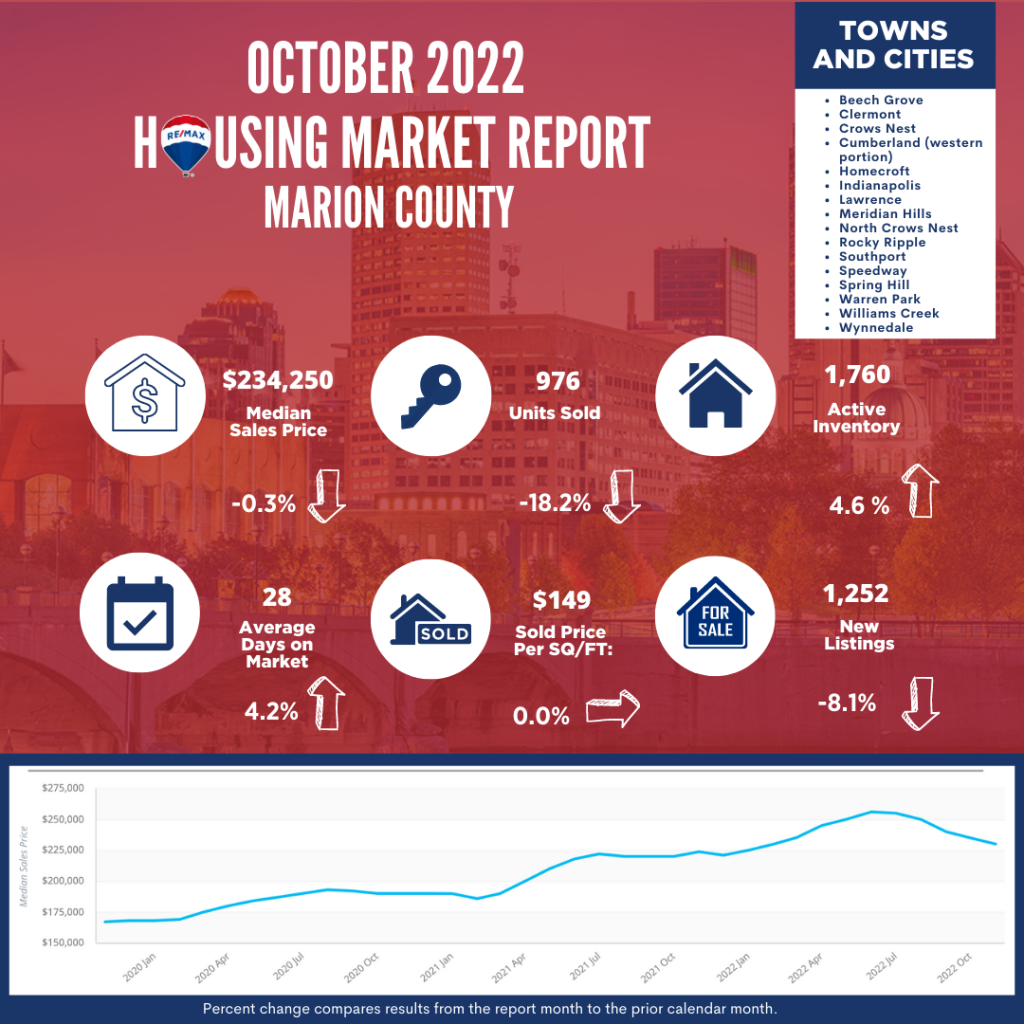 The largest county in Indiana and home to the state's largest City - Indianapolis, Marion County is one of the best places to live in Indiana as it hosts several thriving communities and vibrant neighborhoods; with numerous family-friendly events, activities, and establishments to choose and enjoy from.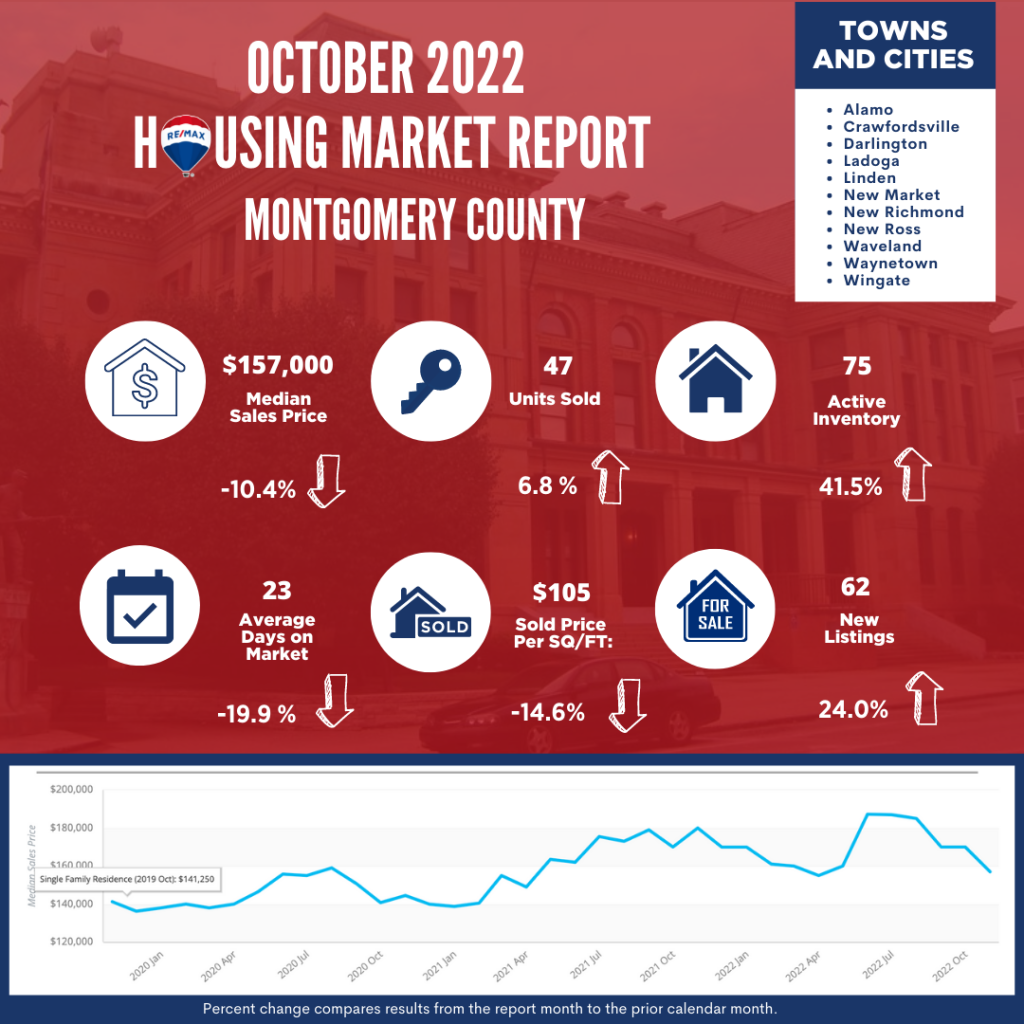 Enjoy Midwestern living in Montgomery County with its award-winning school system, thriving businesses, family-oriented towns, and neighborhoods; while enjoying access to shopping, restaurants, performing arts, youth sports, and other cultural experiences.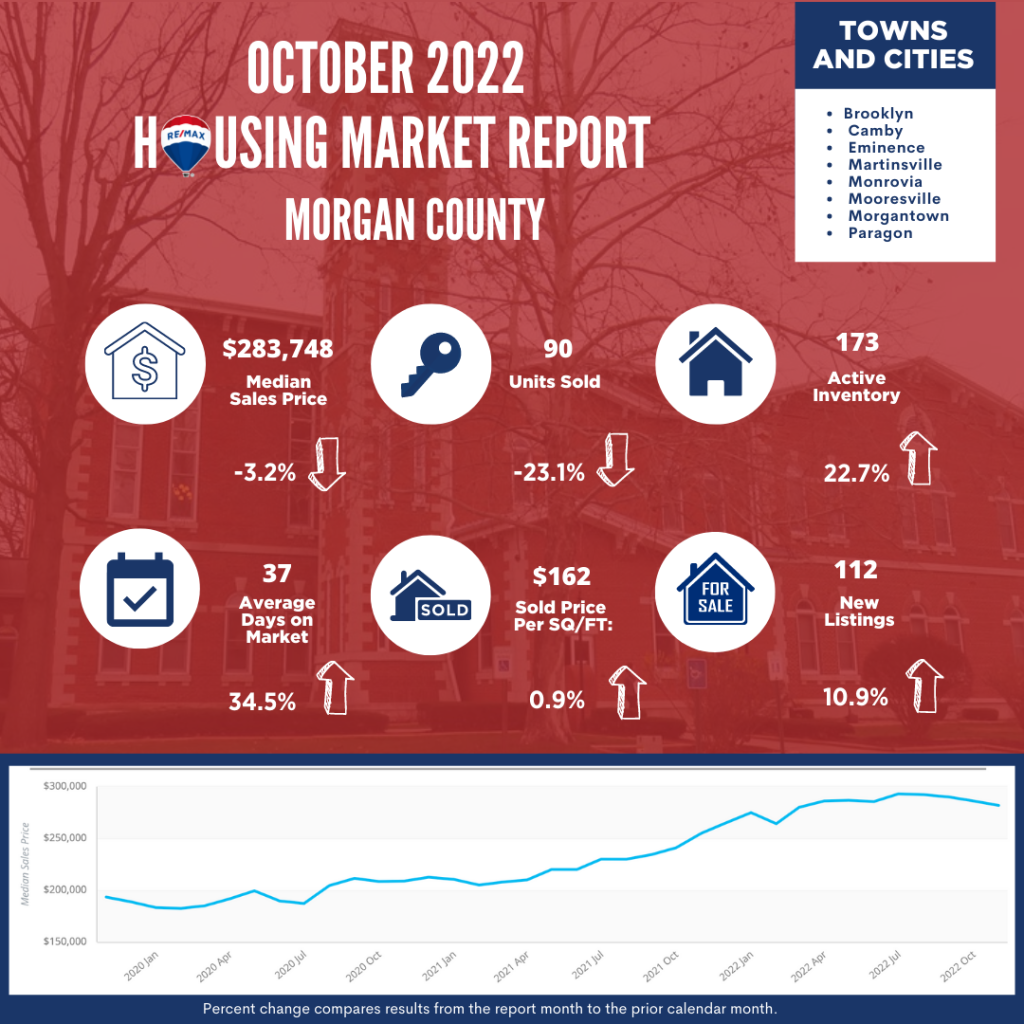 Located in the Southwest part of the Indianapolis region, Morgan County is perfect for those looking to be close enough to the downtown city life but who want something more relaxing to come home to. It is where a laid-back, small-town feel and beautiful outdoor scenic vistas come together.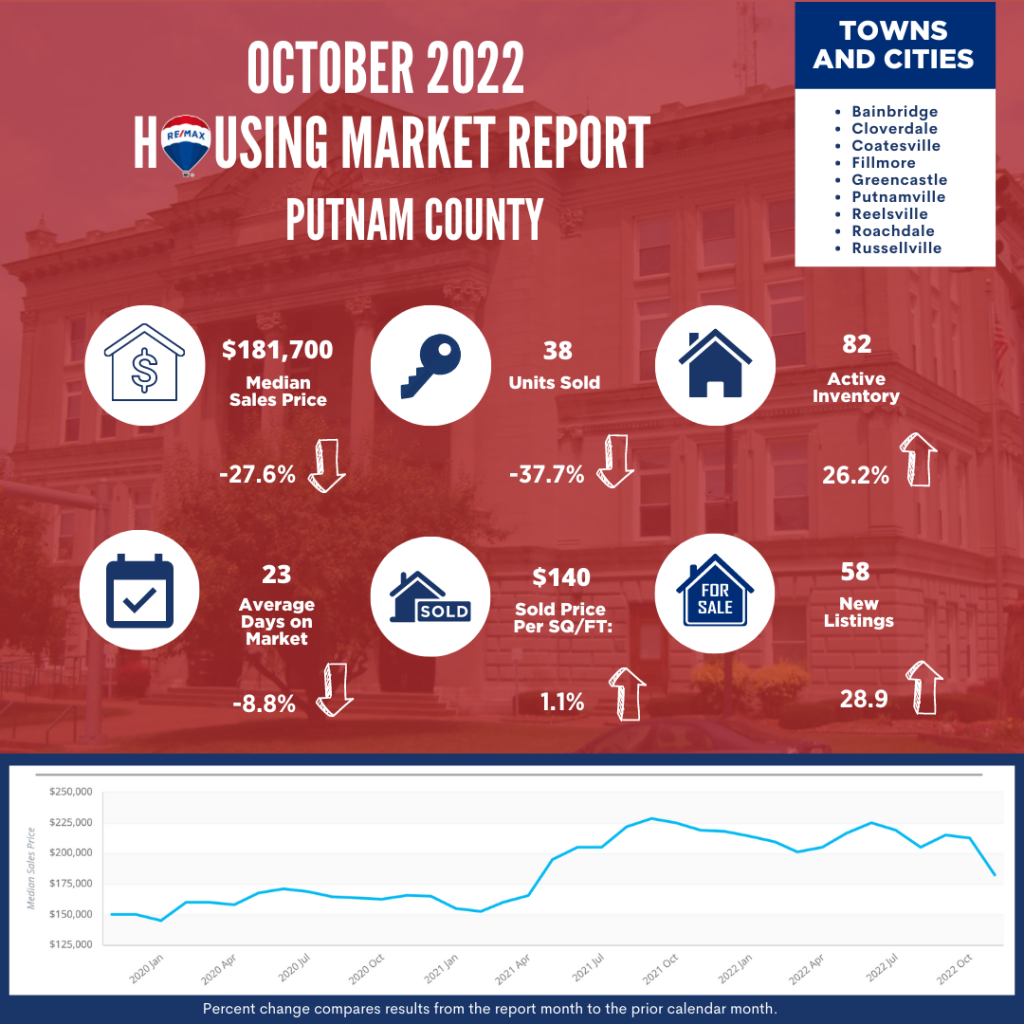 Named in honor of General Israel Putnam, famous during the revolutionary war, Putnam County is an excellent agricultural county. Its county seat is Greencastle, a thriving town of about four thousand five hundred inhabitants with good public improvements and educational facilities.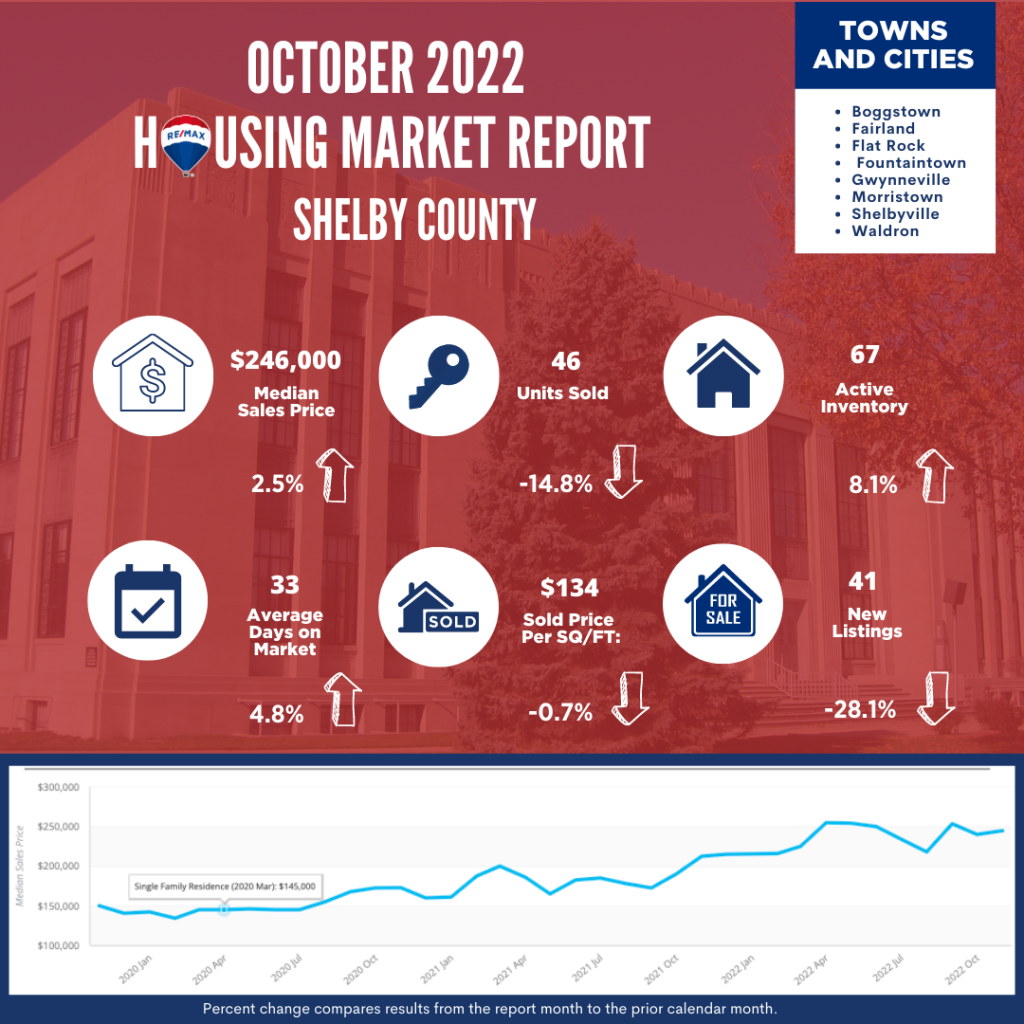 Located in the Southeast section of the Indianapolis Region, Shelby County is home to family-focused communities. A place where you can enjoy the benefits of the big city and the peace and safety of small-town living with its easy access to parks, trails, shopping, and many local attractions.
Don't forget to follow and subscribe to our social media pages to stay updated about all things real estate and other fun events in Indiana!
Facebook: @remaxadvancedrealtyIN ·
Twitter: @REMAXAdvancedIN
Instagram: @remaxindy
Autumn's brisk air will soon be here, and in Indiana, that means apples, pumpkins, and corn!
There are many apple orchards in indiana county pa and farms in and around the Circle City alone and fun corn mazes in Central Indiana, so if you and your family is up for fun, here are some great activities for you!
Address: 7010 E. Raymond St., Indianapolis
Operating Hours: Open from 9 a.m. to 7 p.m daily
Contact Information:
www.watermansfamilyfarm.com
317-356-6995
Activities:
- Raymond Street Fall Festival from October 1-31
- Walking tours at 3 p.m.
- Snack and refreshments
- Train ride
Address: 2304 E. Main St., Danville
Operating Hours: 9 a.m. to 6 p.m.
Contact Information:
www.beasleys-orchard.com
317-745-4876
Activities:
- Heartland Apple Festival from October 1 - 2 and 8-9
- Hayrides
- Corn maze
- Apple Cannons
Address: 5717 N. County Road 300 W., Greenfield
Operating Hours: 9 a.m. to 7 p.m.
Contact Information:
www.indianapolisorchard.com
317-326-2278
Activities:
- Farm animals
- Wagon rides
- Corn maze
- Hayrides
Address: 10721 N. County Road 850 W., Fairland
Operating Hours: 9 a.m. to 6 p.m. daily
Contact Information:
Activities:
www.pleasantvieworchardin.com
317-861-4025
Address: 369 E. Greencastle Road, Mooresville
Operating Hours: 8 a.m. to 8 p.m.
Contact Information:
www.andersonorchard.com
317-831-4181
Activities:
- Playground for kids
- Hayrides
- Straw piles
Address: 6848 N. County Road 250 E., Whiteland
Operating Hours: 6 p.m. to 9 p.m
Contact Information:
www.kelsayfarms.com
317-535-9150
Activities:
- Corn maze
- Hayride
- Jump pad
- Climb on Bale Mountain
- Moo Choo ride
- Get up close with the animals
Address: 500 W. Epler Ave., Indianapolis
Operating Hours: 10 a.m. to 6 p.m. (Saturdays and Sundays)
Contact Information:
www.adrianorchards.com
317-784-0550
Activities:
- Outdoor fun
- Apple picking
Chandler's Orchard & Country Market
Address: 2849 S. County Road 825 E., Fillmore
Operating Hours: 10 a.m. to 6 p.m. (Tuesday to Saturday) and 1 p.m. to 6 p.m. (Sunday)
Contact Information:
Activities:
- Corn maze
- Snacks and refreshments
- Apple picking
Address: 6255 N 1000 W, Shipshewana, IN
Operating Hours: 9 a.m. to 4:30 p.m. (Monday to Friday) and 9 a.m. to 4 p.m. (Saturday)
Contact Information:
www.dutchcreekfarmanimalpark.com
260-768-4416
Activities:
- Feed the animals
- Safari-style wagon ride
Address: 856 N 600 E Fair Oaks, IN
Operating Hours:
Contact Information:
www.fofarms.com
877-536-1194
Activities:
- Up close with the farm animals
- Museums
- Interactive games
- Indoor ropes course
- Dog park
Address: 200 S. County Line Road, Hobart IN
Operating Hours:
Contact Information:
www.countylineorchard.com
219-947-4477
Activities:
- Corn maze
- Apple picking
- Pumpkin picking
- Moo Choo ride
- See bees at work
- Up close with the animals
- Campfire
These are just some of the orchards and farms you can visit with your family. For more content like this, visit our website or check our official Instagram account.
One of the most exciting events every year is coming, the question is: Are you ready to find the most entertaining activities for Halloween 2022?
If yes, you're in luck! We had the liberty to gather one of the most comprehensive calendars of Indiana Halloween events 2022.
From family-friendly events to mature Halloween parties, we've listed ten holiday activities for people of all ages. We might not have all the information on every event, but there are plenty of suggestions to get you and your family excited for Halloween in Indiana.
Fright Night (Fort Wayne, IN)
October 15, 2022
What's Halloween without the spooktacular activities, such as Fort Wayne's annual Fright Night Downtown? This all-day event offers low or no-cost spooktacular activities, such as the Zombie walk, for kids and adults.
Zoo Boo (Indianapolis Zoo, IN)
October 5 - 31, 2022
How would you like to ride a carousel that goes in reverse? How about a visit to pumpkin town or playing pumpkin bowling? From Wednesdays through Sundays, the Funtober event is filled with activities that are not only good for kids and adults but also pets.
Friendly Feast With The Witches (Indianapolis, IN)
October 22, 2022
The friendliest witches in town are back again... almost! Enjoy Halloween-themed games, entertainment, crafts, a tour of the Haunted House Game Night Fright, and a selfie with the witches. More than that, satisfy your cravings with the delicious "Boo-fet" meal at this special event.
Howl'oween In The Dunes (Chesterton, IN)
October 29, 2022
Get ready to join one of the most anticipated events in Indiana Dunes State Park. This year, they'll be serving thrilling activities, including pumpkin decorating, trick or treating, owl prowling, and many more. Take note that there's a free to enter the park.
Downtown Trick or Treat (Haunted Haute, Terre Haute, IN)
October 28, 2022
How about an all-treat, no-tricks party this October? This one-day event offers kids the "Child's Play" kid zone and everyone else a dance party, Halloween shopping, snacks, and more!
Halloween Bar Crawl (Indianapolis, IN)
October 29, 2022
This 6-hour bar crawl offers a scavenger hunt (with exciting prizes), a dance fest with awesome music, food and drinks, live bands, DJs, and many more. Come in your Halloween-themed costume and party the night away!
Boo At The Zoo (Columbian Park Zoo, Lafayette, IN)
October 20 to 22, 2022
Pre-school and elementary-school-aged kids will be happily haunted by this event. For three days, there will be character meet-and-greets, a live DJ, a fun obstacle course, costume contests, and more. Take note that you have to purchase a ticket to enter (kids less than two years will be free).
Historic Irvington Halloween Festival (Indianapolis, IN)
October 22 - 29, 2022
Eight days of fun, spook, and excitement, this Indiana Halloween events 2022 features different kinds of activities, such as Halloween Ball, Art Auction, Spooky Organ Concert, Family Movie Night, Fright-Seeing, spooky stories, Zombie Bike Ride, Battle Of The Bands, and many more.
Big Four Boo Fest (Jeffersonville, IN)
October 24, 2022
This family-friendly event offers trick-or-treating for kids 12 and below and other entertainment, such as food trucks, games, and many more.
Irvington Halloween Festival: Official After Party (Irvington Event Center)
October 29, 2022
Once the kids are done trick or treating, it's time for the grown-ups to have fun. The alien-themed event offers a night full of music, art, cocktails, and exciting prizes for the costume contest winners.
The colorful season is here! A perfect time to enjoy fun activities with your family. Lucky for Hoosiers, Indiana has everything covered. From all there is to see in nature- beautiful foliage, apple orchards, and pumpkin patches - to all the fall festivals, farm, and Halloween activities.
Here is our Master Guide to Fall Fun in the beautiful Hoosier State.
1. Foliage Watching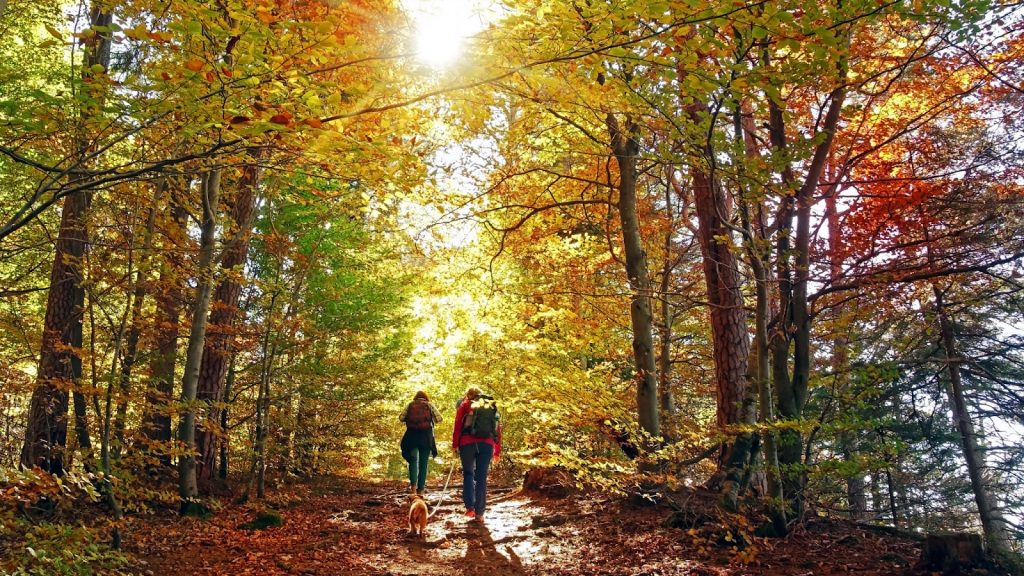 Fall means the season to witness the leaves changing from the green hues of summer to the warm shades of bright gold, orange, and red of autumn. Here are the Top 10 Leaf-Peeping locations we recommend.
2. Visit an Orchard and a Farm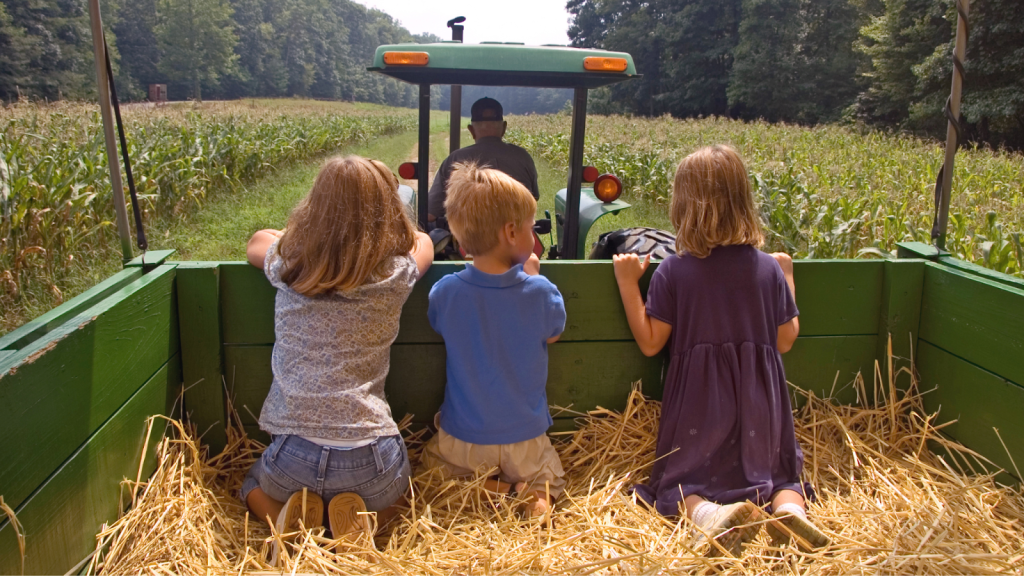 A visit to the orchard is easily one of the best fun Fall things to do. Apart from an apple-picking activity, most orchards offer other activities that are fun for the entire family - including hayrides, corn mazes, play areas, farm animal viewing, pumpkin patches, and many more.
Click here for our list of Orchards and Farms worth visiting in Indy.
3. Fall Festivals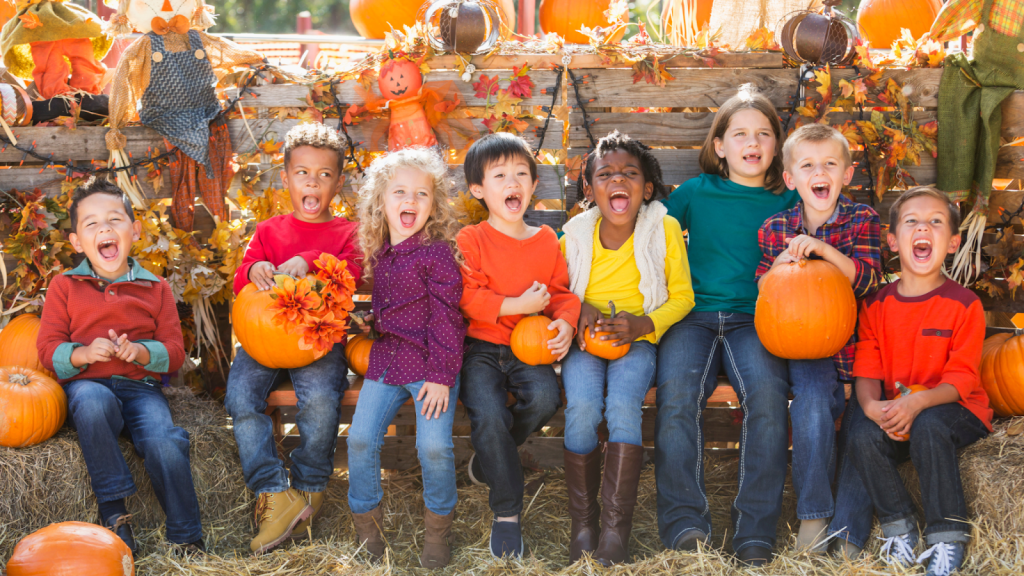 If there's one thing Indiana does not fall short of, it's Festivals. Join the Fall festivities and enjoy live music, culture, food, and creativity all around. Find the List of Fall Festivals happening in Indy Here!
4. Halloween Activities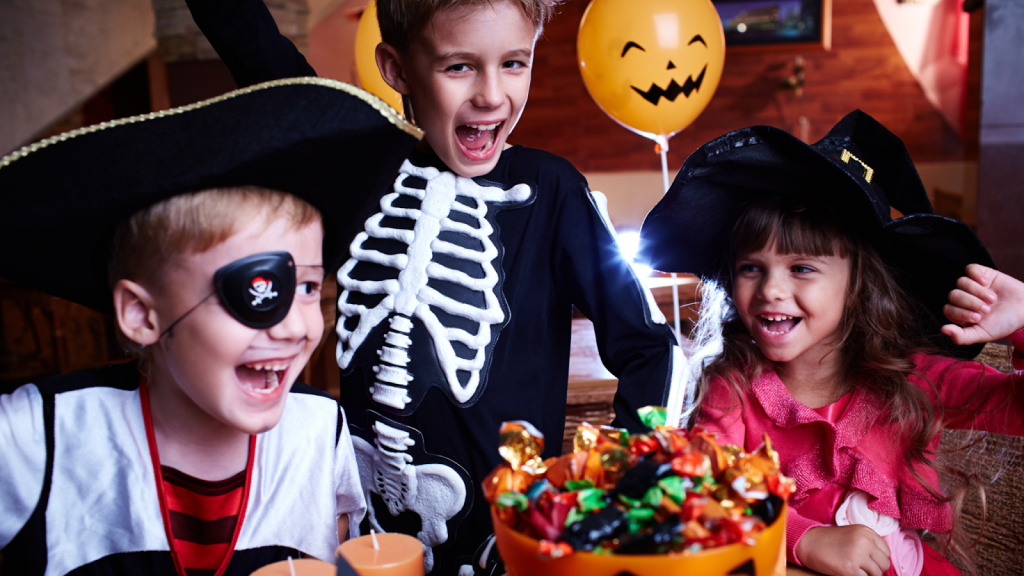 Trick or Treat? Who loves Halloween? If you do, you are indeed in for a treat with the variety of options available in Indy for Halloween. Fun or Scary, our list of Halloween activities in Indy will surely make you scream with either joy or fear. Just take your pick! We recommend these Ten Indiana Halloween Events 2022  for Kids And Grownups
Find more content about fun things and event updates in and around Indy on our blog site.
It's Fall Festival Season, and if there's one thing Indiana does not fall short of, it's festivals! Here are some of the Fall Festivals we recommend.
A spooktacular evening under Indiana's chilly harvest sky suited for the whole family.
Details: Open until October 30 from 7:30 - 10:00 PM
Location: Newfields, 4000 N Michigan Rd, Indianapolis
Ticket prices vary, starting at $25 for adults, $17 for youths, and Free for those aged 5 and below.
Attractions:
- Pumpkin Path of Peril
- Mischief Manor
- And More!
An evening of ghoulish delights for the whole family to enjoy awaits at Conner Prairie's annual Halloween Festival!
Details: September 30-October 30, Open every Thursday- Sunday from 6 pm-10 pm
Location: Conner Prairie, 13400 Allisonville Rd, Fishers
Tickets are $20
Activities:
- Headless Horseman Marionette Show
- Haunted Corn Maze
- Spooky storytelling
- Halloween Games
- Haunted Hayride
- Barrel train ride for little ones
- Spinning apples carnival ride and festive games
and More!
10th Annual Boo n' Brew Fall Festival
Celebrate an early Halloween at Clay Terrace's 10th Annual Boo 'n Brew Fall Festival!
Details: October 22 from 2 pm - 6 pm, free event.
Location: 14390 Clay Terrace Blvd., Carmel, Indiana
Activities:
- Trick-or-Treat for Children
- "BREW" of Boo 'n Brew for Parents
- Face Painting
- Balloon Artists
- Silly Safari Animal Shows
- Pumpkin patch
- Horse-drawn hayrides
- And More!
Enjoy the changing season & celebrate all things fall at Autumntidings Fall Festival festivities, such as live music, food trucks, and more!
Details: October 22 from 1pm-4pm, tickets start at $20, $5 for non-drinkers
Location: Cradle at Monon 30, 1118 E. 30th St., Indianapolis
Festivities include:
- Ash & Elm Cider Co.'s fall seasonal, Autumntide, and five variants, plus other Indiana-based cideries, breweries, and distilleries.
- Live Music
- Delicious Food
- Orchard Stand with Pumpkin Painting
- Fresh Cider
- Caramel Apples
- And more!
A week-long and fun-filled celebration bringing together residents, neighborhood organizations, and countless businesses.
Details: October 22 - October 29; complete time and event details available on their website.
Location: Irvington Historic District, Indianapolis
Activities:
- Spooky Organ Music
- Costume ball
- Contests
- Halloween-themed movies
- Storytelling
- Ghost tours
- Live theater
- Bike rides
- Haunted puppet show
- And More!
Boo Bash
Join in on the fun! More than 60 local vendors offer a safe trick-or-treating around the Fishers Municipal Complex and a display of community-carved jack-o-lanterns.
Details: October 29, from 10 am - 1 pm, free event
Location: Nickel Plate Amphitheater, 6 Municipal Dr, Fisher
Activities:
- Live Music
- Food
- Games
- And More!
Have Fun! Please check the festival website or social media pages before you go for any updates and changes.