Ah, summertime—the perfect season to bask in the warm sun, enjoy outdoor activities, and give your home some much-needed TLC. With longer days and pleasant weather, it's the ideal time to tackle those home maintenance tasks that will keep your living space in tip-top shape. Whether you're a seasoned homeowner or a first-time buyer, this comprehensive summer home maintenance checklist will guide you through the essential tasks to ensure your home stays beautiful, functional, and ready to embrace the season.
Check the Air Conditioning System: As the temperatures rise, your air conditioning becomes your best friend. Start by cleaning or replacing air filters to ensure optimal performance and clean air circulation. Don't forget to check the overall condition of your air conditioning system and schedule professional maintenance if needed. A well-maintained AC unit will keep you cool and comfortable all summer long.
Inspect and Clean the Gutters: The gutters play a crucial role in directing rainwater away from your home. Over time, they can accumulate leaves, debris, and dirt, which can hinder proper water flow and potentially cause water damage. Grab a sturdy ladder, put on some gloves, and remove any debris from the gutters. This simple task will help prevent costly repairs and keep your home dry during summer storms.
Examine the Roof: A healthy roof is your first line of defense against the elements. Inspect it for missing or damaged shingles, cracks, or signs of wear. If you spot any issues, consider arranging for repairs or consulting a professional roofer. By addressing roof problems promptly, you'll avoid potential leaks and preserve the integrity of your home.
Clean and Repair Outdoor Spaces: Summer is the season for outdoor relaxation and entertaining. Sweep and clean patios, decks, and outdoor furniture to remove dirt, pollen, and grime. Check for any repairs needed, such as loose boards or rusted metal. A fresh and inviting outdoor space will be the perfect setting for your summer gatherings.
Service the Lawn and Garden: A lush and vibrant lawn adds beauty to your home. Trim trees and shrubs, mow the lawn regularly, and tend to your garden. Remove any weeds and apply mulch where necessary. Proper maintenance will keep your landscape thriving and create an inviting oasis for outdoor enjoyment.
Inspect and Clean the Exterior: The exterior of your home requires attention, too. Check for cracks in the siding, peeling paint, or any other signs of wear. Clean the exterior surfaces using a power washer or a gentle cleaning solution, as appropriate. A fresh and well-maintained exterior will enhance your home's curb appeal and protect it from the elements.
Test Sprinkler Systems: A well-watered lawn is a happy lawn. Test your sprinkler system, making sure all sprinkler heads are functioning correctly and adjusted for proper coverage. Repair any leaks or broken components to ensure efficient watering throughout the summer.
Check Windows and Doors: Windows and doors play a significant role in energy efficiency. Inspect their condition, including screens, weatherstripping, and caulking. Replace or repair any damaged areas to keep the cool air inside and the hot air out. Your energy bills will thank you!
Service the Pool: If you're fortunate enough to have a pool, proper maintenance is crucial. Regularly clean and maintain the pool, balancing chemicals, checking filters, and ensuring pumps are functioning optimally. Safety measures like fences and gates should also be in good condition to provide a secure environment for everyone.
Test Smoke and Carbon Monoxide Detectors: Safety should always be a top priority. Test smoke detectors and carbon monoxide detectors, replacing batteries as needed. This simple step ensures that your home remains protected from potential hazards.
Clean and Inspect Outdoor Lighting: Outdoor lighting adds ambiance and enhances security. Clean exterior light fixtures and replace bulbs as needed. Inspect and repair any wiring or fixtures for safety and reliable illumination during warm summer nights.
Check and Clean the Dryer Vent: Lint buildup in the dryer vent can be a fire hazard. Remove any accumulated lint to ensure proper airflow. Consider professional cleaning if necessary, as it helps prevent potential accidents and keeps your dryer running efficiently.
Inspect and Clean Chimney and Fireplace: While the fireplace might be the last thing on your mind during the summer, it's an opportune time to inspect and clean the chimney and fireplace. Ensure they are in good condition for safe and cozy use when the colder months return.
Check the Insulation: Proper insulation helps maintain a comfortable temperature inside your home. Evaluate the insulation in your attic and walls, adding or replacing it as needed to improve energy efficiency and reduce cooling costs.
Service the Garage Door: Don't overlook the garage! Lubricate hinges, tracks, and rollers of your garage door for smooth operation. Check the safety sensors and ensure proper functioning to keep your vehicles and belongings secure.
Refresh Interior Décor:  Summer is a perfect opportunity to give your home's interior a refreshing makeover. Consider updating your décor to reflect the bright and airy feel of the season. Swap out heavy curtains for sheer or light-colored ones to let in more natural light. Incorporate vibrant, summery colors into your throw pillows, rugs, and accessories. Bring in some fresh flowers or potted plants to add a touch of nature and a pleasant aroma to your living spaces. A simple interior refresh can go a long way in creating a summertime ambiance that uplifts your mood and makes your home feel rejuvenated.
With this summertime maintenance checklist in hand, you'll be well-prepared to give your home the care it deserves. By taking the time to complete these essential tasks, you'll create a comfortable, beautiful, and safe haven for yourself and your loved ones to enjoy throughout the summer season. So, grab your tools, put on some sunscreen, and let the summer shape-up begin!
Feeling inspired to take your summer home maintenance to the next level? If you're ready to sell or buy a home this summer, our dedicated team of RE/MAX Advanced Realty agents is here to assist you every step of the way.
With our in-depth knowledge of the local market and a passion for helping clients achieve their real estate goals, we are the perfect partner for your summer home journey. Whether you're looking to sell your current property and find a new place to call home or searching for your dream house to make lifelong summer memories, we've got you covered.
Our experienced agents will provide personalized guidance, expert advice, and the necessary resources to ensure a successful transaction. From marketing your home effectively to attract qualified buyers to finding the perfect home that matches your desired summer lifestyle, we'll be there to make the process smooth and stress-free.
Take advantage of the summer season's vibrant energy and exciting opportunities in the real estate market. Contact our RE/MAX Advanced Realty team today at 317-298-0961 (West Office) and 317  317-881-3700 (Greenwood Office) or visit our website at www.remaxadvancedrealty. Let us help you make your summer home dreams a reality!
When it comes to owning a home, one of the most exciting decisions to make is choosing its style. With a multitude of architectural designs to consider, finding the perfect match can be a thrilling and rewarding process. In this blog post, we'll delve into some popular home styles to help you explore the possibilities and discover the one that resonates with your personal taste and lifestyle.
Traditional Charm
For those who appreciate timeless elegance, traditional homes offer a classic appeal. Think of Colonial, Victorian, Tudor, or Craftsman styles, each with its unique characteristics and period influences. From symmetrical facades and decorative details to grand front porches and ornate woodwork, traditional homes exude a sense of history and sophistication.
Embracing Contemporary
If sleek lines, open spaces, and a focus on modern aesthetics captivate your imagination, contemporary homes might be the perfect fit. With an emphasis on clean design, natural light, and efficient use of space, these homes often incorporate materials like glass, concrete, and steel. Contemporary architecture seamlessly blends the indoors with the outdoors, creating an inviting and harmonious living environment.
The Allure of Modern
Minimalist enthusiasts gravitate towards modern homes, renowned for their simple geometric forms and functionality. These dwellings feature open floor plans, ample natural light, and a strong connection to the surrounding landscape. Flat roofs, large windows, and a minimalist aesthetic create a sense of spaciousness and calm. For those seeking a harmonious fusion of simplicity and style, modern homes are an excellent choice.
Single-Story Serenity
For those who prefer a single-level living experience, ranch-style homes provide a comfortable and accessible option. With their low profiles, open layouts, and easy access to outdoor spaces, ranch homes offer a relaxed and convenient lifestyle. They often boast wide front porches and embrace a variety of architectural influences, making them a popular choice for homeowners of all ages.
Craftsman's Delight
Craftsman-style homes celebrate craftsmanship, natural materials, and intricate detailing. These charming dwellings showcase exposed woodwork, unique architectural elements, and cozy front porches. With their warm and inviting atmosphere, Craftsman homes pay homage to traditional craftsmanship while providing a cozy and welcoming ambiance.
Mediterranean Flair
Transport yourself to the coastal regions of Spain, Italy, or Greece with a Mediterranean-style home. With stucco exteriors, red tile roofs, and arched windows, these homes radiate a sense of warmth and exoticism. Mediterranean architecture often emphasizes outdoor living spaces, allowing you to enjoy the beauty of nature from the comfort of your own home.
Timeless Colonial
Drawing inspiration from the American colonial period, Colonial-style homes exude a sense of grandeur and elegance. These symmetrical homes feature formal layouts, classic facades, and often boast charming details like columns, shutters, and central chimneys. Colonial homes offer a nod to history while providing a timeless and sophisticated living experience.
Victorian Grace
For those who adore ornate detailing and intricate woodwork, Victorian-style homes capture the imagination. With their steep roofs, vibrant colors, and elaborate exteriors, Victorian homes are a true testament to architectural artistry. Bay windows, turrets, and decorative trimmings create a whimsical and romantic atmosphere that enchants homeowners and visitors alike.
Mid-Century Modern Cool
If you have a fondness for the mid-20th century aesthetic, then mid-century modern homes may be your calling. These homes feature clean lines, large windows, and an emphasis on integrating with the surrounding natural environment. With open floor plans and a harmonious indoor-outdoor flow, mid-century modern homes exude a cool and timeless charm.
Farmhouse Comfort
Embracing a rustic and cozy feel, farmhouse-style homes evoke a sense of rural charm and simplicity. These dwellings often feature large front porches, pitched roofs, and an emphasis on functionality. Barn doors, exposed beams, and natural materials enhance the farmhouse aesthetic, creating a warm and inviting retreat.
Choosing a home style is a deeply personal decision, influenced by individual preferences, lifestyle requirements, and aesthetic inclinations. Exploring the diverse array of home styles available allows you to find the perfect match that reflects your unique personality and creates a sanctuary that you'll be proud to call home. Whether you're drawn to the timeless elegance of traditional homes, the clean lines of contemporary architecture, or the rustic charm of farmhouse living, the world of home styles has something for everyone. So, go forth, explore, and discover the home style that resonates with your dreams and aspirations.
If you're ready to embark on the journey of finding your dream home, we invite you to reach out to RE/MAX Advanced Realty. Our team of experienced real estate professionals is dedicated to assisting you every step of the way. Contact us today to schedule a consultation and let us help you navigate the exciting world of real estate.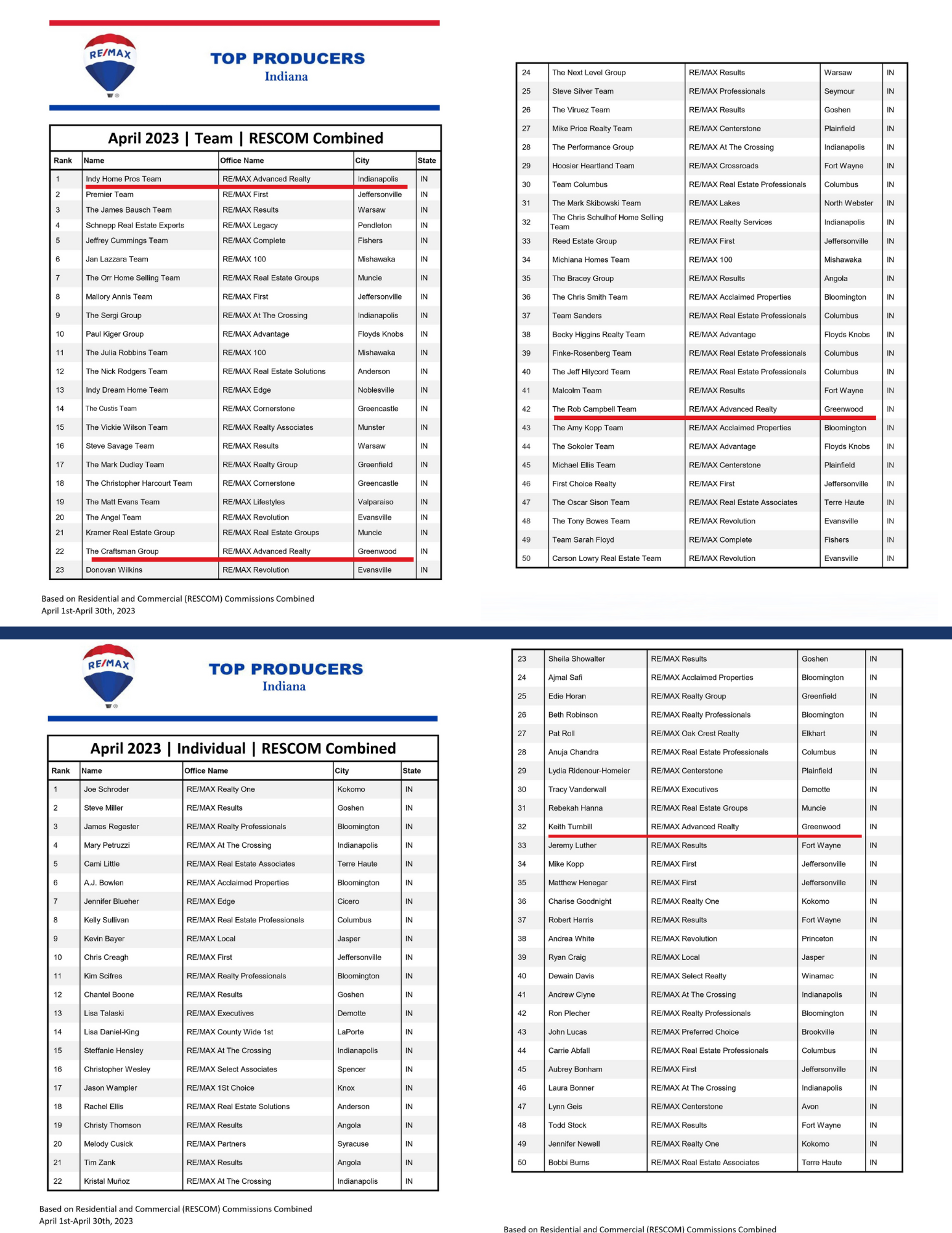 The real estate industry is a bustling world where agents and teams strive to achieve greatness and secure their positions at the top. Last April's RE/MAX Top Producers Report has yet again proven that RE/MAX Advanced Realty is truly Indiana's Leading Brokerage, bagging top teams and individual spots for residential and commercial production combined. 
Let's get to know RE/MAX Advanced Realty's  Top-performing Teams and Agents.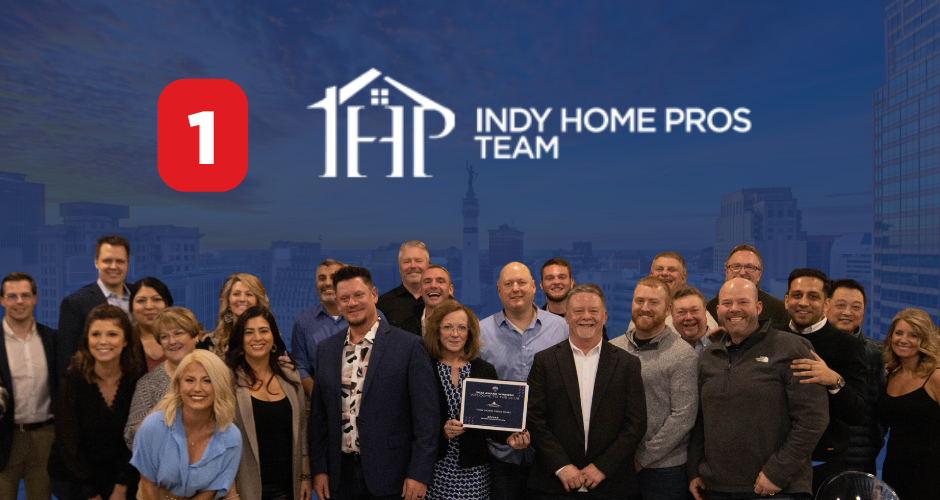 Indy Home Pros Team: Reigning Supreme at #1
Leading the pack and stealing the spotlight is none other than the Indy Home Pros Team, securing the coveted #1 ranking. Led by RE/MAX Advanced REALTY Broker/Owner and Team Leader Dennis Nottingham, the Indy Home Pros Team has consistently held the #1 spot, proving that their exceptional expertise, dedication, and unparalleled service have propelled them to the forefront of the industry. With a proven track record of success, they continue to dominate the real estate landscape, helping countless clients find their dream homes.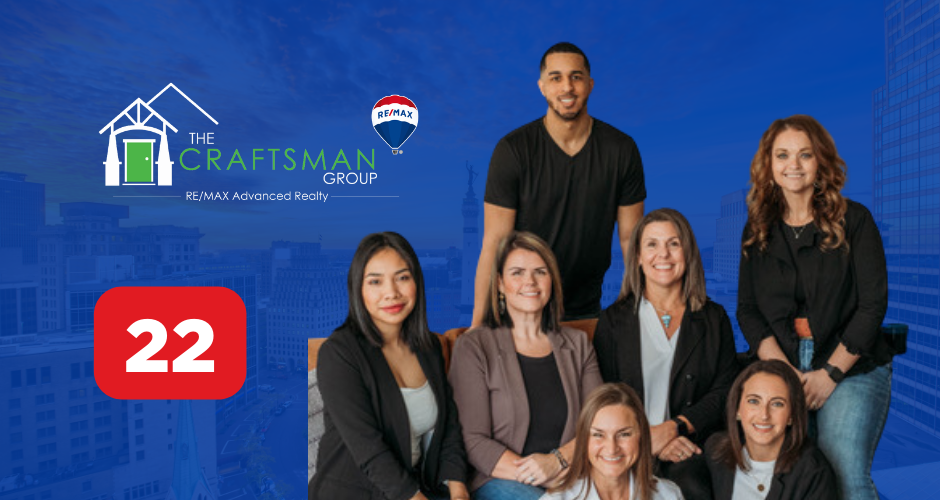 The Craftsman Group: Mastering Excellence at #22
With a client-first mentality, The Craftsman Group, led by Team Leader Cate Waggoner-Lee, has earned a well-deserved place at #22. Their attention to detail, creative approach, and unwavering commitment to delivering exceptional service have made them a formidable force in the market. The Craftsman Group has crafted a reputation as true artisans of the real estate industry, leaving a lasting impression on their clients and peers alike.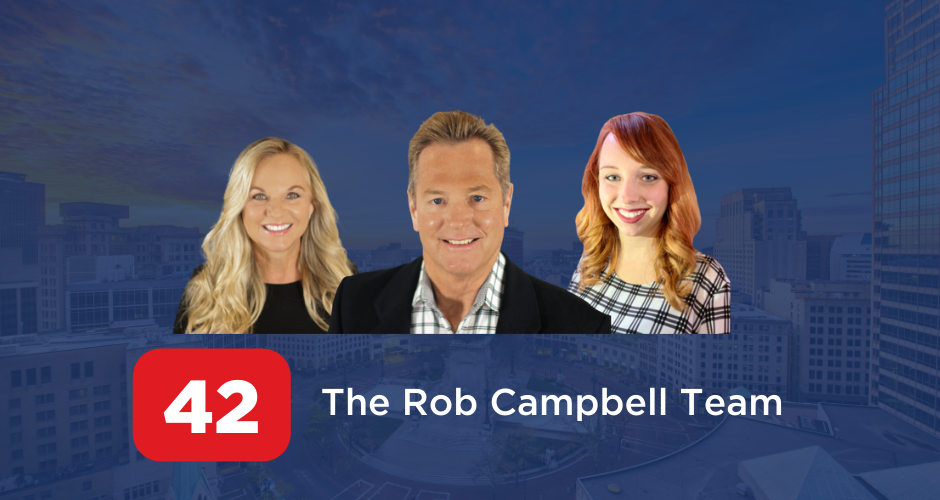 The Rob Campbell Team: Striking Success at #42
Led by Team Leader Rob Campbell, who boasts over 30 years of experience as a top-producing agent in Johnson County, The Rob Campbell Team has secured the impressive #42 position. Their expertise extends to both residential and commercial real estate, showcasing their prowess in diverse markets. With their exceptional solutions and unwavering dedication, The Rob Campbell Team continues to make waves, solidifying their standing in the industry.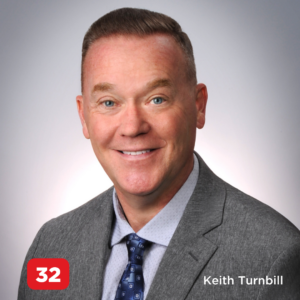 Keith Turnbill: The Epitome of Residential and Commercial Excellence at #32
At the remarkable #32 spot in the Residential and Commercial Combined category, RE/MAX Advanced Realty Green Wood Office's Head of Commercial Division, Keith Turnbill, has made a lasting impact. His versatility and adaptability have allowed him to thrive in both sectors, catering to the unique needs of his clients. With an impressive skill set and an unwavering commitment to success, Keith stands out as a true champion in the real estate arena.
RE/MAX Advanced Realty raises a toast to the Indy Home Pros Team, The Craftsman Group, The Rob Campbell Team, and Keith Turnbill for this feat. Congratulations on your outstanding accomplishments, and here's to an even more successful future!Here at RE/MAX Advanced Realty, we aim to continue leading the way, providing a platform for top-performing agents to shine and offering unparalleled service to clients across Indiana. Our commitment to excellence is what makes us home to the finest real estate agents in the state.
RE/MAX Advanced Realty presents a compiled Housing Market Report for April 2023 in the State of Indiana based on the data presented by MIBOR.  This report provides an overview of the real estate market for single-family homes, condominiums, townhouses, farms, residential, and manufactured homes covering all 16 counties in the Hoosier State for the month of April.
The data presented in this report includes key metrics such as median sales price, closed sales, days on the market, list price received, the median sold price per sqft, new listings, active inventory, and months' supply of inventory. By analyzing these metrics, we can gain insight into the current state of the real estate market and make informed predictions about future market conditions.
This report will explore the trends observed in the real estate market for the month of April and compare them to the same period in the previous year, as well as the previous month. By providing this analysis of the market, we hope to help buyers, sellers, and investors make informed decisions about their real estate transactions.
SINGLE FAMILY HOMES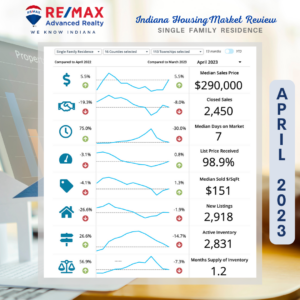 Based on the data gathered, the real estate market for single-family homes in April 2023 experienced mixed results compared to the same month in the previous year and the previous month.
The median sales price in April 2023 increased by 5.5% compared to April 2022 and by the same percentage compared to March 2023, indicating a steady upward trend in housing prices. However, the closed sale price in April 2023 decreased significantly by -19.3% compared to April 2022 and by -8.0% compared to March 2023. This suggests that while homes are being listed at higher prices, they are ultimately selling for much less than they did a year ago.
The median days on the market for homes in April 2023 increased significantly by 75.0% compared to April 2022 but decreased by -30.0% compared to March 2023. This means that homes were taking longer to sell in April 2023 than in the same month in the previous year but were selling more quickly compared to the previous month.
The list price received for homes in April 2023 decreased by -3.1% compared to April 2022 but increased by 0.8% compared to March 2023, indicating some volatility in the market.
The median sold price per square foot in April 2023 decreased by -4.1% compared to April 2022 but increased by 1.3% compared to March 2023. This suggests that homes are selling for less per square foot compared to the same month last year but are selling for more compared to the previous month.
New listings for April 2023 decreased by -26.6% compared to April 2022 and by -1.9% compared to March 2023. This indicates a significant decline in the number of homes being listed for sale.
Active inventory for April 2023 increased by 26.6% compared to April 2022 but decreased by -14.7% compared to March 2023, indicating that while there were more homes available for sale compared to the same month last year, there were fewer homes on the market compared to the previous month.
Finally, the month's supply of inventory increased by 56.9% compared to April 2022 but decreased by -7.3% compared to March 2023. This metric measures the number of months it would take to sell all of the homes on the market based on the current rate of sales. The increase compared to April 2022 indicates that the supply of homes for sale is outpacing the demand, while the decrease compared to March 2023 suggests a potential increase in demand.
Overall, the data suggest that for single-family homes, the market is still experiencing some volatility, with some metrics showing upward trends and others showing declines. However, the steady increase in median sales price and median sold price per square foot compared to the previous month indicate that home prices are still trending upwards. The decrease in closed sale price and new listings, as well as the increase in median days on the market and months' supply of inventory compared to April 2022, suggest a potential slowdown in demand, while the decrease in active inventory compared to March 2023 indicates a possible increase in demand.
ALL TYPES OF PROPERTIES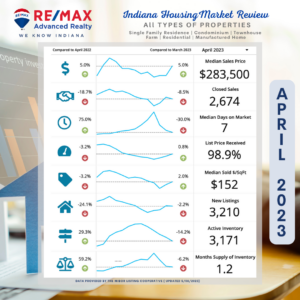 The data above suggests that the overall real estate market for single-family residences, condominiums, townhouses, farms, residential, and manufactured homes in April 2023 experienced mixed results compared to the same month in the previous year and the previous month.
The median sales price for April 2023 increased by 5.0% compared to both April 2022 and March 2023, indicating a steady increase in housing prices. However, closed sales decreased significantly by -18.7% compared to the previous year and by -8.5% compared to the previous month, suggesting that fewer homes were sold in April 2023.
The median days on the market for April 2023 increased significantly by 75.0% compared to April 2022 but decreased by -30% compared to March 2023, indicating volatility in the market. The list price received decreased by -3.2% compared to April 2022 but increased by 0.8% compared to March 2023. The median sold price per square foot for April 2023 decreased by -3.2% compared to April 2022 but increased by 2.0% compared to March 2023.
New listings for April 2023 decreased significantly by -24.1% compared to April 2022 and by -2.2% compared to March 2023. However, active inventory increased by 29.3% compared to April 2022, but decreased by -14.2% compared to March 2023. The months supply of inventory increased by 59.2% compared to April 2022 but decreased by -6.2% compared to March 2023.
Overall, the market for single-family residences, condominiums, townhouses, farms, residential and manufactured homes appears to be in a state of flux, with some metrics trending upward and others trending downward. The steady increase in median sales prices is a positive sign for sellers, but the significant decrease in closed sales suggests a potential slowdown in the market. The decrease in new listings and the increase in active inventory suggest that supply may be outpacing demand, while the volatility in median days on the market indicates uncertainty in the market.
With the data presented above, it is important to keep in mind that real estate markets are cyclical and tend to go through periods of growth and decline. Over the long term, real estate has historically been a sound investment, short-term fluctuations in the market are to be expected. 
To give you a better understanding of the housing market, it is important to speak to a trusted real estate professional with  RE/MAX Advanced Realty.  Get in touch with Indy's Leading Brokerage today and have our real estate experts answer any questions you might have. 
In the first part, we've shared 5 of the best family-friendly restaurants in Indianapolis this weekend, such as Field Brewing, Books & Brews, Fork + Ale House, The Old Spaghetti Factory, and Ford's Garage.
In this post, we're gonna have 5 more restaurants that you and your kids can visit.
Punch Bowl Social
120 S. Meridian Street, Indianapolis
Punch Bowl Social is not just a restaurant that serves fantastic cuisine; it's also a restaurant with karaoke, ping pong tables, skee ball, bowling lanes and other arcade games, board games, and a ton of other family-friendly entertainment. 
Kids will have a great time at this restaurant, possibly so much fun that it will be difficult to get them to leave the games and eat.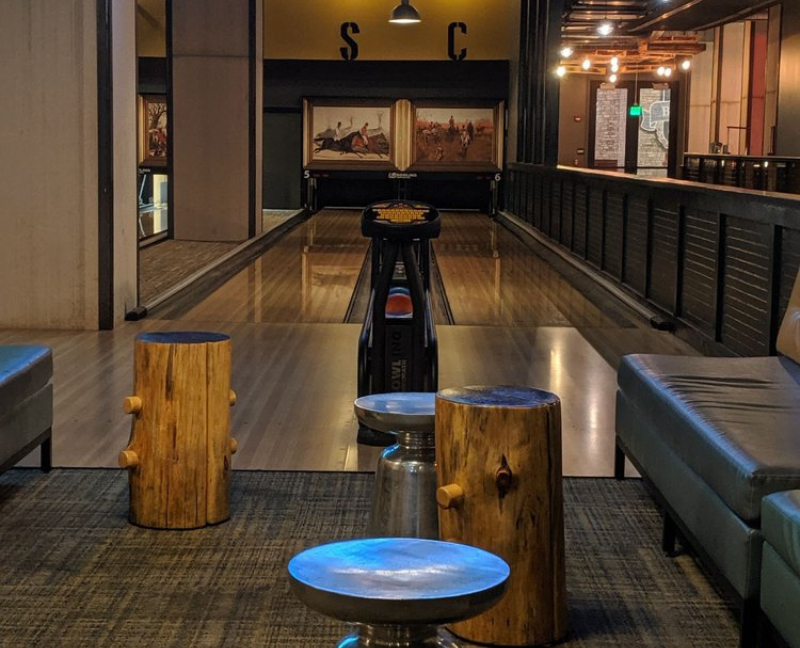 © M M | Yelp
Pizza King Station
Multiple Locations
7045 Bluff Road, Indianapolis
8100 E. US Hwy. 36, Avon
This Indy restaurant is a go-to if your kids love trains. Two of the Pizza King locations have been transformed into train-themed restaurants, and your drinks can even be delivered by a model train! 
Could there possibly be a more kid-friendly combination than pizza and trains?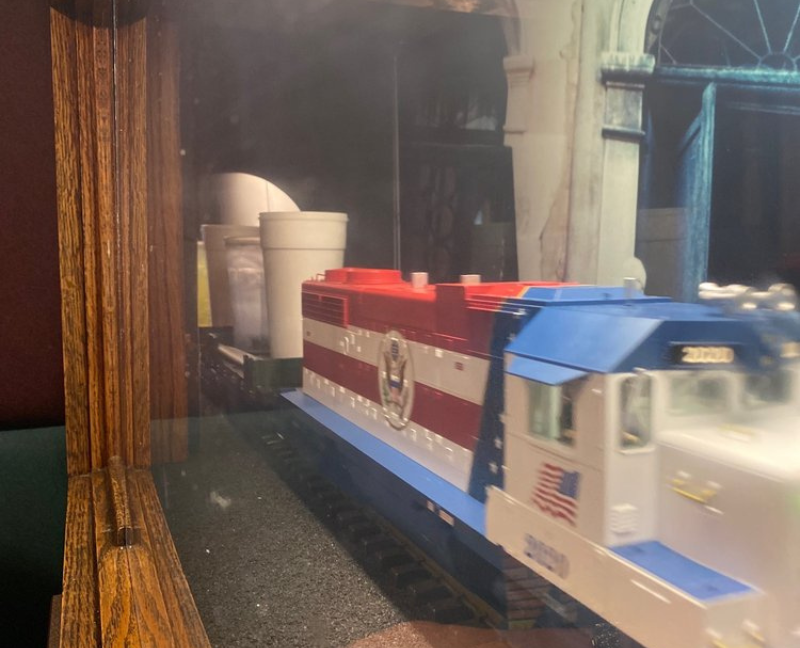 © Dan Z | Yelp
Traders Point Creamery
101 Moore Road, Zionsville
A thriving dairy farm, Traders Point Creamery uses regional foods in their farm-to-table restaurant. 
Visitors can enjoy a self-guided tour of the farm from April to October, where they can meet some of the Traders Point Creamery cows, poultry, and other animals that live there. For dessert, there is a Dairy Bar on site where you can buy freshly prepared ice cream, milkshakes, sundaes, and floats, which you can enjoy inside the restaurant or outside on the spacious patio.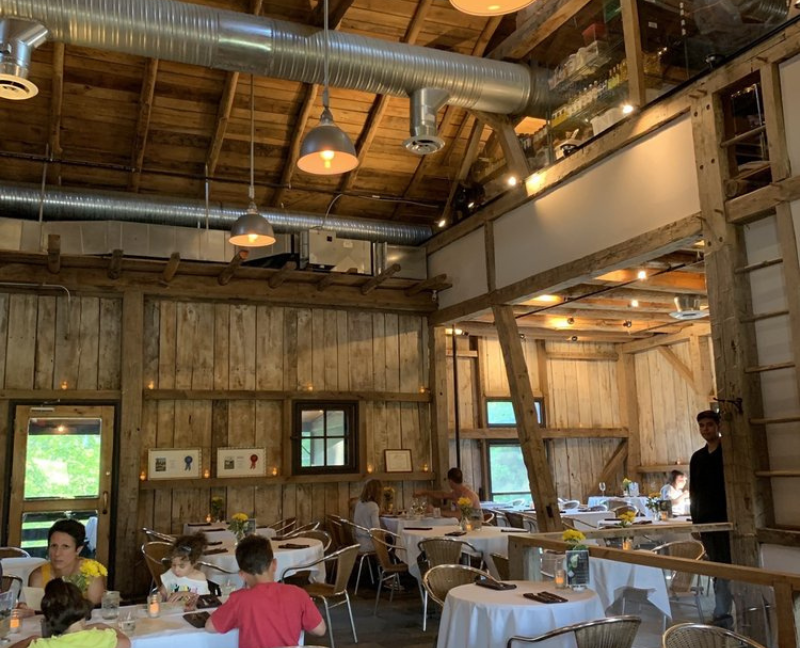 © Madison R | Yelp
Baby's
2147 N. Talbott St., Indianapolis
On the menu are kid-friendly items like smash burgers, fried chicken, and milkshakes, but the best part of Baby's (from a child's point of view) is the fantastic kids' play area on the patio. 
While you wait for your food, they also provide magnet tiles for kids to play with.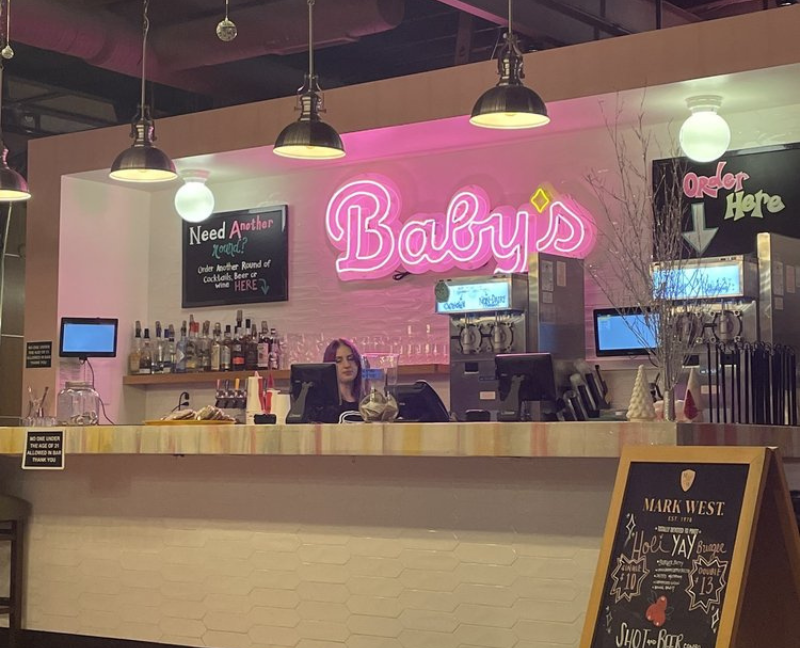 © Joe M | Yelp
Fork + Ale House
350 Veterans Way, Carmel
Chicken tenders, burgers, and white mac & cheese are all available at Fork + Ale House. Yet the fact that it is located in the heart of Carmel's Midtown Plaza makes it really stand out. 
If the weather is nice, select a seat on the patio of Fork + Ale House to be close to the outdoor ping pong tables, pool tables, and massive LED TV. While the kids play, parents may enjoy their lunch!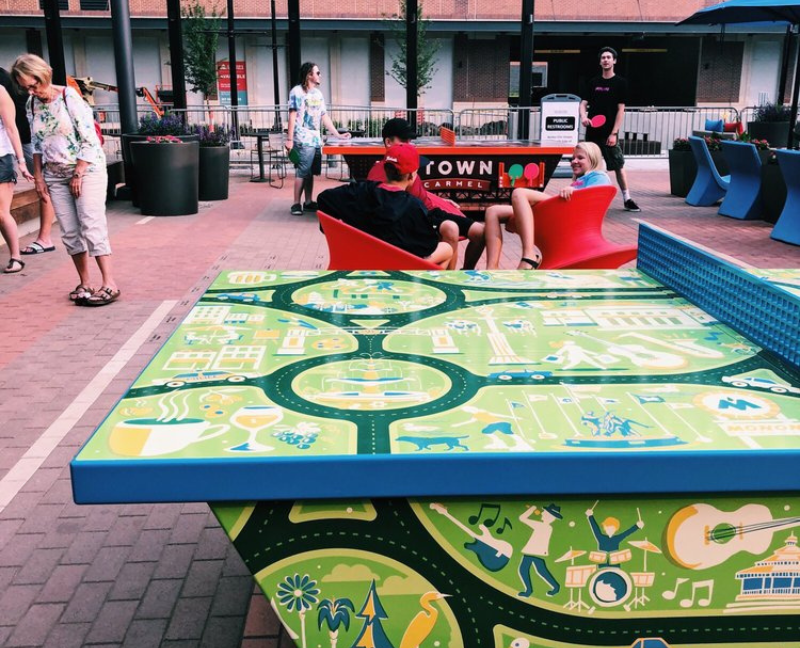 © Niki B | Yelp
Did we miss anything? What's your favorite family-friendly restaurant in Indiana?
Feel free to share your thoughts in the comments below!
Your choice of restaurant is crucial when dining with children. 
Before your drinks even arrive at your table, a restaurant experience can go south if the atmosphere isn't enjoyable and welcoming to kids. 
We're fortunate that there are lots of kid-friendly eateries in the greater Indianapolis area. 
The good thing is that we know where to look, therefore we were able to find you some fantastic, entertaining eateries in Indianapolis!
Disclaimer: Some of these restaurants may not be categorized as "child restaurants" in the strictest sense. Nonetheless, they are enjoyable and kid-friendly and have plenty to offer families searching for a calm, enjoyable dining experience.
5 Family-Friendly Restaurants In Indianapolis
Field Brewing
303 E Main Street, Westfield
There are times when parents simply need a fantastic restaurant with amazing food and drinks where their kids can play nearby, such as Field Brewing. 
This Westfield brewery includes a beautiful garden, outdoor patio seating, and a space where guests can play giant Jenga, bocce ball, or simply relax on the man-made turf.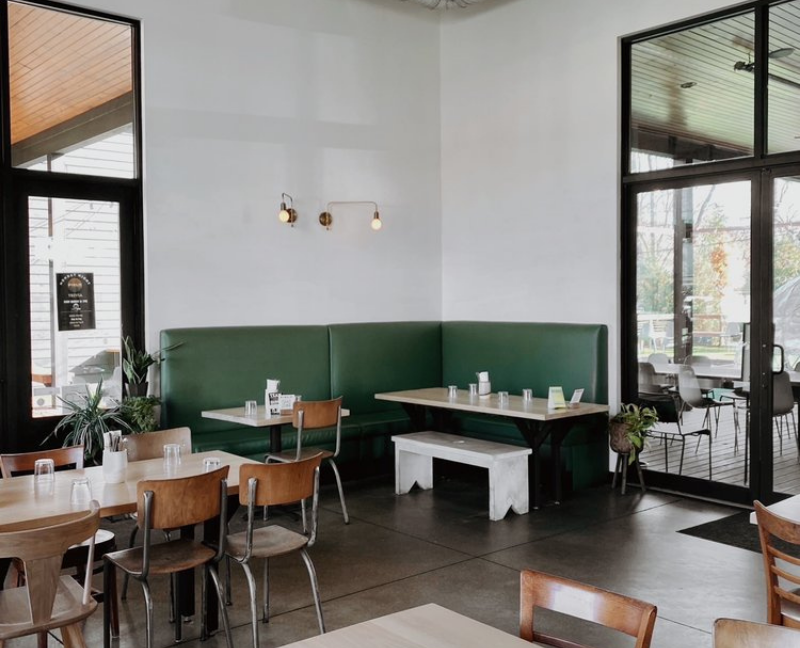 © Olivia S | Yelp
Books & Brews
Multiple Locations
Brownsburg

Carmel 

Indianapolis

Noblesville

South Indy

Zionsville
The ideal restaurant for a family night out is this one! 
You may play hundreds of board games at your table, such as Chutes, Fact-Crap, or Zingo while enjoying some food, drink, and revelry. 
And if reading is more your style, Books & Brews has a large selection of books that you can browse while dining or buy to take home. 
Bonus: Books & Brews has numerous locations in the Indianapolis area, and each provides a day where kids eat free!
Below are the days and locations: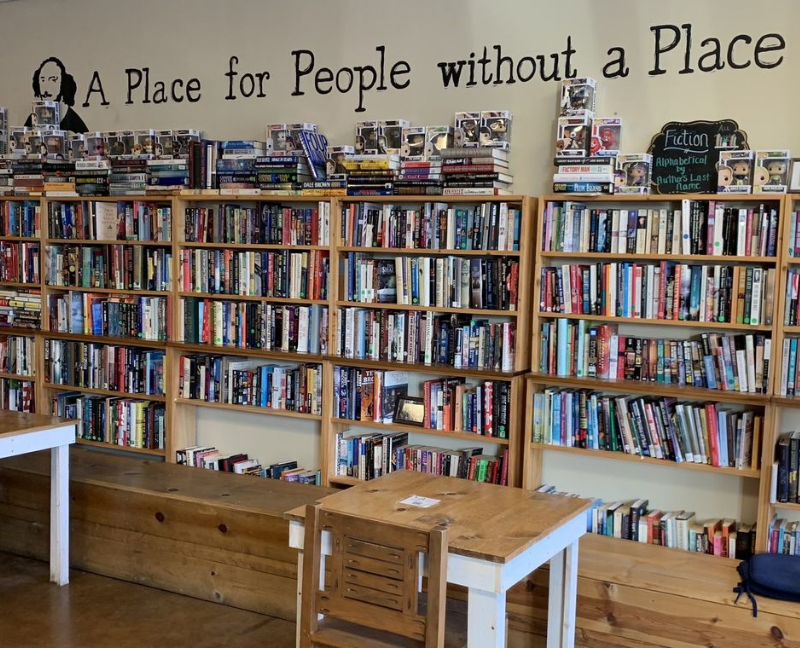 © Cynthia W | Yelp
Half Liter BBQ & Beer Hall
5301 Winthrop Ave., Indianapolis
You should bring your half-pints to Half Liter Barbeque & Beer Hall. 
This Broad Ripple establishment offers some of the best BBQs in Indianapolis, a sizable, open, relaxed, and family-friendly outside seating space. 
Even if you're waiting for your food, you can play a game of cornhole! 
Get Extra: Keep your kids (and inner child) happy by ordering a dessert from Dippin' Dots and Rice Krispie at Half Liter.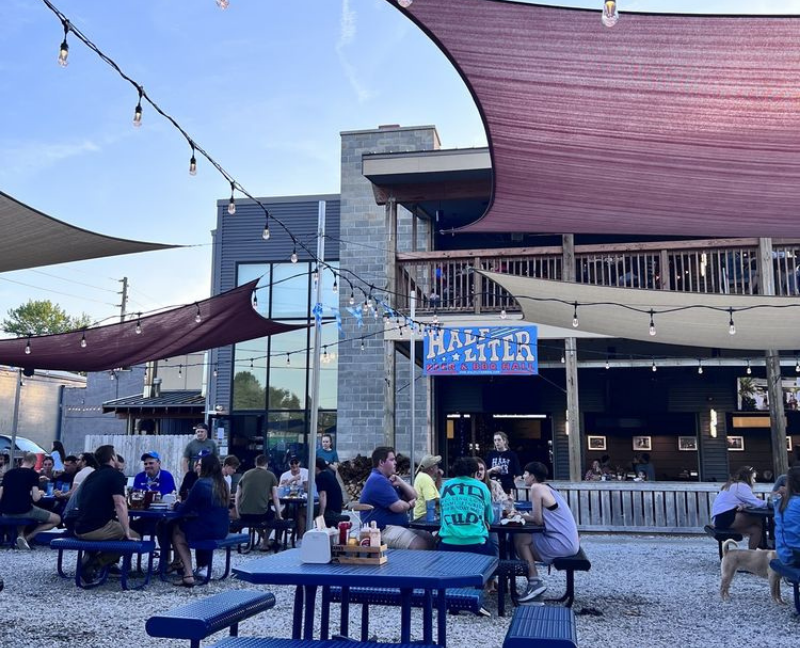 © Kayla S | Yelp
Ford's Garage 
13193 Levinson Lane, Noblesville
Ford's Garage, a restaurant that is decorated with Ford car parts and memorabilia, might appeal mostly to car enthusiasts (and kids who love vehicles).
Other than the genuine cars present within the restaurant, the establishment serves chicken, waffles, burgers, and more. 
Before you leave the restaurant after having an appetizing dinner, turn right and you will notice a children's outdoor play area that is a part of the Hamilton Town Center outdoor shopping mall.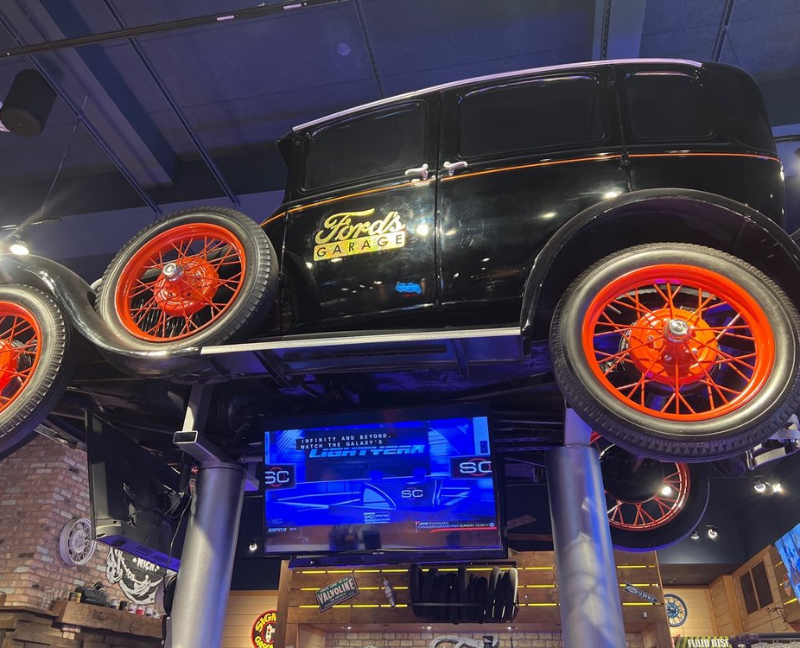 © Tiff R | Yelp
The Old Spaghetti Factory
Multiple Locations
Downtown Indy: 210 S. Meridian Street, Indianapolis
Carmel: 918 S. Rangeline Road, Carmel
Chicken, spaghetti, and OREO cookie shake? What else are you looking for? Their menu is like a paradise that you and your family will surely love.
All meals on The Old Spaghetti Factory's kid's menu include a dessert, either vanilla ice cream or spumoni, at the end of the meal. 
If you want to have even more fun, ask to sit in the trolley car, which is an amusing feature in all OSF locations!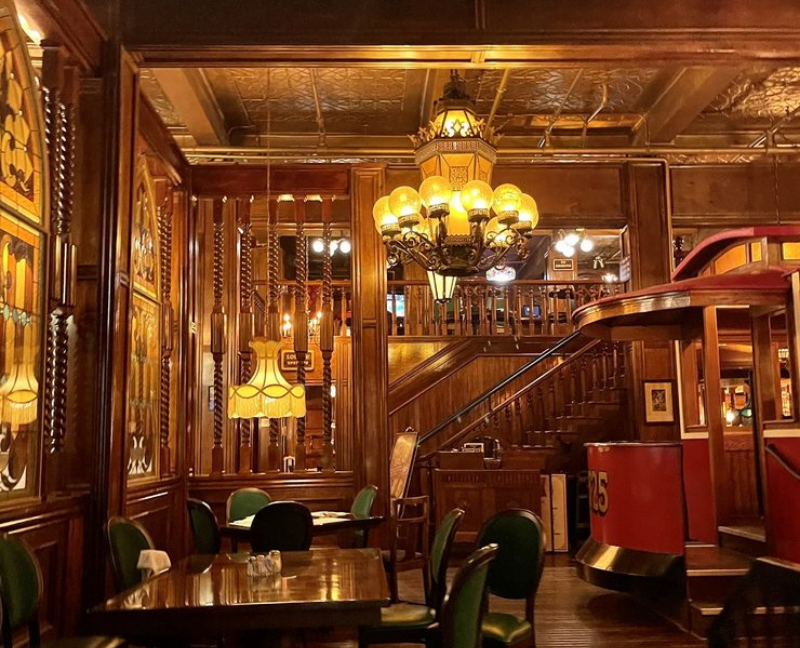 © Kara M | Yelp
These are just some of the best family restaurants you should try this weekend. In the next part, you'll find more food establishments for you and your kids.
It's the month of Love! If you're looking for a restaurant in Indy to have a romantic dinner, a place to celebrate friendship, or anything in between this Valentine's season, RE/MAX Advanced Realty has you covered. Our agents, Ashley Abbott, Josh Latham, David Cook, and Cate Waggoner-Lee, shared their favorite restaurants in Indy with a romantic atmosphere.
(317) 257–2253 ext. 3 ( both locations)

This beautifully decorated cake shop welcomes its client with a magical fairytale-themed decoration (Broad Ripple Village) or hundreds of Swarovski crystals glistening on many chandeliers ( Carmel City Center). Wherever store you choose to visit; you are sure to enjoy an unforgettable experience of a great atmosphere, sumptuous dishes, and delicious desserts.
Coopers Hawk Winery & Restaurant
AVON 8696 E US Hwy 36 Avon, IN 46123 | 317-806-1234
INDIANAPOLIS 3815 E 96th St Indianapolis, IN 46240 | 317-574-9463

Perfectly for wine lovers, this restaurant invites everyone to experience memorable moments built upon delicious food and award-winning wines. They offer a Modern Casual Dining Experience with warm hospitality in an inviting upscale setting and a Napa-Style Tasting Room and Artisanal Markets where guests can explore and expand their palates and enrich their wine journey.
Downtown Indianapolis | 153 South Illinois St., Indianapolis, IN 46225 | 317 635-9594
Northside Indianapolis | 4050 East 82nd St., Indianapolis, IN 46250 | 317 915-8045

A must-go for grill lovers, Harry & Izzy's is a sister company of the famous St. Elmo Steak House. It is an independent, upscale, classic American Grill with an ambiance exuding class and sophistication in a comfortable setting with a lively bar centered in the restaurant and a broad menu of tasty dishes.
299 W Main St Greenwood Indiana 46142 | contact@reverygreenwood.com | 317-215-4164

This mid-sized restaurant in the family-friendly, uniquely charming neighborhood of Old Town Greenwood offers high-quality food & drinks in a modern-meets-rustic environment. They utilize the freshest ingredients to bring homemade dishes straight to your table. 

Wonderful food, superior service, and an enchanted ambiance are what you can expect in this restaurant. They are dedicated to creating memorable moments for their guests by providing exceptional quality and value. They offer a wide variety of menus that surely won't disappoint.
8031 S. Meridian St. Indianapolis, IN 46217 | 317-888-1112

This restaurant is for you if you enjoy eating Italian food in a relaxed and cozy ambiance. Vito Provolone is a family-owned Italian restaurant on the Southside of Indianapolis that has been serving pasta, pizza, and house favorites such as Chicken Marsala & Spicy Vodka Sauce for decades.
WE KNOW INDIANA! Sign up to our weekly newsletter to stay updated about all things fun and real estate related events and news in and around Indy.
When thinking of the Hoosier state, many think of Indiana's robust auto industry, corn fields, or Colts. However, real estate investment in Indiana has become popular. This Indiana real estate market guide will show investors why this attractive Midwestern state must be part of their investing plans.
Brief Background Of Indiana
The Circle City, or Indianapolis, blends the buzz of the Big City with the rustic charm of the Midwest. Additionally, it has fantastic cash-flowing assets and a sizable expansion ceiling. Real estate analysts praise its ongoing growth and robust rental market.
Indianapolis homes are in high demand due to investors from other states. According to HousingWire, Indianapolis is where remote real estate investors rank highest for having affordable real estate and larger profits.
Before investing in any real estate, many details need to be figured out, and here is the investing guide for Indiana's real estate that you can consider:
Benefits Of Making An Investment In Indiana
Indiana is not the first place people think of living. If you look deeper, it's no wonder that this state has new inhabitants and property investors seeing Indiana as a place to invest and expand their fortune through real estate. Indiana is worth considering if you want a change of scenery, a new house, or a rental property.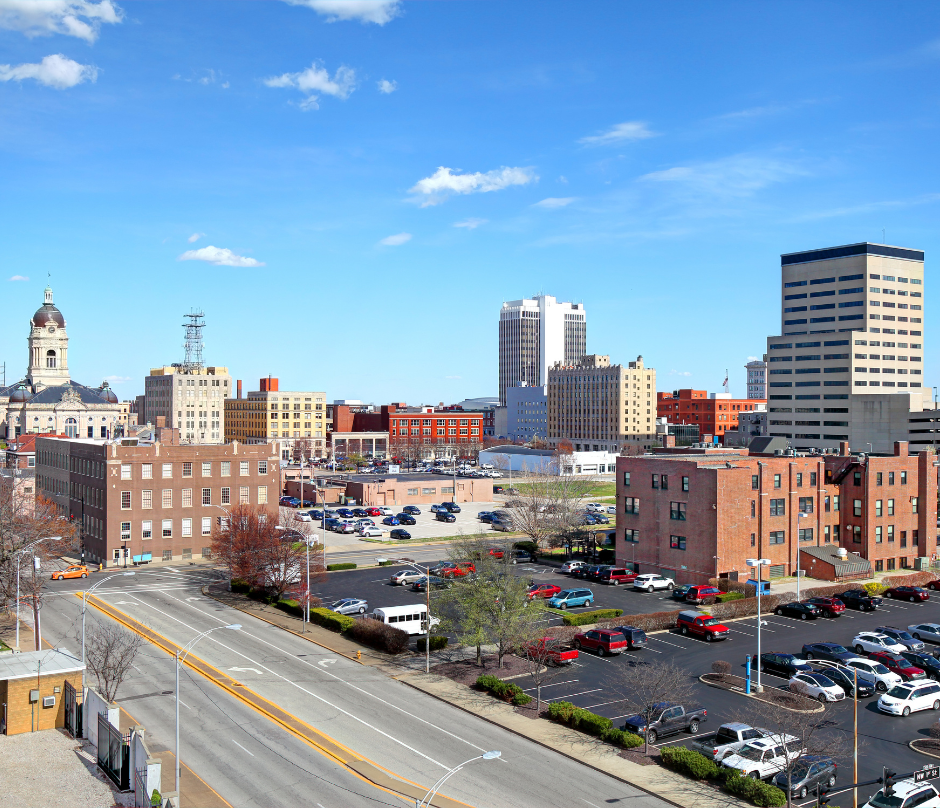 Population Growth
According to the World Population Review, Indiana's population is 6.8 million, up 300,000 from 2010. As the population grows, real estate values will rise. Indianapolis, the 15th largest US city, is also desirable. Fort Wayne, Evansville, Carmel, and South Bend are Indiana's four most populated cities.
The Diverse Economy
A diversified economy can be found in Indiana. Healthcare, logistics, the public sector, and technology are a few sectors that are essential to Indiana's economy. The state is also home to several reliable businesses. However, the 100 most prominent companies in the state include Go Electric, Anthem, and numerous others.
Job Growth
Indiana has a high job growth rate, which is advantageous for those looking for new professional prospects. However, many of these people will also need new homes. In terms of job growth, Indiana is in the lead. The market has increased by 2.5% in the past year, putting the state at 4% over the national average.
Friendly To Both Businesses And Real Estate Investors
Low taxes make Indiana a business-friendly state. Indiana is also a landlord-friendly state. Landlords can raise rent with a 30-day notice. State landlords can levy security deposits, late fees, and deductions. Ten days for not paying rent, landlords can evict tenants, making dealing with the delinquent tenants easier.
High Occupancy Rates
Indiana has a high occupancy rate, meaning tenants or their owners occupy most homes. The vacancy rate in Indiana is about 8.7%. A high occupancy rate indicates a steady market in the state, which increases the likelihood that your prospective property will be quickly rented out after you invest.
Conclusion
It's important to remember that Indiana has cost-effective homes, enabling landlords to charge affordable rates and fostering a steady rental market for those looking to invest. Indiana's real estate investing trends encourage expansion for a growing state. 
To celebrate and honor the life and achievements of Dr. Martin Luther King Jr., numerous establishments in Indy are Offering Free Events and Admissions this Monday, January 16, 2023.
3000 N Meridian Street, Indianapolis, IN 46208
Phone 317-334-4000
Free Admission! Some special events may require advanced tickets.
Celebrate and enjoy special activities and performances dedicated to the achievements and legacy of Dr. Martin Luther King Jr. at the Children's Museum this January 16, 2023, from 10 am - 5 pm.
13400 Allisonville Road, Fishers, IN 46038
Phone: 317-776-6000 or 800-966-1836
Tickets are only available at the ticket desk on the Day of the event.
Celebrate Identity, Belonging, Community and Love throughout the Day
this January.
500 W Washington St. Indianapolis, IN 46204 | 10 am - 5 pm
(317) 636-9378 | Free Admission
Celebrate Martin Luther King, Jr. Day by learning about famous quotes from Dr. Martin Luther King Jr. and participating in a community art project at the Eagle Commons Hallway.
Eugene and Marilyn Glick Indiana History Center
450 West Ohio Street, Indianapolis, IN 46202
(317) 232-1882 | Free Admission | Donations Encouraged
Storytelling, service activity, musical melodies, and beats of Keisha Ballinger and the University United Methodist Church Praise Team await everyone visiting the Indiana Historical Society on Martin Luther King Jr. Day, Monday, January 16, from 10 am - 5 pm.
Those who wish to contribute to a local community project can bring new children's clothes, books, or cash donations for Charity Cares Early Academy. 
650 W Washington St. Indianapolis, IN 46204
(317) 232-1637 | Free Admission | Donations Encouraged
Celebrate Dr. King's dream and explore the story of the fight for civil rights. Learn some of Dr. King's most iconic speeches and experience activities themed around civil and human rights. 
Visitors who plan to make donations are encouraged to make monetary donations of any amount via Dip Jars to Gleaners Food Bank instead of non-perishable items.
1200 W Washington St, Indianapolis, IN 46222| 9 am - 4 pm
317-630-2001 | Free Admission
Everyone with generous hearts and a sense of adventure are invited to the Zoo! Hardier animals will be out to enjoy the Day, including Arctic foxes, sea lions, walruses, tigers, brown bears, and others. 
The Zoo is Open for Free on Martin Luther King Jr.'s Day. Donation dip jars will be on site for monetary donations benefitting Gleaner's Food Bank. Food pantry donation items will be given to The Exchange at the Indianapolis Urban League.
Walker Theater 617 Indiana Ave., Indianapolis, IN 46202
(317) 236-2099 | Free event, but registration is required.
Madam Walker Legacy Center is a 501 C3 non-profit organization and Indiana Avenue's last iconic building dedicated to promoting and supporting cultural education, social justice, entrepreneurship, and youth empowerment.
This Monday, January 16, 2023, at noon, they will be hosting their 41st Annual Day of Celebration with their featured speaker Tamika D Mallory, Time 100's award-winning social justice leader and movement strategies.
Get your Free Tickets Here!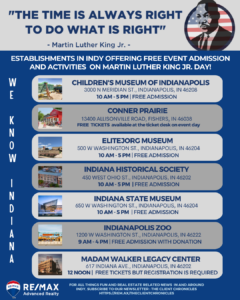 Note: We've rounded up the list based on the information these establishments have posted on their website and official social media accounts and have no control over any changes or ticket availability; we've provided links to their official website; feel free to check to confirm before going.
If you're a home buyer searching for a home, RE/MAX Advanced Realty's roster of real estate agents is READY TO ASSIST YOU FOR FREE throughout the year! Give us a call at 317-298-0961 or visit our website at www.indyhomepros.com 
RE/MAX Advanced Realty just listed the Iconic Mug-n-Bun for Sale! This vintage drive-in has been serving fine food on Indy's West side since 1960. Located just a stone's throw away from Indianapolis Motor Speedway, Mug-n-Bun has been a staple to the community for 63 years. They have served generations of Speedway diners, including race lovers, tourists, and Hoosiers.
Featured on an episode of the television series Man Vs Food,  Mug-n-Bun Indiana is well known for their burgers and homemade root beer . They also serve tenderloins, hand-dipped onion rings, milkshakes, and healthier options like grilled chicken, salads, plus so much more! Mug-n-Bun has something for everyone, and one can eat however they want with their various dining options - In car service for the drive-in traditionalists, at their outside picnic area, or at their indoor seating.  They also accept call-ins for pick-up orders and offer the option to rent their facilities for special events.
Currently owned by master electrician Jay Watson, the business was purchased 23 years ago as his retirement project. Now that he is 63, he decided that he is ready to get out of the restaurant business, hence the decision to put the booming restaurant business up for sale.

Listed at $2,199,000 by RE/MAX Advanced Realty's top commercial agent Keith Turnbill, 5211 W 10th St. Speedway, IN 46224 is located right at the heart of Speedway on nearly 2.50 acres.
The sale includes:
The drive-up restaurant
A sit-down restaurant
A pizza shop
A residence
Plus, all the restaurant's equipment, furniture, and fixings.
All that one could need to keep the business running.
In an Interview with Indy Star, Mug-n-Bun owner Jay Watson said that he is proud of both the service and delicious food they have served throughout the decades.He hopes that whoever buys the Mug-n-Bun will continue the business. If there's one piece of advice he can give to whoever buys his business, it's the same advice he received shortly after taking over. "Don't change anything" If ain't broke, don't fix it.  With over 3000 positive Mug-n-Bun reviews  on their google page, many agree with Mr. Watson.
Have you already dined at Mug-n-Bun in Indiana and tried the Mug-n-Bun special? What are your favorite dishes?How do you feel about the sale of this iconic Drive-in in Speedway? What's your favorite memory while eating at this diner? Leave your thoughts in the comment section below!
If you have any real estate related questions about the listing, contact RE/MAX Advanced Realty Greenwood Office's Head of Commercial Division, Keith Turnbill at 317-626-0800 or drop by our office at 65 Airport Pkway Ste 140 Greenwood, IN 46143