The holidays might be exciting, but it can also be a stressful and expensive time of year. On top of this, decorating your home for the first time can be challenging.
If you want a home makeover on a budget, this post will share some DIY holiday transformations without spending so much.
How To Makeover Your House On A Budget
Below are the following four tips you may consider if you want a makeover on a budget:
Keep It Classic
Putting together a neutral base of decorations is one way to reduce the likelihood of replacing pricey, on-trend pieces every year. 
Pieces with a natural theme, snowflakes, and string lights are typically accepted and deemed ageless. In addition, you might consider sticking to a color scheme consisting of white, silver, and gold. By having a theme, you can avoid the potential temptations of impulsive buying while maintaining flexibility for possible future living arrangements.
Functionality
Decorations are added to be... well, decorative. However, owning beautiful items for the sake of being beautiful may quickly turn into pricey clutter that you dislike keeping in a closet all year long, only to pull out and place on an end table. That said, checking for items that can serve multiple purposes can help you save money. For instance, instead of buying more holiday-specific gift wraps, use gold gift bags and white tissue paper for birthdays, bridal and baby showers, bachelorette parties, and wedding gifts.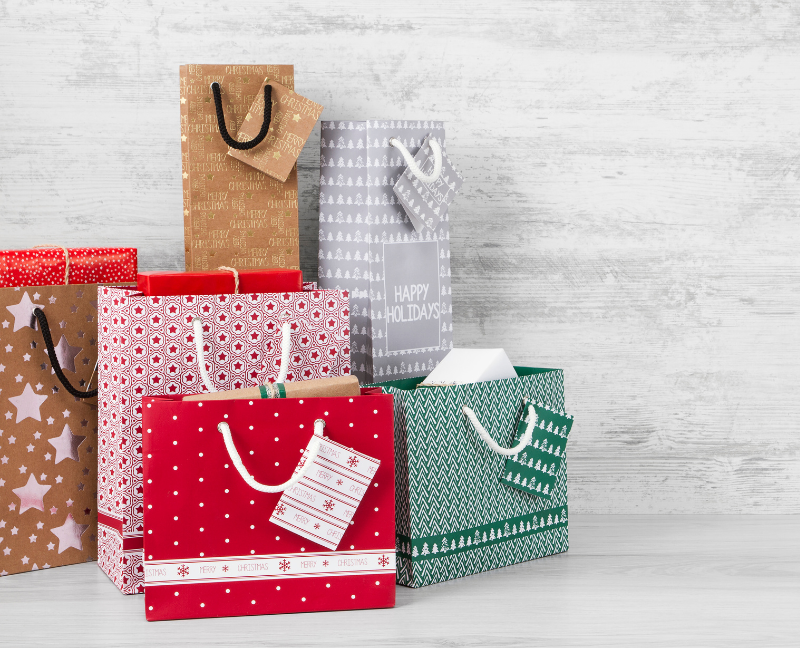 Storage
Purchasing new items annually may be the best option if you don't have enough storage space, and you can do a home makeover on a budget if you consider doing this. These days, fake trees are relatively easy to disassemble, and any rough parts on the tree may be covered up with additional garlands and decorations.
Since your tree will take up the same amount of room every year, adding to a collection of modest decorations won't affect your space as much as a tiny village or snow globe collection. Hanging Christmas cards from a fishing wire hanger on the wall is an additional space-saving method of bringing cheer.
Set Long-Term Goal
Have fun as you establish roots—whether alone or with a family, in your present residence, or one that awaits you down the road—you'll be honing your sense of style and perfecting your home decor. 
You may more successfully scan post-holiday clearance discounts and put new scores aside from your existing likes if you have a long-term vision. Setting long-term goals gives us everything to look forward to in both personal finance and design. Remember that you need to be patient and trust the process.
Conclusion
The key to success in doing a holiday makeover on a budget is a classic approach, considering decoration utility, storage limits, and a long-term goal. Holiday decorating should emphasize simplicity, functionality, and long-term vision.
Buying a home is all fun and games until you buy a home. It costs a fortune, has too many decisions to be made, and isn't easy to even know what to search for. 
So before you start the home-buying process, it's crucial to do research and ask as many questions as you can.
Not sure what questions to ask? Don't worry! We've made it easier for you.
We've put together a list of questions to ask when buying a house to make you feel more at ease about the process. 
Questions About Buying A Home
How Much Is My Housing Budget?
This is the first question about buying a home since having an appropriate house budget avoids overspending on a home. Being saddled with a hefty monthly payment you can barely afford is disastrous and might lead to a huge debt. You must own your house if that happens. 
Therefore, when determining your budget, it's practical to limit your mortgage payments to 25% of your monthly income. Thus, your budget will have the capacity for additional financial goals like retirement investing each month.
What Is The Recommended Amount Of Savings For A Down Payment?
The 100 %-down plan is excellent for home buying as well as buying a house in cash. Aim for a 5–10% down payment on your first property if you intend to get a mortgage. A higher down payment reduces monthly payments, debt, and risk. After waiting a while and saving 20%, you'll avoid private mortgage insurance (PMI), leaving extra monthly money in your budget.
You can consider a 15-year fixed-rate mortgage if you buy a house. Stop taking 30-year loans since they increase debt and interest. Stay clear from adjustable-rate mortgages, FHA loans, and VA loans—they include hidden expenses.
What Is The Amount Of Closing Costs?
Closing costs are typically 2–5% of your home's buying price. Closing costs for a $300,000 home are expected to be $6,000–15,000. Save enough for closing fees in addition to a down payment.
Should I Put Money Aside For Moving Costs?
Local movements are less expensive than long-distance moves, varying significantly depending on the distance traveled. Verify your finances to make sure you have enough saved to cover unforeseen expenses. 
If you're moving for a job, your new employer may offer a relocation package to cover your costs—64% of employees received relocation reimbursement in 2022.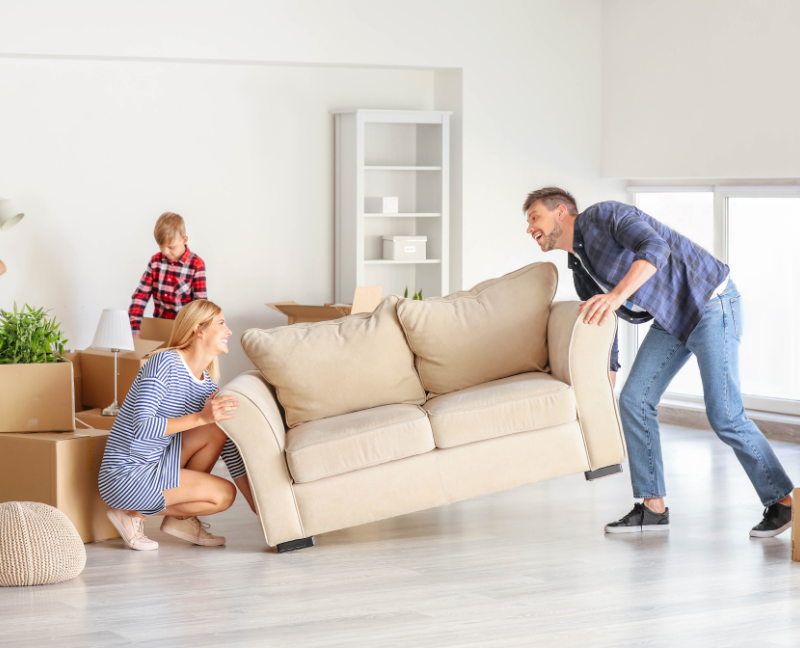 Which Way Should I Decorate And Furnish?
This depends on the money you have for furnishing. If you purchased a fully furnished property, you're lucky; if not, you need to plan for decorating and furnishing your home.
This may be as simple as moving your furniture to your new home or buying new items. 
When purchasing items, only buy new or old furniture you can afford to pay cash for. Adding consumer debt to a mortgage is one of the most costly home buying mistakes. Decorating one area at a time can help you meet your financial goals.
What Kind Of Location Is It?
Asking about location is essential. You should know various things about an area before moving in, including:
The distance from the workplace

Easy accessibility for shops

The area's property values

The distance from the school

The distance from relatives and friends
Gaining some understanding of these details can assist you in determining whether a particular area or community best suits your needs and objectives.
How Are The Educational Institutions?
Having kids makes asking about the school districts near your future home important. But if you don't have kids, a property near good schools may be worth more when you sell your home in the future.
These are just some of the questions you can ask yourself before getting a new home. We have more questions in the next part, so be sure to click this link.
One of the most crucial instruments in today's real estate market for property sales is technology. Among those technological tools, one of the newest and most important ones for selling a house quickly is a virtual tour of real estate. This technology allowed military members to be transferred, investors to increase their portfolios, and homeowners to select vacation properties. Virtual tours enable real estate agents to help buyers find homes and give sellers unique marketing tools.
Buyers want to rapidly find their next secure haven, which may be their office, gym, or classroom over months or years. Sellers want to prevent strangers from entering their homes while reaching enough buyers for the greatest offer. Virtual house tours are popular, but there are many choices for buying or selling a home.
Tips On How To Do Virtual Tours Of Homes
1. The Development Of A Virtual House Tour
Many real estate specialists who had never utilized virtual tours had to adjust rapidly during the pandemic. Not everyone can produce a "virtual tour" as last year due to time and resource constraints.
360° photos are used in traditional virtual house tours to show all sides. These let virtual tour viewers see up, down, and around a home's interior and exterior. A dollhouse-like digital model can be created from 360° photographs using software. Agents may also use Virtual Staging to embellish spaces with digital furniture and wallpaper or paint.
Online Walkthroughs show you strolling about the home, unlike traditional virtual tours. The seller or agent will hold a camera or smartphone and go through the house to make a video. Online walkthroughs can be pre-recorded or live. 
They are also called Virtual Showings or Online Open Houses if live. A scheduled, one-on-one Virtual Showing begins at the exterior and moves around the home like an in-person tour. Virtual Showings include FaceTime or Skype from your agent from a home you're interested in. Online Open Houses are more flexible, allowing viewers to join and leave group video calls on Instagram, Facebook, or Zoom.
2. Not All Things Virtual Are Impersonal
These kinds of virtual tours show property details more clearly than static images. However, a new refrigerator or the size of the master closet aren't the only variables when buying a property. It's a good thing virtual tours are great for human connection.
Virtual house tours let buyers see the house from every angle, visualize themselves living there, and assess if the flow and features suit their lifestyle. Live video walkthroughs in the real estate agent reveal non-visual details like creaking floors, quick internet, and community dynamics. Plus, you may ask concerns and get an insider's take on the home's best features.
Virtual tours are now my standard recommendation for sellers to showcase their homes and attract buyers. You can be sure that interested buyers are still seeing your house up close and personal, which will inspire their best offers.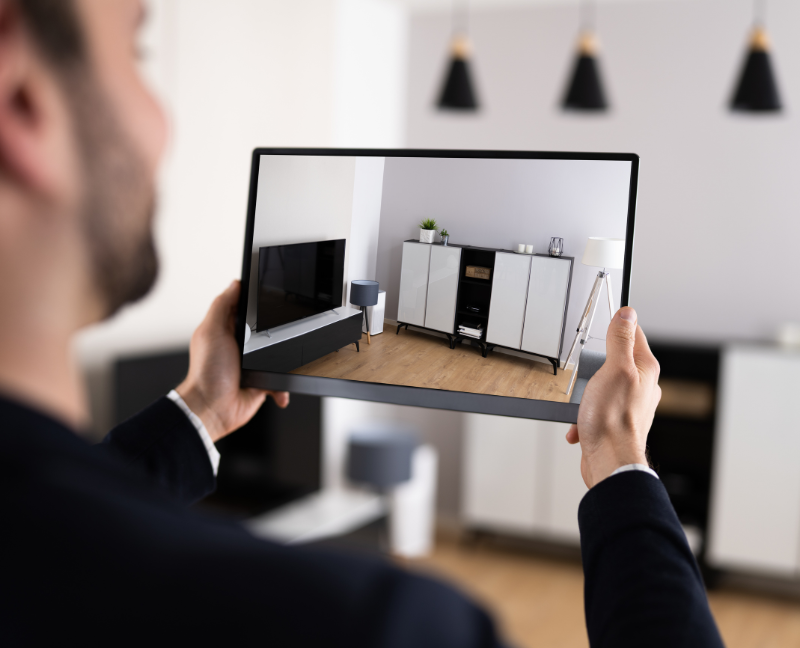 3. Virtual Only Represents The Beginning Of Safe Home Sales
Even though certain government limitations are lifted, virtual tours are still advised for buying and selling real estate. Buyers don't have to worry about previous visitors, while sellers lose foot traffic. Some data suggest virtual house tours make agents safer by reducing in-person showings and open houses.
Many virtual tours are available, but some buyers need to view a home to feel secure enough to make an offer. Realtors may advise purchasers to stay in their cars and wear gloves and face covers on the day of the in-person tour. Many sellers give hand sanitizer and ask buyers not to touch any surfaces. The agent will turn on lights, doors, and curtains. 
4. Your Objectives Will Affect How Quickly You Close
Real or not, virtual tours are expanding buyer and seller alternatives. The average buyer saw ten homes over ten weeks before making an offer in 2019. However, virtual tours save them time and allow them to view many homes quickly to create their ultimate pick.
As a buyer looking at a home from a couch, know you're not alone. You're competing with other buyers viewing the same properties, so collaborate with your real estate agent to make a solid offer when you find the property of your dreams. Sellers should evaluate the desire for a quick sale against the temptation to accept additional bids, which can extend the listing period by six percent. Agents can help you choose the best plan for your priorities.
5. The Best Option Might Not Always Be Virtual
Virtual tour creation, editing, uploading, and promotion for listings are expensive. Virtual staging and advertising will increase a listing's marketing expense. Even affordable methods like video call walkthroughs involve seller and agency time and effort.
These costs imply sellers may not want a comprehensive virtual tour bundle. Your agent may advise against a lengthy virtual tour, showing, and open house while marketing your home. That style of promotion may not appeal to your potential buyers, the investment-to-return ratio may not be favorable, or there may be other ways to get eligible buyers to notice your listing.
Buyers, some listings in your search may have something other than virtual tours. Those for-sale homes may have yet to need a full virtual marketing package to attract buyers or be better marketed traditionally. 
Have you tried a virtual tour? If yes, how was your experience with it? We'd love to hear your thoughts in the comment section.
Buying a home is one thing; bidding for your dream house is another. It can be overwhelming and stressful, especially if you haven't done this before. 
You may have prepared everything you need to purchase the property you want only to be outbid by another home buyer. 
So, how to get a house in a bidding war and make sure that you end up with the home you want?
In this post, we'll give you easy steps that will make your offer stand out from the others.
How Does A Bidding War Work On A House?
During the process of purchasing a home, a bidding war might break out when there are numerous purchasers interested in buying the same property. 
Each prospective buyer of a home continues to submit an offer that is higher or better than the previous one, which ultimately drives up the price of the residence.
In very competitive real estate markets, bidding wars may get out of control and even look nasty. 
How To Get A House In A Bidding War?
Here are nine simple steps on how to get a house in a bidding war:
Connect With A Skilled Loan Officer And Real Estate Agent
Home-buying for the first time doesn't have to be complicated. You can save time and money by hiring a market-savvy real estate agent. The agent will negotiate with the seller's agent and recommend reputable, low-interest lenders. An expert loan officer with local roots can help the sale go through—request mortgage pre-approval to simplify the procedure. 
Pre-Underwrite The Loan
Show the seller and agent you want the home. Most sellers worry about mortgage loan denials stopping the purchase. Request pre-underwriting from your lender before making an offer. A pre-approval shows you have funds, enhancing your negotiating power. This may speed up the closing procedure and waive your financial contingency. 
Make A Proposal With No Contingencies
Waiving buyer contingency clauses may help you get an offer approved on a house with many offers. Contingency offers eliminate surprises like repairs and title issues after buying a house.
Removing contract contingencies can sweeten your offer as the real estate market lacks homes. Strategy risk is higher. If you want to waive your financing or inspection contingency, talk to your real estate agent.
Make A Higher Earnest Money Deposit And Down Payment
Down payments often indicate the buyer's financial situation to the seller. If the seller compares bids, a bigger down payment may suggest a stronger commitment to closing. 
More cash in the bank informs the seller you won't walk away after low appraisals or hefty repair bills. To entice the seller, provide earnest money—sellers like purchasers with good faith deposits who want their ideal home. Average charges are 1% to 3% of the purchase price, depending on area. 
Add An Escalation Clause
As home inventories decrease, homebuyers must be inventive to convince sellers to accept their bids. Escalation clauses in buyer contracts allow you to match and offer more than the highest bid until a specified amount. 
Consider inserting an escalation clause carefully. Seller's agents can use the clauses to get you to pay significantly more for the home than contracted. Talk to your realtor before utilizing this aggressive technique.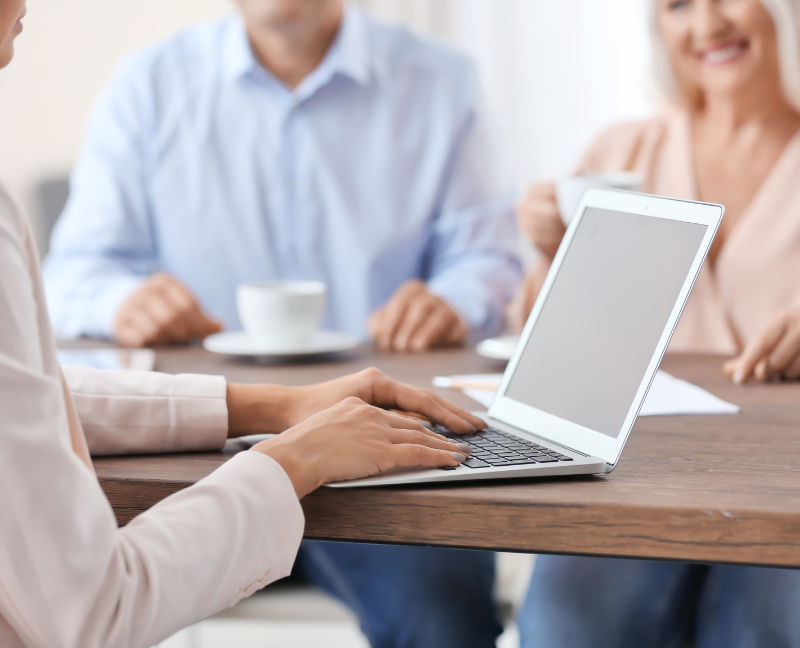 Waive The Appraisal Contingency
Appraisal discrepancies are a major cause of missed house sales. If prices soar faster than appraisers can justify, they will value a home below contract. A lesser price may cause sellers to walk away. 
Offering to fill part of the evaluation gap can boost your offer. Paying more than the home's value may be necessary. Waiving the appraisal contingency and contributing to discrepancies ensures the seller won't have to lower the price following the house inspection.  
Make An All-Cash Offer
An advance cash payment is the easiest way to get a house offer accepted with many offers. You have the money to close an all-cash home payment. A clean offer without mortgage lender contingencies is also what it means. Eliminating finance problems speeds up closure.
Be Flexible In Your Approach
Acknowledge sellers' demands with some flexibility. If you can afford closing costs, offer. Understanding each seller's wants and acting fast will help you beat other bidders to the sale. To respond fast to the seller, make sure your real estate agent communicates. The seller may accept your offer if you show that you are serious about closing quickly and without complications. 
Compose A Personal Letter For The Seller
Giving the seller a personal letter with your contract offer is outmoded. Your letter might convey that you value the home where they built many memories, enticing them to accept your proposal. 
Avoid using your religion, race, or politics in the letter to avoid unconscious bias. Growing Fair Housing Act litigation is discouraging real estate brokers and their clients from employing this method. 
Getting Many Bids to Accept The House Offer
Rejections for homes on the market might demoralize buyers. You may need to entice sellers with your bid. 
The tips above can help show your willingness to go the extra mile to buy the property. 
Do you have more tips on how to make your offer stand out? If yes, feel free to drop them in the comment section!
In today's world, energy efficiency is not just a buzzword; it's a smart way to save money, reduce your environmental impact, and make your home more comfortable. Whether you're looking to lower your utility bills, reduce your carbon footprint, or enhance your home's value, creating an energy-efficient home is the way to go. Today, let's explore a range of tips and strategies to help you achieve an energy-efficient home.
Before delving into practical tips, let's take a moment to understand why energy efficiency is crucial:
Lower Utility Bills: An energy-efficient home consumes less energy for heating, cooling, and electricity, resulting in substantial cost savings.
Reduced Environmental Impact: Lower energy consumption translates to reduced greenhouse gas emissions, helping combat climate change and protect the environment.
Enhanced Comfort: An energy-efficient home is a more comfortable home. Proper insulation, sealed gaps, and efficient heating and cooling systems provide consistent indoor temperatures.
Extended Equipment Lifespan: Energy-efficient appliances and systems experience less wear and tear, leading to longer lifespans and fewer replacements.
Increased Home Value: Energy-efficient features can make your home more appealing to potential buyers, potentially increasing its resale value.
Now, let's dive into the practical steps to make your home more energy-efficient.
Practical Tips for an Energy-Efficient Home
1. Conduct an Energy Audit
Start by identifying areas of improvement. Hire a professional or conduct a DIY energy audit to pinpoint where your home is losing energy. Common culprits include inadequate insulation, drafty doors and windows, and outdated appliances.
2. Upgrade Your Insulation
Proper insulation is key to maintaining a comfortable temperature indoors. Consider adding or upgrading insulation in your walls, attic, and floors. It's a one-time investment that yields long-term savings.
3. Seal Gaps and Cracks
Gaps and cracks in doors, windows, and walls can lead to energy waste. Seal these areas with weatherstripping or caulk to prevent heat loss and drafts.
4. Invest in Energy-Efficient Appliances
When it's time to replace appliances, choose ENERGY STAR-rated models. These appliances are designed to use less energy while providing the same level of performance.
5. Opt for LED Lighting
Replace incandescent bulbs with energy-efficient LED bulbs. They last longer and use significantly less energy, reducing your lighting costs.
6. Upgrade to Smart Thermostats
A smart thermostat allows you to control your home's temperature remotely and program it to reduce heating or cooling when you're not at home, further reducing energy consumption.
7. Implement Solar Solutions
Consider installing solar panels on your roof. They can significantly reduce your reliance on grid electricity, leading to substantial savings over time.
8. Use Energy-Efficient Windows
Double-paned or triple-paned windows offer better insulation, preventing heat loss in the winter and heat gain in the summer.
9. Reduce Water Consumption
Install low-flow faucets and showerheads and consider a tankless water heater to reduce your hot water consumption.
10. Practice Responsible Habits
Simple changes like turning off lights when not in use, unplugging electronics, and maintaining your HVAC system can also contribute to energy efficiency.
Creating an energy-efficient home is a wise investment that pays off in numerous ways. Lower utility bills, a reduced environmental footprint, improved comfort, and increased home value are just a few of the benefits. By implementing these practical tips and strategies, you can transform your home into an energy-efficient oasis, all while contributing to a more sustainable and eco-friendly future.
Although directly owning investment properties is the best real estate investing strategy, investors have other ways to generate money from real estate, like what we've mentioned in Part 1. This includes:
Buy and hold rental properties

Reinvest rental income

Buy, remodel, rent, refinance, repeat (BRRRR)

House fixing and flipping
To continue this part, we will give you additional investment strategies in real estate that you may want to consider in the future.
The Best Real Estate Investing Strategies
Below are the additional five investment strategies in real estate:
1. Real Estate Wholesaling
The investing strategies in real estate through wholesaling are similar to those of investing in real estate through fixing and flipping, except that a wholesaler does not take ownership of the property they are investing in. 
For a small wholesale fee, a real estate wholesaler finds a distressed property with an inspired seller, puts it under a contract at a below-market price, estimates repairs and fair market value, and assigns the buying and sale agreement to another investor.
Like mending and flipping, real estate wholesaling needs a lot of effort, market knowledge, and negotiation skills to get an owner to sell for less than market value. In several states, property wholesalers must be licensed.
Real estate wholesaling may be an excellent business for those with limited capital. Many professional real estate distributors use "real estate bird dogs" to find distressed property and pay a small referral fee.
2. Real Estate Investment Groups (REIGs)
Small funds known as real estate investment groups (REIGs) buy collections of rental properties and then make those properties available for investors. 
REIGs promote vacant properties, screen tenants, collect rents, manage property, and maintain them for a percentage of monthly rental income. REIG investors benefit from ongoing rental income and equity appreciation when the houses are sold. 
People searching for a hands-off real estate investing strategy may find REIG a viable alternative. Still, it's essential to look into management and their prior record of success or failure.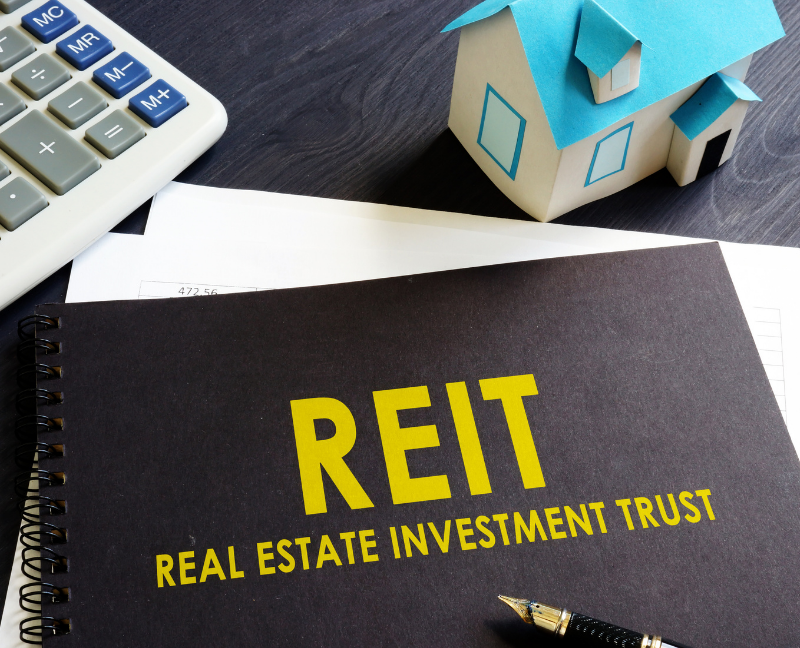 3. Real Estate Investment Trusts (REITs)
REITs are publicly or privately held companies that invest in residential build-to-rent (BTR) subdivisions, commercial real estate, and special-use properties like data centers and cold storage facilities. 
At least 90% of REIT profits must be distributed as dividends. They can diversify an investment portfolio, generating real estate income without owning property. Typically, REITs lease investment-grade properties to credit tenants for long periods. Publicly listed REITs are more liquid than other real estate investments because they may be traded.  
REITs do not offer the pros of owning a rental property, such as directly influencing property management decisions.
4. Crowdfunds
Investors in crowdfunding platforms buy shares in high-quality commercial and residential assets like new house developments, apartment buildings, and stable commercial real estate. 
Crowdfunding can expose investors to homes they cannot afford directly. If a project is lucrative, crowdfunding investors receive pro-rata net income distributions and a part of any sales revenues. 
Crowdfunding's illiquid shares may be locked up until a project is stable or during economic uncertainty. The crowdfund sponsor's experience in identifying profitable possibilities, financing and developing the project, and leasing and managing the property to optimize asset value and cash flow is also important to investors.
5. Private Lending
Private lenders buy real estate debt instead of equity. Private lenders finance real estate investors like home flippers who want an alternative to regular lending. Like banks, private lenders profit through lending fees and interest rates; however, most fees and interest rates are higher.
Although private lending can offer continuous interest income, a borrower may default, and a lender may have to take back a partially restored home. Since private lenders have real estate investing knowledge, they know how to protect themselves from foreclosure.
Did we miss anything? If there are other real estate investment strategies you know, feel free to drop them in the comment section below!
A home is more than just a place to live; it's your personal sanctuary. It's where you seek comfort, relaxation, and refuge from the outside world. While the concept of coziness is subjective, there are certain built-in features that can universally contribute to a warm and inviting atmosphere. In this post, we'll explore some key elements that can transform your space into the ultimate haven.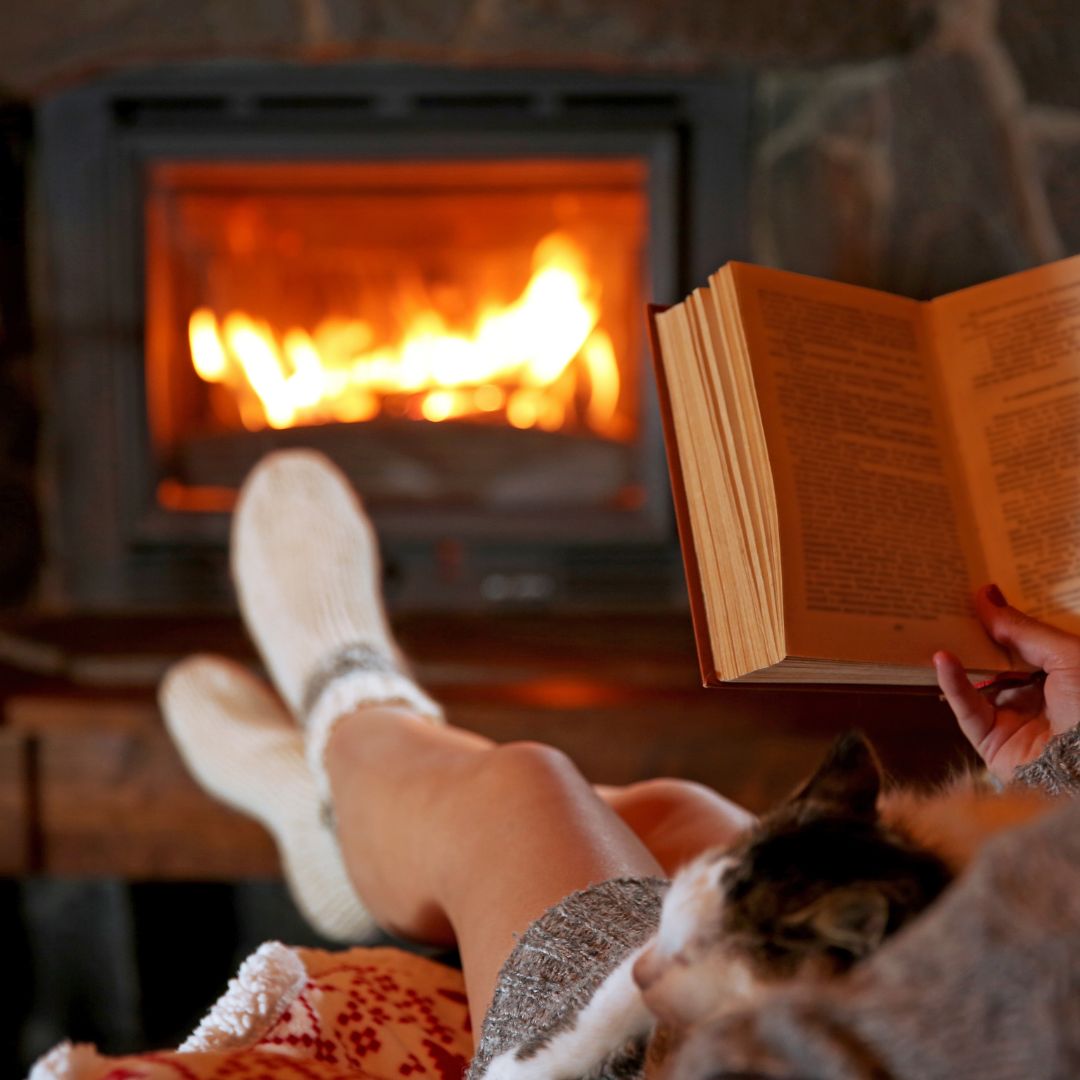 Fireplace 
Few features can match the charm and warmth of a built-in fireplace. Whether you opt for a traditional wood-burning hearth or a modern gas variant, a fireplace can be the centerpiece of your cozy living space. Its crackling flames and radiant heat make it a focal point for gatherings and a source of comfort on chilly nights.
Exposed Wooden Beams
Exposed wooden beams on ceilings or walls can infuse your home with a rustic and inviting ambiance. These architectural elements add character, making your space feel more grounded and cozy.
 Built-In Shelving
Custom-built shelves or bookcases are not only practical but also contribute to the overall coziness of your home. Display your cherished books, collectibles, or family photos, turning these built-in shelves into a reflection of your personality.
Tranquil Window Seat
Imagine having a peaceful corner with a view and natural light where you can curl up with a good book. A built-in window seat offers just that. It's a tranquil nook that allows you to enjoy the outdoors from the comfort of your home.
Bay Windows
Bay windows provide a perfect spot for a cozy seating area or a charming dining nook. The additional space and the natural light they bring can make any room feel warmer and more inviting.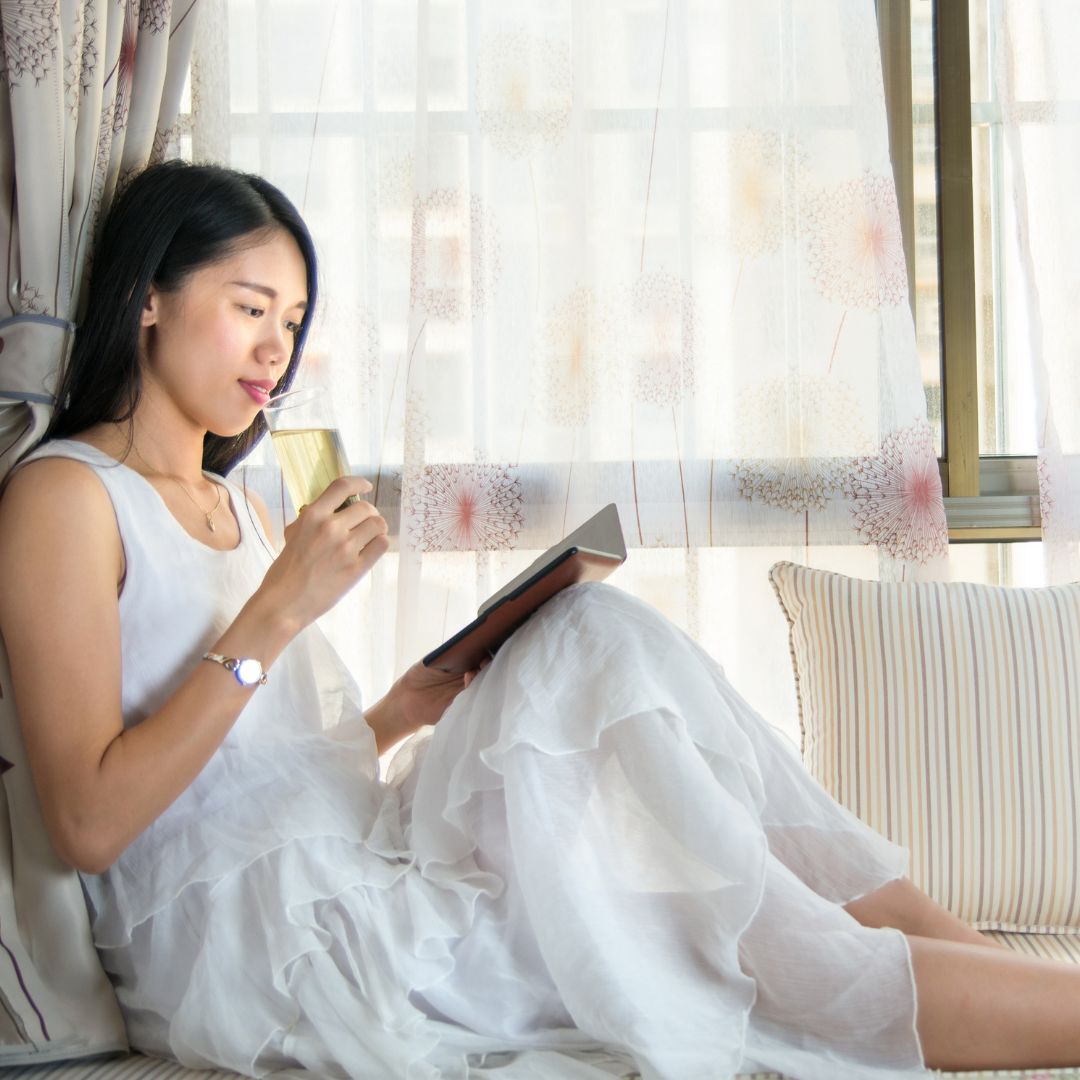 Crown Molding
Elegant crown molding adds a touch of timeless beauty to your home. It creates a sense of refinement and coziness that can transform any room.
Wainscoting
Wainscoting on your walls can introduce a sense of traditional warmth and style. It adds texture and character to your living spaces, making them feel more inviting.
Built-In Blinds
Built-in blinds or window treatments offer not only privacy and light control but also a polished and cozy look. They seamlessly blend with the architecture of your home.
Hidden Storage Solutions
Built-in storage solutions are more than just practical; they keep your space clutter-free and organized. Whether it's under-stair storage, hidden closets, or built-in cabinets, these features add convenience and a tidy, inviting environment.
Custom-Built Kitchen Island
A custom-built kitchen island can be the heart of your home, providing a central gathering place, additional counter space, and storage. It adds functionality and style to your kitchen, making it a cozy hub for cooking and socializing.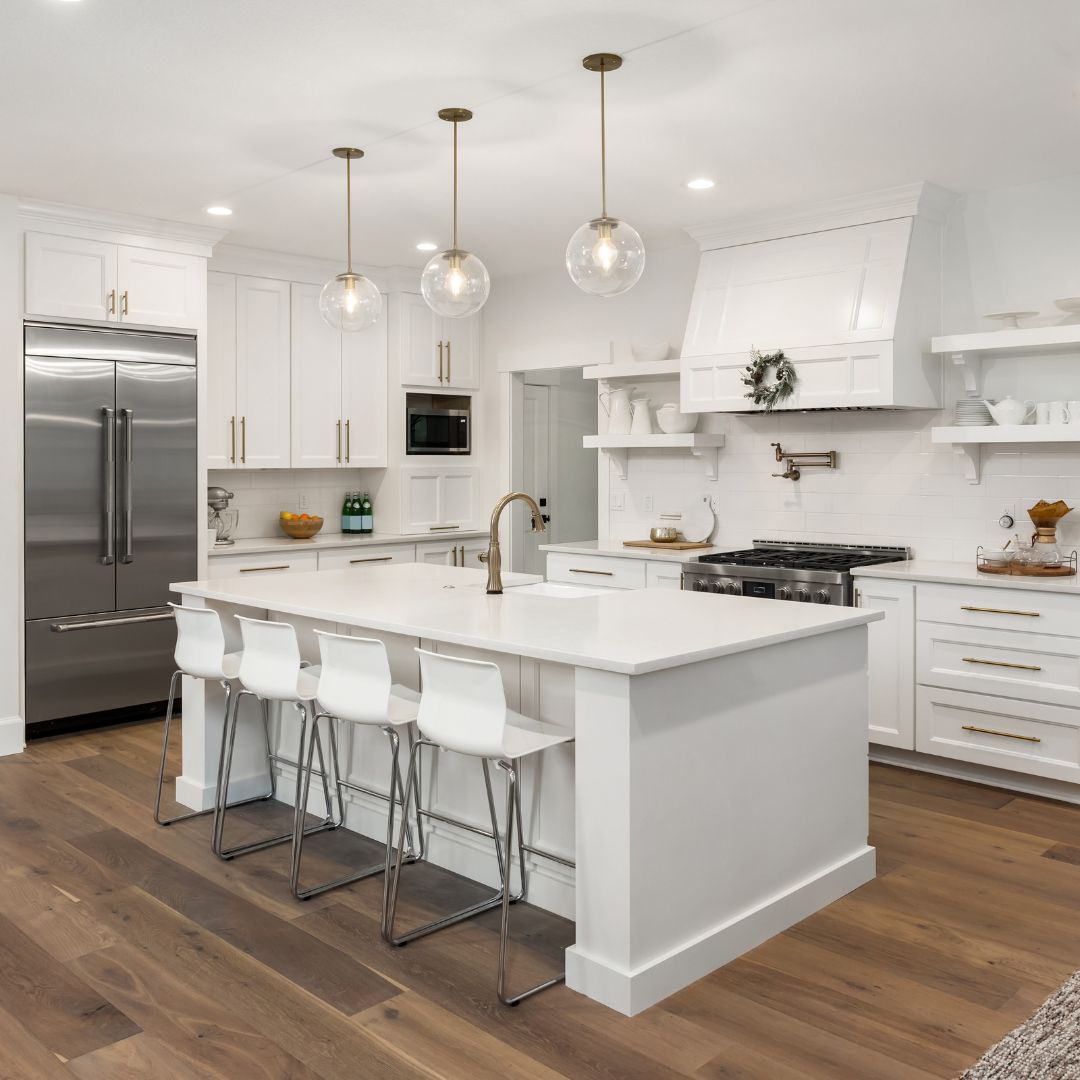 Incorporating these built-in features into your home can have a transformative effect, creating an environment that is both stylish and welcoming. Your living space will become more than just a house; it will be a true sanctuary of comfort and coziness.
Enjoyed this content? You might also find these articles worth your time:
Owning real estate is an excellent investment strategy with a holding that produces returns equal to the stock market but with less volatility. 
Additionally, residential real estate offers investors unique tax advantages and can employ leverage to increase overall returns to them.
In this post, we will give you the best real estate investing strategies you can use to get started.
The Best Real Estate Investing Strategies
Before anything else, you have to know that your goals and timeframe will determine which investment strategies in real estate work best for you. 
And here are your options:
1. Buy And Hold Rental Property
Real estate investors buy and hold SFR properties to earn rental income, profit from property value appreciation, and take advantage of specific tax incentives. Single-family rental property is the most popular real estate investment type for novice and experienced investors. SFRs (Single Family Residential) are simple to locate, acquire, and run. 
Residential real estate buyers have access to various financing choices, including conventional loans, loans backed by the government, private lenders, and lenders with portfolios of properties. 
2. Reinvest Rental Income
Reinvesting income from rental properties is a common supplement to the buy-and-hold approach many real estate investors employ. 
The "snowball effect" saves net cash flow on one rental property until they have enough money for a second rental property down payment. Next, both rental properties' net cash flows are kept until they have enough money saved for the third asset. 
The snowball effect of cash created by an investor's rental properties grows larger as the investor's portfolio grows, much like a snowball that rolls down a hill. 
Owners may reinvest rental revenue by making extra mortgage payments to pay down a property faster. After appreciation and mortgage prepayments, the investor conducts a cash-out refinance to purchase another rental property.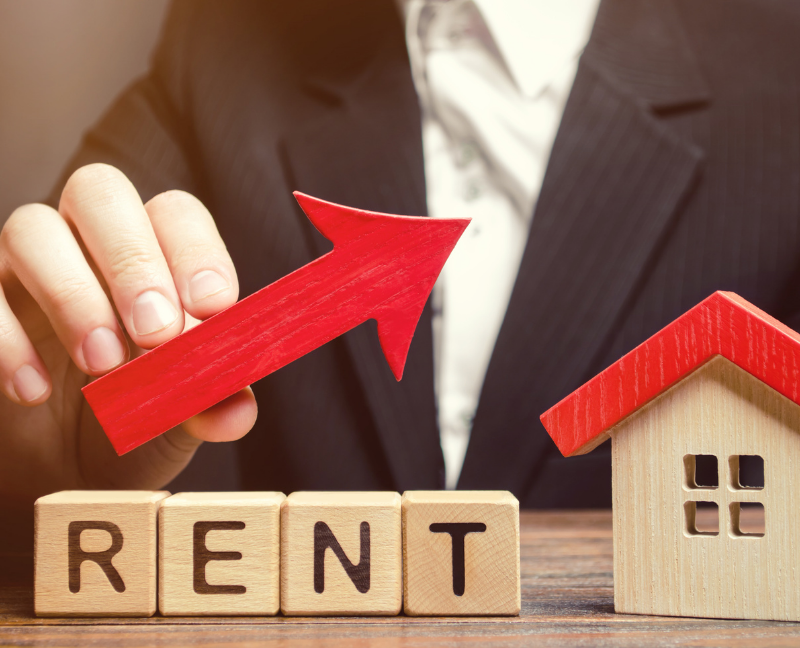 3. House-Hack
Investing in rental property may demand a substantial down payment. People who own their home but don't have enough money to buy a rental property use house hacking. 
The common examples of house hacking are the rental of a spare bedroom or converting a basement into a studio apartment. Savings from home hacking rentals can be utilized as down payments on rental properties until funds are available. 
Some investors will also employ a low down payment Federal Housing Administration (FHA) or Veterans Affairs (VA) loan to buy a modest, multifamily property. The requirement that the borrower resides in one of the units as their principal residence is one of the potential disadvantages of this strategy. 
However, residing next to tenants is an excellent opportunity to learn about investment strategies in real estate and obtain practical property management expertise.
4. Buy, Remodel, Rent, Refinance, Repeat (BRRRR)
Investors utilize buy, remodel, rent, refinance, repeat (BRRRR) to buy fixer-upper property with short-term financing, make renovations, rent to a qualifying tenant, then refinance and draw cash out once the property has stabilized cash flow. 
In the BRRRR investment strategy in real estate, investors repeat the same steps, like the snowball effect. Active investors with the time, knowledge, or a trusted, cost-effective network of contractors and handypersons to remodel should use BRRRR. 
5. House Fixing And Flipping
If everything goes according to plan, house flipping is a high-risk real estate investing strategy with a potential high payout. Fix-and-flip investors don't want to be landlords since they only own properties for a few months. After buying an undervalued home, a flipper may perform targeted modifications to increase its value or hold onto it to profit from appreciation. 
A home flipper who takes too long or underestimates repairs may run out of money. Fixed and flipping is best for people with knowledge of assessing fair market property worth, remodeling costs, and enough funds to finish on schedule and budget.
These are just some strategies in real estate investment. If you find this helpful, we've created more tips on how to invest in properties in Part 2!
In the first part, we've listed 7 home prepping activities you can do this fall. This includes cleaning your gutters, repairing air leaks, checking your roof for potential issues, and preventing freezing temperatures from damaging faucets.
We also talked about the proper cleaning of the furnace filters, getting the furnace checked by a professional, and examining the fireplace for damages. Now, we've added more home-prepping repairs and maintenance that are doable by the typical homeowner prep.
However, keep in mind that hiring a professional may be worth it, especially when the homeowner issues are severe. At the end of the day, preventing home damages does not only save time but also money in the long run.
Homeowner Prep Tips For Fall
Home Prepping #8: Maintain The Humidifier Working
Dry winter air can be hard on your skin and airways and may also break your beautiful wood. Maintaining your central humidifier will make your home more comfortable. Check the plates or pads and clean them with a strong washing detergent to start. Meanwhile, you can remove mineral deposits using a wire brush or steel wool.
Home Prepping #9: Prevent Gas Issues
Keep a gas heater maintained in good condition for safety and cost. An unmaintained heater can release harmful gasses into your home or cost extra. Have a pro inspect these devices annually. Also, perform some maintenance. First, turn off the heater. Check the air shutter and exhaust vents for dust. If they're unclean, vacuum the burner's air tubes and clean the burner. Follow manufacturer instructions for other maintenance.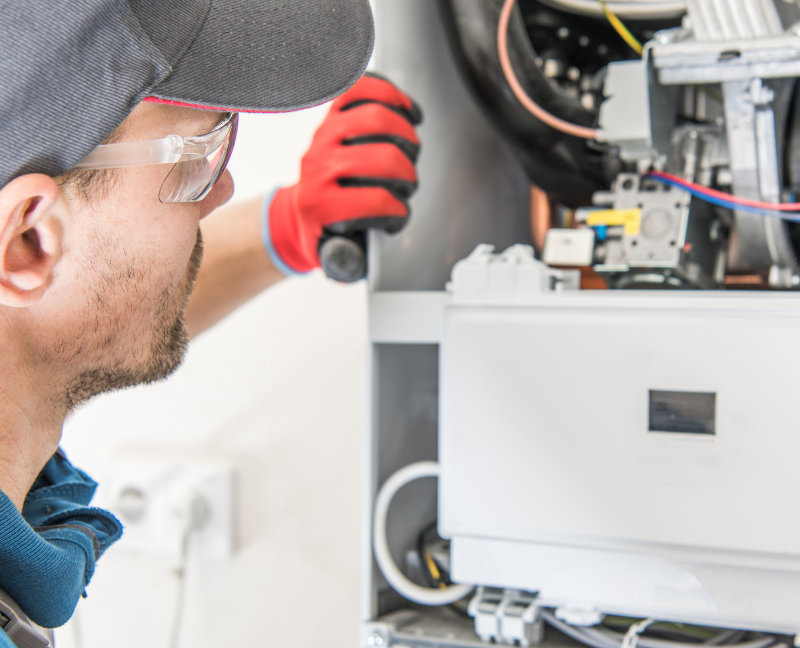 Home Prepping #10: Keep The Fires In The Wood Blazing Brightly
Your home will feel cozier and warmer with a wood-burning stove, but regular maintenance is required to prevent safety hazards. 
When checking the wood-burning stove, follow these steps:
Check The Stovepipes:

Stovepipes connected to wood-burning stoves might develop cracks that allow poisonous fumes to enter your house. You should watch for

corrosion

, holes, and loose joints throughout the heating season. After cleaning the stovepipe, search for degradation or looseness. On the other hand, if the problem is severe or cannot be fixed, you might need to replace your stovepipe instead. 

Examine For Corrosion And Cracks:

Look at the stove's body and legs for any indications of corrosion or cracking.

Inspect Safety Features:

Check that the device is on an authorized floor and that anything that requires wall protection is set up per the manufacturer's instructions. To protect young children, fence off the stove once it's on.
Home Prepping #11: Fix The Walkways
Improper walkways, roads, and steps are dangerous year-round, but cold weather worsens them. Fall repairs are also essential to avoid costly cracks. Look for uneven parts, loose step rails, and over 1/8-inch broad cracks. Check loose-fill routes for asphalt disintegration or washouts. A DIYer can do most of the little work, but major repairs require expertise.
Home Prepping #12: Check Safety Features
Check your home's safety features from top to bottom at least once yearly. This would also be an excellent opportunity to review your family's fire evacuation plan. 
To perform a safety check on your house, follow these steps:
Fire Extinguishers:

One all-fire extinguisher should be in every home. A minimum of one near the kitchen and one on each floor is fine. To ensure the extinguisher is charged, check the pressure gauge indication annually. The discharge nozzle should be unclogged, and the lock pin should be secure.

General Clean-Up:

Remove newspapers and harmful household chemicals from your home. Keep flammables and poisons in authorized, labeled containers—clear space between heaters, furnaces, and other heat sources.

The Smoke And Carbon Monoxide Detectors:

Replace smoke and

CO detector

batteries and vacuum with a soft brush. Push the test button or hold a smoke source nearby to test the detectors. Install smoke detectors on all floors, including the basement.

Fire Escape Plans:

Every bedroom, including basements, needs two exits. Make sure to keep windows clear of furniture and other items. Emergency evacuation rope ladders should be near windows in upper-floor bedrooms. Review fire safety and find a safe gathering spot away from home.
Home Prepping #13: Get Your Lawn Ready For Winter
Many fall lawn care tasks are necessary to maintain your lawn's condition and attractiveness in spring. Rake leaves and aerate to avoid choking your lawn and flower beds. They'll sleep well if you fertilize and winterize your grass, trees, and shrubs. Professional lawn care services can complete these tasks quickly, allowing up time for family, friends, and others.
Home Prepping #14: Exterior Touch-Ups
Fall is an excellent time to touch up exterior paint and prolong siding and trim life. Porch stairs and wood floors should also be painted or sealed before snowfall. Since many paint jobs aren't recommended on days below 45° to 50°F, finding a local painter or doing the process yourself sooner is best.
Home Prepping #15: Do Some Carpet Cleaning
Fall in Indiana is a good carpet cleaning season. Winter is yet to arrive, but summer is over. Window ventilation is best at this time to hasten drying. Let a pro handle a carpet cleaner if you're uncomfortable using it. A home full of damp carpet will make you want to enjoy the warm days outside.
We hope that these tips can help you prepare for this wonderful season. For more home maintenance tips, you may visit our website today!
Pumpkin carving and relaxing by the campfire are just two fun things you can do during the fall. In addition, the fall season is frequently a good time to enter the housing market. 
There may not be as many people interested in purchasing a home during the fall as there are during the spring and summer; nevertheless, you may have less competition if you choose to sell your home during this time, and motivated purchasers may want to move into a new property before the holidays. 
However, before prospective buyers visit your property, it may be good to know our best way to stage your home for sale with our valuable ways inspired by autumn to help it stand out.
Best Way To Stage Your Home For Fall Sale
Here are the five best ways on how to stage your home:
1. Take Advantage Of Surrounding Lights
As autumn continues and the days get shorter, the amount of natural light that enters your home may decrease. You may ask, "How to stage your home using those lights?" 
Well, one trick is to use more light around your home since well-lit rooms will make the space look larger and more inviting.
As you move from room to room, you should investigate to see if you can improve any dark with additional illumination. You can keep the lights in your home on timers so that they turn out after the showing, but you should inspect your lamps and light fixtures regularly and replace any bulbs that have gone out. 
Painting the walls is another option to consider if you want to increase the amount of light that enters a particular room. Go for neutral colors, such as white and gray to make the living area more relaxing.
If your guests will be there after dark, you should remember to leave the outside lights on so that they can have a better look at your house and yard. This will also make warm and friendly lighting possible to greet guests, increasing your home's curb appeal.
2. Switch On Your Heating System
During a showing of your house, it is essential to maintain the highest level of comfort possible, particularly in regions that see chilly fall days. If you have scheduled an open house, the ideal temperature should be between 70 and 73 degrees throughout preparation. 
If it's too hot, the prospective customers can start to perspire and become distracted. People may become concerned that the heating system is malfunctioning when it gets too cold.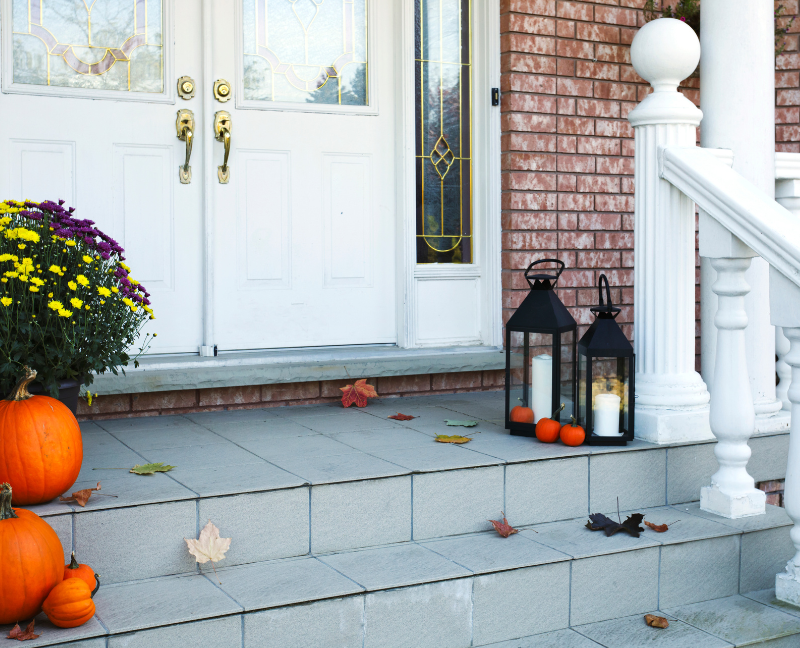 3. Make Comfort A Priority
The fall season is when coziness and convenience are of the utmost importance. Utilize this to work to your advantage and spruce up your sofa or armchairs by adding throw pillows and accent pillows in a color scheme inspired by fall. If the floors in your home are hard surfaces like tile or wood, you can also put plush rugs all about the house. 
If your home has a fireplace, you should store some wood beside it so prospective buyers might picture themselves snuggling up in front of it on a chilly autumn day. You can suggest to your real estate agent that they light a fire in a gas or electric fireplace during the showing so that the space feels more at home.
4. Maintain Your Home's Appeal From The Street
Even though summer is gone by, help your outdoor area look more inviting to your buyer. Here are some tips that can help you improve the look on how to stage your home:
Putting brown spots on the lawn that need to be patched.

Maintaining raking leaves.

Gutter maintenance

Planting flowers that are appropriate for fall, such as celosias, helenium, spider mums, and pansies

Replacing the doormat

Cutting back bushes or plants
Putting one or two fresh pumpkins on your front porch can create the feeling of being at home while adding a splash of color if you wish to decorate the front of your house for fall. However, you need to keep a close eye on the gourd to ensure it doesn't start showing any signs of rotting, as this is a huge red flag for prospective purchasers of homes.
5. Reduce The Amount Of Seasonal Decoration
Finally, this is the least valuable way to stage your home. Even though you might enjoy decorating for holidays like Halloween or Thanksgiving, storing your decorations while trying to sell your house is best. Seasonal decorations should not be overdone; some can even turn off prospective homebuyers. Instead, limit your decor to a classic fall motif, such as a wreath or color scheme.
Looking for more fall staging tips? Check these blogs for inspiration:
You may also visit our website for more content like this.