It's more critical than ever for your house to stand out in the current market. Making an effort with the "packaging" will result in a stronger first impression, which generates more offers and speeds up the sale. It is the main goal of house staging.
As home stagers, we draw attention to a home's best features so that potential buyers see them right away while also establishing a welcoming, comfortable atmosphere. Making your home as desirable as you can increases the likelihood that buyers will feel confident enough to submit an offer on it.
We've put together this beginner's guide to home staging to offer you a fast explanation of how it works, why it is so powerful, and how to use it to help sell your home if you're new to it or have questions about how it all works.
Home Staging Tips For Beginners
Know The Psychology Of A Buyer
Understanding your customer is essential before trying to sell anything. 
It's the same when selling a house. Indeed, most people's purchase of a home represents the largest purchase they will ever make, so several considerations influence their choice. 
The idea behind home staging is the same as that used by product creators, who spend a lot of time, money, and effort packaging their goods in a way that appeals to customers.
Consider yourself the prospective homeowner. They are under a lot of pressure to spend their money wisely and are looking at a ton of residences. 
In addition to practical considerations, there are a lot of emotional ones as well. House staging goes beyond simply displaying a home's advantages and makes it seem like home, allowing purchasers to form an emotional connection and feel secure in their financial decision.
Highlight What's Necessary
You want a buyer to focus on the advantages of your house. 
Family photos, personalized decor, and clutter are all major distractions. 
Though it would be ideal if purchasers could see past these issues, the majority of them can't. 
Family photos make most buyers uncomfortable because they remind them that they are walking through someone else's private home, clutter makes homes feel small and claustrophobic, and personalized decor can be off-putting if the buyers don't share the same tastes (and makes them think they must invest a lot of money to change it), and personalized decor can be off-putting if the buyers don't share the same aesthetic preferences.
All three of these problems are addressed by home staging. You should start by organizing the entire house. Get rid of everything you don't want (give it or toss it away), then pack the rest away. More so than you would if you were planning on relocating there. The home will feel bigger and more open if there are fewer things about it.
Then, make the décor and color scheme neutral. Get rid of any wallpaper, vividly colored walls, and esthetically distinctive decor. To appeal to the most buyers possible, you should maintain a neutral color scheme and a modern design while staging a home. Just a few bright elements will give it some personality. Buyers will be able to see the house in a lovely light and have the freedom to envision their own decor in its place as a result.
Remove all of your personal belongings, including jewelry, toiletries, and photographs. 
You want potential purchasers to consider the house as their own, not someone else's.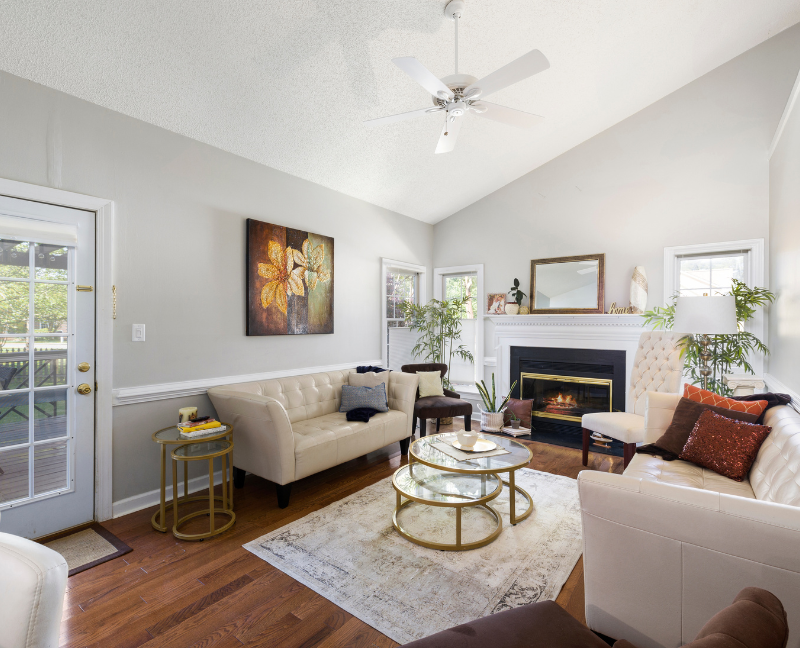 Make Your Home Look Its Best
Take care of any necessary repairs before listing your house for sale. 
While it may be tempting to pass on minor or even major repairs to the new owner, most house purchasers will see dollar signs and either remove the item from their offer or move on to the next move-in-ready home.
Before beginning to show your home, make sure you thoroughly clean it. We advise hiring specialized cleaners who will use the best tools to reach every nook and corner. After that, continue to maintain it while it is for sale.
Create The Scene
It's time to add some unique touches after you've finished all the repairs, cleaned and decluttered, neutralized the color scheme, and de-personalized the decor. 
If you've ever visited a model house, you may have seen items like a coffee machine and a set of cups on a tray in the master bedroom or a pair of white robes hanging in the restroom. 
These items have a significant influence on a buyer's mentality, therefore they aren't only there for entertainment. Use a handful of these extraneous elements to make customers happy and make them feel like they've found something special.
Do you have other tips when staging a home? If yes, feel free to drop them in the comments.
Thank you!