If you are a serious home buyer looking to buy a home in today's market, we have 3 good news for you.
1. More Options
With buyer demand skyrocketing while the housing supply really low, the past couple of years have been very challenging for home buyers. But that's no longer the case this time around. An increase of 39.5% in housing inventory can be seen for the week ending October 28 compared to the same week in 2021, according to a study conducted by Calculated Risk. This means home buyers have more options in choosing the best home that suits their needs.
2. Less Competition
Compared to the last two years' low supply and intense competition fueling record-high prices, the market is finally on track to become more balanced. With more options available, bidding wars have eased. Now you can enjoy browsing the real estate market without going through the bidding war frenzy.
3. More Negotiation Power
With bidding wars easing, buyers regain their negotiating power. Numerous buyers were willing to waive appraisals or inspections in the past couple of years to avoid being outbid on a home they like. Recently, the percentage of buyers waiving those contingencies went down, as shown by the latest data from the National Association of Realtors (NAR).

Appraisals and Inspections are two essential steps in the home buying process. It provides the home buyer with information about the value and condition of the home. With re-balancing the housing market, buyers now return to the negotiating table. In a survey conducted by realtor.com, data shows that sellers now had to make compromises to close a transaction, like paying for repairs or closing costs, dropping the price to match the appraisal, and being more flexible with the closing timeline.

Challenges are to be expected with any real estate transaction. But if you are a home buyer in today's market. You can be assured that you now have more options, less competition, and more negotiation power as compared to the past years' heated real estate market.
See below to see the September Housing Market Update of a single property type home per County in Indiana.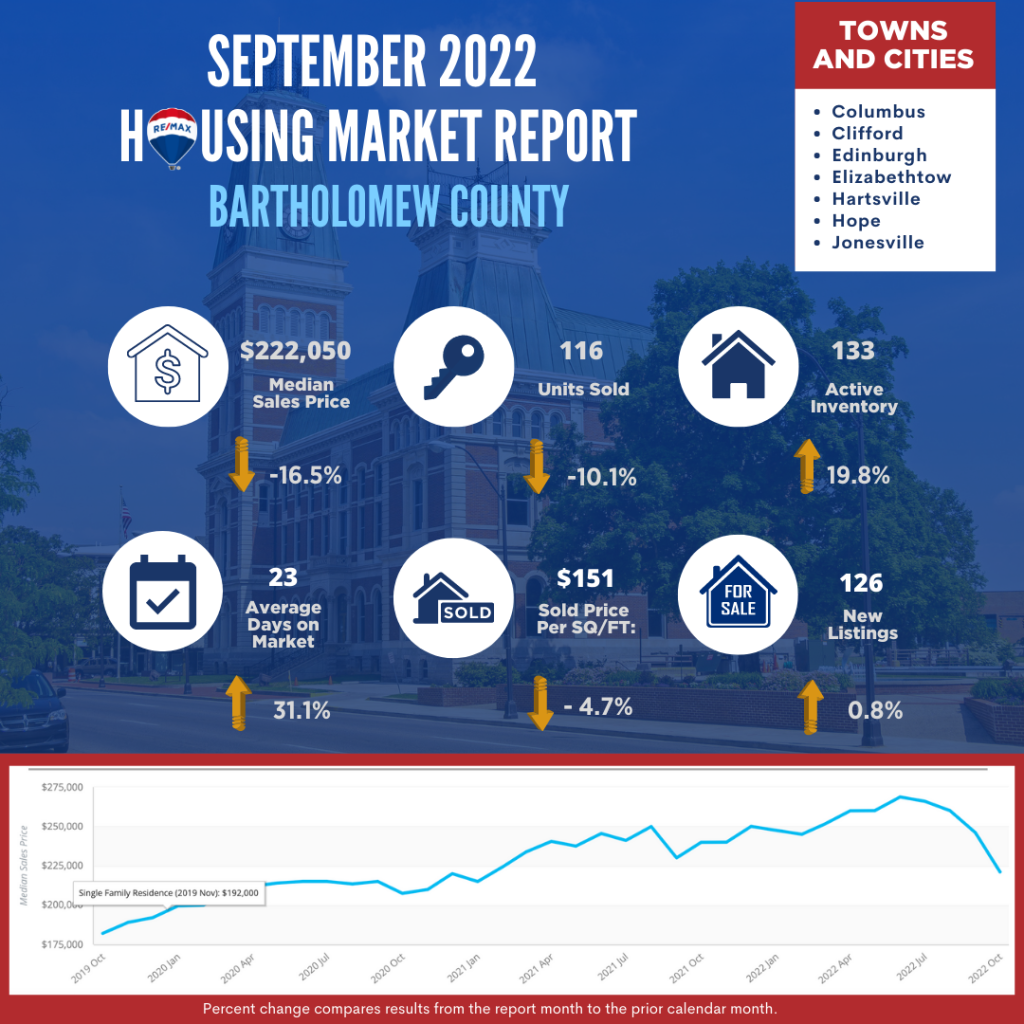 Located in the Southeastern part of the state, with Columbus serving as the county seat, Bartholomew County lies mainly in the level areas surrounding the East Fork of the White River and its tributaries. The majority of the County's economy is made up of agriculture, manufacturing, and tourism.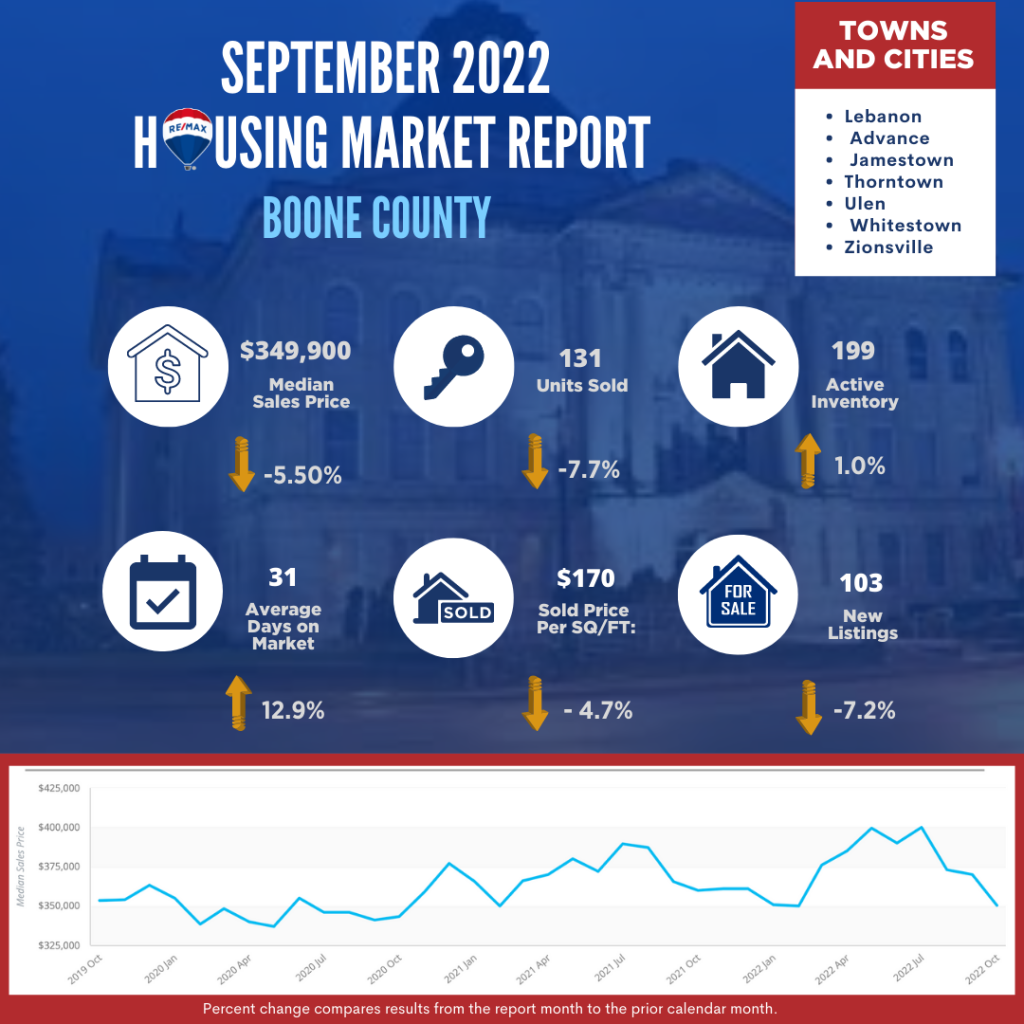 Located in the Northwest area of the Indianapolis Region, Boone County is home to great communities, including Zionsville, Lebanon, and Whitestown. A strong member of the corn and soybean belts in the Midwest, it continues to thrive from its agricultural heritage and background.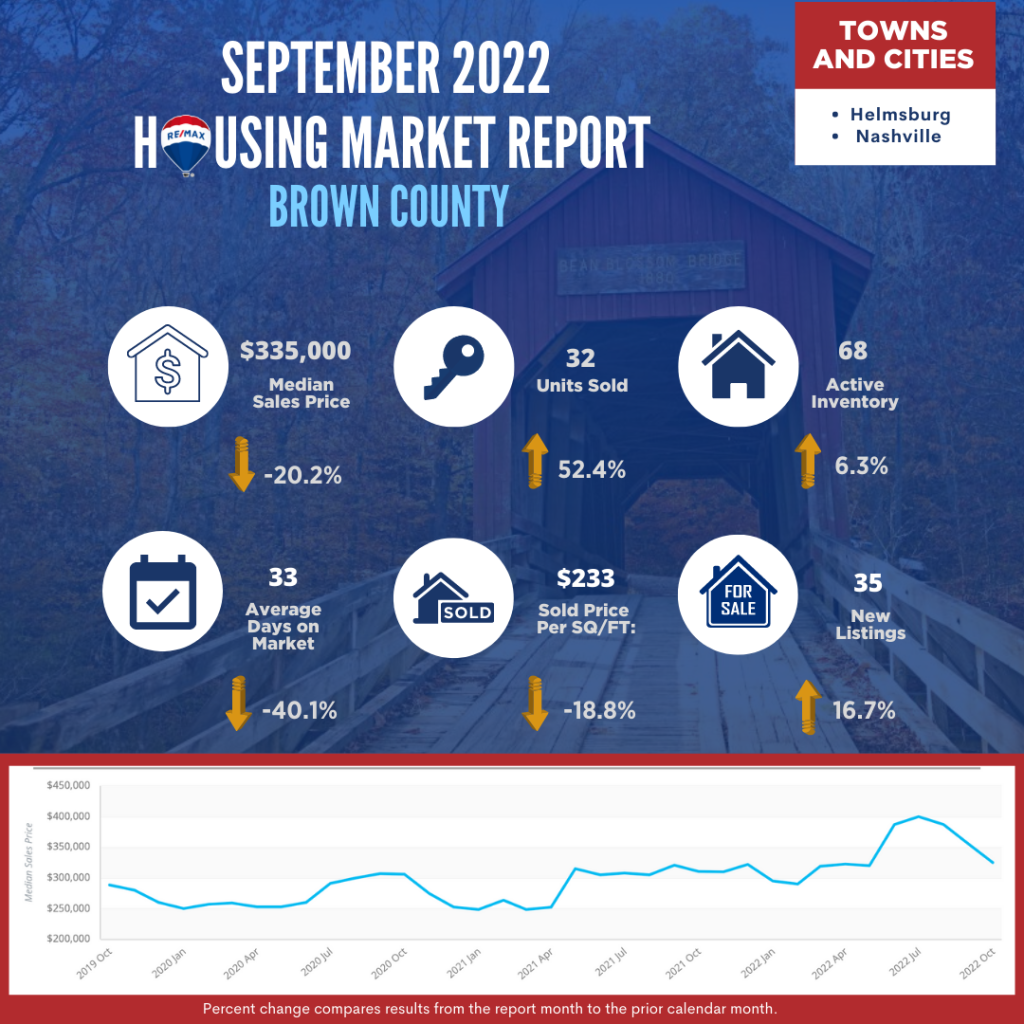 A County believed to have two histories; Brown County celebrates its past with two known stories. One traces to the founding and development of the Art Colony; the other is focused on the local residents and culture. In truth, it's the beautiful blending of both.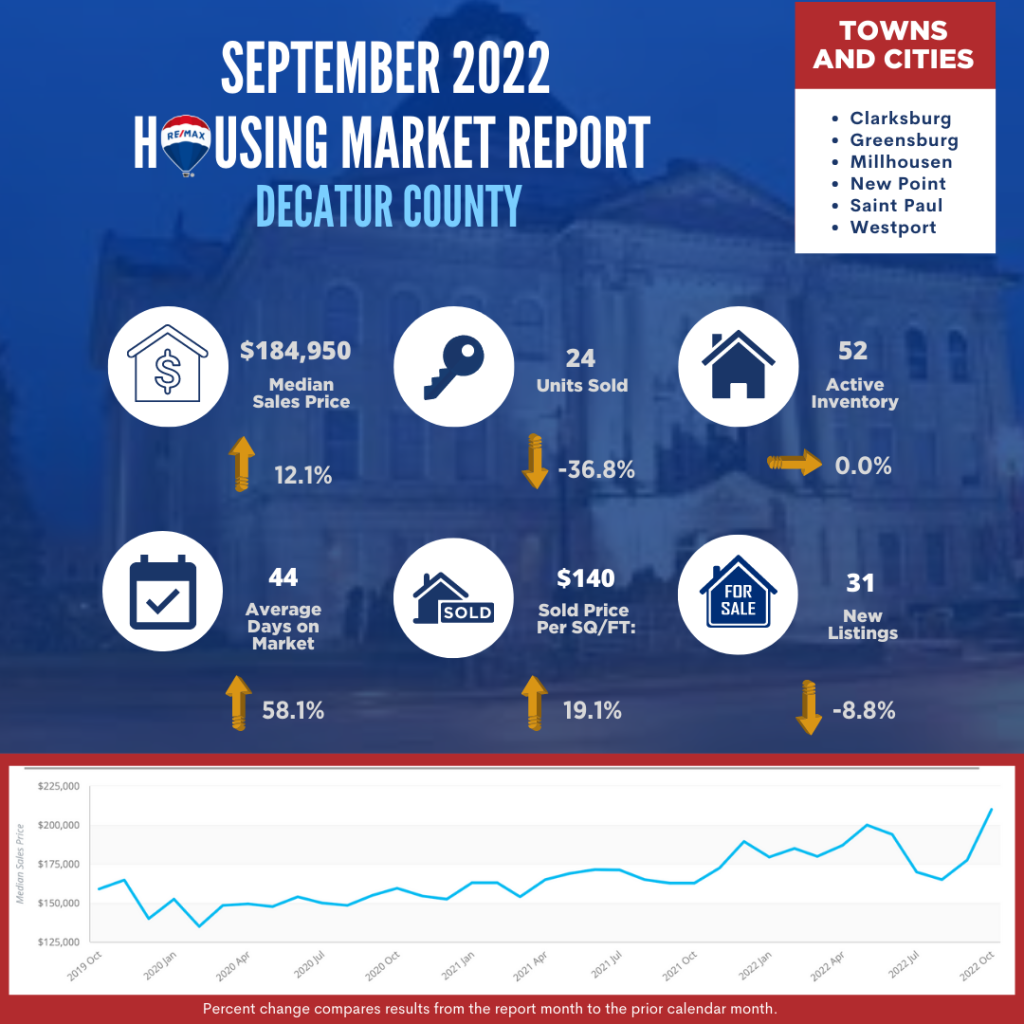 Located at the intersections of Interstate 74 and State Road 3 and Southeast of Indiana, with Greensburg as the County seat; Decatur County is known for its courthouse tower, with a tree growing at the top. Several publications mentioned this tree worldwide, including an episode on the television show" Ripley's Believe it or Not," which inspired thousands of visitors to come to Greensburg each year.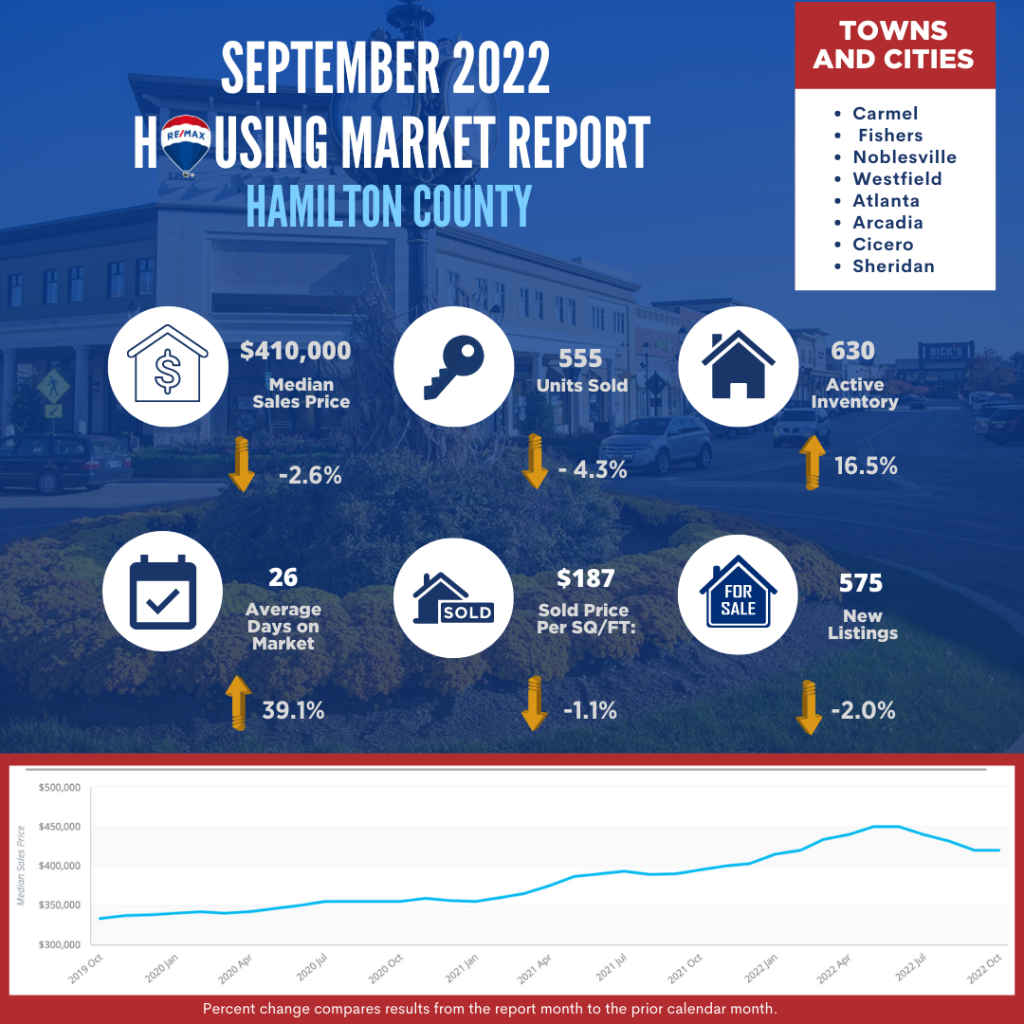 Located on the Northside of Indianapolis, Hamilton County is home to some of Indy's rapidly growing communities including Fishers, Westfield, and Noblesville. Cities of Hamilton County routinely score high marks in quality of life ratings and are regularly recognized as the "Best Place" to live, work, and play.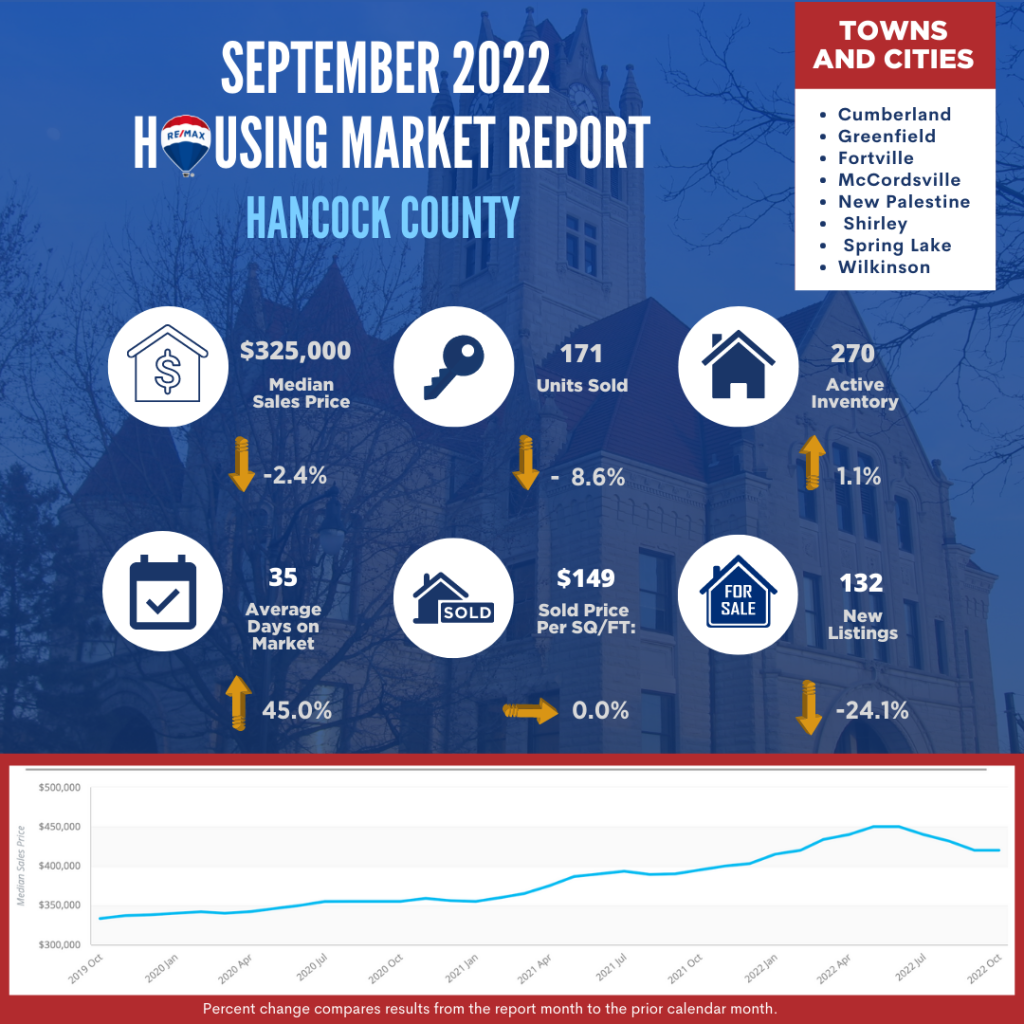 Located on the east side of the Indianapolis Region, Hancock County embraces growth while preserving the small-town atmosphere which makes its communities unique and vibrant.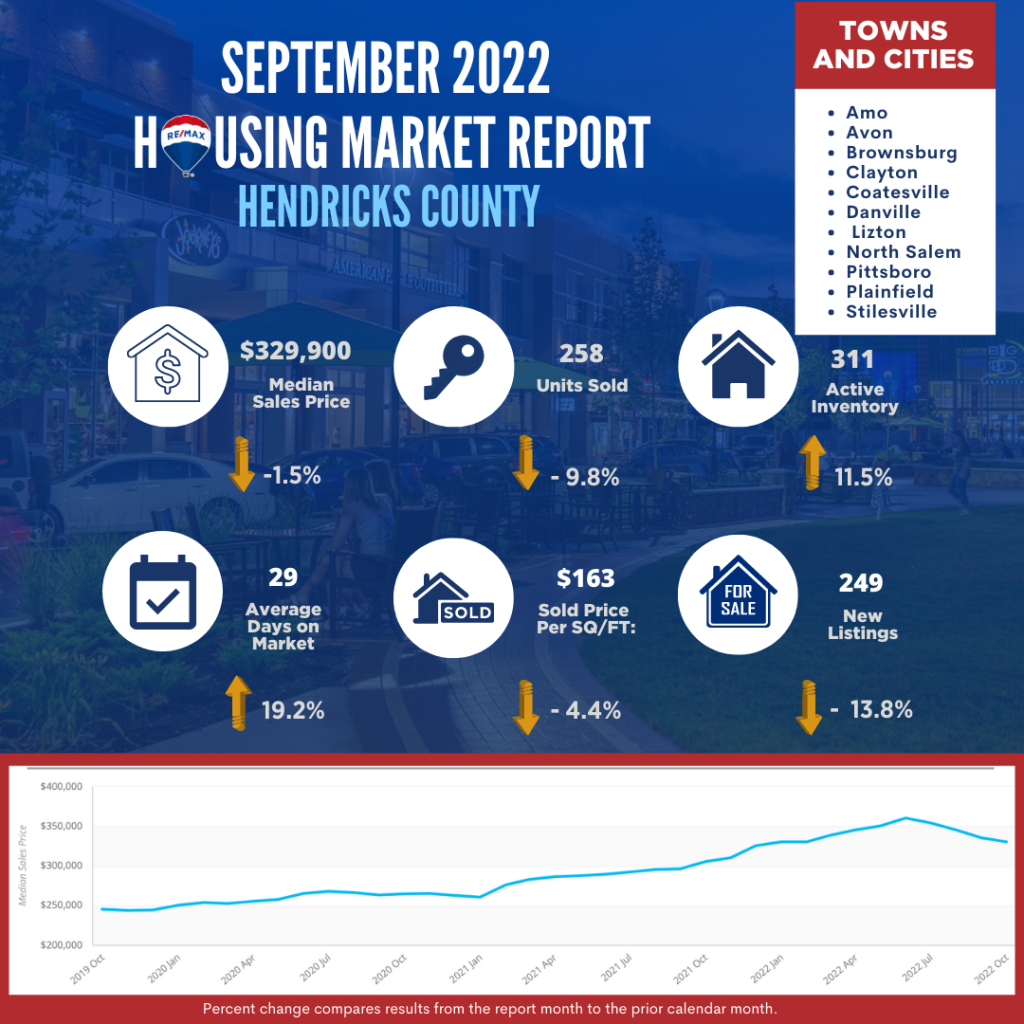 Located on the west side of the Indianapolis Region and with parts of the country only a 10-minute drive to downtown Indy, Hendricks County provides a variety of lifestyle opportunities - from rural areas, to vibrant main streets, and so much more.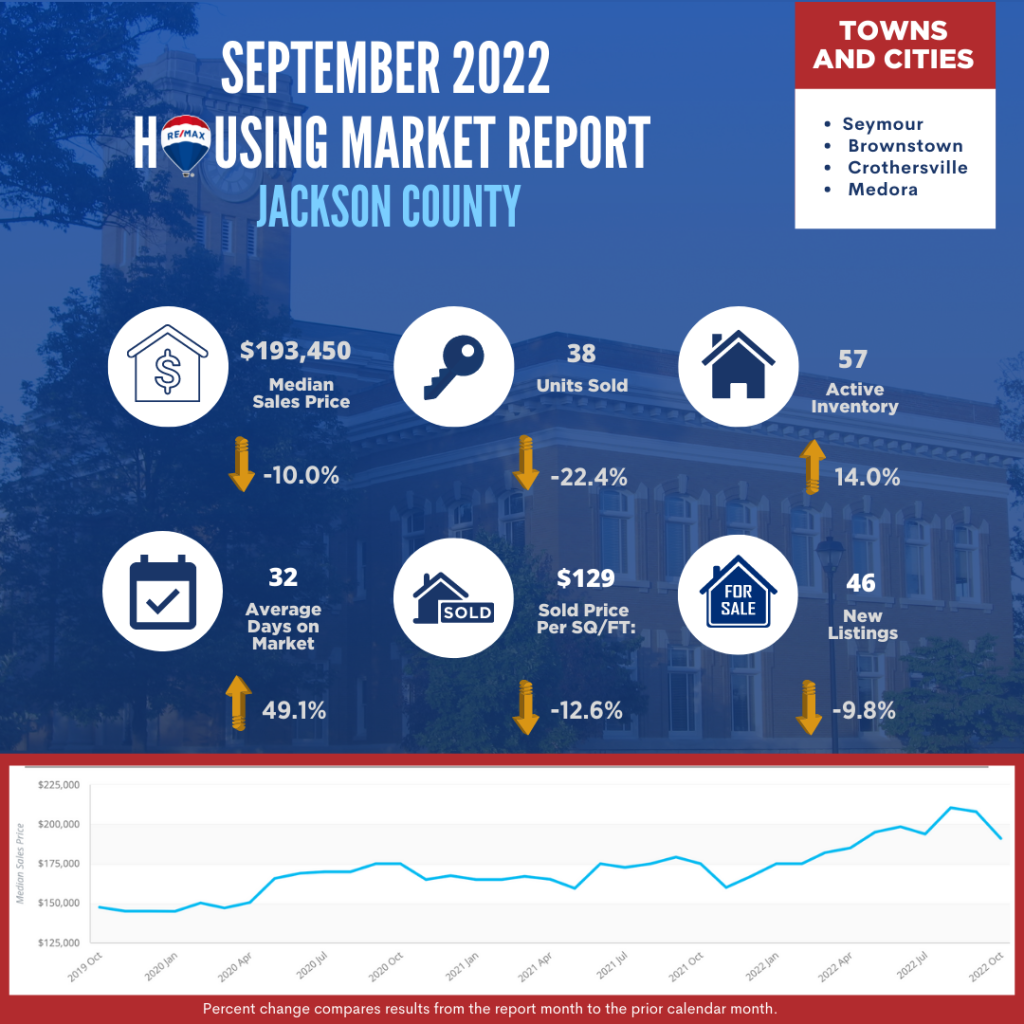 Nestled in the beautiful rolling hills of South Central Indiana, Jackson County is a thriving industrial center that offers the comfort of safe and friendly neighborhoods with its small towns, family-owned farms, charming local festivities, rich historical sites, and abundant public recreational areas. It is also home to the Medora Covered Bridge - the longest 3-span covered bridge in the world.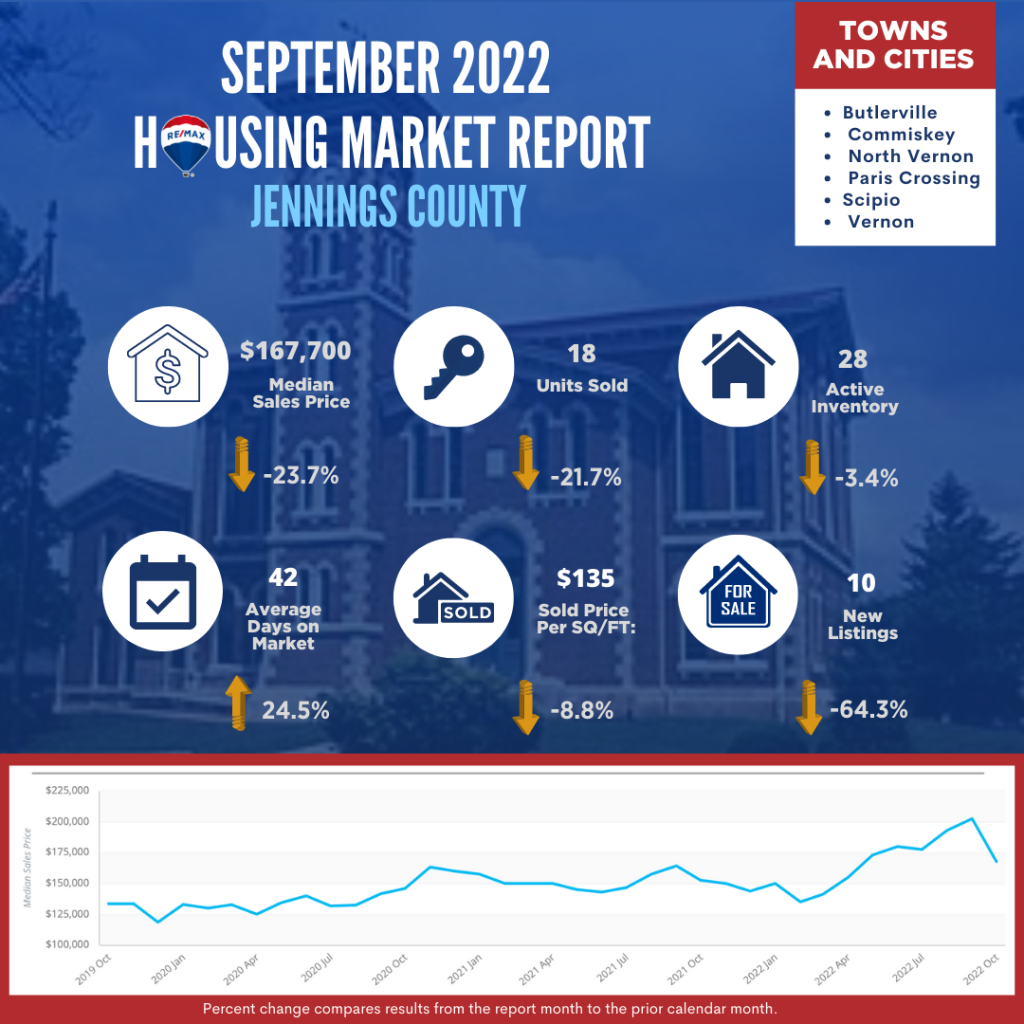 Conveniently located in the center of an imaginary triangle and just a 1 1/4 hour drive to between Indianapolis, IN, Cincinnati, OH, and Louisville, KY, there is something for everyone in Jennings County. Natural beauty, local festivals, events, and activities are abundant and year-round.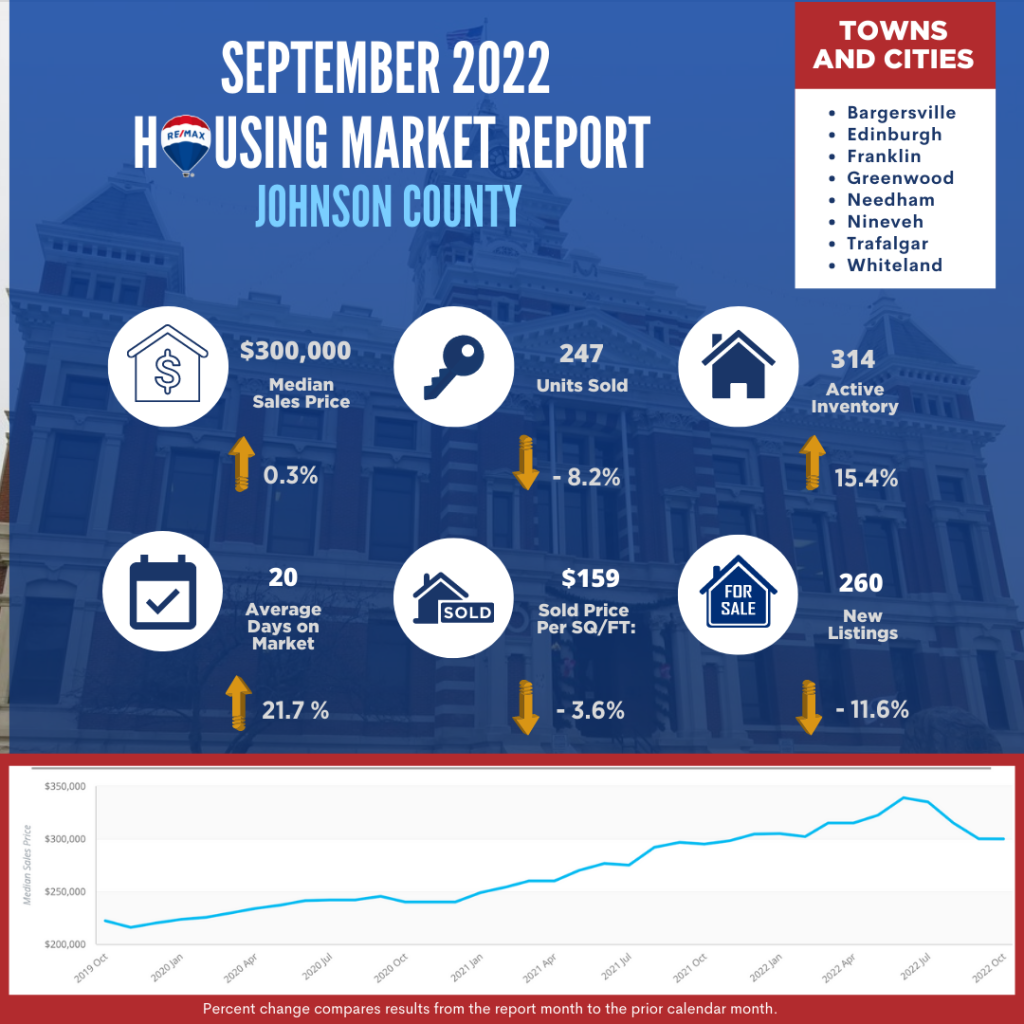 Located just south of downtown Indianapolis, Johnson County offers a unique mix of suburban and historic neighborhoods, with abundant rural land for country living. Residents and visitors have various activity options, including festivals, arts, and family-friendly activities.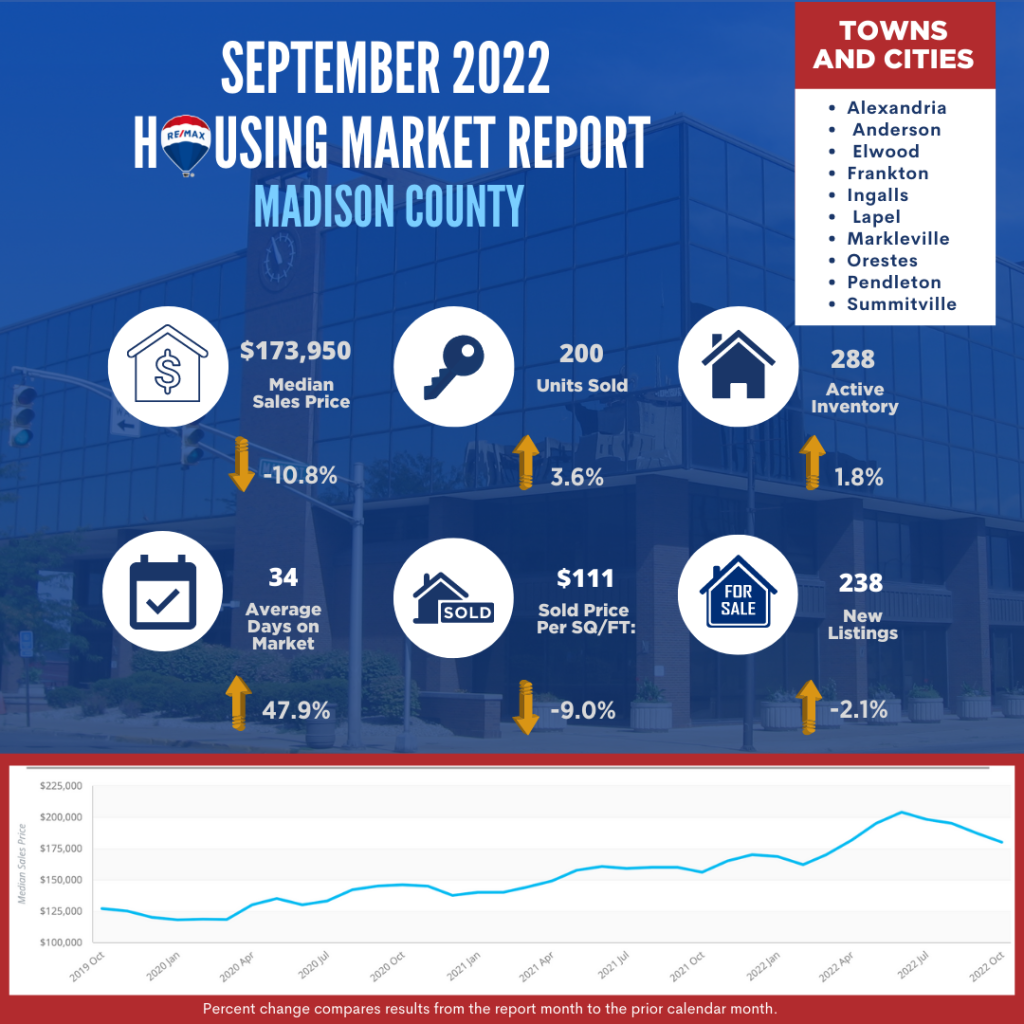 Madison County offers a country living environment rich in history, arts, culture, entertainment, and natural beauty. Various festivals, historical sites, and recreational activities are available in this very relaxing environment in this laidback community.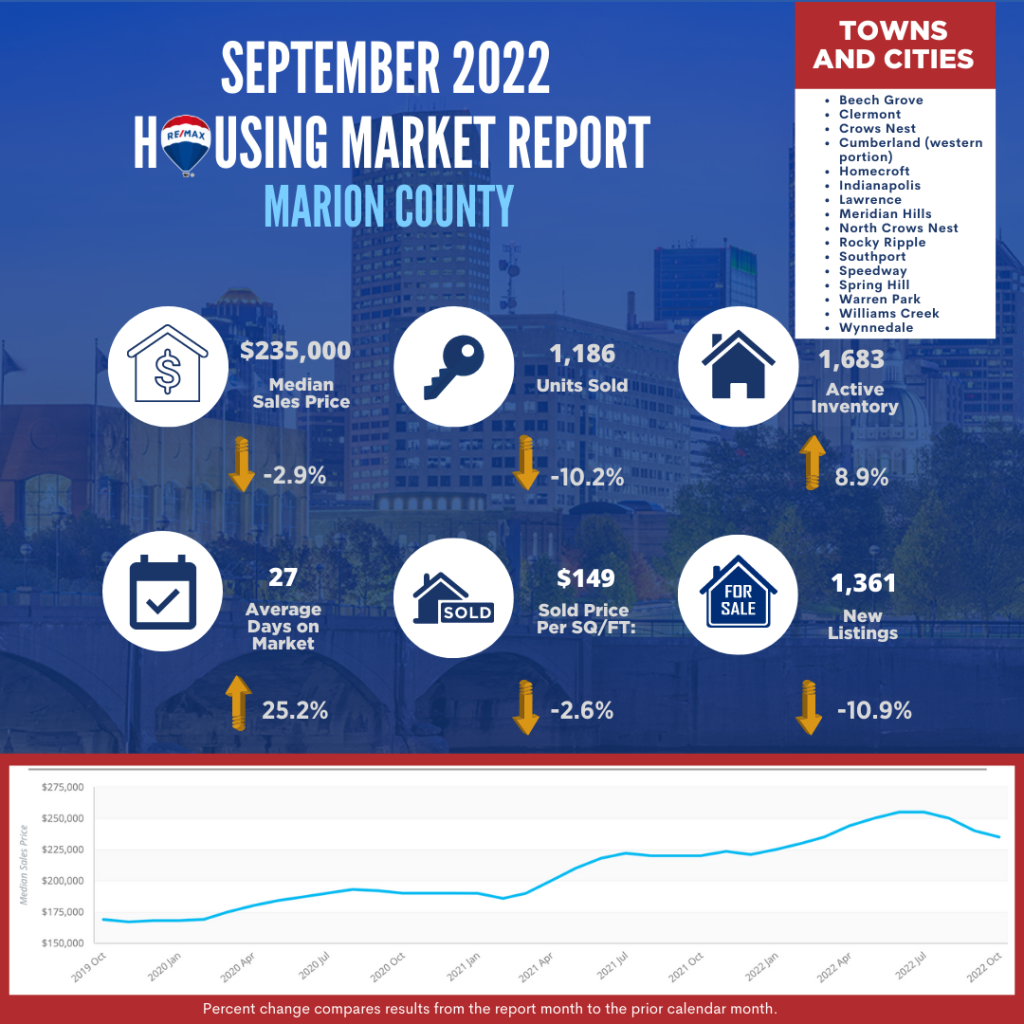 The largest county in Indiana and home to the state's largest City - Indianapolis, Marion County is one of the best places to live in Indiana as it hosts several thriving communities and vibrant neighborhoods; with numerous family-friendly events, activities, and establishments to choose and enjoy from.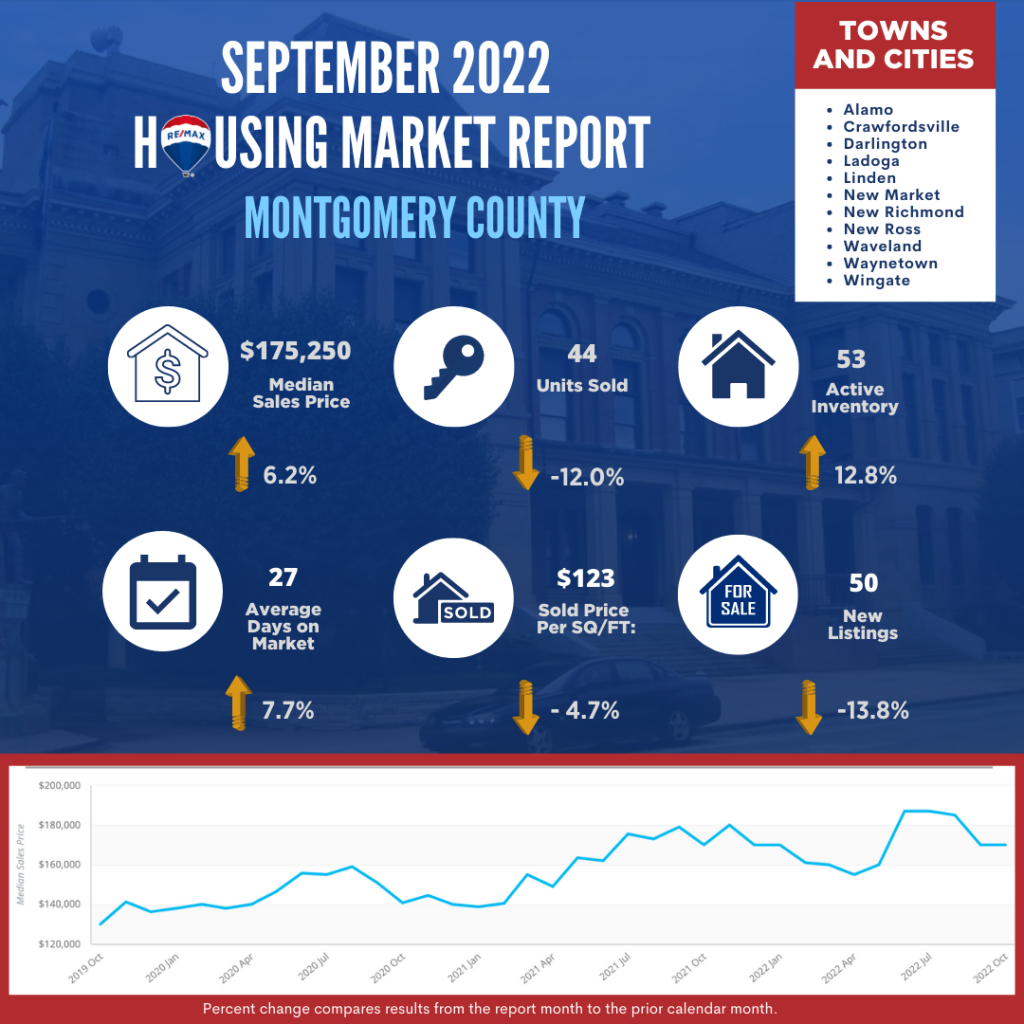 Enjoy Midwestern living in Montgomery County with its award-winning school system, thriving businesses, family-oriented towns, and neighborhoods; while enjoying access to shopping, restaurants, performing arts, youth sports, and other cultural experiences.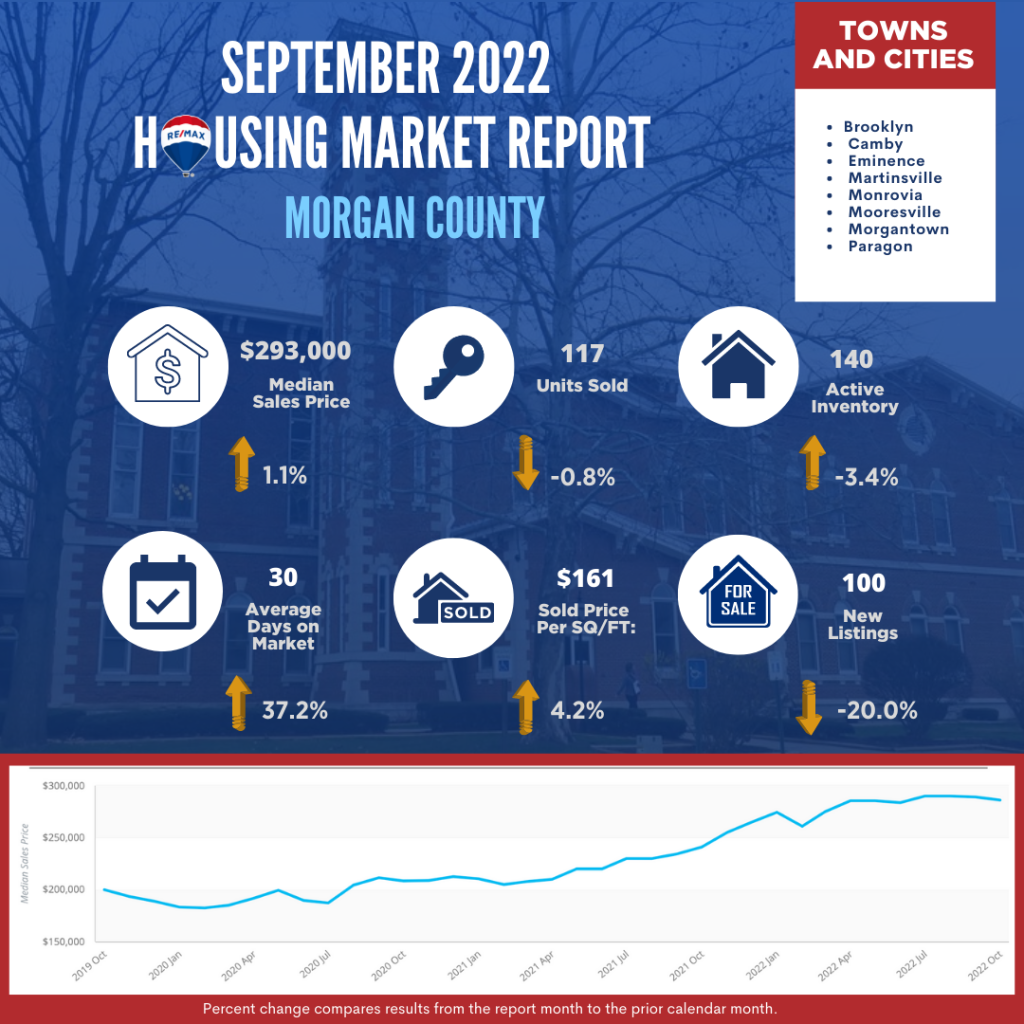 Located in the Southwest part of the Indianapolis region, Morgan County is perfect for those looking to be close enough to the downtown city life but who want something more relaxing to come home to. It is where a laid-back, small-town feel and beautiful outdoor scenic vistas come together.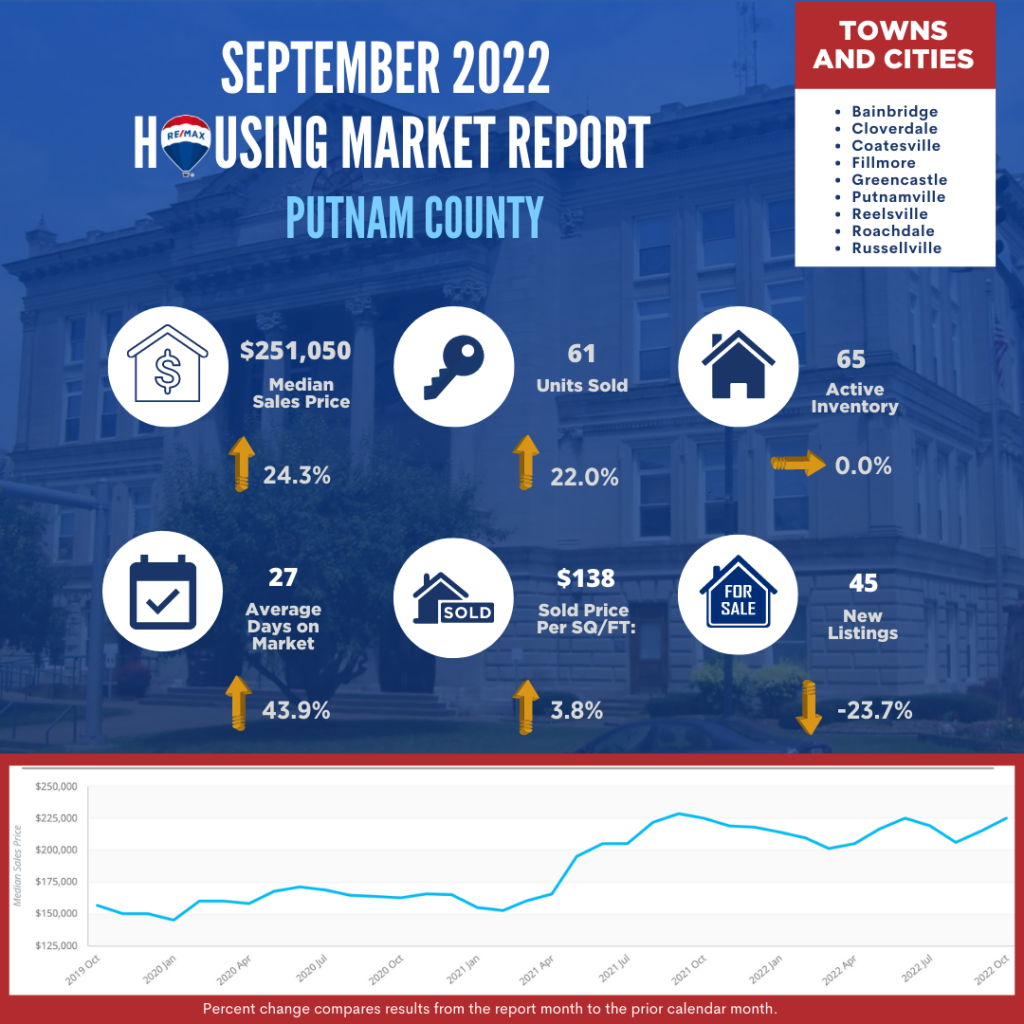 Named in honor of General Israel Putnam, famous during the revolutionary war, Putnam County is an excellent agricultural county. Its county seat is Greencastle, a thriving town of about four thousand five hundred inhabitants with good public improvements and educational facilities.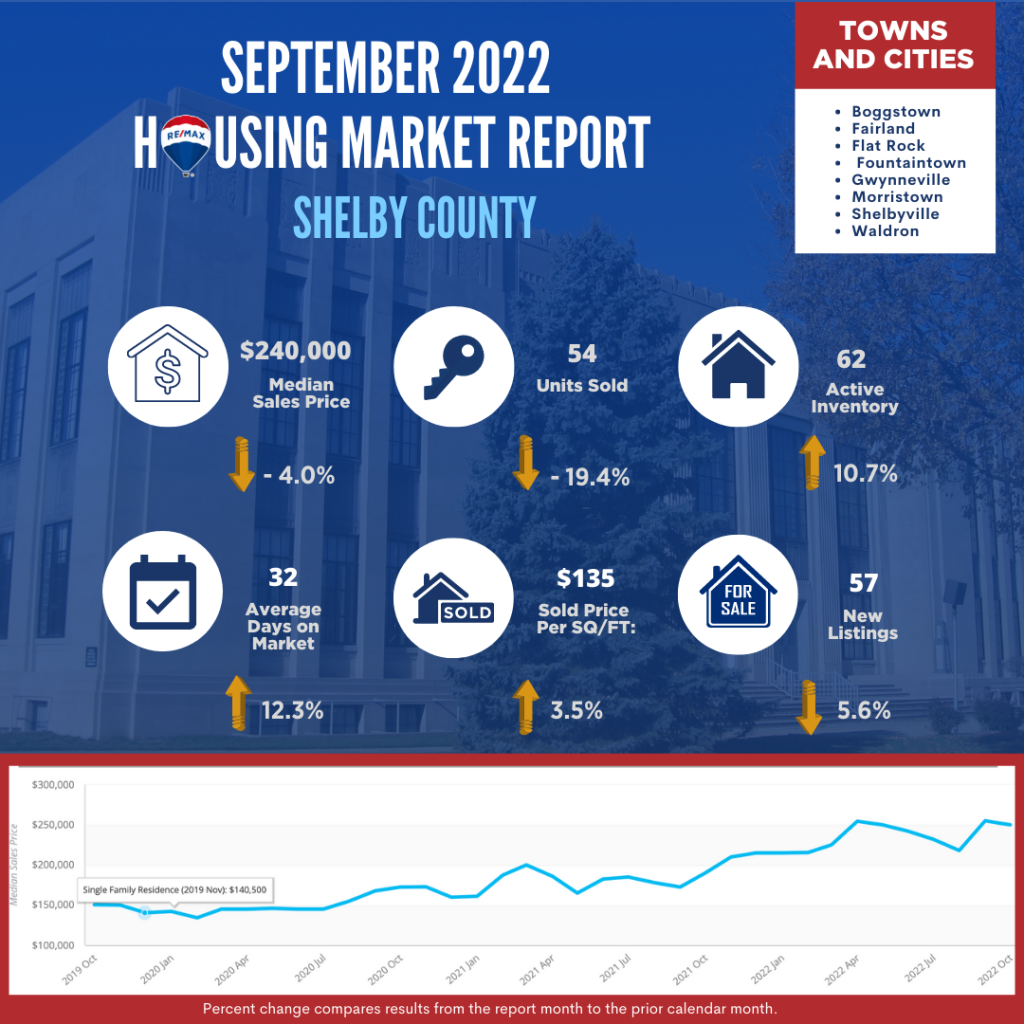 Located in the Southeast section of the Indianapolis Region, Shelby County is home to family-focused communities. A place where you can enjoy the benefits of the big city and the peace and safety of small-town living with its easy access to parks, trails, shopping, and many local attractions.
For more information about the current real estate market, you can reach us at 317-298-0961 to speak with one of our real estate professionals.
Check-out what homes are available for sale, visit www.indianapolisrealestate.com
Don't forget to follow and subscribe to our social media pages to stay updated about all things real estate and other fun events in Indiana!
Facebook: @remaxadvancedrealtyIN ·
Twitter: @REMAXAdvancedIN
Instagram: @remaxindy
Pets are like children for most pet owners and have played an increasingly important role in shopping for a home. A study conducted by the National Association of Realtors (NARs) last 2021 showed that 43% of pet owners are willing to move to accommodate their pet, while according to a survey conducted by realtor.com, 68% would pass on a house if it didn't meet the needs of their pet.
Here are the Top 5 home Features to consider to keep you and your furbaby happy!




Here are the Top 5 home features to consider to keep your furbaby happy and healthy:
These amenities ensure that pets and people live happily and comfortably together. Comment down below if you think there's an ammenity we should include in our list.
Follow our social media pages if you want more real estate updates and tips:
Facebook:@remaxadvancedrealtyIN
Instagram: @remaxindy
Twitter: @REMAXAdvancedIN
A home equipped with popular and sought after features is a home that will have multiple offers flying in because it fits the needs of current home buyers. In this article, we are sharing 5 sought after home features that home hunters will find irresistible. Let's take a look!
1. ECO-FRIENDLY: SOLAR PANELS
EMPTY HEADING
A home that seeks to help reduce its carbon footprint is a home that catches the eyes of many eager home hunters today. Solar panels are a great way to help manage and conserve electricity and heating throughout the home. This lowers a home's bill and carbon footprint. Solar panels can be purchased at home improvements stores like Lowe's. If you need help with installation, research solar panel installation companies to handle a job such as this.
2. FIT: HOME GYM
EMPTY HEADING
Modern home hunters seek a space in their dream home where they can work out. Home gyms are sought after by many, especially since the start of the pandemic. Home gyms offer privacy and comfort, all without a pricey monthly gym membership fee. Don't be intimidated by the thought of creating a home gym. Any room of decent size could be converted into a home gym fairly easily. Basic home gyms consist of a wall of mirrors and foam or nice rug flooring. To add another level of comfort to this space, installing a tv is a great way to up the appeal of this room. Plants are also a great decor option to add to this space. Be sure to choose a room with windows that invite lots of natural light into the space.
3. CULINARY: CHEF'S KITCHEN
EMPTY HEADING
A chef's kitchen is a sought after feature in many homes. A chef's kitchen provides adequate space for all your cooking needs. The appliances are modern, typically stainless steel and are of quality brands. Kitchens with this adored style also offer plenty of storage, the cabinets typically having cabinets with beautiful windows to peak inside.
4. QUARTZ COUNTERTOPS
EMPTY HEADING
Quartz countertops have been a popular feature in homes for a few years now. What makes this material so popular? 3 reasons why people seek this material out for the countertops is that it's durability, low maintenance and is uniform. You won't have to worry about your countertops chipping easily with this material and it is easy to clean. What makes the material uniform is that each piece blends into the following or adjacent piece with ease, allowing your kitchen to have a cohesive feel. This kind of countertop material is also praised for its affordability, coming in at $65-$85 per square foot of this popular mid-level countertop material.
5. HOME OFFICE
EMPTY HEADING
In the wake of the pandemic, the need for a home office feature has increased greatly as working from home to reduce the chances of catching this virus has become needed for many people, especially those who are immunocompromised. Like the home gym, there are enough spaces in the home to carve out a decent home office. Choosing a room with lots of windows to invite natural rays of sunlight in is crucial for this environment. Choose a space that has a decent amount of space, receives lots of sunlight and is ducked off from other main areas of the home to ensure it's a quiet space to work.
Marketing yourself in the real estate industry is vital for your business. Effective marketing is what will allow you to stand out as a professional in the field and attract new clients. In this article, we are breaking down 3 easy and efficient ways you can market yourself as a true professional in the field and someone home buyers and sellers will seek out.
1. Zillow Reviews
Zillow reviews are a great way for past clients to vouch for your services and professionalism. It is also a place where potential clients will look to see how well you've worked with others.
Whether this review is positive or negative, it enables potential clients to take a digital glance at how an agent may operate in the field. Successful agents know the importance of collecting positive reviews. These agents ask for reviews as a routine part of their marketing strategy. Testimonials help to further develop your brand and strengthen your online presence. According to the Zillow Group Consumer Housing Trends Report 2019 survey data, "52% of sellers said online reviews and ratings of an agent or broker were very or extremely important when deciding on an agent to help them sell their home". These reviews are very valuable to potential clients and vital to your business overall.
2. Social Media
In today's day and age, social media plays a vital role in marketing, especially for newer agents who don't have many referrals just yet in their arsenal. 2020 in particular was huge for social media due it being the beginning of the COVID-19 pandemic and we were all bound to our homes.
According to Spouts Social, gobally, over 3.6 billion people use social media and the number is only projected to increase to 4.41 billion in 2025. The top social media networks ranked by the number of active users are Facebook, YouTube, WhatsApp and Facebook Messenger. Facebook and Instagram are excellent marketing tools for real estate professionals because they are "photo-heavy" platforms. This is great for real estate professionals because they will be able to post their listings and people will look forward to seeing them. What's great about real estate is that homes and interior design are universally enjoyed. Many people like seeing photos and videos of great homes and envisioning themselves in various homes.
The next factor is determining your posting schedule and content. A great way to establish this process is by checking out successful real estate social media pages. See what posts perform the best on their pages, what type of content they post (solely videos, solely photos, or a mix of both), how much they post a week and how they interact with people in the comments. This will be a great blueprint for your business, but this is not an invitation to copy someone else's content or page. You can also watch various YouTube channels for real estate professionals for learning tips and tricks on how to market yourself as a professional in the field.
3. Email Campaigns
As you develop your business, it is extremely important to ensure that you are being seen by past, future and potential clients as a true professional. A great way to market your expertise and services is through email campaigns. With email marketing, professionals can use what is called a lead magnet to collect potential customers. A lead magnet is a piece of content that viewers can collect. What makes a lead magnet great is that it is free and actionable. It is crucial that viewers aren't baited and get what they were promised. Actionable content is so valuable because it serves as a usual resource that they can use immediately. These are self improvement tools and are universally valuable. Examples of actionable content include, checklists, guides, lists and infographics.
According to HubSpot, email generates $42 for every $1 spent, which is an astounding 4,200% ROI, making it one of the most effective options available. According to Litmus, "54% of all emails were opened on a mobile device. This is significant and should come into play when planning any marketing strategy. More and more consumers are using their mobile devices to access not only emails but all other types of media and information. Not only that, well-designed emails produce higher conversion rates on mobile than any other medium."
Interested in learning more about RE/MAX Advanced Realty and how we might be able to help you market your Real Estate Career and Business? Check us out here!
Podcasts serve as a great way to obtain information or give yourself thought provoking topics to ponder over while you may be busy with other tasks. In this article we are bringing you 3 highly rated podcasts that all real estate professionals should be tuning in for. Listen on wherever you stream your podcasts!
1. BiggerPockets (4.8 • 14.6K Ratings)

Page Bio: "Imagine you are friends with hundreds of real estate investors and entrepreneurs. Now imagine you can grab a beer with each of them and casually chat about failures, successes, motivations, and lessons learned. That's what The BiggerPockets Podcast delivers.
Co-hosted by Brandon Turner, David Greene, and BiggerPockets founder Joshua Dorkin, this podcast provides actionable advice from investors and other real estate professionals every week. The show won't tell you how to "get rich quick" or sell you a guru system; instead, the BiggerPockets Podcast will give you real strategies that work for real people.
Start listening and join the 1.3 million members who are learning to invest! Visit biggerpockets.com, and follow us on Instagram (@biggerpockets, @beardybrandon, @davidgreene24, @jrdorkin) and Twitter (@BiggerPockets, @BrandonAtBP, @DavidGreene24, and @jrdorkin)."
2. Best Real Estate Investing Advice Ever (4.8 • 888 Ratings)

Page Bio: "Welcome to the world's longest-running, DAILY commercial real estate investing podcast hosted by Joe Fairless. Joe went from buying $35,000 single-family homes to controlling over $1,000,000,000 worth of large apartment communities in under a decade.
Commercial real estate is a compelling investment option, but knowing where to look and who to listen to can be overwhelming — especially when your money and legacy are on the line. The Best Real Estate Investing Advice Ever Show provides commercial real estate expert insights, education, and timely information to our community of active and passive investors looking to succeed in commercial real estate. Build wealth, build a legacy, and do more good in the world."
3. The Real Estate Guys (4.6 • 620 Ratings)

Page Bio: "Fun and informative, this real estate investment talk show has been broadcasting on conventional radio since 1997. Hosted by professional investor Robert Helms and financial strategist Russell Gray, the show delivers no-hype education and expert perspectives in a fast-paced, entertaining style. Rich Dad Poor Dad author Robert Kiyosaki says The Real Estate Guys are wild and crazy, but they really know what they are talking about. The Guys talk investment strategy, economics, tax and asset protection planning, market and property due diligence, international diversification and much, much more! Gain valuable insights from interviews with notable experts, industry leaders and real life investors. Discover proven strategies for making money with real estate in any market, how to avoid common and costly mistakes and what is working in the real world right now. Relevant topics, credible guests, upbeat delivery and no sales hype have made The Real Estate Guys one of the most listened to real estate talk shows in the world. Check it out! There is a new episode released every week, so be sure to subscribe today!"
Interested in learning more about our brokerage or joining? Click here to learn more!

Central Indiana's best real estate trends and tips to your inbox! Whether it's the best podcasts for realtors, or the best tools on Amazon to help you do your job, our newsletter has you covered. Subscribe below and be ready for your best producing year yet!
STAY CONNECTED TO THE REAL ESTATE WORLD!
* indicates requiredEmail Address *First Name
The Importance of Reading and Why You Should be Doing More of It
A study from Yale found that, "Book reading contributed to a survival advantage that was significantly greater than that observed for reading newspapers or magazines," the authors of the study wrote. "Compared to non-book readers, book readers had a 23-month survival advantage," they noted. Deep reading promotes empathy and emotional intelligence - cognitive processes that can lead to greater chances of survival.
Reading is a key for development in various areas of life. These tools serve as mentors for key aspects of our lives and how to grow to our fullest potential. In this article we are listing 5 essential books that you as a realtor can read in order to develop further in your career. All books listed below can be purchased on Amazon and links can be opened by clicking the book titles.
1. The Half Millionaire Real Estate Agent: The 52 Secrets to Making a Half Million Dollars a Year While Working a 20-Hour Work Week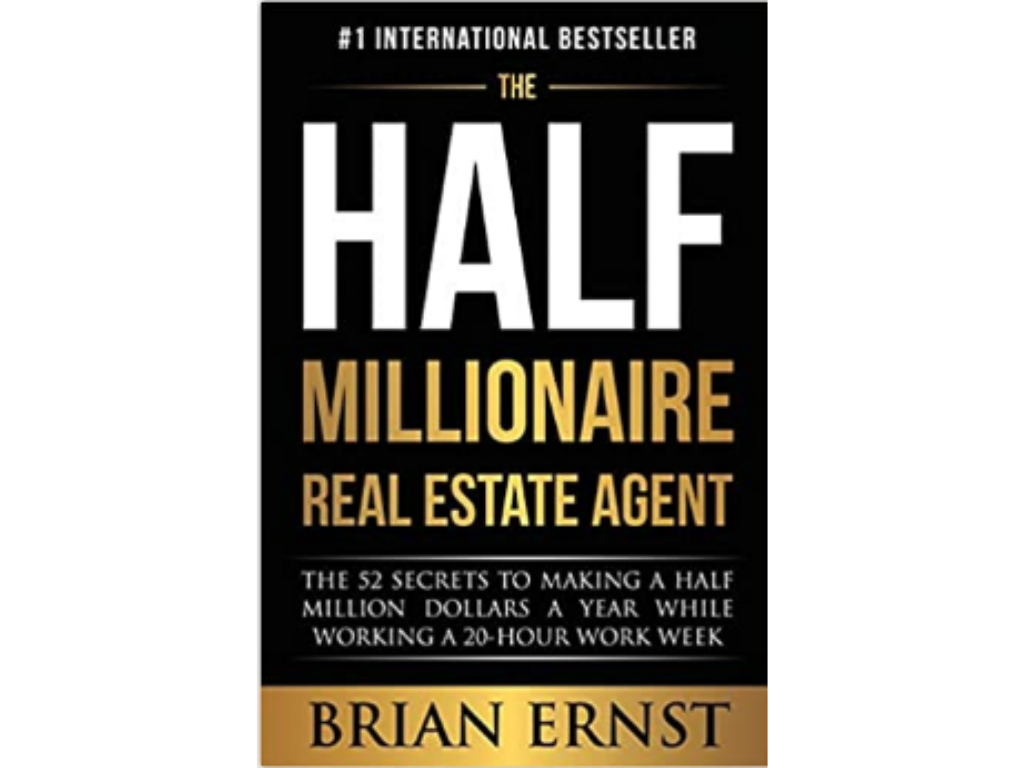 In our first book on the list, financial success and freedom are only a 20-hour work week away!
Many real estate agents dream of having a comfortable percentage of financial freedom, or maybe even becoming a millionaire. How many of you have ever dreamed of becoming half a millionaire? It's likely that most probably haven't and instead, they set their sights on more grand financial fantasies, not realizing that the highly achievable half million-dollar salary working only part-time is very much so within reach.
In The Half Millionaire Real Estate Agent: The 52 Secrets to Making a Half Million Dollars a Year While Working a 20-Hour Work Week, author Brian Ernst reveals the challenges that so many real estate agents around the globe face while also sharing his top industry tips and tricks that can accelerate your success in the real estate industry.
In this highly rated book, you will unveil how to utilize the best tools for being more efficient with your time, how to increase your profit, how to create exponential growth through effective lead generation, how to identify the right market and the right clients, and so much more!
Let Brian Ernst show you the path to real success in The Half Millionaire Real Estate Agent!
2. Exactly What to Say: For Real Estate Agents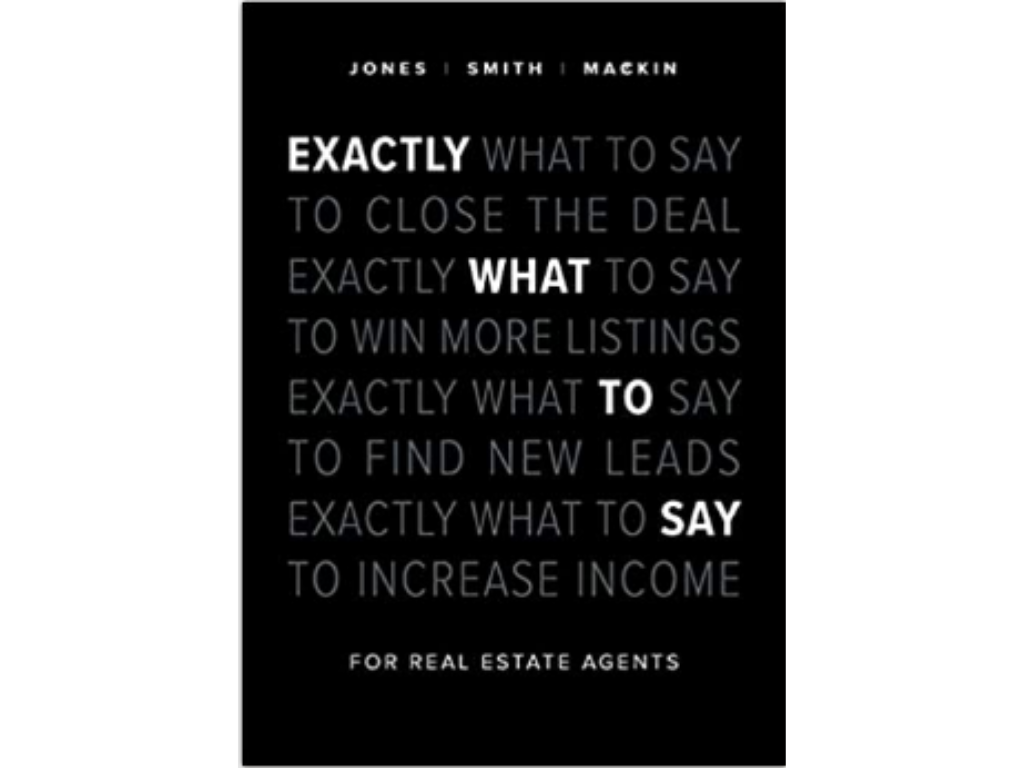 In the real estate industry, new tools and ideas to stay relevant to the modern consumer are essential. The modern consumer is more educated, and will come with detailed questions and be ready for a professional response or advice, while also having more choices than ever before. Counterintuitively, this influx of detailed information has led to more confusion, doubt, and frustration in their real estate journey as non-professionals.
In Exactly What To Say for Real Estate Agents, authors Phil M. Jones, Chris Smith, and Jimmy Mackin provide 30 key words to help with the most common, critical, and difficult conversations real estate agents have in modern times. If you are ready and open-minded to a new and better way of selling real estate, this book is for you.
Imagine what it is going to feel like knowing exactly what to say when it matters the most...
3. How to Invest in Real Estate: The Ultimate Beginner's Guide to Getting Started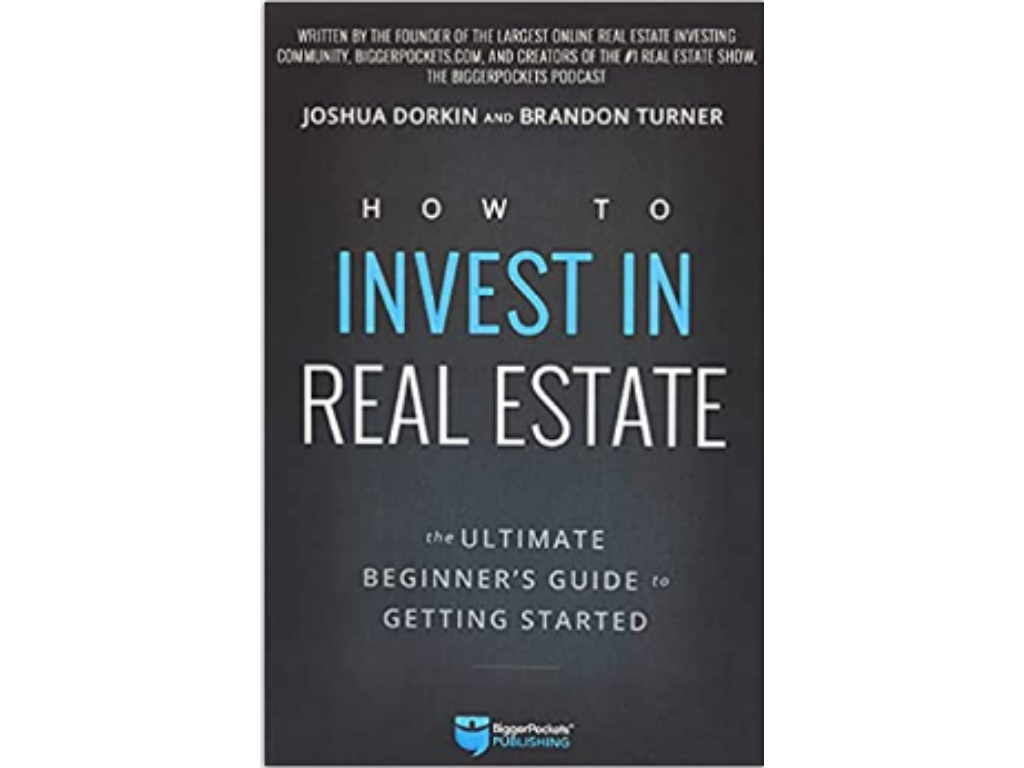 Real estate investing can be an amazing way to build wealth and reach financial freedom. What most people don't know is what first steps they need to take to get started. This book will show you how you can get started on your path to financial freedom.
Some of the two of the biggest names in the real estate world teamed up to create a comprehensive manual on how to get started in the lucrative business of real estate investing. Josh Dorkin and Brandon Turner are longtime hosts of the world's #1 real estate podcast, The BiggerPockets Podcast, which we have linked in our newsletter.
Subscribe to our newsletter to get other helpful resources in furthering your knowledge in real estate. In the book How to Invest in Real Estate, you've got a detailed look at the many different strategies that are used in the field. In this book you'll be able to find which one works best for you, taking your resources and goals in mind.
4. Atomic Habits: An Easy & Proven Way to Build Good Habits & Break Bad Ones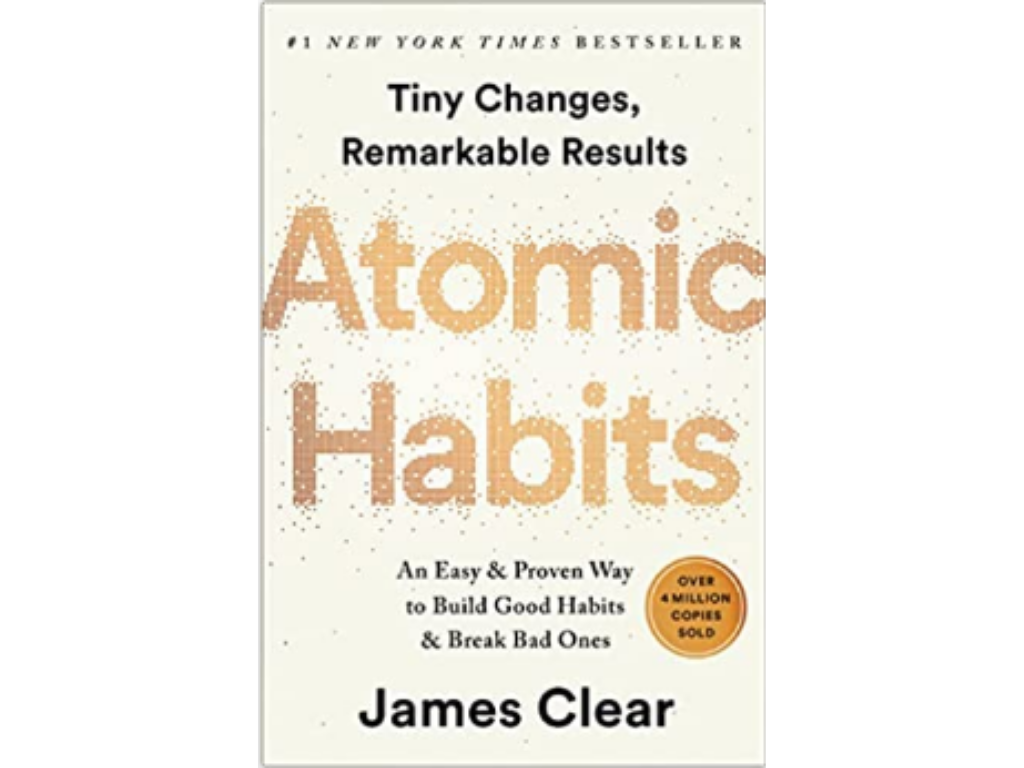 For whatever the goal, in the highly rated book Atomic Habits, readers will be shown a proven framework on the act of improving each day. In his book, Author James Clear, one of the world's leading experts on habit formation, unveils practical strategies that anyone can use in order to form good habits while also breaking bad ones. The book teaches you the importance of how small behaviors that are done daily can lead to remarkable results.
Clear outlines that if you're having trouble changing your habits, the problem isn't you, rather it is the system that you have developed during your lifetime. As we all know, bad habits have a habit (pun intended) of repeating themselves and this issues lies within the system of self we live in. In Jame's book, you'll learn how to use a proven system that can allow you to make the habitual changes you've always wanted to in life to change your trajectory.
In the book you'll learn how to:
• make time for new habits (even when life gets crazy);
• overcome a lack of motivation and willpower;
• design your environment to make success easier;
• get back on track when you fall off course;
...and much more.
The award winning book Atomic Habits will reshape and redefine the way you process the ideas of progress and success, while giving you the tools and methods you need to transform your bad habits into good ones. These goals can include something such as how to transform your business or how to stick to your workout plan. Whatever habit or goal you want to work on, you can have the blueprint as to how to start working on it with this book.
Thanks for reading! Interested in learning more about our Brokerage in Central Indiana? Click here!
In the housing world, Japan is known for its unique, minimalistic and efficient designs. This even extends to food packaging, as Japan seeks to form a society rooted in efficiency. In this article, we are bringing you 5 homes in the country of Japan to appreciate it's stunningly simple and logistical designs.
1. The Origami House
Trendir
The Origami house, the name deriving from its paper folded-like roof, was modeled from origami shapes. This two-story home was designed by TSC Architects' principal Yoshiaki Tanaka. It is located in Mie prefecture in a village surrounded by cativating mountains. The unique home is framed by its angular roof and it is folded in five places to create the look of various triangular faces. The roof touches the ground at various points around the perimeter of the home, which mimics the shape of an envelope enclosing the center of the building. The home is 1,206 square feet and was built for a couple on a site that has been in the family for several generations. The grandparents' house can be found on the next plot. A stone wall built by the grandfather can be found encircling the building site.
2. The M House
Trendir
The M House can be found in one of Nagoya's more attractive residential neighborhoods. It only has 2.5 meters of dead end street access and is set on a difficult site that steps down from this access level a total of 7 meters. The M-House is design is so unique because it addresses the site conditions that made the land "unbuildable" for a home by the local real estate community and allows for a simple, contemporary lifestyle for the American owner/architect and his family. Along with the challenges the site provided for builders and designers, the house itself also proves to serve a few logistical challenges in planning for a multi generational/multi national family, also including challenges for preserving and securing precious views outside the home, sunlight, and breezes in the context of a traditional tight in space Japanese neighborhood. Despite the difficulty in accessing and building on the land, it was the property's one most valued feature - its location at the edge of a cliff that towers over the northern part of Nagoya - that inspired the design of the house.
3. The Translucent Home
Trendir
Suppose Design Office, a Japanese architecture firm, created this unique and modern in year x. This house is the essence of luminous, its translucent walls allowing light pass in and out. It is located in a quiet residential alcove of Hiroshima. It's shape is a long, sleek and lean site that and is home to a family with three children; this home is a lovely combination of playful, yet sophisticated and minimalistic, and tranquil. Despite the semi-transparency of its exterior, the interior remains hidden, allowing residents to have total privacy with an abundance of natural light. During the day, this unique home glows from outside in, and by night, it emits a stunning soft glow from inside out. The Transparent house stands out well from its more traditionally typical neighbors. The interior is open, favoring the openness of the design of the exterior, and is spacious, bright and open. The home incorporates a steel tile ceiling and walls that wrap around the living area to give the home an industrial aesthetic, and is warmed up by the natural wood floors underfoot. An absolute stunner!
4. The Muko House
Trendir
Our next home on the list is a showstopper! This home in Muko is a one of a kind design crafted by Fujiwara room Architects in Japan. The home only consists of a single room floor plan with the master bedroom and stairwell at the back of the fan shaped space. The stairwell guides residents and guests up to two children's bedrooms and the bath, and follows an open concept. The face of this unique home is wrapped in glass and tall vertical louver slabs, inviting light in and out of the home. When the louvered slabs meet the sides of the home they transform into the side for a clean transition from exposed façade to closed and private walls – with the exception of the entry door that beckons people inward. Trees are lined in front of the home and radiate a beautiful contrast that aligns with the precise lines of the home. Inside the Muko house, the energy changes from geometric lines to fluid and softer shapes full of movement. For example the egg shaped swing seat that sways gracefully when touched and the curvaceous couch with soft lines. With these curves, the sunlight creates stunning staggered and rectangular light spots with curved ends as the sun's rays pass the louvers and meet against the furnishings within.
5. The Wood and Glass House
Trendir
Sitting next to Tokyo Bay, this unique and picturesque home played a huge role in the inspiration behind the design of Villa SSK. On the other side of this home residents and guest will find majestic mountains that rise into the borderless sky. According to the architects, "Architecture ought to be rooted in the place it occupies. The architectural form of this building somehow emerged during the long process of analyzing and studying the location. Although the design process was supposed to have entailed a frantic accumulation of decision-making and choosing between possible options, the finished building gives one the strange, lingering impression of having been constructed according to some law or other." The slightly skewed pentagonal shape of this unique home is complemented by the front and rear glass walls. When life is illuminated from within, the house stands out beautifully at night. Inside, the structure follows a tunnel-like layout, with almost zero right angled walls. The space is very open, as the homeowner craved a large living, dining and kitchen area, a guest room, and a spare room to simply display his car.
In this article we are bringing you more things from Amazon that realtors should add to their carts! If you haven't seen our previous article on Amazon items from realtors, click here. Be sure to bookmark this new edition!
1. Hourly Time Management Planner ($9.99)
Our first item on the list is perfect for a real estate agent's schedule! This planner is formatted with a to-do and hourly outline. The time table runs from 5am to 1am and the planner itself is a total of 150 pages of detailed daily planning. The planner opens at 180 degrees to provide you with a flat surface to write and plan on.
The binding is strong twin binding, the pages are made of thick and quality paper and the front cover is flexible and durable. The planner comes in black or green and is available in 3 various sizes that cater for travel or in-office planning.
The best thing about this planner is that it comes in at an affordable price of $9.99! What a steal for such a great item! This planner is perfect for a realtor's daily schedule.
Our next item will save realtors the hassle of using an outdated and noise tape measurer. With laser precision technology, accuracy up to ±1/16inch, this laser measures a distance up to 165 feet.
It is switchable among M/In/Ft for free adjustment. The area, distance, length, volume, continuous measurement. You can manually delete data and there is auto shut down after 150 seconds without any operation to save power.
IP54 waterproof level and dust-proof function protect the laser distance measure to the maximum extent. It is portable in size and the hard rubber body provides a good grip. The wrist strap lets you hold the meter steady and carry easily.

3. What Do You Meme: Real Estate Agent Edition ($24.99)
This classic meme game has an edition crafted just for realtors! This game is full of classic memes as well as new ones that only your fellow real estate friends will understand. The next time they are ready to close a deal they will be reminded of this time spent with you and other fellow professionals.
This set also makes a great gift! Compete with your friends and family to create hilarious real estate related memes. The game is played by using one of your dealt caption cards to caption the photo card in each round. Inside, there are 300 caption cards, 75 photo cards, 1 easel for displaying photo cards and instructions. The winner of each round is decided by a rotating judge.

4. Car Trunk Organizer ($39.99)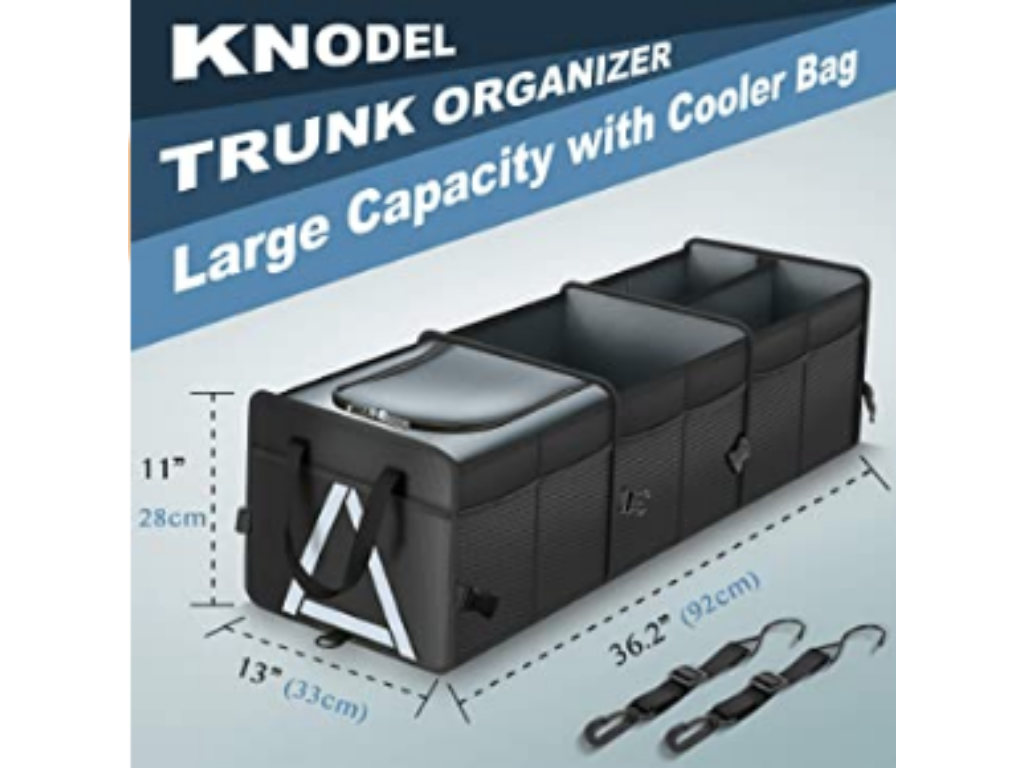 This next item will keep your car organized as you travel from listings to meetings. It's no secret that agents spend a lot of time in their car. Invest in an item that will make this space more efficient by keeping important items protected and in place.
This premium car truck organizer provides superior durablity and has been crafted with multipurpose design. It sizes in at 36.2' x 13' x 11' (L x W x H). It features sturdy walls, 3 base plates and 1 removable divider so you can customize your organization. It is waterproof and comes equipped with a cooler for your food, with the option to keep your foods warm as well. This must-have product is also easy to clean and is eco-friendly.
Keeping this last item on the list in the car will tackle pesky stains while on the go so that you can look and feel your best while presenting homes. This powerful solution breaks tough stains down. The microfiber pen gently lifts and absorbs the stain.
What makes this product amazing is that it is portable, able to fit neatly into briefcases, purses, drawers, car compartments or even your pocket! There's no mess and nothing to dispose of in using this product, making it simple and mess free. This solution tackles stains such as tomato juice, ketchup, BBQ sauce, grape juice, coffee, wine, tea, chocolate syrup, and much more. It is also important to note that this product doesn't contain any bleach to keep a variety of fabrics safe.
In luxury homes, you will find some of the most lavious and outrageous features that you wouldn't usually see in traditional homes. In this article, we are bringing you 5 of the most extravagant features we've seen in lavious homes. You won't want to miss out on this article!
1. Bowling Alley
Yes you read that correctly! Our first extravagant feature that many lavious homes share is their very own bowling alley. When homeowners with this budget are feeling up to striking some pins, they don't travel to an alley, they simply travel to the level in their home in which their alley is located. Home bowling alleys can start off at $125,000, and a single lane can run as high as $90,000. Looking for 4 lanes? It'll cost you around $300,000 to have them installed in your home. The price includes electrical work, labor, placement of professionally certified bowling lane equipment, and simply getting all the equipment into a residence in the first place.
Not only do you need the cash for this area of entertainment and fun, you also of course need the proper space. To install 2 bowling lanes, a room needs to be at least 100 feet long. Even grand homes in residential neighborhoods don't have that kind of space, which puts to scale just how enormous these luxury homes are and how much money these homeowners have to spare for a little fun at home.
2. Elevators
Big home spenders understand that their lavious home covers a lot of ground, which is why many of the top spenders invest in their very own elevators. Installing an elevator in the home can cost an owner anywhere from a low $2,000 to over $60,000, a lavish price to pay in order to avoid the staircase. Having an elevator in the home does have its benefits however.
These luxury amenities come in handy when you have perhaps heavy furniture that needs to be moved to or from a higher level of the home. If residents have an injury or surgery and were warned to be wary of staircases, the elevator would also be extremely useful in such situations.
3. Sport Courts
Luxury homes often feature a sports court. This can include basketball courts, tennis courts, putting greens, racquetball courts, miniature baseball diamonds, bowling alleys and any number of lawn games for their guests. Luxury homes appeal to a lifestyle of convenience, quality and style. Beyond simple functionality, luxury investors are looking for special features, design or new technology that give a home a unique flare.
With a basketball sports court, the price can range from $3.50 too $17.00 per square foot. This means the price range for the total expense for this court can range from $11,000 at the lowest, $35,000 on average and $76,000+ on the high end, a typical basketball court of this price measuring in at 94 by 50 feet. These high spenders love to have fun with the family in the comfort of their own home. Having such grand amenities would also be amazing to have during such times as COVID-19 where we are stuff at home in order to avoid catching the virus from others.
4. Grand Guesthouse
Homeowners of grand homes also enjoy having their guests live in luxury, leaving these owners no other choice but to invest in a grand guest house to ensure temporary residents have the utmost comfort and care during their time over.
Prices per square in for guest houses comes in a broad range. It could start at $100 square foot or jump up to $500+ per square foot. Detached newly constructed guesthouses are the most popular on the market at the moment. This style of guesthouse is one of the most popular choices in backyard guest house designs. If yard space isn't an issue, this is usually the best choice, as it doesn't involve the same amount of disruption that occurs when a guest house is attached to an existing home.
Luxury homeowners are sure to make these miniature temporary homes mirror the luxury they experience in their own homes in order to give their guests a proper experience.
5. Wine Cellar and Tasting Rooms
In California, luxury wine cellars are in high demand. A "luxurious" home wine cellar doesn't mean you should have a large room for this space; you don't even need to go beyond your budget.
In modern times, we have the capability to transform rooms into stunning wine cellars and they are in demand in many parts of the world. It can be practically any room in a home. A small closet, an under-the-stair space, or any room with limited space can be used for your wine cellar project. You can have custom wine racks installed to fit the desired aesthetic of the client.
Custom-designed wine rooms are expensive, but the basics are reasonable for anyone with a decent budget. Luxury homes are known to go well above the standard basic design to have a lavious wine cellar fit for their lifestyle. High end wine cellars can run for $200,000 +.
Wine rooms have made a major resurgence as one of the most sought-after luxury amenities. In modern times, this amenity is no longer hidden away in the basement. They serve as a major showpiece and focal point for entertainment and design. Key factors buyers look for include displayed bottles, custom lighting, glass displays, motorized racks and entire rooms solely for the purpose of displaying, tasting and enjoying vintage gems.