When thinking of the Hoosier state, many think of Indiana's robust auto industry, corn fields, or Colts. However, real estate investment in Indiana has become popular. This Indiana real estate market guide will show investors why this attractive Midwestern state must be part of their investing plans.
Brief Background Of Indiana
The Circle City, or Indianapolis, blends the buzz of the Big City with the rustic charm of the Midwest. Additionally, it has fantastic cash-flowing assets and a sizable expansion ceiling. Real estate analysts praise its ongoing growth and robust rental market.
Indianapolis homes are in high demand due to investors from other states. According to HousingWire, Indianapolis is where remote real estate investors rank highest for having affordable real estate and larger profits.
Before investing in any real estate, many details need to be figured out, and here is the investing guide for Indiana's real estate that you can consider:
Benefits Of Making An Investment In Indiana
Indiana is not the first place people think of living. If you look deeper, it's no wonder that this state has new inhabitants and property investors seeing Indiana as a place to invest and expand their fortune through real estate. Indiana is worth considering if you want a change of scenery, a new house, or a rental property.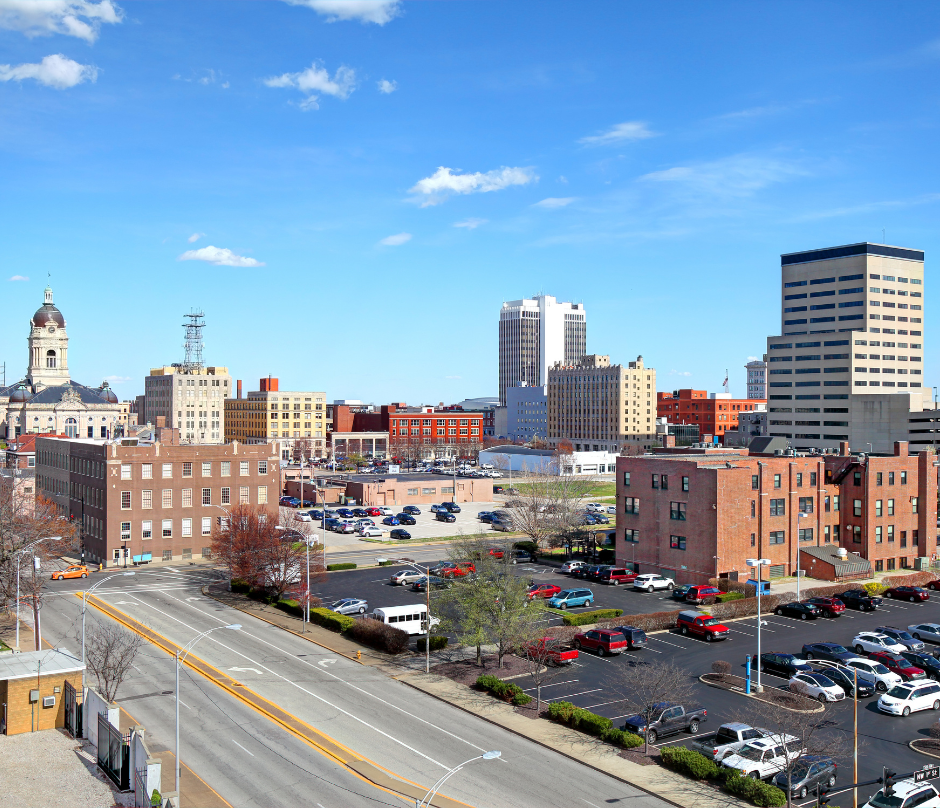 Population Growth
According to the World Population Review, Indiana's population is 6.8 million, up 300,000 from 2010. As the population grows, real estate values will rise. Indianapolis, the 15th largest US city, is also desirable. Fort Wayne, Evansville, Carmel, and South Bend are Indiana's four most populated cities.
The Diverse Economy
A diversified economy can be found in Indiana. Healthcare, logistics, the public sector, and technology are a few sectors that are essential to Indiana's economy. The state is also home to several reliable businesses. However, the 100 most prominent companies in the state include Go Electric, Anthem, and numerous others.
Job Growth
Indiana has a high job growth rate, which is advantageous for those looking for new professional prospects. However, many of these people will also need new homes. In terms of job growth, Indiana is in the lead. The market has increased by 2.5% in the past year, putting the state at 4% over the national average.
Friendly To Both Businesses And Real Estate Investors
Low taxes make Indiana a business-friendly state. Indiana is also a landlord-friendly state. Landlords can raise rent with a 30-day notice. State landlords can levy security deposits, late fees, and deductions. Ten days for not paying rent, landlords can evict tenants, making dealing with the delinquent tenants easier.
High Occupancy Rates
Indiana has a high occupancy rate, meaning tenants or their owners occupy most homes. The vacancy rate in Indiana is about 8.7%. A high occupancy rate indicates a steady market in the state, which increases the likelihood that your prospective property will be quickly rented out after you invest.
Conclusion
It's important to remember that Indiana has cost-effective homes, enabling landlords to charge affordable rates and fostering a steady rental market for those looking to invest. Indiana's real estate investing trends encourage expansion for a growing state. 
The process of getting pre-approval for your home loan is a vital stage in the process of purchasing a property. 
It estimates how much money you could borrow if you apply for a mortgage and gives you more confidence when it comes time to place a bid on the house of your dreams.
We will share some guidelines and advice that will assist you in choosing the most appropriate for your circumstances about home loan pre-approval.
What Is Home Loan Pre-Approval?
If a lender gives you pre-approval, indicative approval, or approval in principle, it means roughly the same: they are willing to lend you a specific amount of money. To accomplish this, they will analyze your current financial condition and determine how much money you can take out as a loan. 
It is essential to remember that getting pre-approval does not ensure they will provide funds. It is a sign that your loan application will probably be accepted unless there is a significant change in your circumstances.
Your lender will conduct a property value and reevaluate your finances before providing conditional approval; this is the final stage toward securing your house loan. Once you've selected your property, the lender may conduct a property valuation.
For What Reasons Do People Want To Apply For Home Loan Pre-Approval?
The pre-approval process will tell you how much money you can borrow. When participating in an auction, knowing your maximum acceptable bid and understanding how much money you can spend on a particular piece of real estate is essential.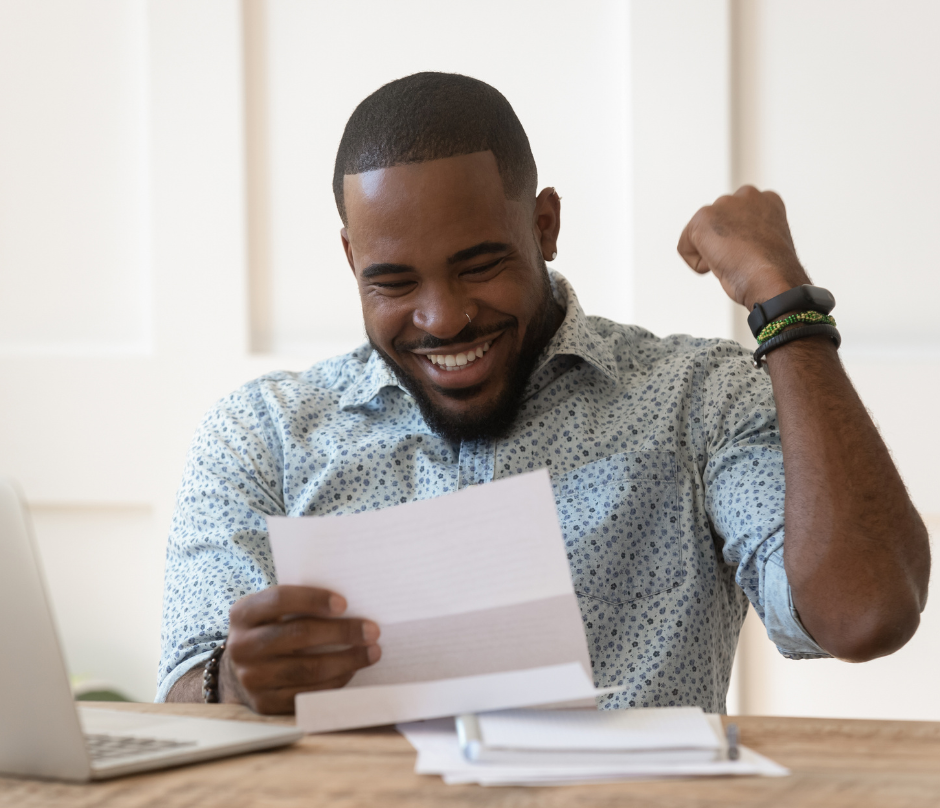 Pre-approvals are seen favorably by buyers, sellers, and real estate agents. It shows that you are a serious buyer and makes it less likely that you will back out of an offer because you don't have enough money. This may give you an edge if you want to negotiate an offer.
When Is The Best Time To Apply For Home Loan Pre-Approval?
When they are prepared to begin looking into purchasing a property, the majority of consumers ask for home loan pre-approval. However, it's a good idea to consider a few points before applying.
It's great to choose your chosen lender before applying for several pre-approvals from various lenders in a short period because doing so can affect your credit score.
Pre-approvals typically become invalid after a period of three to six months. However, most lenders will negotiate new terms, provided your circumstances remain the same.
If there is a change in your case, such as when you start a new job or take out a personal loan, your lender may need to reconsider the application you submitted.
How Long Does It Take To Get Pre-Approval?
If you submit all relevant papers before applying for the loan, the pre-approval process for a home loan can be completed within 48 hours. 
Recent bank statements, pay stubs or another source of income, proof of identity, and a view of your assets and liabilities, such as savings and previous loans, are required for pre-approval of a home loan.
Do you have more questions about home loans and home ownership? We are here to help! Dial 317-298-0961 to talk to one of our specialists or leave a comment below.
New year, new outdoor look!
If you have an outdoor space in your home, you have the opportunity to turn it into an oasis! Whether it's a large backyard or a tiny patio, your backyard can be a good spot to invite family and friends as the warm weather arrives.
Here are some tips on how to revamp your alfresco.
7 Creative Outdoor Space Design Ideas
1. Create A Comfortable Outdoor Lounge Space 
Reminiscing about a beach vacation? Create a tropical outdoor lounge on your patio or yard. You may buy lounge chairs, chaise lounges, hammocks, and outdoor sectionals online or make your own, like a lounge bed. This outdoor space idea requires a platform bed frame, futon mattress, and outdoor fabric. Pile outdoor pillows on top for comfort and style. Add side tables, candles, and a glass of wine to create an inclusive lounge.
2. A DIY Outdoor Cinema
Making a backyard cinema is easy. You can watch movies, TV shows, or whatever you're binging. The outdoor space design ideas need a projector, a taut white sheet, and your phone. If you don't own a projector, you can improvise things like a shoe box, cardboard, and a magnifying lens to construct one easily. Gather your favorite patio chairs or outdoor cushions, make popcorn, and watch a movie with crickets singing.
3. Create A Bar Outdoors
Why not make your outdoor space a bar since it's the shortest way home? You may buy a bar online, repurpose a table or desk, or create one with cinder blocks, concrete adhesive, and 1 x 6 planks. Bring your Bluetooth speaker, cocktail ingredients, and glasses home to recreate your favorite bar's atmosphere.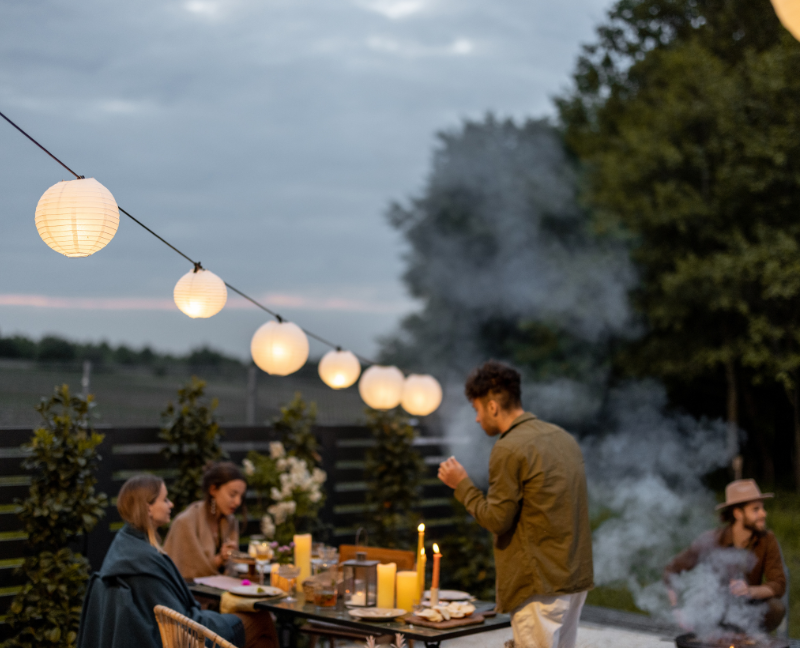 4. Beautify A Shed Or A Barn
Although a barn or shed is a functional building, that doesn't imply it has to be unattractive. Give it a redesign by painting it a striking color, adding shutters, placing flower boxes, laying a stone path, or even hanging lights to brighten up that unused backyard space.
5. Make A Fire Pit In Your Outdoor Space
If you spend too much time camping, you'll notice the firepit, everyone's favorite activity. Build an outdoor fire pit in seven easy steps with materials from your local hardware store. You may acquire a prefab fire bowl that gives out the same warm, inviting campfire glow—research local burn regulations and rules to determine the best practices in your area.
6. Create A Spot For Outdoor Dining
Make a backyard or patio dining spot to spice up home nights. Add an outdoor rug, lighting, and a chandelier to change your nighttime dinners. Show your talent as a great cook or you can simply order food you can enjoy with your loved one.
7. Make A Space For Meditation
Home is sometimes the best place to center. Create an outdoor meditation space to improve your therapeutic practice. Plant a lavender or jasmine garden, make a stepping stone walk to your meditation location, or add a standing tent or cabana with curtains to catch the mild wind.
These are just some cool outdoor space ideas you can consider to upgrade your patio and you can see more tips on the internet.
Which one is your DIY idea is your favorite?
Share your thoughts in the comment section below.
A new home is the first priority of everyone when the concept of happy life is seen. That is why, people not only struggle hard to get this work done, but also visualize about the design and construction to be the best. The fact that most of the people are willing to buy new homes in the United States, the demand has been increased, real estate agents, and realtors are trying to bring in new ideas and innovations.
Indiana State is one of the most popular states in the United States of America. The life in different cities of Indiana is the considered to be the most ideal life an individual should spend.One of the most preferred cities of Indiana State is Indianapolis. Life is perfect when you are focused on to purchase a new house in Indianapolis. As far as the new homes are concerned, people are trying to search for innovative and perfectly designed homes in the Indianapolis.
If you are the one who has finally made a decision to shift to Indianapolis and purchase your permanent house in Indianapolis, you have made the decision in the right time. Nowadays, many realtors are in this business. They are offering their services to introduce new and innovative houses for local people and visitors. Following are some of the best Indianapolis Realtors and real estate dealers:
Westport Homes in Indianapolis:
Westport Homes in Indianapolis is one of the most eminent real estate dealers in the city. Currently, Westport Homes are offering houses with different price ranges depending on the areas where the house are constructed. Following price ranges can be kept in mind in order to purchase home in your preferred area:
$120,900 to $153,055in areas like Woodsong Lane, Barrymore, Lafayette, Dakota, Evanston, Appleton, and Jackson II in Indianapolis.
$165,055 to $235,955 in areas like Woodsong Lane, Barrymore, Lafayette, Dakota, Evanston, Appleton, and Jackson II in Indianapolis. The only difference between the rates of these two price ranges is the interior and exterior designing and overall construction of the houses. The houses in the range mentioned from $120,900 to $153,055are built on old designs that have been used to build most of the houses as approved by the central government. The houses in the range mentioned from $165,055 to $235,955 are built on new and innovative designs that have been used keeping in mind the structure of new homes.
The Indianapolis real estate market has experienced a fast paced growth last year and it is expected to continue at a steady rate in 2014. Needless to say, the real estate market in the area have been booming and outshining other areas. The number ofIndianapolishomebuyers increased with the attractive average price of homes in the area along with other factors.
The houses in mostIndianapolisareas are being immensely sold while other areas are also catching up with sales. There is certainly a steady growth in home sales in theIndianapolismetro area and this can be attributed to many things.
Indianapolis Real Estate Getting in Good Shape
So, what do homebuyers inIndianapoliscan expect in 2014 as far as the real estate market goes?Good news for interested home buyers this year as the average home price projected for this year is around $130,000 to 135,000. There is also an expected increase in new listings or supplies in the first two quarters of the years as hundreds of new building permits are on the rise.
What is the reason behind these figures? Well, theIndianapolismarket is getting in good shape from the past year and this will continue until the current year. This can be due to an increase in the employment rate in the area, low interest rates previously and the implementation of less stern lending standards during the last quarter of 2013.
These things have resulted to about 20% of growth in annual home sales in the past year. The board of realtors inIndianapolisreported that home sales spurted in the past year in spite of economic recession. Now that the economy is recovering from its downfall,Indianapolishomebuyers are expected to flock to the housing market due to the improving real estate market and housing conditions.
What More to Expect?
The Indianapolis real estate considered as one of the bright points in the economy. Although the average home price will continue to climb this year until the early part of the following year, the demand for homes inIndianapoliswill experience a stable growth with low levels of mortgage rates.
The number of foreclosures has also declined and is expected to continuously fall this year. And with the latest construction of residential homes this year, there will surely be a bright future for the real estate market in the area which is a positive indicator forIndianapolishomebuyers.
Indianapolis, State of Indiana, is one of the most preferable cities in the state of Indiana. With all the amenities, Indianapolis has been the most favorite city of many people living in the state of Indiana for years. Everyone wants to have his/her own house and when there comes an opportunity that you can buy your own house in Indianapolis, it could be one of the best moment of your life. Buying your first house in Indianapolis could be a good decision. Nevertheless, it is pretty much reliant on what the real estate market rates are going on these days.
Investing in a house or land; however, is an effective decision, especially if you are living in a place like Indianapolis? There are numerous benefits, if you have decided to invest in a commercial land in Indianapolis homes. The real estate market in Indianapolis is very much attractive for those investors, who don't have a big piggy bank and want to invest in an area where the real estate market is comparatively low as compared to other areas in the United States. The real estate housing sector always has a discount offer on various houses and commercial lands that are up for sale.
There are numerous popular areas in Indianapolis city, where you can plan to buy your first investment property. Acton, Brookside Park, Camby, Central, Crown Hill, Downtown Indianapolis, Eagle Creek, College Park, Eastgate, Geist, Haughville, Hillside, Homecroft, Irish Hill, Little Flower, Lockerbie Square Historic Disctrict, Meridian Woods Park, Meridian hills, Riverside, University heights, and Wholesale District are some of the well-known neighborhoods in Indianapolis where you can buy your first investment property. However, you need to be very cautious as the real estate market keeps on fluctuating and to get the best quote, you should be acquainted with the current rates of the market. Your analysis in the initial stages of purchasing a house will play a vital role in your overall price calculation.
Well, more than the market rates, it is more important that you should review the size of the house that you want including number of bedrooms, bathrooms, and other specific areas of the house. If you've a large family, you should go for above-average house that starts from a price range of $100,000 to $300,000. So, it is all dependent on your market analysis and your own family members and your housing needs.
Related Links
Would You Invest in a Land or House in Indianapolis?
Buying and selling houses and commercial land in Indianapolis could be a good decision. However, it is pretty much dependent on what the real estate market rates are going on nowadays. Investing in a house or land; however, in an effective decision, especially if you are living in a place like Indianapolis. There are numerous benefits, if you have decided to invest in a house or commercial land in Indianapolis. Following are some of the key benefits that you should know if you are going to invest in Indianapolis:
Comparatively Affordable Real Estate Prices:
The  Indianapolis real estate is very much attractive for those investors, who don't have a big piggy bank and want to invest in an area where the real estate market is comparatively low as compared to other areas in the United States. The real estate housing sector always has a discount offer on various houses and commercial lands that are up for sale.
A Nice Community for Living:
Another best thing about Indianapolis is that it has an attractive and lively community for people to live. Numerous amenities are available to the local residents along with some great neighborhoods including Downtown, Southport and Greenwood.
Calling all Nature Lovers:
Those, who love to be a part of a community full of natural scenes, Indianapolis could be a nice choice for them. In Indianapolis, the local residents always find a lively community with lush green natural scenes and recreation areas like playing grounds and parks for families and children. Some of the renowned parks include Eagle Creek Park and the White State Park.
Education and Sports Hub:
For sure, Indianapolis is one of the best places and educational and sports hub for many people. The famous Purdue university and the Amateur Sports Capital attracts people from different areas to set a life full of sport activates and perfect education.
Key Note:If you're planning to invest in a land or Indianapolis homes, you should definitely check the real estate market prices and should complete a comparison among different other areas. However, having been said, Indianapolis is comparatively an affordable place to live with all the amenities that is required for a happy living.
Booming Indianapolis
Real Estate market Indianapolis is the capitol of Indiana. According to the statistics, our city has slightly less than 800,000 residents. If we are looking from larger perspective, this city is ranked 13th on the list of largest cities in the States. City is known for many racing happenings and many lovers from around the country and even around the world love visiting this city and attending sports events.
Modest and steady growth
Counties such as Hamilton and Johnson have experienced modest and steady growth of real estate investments during the last decade. If we take a look at the current real estate market growth, we can freely say that Hamilton itself stands for the fastest growing county in the State of Indiana and even the whole Midwest. State of Indiana itself shows modest overall growth.
Indianapolis goes public
City of Indianapolis has been listed by many media means in the past. CNN Money greatly presented city of Indianapolis as the city with a great future with a local economy that grows faster than national average. Furthermore, Forbes Magazine spoke about this city in a very bright light, by placing him on the top 10 list of the best cities to purchase a Indianapolis home in the United States.
Factors that contributed to growth of Indianapolis
Well noticeable business investments resulted in lower unemployment rate and more overall stability in local economy. Great schools are just another factor that families consider when they decide to move to Indianapolis, since this city has well known schooling system in the place. Plenty of park and recreational facilities are available to residents in this affordable, but on the other hand still affordable housing market. Beautiful suburbs of Indianapolis Carmel is not just a candy, but also a nice Indianapolis suburb in Hamilton County with population about 80,000 residents and it is growing rapidly. School system has to offer 11 elementary schools and in addition to that 3 middle schools. This community built also a high school for its' residents. Greenwood is just another great suburb that has a lot to offer. With population slightly lesser than Carmel, this beautiful place has 14 municipal parks with many playgrounds for kids and picnic areas as well as numerous tennis courts. This suburb is also known as the one of the key economic powerful players in the State of Indiana.
Indianapolis housing market continues steady growth in 2014
Residents of Indianapolis have noticed declines in unemployment rate, which further produced continues growth of Real Estate market.
One of the most stable markets in the States
We have great statistics made my Metro study – known as national data firm with the largest database of Real Estate matters in the country, which confirms our belief. Just in the third quarter of the last year more than thousand new home projects started. That number, from what we remember, has not been reached since 2008, right before recession. On the other hand, some of The Metropolitan Indianapolis areas are known as affordable great investment. "Carmel" has been ranked as forth most affordable for families to live in, according to the National Association of Homebuilders. Families and investors that love more upscale parts of Indianapolis are able to choose more expensive properties.
Indianapolis as the center of events
There are many events that made this city more popular and hosting of the Super Bowl is just one of them. Thousands of people from around the country came to this event. Overall feedback was that the event was very well organized. As a result, we have increased financial activities in the city. Besides this type of events, Indianapolis has what to offer when it comes to family life. Plenty of museums such as Museum of Art, The Eiteljorg Western Museum as well as White River State park are just a beginning of the long list why Indianapolis is becoming more and more attractive for American families.
Indianapolis: stable and affordable at the same time
Unlike some other large cities, Indianapolis can proudly say that this is an affordable city that brings prosperity to residents. If we take a look at Trulia, we can notice over 4,500 in pre-foreclosure auctions. Overall average listing price in Indianapolis currently runs for about $160,000. It might be worth to mention one of very affordable and popular neighborhoods – Fountain Square, with average listing price slightly lesser than the one mentioned above. Based on this statistics, we can compare low unemployment rate with housing market price and come to conclusion that Indianapolis is a great place to invest in Real Estate or to purchase a Indianapolis Homes family home for living.
Related Links
Carmel Indiana
Carmel Indiana real estate market is known as a fast growing and very progressive place located slightly north of Indianapolis. For all new investors and family home buyers, investing or moving here means becoming a part of strong community where thousands of residents live. With many public and private educational institutions, restaurants, beautiful parks and upscale art galleries, this small community is perfect for raising the children. The place is also well known for its' live music events which many people from Indianapolis love to attend on regular basis. Carmel Indiana real estate market took a part in media. This place became more popular when CNBC put him on the list of the best cities for the families to relocate to in America. CNN ranked this beautiful community as the 14th on the list of the best places to live. If you are looking to relocate to nice and peaceful place, we would definitely suggest that you should check out homes for sale in Carmel. With population of 80,000 residents, this place can proudly say that unemployment rate isn't even half of the average in the United States.
History of Carmel Indiana
By looking back in the history, we notice that Carmel was originally inhabited by Delaware Indians. Electricity was invented during the twentieth century as well as gas and water system, which gave a lot of benefits to this little cozy place. One of the most beautiful cultural events took place in 1962, when the city market it's' 125th anniversary. Around that time, cultural life got expanded since the city received new library and theater as well as high school. Route 431 gave better connection to residents of this area and increased tourist visits during the summer.
Green city
The city has made some significant steps in direction of living in more healthy and green environment by implementing some programs that help to environmental sustainability. Recycling programs took the place and we are able to see real benefits of it. All of that combined with reach outdoor physical activities, well known Central Park and beautiful indoor / outdoor water park made this place definitely considerable for future generations. Monon Greenway is a great place that provides opportunity for cyclists, joggers and rollerblades that simple love these types of activities. Besides chains of well known grocery stores, this place has all natural Farmers' Market that runs from the spring to the fall and it gives to residents relaxing time such as socialization combined with nice music. History, culture and the system of education give a lot of value to Carmel Indiana real estate market by painting him as well established and evolving place.