Fitting your belongings into a limited area can be difficult and irritating; however, leaving them outside can make your home feel and look cluttered.
Why not offer yourself peace of mind by decluttering? After all, studies have shown that a cluttered home can contribute to anxiety. Below are easy organization tips for small places.
Must-Try Small Space Storage Solutions
Here are the three small space solutions you can try at home:
1. Kitchen Decluttering
Kitchen counters can often be the messiest area of a home. Several quick small space storage solutions are:
Maximize Your Vertical Space: Hang spices or wine glasses beneath cupboards, add hanging pot racks, mounted dish-drying racks above the sink, and poles with hooks for towels, aprons, etc. These are amazing clutter-organizing methods.

Hooks And Holders Should Be Attached To The Backs Of Cabinet Doors: It will help keep foil or cleaning products organized and stored.

Store Appliances: This includes appliances like blenders and toasters. When not in use, keep them in the pantry or lower cabinets.

Consider Storage Space When Buying For Groceries: Costco-sized goods aren't the best fit for small areas.

Consider A Kitchen Island: Even the smallest space can use a microwave cart or

butcher-block island

. Consider a compact cart with wheels to add counter space and storage anywhere.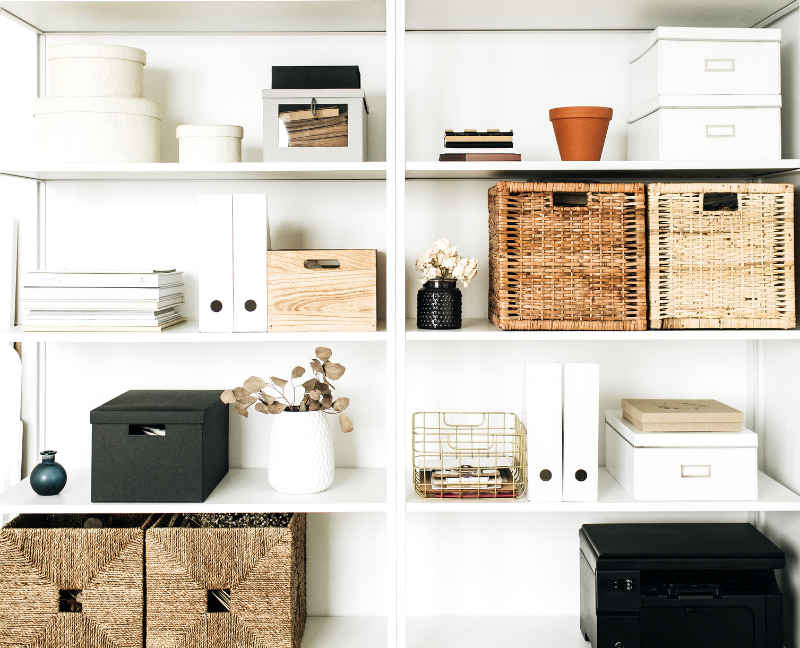 2. Find Space-Saving Items
Unexpected places can offer storage opportunities. Unexpectedly, there is more space behind the door. A storage gold mine can be found under the bed. Space-saving solutions that are frequently used include:
Utilize The Whole Closet: A lot of space is often present behind and above your hung clothing.

Look Behind Doors: Try behind-the-door hooks or pockets. They can store jewelry, hair dryers, dog leashes, cosmetics, cleaning materials, and shoes.

Utilize The Space Under Your Bed: Store off-season clothing and linens under the bed. Use vacuum storage bags and a vacuum cleaner to remove the air. Your goods will shrink dramatically and be protected.

Look Up: The ceiling or the upper half of the wall can be a great place to hang more oversized items like bicycles.

Spend On Furniture That Has Two Uses: 

Think Vertical: Items in bins or baskets can be kept on tall shelves.
3. Minimize Your Things
If you have limited storage, minimizing often can be helpful. As you organize or find a home for your items, consider these basic letting-go methods:
Think About The Usability Of Your Item: Consider whether you've worn or used it in the past year.

Find Uses For Sentimental Things Of Value: Ask yourself if you can paint tiny furniture or household items to match your decor. Can you digitize memories by taking pictures of stuff you can't store?

Organize Things In Piles: These include "yes" and "no" piles and piles for charity, family, friends, and online sales.

Schedule Seasonal Or Monthly Minimizing Times: To avoid clutter, try the "one in, one out" strategy or donate a specified number of things each time you declutter.
These are just some small space storage hacks you can try at home. These solutions can help add space to your kitchen, bathroom, or living room. Find more content like this by visiting our website.
Coming home to a spotless home that literally sparkles is one of life's greatest pleasures. 
With the help of spring cleaning advice from organizing and cleaning experts, it's easier to clean your home room by room or appliance by appliance because doing so can be intimidating, exhausting, and time-consuming.
Here are some spring cleaning chores you can do at home, whether you only have five minutes to freshen things up or you happen to have a full weekend to spare.
The Best Spring Cleaning Ideas You Can Do
1. Clean Windows On The Inside And Out
Clean windows make a home look better. Use water, ammonia, and white vinegar for professional-quality DIY cleaning. A large sponge and a professional squeegee apply and remove the solution from your windows.
2. Clean The Coils On Your Refrigerator And Air Conditioner
The coils cool these appliances by circulating air. Dust on coils reduces efficiency, making your fridge or air conditioner work harder. Unplug the device and vacuum out the coils. You can use a refrigerator-coil brush that is available in the hardware store.
3. Check The Ceiling Fans
Clean ceiling-fan blades to eliminate winter dust. For summer, reverse your ceiling fan's motion from clockwise to counterclockwise. This cools the place by directing air downward.
4. Clean The Dryer Vent
You wouldn't believe how simple it is to clean a dryer vent. Remove the dryer's plug from the power source first. After that, use a vacuum or a special brush made for cleaning dryer vents to clean out the opening.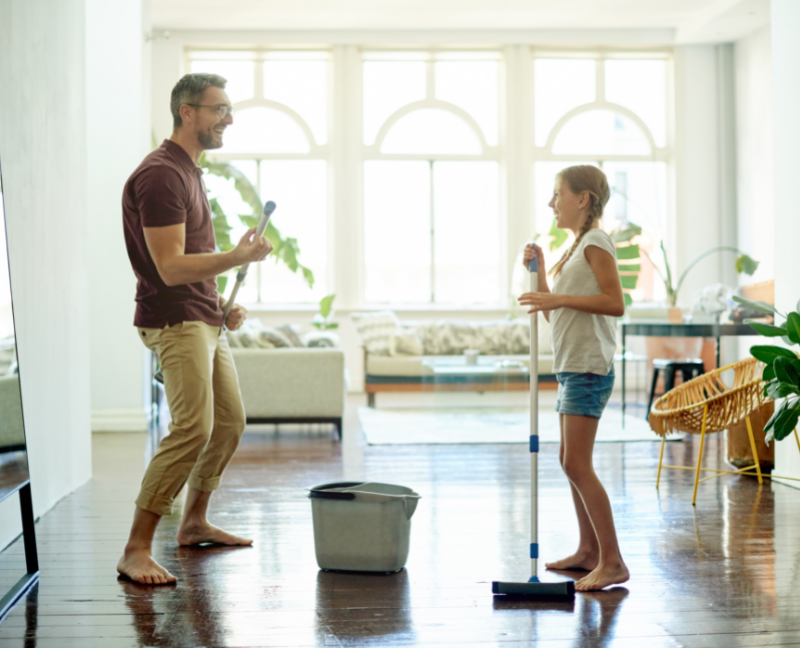 5. Deep Carpet Cleaning
Even if you frequently vacuum your carpet, a deep cleaning every year will remove the trash, dust, and food debris from the carpet's deepest fibers. If you don't own one, you can rent one at a home improvement store or nearby supermarket chain.
6. Check The Chimney, Gutters, And Roof
The best time to inspect your roof for possible winter damage is springtime. Try looking from the roof with a pair of binoculars if you can't access it with a ladder.
7. Inspect Patios And Decks
Great if your wooden deck's finish is still good. Cleaning the deck may be enough to prepare it for summer. Clean and reseal the deck if the finish is worn. Tidy up and maintain composite decks according to the manufacturer's instructions.
8. Prepare The Lawnmower
Take those pressure washers, lawnmowers, and weed eaters out of storage, give them a test run, and ensure everything operates as it should. Tools can be fixed with lubricant or cleaning.
9. Clean The Outdoor Furniture
Combine a solution of 80% water and 20% ammonia with a half-teaspoon or a few sprays of gentle dishwashing detergent. Before soaking a soft cloth or sponge and wringing it out, completely blend the contents. While cleaning the wood furniture, don't let the solution dry out.
10. Cleaning Up The Front Entrance To Your Home
Wash or sweep the stairs and front porch. If your welcome mat is fraying or disintegrating, shake it or replace it. Your home will seem refreshed if you add one or two pots of annuals in vibrant colors.
Follow these spring cleaning activities and ideas to clean and give your home a beautiful and fresh inside and out. If you have more tips, feel free to share them in the comment box below.
4 Tips to turn your cell phone into a professional listing video making machine!
Jason Kraus, with RE/MAX Advanced Realty in Indianapolis, Indiana, is here to show you how to film a professional listing video with just your smartphone!
If you want to learn more about how you can film videos like this, and then have our Full Time Video Staff edit them together for you, and everything else our brokerage provides, hit the link!
✏️ Company Provided Leads
✏️ Technology Driven Workplace
✏️ Graphic Designer
✏️ New Agent Mentorship
✏️ Full Time Video Production Team
✏️ New Agent Training
✏️Ongoing Workshops to Hone New Skills
✏️In house social media and website manager
✏️ 4 Office Locations with agent work space, conference rooms to meet with clients or for closings, and much more!
✏️ Learn more about Joining RE/MAX Advanced Realty here!
Broker Owner of RE/MAX Advanced Realty in Indianapolis, Indiana, Dennis Nottingham, is here to give you tips, and the DOS and DONT'S, on home inspections when you are representing the Home Buyer!
If you found value in this video and want to sign-up for the Coach's Corner Newsletter to have weekly tips straight to your inbox, sign up today!
"Laugh and the world laughs with you, snore and you sleep alone."
- Anthony Burgess
Invest in the Right Mattress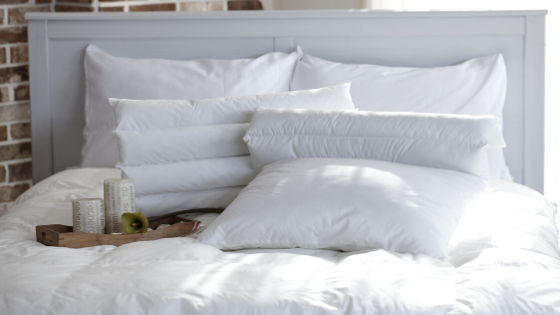 According to a National Sleep Foundation survey, 93 percent of respondents consider a comfortable mattress important to a good night's sleep. Sleep impacts our bodies in a big way. Quality sleep will aid in improving memory, focus, lowering stress, balancing blood pressure, increasing productivity, heightening happiness, lowering weight, avoiding aging prematurely and increasing your lifespan. With a mattress that's fit for your needs, your body is properly supported. This helps lower stress against pressure-sensitive parts of your body such as your hip, shoulder, ankle, and even ribs. With the correct mattress your spine is aligned with the rest of your body and your body weight is well distributed. Popular ideal mattresses include medium-firm memory foam, latex, or coil spring to ensure you are well supported. The benefits of a new mattress can be felt throughout your day. You will experience muscle relief and a more positive outlook on life in being well rested.
Use a Sound Machine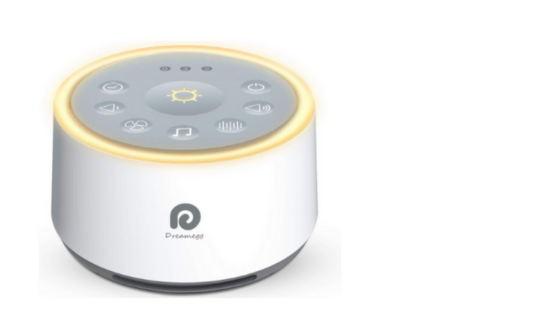 Ambient white noise reduces the difference between background sounds and disruptive noises, making it easier for you to sleep without disruption. When a noise wakes you up in the middle of the night, it's not necessarily the noise itself that wakes you up, but the sudden change or impact of the sound that can wake you up. White noise creates a sort of masking effect, blocking out those fluctuations of sound that disrupts sleep. Even if you are awakened, the soothing sound of white noise can make it a lot easier for you to fall back asleep. Raj Dasgupta, MD, assistant professor of clinical medicine and sleep expert at Keck Medicine of USC, compares it to a soft, steady glow of a night light, versus an overhead light being switched on and off. Investing in a sleep machine will do you wonders. There are various machines to choose from on the market that produce various sounds to fit your needs. Check out our article Top 10 Must-Have Bedroom Items from Amazon to find an amazing sound machine to invest in!
Aromatherapy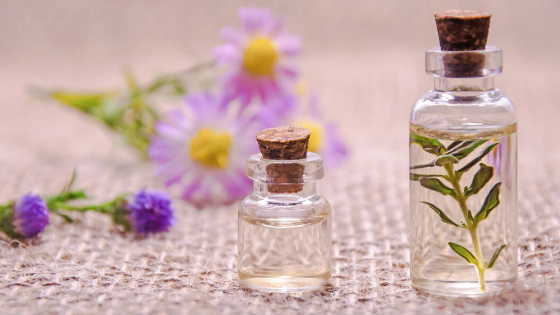 Essential oils can be a powerful way to help ease your nerves and encourage a better quality of sleep. Lavender essential oil is praised as a natural sleep aid. The National Institutes of Health research shows that using lavender oil decreases blood pressure, lowers heart rate and cools skin temperature in sleepers. Those who used lavender for sleep aid reported feeling recharged and relaxed. In general, essential oils can have many different benefits, such as weakening some viral infections, strengthening the immune system and easing feelings of anxiety. Our sense of smell is interestingly wired to memory and emotion. This means smells travel to the limbic (emotional) system of the brain, which includes areas such as the amygdala, which triggers our reactions and memory. Who knew smell could make such a big impact on our emotions and the way we respond! Research the benefits of various scents and choose one that you feel captivates you and provides benefits tailored for your own personal needs.
Declutter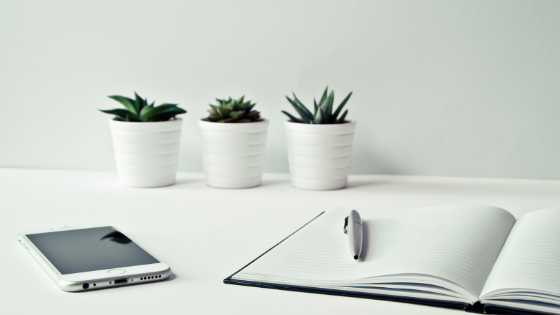 In 2011, neuroscience researchers found clearing clutter in your home and work space resulted in increased focus and made processing information easier. The visual distraction of clutter overwhelms the brain and can even take a toll on our memory. This is why we should be sure to free our space, especially the bedroom, from clutter. Multiple studies have also found a correlation between clutter and poor eating choices. Chaotically cluttered environments led participants in a study to eat more snacks, eating twice as many cookies than participants in a clutter free environment. Other research has shown that being in a messy room will make you twice as likely to eat a chocolate bar than an apple. Decluttering is essential for both mentally and physically well being.
Remove the TV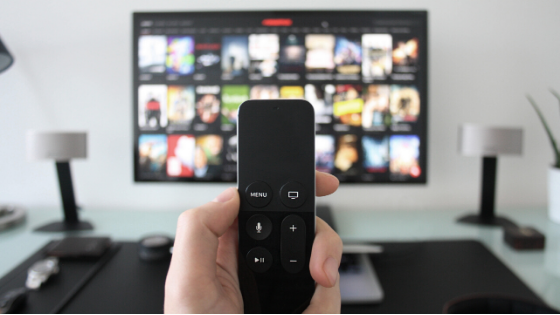 With no TV in the bedroom, you are committing yourself to a better quality of sleep. You might not think much about how you'll sleep when you're watching an action packed movie right before bed, but chances are, it won't be quality rest. What you watch before you slip into sleep greatly impacts how well you will sleep. For example, a horror or action movie will keep you awake throughout the night because your body has built up adrenaline. The TV also causes eye strain. Think back to point 2 in this article on how disruptive sounds can be compared to harsh lights. Eyestrain can trigger headaches or migraines, impacting your sleep and your levels of productivity in the following day. This is why many people opt for removing the TV from their bedroom. It is best to save watching TV for the living room and use your bedroom as a space for relaxing, unwinding, and most importantly, sleep.
One of the most important measures of your financial health is a good credit score. A good credit score shows the lender how responsibly you use your credit. The better your score, the easier it is for you to qualify and be approved for better interest rates on new loans or lines of credit. A poor credit score, on the other hand, makes it harder to get qualified for a new loan or open a credit line. It also puts the borrower on the hook for higher interest rates. Thus, a good credit standing is very important in today's society that has become increasingly dependent on credit to make purchases and financial decisions.
If you currently have a poor credit score, here are some of the steps you can take right now to improve it: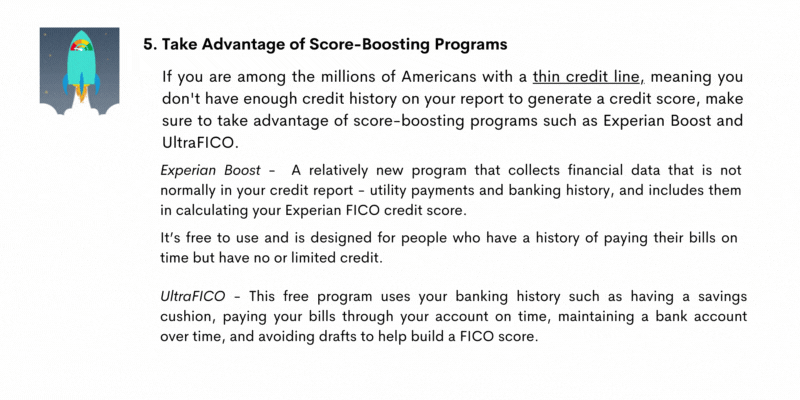 The tips mentioned above are just some of the ways you can improve your credit score. If improving your credit score is a goal you have, keep in mind that the sooner you begin working to improve your credit, the sooner you will see results.
In this article we are bringing you a simple yet effective moving guide that will help lower stress when moving. You'll want to bookmark this one for your next move!
Mental Prep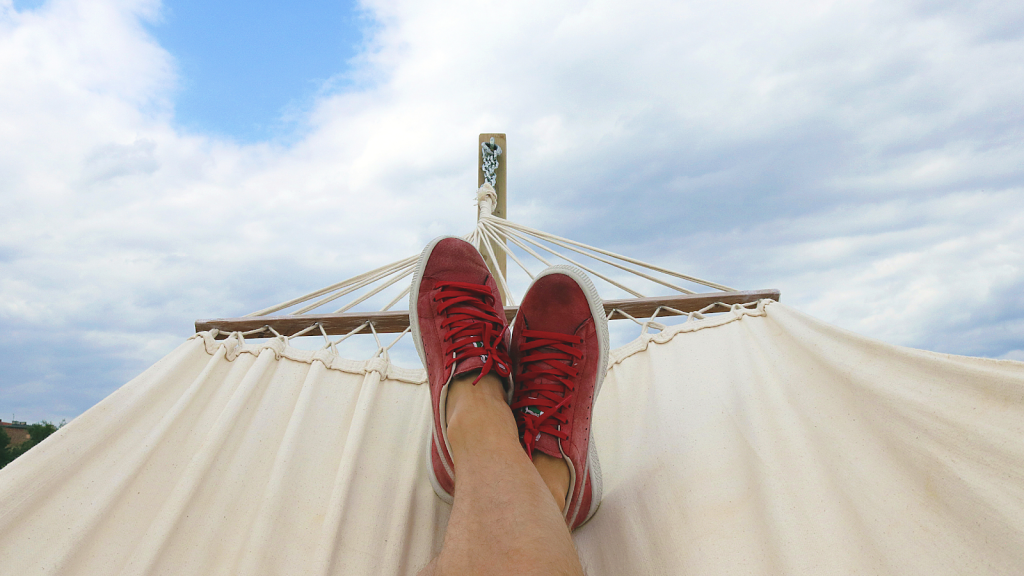 Moving - some love it and some dislike it. Whatever your preference may be, moving is a process we all will experience at some point in our lives. With this, making the process as smooth as it can be with minimal stress is vital in order to leave your old residence and enter your new residence with a positive attitude.
Mentally preparing yourself for this process and change of environment is beneficial for your health by easing any incoming stress while in the grasps of the moving process. Use this time to take it easy, as busier times are ahead.
Engage in your favorite activities, indulge in some of your favorite foods and get lots of rest to ensure you are feeling your best on the big day. Expand this freetime for a few days up to one week. These things will help prepare your body and mind in order to stay positive during your move.
Once you are mentally prepared, it's time to move on to the next step.
Create a Roadmap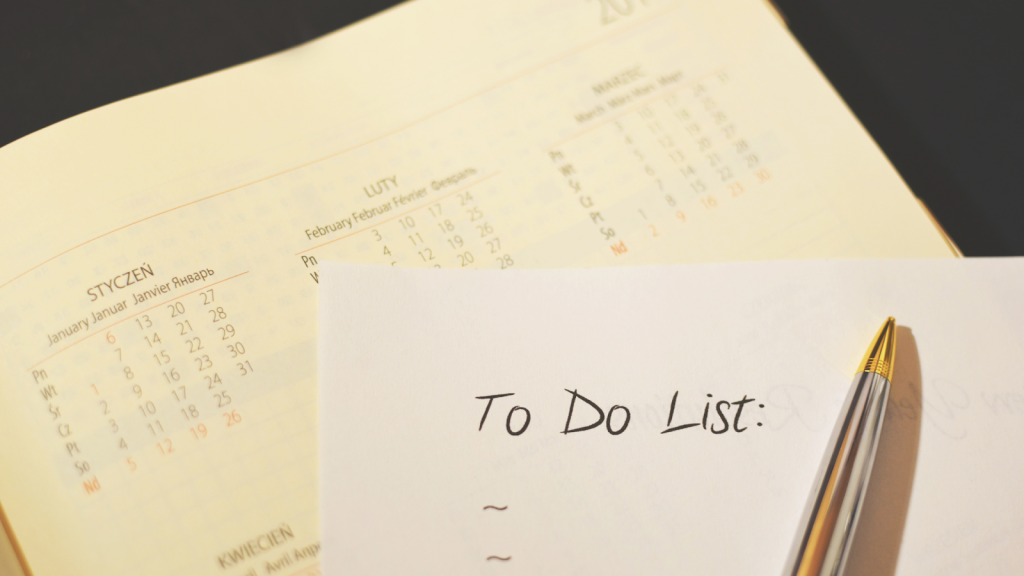 Creating a roadmap is crucial in order to have a smooth move. This guide will create structure in busy times.
Give yourself a few days to a week to prepare for the weeks ahead. This does not require a large amount of energy and will help make the weeks ahead a breeze.
Make a list of solely essential things that need to be done in the upcoming week. If you're feeling more ambitious, you can plan for an additional week or two, but don't over do it, as this could cause you to feel overwhelmed. If you want to plan out all weeks until moving day, an alternative is to write one main goal each week until moving day.
Things to plan include a list of basic items you need to purchase for various areas of the home, researching moving services you may need, looking up internet plans, etc.
Take your time; there's no rush. If you finish a little early, hang tight for the remaining days.
Create and Meet Deadlines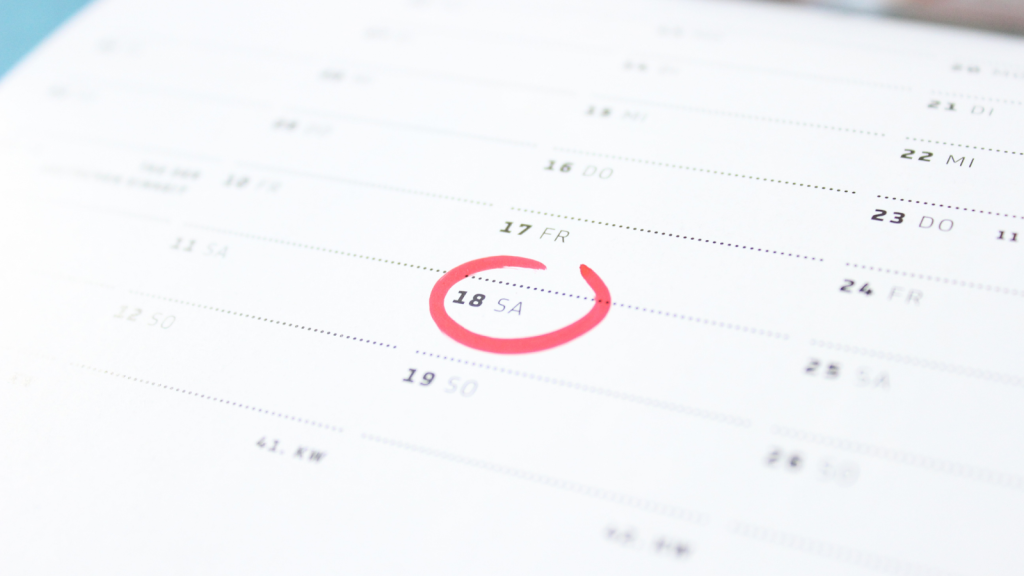 Creating and meeting deadlines is another crucial step to ensure a stress-free move.
Give yourself deadlines to meet in order to be prepared. It's important to create deadlines for every step in the moving journey, no matter how big or small. This creates structure and a rewards system all at once.
Things to create deadlines for include when to buy items needed for the home, scheduling a day for a wifi company to come to the new address, when to have furniture delivered, etc. Mapping this out prevents mixing up dates, maximizes your time and ensures your utilities and other services are up and functioning on move in day. This gives you one less thing to worry about when moving day comes.
It is also important to ensure each task is given proper processing time. For example, forwarding your mail to your new address is crucial to complete early, as it can take up to 12 days to forward mail. If you complete this in the appropriate window of time, you can find comfort in knowing your mail will be delivered to the proper address.
This and other related tasks should be done 2 weeks in advance in order to ensure things run smoothly on move in day. You'll be relieved to know that these things are all taken care of when in the hustle and bustle of running to various stores to buy needed items and handling other tasks.
Decluttering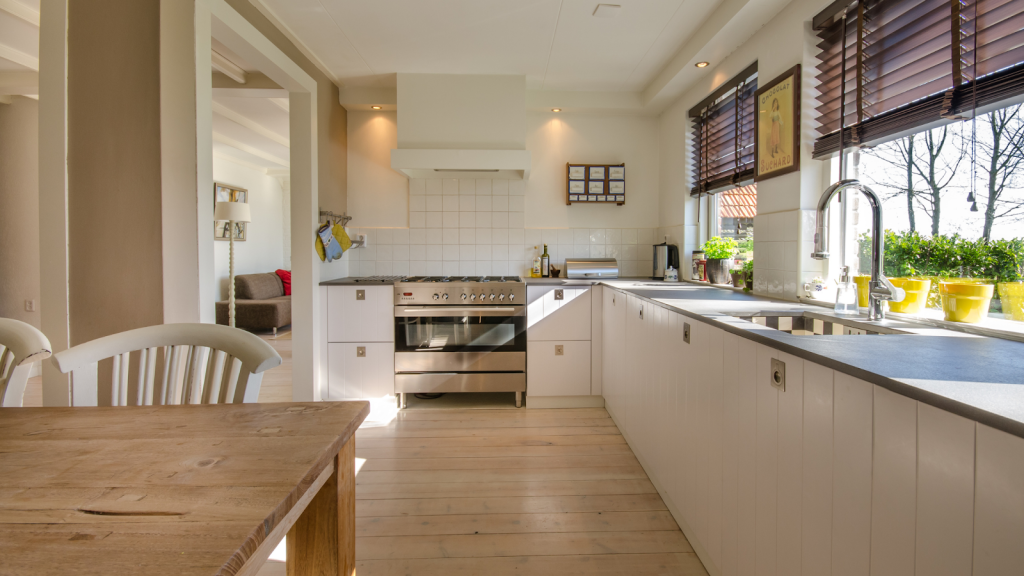 Decluttering is a daunting task for many because most don't know where to start. They take a look around a space, and in seconds, it all seems like one big job to accomplish. This can throw many people off when attempting to start the decluttering process. How can we dodge the bullet of avoiding the process of decluttering?
The best way to accomplish this task is to handle it in small portions. For example, let's say your goal is to declutter your bedroom in preparation for packing. Choose one spot to declutter. Getting the biggest job done first is a great way to make the other areas of the room a breezy. For example, if your closet is the boss level in decluttering your bedroom, start with that area first.
Wear comfortable clothes, play some music and ensure you've at least had a snack. This will ensure you are in good spirits and have energy when tackling this task. Once you are finished, use the next day to declutter another area of the bedroom. Breaking up the decluttering process in this way makes it a more digestible process for many people.
Try this tip out if you are someone who struggles (like many others) when decluttering.
Moving Day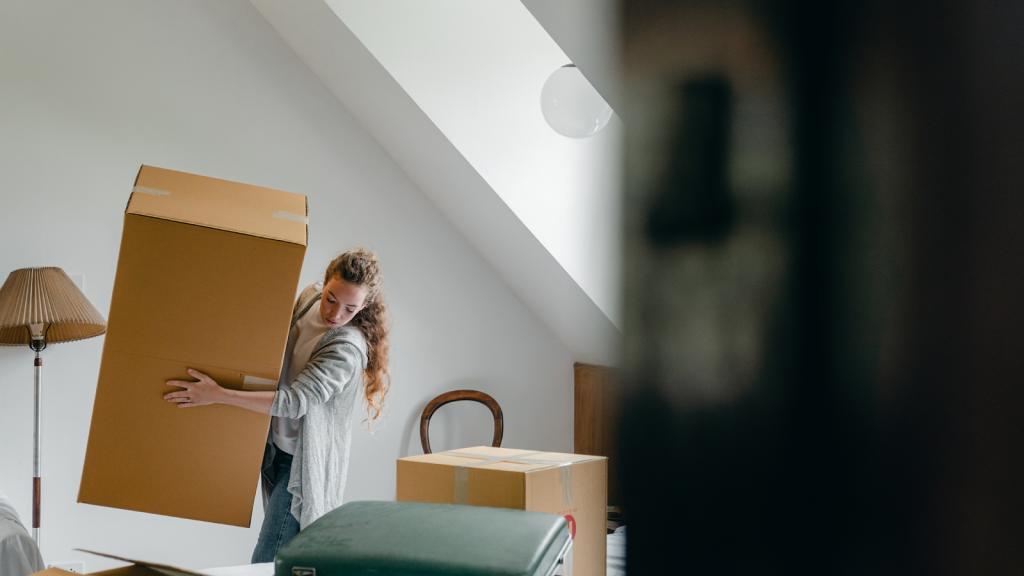 It's vital to have a gameplan on moving day.
Ensure you get plenty of rest the night before. Once morning strikes, have a light breakfast and give yourself a little freetime, even if it's just 10 to 15 minutes. This helps mentally prepare you for the big day and gives you a few extra minutes to wake up if you're still feeling a little tired.
Once awake and ready, you're set to pack up the vehicles and head to your new home!
Realtors are getting leads from Facebook, but it's not easy and it's not luck. In this day and age, gone are the times when a realtor had to pay their dues and work 5 to 10 years and build a reputation and client base to thrive. WIth social media, a realtor can make themselves known to an entire community much quicker, and can begin building their network and sphere into one which makes them a healthy income at a more advanced pace than in years past.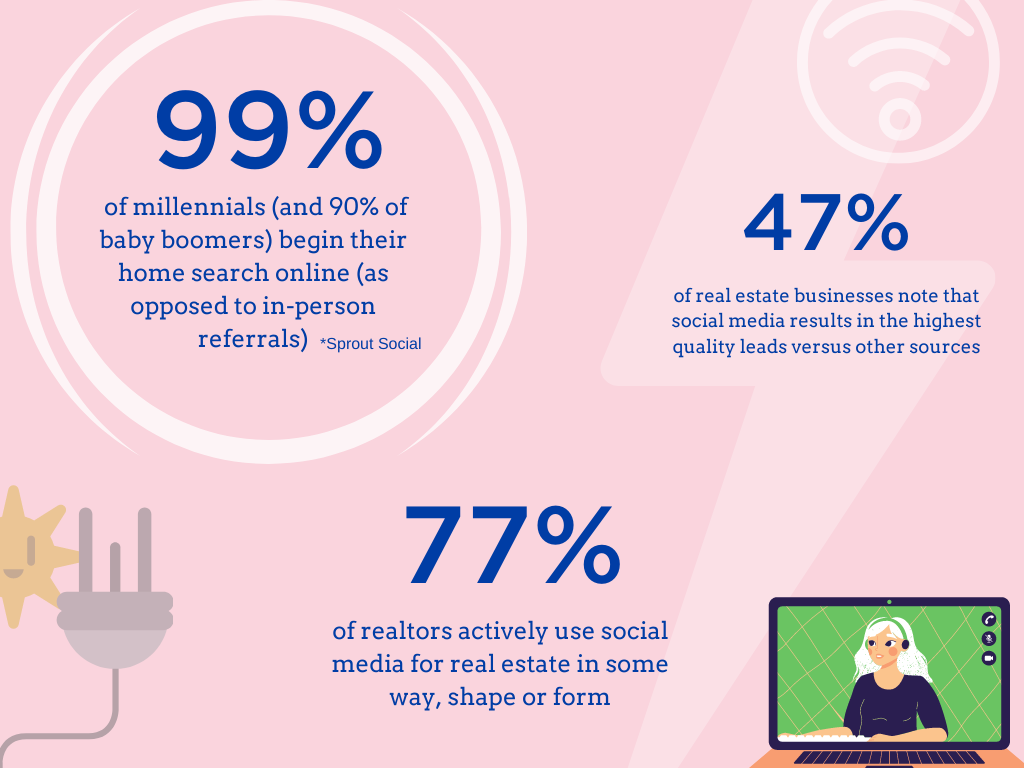 Now, we will get into Facebook Ads in our next blog post, but for now, we are going to focus on organic engagement. Organic engagement is any engagement (i.e. post likes, comments, shares) which comes from unpaid or unboosted posts on either your personal or business page. This is important because it allows you to build a real sense of community and relatabilty on your page, and focuses on mainly non real estate content to ensure you don't bore your audience with another HGTV blog post.
These posts will help drive engagement on your page, which in turn, improves your Facebook algorithm and helps more people see your posts. So, when it's time to post something real estate related, more people see it!
VIDEO: Our Digital Marketing Manager, Cole Wilgus, walks you through 3 Social Media Posts Anyone Can Do: Realtor Edition!
At RE/MAX Advanced, we specialize in helping our agents grow their social to optimize leads and engagement. From our full time video staff, to our Facebook Ads Expert, we've got what you need to succeed online! Learn more about what we can offer your career here!
In this article we are bringing you more unique homes from around the world. If you haven't seen our first unique home article, click here! 
Brooklyn, New York: Brooklyn Clocktower Penthouse ($2.3M)
Compass
This massive Clocktower penthouse gives you a timeless view! Located in Brooklyn, New York the home sizes up at 1,260 square feet with just one bed and one bath. The custom kitchen is a chef's dream, containing abundant storage space, a Viking conventional stove, stone countertops and a Sub-Zero refrigerator. This once ticking clock tower was first constructed in 1892 for a local newspaper company. In the 80s it was reconstructed into a luxury residential spot, rented out by A-list celebrities of the time. In 2020, it has been remodeled into a unique home by architect Michael Davis who first laid eyes on the tower at the early age of 19. He was captivated by the beauty of the building and the views it gave to the city below.
Compass
Compass
Compass
Lubbock, Texas: The Steel House ($35K)
Glasstire (Christina Ress)
This unique home will capture the eyes of anyone who passes it. The Steel House located in Lubbock, Texas has been crafted mainly from blackened steel. It's interior contains stunning high ceilings that have been beautifully arched, an elegant interior feature in contrast to the home's industrial inspired exterior. The home also has a beautiful view of a nearby recreational lake. Architect Robert Bruno began crafting the home in 1997, continuing the process for years as he created Texas' most striking home. Bruno unfortunately passed away after battling colon cancer, leaving his masterpiece unfinished. Nonetheless his craft has been seen from all around the world and has made a profound impact in the architectural world.
Glasstire (Christina Ress)
Glasstire (Christina Ress)
Ludwigsburg, Germany: Dupli Casa (unlisted)
David Franck
German architect J. Mayer is known for his unique and thought-provoking home designs. This home in Ludwigsburg, Germany lives up to his reputation throughout the architectural world. This home has an abstract design that has been coated stark white. It's shape was inspired by the imprint that was left in the earth. The home's style models an almost modern futuristic design that has captured the eyes of many around the world. The area reaches 6900 meters squared and was first built in 1984. The home contains four bedrooms, 4 bathrooms and has three levels. The skin of the villa blends seamlessly with the grounds, connecting the home with the beauty of nature.
David Franck
David Franck
USA, Pennsylvania: Fallingwater ($155K)
Robert P Ruschak
This stunning home was crafted in 1935 by American architect Frank Lloyd Wright. The home effortlessly captures the beauty of nature, blending in seamlessly with the greenery around it. Wright's creation is located in Laurel Highlands, southwestern Pennsylvania. It is engulfed in 5,100 acres of land known as the Bear Run Nature Reserve. The home was built from native sandstone and above a gorgeous roaring waterfall. The initial cost for constructing Fallingwater was 35,000. The final product, in addition to the guest house, was 155,000. This was the equivalent to roughly 2.8 million in 2019. In 1963, Fallingwater was donated to the Western Pennsylvania Conservancy. Today, the house serves as a museum for travelers around the world.
Robert P Ruschak
Robert P Ruschak
In this article we are bringing you 4 items you need in your home from Amazon. You'll want to add these items to your cart!
Finding the perfect area rug for your home can cost both money and time. First time rug buyers will be shocked to know the average costs of a rug and can find themselves in a bind as they hunt for a rug that matches their home's interior as well as their budget. Luckily, Amazon has got you covered!
You can browse hundreds of rugs set to the style and budget that fits your needs. Styles to browse through include orential, natural textures and much more. You are sure to find something that catches your eye when browsing.
These rugs are cost efficient, ranging from 20-60 dollars cheaper than the rugs you would find in furniture stores on average. This makes rugs for the home accessible for a broader range of buyers.
Weighted blankets do a world of wonders for many people, and now it is your turn!
Investing in a weighted blanket means you are investing in better sleep and comfort. Scientific studies show that weighed blankets have a positive impact on the human body. This is so because these weighted blankets are able to press into pressure points on the body, serving as a needleless form of acupuncture.
Weighted blankets can run a little pricey in stores, but on Amazon you are sure to find a great deal. This one we found runs for 39.99. Compared to the 50 to 60 dollars weighted blankets in store, 39 dollars is quite a deal. This blanket weighs in at 15.0 lbs at the lightest and 20.0 lbs at the heaviest.
The weight comes from glass beads, forming to the shape of your body as you rest, providing the utmost comfort. Some weighted blankets have square shaped weights inserted into the fabric that can cause some discomfort. The glass beads from this brand solve that issue beautifully.
It comes in a beautiful gray color that is sure to match most aesthetics and will become the aid in sleep you've always dreamed of.
Nice floor lamps are another home item that can run high in price in most stores. Amazon also provides a great deal on these products for its customers.
This arched lamp is a stunning piece to add to any home. It's sleek design makes it fit in any space and its simple color allows it to blend well into most home aesthetics. The large shades give the light space to coat the area in a well lit yet soft tone. This makes this lamp perfect for any occasion, such as having company over or simply reading a book, because its light is gentle on the eyes.
Harsh LED lamps can have negative effects on the body. For example, these lights, emitting large amounts of harsh blue light can cause things such as eye strain, headache and sleep that lacks quality. If you have lights in your home that are too bright, it is in your best interest to rid your space of them to invite a more friendly light into your home.
As mentioned above, this floor lamp can make a great addition to your space, weather it be your bedroom or living room. Check out this lamp and other similar products to find a lamp for your home.
Desk
Months later we still have found ourselves in the grasps of COVID-19.
With this, many are still working from home full-time or partly throughout the week. Having a proper space where you are able to complete your work is crucial.
This desk from Amazon can aid in providing you with a great workspace. This desk measures in at 39.4 inches, its largest size being 55.2 inches. This desk is sure to provide you with the workspace you need to write on documents as well as work on your computer. It comes in a stunning dark wood finish that is sure to look beautiful in any space. It runs for an affordable price of 75.99.
For its size, this price is very affordable, as most desk in this size and style can reach the 100 price point range in stores. Invest in this one from Amazon to get the modern and simple style you love for a price you love even more!