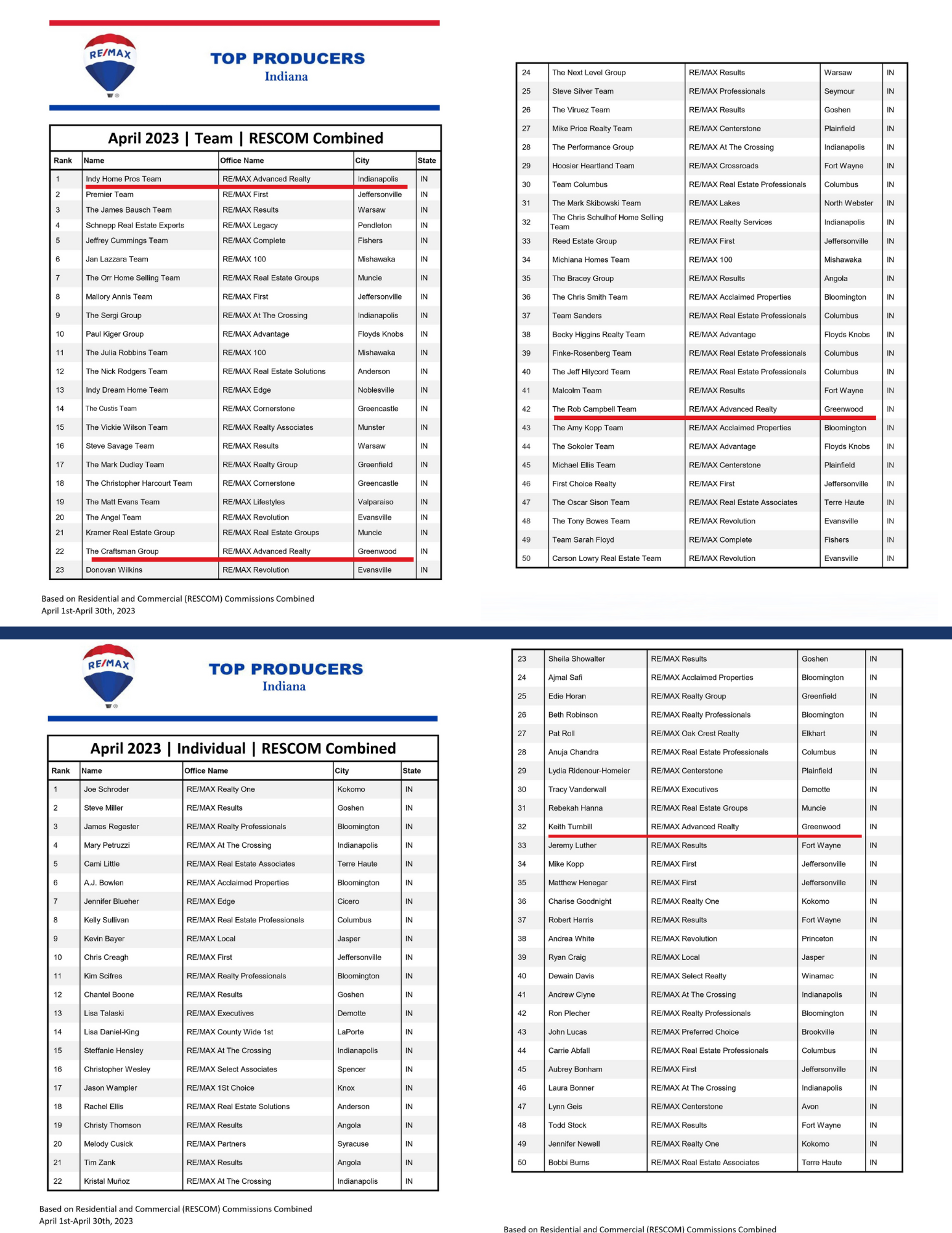 The real estate industry is a bustling world where agents and teams strive to achieve greatness and secure their positions at the top. Last April's RE/MAX Top Producers Report has yet again proven that RE/MAX Advanced Realty is truly Indiana's Leading Brokerage, bagging top teams and individual spots for residential and commercial production combined. 
Let's get to know RE/MAX Advanced Realty's  Top-performing Teams and Agents.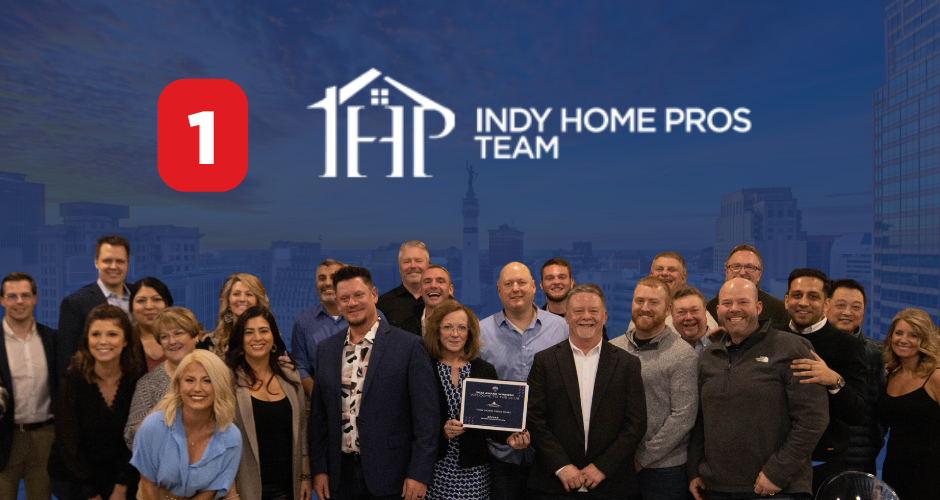 Indy Home Pros Team: Reigning Supreme at #1
Leading the pack and stealing the spotlight is none other than the Indy Home Pros Team, securing the coveted #1 ranking. Led by RE/MAX Advanced REALTY Broker/Owner and Team Leader Dennis Nottingham, the Indy Home Pros Team has consistently held the #1 spot, proving that their exceptional expertise, dedication, and unparalleled service have propelled them to the forefront of the industry. With a proven track record of success, they continue to dominate the real estate landscape, helping countless clients find their dream homes.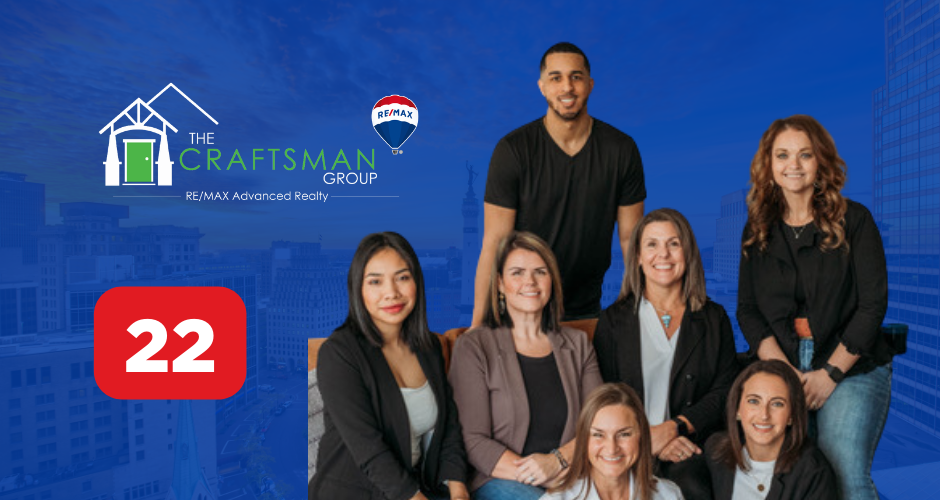 The Craftsman Group: Mastering Excellence at #22
With a client-first mentality, The Craftsman Group, led by Team Leader Cate Waggoner-Lee, has earned a well-deserved place at #22. Their attention to detail, creative approach, and unwavering commitment to delivering exceptional service have made them a formidable force in the market. The Craftsman Group has crafted a reputation as true artisans of the real estate industry, leaving a lasting impression on their clients and peers alike.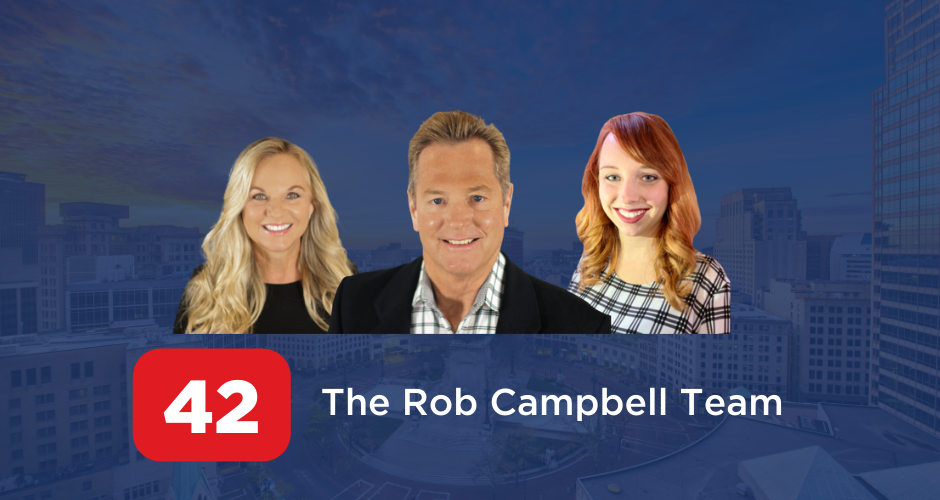 The Rob Campbell Team: Striking Success at #42
Led by Team Leader Rob Campbell, who boasts over 30 years of experience as a top-producing agent in Johnson County, The Rob Campbell Team has secured the impressive #42 position. Their expertise extends to both residential and commercial real estate, showcasing their prowess in diverse markets. With their exceptional solutions and unwavering dedication, The Rob Campbell Team continues to make waves, solidifying their standing in the industry.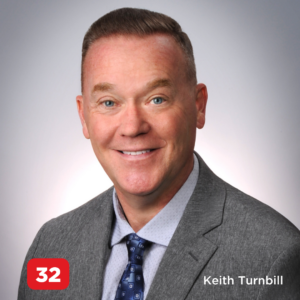 Keith Turnbill: The Epitome of Residential and Commercial Excellence at #32
At the remarkable #32 spot in the Residential and Commercial Combined category, RE/MAX Advanced Realty Green Wood Office's Head of Commercial Division, Keith Turnbill, has made a lasting impact. His versatility and adaptability have allowed him to thrive in both sectors, catering to the unique needs of his clients. With an impressive skill set and an unwavering commitment to success, Keith stands out as a true champion in the real estate arena.
RE/MAX Advanced Realty raises a toast to the Indy Home Pros Team, The Craftsman Group, The Rob Campbell Team, and Keith Turnbill for this feat. Congratulations on your outstanding accomplishments, and here's to an even more successful future!Here at RE/MAX Advanced Realty, we aim to continue leading the way, providing a platform for top-performing agents to shine and offering unparalleled service to clients across Indiana. Our commitment to excellence is what makes us home to the finest real estate agents in the state.
You've made the decision to purchase a new house, and you're looking at all the new neighborhoods in your favorite places. Perhaps you've already decided on the neighborhood where you want to reside, but you haven't signed a lease. You'll want to negotiate the greatest price for your newly built home, regardless of where you are in the home purchasing process.
But before you do that, be sure to equip yourself with enough knowledge on what happens when negotiating the price of a home.
Factors That Affect The Price Of A New Home 
When purchasing a resale home, you must engage with the seller's sentimental attachment to the property. Thankfully, new home builders don't take that attachment into account.
Builders, however, typically don't want to sell their homes for less than what they are asking because it creates a negative precedent with potential buyers. They're thinking about things like overhead and profit margins, base construction expenses, and more, so they have a target sale price in mind to recoup the effort they've invested in the house.
Tips When Negotiating The Price Of Home
1. Be Creative
You can save money on your new house in a variety of inventive ways that don't entail paying less. The builder might be ready to cover the closing costs. Additionally, you might be able to bargain for upgrades at a discount or for free.
You should also ask about the scope of lot premium costs. Lots within a certain community are frequently priced to appeal to a broad customer. You can save up money in your budget for other fees by asking the builder for more information if the lot premium turns out to be less than you anticipated.
>> MORE: How To Negotiate When Selling A Home
2. Purchase The Model Residence
The model homes in a subdivision are typically offered at a bargain and are completely furnished with the greatest upgrades. There are a few causes for this.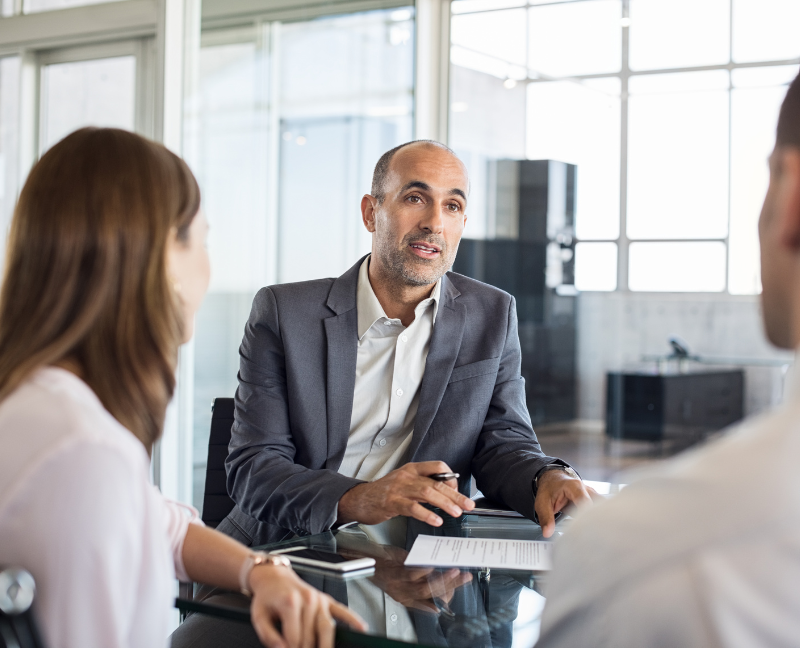 First of all, a model home isn't a brand-new house because many people have already toured it. Second, you won't be able to choose finishes or upgrades because everything is already installed. If you like everything about the model home or if you're willing to make a few alterations after the sale, this isn't a problem. Third, because they have been used, appliance and foundation warranties won't be as long as they would be for a brand-new home.
Make sure to ask the builder whether there are spec homes—homes constructed with the intention of being sold—that have been sitting in their inventory for some time. Similar to model houses, you won't be able to choose the upgrades and finishes, but if a builder is trying to sell, there may be room to haggle over the price. 
Tip: Ask -- there's nothing wrong about asking.
3. Compare Lenders
Your builder will probably want to direct you toward their recommended lender as soon as you begin to consider financing for your new house. Check to see if you have any incentives to use that lender, but don't stop there. Do your research and educate yourself. Their lender might not be providing you with the best mortgage conditions. Consult your bank or credit union; depending on your relationship with them, they may provide attractive rates and conditions.
4. Walk Away If You Have To
Create a budget plan and stick to it. To do that, know your ideal location, price, and amenities, and in case one (or all of these) weren't met, be ready to either negotiate or walk away. Set expectations that are realistic.
Most likely, you won't be able to get a terrific price in a competitive market or short deadline. There isn't much that can be achieved from negotiation even outside of a seller's market if the neighborhood is selling quickly. Multiple bidders on a home can actually increase the final price by 3% over the initial listing price.
Due to the builder's desire to sell, homes that have been on the market for 45 days or more typically have lower prices or greater upgrading options. If you have a specific price in mind, this can be a useful approach to filter searches.
It's Not Just About The Money
It's crucial to keep in mind that negotiations for new homes involve more than just the final cost. Upgrades, mortgage conditions, and price discrepancies on an itemized list can all make your house shopping trip more enjoyable.
If you need help negotiating with a home seller or want to know how you can have your dream home, our team at RE/MAX Advanced Realty Indy Home Pros is here to help.
You may call us at 317-298-0961 or send us a message here.
To celebrate and honor the life and achievements of Dr. Martin Luther King Jr., numerous establishments in Indy are Offering Free Events and Admissions this Monday, January 16, 2023.
3000 N Meridian Street, Indianapolis, IN 46208
Phone 317-334-4000
Free Admission! Some special events may require advanced tickets.
Celebrate and enjoy special activities and performances dedicated to the achievements and legacy of Dr. Martin Luther King Jr. at the Children's Museum this January 16, 2023, from 10 am - 5 pm.
13400 Allisonville Road, Fishers, IN 46038
Phone: 317-776-6000 or 800-966-1836
Tickets are only available at the ticket desk on the Day of the event.
Celebrate Identity, Belonging, Community and Love throughout the Day
this January.
500 W Washington St. Indianapolis, IN 46204 | 10 am - 5 pm
(317) 636-9378 | Free Admission
Celebrate Martin Luther King, Jr. Day by learning about famous quotes from Dr. Martin Luther King Jr. and participating in a community art project at the Eagle Commons Hallway.
Eugene and Marilyn Glick Indiana History Center
450 West Ohio Street, Indianapolis, IN 46202
(317) 232-1882 | Free Admission | Donations Encouraged
Storytelling, service activity, musical melodies, and beats of Keisha Ballinger and the University United Methodist Church Praise Team await everyone visiting the Indiana Historical Society on Martin Luther King Jr. Day, Monday, January 16, from 10 am - 5 pm.
Those who wish to contribute to a local community project can bring new children's clothes, books, or cash donations for Charity Cares Early Academy. 
650 W Washington St. Indianapolis, IN 46204
(317) 232-1637 | Free Admission | Donations Encouraged
Celebrate Dr. King's dream and explore the story of the fight for civil rights. Learn some of Dr. King's most iconic speeches and experience activities themed around civil and human rights. 
Visitors who plan to make donations are encouraged to make monetary donations of any amount via Dip Jars to Gleaners Food Bank instead of non-perishable items.
1200 W Washington St, Indianapolis, IN 46222| 9 am - 4 pm
317-630-2001 | Free Admission
Everyone with generous hearts and a sense of adventure are invited to the Zoo! Hardier animals will be out to enjoy the Day, including Arctic foxes, sea lions, walruses, tigers, brown bears, and others. 
The Zoo is Open for Free on Martin Luther King Jr.'s Day. Donation dip jars will be on site for monetary donations benefitting Gleaner's Food Bank. Food pantry donation items will be given to The Exchange at the Indianapolis Urban League.
Walker Theater 617 Indiana Ave., Indianapolis, IN 46202
(317) 236-2099 | Free event, but registration is required.
Madam Walker Legacy Center is a 501 C3 non-profit organization and Indiana Avenue's last iconic building dedicated to promoting and supporting cultural education, social justice, entrepreneurship, and youth empowerment.
This Monday, January 16, 2023, at noon, they will be hosting their 41st Annual Day of Celebration with their featured speaker Tamika D Mallory, Time 100's award-winning social justice leader and movement strategies.
Get your Free Tickets Here!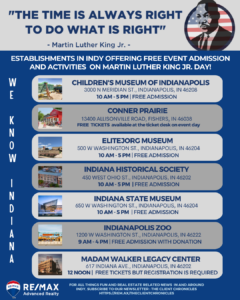 Note: We've rounded up the list based on the information these establishments have posted on their website and official social media accounts and have no control over any changes or ticket availability; we've provided links to their official website; feel free to check to confirm before going.
If you're a home buyer searching for a home, RE/MAX Advanced Realty's roster of real estate agents is READY TO ASSIST YOU FOR FREE throughout the year! Give us a call at 317-298-0961 or visit our website at www.indyhomepros.com 
RE/MAX Advanced Realty just listed the Iconic Mug-n-Bun for Sale! This vintage drive-in has been serving fine food on Indy's West side since 1960. Located just a stone's throw away from Indianapolis Motor Speedway, Mug-n-Bun has been a staple to the community for 63 years. They have served generations of Speedway diners, including race lovers, tourists, and Hoosiers.
Featured on an episode of the television series Man Vs Food,  Mug-n-Bun Indiana is well known for their burgers and homemade root beer . They also serve tenderloins, hand-dipped onion rings, milkshakes, and healthier options like grilled chicken, salads, plus so much more! Mug-n-Bun has something for everyone, and one can eat however they want with their various dining options - In car service for the drive-in traditionalists, at their outside picnic area, or at their indoor seating.  They also accept call-ins for pick-up orders and offer the option to rent their facilities for special events.
Currently owned by master electrician Jay Watson, the business was purchased 23 years ago as his retirement project. Now that he is 63, he decided that he is ready to get out of the restaurant business, hence the decision to put the booming restaurant business up for sale.

Listed at $2,199,000 by RE/MAX Advanced Realty's top commercial agent Keith Turnbill, 5211 W 10th St. Speedway, IN 46224 is located right at the heart of Speedway on nearly 2.50 acres.
The sale includes:
The drive-up restaurant
A sit-down restaurant
A pizza shop
A residence
Plus, all the restaurant's equipment, furniture, and fixings.
All that one could need to keep the business running.
In an Interview with Indy Star, Mug-n-Bun owner Jay Watson said that he is proud of both the service and delicious food they have served throughout the decades.He hopes that whoever buys the Mug-n-Bun will continue the business. If there's one piece of advice he can give to whoever buys his business, it's the same advice he received shortly after taking over. "Don't change anything" If ain't broke, don't fix it.  With over 3000 positive Mug-n-Bun reviews  on their google page, many agree with Mr. Watson.
Have you already dined at Mug-n-Bun in Indiana and tried the Mug-n-Bun special? What are your favorite dishes?How do you feel about the sale of this iconic Drive-in in Speedway? What's your favorite memory while eating at this diner? Leave your thoughts in the comment section below!
If you have any real estate related questions about the listing, contact RE/MAX Advanced Realty Greenwood Office's Head of Commercial Division, Keith Turnbill at 317-626-0800 or drop by our office at 65 Airport Pkway Ste 140 Greenwood, IN 46143
Broker Owner of RE/MAX Advanced Realty in Indianapolis, Dennis Nottingham, explains LPMAMA and how this technique should be part of your foundation when it comes to speaking with online leads in Real Estate.
Get these weekly videos straight to your inbox by signing up here!
Learn more about joining our brokerage here!
For various reasons in the past few years, many people have chosen to transform their homes into a multifunctional space. These spaces have been deemed "flex rooms" and are taking the interior design world by storm. Check out this article to see how you can jump on the trend and have a space that is flexible for a variety of needs.
1. STORAGE
Closed storage is key to an organized space. In having closed storage, the space is able to transform itself to meet a variety of formats.
One easy way to achieve this is by using storage furniture. This gives you the best of both worlds by providing your space with furniture to use while also serving as storage units. Multifunctional storage can also be small pieces of furniture which makes each piece of furniture easy to arrange in a space and rearrange if needed in using the space for a different purpose.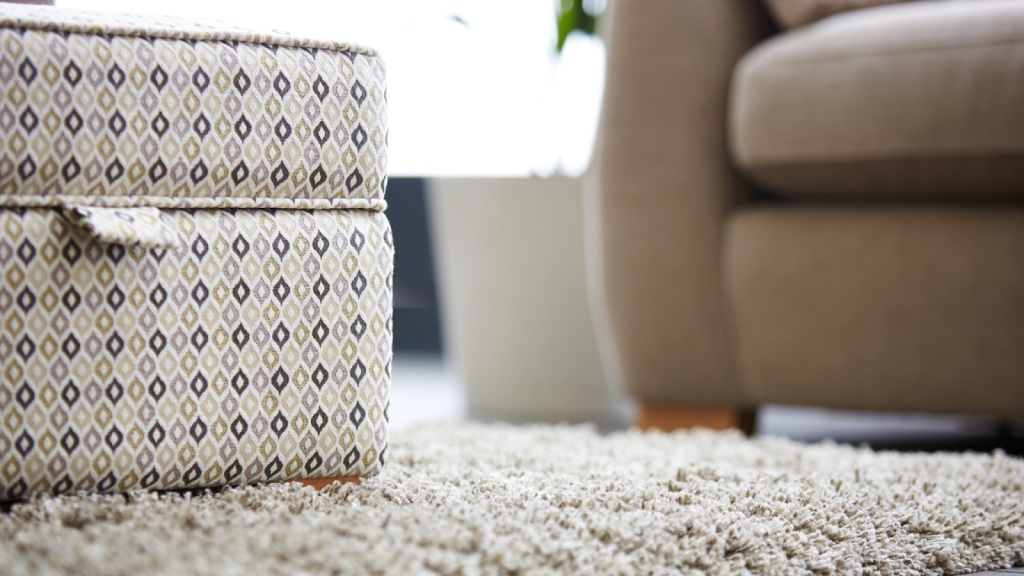 An ottoman is a popular piece of multifunctional storage. They are of simple design and look great in any room. Along with doubling as a seating unit, its long rectangular shape provides a wide space to store a variety of items. The design of these pieces of furniture are also beautifully done. Ottomans look great when placed by a bay window, at the foot of a bed or in the hallway. They also come in various sizes so that they can be used on a larger scale.
2. CREATING SPACE VERTICALLY
Multi purpose and use rooms are the most popular trend in the interior design world. These rooms serve as spaces that are flexible to a variety of needs. Popular ways people are utilizing these rooms are by using them as video conference rooms, a space for homeschooling, exercising, etc. The possibilities of a flex room are endless and is what gives it its charm.
Murphy Beds are a great way to create extra space in any bedroom!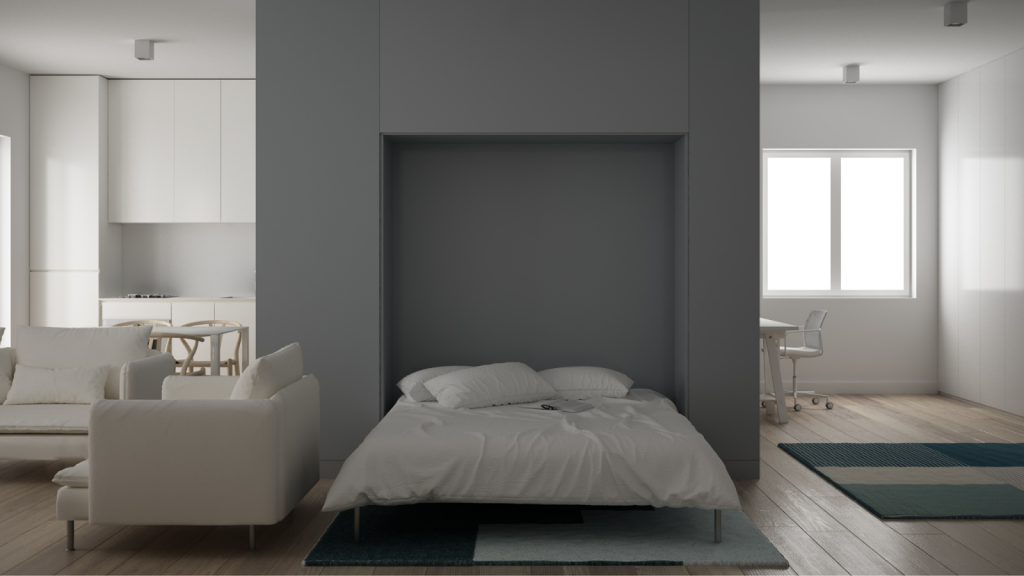 3. COLORS THAT COMPLEMENT
A clean color palette also plays a vital role in keeping a space multifunctional. A great and easy way to explain what it means to have a clear color palette is by comparing the concept to clothing. When you buy basic articles of clothing in neutral colors and tones, it is quite easy to create various outfits using the basics as a base. This same concept is applicable to interior design and a way to make a space multifunctional. If you keep the colors neutral, the room will be able to host a variety of needs. Going all white is an even better choice.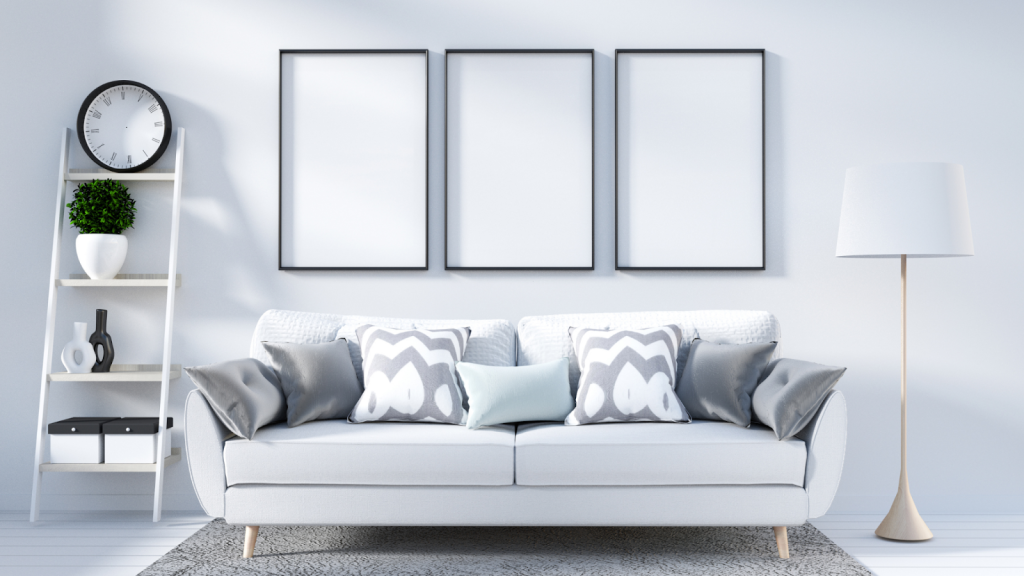 Think about Apple and how their store is set up. The store is coated in all white paint, the only thing providing contrast being the products themselves. This color concept creates a space in which the room has been crafted solo to display products for purchase. If the space would need to be transformed into anything else, it would be an easy job to accomplish because the room itself is a blank canvas, and the items in it serve as the paint. In creating a multifunctional room having a blank canvas to work with will always work in your favor, allowing the mood and structure of the room to change when needed.
Ah IKEA, home of affordable home furniture, decor and more. In this article we are bringing you 5 highly rated items that customers find to be great additions to their home. Bookmark this article and take it with you into your nearest IKEA to check out each item to see if it has a chance of landing a spot in your home!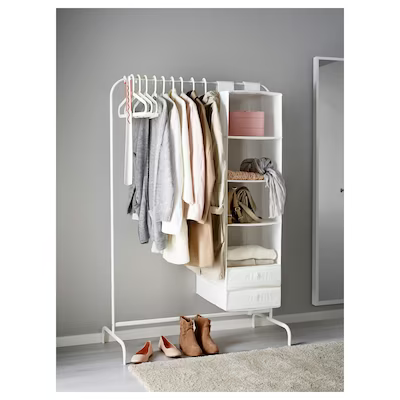 EMPTY HEADING
Price: $12.99
The Mulig Clothing Rack is a popular item for many as popularity for these racks have skyrocketed over social media such as Pinterest and on YouTube on "Lookbook" videos. This item is great for those looking to simplify their clothing. No closet? No problem. This sleek rack is easy to assemble and is aesthetically pleasing in all bedrooms. It comes in white and has accessories available to modify it's design to fit a variety needs such as a fabric shelving unit. IKEA state is can also be used outside of the bedroom, such as in damp area like the bathroom and under covered balconies. It has 4.5 out of 5 stars and measures in a 39 x 59 ⅞.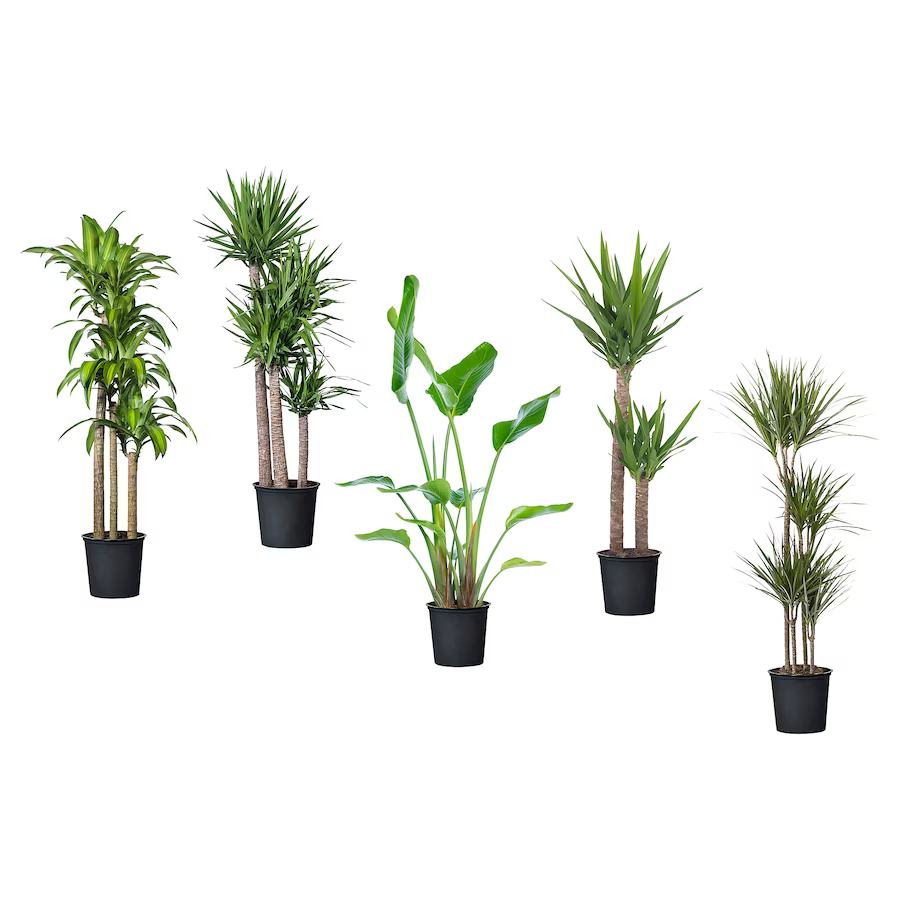 Price: $3 - $45
House plants are important to many homeowners across the globe. IKEA is a fantastic place to search through a variety of indoor and outdoor plants and for a fraction of the cost. From feathery ferns to spiky succulents and all the leaf varieties in between, house plants can help turn your house into a home. Even outside plants make your space feel more personal and lively. Bring home some character, big or small, with our plants and pots. The pot selection IKEA harbors is also home to amazing finds and prices to fit the aesthetic and budget of any homeowner!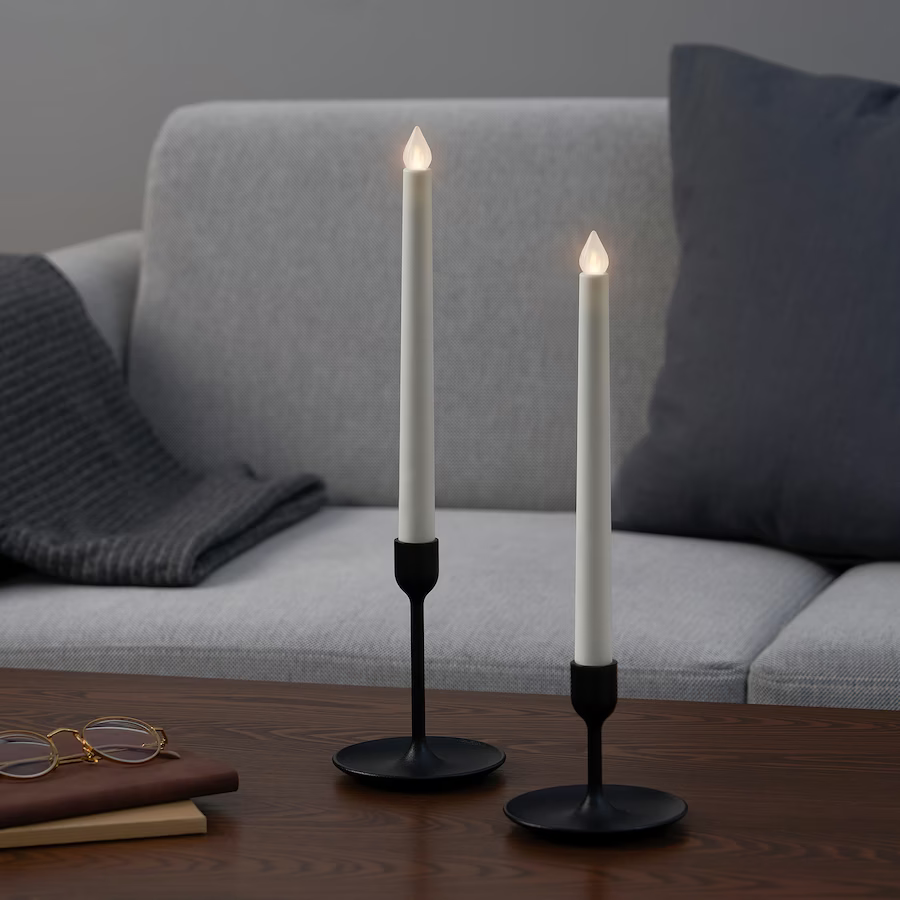 These LED candles mirror a real cozy flickering candle. It is a safe alternative for homes with children and pets, and can be used as a decorative light anywhere (outside or inside) without running the risk of fire. They are affordable, convenient and easy to use. They also have a built-in timer to automatically turn on the lights at the same time every day. After 6 hours, they will turn off on their own.
The LED light source consumes up to 85% less energy and lasts 10 times longer than incandescent bulbs. They are a great way to decorate your patio or balcony with the lights without worrying about the elements.
Batteries for this product are sold separately, but affordable and can be found the the IKEA store.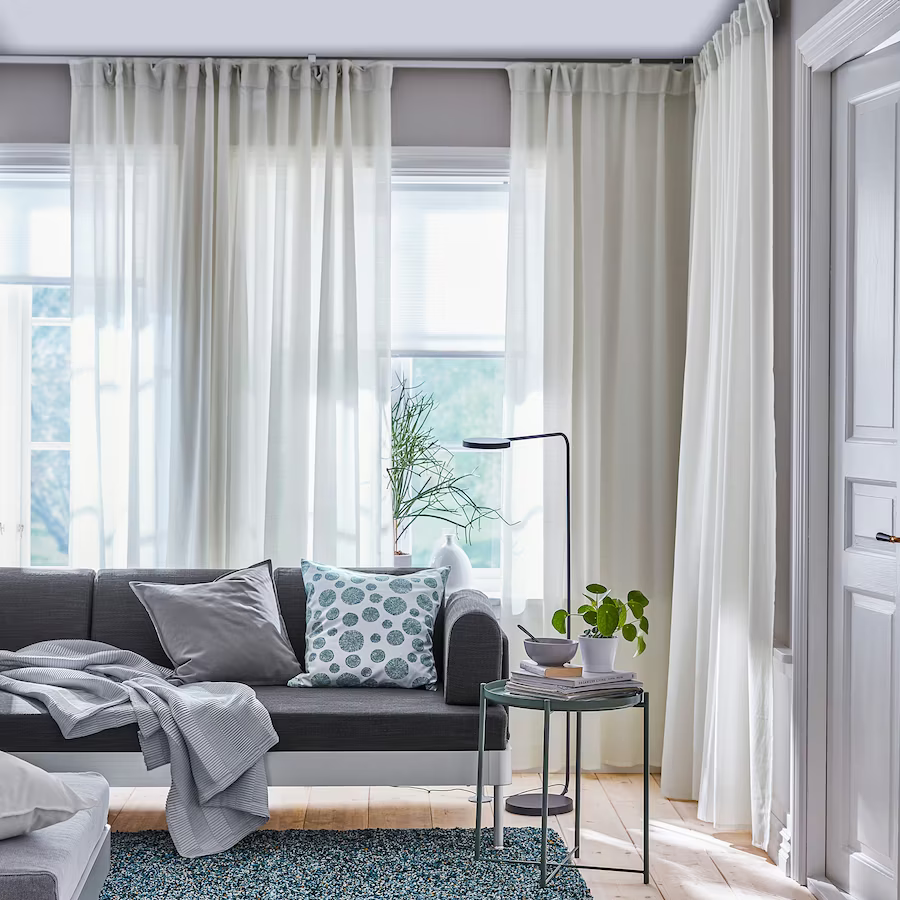 Price: 14.99
These curtains are affordable, made with quality and look amazing in any area of the home. They are light flickering curtains, but still provide privacy. The curtains can be used on a curtain rod or a curtain track. A good trick is using command hooks for curtain rods to avoid drilling the walls of your home. You can also find quality rods in IKEA for $5! The heading tape on the curtains makes it easy for you to create pleats using RIKTIG curtain hooks. This curtain set contains 2 panels and comes in 3 beautiful shades (white, gray and turquoise).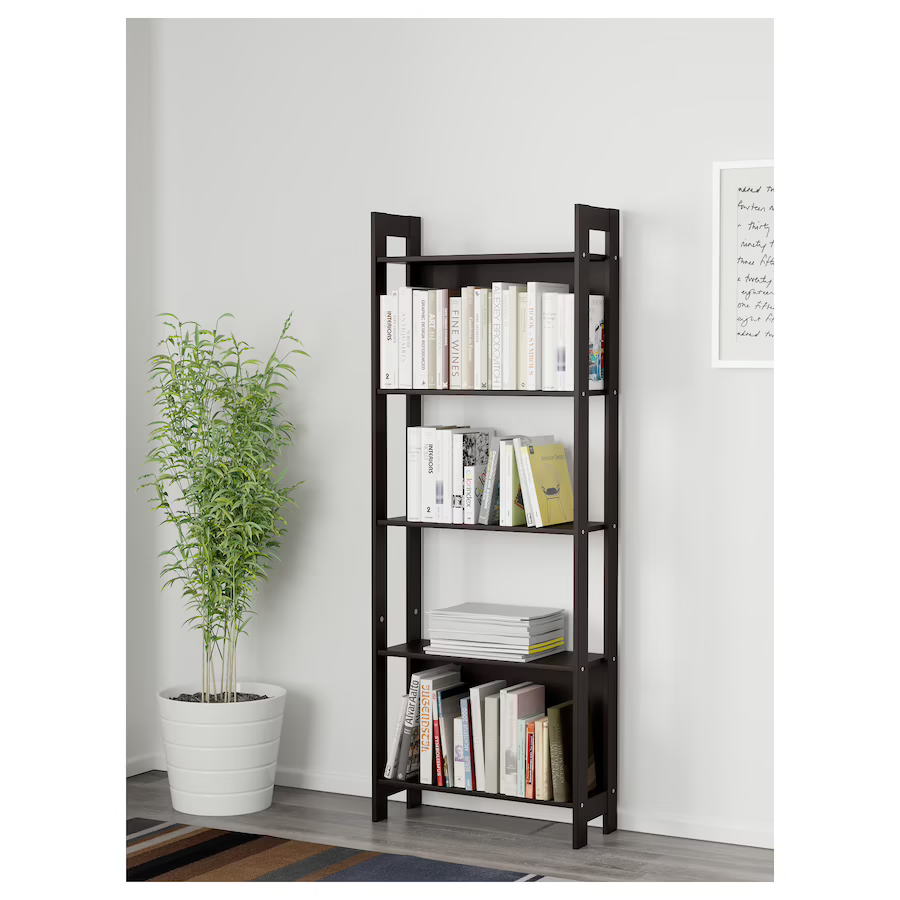 Price: 29.99
The shallow shelves of these bookshelves will help you store your beloved books properly. The shelf holds many items without taking up much space in the room. The open shelves allow you to see and reach everything. Ensure the shelf is against a wall to remain sturdy.
Springtime 2022 has finally bloomed! This article is here to help you coordinate a proper spring cleaning game plan. We will talk to you about safe products to use in your home, different cleaning tools to carry in your arsenal, tips and tricks, how to use disinfectants properly and more. You'll want to bookmark this one!
1. Prep by Building the Ultimate Cleaning Kit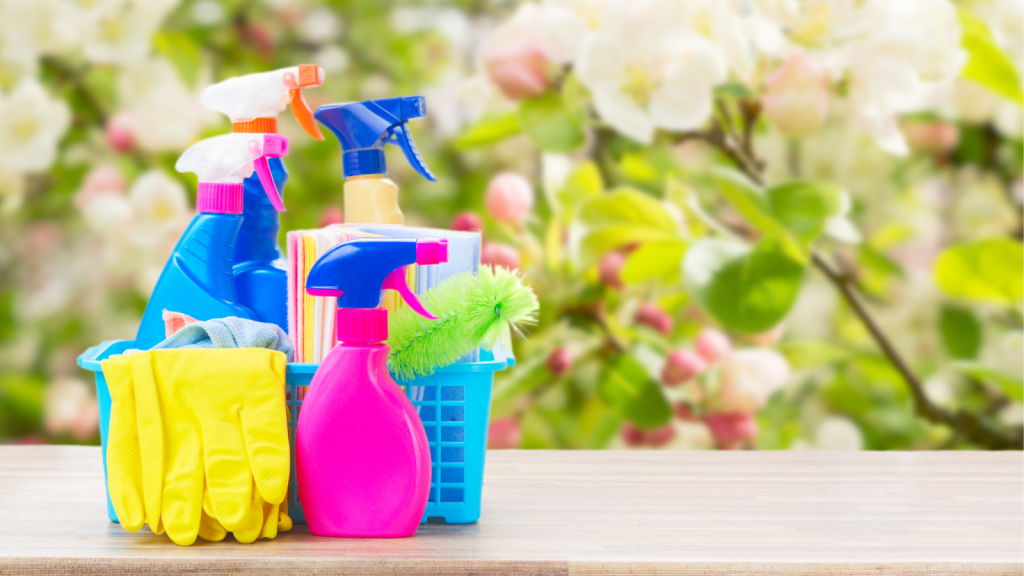 If an artist wants to paint, they must first have their tools. The first point on our list is building a proper cleaning kit so you have all the tools and products you need to keep your home in tip top shape. It is essential that you rid your home of any cleaning products with harsh chemicals in it. These products can have a negative impact on your health and can ruin surfaces you attempt to clean with it. Take a trip to the store to find cleaning products that are crafted with safer ingredients for your home. Popular natural cleaning brands include Seventh Generation and Method. Both of these brands can be found at Target. They are cost efficient and effective.
Next, you want to collect the proper cleaning tools. You can find microfiber towels at Walmart for just .99c. They come in a variety of shades and are great for delicate surfaces such as glass, wood, countertops etc. For areas such as the bathroom, be sure to invest in a good scrubber that will be effective, but gentle on surfaces. A Swiffer is another great tool to keep in your cleaning arsenal.
2. Place a Hook on the Side of Your Trash can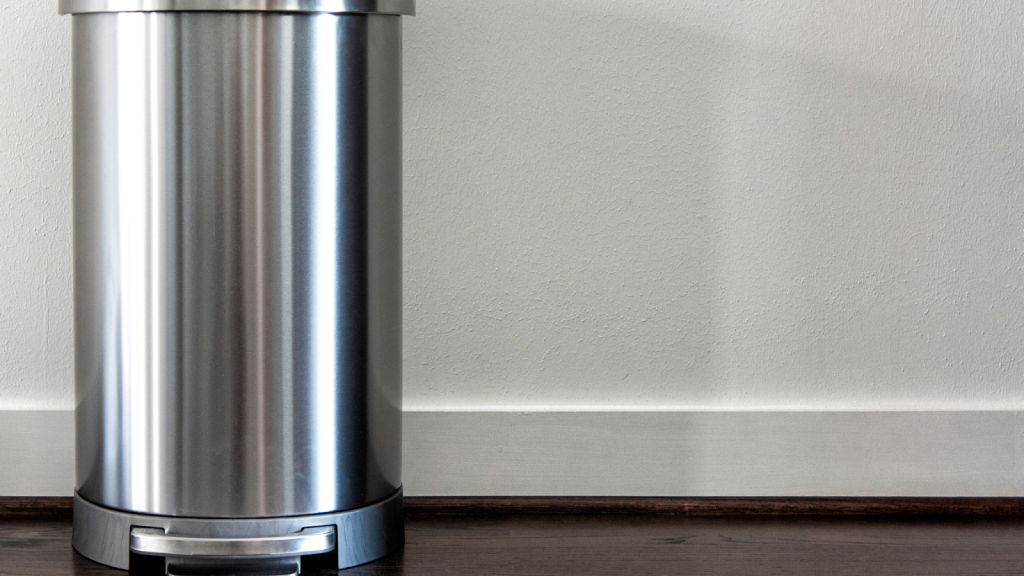 Next, is a tip you'll want to use all year round! Placing a hook on the sides of the trash can is a hack that many of us have longed for. There is nothing more irritating than opening up your trash can to find the sides of the bag sunken into the can and the trash outside of the bag. How can we prevent this? The solution is to use Command Hooks on the sides of the can. Place the hooks on the sides of the trash can then loop the ties of the trash bag onto them. This will prevent them from slipping into the trash can and causing your food to fall out of the bag and into the can itself. You'll only need the small Command Hooks to accomplish this. The small hooks run for around $3 a pack at Target.
3. Understand How to Use Disinfectants Properly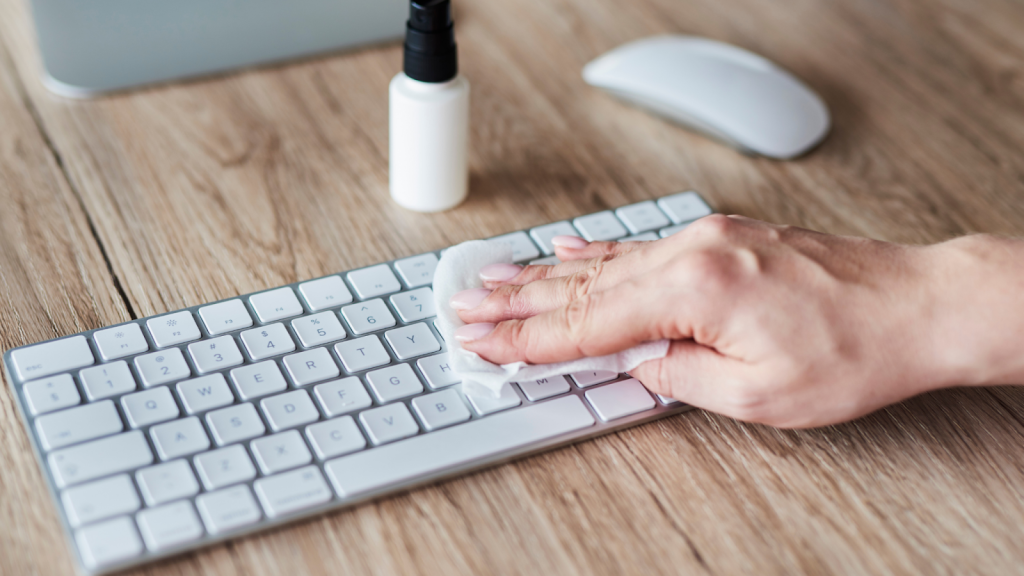 It is crucial that you pay attention to the directions on disinfectant products. Oftentimes, many of us use these products incorrectly while thinking we have properly disinfected the surface. An important step with many disinfectant products is that surfaces need to remain wet for a given period of time. This time gives the product the window of time it needs to effectively do its job. If we were to disrupt this process, we would render the product useless and our surfaces would remain coated with germs and other matter. With each product, read the instructions on how to properly use that product. One product could differ from another so don't assume they are all the same.
4. Create a Cleaning Schedule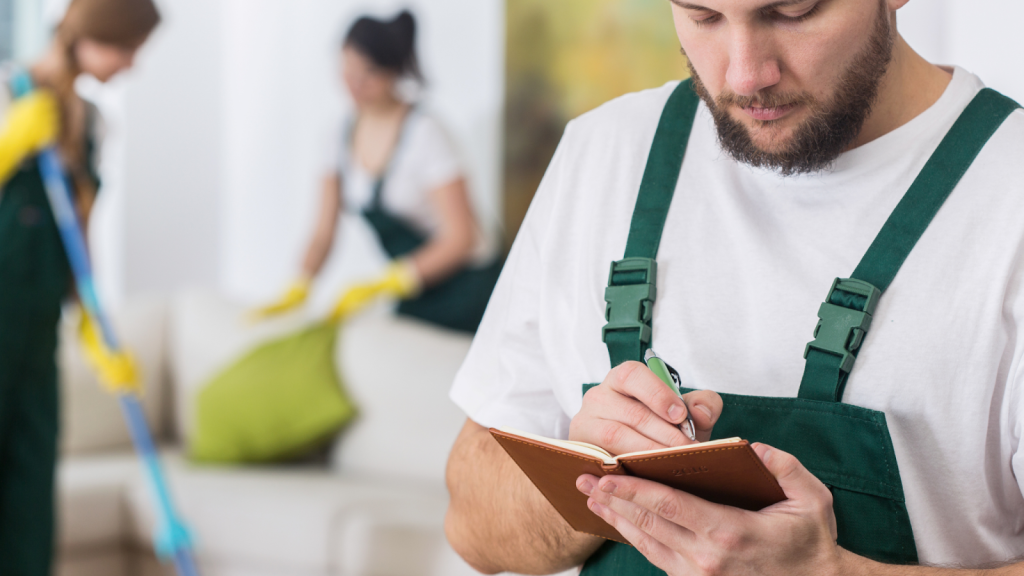 Creating a cleaning schedule aims to help you manage your cleaning responsibilities properly. You can find free templates online on websites such as Pinterest. Pinterest offers a variety of free cleaning schedule templates that are simple, easy to follow and beautifully designed. You can have one cleaning schedule that covers the entire home or you can have cleaning schedules that are specifically catered to various areas of the home such as the bathroom, bedroom or closet. These schedules and guides are a must-have for those who are serious about keeping their home well-looked after while maintaining a simple schedule to work with.
5. Finding a Cleaning Channel on Youtube for Inspiration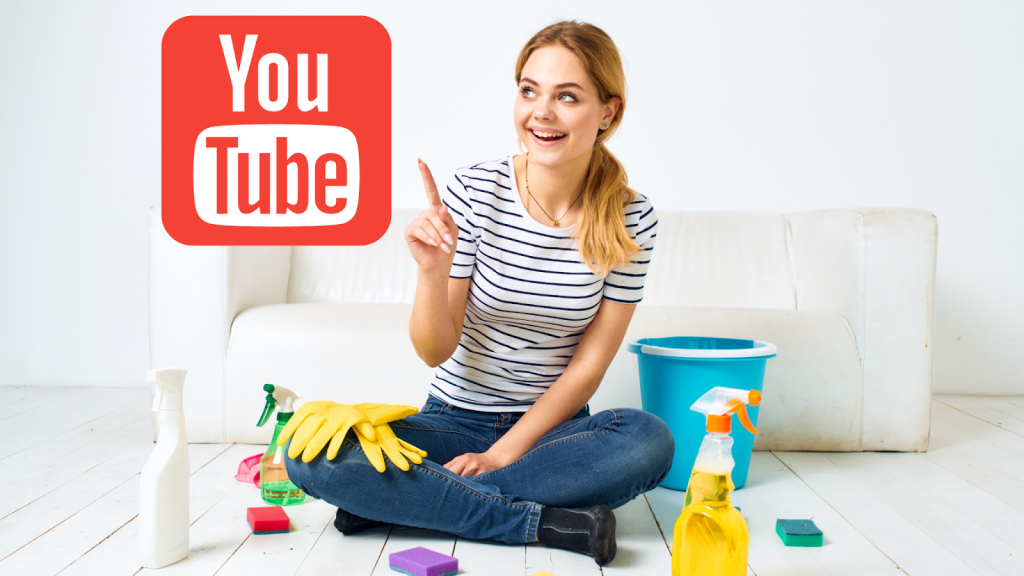 In today's day and age we have the luxury of the internet. Through this medium we are able to learn new skills and information for free. A popular theme on Youtube are cleaning channels. On these channels, Youtubers are obsessed with keeping their home in tip top shape, the best and latest cleaning products and gadgets and so much more. Finding some cleaning channels is a great way to see others take action. This can inspire you to also take action to keep your home well-kempt. It will also be a great guide, showing you various tips and tricks. Find a few channels that peak your interest and keep tabs on their videos.
In this article we are bringing you 5 items that will improve the quality of your life inside the home. These items are versatile, good for daily use and are well worth the investment. Click on the title of each item to be directed to the Amazon link. Bookmark this article so you can have a list of these awesome items. Comment down below to let us know what item you find most interesting!
1. Linenspa 3 Inch Gel Infused Memory Foam Mattress Topper
A memory foam mattress topper serves as a great addition to any bed, no matter the brand or price. However, many people run into a big problem when shopping for a memory foam mattress topper that is thick and of great quality, the price. Oftentimes, stores will sell mattress toppers for $100+, while offering often 2 inches of thickness. This can turn many buyers off. However, Amazon has got you covered! The Linenspa mattress topper is a great investment for added comfort in the bedroom. This gel infused ultra-plush memory foam mattress topper is 3 inches thick to provide you with ultimate comfort. It is infused with temperature regulating beads that serve to distribute heat properly to avoid overheating while you get your 8 hours in. The topper comes with a 3 year warranty and various sizes to fit a variety of beds. Sizes include twin, twin XL, full, full XL, queen, RV queen, king and California King. You also have the option to chose between 2 or 3 inch of thickness.
2. Philips SmartSleep Wake-up Light Colored Sunrise Simulation
Our next item on the list will help make your mornings a little brighter. The Philips SmartSleep Wake-up Light will make another great addition to your bedroom. This unique gadget serves as a gentle alarm system that wakes you up by simulating a gorgeous sunrise. Say goodbye to gut-wrenching alarm clock sirens that have many of us waking up in a panic. This gadget also comes equipped with natural sounds to help you sleep or relax you before bed, a range of 5 sounds to choose from. Not only does it come with a sunrise feature to wake you up in the wee hours of the morning, it also comes equipped with a sunset feature to help you unwind and bask in that beautiful golden hour hue. The Philips SmartSleep can also be used as a reading lamp, coming equipped with 10 brightness settings, and also comes with smart features such as FM radio, tap snooze and an automatic dimmable display. What an amazing item!
The Wemo Mini Smart Plug is another great item to bring into your home. This small gagent is an easy way to add smart home features to your average home. This item enables users to control various elements of the home through voice commands. For example, this gadget allows you to control your home's lights and appliances. Pretty cool! It is compact size, sleek and will blend into the walls of your home with ease. You are also able to schedule items to turn on or off automatically. All you need to do is download the free app and have a good wifi connection to control features of your home. There is no hub or subscription required.
The next item on the list will ensure you are meeting your health goals. The RENPHO Digital Scale is a next level body scale. This scale has the ability to measure 13 essential body measurements, such as BMI and other measurements. This item can be bluetooth enabled through the user-friendly app.Though the app, users can keep track of their body goals over a course of time to see how they have progressed over a daily, weekly and even monthly bases. It is designed with a sleek and modern look that is sure to look great in any bathroom. The high quality glass will also ensure its longevity.
Our last item on the list is a simple, but powerful bluetooth speaker. In today's day and age, speakers are becoming complex in design, spiking the price in many stores. However, this speaker from Oontz will provide you with quality sounds for a fraction of the price. This portable speaker is available in 8 different colors, pink, blue and black being amongst somes of the awesome shades. The dual precision acoustic stereo provide listeners with clear sound and quality bass. Because these speakers are so affordable, you might consider investing in an additional one. A great way to utilize two of these amazing speakers is to keep one upstairs and one downstairs. By having one avabille on each level of the home, you are able to move that speaker around that area without having to worry about traveling up or down stairs to retrieve it. Listen to audiobooks, Youtube tutorials or music with these quality speakers from Amazon.
The pandemic has brought us face-to-face with the relationship we share with our home. Ostentatious designs are being swapped for simplicity and comfort, and cleanliness has become king. Check out this article to see how the pandemic has made an impact in the interior design world.
The midst of the pandemic, we seek to have our homes radiate a sense of coziness and safety. Organic shapes have been very popular in the interior design world in recent years.These shapes comfort us by mirroring our environment with nature. Pieces of furniture such as rounded tables with soft edges and organic materials like plants and wood all contribute to the aura of coziness we seek in our homes during these times.
After spending months inside our homes, many are finding popular shades of gray to be unfit for their homes. People are finding the shade radiates a sense of gloominess as we continue to push through the pandemic. To counteract this, many are switching out traditional shades for pops of color to add comfort to the home. Pantone has named a vibrant yellow Color of the Year for 2021. Many studies show that yellow has a positive effect on our mood, something we all need after having our lives flipped upside down. Adding pops of this color to the home through color blocking is a great way to incorporate this shade into the home. You can also add pops of this color through decorative accessories such as vases. Other popular shades to bring some color into this year include rich jewel tones, earthy greens, various shades of browns and soft blues. We can also see that decor in 2021 will also evolve, or in this case, make a blast to the past. During these trying times, many are seeking the comfort they experienced in previous homes. This has opened the door to nostalgic decor. This trend will grow throughout the year as we seek to have our home emanate comfort and security.
The pandemic has allowed us to discover the value in having a home of simple design and one that is well-kempt. A trend that has become popular amidst the pandemic is having a home that is of basic design. This is so because we crave the basic essence of what a home provides. Before the pandemic, many of us overlooked the relationship we have with our homes. Being forced to stay inside during the pandemic has put us face-to-face with the exchange of energy we share with our home and many of us have found it rather uncomforting. In exposing this relationship, we have been able to make changes to our space that allow ourselves to feel more at ease and comfortable. This discovery has allowed us to crave and value a simply designed and well-kempt home. Thoughts of ostentatious designs and furniture that was built for aesthetic rather than comfort, now make our stomachs churn.
Having a proper and effective disinfecting routine is also something that will be prominent in many households. High-touch surfaces are surfaces that will need to be catered to daily, as these are areas and/or items that we come in contact with many times a day. High-touch surfaces include light switches, doorknobs, countertops, etc. Electronics such as phones, remotes and keyboards are also included.
Multifunctional spaces are growing in demand and popularity in the wake of the pandemic. Called "flex rooms", these areas of the home will become a sought after feature during and post pandemic. In adjusting to life strictly inside the home, many found their homes lacking a multifunctional bandwidth, rushing to odd spots of the home simply to find a quiet space to hold a virtual business meeting. Flex rooms have been a great solution for these issues. Flex rooms are great for every home because it fits a variety of needs. This space is a blank canvas ready to be painted with any color or brush the homeowner chooses. Popular ways people utilize flex rooms is for video conferencing, exercise, homeschooling and so much more. It is important that a flex room is spacious and has a blank color palette. Having a blank color palette will allow the room to transform into a variety of spaces without altering the feel of the room. Many homeowners choose a soft white in flex rooms. This allows the space to serve as a reusable canvas.
Smart Home technology provides a beautiful sense of comfort in the home. With a touch of a button, homeowners have the capability to control various areas of their home. Tasks such as adjusting the AC or heat, closing the garage, locking doors and activating the alarm system can all be achieved while being wrapped in the warmth of your blanket. Not only is it physically efficient, but it's also financially efficient, helping you save up on the electricity bill! Smart homes eradicate the chore of moving to various areas of the home after a long day. This lessens the load for homeowners while also aiding in lowering the electricity bill.