Fitting your belongings into a limited area can be difficult and irritating; however, leaving them outside can make your home feel and look cluttered.
Why not offer yourself peace of mind by decluttering? After all, studies have shown that a cluttered home can contribute to anxiety. Below are easy organization tips for small places.
Must-Try Small Space Storage Solutions
Here are the three small space solutions you can try at home:
1. Kitchen Decluttering
Kitchen counters can often be the messiest area of a home. Several quick small space storage solutions are:
Maximize Your Vertical Space: Hang spices or wine glasses beneath cupboards, add hanging pot racks, mounted dish-drying racks above the sink, and poles with hooks for towels, aprons, etc. These are amazing clutter-organizing methods.

Hooks And Holders Should Be Attached To The Backs Of Cabinet Doors: It will help keep foil or cleaning products organized and stored.

Store Appliances: This includes appliances like blenders and toasters. When not in use, keep them in the pantry or lower cabinets.

Consider Storage Space When Buying For Groceries: Costco-sized goods aren't the best fit for small areas.

Consider A Kitchen Island: Even the smallest space can use a microwave cart or

butcher-block island

. Consider a compact cart with wheels to add counter space and storage anywhere.
2. Find Space-Saving Items
Unexpected places can offer storage opportunities. Unexpectedly, there is more space behind the door. A storage gold mine can be found under the bed. Space-saving solutions that are frequently used include:
Utilize The Whole Closet: A lot of space is often present behind and above your hung clothing.

Look Behind Doors: Try behind-the-door hooks or pockets. They can store jewelry, hair dryers, dog leashes, cosmetics, cleaning materials, and shoes.

Utilize The Space Under Your Bed: Store off-season clothing and linens under the bed. Use vacuum storage bags and a vacuum cleaner to remove the air. Your goods will shrink dramatically and be protected.

Look Up: The ceiling or the upper half of the wall can be a great place to hang more oversized items like bicycles.

Spend On Furniture That Has Two Uses: 

Think Vertical: Items in bins or baskets can be kept on tall shelves.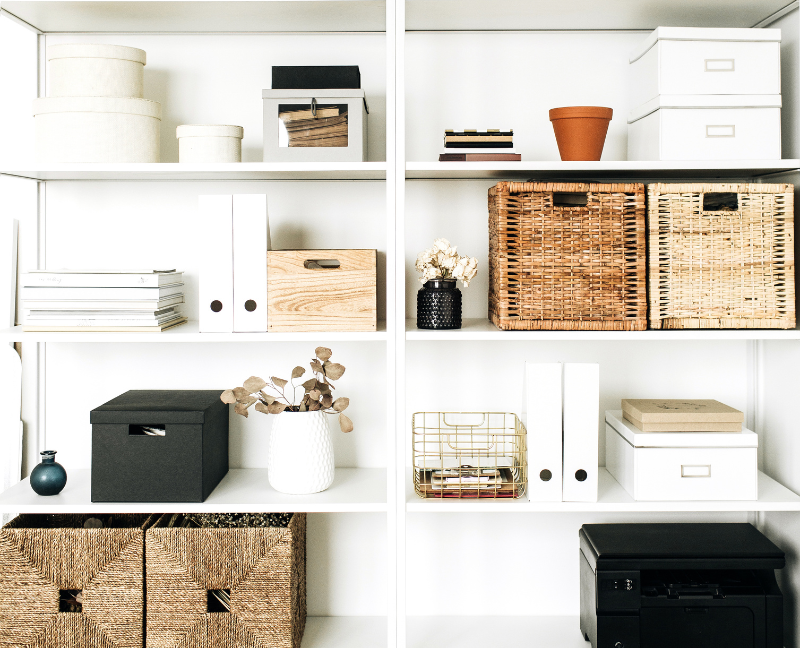 3. Minimize Your Things
If you have limited storage, minimizing often can be helpful. As you organize or find a home for your items, consider these basic letting-go methods:
Think About The Usability Of Your Item: Consider whether you've worn or used it in the past year.

Find Uses For Sentimental Things Of Value: Ask yourself if you can paint tiny furniture or household items to match your decor. Can you digitize memories by taking pictures of stuff you can't store?

Organize Things In Piles: These include "yes" and "no" piles and piles for charity, family, friends, and online sales.

Schedule Seasonal Or Monthly Minimizing Times: To avoid clutter, try the "one in, one out" strategy or donate a specified number of things each time you declutter.
These are just some small space storage hacks you can try at home. These solutions can help add space to your kitchen, bathroom, or living room. Find more content like this by visiting our website.
RE/MAX Advanced Realty just listed the Iconic Mug-n-Bun for Sale! This vintage drive-in has been serving fine food on Indy's West side since 1960. Located just a stone's throw away from Indianapolis Motor Speedway, Mug-n-Bun has been a staple to the community for 63 years. They have served generations of Speedway diners, including race lovers, tourists, and Hoosiers.
Featured on an episode of the television series Man Vs Food,  Mug-n-Bun Indiana is well known for their burgers and homemade root beer . They also serve tenderloins, hand-dipped onion rings, milkshakes, and healthier options like grilled chicken, salads, plus so much more! Mug-n-Bun has something for everyone, and one can eat however they want with their various dining options - In car service for the drive-in traditionalists, at their outside picnic area, or at their indoor seating.  They also accept call-ins for pick-up orders and offer the option to rent their facilities for special events.
Currently owned by master electrician Jay Watson, the business was purchased 23 years ago as his retirement project. Now that he is 63, he decided that he is ready to get out of the restaurant business, hence the decision to put the booming restaurant business up for sale.

Listed at $2,199,000 by RE/MAX Advanced Realty's top commercial agent Keith Turnbill, 5211 W 10th St. Speedway, IN 46224 is located right at the heart of Speedway on nearly 2.50 acres.
The sale includes:
The drive-up restaurant
A sit-down restaurant
A pizza shop
A residence
Plus, all the restaurant's equipment, furniture, and fixings.
All that one could need to keep the business running.
In an Interview with Indy Star, Mug-n-Bun owner Jay Watson said that he is proud of both the service and delicious food they have served throughout the decades.He hopes that whoever buys the Mug-n-Bun will continue the business. If there's one piece of advice he can give to whoever buys his business, it's the same advice he received shortly after taking over. "Don't change anything" If ain't broke, don't fix it.  With over 3000 positive Mug-n-Bun reviews  on their google page, many agree with Mr. Watson.
Have you already dined at Mug-n-Bun in Indiana and tried the Mug-n-Bun special? What are your favorite dishes?How do you feel about the sale of this iconic Drive-in in Speedway? What's your favorite memory while eating at this diner? Leave your thoughts in the comment section below!
If you have any real estate related questions about the listing, contact RE/MAX Advanced Realty Greenwood Office's Head of Commercial Division, Keith Turnbill at 317-626-0800 or drop by our office at 65 Airport Pkway Ste 140 Greenwood, IN 46143
Why is real estate a good career choice?
That might be a question most of you have.
There are many reasons why most individuals, especially the ones from management, finance, or business choose real estate as another career to pursue, and one of which is because of the independence it provides.
As a realtor, you work and earn as independent contractors, so basically you are your own boss. You set your own working hours, manage your own priorities, and decide your own goals and process.
That might mean putting in a lot of work, but still, having more freedom and flexibility while earning makes a huge difference in one's life.
Below are other reasons why real estate is the best career.
Why Choose A Real Estate Career?
LESS TIME CONSUMING
Becoming a real estate professional is almost easy. You don't have to study for more than a year, take board exams, or basically, wait for a longer time to be one. However, it doesn't mean that it's an easier option. You still have to invest time, money, and effort to become a realtor; however, educational opportunities are accessible to your advantage.
You can even start as a part-time real estate agent if you want.
HUGE EARNING POTENTIAL
Unlike other jobs, your earnings every month are not limited. Of course, it might depend on a few things, such as how well you can start, your dedication and consistency, and your eagerness to grow your business.
A word of advice though: while being a realtor is a lucrative business, there's no such thing as easy money. Like other kinds of businesses, it takes time and hard work to see results. Also, the goal should not only be about money because if that's the only reason why you entered the industry, it also might not be enough reason to stay.
As a real estate agent, you need to have passion for what you do, you need to put your clients first, and you need to have a purpose and that is to help people have what they dream.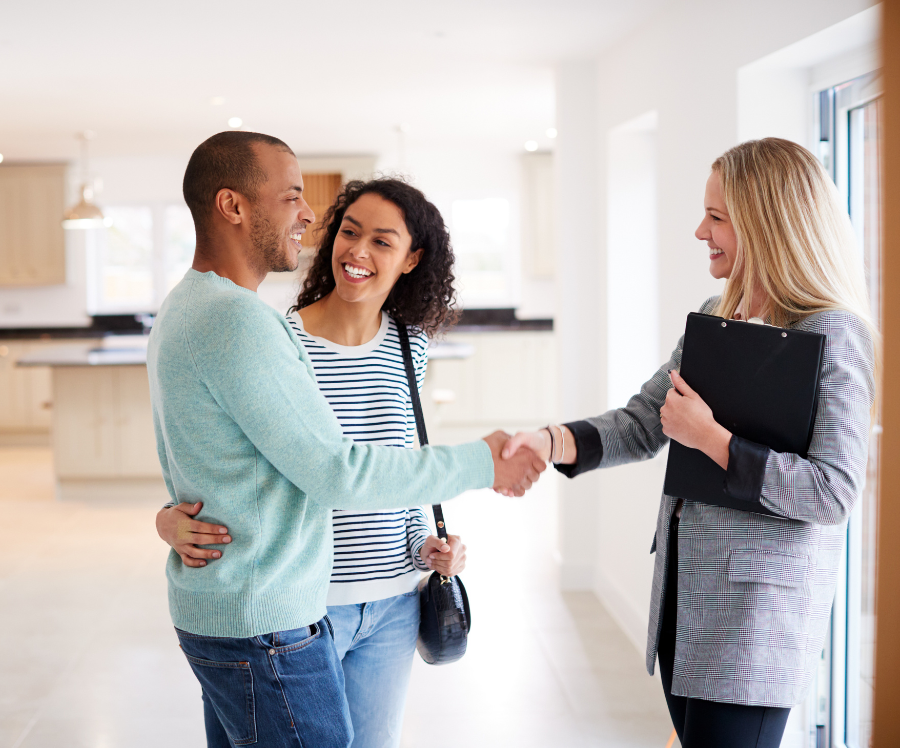 GREAT SATISFACTION
There's great satisfaction in helping others reach a major milestone. For instance, a newlywed buying their first home, a growing family moving into a bigger place, or an independent individual finally getting their dream place.
Knowing that you are a vehicle to reach their goal provides a different kind of emotion. It can be fulfilling or rewarding, especially when you have the passion to give back.
CHANGE
If there's one thing that's constant about real estate, it is change.
If you don't want to be stagnant or do the same thing over and over again, real estate is a perfect choice.
In this industry, you are required to keep yourself updated with the new trends, embrace change, and adapt to various markets. Other than that, you will also meet different people which means different kinds of personalities and for some people who love to socialize, this can be very exciting.
BECOME AN EXPERT
When you're a realtor, you don't just sell a home – you provide advice and tips and share your knowledge. You become a mentor, coach, and counselor for your potential and current clients.
Also, most brokerages provide training and guidance so you can continuously hone your skills and become more knowledgeable in what you do.
INCENTIVES AND BONUSES
In real estate, you don't just earn when you work hard; you also receive recognition and incentives, which makes the experience more rewarding.
You get cash or travel incentives, and these become more satisfying because you're not doing it for anyone else but yourself.
PASSION AND PURPOSE
Some people find fulfillment in helping others while some are fascinated with touring beautiful homes and transforming spaces. They have a passion for decorating a place and choosing upgrades to make the place more appealing. The idea of doing the things you love and earning from them sounds surreal, but it is possible in this career.
These are just some of the things that make a real estate career an exciting one. Can you think of something else? If yes, feel free to share them in the comment section!
Eating out is a quick and easy way to bond with the family. It's also a nice treat for the adults to skip meal preparations and doing the dishes.
Make it even better by scoring Kids Eat Free Deals at these restaurants located in and around Central Indiana.

For Books & Brew menu and complete promo info, visit www.booksnbrews.com


Find the Denny's nearest you: https://locations.dennys.com/search.html

Restaurant information and menu available at www.dickeys.com

Restaurant information and menu available at www.fogodechao.com
Restaurant information and menu available at www.grindstonecharleys.com

Find the MCL Restaurant & Bakery nearest you: www.mclhomemade.com

Restaurant information and menu available at www.oasisdiner.com
Please note: This list includes those restaurants that we could confirm via their social media pages, website or by phone. Kindly check the website or call the location of the restaurant you plan to visit before going!