Finding the proper loan to suit your needs can be challenging given the abundance of lenders from which to select and the variety of home loans on the market. As a result, you might decide that it's simpler to seek assistance from a mortgage broker when shopping for the ideal home loan.
What does a mortgage broker do?
Mortgage brokers coordinate home loans between lending institutions and borrowers, or those looking for a mortgage. They can help you with the application process and identify home loan options that are appropriate for your needs and goals.
Brokers should take the time to learn about your unique position, determine how much you might be able to borrow, provide you with options for house loans, go over how each would satisfy your needs, and inform you of the loan's cost. The broker can help you with the application procedure through loan settlement with the lender after you've determined which house loan best suits your needs. 
How To Choose The Right Mortgage Broker
Choosing the right mortgage broker can be a crucial step in obtaining the best mortgage for your needs. Here are some tips on how to choose the right mortgage broker:
Do Your Research
Before you choose a mortgage broker, do some research to learn about their reputation, experience, and track record. 
You can start by checking online reviews and testimonials, asking for referrals from friends or family members who have recently purchased a home, and researching the broker's credentials and licensing.
Look For Experience
A mortgage broker with years of experience is more likely to have the expertise and connections necessary to find you the best mortgage deal. 
Ask about their experience in the industry and their success rate in securing favorable mortgage terms for clients.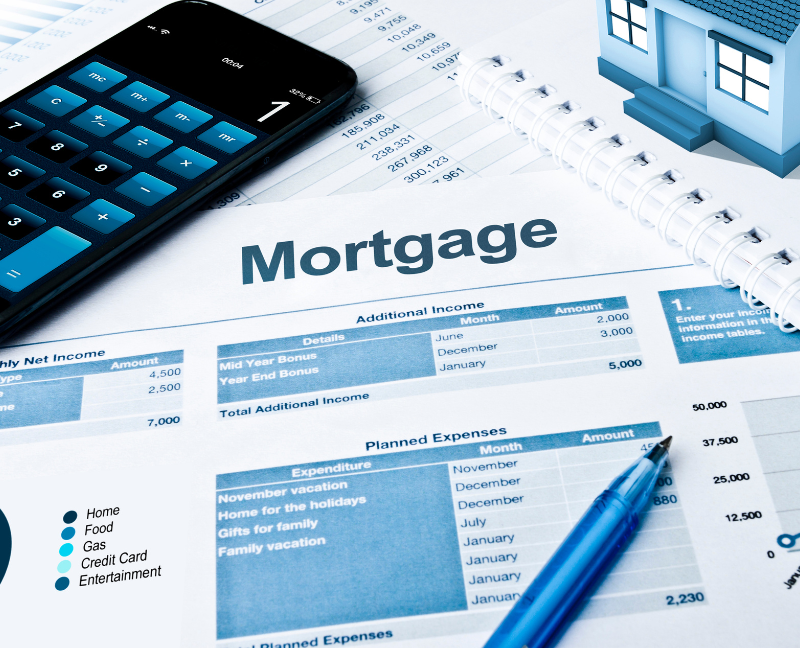 Look For Credentials
Make sure the mortgage broker is licensed and registered with the appropriate regulatory body in your area. 
This will help ensure that they follow ethical and legal standards when dealing with clients.
Interesting Reads
Compare Rates
Get quotes from multiple mortgage brokers and compare their rates and fees. 
Make sure you understand the fees associated with each quote and ask questions if anything is unclear.
Ask About Their Process
Ask the mortgage broker to explain their process for finding and securing a mortgage. 
Make sure you are comfortable with their approach and that they are transparent about their fees.
Communication Is Key
Choose a mortgage broker who is responsive and communicates clearly and regularly. 
You want to be sure that you are kept informed throughout the process and that your questions are answered promptly.
Trust Your Instincts
Ultimately, trust your instincts when choosing a mortgage broker. 
Choose someone who you feel comfortable working with and who you believe has your best interests in mind.
What Questions Should A Mortgage Lender Ask You?
Mortgage brokers should enquire extensively about your financial condition as well as what you desire from your house loan, including your:
Work experience, earnings, marital status, and number of children

Household income

Outstanding debts, such as your credit card and car loan
What Should You Ask Your Mortgage Lender?
When you're considering applying for a mortgage, it's important to have a good understanding of the terms and conditions associated with it. Here are some important questions to ask your mortgage lender:
What is the interest rate on the mortgage, and is it fixed or variable?

What are the fees associated with the mortgage, including any origination fees, application fees, or appraisal fees?

What is the minimum down payment required for the mortgage, and are there any down payment assistance programs available?

What is the term of the mortgage (i.e. how many years will it take to pay off), and are there any penalties for prepaying the mortgage?

What is the total monthly payment, including principal, interest, taxes, and insurance (PITI)?

Are there any discount points or credits available that can reduce the interest rate or closing costs?

What documentation will be required for the mortgage application, and what is the timeline for approval and funding?

What is the process for refinancing the mortgage if interest rates decrease or your financial situation changes in the future?

What happens if you miss a payment, and are there any options for deferment or forbearance if you experience financial hardship?

Are there any special programs or incentives available for first-time homebuyers or veterans?
Remember, it's important to ask any questions you have and make sure you fully understand the terms of your mortgage before signing on the dotted line.
If you have more questions or clarifications about real estate and/or mortgages, you can leave a comment below or send us a message here.
We are going to be halfway into the year, but we bet it's never too late to share with you our predictions for Indiana's real estate market this 2023. 
We know a lot of people are interested to know this so if you're one of them, sit back, relax, and keep on reading.
Indiana & Northwest Indiana Housing Market Statistics For 2020–2021
It's no secret that house prices in Indiana have risen in recent years. Let's find out more about this increase from 2020 to the present along with some observations regarding what is causing the state's home prices to rise so quickly.
Home Prices In Indiana
In Indiana, rising property prices have been a consistent trend in the real estate market. Over the past three years, home prices have risen all over the state. 
Indiana's average house sale price rose 7.9% from 2021 to 2023 on a state-wide basis. Additionally, there are larger increases in some regions. More crowded places tend to have higher appreciation rates. 
Northwest Indiana is one of the state's markets that is growing the fastest, with a significant increase in the number of homes for sale. Home prices in Northwest Indiana climbed by 11% in 2020, 10% in 2021, and 7% in 2023.
Real Estate In Indiana
Indiana property values are rising as a result of various factors. The demographic problem comes first. During the past ten years, Indiana has seen an increase of 340,000 residents. Indiana's steady economy, low levels of crime, and low taxation draw people there.
The housing market is under strain due to two additional population challenges. The first is that there are more people aged 25 to 35 than ever before. For Indiana's housing market to be stimulated, this age group is crucial. Second, there are now more individuals living alone than ever before. We consequently require additional homes, as a result.
The absence of development and new home construction over the previous ten years is the second problem. The building of new homes plunged dramatically following the Great Recession of the Aughts (the decade from 2000 to 2009). There were too many incoming buyers, but there were not enough homes built. 
Finally, the cost of housing is being impacted by the lack of infrastructure expansion. Since it would be prohibitively expensive to expand a town's municipal water and sewer services, this is most common in small towns. Due to the low taxation, it is difficult for towns, particularly smaller ones, to grow. As a result, the few remaining residences are increasing in value. 
Commission Rates For Real Estate Agents In Indiana
One of the residential real estate market trends to watch is what real estate agents are charging for their fees. Real estate commission rates have stayed high in some markets and have lowered in others. The Northwest Indiana market seems to have seen the greatest reduction in real estate commission rates.
Real estate commission rates in other parts of the state, particularly around Indianapolis, are still higher and range from 5% to 7%. The market has managed to resist some of the more recent business concepts that have emerged. OK, up till now.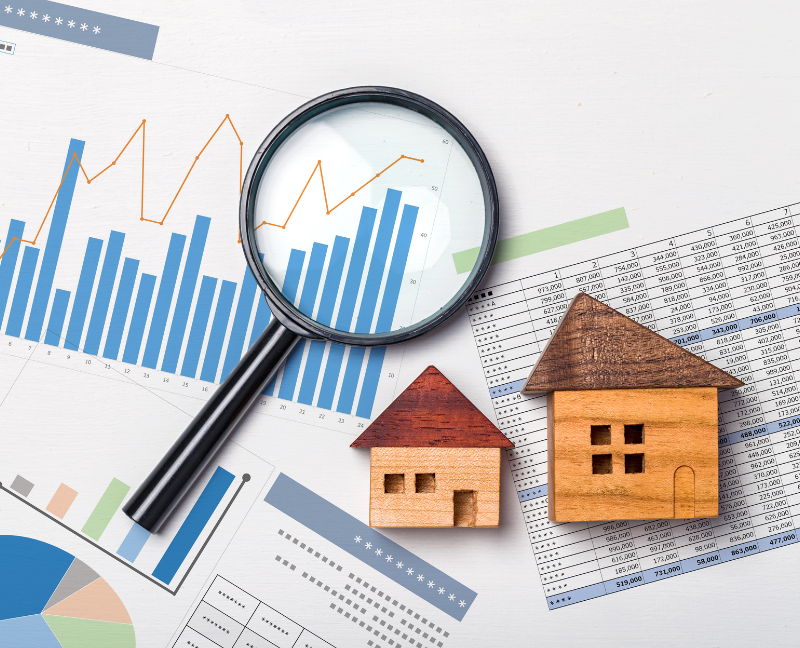 Real Estate Trends And Predictions For Indiana 2023
Increase In Home Pricing
The first prediction for the 2023 real estate market is that property prices will continue to rise in 2023. The rate of appreciation year over year will be slower, though. In general, it is expected that Indiana home prices will rise between 3% and 6% between 2021 and 2023. Inflationary pressure and rising interest rates will be the main causes of this decline. Larger homes with lots of amenities could experience a decline in value. 
Housing Supply Will Slowly Develop
Another forecast for the housing market is an increase in inventory. Two years have passed since the COVID pandemic began. Therefore, the frequency of significant life events is probably already in motion. Changes in housing are brought on by significant life events, including those that tempt some homeowners to sell and others to acquire. 
At the end of the first quarter of 2023 compared to the end of the first quarter of 2021, we found that there were approximately 30% more homes for sale in Northwest Indiana. In 2023, new residential buildings will also increase significantly. Which brings us to our next forecast.
Increase In New Homes
An overall rise in the number of new homes for sale is another trend we'll observe in the real estate market in 2023. Housing starts in the US will significantly rise in 2023. Finally, opportunities for new construction are being seen by builders. Additionally, in 2023 many of the supply chain bottlenecks that hampered the industry in 2021 will be resolved. Building more homes will begin as home builders look to seize the chance that is presented to them. 
Demand In Rural Real Estate
More people going to more rural locations is one of the current real estate market trends that will persist in 2023. Nothing about COVID, city evacuations, or any of that is relevant to this. Truthfully, not many of those widely reported headlines actually occurred. Instead, the affordable home prices in rural towns and hamlets within a 30-minute drive of larger cities make them appealing.
Home prices are rising everywhere and inflation is at an all-time high, but wages are barely rising. Prospective homeowners looking for value. In quest of affordable homes, consumers will go from a 15-minute commute to a 30-minute one. Small towns of a few thousand people within 30 minutes of a city of 30,000 or 40,000 people will frequently have the highest appreciation rates. 
Quick Increase In Mortgage Interest
Another prediction for the real estate industry is that mortgage interest rates will rise and continue to be high compared to the previous 36 months. The first quarter of 2023 will see a sharp rise in mortgage rates. Highly qualified buyers may be able to obtain a mortgage in the threes by late 2021. It was in the low fives as the second quarter of 2023 got underway. This will significantly down property prices. The purchasers and sellers of properties in the top 20% of any local real estate market would suffer the most as a result of the high mortgage rates. 
Reset In Real Estate Tech
The newest dot-com startup that is set to upend the real estate sector is one of the current trends in the market. Numerous innovative tech real estate ideas were released in 2019 and 2020. There was a lot of chatter regarding iBuyers. There were also some other avant-garde concepts. Many fell short quickly. For others, it's amazing how few stories are making the news. 
The real estate broker is still in good health. Furthermore, we go above and beyond simply opening a door, writing an offer for 15 minutes, and collecting a commission. Big tech in real estate has realized this and is probably taking a step back to reconsider how to enter the sector.
More Negotiable Real Estate Commissions
The ability to negotiate real estate commission rates is one of our favorite residential real estate market trends to follow. Some real estate agents may be more flexible regarding their real estate commission rate if there are too many agents and not enough work. While it sounds valid, we hope that consumers will continue to be aware of what real estate agents actually do to help sell their homes.
What Buyers And Investors Should Do To Get Ready For The Real Estate Market Trend 2023?
Stop attempting to time the market, homebuyers. Market timing is extremely tough and will probably end up costing you more money in the long run. In addition, despite growing inflation and mortgage interest rates, it is unlikely that home values would drop too much in 2023. 
This year, obstacles will be faced by real estate investors. The price of money will first rise. Real estate investors will be impacted by rising interest rates, rising mortgage interest rates, and hard money lenders seeking a bigger return. Second, finding properties at competitive pricing will continue to be difficult for real estate investors. This is because there are still a lot of buyers competing for homes on the market. 
What Sellers Should Do To Get Ready For The Real Estate Market Trend 2023?
Homeowners should be ready for a change in the market in 2023. Home sellers will continue to benefit in early 2023. The second half of the year, though, will provide greater difficulties. A rise in housing inventory levels was visible by mid-2022. Additionally, the number of days that homes spend on the market has been rising in almost every market. As the market grows more difficult for house sellers, those who must sell their homes should be realistic in their expectations.
Selling in 2023 would certainly be preferable for homeowners seeking to time the market. In 2023, it's expected that housing appreciation rates will return to normal. If you're hoping for the next wave of fast appreciation to happen, reconsider. Even though demand is still high, prices have decreased due to high inflation and rising mortgage interest rates.
The Indiana Real Estate Market in 2023 will conclude Through 2023, the Indiana real estate market will be stable. The momentum shown in the rest of the United States will be followed by the Indiana real estate market. However, Indiana is a resilient state; fluctuations that happen elsewhere in the nation also occur here, but not as intensely. It's a lighter swing, to put it another way.
The same issues affecting real estate in many other parts of the country are present in Indiana. Particularly, there aren't enough suitable homes for today's homebuyers. There are tens of millions of Americans between the ages of 25 and 35 who are great homebuying candidates. Indiana's age distribution is comparable to that of other states. The eager and willing homebuyers will prevent the Indiana housing market from collapsing. 
If you're looking for a new place in Indiana, our team at RE/MAX Advanced Realty is here to help!
Call us at 317-298-0961 or click this link to know more.
There have been many ups and downs in the last several years. At the height of the epidemic, there was a bright spot for home sellers in the housing market: skyrocketing home prices amid brisk buyer demand.
Yet as the Federal Reserve worked to reduce inflation in 2022, mortgage interest rates crept slowly up, dampening the enthusiasm of homebuyers. Home prices consequently fell as a result of this.
Due to all of these changes, homeowners may be unsure of the current value of their house and if now is a good time to sell or use any remaining equity. Asking yourself "just how much is my house worth" is a fantastic place to start as you weigh your options.
How Much Is My Home Market Value?
Consider the following three basic types of valuation when obtaining an estimate of a home's value:
Fair Market Value
Fair market value includes how your home appears to potential home buyers when compared to similar properties nearby. A comparable home's sale price should be taken into account (same number of bedrooms and bathrooms, square footage, or outdoor space, say). This is where your agent will begin if you choose one to help you sell your house: by examining comparable sales to determine what purchasers have been willing to pay for a home similar to yours.
Appraised Value
Although it takes comparable sales into account, the appraised value of your home is different from its fair market value. A certified appraiser takes your home's location, size, and condition into account as well as any upgrades you've made when determining appraised worth. When a borrower purchases a property or refinances a mortgage, mortgage lenders consider the appraised value.
Assessed Value
Your home's assessed value is the financial amount that local county tax assessors use to calculate your property taxes. The assessed valuation typically understates fair market value and does not accurately reflect how much a property might fetch on the open market.
How Can I Increase The Value Of My Home?
You only get one chance to create a first impression, and the value of your house is no different. In order to maximize your property value, it is crucial to make sure your home's exterior is attractive and well-maintained.
Here are some interesting topics to help improve your home's interior and exterior:
7 Outdoor Space Design Ideas You MUST Try In 2023
4 Interior Design Trends That Have Become Popular in the Pandemic
5 More Charming Interior Designs You'll See
3 Ways To Find Out How To Determine Home Market Value
Use A Home Value Estimator
Several online resources exist that provide a rapid estimation of a home's value. These instruments, sometimes known as automated valuation models, or AVMs, provide estimates using algorithms and publicly accessible data, such as recent sales, tax assessments, and other public documents. Your estimate may change because each one employs a different technique.
Some of these include:
A home value estimator can be a helpful tool for anyone who wants to better understand the value of their home or a home they're interested in buying. However, it's important to remember that these estimators are not always 100% accurate and should be used as a starting point rather than a definitive answer.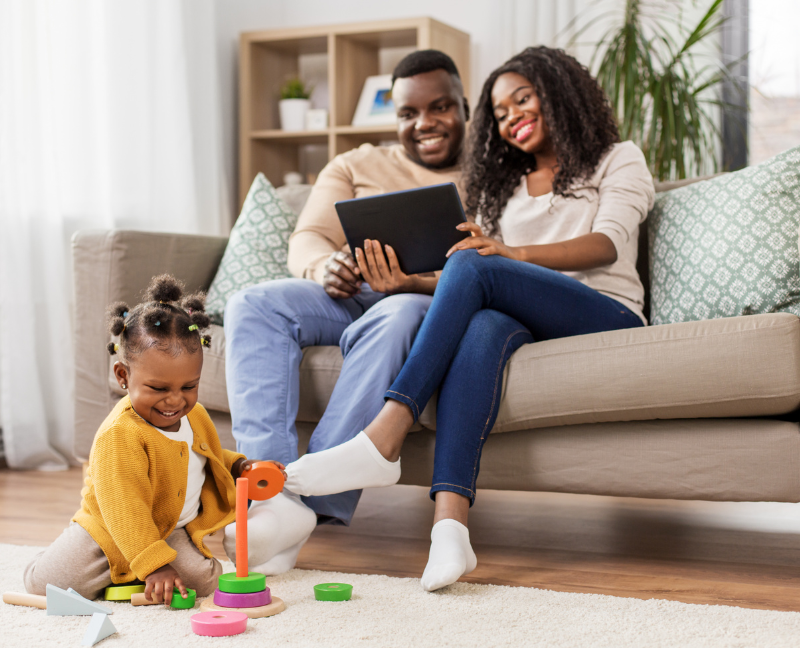 Find A Reliable Real Estate Agent
A comparative market analysis (CMA) is generally provided to sellers without charge by real estate brokers in an effort to secure their business. The agent gathers information regarding previous sales of comps in the neighborhood to complete the CMA. 
They then evaluate the value of your property using their local knowledge and any unique features of your home. Each home a buyer wishes to make an offer on may also receive this same service from a buyer's agent.
Working with a realtor from RE/MAX Advanced Realty can give you a more accurate and comprehensive picture of your home's value, as well as provide a range of other services to help you buy or sell your home
For instance, a realtor who works in your area will have a deep understanding of the local housing market and can provide insight into how factors like location, neighborhood, and nearby amenities can affect your home's value. This knowledge can help ensure that your home is priced accurately and competitively.
If you're planning to sell your home, a realtor can help you market it effectively to potential buyers, including listing it on popular real estate websites, holding open houses, and leveraging their professional network to reach a wider audience.
They are also trained in negotiation and can help you navigate the complex process of selling your home. They can help you handle offers and counteroffers, negotiate repairs and inspection issues, and make sure the deal goes smoothly from start to finish.
Work With A Professional Appraiser
Before authorizing a loan, mortgage lenders engage appraisers to verify the worth of a residence. Although it is optional, some house sellers choose to go the extra mile and hire an appraiser. Similar to a CMA created by a real estate agent, the appraiser takes into account the property's features, such as how many bedrooms and bathrooms it has, as well as comparable sales.
Pro: Professional appraisers may offer an unbiased evaluation of a home's value and are frequently licensed or certified by the state in which they conduct business.
Con: You will be required to pay for the appraisal that the lender requires if you are applying for a mortgage. According to HomeAdvisor, an assessment typically costs approximately $350 but may cost as much as $420.
These are just a few ways about how to determine your home market value. In the next post, we'll dive deeper into this topic and find out useful information in case your home's value went up or down. 
What tool do you use to calculate your home value? We'd love to know your thoughts so feel free to share them below.
Thank you!
More than just four walls and a roof make up a house. It stirs up a variety of feelings and ideas inside of us. Some people see it as a sense of security, others as comfort, and yet others as a sign of success and prestige. 
The other component of a home, however, must also be taken into consideration. It is related to numbers. The financial side is crucial as well because for the average Indian, purchasing a home is frequently their biggest financial transaction. Many struggles with the question of whether to buy or rent.
The Following 9 Factors Make Owning A Home Better Than Renting A Home:
1. No Landlord Troubles
Owning a home gives you control over your life. You don't have to deal with a landlord, yet renting is difficult in many ways, whether you need small repairs made or a whole house renovation. For water, power, maintenance, and nearly everything else, you are reliant upon the landlord.
2. Emotional Safety
You give your family their very own space—a home—when you buy a house. Returning to your own nest after a long day at work, along with a taxing commute and ongoing stress, awakens a sense of security and comfort that is simply priceless. After all, no place can truly allow you to relax and just be yourself at "home."
3. No Discrepancy
The risk of the landlord prematurely terminating the lease agreement does not bring you the same stress and anxiety that it may with your own home. Also, there is no headache associated with having to continuously renegotiate the terms of the rental agreement and renew it each year.
4. No Compromise
Rent is a cost, and generally speaking, people try to spend less. Hence, you can end up making compromises regarding several factors, including amenities, size, and location. Yet, if you purchase a home, you will make sure that the home you select suits your needs.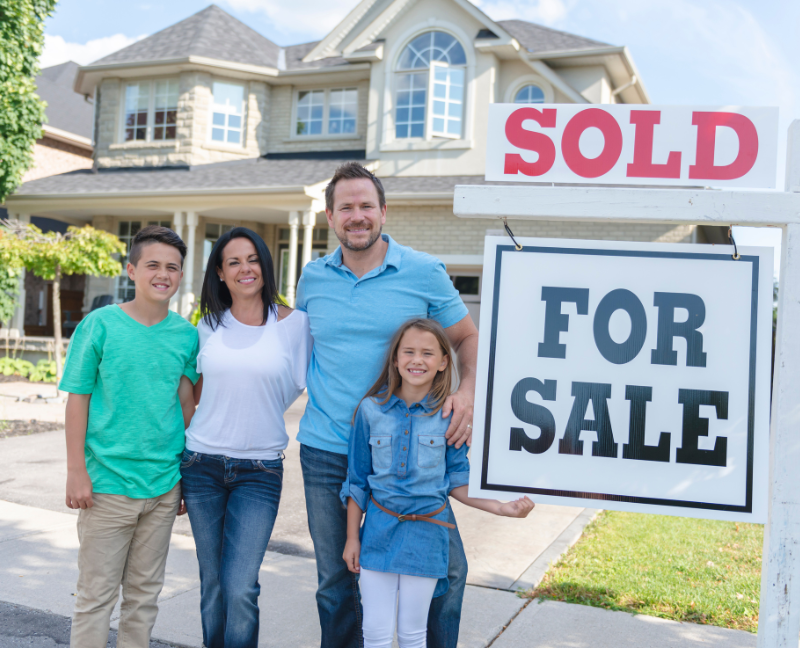 5. Simple Financial Options
Having your ideal home is now simpler thanks to the accessibility of simple financing choices. To save money for your ideal home, you don't have to wait until your 40s and 50s. You can purchase it when you're in your 20s and have a paid-off house by the time you're 50 or even before. Selecting a home loan provider wisely will allow you the flexibility to manage your loan repayment by customizing your EMI to match your current and projected income trends.
6. Tax Benefits On Home Location
You receive enticing tax incentives for paying off your mortgage's principal and interest. Also, keep in mind that the true cost of renting exceeds the amount of rent you pay. Because you do not earn interest on the deposit you pay to the landlord (which can be fairly substantial in high-end locations), your cost is higher.
7. Creating Your Own Asset
You might pay the EMI on your home loan rather than paying rent, which is an expense only, and over time, this will help you create your own asset. Your equity in your house increases practically with each EMI that you pay.
8. Renting A Home As An Investment:
It makes sense to purchase a home if you intend to stay in a city for an extended time so that you can feel a sense of permanence and belonging. You become more familiar with the city and its way of life. You believe that your life is now at peace. In addition, property values typically increase with time. By purchasing a property, you are also gradually increasing your wealth. Delaying your real estate purchase will require you to make a larger investment (in addition to having paid rent over an extended time).
9. Abide By Social Norms:
And finally, owning a home is a sign of success and achievement in society. The house you own is a good indicator of your wealth and position. Consequently, purchasing a home can greatly raise your social position.
Are you looking for real estate in Indiana? If yes, our top-tier realtors can help! Call us at 317-298-0961 today!
Someone likely recommended you create an email database and regularly give them content. It's better for you if you get off to a good start. Or you should restart if you've been working on it but aren't getting far.
But most agents with a list send out quite generic material anyway, and they send anything at all. Please do not be an agent like that.
By reading this article, you may learn some tips for writing an email as an agent and having a better email database.
Tips For Every Agent On Writing An Email
Here are the six tips for writing an email you may consider and also for having your email database become better:
1. Stop Pushing
Many agents who send emails and have a list tend to "push."  They make people aware of themselves and their listings.
Stop pushing; that is the only simple and apparent solution. Or at least quit sending the same old messages.
2. Write How You Talk
Check out some real estate email templates by doing a quick Google search. You seem like a template if you write like one. You don't sound human at all. And that makes people seem to dislike you. That is the entire point.
Write as you would talk with someone. Set aside rigid grammar standards. Keep within the lines, though, so readers can tell you know the conventions of good writing. Use punctuation and correct your spelling.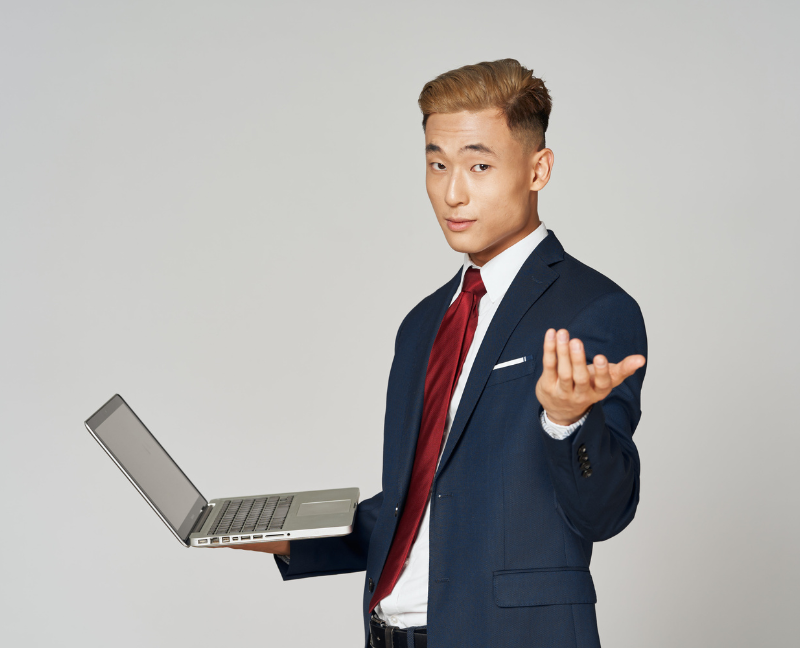 3. Keep Them Short But Not Too Short
Try to limit the length of your emails to 350–500 words. It's challenging to express a lot in fewer words. And if it goes beyond that, you should probably turn it into an article.
A few extra or fewer words won't harm you. Thus, don't obsess over word count. Saying anything that needs to be said is the key.
4. Inform, Entertain, And Take Action
The best writing achieves each of those objectives. In every email you compose, try to include all three. Everyone enjoys comedy and wit. Although real estate is a serious profession, making your reader smile or chuckle is the best way to make them eagerly anticipate opening every email you send. 
Make your audience laugh. You must make a point in what you send them. You must enlighten or educate them on something. And because you're already taking the time, you should ask them to take action.
5. Segment
Certain things are quite commonplace, like an email with a Christmas theme. That may be sent to every person on your list. You should draft one with buyers in mind and another with sellers on your list. And one that pertains especially to your sphere of influence.
6. Spend Time
These are the last tips on writing an email. Emailing your list should take a lot of time. But each email is like writing hundreds or thousands. Once written, sent many times. It's worth the time.
Emails take at least an hour. Hire a copywriter to compose your emails to save time, effort, and learning curve. You won't send the same dull email templates as other agents, but it is costly.
Your choice of restaurant is crucial when dining with children. 
Before your drinks even arrive at your table, a restaurant experience can go south if the atmosphere isn't enjoyable and welcoming to kids. 
We're fortunate that there are lots of kid-friendly eateries in the greater Indianapolis area. 
The good thing is that we know where to look, therefore we were able to find you some fantastic, entertaining eateries in Indianapolis!
Disclaimer: Some of these restaurants may not be categorized as "child restaurants" in the strictest sense. Nonetheless, they are enjoyable and kid-friendly and have plenty to offer families searching for a calm, enjoyable dining experience.
5 Family-Friendly Restaurants In Indianapolis
Field Brewing
303 E Main Street, Westfield
There are times when parents simply need a fantastic restaurant with amazing food and drinks where their kids can play nearby, such as Field Brewing. 
This Westfield brewery includes a beautiful garden, outdoor patio seating, and a space where guests can play giant Jenga, bocce ball, or simply relax on the man-made turf.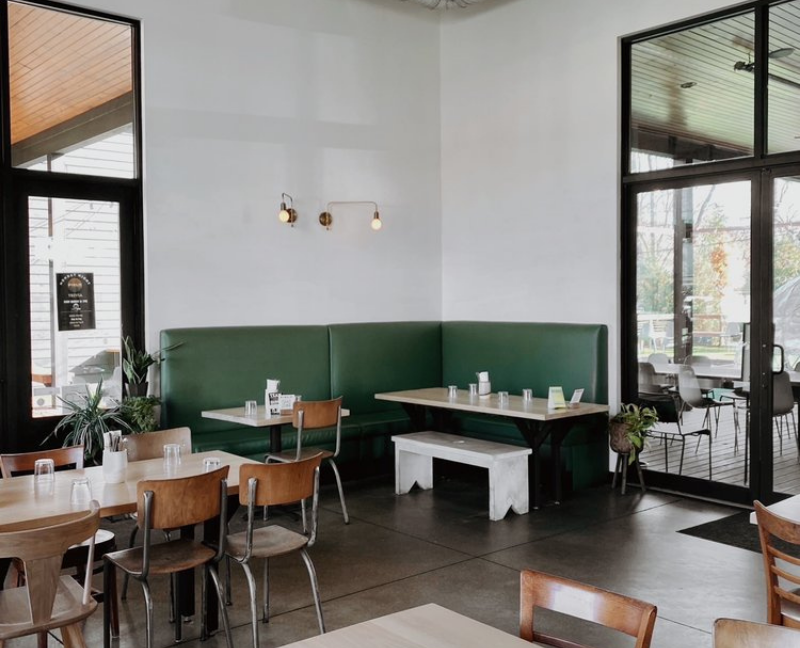 © Olivia S | Yelp
Books & Brews
Multiple Locations
Brownsburg

Carmel 

Indianapolis

Noblesville

South Indy

Zionsville
The ideal restaurant for a family night out is this one! 
You may play hundreds of board games at your table, such as Chutes, Fact-Crap, or Zingo while enjoying some food, drink, and revelry. 
And if reading is more your style, Books & Brews has a large selection of books that you can browse while dining or buy to take home. 
Bonus: Books & Brews has numerous locations in the Indianapolis area, and each provides a day where kids eat free!
Below are the days and locations: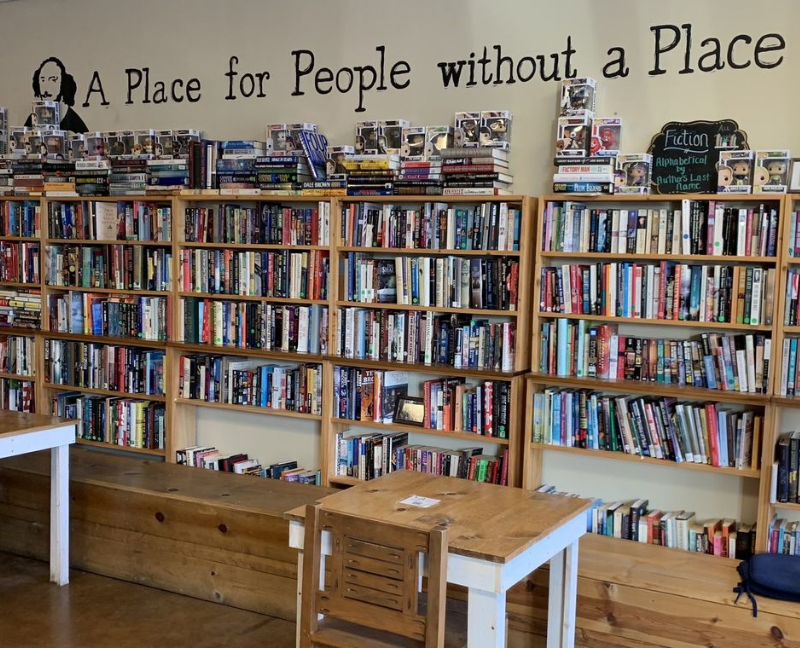 © Cynthia W | Yelp
Half Liter BBQ & Beer Hall
5301 Winthrop Ave., Indianapolis
You should bring your half-pints to Half Liter Barbeque & Beer Hall. 
This Broad Ripple establishment offers some of the best BBQs in Indianapolis, a sizable, open, relaxed, and family-friendly outside seating space. 
Even if you're waiting for your food, you can play a game of cornhole! 
Get Extra: Keep your kids (and inner child) happy by ordering a dessert from Dippin' Dots and Rice Krispie at Half Liter.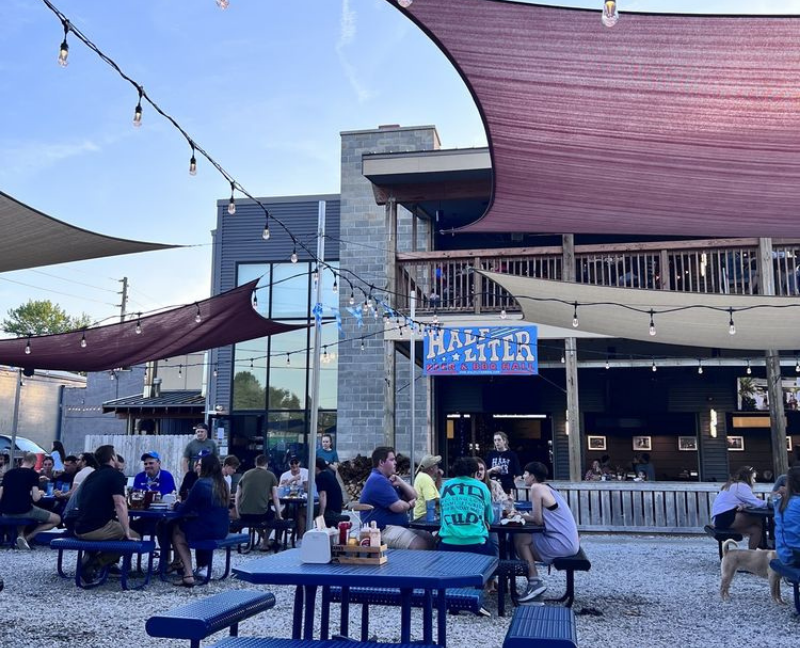 © Kayla S | Yelp
Ford's Garage 
13193 Levinson Lane, Noblesville
Ford's Garage, a restaurant that is decorated with Ford car parts and memorabilia, might appeal mostly to car enthusiasts (and kids who love vehicles).
Other than the genuine cars present within the restaurant, the establishment serves chicken, waffles, burgers, and more. 
Before you leave the restaurant after having an appetizing dinner, turn right and you will notice a children's outdoor play area that is a part of the Hamilton Town Center outdoor shopping mall.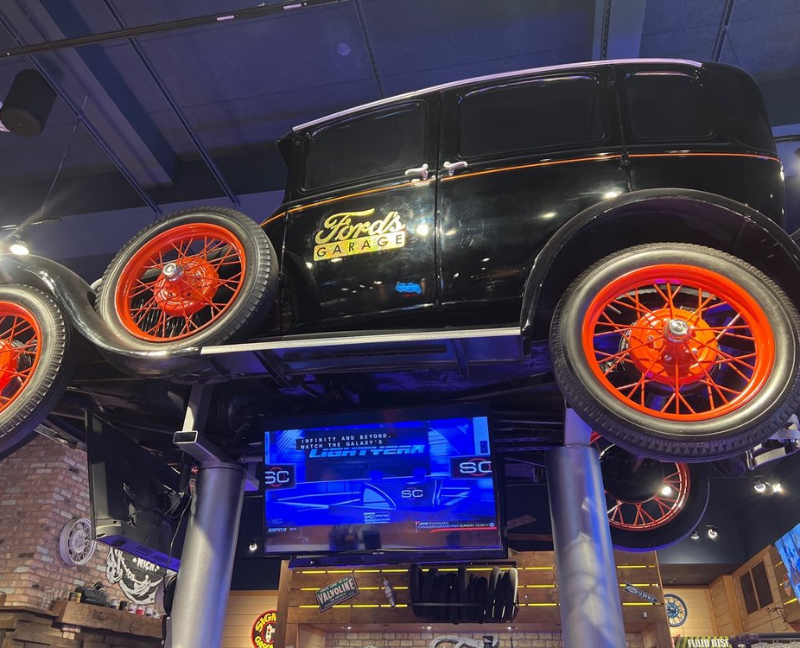 © Tiff R | Yelp
The Old Spaghetti Factory
Multiple Locations
Downtown Indy: 210 S. Meridian Street, Indianapolis
Carmel: 918 S. Rangeline Road, Carmel
Chicken, spaghetti, and OREO cookie shake? What else are you looking for? Their menu is like a paradise that you and your family will surely love.
All meals on The Old Spaghetti Factory's kid's menu include a dessert, either vanilla ice cream or spumoni, at the end of the meal. 
If you want to have even more fun, ask to sit in the trolley car, which is an amusing feature in all OSF locations!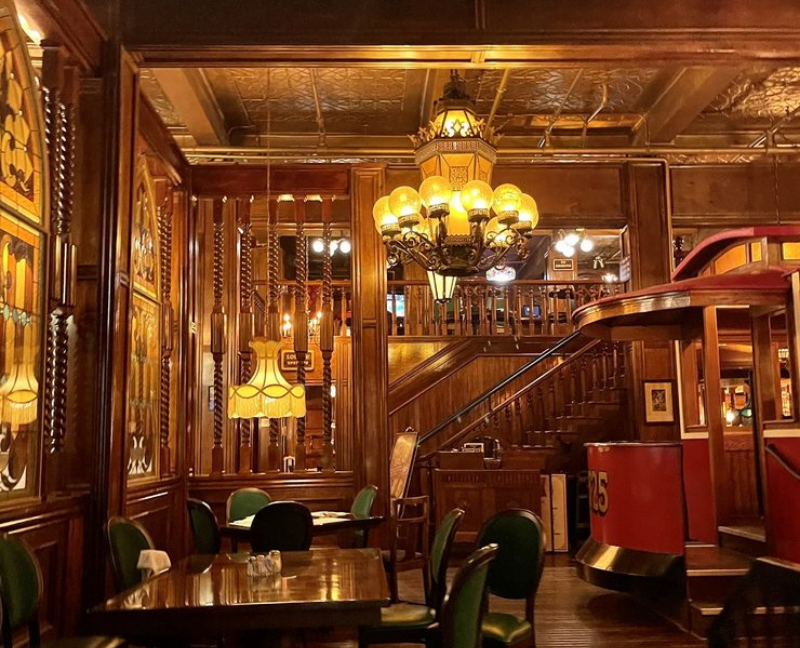 © Kara M | Yelp
These are just some of the best family restaurants you should try this weekend. In the next part, you'll find more food establishments for you and your kids.
Not only is buying a home exhilarating, but it's also one of life's greatest accomplishments. There are many advantages to having your own property, even though it might be difficult at some point. 
Renting, on the other hand, can be a terrific short-term option for deciding where you want to live and for accumulating funds for your down payment on a home loan. 
So, which one should you choose?
In this post, we'll help you decide whether having a home or renting out is for you.
Benefits Of Renting A Home
There are several benefits of renting a home, some of which include:
Flexibility: Renting a home offers a great deal of flexibility as you are not tied down to a long-term commitment. Most rental agreements are for a fixed period, after which you have the option to renew or move to another location. This makes renting a great option for those who frequently change jobs or move frequently.
Lower Upfront Costs: Renting a home requires a lower upfront cost compared to buying a home. You typically only need to pay a security deposit and the first month's rent, whereas buying a home requires a down payment, closing costs, and other expenses.
No Maintenance Costs: When you rent a home, the landlord or property manager is responsible for any maintenance and repairs. This means that you don't have to worry about unexpected expenses related to repairs, which can be a significant benefit.
Access To Amenities: Many rental communities offer access to amenities such as swimming pools, fitness centers, and laundry facilities. This can be a great perk for those who want to enjoy these amenities without having to pay for them separately.
No Property Taxes: As a renter, you are not responsible for paying property taxes. This can be a significant benefit as property taxes can be a significant expense for homeowners.
No Need To Worry About Resale Value: When you rent a home, you don't have to worry about the resale value of the property. This can be a great benefit if you are not interested in investing in real estate or if you don't want to deal with the stress of selling a property.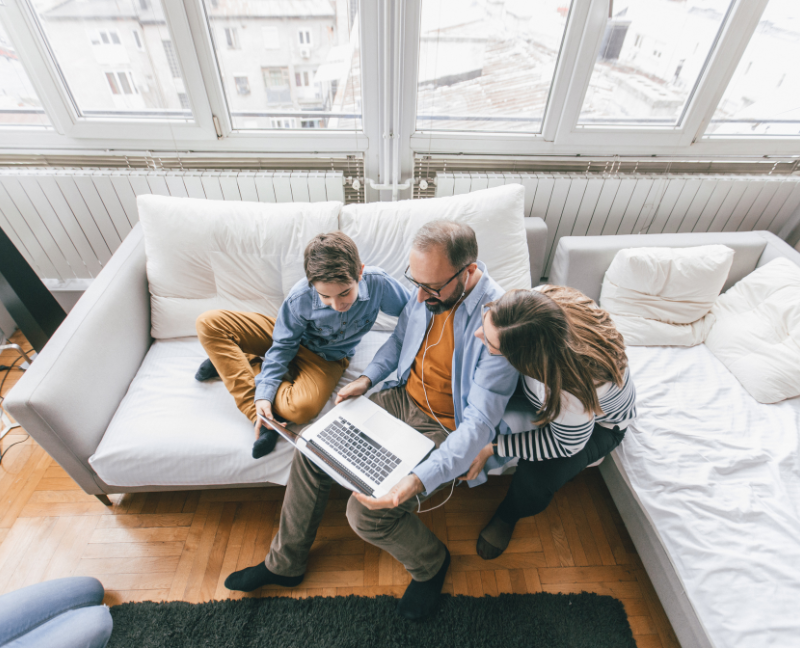 Benefits Of Buying A Home
Increasing Equity: The value of the property you own represents your equity. When you pay off your mortgage or when the market value of your property rises, equity might naturally increase. Making additional mortgage payments can also help it grow.
If you've made additional payments to your loan, you may be able to redraw it or refinance for a cash-out. The money can then be utilized for remodeling, purchasing a new vehicle, or even as a down payment for a different home.
Living Security: The landlord, who may decide they no longer wish to rent out their property, is in charge of your position when you rent. Relocating is expensive, inconvenient, and emotional, to say nothing of all three. When you own your own house, you can rest easy knowing that you get to choose when to relocate.
Build The Home Of Your Dream: You can opt to completely redo the bathroom with a jungle theme or to paint the walls in vibrant colors without worrying about getting your bond back when you own your own property, giving you total creative freedom. House upgrades can raise a property's value, thus every dollar that your house has appreciated will be yours if you decide to sell. Get our guide to getting your home renovation off the ground.
Cost Management: Your rent may be increased regularly if you rent. While owning a home entails a variety of costs, including mortgage payments, council fees, and strata or property insurance, these costs are not likely to increase significantly overnight. 
By selecting a fixed-rate home loan, you might in some cases even be able to keep your rates under control.
Save Cash: Although it may not seem like it, you might save money by making your mortgage payments. Many repayments combine principle and interest, allowing you to contribute some funds to expanding your home's ownership. Although renting could appear to be less expensive, you won't eventually get any of that value back.
Nonetheless, it has its own pros and cons. If you want to learn more about it, feel free to click this link or subscribe to our mailing list.
Thank you!
Looking for pet-friendly homes is not an easy endeavor, especially if you have a pet to take into account. It doesn't matter if you're a renter wanting to buy or a homeowner looking for more (or less) square footage. Once you've located what you believe to be the ideal home, you'll need to confirm that your furry family members will be comfortable there as well. To assist your family in deciding whether the next area you move to will be a good fit for you and your pet, our team at Indy Home Pros of RE/MAX Advanced Realty has provided the following advice.
But first, what does a pet-friendly home mean?
A pet-friendly home is a home that welcomes and accommodates pets, usually cats and dogs. This means that the home is designed with features that make it safe and comfortable for pets to live in, such as a fenced yard or a designated pet area inside the house. 
A pet-friendly home may also have pet-specific amenities, such as a pet door, a feeding station, or a space for a pet bed.
In addition to physical accommodations, a pet-friendly home may also be located in a pet-friendly community, where there are ample opportunities for pets to exercise and play, and where there are nearby pet stores and veterinary clinics. A pet-friendly home may also have rules and guidelines that help ensure that pets and their owners can coexist peacefully and comfortably.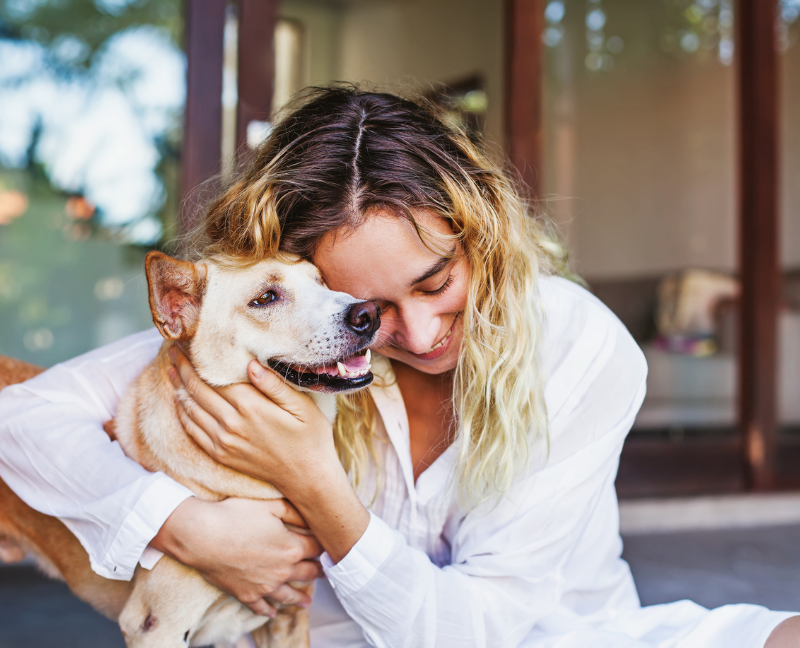 Will your pet be usually indoors or outdoors?
Do you anticipate your pet running about the home or yard? 
Choosing a home with spacious rooms and corridors will provide your pet with lots of areas to run around and play if the answer is inside. 
You might also want to take into account a house that includes a room or area inside that you can "fence off" so that your pet can relax when visitors are over. 
Keep the flooring in mind as well if your pet will be an indoor/outdoor pet. 
Wood flooring is becoming more and more common, but it can also get scuffed easily.
Muddy paws are a part of owning a pet, so if you prefer carpet, just be aware of that. Choose a hue that won't show a lot of use and abrasion. Make sure there is space in the yard for a comfortable dog home and plenty of shade for hot summer days if your pet spends most of its time outside.
Are there dog parks and nice walking paths if you have a dog?
For you and your pet, great walking places and parks are undoubtedly a necessity. It's a terrific way to spend time with your pet on relaxing weekends, and it will encourage you both to walk and exercise more frequently. Good walking paths should have many options for routes, be spacious with a low threat from traffic, and have a nice setting.
Are there any pets nearby?
It can be excellent to have other pets nearby occasionally so that your furry family member can socialize and make new pals. 
Nonetheless, some animals have issues with their nearby furry companions. Your ability to judge whether your pet requires extra space will depend on his or her nature. 
Since they have tails, good fences do make nice neighbors. But if you haven't already, you should think about getting your pet health insurance because pets can be unpredictable.
Is there enough room for running and playing?
Is it now dog-friendly or do you need to make some immediate landscaping changes and even put up a fence? 
Keep in mind that an enhanced yard for your pet doesn't necessarily mean an upgraded home. 
Be sure the square footage of your new home is acceptable for the breed of dog you own if you're moving into an apartment or condo. 
Compared to a Domestic Shorthair cat or a Chihuahua, a larger dog like a Doberman Pincher will require a lot more area.
How old is your pet?
Do you have a senior indoor pet? 
If so, taking the stairs might not be the greatest option for your pet, particularly if he is displaying arthritis symptoms. As they continue to develop their coordination, puppies may also have trouble climbing stairs.
Does your real estate know you're a pet owner?
It seems fairly straightforward, yet a lot of real estate agents fail to inquire about the presence of pets in the home-buying process. 
Your real estate agent can focus on properties that are more pet friendly if they are aware that you have pets. Inform them of your search criteria and those of your pet.
Want a new home for you and your fur babies? Our team at Indy Home Pros is here to help! Leave a comment or call us at 317-316-8224 today!
You will have a variety of options when it comes to investing in real estate. 
Foreclosed homes are one item you'll run into if you're seeking investments. Despite their widespread use, few people consider purchasing them as investments.
If this is your first time hearing about foreclosed properties, you might be wondering what it means -- what are foreclosed properties really about?
If that's the case, you're in the right place. In this post, we'll answer that and more!
What Is A Foreclosed Property?
A foreclosed property is a property that has been repossessed by a lender or a bank as a result of the owner's inability to keep up with mortgage payments. This can occur when a homeowner defaults on their mortgage loan, typically due to financial hardship, and is unable to make the required payments to the lender.
When a property is foreclosed, the lender or bank takes possession of the property and attempts to sell it to recover the outstanding balance on the mortgage loan. Foreclosed properties are often sold at a discount compared to their market value, making them attractive to investors or buyers looking for a bargain.
However, it's important to note that purchasing a foreclosed property can come with risks and complications, such as liens or outstanding debts attached to the property, as well as potential repairs and maintenance issues. It's important to thoroughly research and understand the potential risks and benefits before considering purchasing a foreclosed property.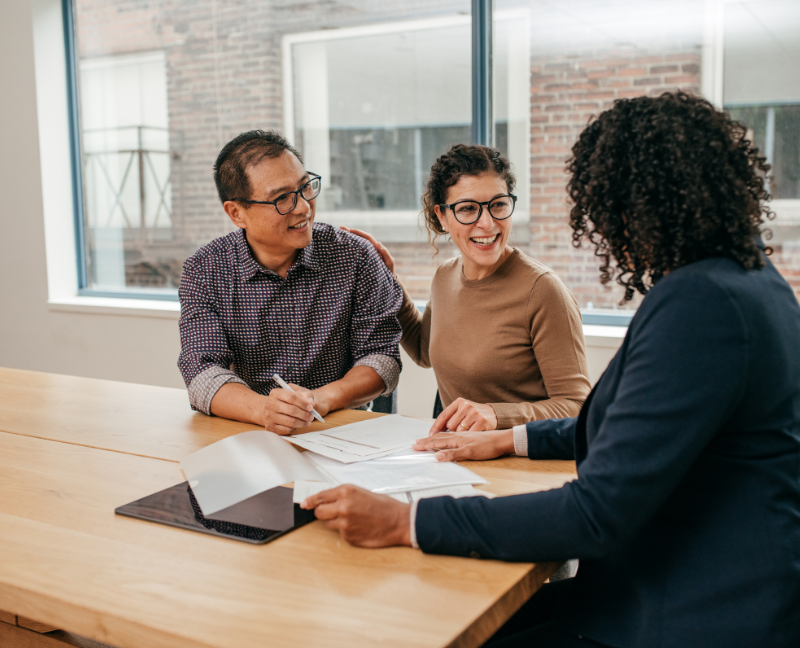 Things To Consider Before Purchasing Foreclosed Properties
Purchasing a foreclosed property can offer an opportunity for a good deal, but it's important to carefully consider the potential risks and complications involved. Here are some things to consider before purchasing a foreclosed property:
Property Condition:

Foreclosed properties are often sold "as-is," meaning that the buyer is responsible for any repairs or maintenance issues. It's important to have the property inspected by a professional to identify any potential issues and estimate repair costs.

Financing:

Financing a foreclosed property can be more challenging than a traditional home purchase, as banks may require a larger down payment or have stricter lending requirements.

Liens And Outstanding Debts:

There may be liens or outstanding debts attached to the property, such as unpaid property taxes or homeowners association fees, that the buyer will be responsible for. It's important to do a thorough title search and understand all potential financial obligations before making an offer.

Competition:

Foreclosed properties can be attractive to investors and buyers looking for a bargain, which can lead to multiple offers and bidding wars. It's important to be prepared to act quickly and make a competitive offer if interested in purchasing a foreclosed property.

Location:

The location of the foreclosed property is an important factor to consider, as it can impact its value and potential for resale or rental income. It's important to research the local real estate market and understand the neighborhood before making an offer.

Legal Process:

The legal process of purchasing a foreclosed property can be more complicated than a traditional home purchase, as it involves working with the bank or lender that owns the property. It's important to understand the legal process and work with professionals, such as real estate agents and attorneys, who have experience with foreclosures.
Overall, it's important to thoroughly research and understand the potential risks and benefits of purchasing a foreclosed property before making an offer. Consulting with professionals and conducting due diligence can help mitigate risks and ensure a successful purchase.
Is Buying a Foreclosed Property A Good Investment?
Buying a foreclosed property can be a good investment opportunity, but it also comes with some risks and challenges. Here are some factors to consider before making a decision:
Advantages Of Buying A Foreclosed Property:
Lower Purchase Price:

Foreclosed properties are usually sold at a lower price compared to their market value, which means you can get a good deal if you're able to negotiate effectively.

Profit Potential: I

f you buy a foreclosed property at a low price, you may be able to make a profit if you renovate it and sell it for a higher price or rent it out.

Opportunity For Equity:

Since the purchase price is typically lower, you may be able to build equity faster if you're able to pay off the mortgage quickly.
Disadvantages Of Buying A Foreclosed Property:
Condition of the property: Foreclosed properties may be in poor condition, as they may have been neglected or vandalized. This can lead to costly repairs and renovations.

Time-consuming process: The process of buying a foreclosed property can be more time-consuming than buying a traditional property, as there may be additional paperwork and legal requirements.

Competition: Foreclosed properties may attract a lot of interest from investors and homebuyers looking for a good deal, which can lead to a bidding war and drive up the price.
Before deciding to invest in a foreclosed property, it's important to do your research and assess the potential risks and rewards. You should also work with a real estate agent who has experience with foreclosures and can guide you through the process.
Want to invest in foreclosed properties? If yes, our team at RE/MAX Advanced Realty is here for you! Contact us by clicking this link.
It's the month of Love! If you're looking for a restaurant in Indy to have a romantic dinner, a place to celebrate friendship, or anything in between this Valentine's season, RE/MAX Advanced Realty has you covered. Our agents, Ashley Abbott, Josh Latham, David Cook, and Cate Waggoner-Lee, shared their favorite restaurants in Indy with a romantic atmosphere.
(317) 257–2253 ext. 3 ( both locations)

This beautifully decorated cake shop welcomes its client with a magical fairytale-themed decoration (Broad Ripple Village) or hundreds of Swarovski crystals glistening on many chandeliers ( Carmel City Center). Wherever store you choose to visit; you are sure to enjoy an unforgettable experience of a great atmosphere, sumptuous dishes, and delicious desserts.
Coopers Hawk Winery & Restaurant
AVON 8696 E US Hwy 36 Avon, IN 46123 | 317-806-1234
INDIANAPOLIS 3815 E 96th St Indianapolis, IN 46240 | 317-574-9463

Perfectly for wine lovers, this restaurant invites everyone to experience memorable moments built upon delicious food and award-winning wines. They offer a Modern Casual Dining Experience with warm hospitality in an inviting upscale setting and a Napa-Style Tasting Room and Artisanal Markets where guests can explore and expand their palates and enrich their wine journey.
Downtown Indianapolis | 153 South Illinois St., Indianapolis, IN 46225 | 317 635-9594
Northside Indianapolis | 4050 East 82nd St., Indianapolis, IN 46250 | 317 915-8045

A must-go for grill lovers, Harry & Izzy's is a sister company of the famous St. Elmo Steak House. It is an independent, upscale, classic American Grill with an ambiance exuding class and sophistication in a comfortable setting with a lively bar centered in the restaurant and a broad menu of tasty dishes.
299 W Main St Greenwood Indiana 46142 | contact@reverygreenwood.com | 317-215-4164

This mid-sized restaurant in the family-friendly, uniquely charming neighborhood of Old Town Greenwood offers high-quality food & drinks in a modern-meets-rustic environment. They utilize the freshest ingredients to bring homemade dishes straight to your table. 

Wonderful food, superior service, and an enchanted ambiance are what you can expect in this restaurant. They are dedicated to creating memorable moments for their guests by providing exceptional quality and value. They offer a wide variety of menus that surely won't disappoint.
8031 S. Meridian St. Indianapolis, IN 46217 | 317-888-1112

This restaurant is for you if you enjoy eating Italian food in a relaxed and cozy ambiance. Vito Provolone is a family-owned Italian restaurant on the Southside of Indianapolis that has been serving pasta, pizza, and house favorites such as Chicken Marsala & Spicy Vodka Sauce for decades.
WE KNOW INDIANA! Sign up to our weekly newsletter to stay updated about all things fun and real estate related events and news in and around Indy.