The real estate market in Indiana is a dynamic and ever-changing landscape, influenced by various factors, including economic conditions, seasonal variations, and buyer and seller behaviors. In August 2023, we witnessed a range of trends and shifts across 16 counties, encompassing all property types. Let's delve into the numbers and understand what the data tells us about the state of Indiana's real estate market.
Median Sales Price Soars: The median sales price for all property types combined in August 2023 stood at $295,000. This marked a substantial 5.4% increase compared to the same period in 2022. It's worth noting that the housing market has been experiencing a steady appreciation in property values, which can be an attractive prospect for sellers.
Nevertheless, it's essential to note that the market experienced a modest adjustment when compared to July 2023, showing a 1.6% decrease in median sales prices. This dip could be seen as a sign of market recalibration or heightened competitiveness.
Closed Sales See Mixed Trends: The number of closed sales in August 2023 totaled 3,091, reflecting an 18.5% decrease compared to August 2022. This drop in closed sales might raise some eyebrows, but it's essential to consider various factors such as seasonality and changes in buyer demand.
On a positive note, there was a 2.3% increase in closed sales compared to the preceding month, July 2023. This suggests a potential stabilization in the market and could indicate that buyers and sellers were finding more common ground during this period.
Properties Spend More Time on the Market: In August 2023, properties took a median of 10 days to sell. This represented an 11.1% increase compared to August 2022 and mirrored the increase seen in July 2023. A longer time on the market can be attributed to factors such as increased competition among sellers or buyers becoming more discerning in their choices.
List Price Negotiations: Sellers received an average of 98.8% of their list price in August 2023. While this is still a strong showing, it marked a slight 0.6% decrease compared to August 2022 and a 0.4% decrease compared to July 2023. These changes indicate that buyers may have had slightly more room for negotiation during this period.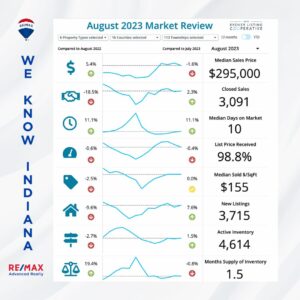 Price per Square Foot and Property Sizes: In August 2023, homes were selling at an average price of $155 per square foot. While this was 2.5% lower than August 2022, it's worth noting that there was no change compared to July 2023. This suggests that the real estate market is adjusting to meet evolving buyer preferences and property offerings, which can create new opportunities for both buyers and sellers.
New Listings and Active Inventory: August 2023 saw 3,715 new property listings, which was a 9.6% decrease compared to August 2022. However, there was a notable 7.6% increase in new listings compared to the previous month, July 2023, indicating a potential surge in sellers entering the market.
The active inventory of available properties in August 2023 was 4,614, showing a 2.7% decrease compared to August 2022. Despite this year-over-year decline, there was a 1.5% increase in active inventory compared to July 2023, signifying a potential rise in property availability.
Months of Supply of Inventory: The months of supply of inventory in August 2023 was 1.5, which is a 19.4% increase compared to August 2022. However, it represented a 0.8% decrease compared to July 2023. A months-of-supply metric of 1.5 generally indicates a balanced market, with supply and demand relatively aligned.
In conclusion, Indiana's real estate market in August 2023 displayed a mix of growth and stabilization. Median sales prices continued their upward trajectory, albeit with a slight cooling in July. Closed sales saw a year-over-year decrease but an increase from the previous month. Properties spent more time on the market, and list price negotiations showed some flexibility. The price per square foot and property sizes underwent some changes, suggesting shifting buyer preferences. New listings surged in July, and active inventory increased slightly. The months of supply of inventory pointed towards a balanced market.
As always, the real estate market is influenced by multiple factors, and these statistics provide a snapshot of a dynamic and evolving landscape. Whether you're a buyer or a seller, staying informed about these trends can help you make more informed decisions in Indiana's real estate market
Note: The data mentioned in this article is sourced from the MIBOR Broker Listing Cooperative as of September 14, 2023. The analysis covers 16 counties in Indiana and includes various property types such as Single Family Residence, Condominium, Townhouse, Farm, Residential, and Manufactured Home. 
Ready to explore Indiana's dynamic real estate market? Keep in mind that these insights offer only  a snapshot of the broader picture. For precise and up-to-date information about your specific area or property, don't hesitate to consult with local real estate professionals. Your dream home or the perfect buyer might be just around the corner.
As the summer warmth gives way to the colorful spectacle of autumn, it's the perfect time to shift your focus from outdoor adventures to the important task of preparing your home for the upcoming fall and winter seasons. Fall home maintenance is not just about aesthetics; it's about ensuring your property remains comfortable, safe, and energy-efficient during the colder months ahead. To help you navigate this crucial transition, we've put together a comprehensive fall home maintenance checklist.
Inspect and Clean Gutters:
Your gutters play a critical role in protecting your home from water damage. The first task on your checklist should be to ensure they're in top shape:
Remove leaves, twigs, and debris from gutters and downspouts. Clogged gutters can lead to water damage and ice dams.

Check that your gutters are securely attached to the house and not sagging.

Consider installing gutter guards to prevent future clogs and reduce maintenance.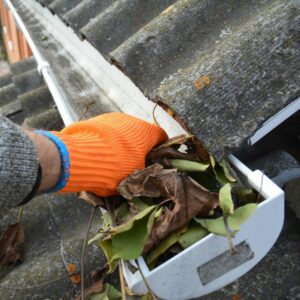 Check the Roof:
Your roof is your home's shield against the elements, so it deserves a thorough inspection:
Examine the roof for any loose, damaged, or missing shingles. These can allow water infiltration and lead to interior damage.

Inspect your attic for signs of leaks or water damage. Early detection can prevent costly repairs later on.

If you notice any issues, don't hesitate to arrange for professional roof repairs.
Seal Gaps and Cracks:
A well-insulated home is not only more comfortable but also more energy-efficient:
Take the time to check for gaps around windows, doors, and vents.

Seal any gaps you find using weatherstripping or caulk to improve your home's energy efficiency and reduce heating costs.
Service Your Heating System:
With the temperature dropping, your heating system becomes a crucial component of your home:
Schedule a professional HVAC inspection and maintenance. Regular servicing ensures your system operates efficiently and safely.

Don't forget to replace air filters in your furnace or heating system as recommended to maintain good air quality.
Test Smoke and Carbon Monoxide Detectors:
Safety should always be a top priority in your home:
Replace batteries in smoke and carbon monoxide detectors if needed.

Ensure all detectors are functioning correctly to protect your family from potential hazards.
Inspect and Clean Chimney and Fireplace:
If you have a fireplace, it's essential to ensure it's in safe working condition for those cozy fall and winter nights:
Arrange for a professional chimney cleaning and inspection if you use the fireplace regularly.

Make sure the damper opens and closes correctly.

If you have a wood-burning fireplace, stock up on firewood early to stay ahead of the chilly nights.
Drain and Store Outdoor Hoses:
To prevent damage and frozen pipes, take care of your outdoor water sources:
Disconnect garden hoses, drain them, and store them indoors.

Don't forget to turn off outdoor water faucets and winterize sprinkler systems if you have them.
Check for Drafts:
A drafty home can be uncomfortable and costly to heat:
Inspect doors and windows for drafts and leaks.

Consider adding weatherstripping or applying window film to improve insulation and retain heat.
Clean and Inspect the Lawn and Garde

n:
Don't neglect your outdoor space; it needs care before winter sets in:
Rake fallen leaves and dispose of them properly or use them for compost.

Trim trees and bushes to prepare them for the winter months.

If you're a gardening enthusiast, consider planting fall flowers or bulbs for a colorful spring.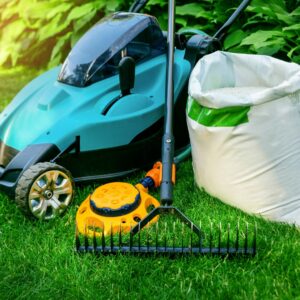 Clean and Inspect the Deck/Patio:
Your outdoor spaces deserve some attention too:
Sweep and clean decks and patios to prevent slippery surfaces and mildew growth.

Check for any loose boards or nails and make necessary repairs.

Consider sealing or staining the deck to protect it from winter weather.
Test Outdoor Lighting:
Good outdoor lighting enhances safety and security:
Ensure that all outdoor lights are in working order.

Replace bulbs and clean fixtures as needed for better visibility at night.
Prepare Outdoor Furniture:
Protect your outdoor furniture from the harsh elements:
Clean your outdoor furniture and store it indoors if possible.

If storage isn't an option, cover your furniture to shield it from rain, snow, and ice.
Inspect the Insulation:
A well-insulated home is a warm and energy-efficient one:
Check the insulation in your attic and walls for any gaps or damage.

If needed, add insulation to maintain a comfortable temperature and reduce heating costs.
Clean and Inspect Appliances:
Maintain the appliances that keep your home running smoothly:
Vacuum refrigerator coils to improve efficiency.

Clean the dryer vent to prevent fire hazards.

Check your dishwasher, stove, and other appliances for any issues that may need repair.
Safety Check:
Your family's safety is paramount:
Review your emergency preparedness plan with your loved ones.

Check fire extinguishers and replace them if they're expired or damaged.
Prepare for Winter Storms:
Winter weather can be unpredictable, so it's best to be prepared:
Stock up on winter supplies like salt, shovels, and snow blowers to clear pathways.

Ensure you have enough blankets, warm clothing, and emergency supplies in case of power outages.
Check for Pest Infestations:
Pests may seek shelter in your home during the colder months:
Look for signs of pests such as rodents or insects, and take preventive measures if needed, like sealing entry points.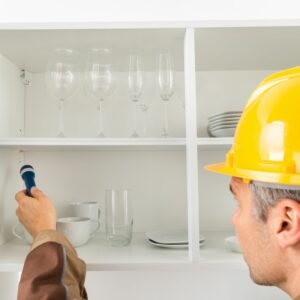 Now that you have this comprehensive fall home maintenance checklist in hand, it's time to roll up your sleeves and start preparing your home for the upcoming season. By tackling these tasks diligently, you'll ensure that your home remains comfortable, safe, and energy-efficient throughout the colder months.
However, if you've been dreaming about finding your perfect home this fall, there's no better time than now to turn that dream into a reality. Whether you're a first-time buyer, looking to upgrade, or considering an investment property, RE/MAX Advanced Realty is here to help you every step of the way.
Our experienced real estate professionals are ready to assist you in finding the home of your dreams in the vibrant fall real estate market. From cozy homes surrounded by colorful foliage to spacious family homes perfect for holiday gatherings, we have a wide range of properties to suit your needs.
Don't let this fall season pass by without taking action on your homeownership goals. Contact RE/MAX Advanced Realty today, and let's make your dream home a reality before winter arrives. Your dream home is just a phone call or click away!
Labor Day weekend is here and it's the perfect time to unwind and make the most of the extended break. If you're in Indiana and looking for fantastic activities that won't break the bank, you're in luck! From outdoor adventures to cultural experiences, Indiana offers a plethora of free and enjoyable activities for everyone. Get ready to have a blast without straining your wallet. Here's a list of fantastic ways to spend your Labor Day weekend in the Hoosier state.
Picnic in a Park:
There's something undeniably charming about packing a picnic basket and enjoying a meal in the great outdoors. With lush greenery and serene lakes, Indiana's parks provide the perfect backdrop. Whether you choose Brown County State Park for its picturesque beauty, Eagle Creek Park in Indianapolis for its tranquility, or Indiana Dunes State Park for its stunning shoreline, you're guaranteed a relaxing experience.
Hiking and Nature Walks:
For those who love exploring nature, Indiana boasts an array of hiking trails and nature walks. Admire the cascading waterfalls at Clifty Falls State Park, traverse the rugged terrain of  Turkey Run State Park, or immerse yourself in history at Fort Harrison State Park.
Visit Museums and Historic Sites:
Indiana's rich history and vibrant culture come to life through its museums and historic sites. For a modest fee, you can delve into the past at the Indiana State Museum, interact with history at Conner Prairie Interactive History Park, or immerse yourself in Native American art at the Eiteljorg Museum. Keep an eye out for free admission days! In the meantime, here are museums with year-round free entry:
Indiana War Memorial - The memorial complex houses the Indiana War Memorial Museum, showcasing artifacts, documents, and exhibits that honor Hoosier veterans and their contributions. 
Indiana State Police Museum -This museum offers a captivating journey through the history and evolution of law enforcement in Indiana. With engaging exhibits showcasing vintage uniforms, equipment, and patrol vehicles, the museum provides an insightful look into the agency's growth and challenges. Interactive displays provide a hands-on experience, while memorial walls honor officers who made the ultimate sacrifice. 
Attend Local Events and Festivals: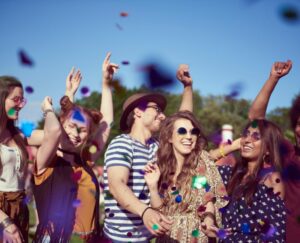 Communities across Indiana come alive during Labor Day weekend with vibrant events and festivals. From live music and local food to engaging activities, these festivals are an excellent way to experience the local culture.
Here are some events and festivals happening this Labor Day Weekend we recommend: 
Picnic Concert Series: Mallow Run Anniversary Festival - Mallow Run Winery
18th Anniversary Celebration: Music, Food, and Wine on the Lawn!  Three days of live music, delectable food trucks, and fine wines as Mallow Run Winery marks 18 wonderful years. Family-friendly, free admission. Come sip, savor, and enjoy the festivities!
Dodge Power Brokers NHRA U.S. Nationals
Rev up for the grand event racers and fans have been longing for all season - the Dodge Power Brokers NHRA U.S. Nationals. This colossal and historic racing extravaganza gathers NHRA drivers from all walks of life, competing at Lucas Oil Indianapolis Raceway Park for the revered NHRA U.S. Nationals Wally.
Labor Day Street Fair @ Jazz Kitchen
Get ready to immerse yourself in the vibrant atmosphere of the 23rd Annual Labor Day Street Fair, proudly presented by The Jazz Kitchen and Yats. This eagerly awaited event is set to captivate attendees with exceptional entertainment, commencing at 1:30 pm. Attendees can indulge their taste buds with a delectable array of food and beverages available for purchase from the renowned establishments, The Jazz Kitchen and Yats. The festivities unfold at the bustling intersection of 54th Street and College Avenue.
The music lineup for this year promises an unforgettable experience:
The Tucker Brothers: 1:30 pm - 3:00 pm

Pavel and Direct Contact: 3:30 pm - 5:00 pm

Rob Dixon and Friends: 5:30 pm - 7:00 pm
Marshall County Blueberry Festival
Indiana's largest 4-day festival, the Blueberry Festival, returns for its 57th year. Held at Centennial Park from August 31 to September 4, 2023, the festival boasts craft booths, entertainment stages, and an array of treats. Sports enthusiasts can enjoy softball, volleyball, and pickleball, while car lovers won't want to miss the Garden Tractor pull and Saturday's Car Show. It's a must-attend event for all ages!
Relax at Lakeside Beaches: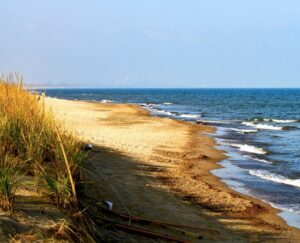 Take a leisurely stroll through farmers' markets, interact with local vendors, and perhaps discover a unique souvenir to bring home. Here are some farmers' markets worth visiting this Labor Day weekend for a taste of local flavors and artisanal products:
Labor Day weekend in Indiana doesn't have to be expensive to be enjoyable. From nature adventures to cultural escapades, the state offers an array of budget-friendly activities for individuals, couples, and families. So, gather your loved ones, plan your itinerary, and get ready for a remarkable and unforgettable Labor Day weekend in the Hoosier state!
As you explore the incredible attractions and experiences Indiana has to offer this Labor Day weekend, imagine the possibility of calling this vibrant state your home. If you're captivated by the charm of Indiana and its diverse offerings, why not consider exploring the real estate options available? Whether you're drawn to the cultural richness of the cities or the serene beauty of the countryside, Indiana has a place for you.
Reach out to RE/MAX Advanced Realty today! Our local real estate experts can guide you through the process of finding your dream home in Indiana. From cozy neighborhoods to spacious estates, Indiana's real estate market offers a range of possibilities to suit your preferences and needs. Make Indiana Your Home!
Are you on the hunt for the perfect home? We invite you to join us and visit our 7 Scheduled Open Houses this weekend, where you'll have the opportunity to explore a variety of stunning properties. Whether you're in search of a spacious family home, a cozy starter abode, or a brand-new move-in ready gem, we have something for everyone. Mark your calendars for an exciting weekend of open houses hosted by RE/MAX Advanced Realty Agents and get ready to find your dream home.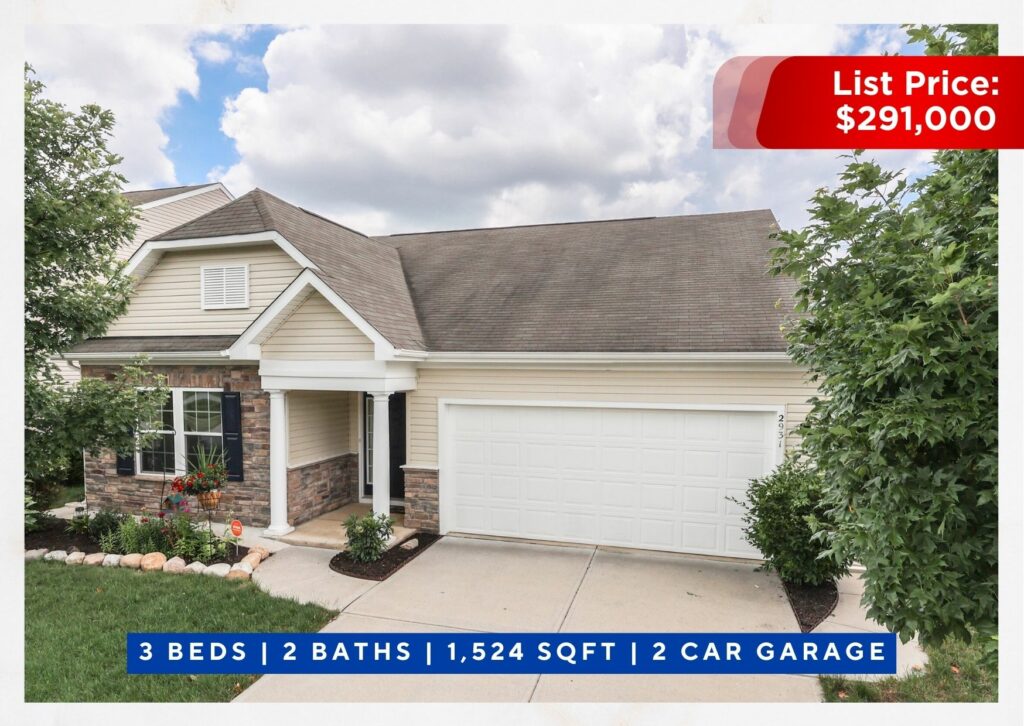 Step into opulence with our luxurious offering in Greenwood. This property stands as a testament to sophisticated living, boasting an upscale gourmet kitchen adorned with brand new granite countertops, stainless steel appliances, and an exquisite stone/ceramic backsplash. Elegance resonates in every corner, from the 7.5mm thick Luxury Vinyl Plank and Tile flooring to the meticulously painted walls. Every detail is meticulously designed, right down to the quartz vanity tops. The cultured stone exterior, alluring landscaping with a generous garden box, and a 6' cedar fence evoke a serene outdoor haven. Prepare to be captivated by this pristine dwelling, where meticulous updates intertwine with unrivaled luxury.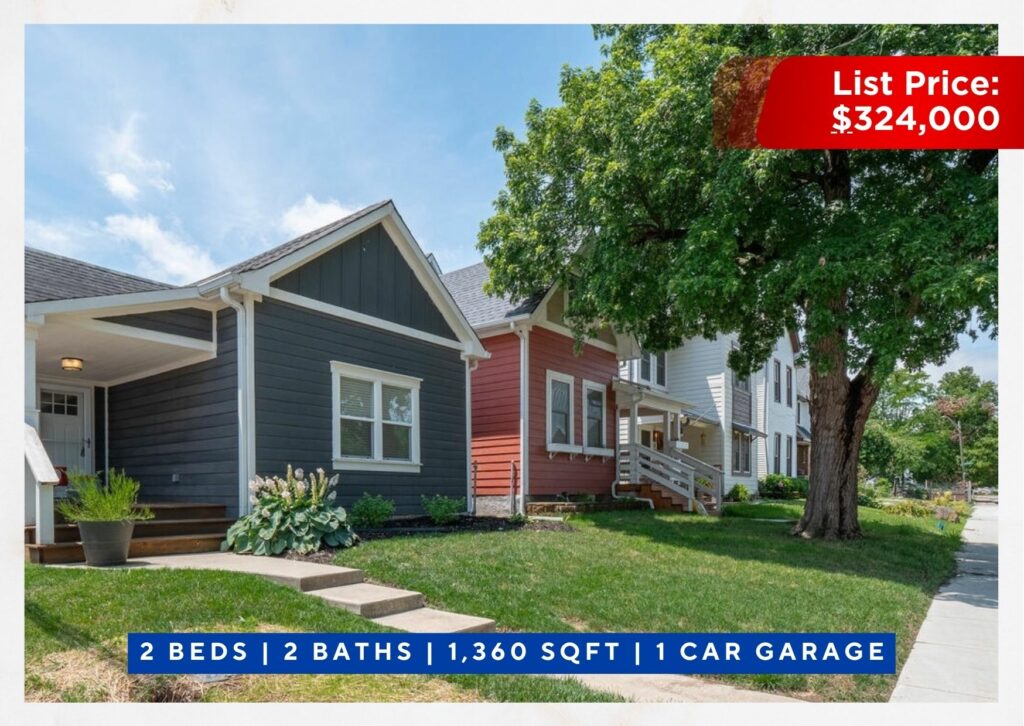 Embark on a journey to Bates Hendricks, where classic allure meets modern convenience. This home is a seamless blend of contemporary upgrades and timeless elegance. The open floor plan invites you to explore the harmonious living spaces, culminating in a stunning kitchen adorned with white Shaker soft-close cabinets, Quartz counters, and Stainless Steel appliances—a culinary haven for connoisseurs. The outdoor area is equally enchanting, boasting a private fenced yard, a deck area for relaxation, and custom lighting for enchanting evenings. Crafted with meticulous attention, this home is a canvas of comfort and sophistication.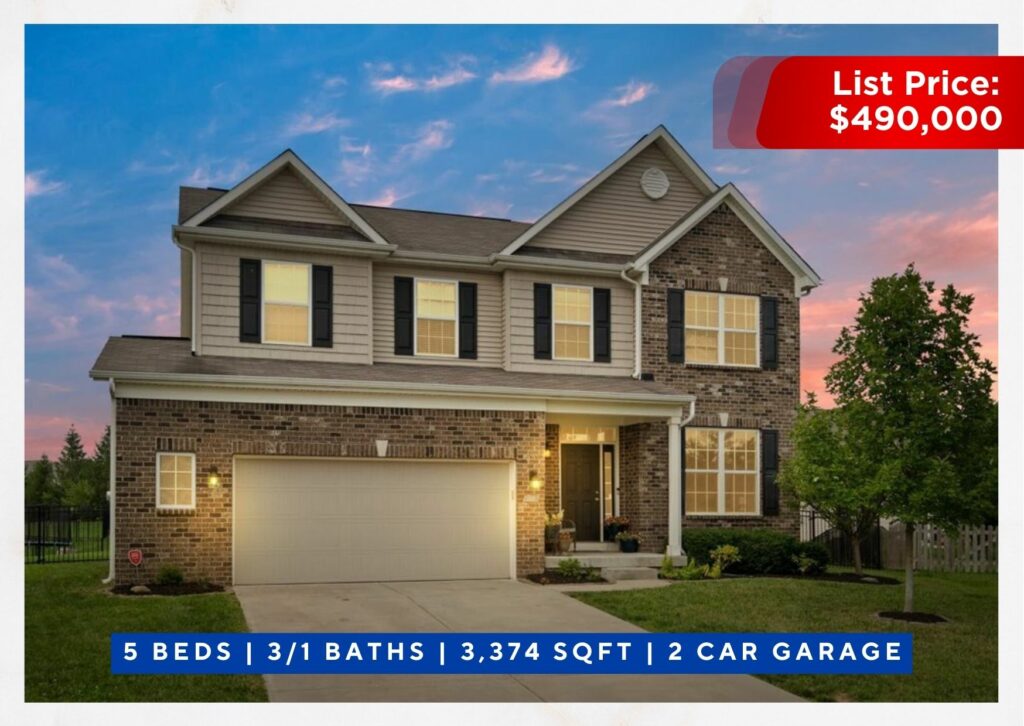 Discover this exquisite 5 BD, 3.5 BA home with office, offering an open-concept layout for spacious living. Nestled on a fully fenced lot, enjoy ample outdoor space and new flooring on the main floor that seamlessly blends aesthetics with durability. Don't miss the fully finished basement with storage galore and the convenience of walk-in closets. Situated on a peaceful cul-de-sac near community amenities and just minutes away from shopping and entertainment at Hamilton Town Center & Ruoff. Experience modern comfort at its finest!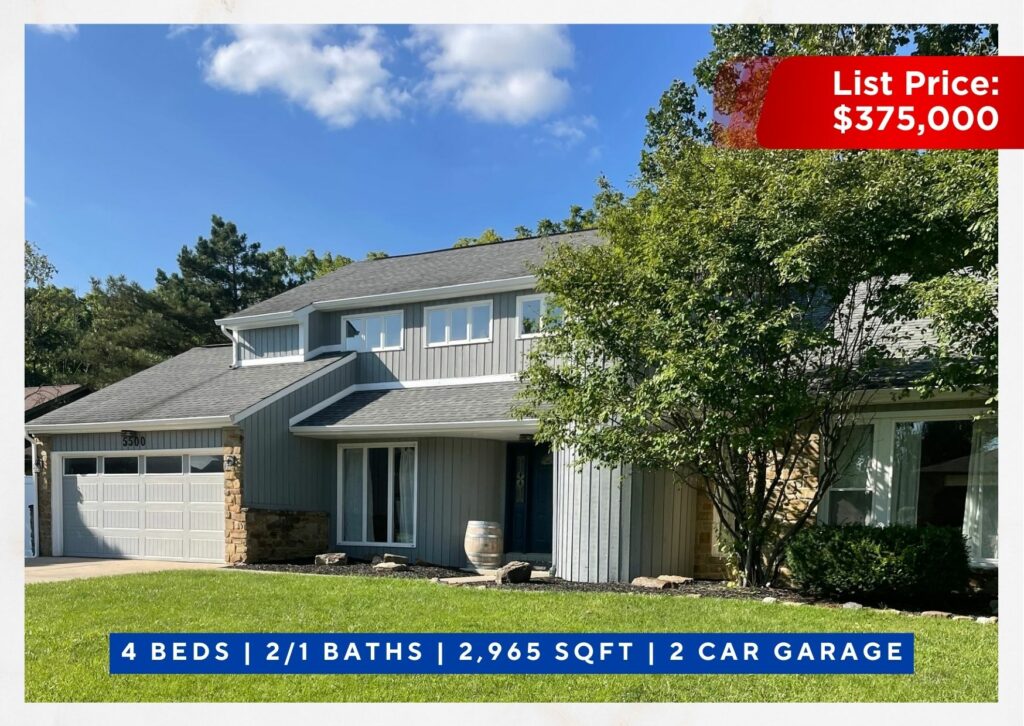 Discover the epitome of elegance in Avon—a captivating 4-bedroom, 2.5-bathroom haven with a finished basement. Enter the grandeur of the great room, crowned with a cathedral ceiling and a stone fireplace, emanating warmth and grandeur. The kitchen is a chef's delight, featuring pristine white cabinets, gleaming stainless steel appliances, and a modern update. Convenience reigns with the master bedroom on the main floor, while the loft and 3 bedrooms on the upper level provide abundant space. Nestled in a golf course community with a nearby playground, this dwelling offers indoor luxury and outdoor leisure. Bask in your private backyard with partial fencing and a spacious deck—your personal sanctuary.

Welcome to Regency Estates. Denali model designed to accommodate gatherings with a huge great room. Prepare to be captivated by the stunning kitchen, complete with a generous breakfast nook and a stylish island. The kitchen is a true delight, featuring dazzling quartz countertops, a tile backsplash, stainless steel appliances, a gas stove, and a generously sized walk-in pantry. On the main floor, you'll find a full bath for added convenience, as well as an office/bedroom. Four bedrooms await, including a fabulous master suite. The master bedroom is a sanctuary, featuring a beautiful ceramic-tiled shower, a relaxing garden tub, a double vanity, and a spacious walk-in closet. Additionally, a concrete path throughout the property ensures ease of movement.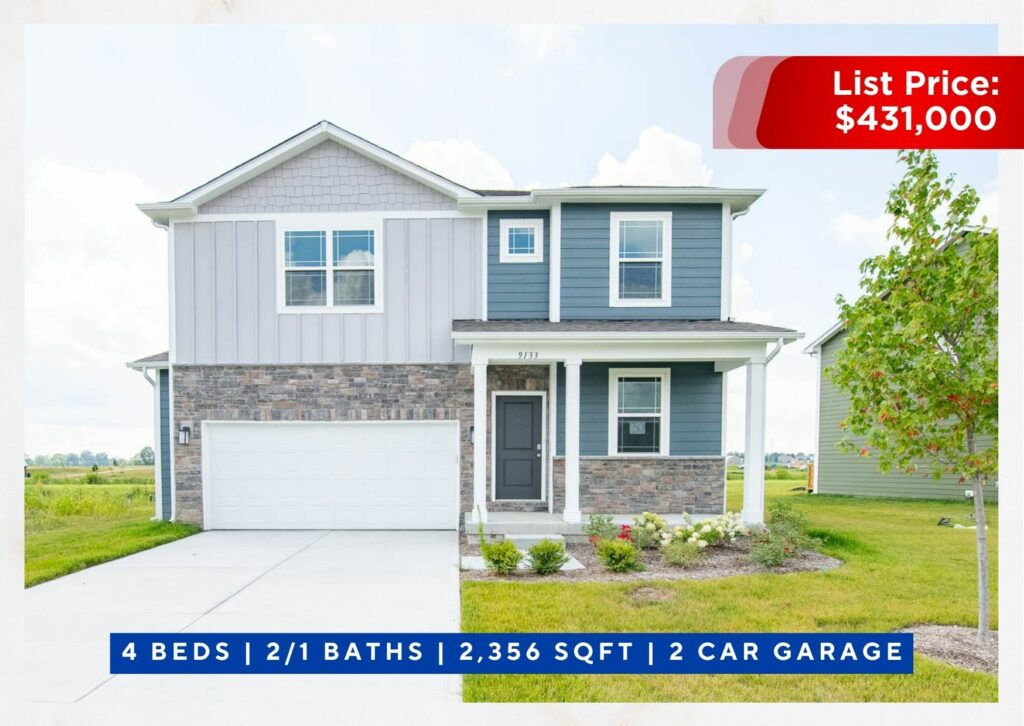 Take  a glimpse of your new beginning in The Fields at New Bethel. This expansive two-story residence boasts 4 generous bedrooms, 2.5 baths, and a full basement—crafted for spacious living. The open concept layout, adorned with solid surface flooring, creates an inviting ambiance for daily life and entertaining. The kitchen is a marvel, featuring elegant cabinetry, a roomy pantry, and an inviting built-in island. Upstairs, the oversized bedroom includes a deluxe bath with abundant storage in the walk-in closet. With an additional 3 bedrooms and a practical laundry room, this home caters to modern lifestyles. Embrace convenience and a sense of community in Southeast Indianapolis.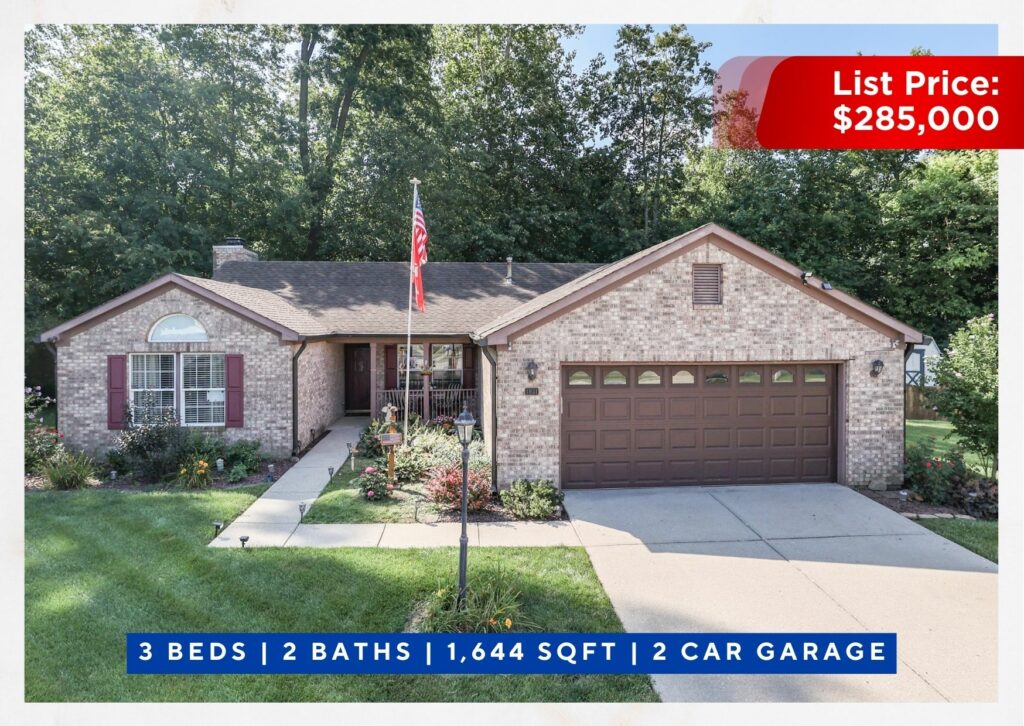 Date : August 27. 2023  | Sunday
Time: 1:00 pm - 4:00 pm
Hosted by: Russ Burk | 317-441-2527

Journey further into comfort and tranquility with an enchanting all-brick ranch nestled on a cul-de-sac in a picturesque Indianapolis setting. The spacious great room with a fireplace sets the tone for cozy gatherings, while the beautiful kitchen with stainless steel appliances and a breakfast bar offers a delightful space for culinary creations. The split-bedroom floor plan ensures privacy, with a spacious en-suite providing the perfect retreat. Step outside and be captivated by the beautifully landscaped yard, complete with a deck and a large paver patio surrounded by the serene backdrop of trees and nature. Embrace the tranquility with a firepit, walking paths, and a sense of serenity that's second to none. This meticulously maintained home is a true gem, embodying a lifestyle of comfort and natural beauty. Don't miss out—come experience it before it's gone.
Don't miss out on this exciting opportunity to explore these exceptional homes during the RE/MAX Advanced Realty Open House Weekend. Whether you're a first-time homebuyer, a growing family, or someone looking for a fresh start, these homes have something extraordinary to offer. We look forward to welcoming you to these open houses and helping you find the home of your dreams!
You're all set to go for your much-awaited vacation. 
Your OOTDs are ready. 
You've also made sure your pets are in good hands while you're gone and your plants are watered when you're away. 
In short, as John Denver sings: "all your bags are packed and ready to go".
Whether it's an overnight or a weekend getaway or a week-long or even much longer trip, it's important to take extra security measures to secure your home's safety.
Here are some tips to help keep your abode safe before going on a vacation:
Install or set timers on interior lights 
You have to give the impression that someone else is still in the house while you are away. Turning timers for interior lights, television, and radios will confuse burglars who always look for opportunities to initiate crimes. 
Test smoke alarms
Make sure that all alarms are working and the batteries are all replaced. It is also best to put a fire extinguisher on hand in case it will be needed.
Unplug appliances to avoid power surge
Anything can happen and you never know when a power surge may occur, so it's good to be prepared. Unplug all unnecessary non-timed appliances to make sure that they will not cause an accident while you're away. You can also consider plugging them safely into a surge protector. 
Alert the alarm company
Getting a security system makes your home much safer and gives you peace of mind. If you have an automatic security system, you may call the in-charge representative to let them know you'll be away from home for a couple of days. Make sure to check the alarm and that it is set properly when you leave. As everything can be accessible, consider using remote monitoring with your smartphone or putting a video doorbell for some added protection in your home.
Securing your valuables 
Before your getaway, make sure to put all your valuables like cash and jewelry in a safe place you only know. You can also put them in a home safe and avoid leaving them in plain sight where thieves and burglars can see them.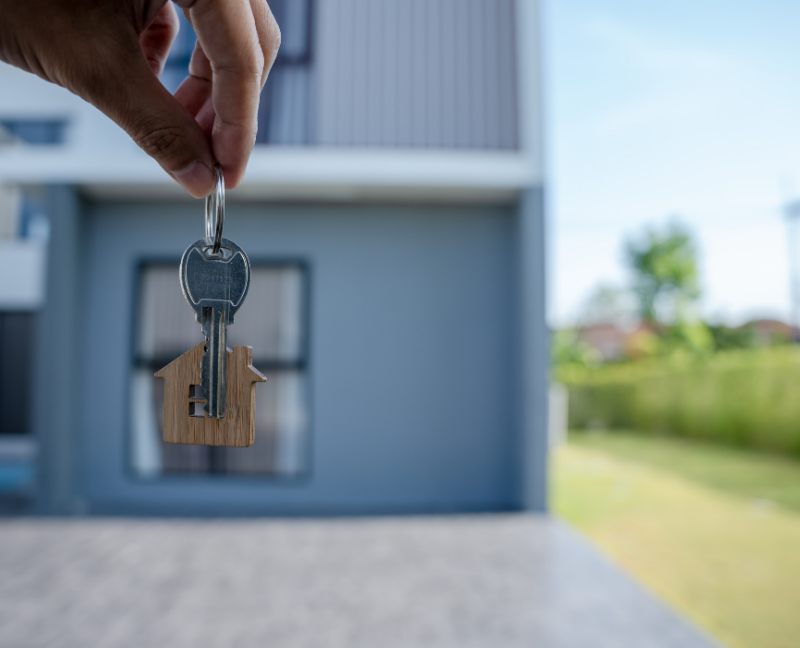 Set HVAC 
Program your thermostat to lower the heat or air conditioning usage to your desired temperature. Also, don't forget to change the battery. 
Protect your pipes
Check your pipes if they are insulated, especially in vulnerable areas like basements. Setting your thermostat can help if you're in a cold area. You may also ask a neighbor to turn on the faucet from time to time to avoid pipes freezing. 
Consider a house sitter 
You may also have the option to hire a house sitter that will look after your home while you're away. They can also take care of your plants to water them and your pets in case you can't bring them with you on your trip. 
If you're a social person, it's enticing to share your adventure and travel on social media. However, posting too much information can lead to thieves knowing you're not home. Hold back from publicly sharing any details of your trip until you have returned. Showing and sharing your vacation plans or location out loud leaves an opening for potential burglars. 
If you like to post, remove geotags from your socials by turning them off on your phone's settings. Switch your account exclusively to your friends only and not to the public.
Lock up doors, windows, and garage 
Take time to install the best door lock that will provide the first line of protection for your home and secure other openings to prevent burglars from unlocking the door. Before you leave your home, see that all windows and doors are locked. In the garage area, disconnect the electric opener (for the automatic garage door) and place securely a padlock on the garage door track. 
Garden care
To avoid any burglars from thinking there is no one in your home, think about having a local service to arrange lawn care while you're away. While you're at it, you may also ask to trim some of the branches. Don't give them a chance to access your home by climbing onto the tree branches so you might want to consider pruning them.
Enlist your neighbor
If you have a trusted neighbor, tell them that you'll be away for a vacation and ask them to keep an eye on your home. You may ask them to have their vehicle parked in your garage to keep burglars at bay. You may also request them to call the authorities if anything happens while you're away. 
Stop delivery of newspapers and mail
Request to have your mail deliveries on hold while you're away. If you can't make it, you can ask a neighbor to collect your mail and newspaper delivery on your behalf so it won't look like nobody's around your home. Again, you don't want burglars to easily have a clue about your absence by the mounting newspapers on your doorstep.
Secure the outside of your home
Keep your grills and trash cans inside to avoid any accidents and damage to your home and property in case there would be severe weather like hurricanes and tornadoes. 
Remove your spare keys
Don't leave any spare keys behind when you take your vacation. It is best to leave it on your neighbor instead of hiding it in places you think are safe. Burglars nowadays will take it to the extent of searching long and hard until they find the keys and easily enter your home. 
Check outside lighting
Invest in lights by buying and utilizing motion detector lights. Install and set timers for outdoor security lights. Keeping your lights turned on at night will make your home easily seen by burglars breaking into your home.
Additional tip: You may also consider purchasing the appropriate amount of home insurance for your needs, such as the renter's home insurance.
To make the most of your well-earned vacation, make sure you have enough systems in place to care for your home while you are gone. Whether you simply ask a neighbor to come in and pick up your newspaper or consider a home sitter, a few easy steps before you leave can allow you to return home the way you want it to be.
Owning a house is one of the largest single investments you'll ever make, and it usually starts with house hunting. 
When you buy real estate in Indiana, you'll spend a lot of time, energy, and effort searching for the home you like. So before you close any deal, write down a list of potential questions and ask the owner before you decide to buy the property. 
It's always a good idea to do detective work and get some answers. It may not only give you peace of mind, but it will also save you from any financial problems in the future.
Why Are You Moving?
There are many reasons people move, such as the desire to move to a larger house, job relocation, moving to another state or country, life events, marriage, etc. 
It's good to ask this question though sometimes they won't give you an honest answer, but it can still be helpful when you make room for negotiation.
What Are The Average Monthly Expenses?
Ask a utility to run a check and maintenance cost of the house. It's hard to know the true cost of a house, so getting help from a knowledgeable person can save you every month.
By knowing your average water, electricity, and gas bill, you can determine if you can afford the house plus its monthly bills.
Length Of Time It Was On The Market
You can directly ask the seller or the real estate agent how long the house has been on the market. One of the reasons a house ends up staying on the market for long is because of its high price or because there's something wrong with the property. The more the house spends on the market the more power you have to make room for negotiation to lower its asking price.
What Is Included In The Sale?
You can directly ask the seller or the real estate agent how long the house has been on the market. 
One of the reasons a house ends up staying on the market longer than usual is either it's too expensive or the property itself. The more the house spends on the market, the more power you have to make room for negotiation to lower its asking price.
Previous Selling Prices
If you know the previous price of the house, you can easily notice if the price has been marked up or down. Knowing how much the seller paid can help you make room for any negotiation. If they were able to buy it at a much lower price, you can lower your offer but make sure that it is still at a reasonable price. In case they didn't tell you the price, you can always check the public records where the house is located.
Neighbors
The seller will not say it outright if there is anything wrong about the neighborhood, since this might affect the buyer's decision.
You can survey the area and try to understand your potential neighborhood. Observing is one of the keys to determining whether it's the right home for you or not.
Find out if it has a strong sense of community or there are any problems before going through the purchase. Visiting the local police department can also help you determine if it is a safe environment to live in or not.
Past Problem Conditions
Home sellers must tell you about any current problems with the house though it may vary from state to state. However, home sellers are not legally required to disclose issues if there are any.
You can enquire whether the seller has had to repair any issues with the house and how well the remedy worked, particularly if it is a former issue that has been resolved. 
It also helps to know who completed the work in case a similar issue arises.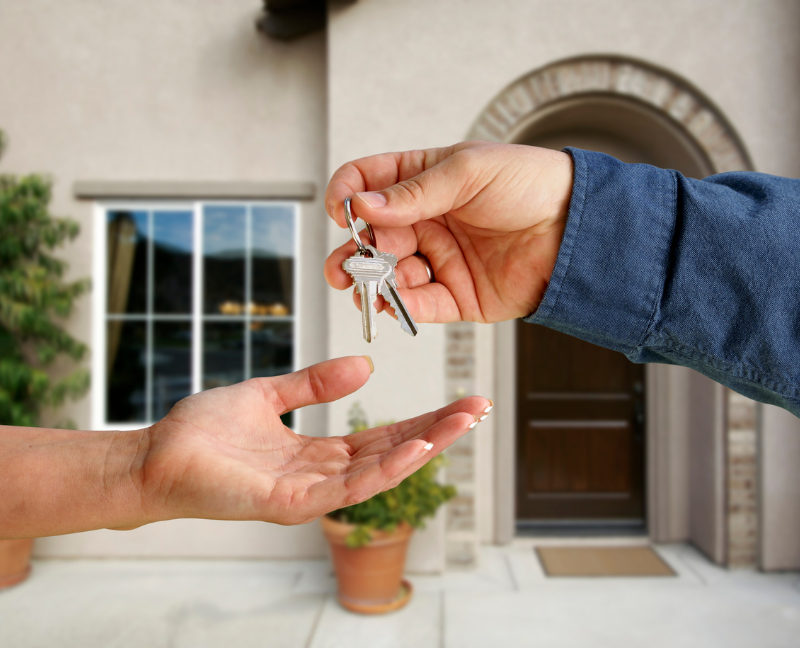 How Long Have You Lived In The Home?
This is one of the most common questions to ask, but it is similar to asking why they are moving. Find out how long they have lived in the house and try to have them open up or share a memory of them in the house and observe if there are any signs that the house might not serve your needs.
Age Of Components
How the house looks is important and so is asking about the age and condition of the house as this can help you prepare for any impending expenses.
Knowing how updated it is is necessary to repair or replace important components like the water tank, A/C unit, heating system, septic systems, plumbing, electrical systems, and appliances.
Major Repairs or Renovations
It is important to ask if there are any major repairs or renovations made to the house and who did it. You may also ask if it is DIY, with a licensed contractor or professional. Bad renovation, plumbing, or construction can end up wasting more money and exhaust you financially.
What Do You Love About The House?
You don't always have to dig for dirt. You can ask questions with a personal touch. Try to find out what the seller loves about their home. It can get the seller to talk about their home and the neighborhood. They can also talk about a specific place in the house or a favorite spot. You might learn something positive that you might not have known.
Conclusion
Getting a list of questions to ask before buying a house is important. You want to make sure about its history before anything else. Talking to the seller can help you learn exactly what you could be getting into. 
Besides, having a real estate agent can also give you a handful of information in case you didn't find the answers you want to know in the seller. Knowing the house will give you peace of mind and save you the hassle.
The real estate market in Bartholomew, Boone, Brown, Decatur, Hamilton, Hancock, Hendricks, Jackson, Jennings, Johnson, Madison, Marion, Montgomery, Morgan, Putnam, and Shelby counties continue to offer promising opportunities for buyers and sellers across all property types, including Single Family, Condominium, Townhouse, Farm, Residential, and Manufactured Homes. The data provided in this review has been sourced from the MIBOR Listing Cooperative, and while there are some fluctuations, there are still positive aspects to consider.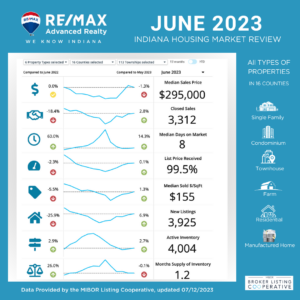 The median sales price for homes in these counties is $295,000, showing stability with a 0.0% increase compared to June 2022. Although there has been a slight decrease of 1.3% compared to May 2023, it's important to note that the market remains strong and attractive.

The number of closed sales in June 2023 reached 3,312, which is a 2.8% increase compared to the previous month of May 2023. Although there has been an 18.4% decrease compared to June 2022, the recent upward trend indicates a positive shift in the market.

The median days on market stands at 8, showing a 60.0% increase compared to June 2022 and a 14.3% increase compared to May 2023. This increase suggests a higher level of buyer interest, leading to a slightly longer time on the market. It's important to highlight that the market is still characterized by relatively fast transactions.

The list price received remains strong at 99.5%, with a minor decrease of 2.3% compared to June 2022. However, there has been a 0.1% increase compared to May 2023, indicating that sellers are still able to achieve satisfactory results in terms of their asking price.

The median sold price per square foot is $155, showing a 5.5% decrease compared to June 2022. Nevertheless, there has been a 1.3% increase compared to May 2023, indicating a potential rebound in property values.

New listings reached 3,925, representing a 6.9% increase compared to May 2023. Despite a 25.9% decrease compared to June 2022, the recent growth in new listings provides more options for buyers, enhancing their opportunities in the market.

The active inventory currently stands at 4,004, showing a 2.7% increase compared to May 2023 and a 2.9% increase compared to June 2022. This increase in inventory offers buyers a wider selection of properties to choose from.

Finally, the months supply of inventory at 1.2  experienced a 26.0% increase compared to June 2023, indicating a slightly more balanced market. Compared to May 2023, there has been a minor decrease of 0.1%, suggesting that the market is maintaining stability.
Overall, despite some fluctuations, the real estate market in these counties continues to present opportunities for buyers and sellers alike. The median sales price, though stable, reflects the attractiveness of the region, and the increase in closed sales and new listings indicate a healthy level of activity. With a relatively fast median days on market, sellers can expect reasonable offers, and buyers have a growing inventory to choose from. These factors combine to make it an opportune time to engage in real estate transactions in these counties.
For all your real estate needs in these vibrant markets, we encourage you to reach out to RE/MAX Advanced Realty. Our experienced agents are ready to assist you in navigating the current market trends, finding your dream property, or selling your existing home for the best possible price. Contact RE/MAX Advanced Realty today and let us help you make your real estate aspirations a reality.
In the first part, we learned some facts about Indiana, the average salary of those who live there, the status of the job market, its population, the cost of living, weather, and climate, and many more.
Now, we'll dive deeper into the Hoosier State and discover more things about this beautiful place.
Crime Rate In Indiana
The rate of violent crime in Indiana is slightly higher than the national average. According to recent data, there were approximately 400 violent crimes and approximately 2,600 property offenses per 100,000 persons. Indiana's violent crime rate is thus around 9% higher than the national average. Property crime was close to the national average.
On the other hand, the place offers some fantastic cities and villages. The Northwest Indiana region is home to nine of Indiana's top twenty safest cities. St. John was ranked first, Crown Point was ranked fourth, and Valparaiso was ranked fifteenth.
Transportation
Because five distinct interstates intersect in Indianapolis, IN, Indiana is known as the "Crossroads of America." Indiana is the entryway from the east coast to the west coast. The rail system in the United States is vital to the highways that transport products. Indiana is home to several major freight rail lines. Indiana is home to rail intermodal, the Ohio River canal, and the Port of Indiana on Lake Michigan.
Indiana is home to five transcontinental routes.

Indiana has more than 3,700 miles of railways.

There are 11 main airports in Indiana.
Real Estate In Indiana
You will need a place to reside whether you are relocating to Indiana or visiting for another purpose. Indiana real estate, homes, and houses will continue to be in high demand in 2020. In 2019, the number of homes for sale in Indiana climbed by 3% to slightly more than 4%. Several factors are contributing to Indiana real estate's high demand and value growth.
Real estate values in Indiana rise as a result of both business and inhabitants. Indiana is a low-regulation, business-friendly state. The minimum wage is cheap, schools are excellent, and public services are extensive. Furthermore, tax rates in neighboring Illinois are encouraging more firms and residents to relocate to Indiana. Finally, Indiana has shown to be a secure, thriving state that is also a fantastic location to live.
Northwest Indiana real estate had some of the most significant improvements in 2019. Last year, the number of homes for sale in Northwest Indiana climbed by 5.6%. We anticipate that this tendency will continue. The most significant contributing elements are the increased number of residents from Illinois and the recent economic expansion in Northwest Indiana.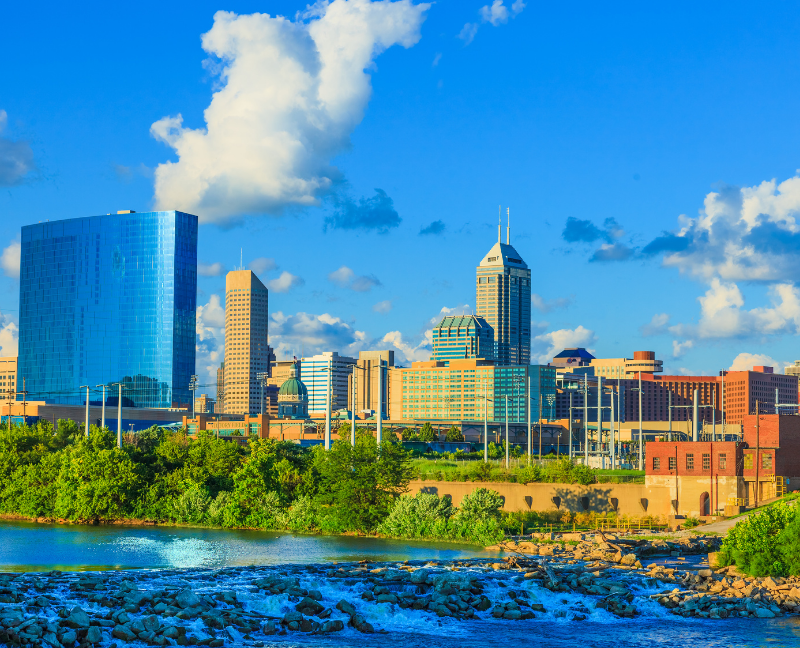 Nature
 One advantage of residing in Indiana is the state's dedication to environmental preservation. Indiana is home to some spectacular natural places.
The state's northern boundary is with Lake Michigan. You can visit the Indiana Dunes State Park and the Indiana Dunes National Park while you're here. You may relax on the beach, climb the sand dunes, or go for a trek through the woodlands along the lakefront.
Hoosier National Forest is located in the state's south. The United States manages this forest preserve. The Forest Service. The Hoosier National Forest encompasses about 200,000 acres of property in southern Indiana's Appalachian foothills.
In Indiana, there are 24 state parks.

Indiana is home to three national parks.
Culture Of Indiana
Indiana's culture is diverse. There are several densely populated places in Indiana. Among these are Ft. Wayne, South Bend, Indianapolis, and the Northwest Indiana region all within commuting distance of Chicago, the third-largest city in the United States. These regions have the commerce, entertainment, and cuisine that you would expect to find in a bustling metropolis.
There are several smaller cities in between, separated by extensive farmland. This provides tremendous balance for Indiana people. Those who reside in the city might live a more urban lifestyle. People who live in the country might enjoy a calmer, more communal existence.
Indiana has a little bit of everything, so there is something for everyone. When you need a change of scenery, get in your car and drive down the highway (Indiana is known as America's Crossroads) to meet a new portion of this great state.
Reasons Why People Love Indiana
Here are some things to consider before relocating to Indiana.
Low taxes and living expenses

Strong public and private higher education systems

Local economies that are stable with pockets of fast growth and gentrification

Housing expenses are low, but values are steadily rising, and in some locations, quickly rising values continue.

Indiana is a lovely, free-spirited location to live, with vibrant communities brimming with Midwestern charm.
Indiana Real Estate Agent
Whether you're planning to move to Indiana or want to learn more about real estate in this area, our team at RE/MAX Advanced Realty - Indy Home Pros is more than willing to help.
With 8 years of average experience as a real estate agent, we ensure to make your relocation plan seamless and hassle-free.
Contact us by clicking this link!
It is simply a matter of being familiar with Indiana to determine whether or not it is a good decision to relocate there. This guide will help you get familiar with the state and determine whether Indiana is an appropriate area for you to reside. 
Indiana Facts You Should Know
The taxes are one of the reasons people choose to reside in Indiana. It has a 3.23% flat state income tax.

Capital gains

, whether long or short-term, are taxed at the same rate.

Indiana's typical household income is $56,303.

In Indiana, the average travel time is less than 24 minutes.

Over 88% of residents in Indiana have a high school education, and 27% have a bachelor's degree.

The median price of an owner-occupied home is $141,700.

Another factor that makes Indiana a desirable place to live is that the state constitution limits your primary residence's property tax to 1% of its assessed value. Indiana also has some wonderful property tax exemptions to help you save even more money.
Income In Indiana
Before you move to Indiana, you probably want to know how much money people in Indiana make. According to the latest recent data, the average wage in Indiana is over $47,000, and the average household income is around $55,000. Personal per capita income in Northwest Indiana is somewhat less than $46,000. The average salary in Indiana's capital, Indianapolis, is over $52,000, 10% higher than the state average. Learn more about the typical Indiana income across the state.
Job Market
The state's job market provides an answer to the issue of why relocate to Indiana. Indiana is home to small, medium, and large firms. Indiana's key sectors include agriculture, energy, manufacturing, steel production, healthcare, and professional services. Manufacturing employs around 17% of all nonfarm employment. Major corporations are concentrated in medium and bigger cities. One of the advantages of relocating to Indiana is that the state has a lower unemployment rate than the national average.
Certain industries in Indiana are heavily concentrated in tiny geographic areas, which is a distinctive feature of the state's economy. Northwest Indiana, for example, is home to some of the major steel mills in the United States. More than half of the blast furnace capacity in the United States is located in Lake and Porter Counties.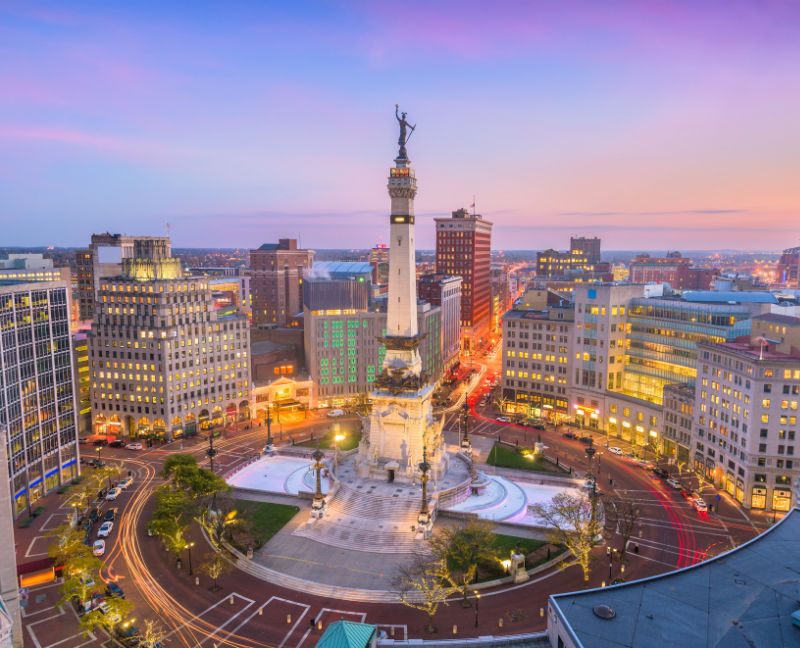 Another example is that 80% of recreational vehicles (RVs) manufactured in the United States are constructed in Northeastern Indiana, in places like Goshen. Elkhart County is known as the "RV Capital of the World," whereas Warsaw, Indiana is known as the "Orthopedic Capital of the World" due to the presence of three large orthopedic medical equipment firms.
Here are some more details on the Indiana job market:
Indiana produces 27% of all steel produced in the United States.

Indiana is home to five Fortune 500 firms.

Several pharmaceutical and medical device businesses, notably Eli Lilly and Zimmer Biomet, are headquartered in Indiana.
Indiana's Population
The population of Indiana is increasing. Indiana now has a population of approximately 6.79 million people. This is a 300,000 increase over 2010. More information about Indiana's current population can be found here. In addition, the Indiana University Kelly School of Business publication INContext offers an excellent chapter on Indiana's predicted population growth until 2050.
The Hoosier State is home to 6.79 million inhabitants, according to the 2020 Census.

Indiana's population increased by 4.7% between 2010 and 2020.

Indiana has about 2.5 million households, with an average household size of 2.5 persons.
Indiana's Cost of Living
Many surveys have placed Indiana as one of the most affordable states to live in. Yes, our wages may be slightly lower than those in other states. We make up for it, however, with a low state-income tax rate, constitutionally protected property tax caps, near access to important resources, and a competitive business environment that welcomes new companies.
According to U.S. News & World Reports, Indiana is the third cheapest state. If you search the internet for this question, you will most likely discover multiple studies ranking Indiana as one of the top ten most affordable states. 
Indiana's Climate And Weather
The four seasons have been experienced in every section of the state. Winter, on the other hand, is a wildcard. Temperatures in the spring and fall are mild, with highs in the 50s and 60s and lows in the 40s. Summer brings days in the 70s, 90s, and even over 100 degrees. Winter is a wild card.
Indiana is a large state that stretches for 250 miles from north to south. The southern portion experiences snow and cold in the winter, as does the center section, albeit slightly more and slightly colder. Northern Indiana, on the other hand, has all the hallmarks of a hard midwestern winter. 
Lows in the teens and single digits are common in Northern Indiana throughout the winter. Temperatures below zero are not uncommon. Northern Indiana has the most snow, and there is a phenomenon known as lake effect snow in a few select areas. 
In essence, snow bands form off of a huge body of water, like Lake Michigan, and, if conditions are ideal, these bands will dump snow on a region. I have always resided in northern Indiana, which is one of the select locations where this occurs occasionally each year. Sincerely, there was a time when my neighborhood had a 20-inch snowfall in a single day. They had five inches at two miles. They had none five kilometers distant. 
Due to its proximity to the Great Lakes, Indiana experiences lake-effect snow in several areas.

In Indiana, the high temperature in January is 36 degrees.

Winter lows are often in the teens, but the state's northern region can occasionally see single-digit and below-zero temperatures.

On average, summertime highs in the state range from the mid-to upper-80s.

Indiana receives snowfall. The state's southern regions receive roughly 20 inches of snow annually, while central Indiana receives closer to 25 inches. The average annual snowfall in some northern Indiana communities is over 60 inches due to lake effect snow storms, however many only receive 40 inches of snow.
Education In Indiana
The educational system of Indiana is strong. In Indiana, approximately 87% of students complete high school. Of those, over 63% enroll in colleges right away. You may get more information on Indiana's schools here. The Indiana Department of Education works hard to make information about the state's public schools readily available. 
Indiana's colleges and universities are among the best in the country. In the past, Purdue University excelled in the sciences and math, producing generations of graduates. Indiana University, Notre Dame, Ball State, Butler, and Valparaiso University are a few of the state's other prestigious universities. 
These are just some of the basic things about Indiana. In our next post, we'll learn more about this beautiful Hoosier State.
Father's Day is a special occasion to honor and celebrate the incredible dads in our lives. If you're in Indianapolis or planning to visit the city, there are plenty of exciting activities to make this Father's Day memorable. Whether your father is a sports enthusiast, outdoor adventurer, history buff, DIY enthusiast, or nature lover, Indy has something for everyone. As Indy's Leading Brokerage, RE/MAX Advanced Realty knows Indiana and what our beautiful state has to offer. Join us as we explore a range of fun-filled experiences to celebrate Father's Day in Indy.
Sports Enthusiasts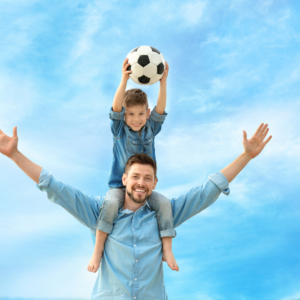 For Sports Loving Dads, Indianapolis is a city that offers a range of exciting destinations and activities. From iconic stadiums to interactive museums and thrilling sporting events, Indy has something to satisfy every sports enthusiast. 
Here are some of the top places to consider visiting in Indianapolis for dads who love sports.
Start your sports adventure by visiting Lucas Oil Stadium, the home of the Indianapolis Colts (NFL). Take a guided tour of the stadium to explore behind-the-scenes areas, including the playing field, locker rooms, and press box. It's a fantastic opportunity to experience the energy of an NFL stadium and learn more about the team's history
If your dad is a basketball enthusiast, make sure to catch a game or attend a basketball event at Bankers Life Fieldhouse. This is the home of the Indiana Pacers (NBA) and the Indiana Fever (WNBA). Enjoy the thrilling atmosphere of professional basketball and cheer for the home team as they showcase their skills.
For dads with a passion for motorsports, a visit to the Indianapolis Motor Speedway is a must. Explore the Speedway's Hall of Fame Museum, which houses an extensive collection of race cars and memorabilia from the Indy 500 and other prestigious races. Don't forget to take a tour of the iconic track itself to experience the thrill of this legendary venue.
Baseball-loving dads will appreciate a trip to Victory Field, home of the Indianapolis Indians (Triple-A baseball). Enjoy a day at the ballpark, savoring classic ballpark snacks while watching the game. The stadium offers an excellent view of the downtown skyline, adding to the overall ambiance.
Indianapolis Motor Speedway Museum
Within the Indianapolis Motor Speedway complex, the Indianapolis Motor Speedway Museum is a treasure trove for sports-loving dads. Explore exhibits dedicated to the history of auto racing, featuring iconic race cars, artifacts, and interactive displays. It's a chance to dive deep into the sport and learn about its evolution.
Outdoor Adventurers
For fathers who are passionate about the great outdoors, Indianapolis offers a treasure trove of exciting activities and breathtaking landscapes to explore. Whether dad is an avid hiker, a thrill-seeking kayaker, or simply love to soak in the beauty of nature, Indy has something for every outdoor enthusi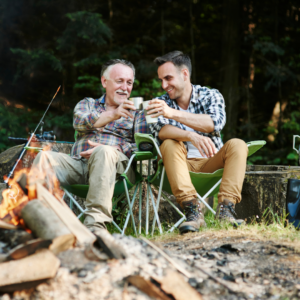 ast dad. 
Hiking at Turkey Run State Park
Embark on an adventure amidst sandstone gorges, waterfalls, and picturesque trails at Turkey Run State Park. Discover hidden caves, cross wooden footbridges, and soak in the stunning natural scenery. Pack a picnic and enjoy a scenic lunch surrounded by breathtaking views.
Canoeing or Kayaking on the Tippecanoe River
Experience the thrill of paddling through Indiana's scenic waterways on the Tippecanoe River. Enjoy the tranquility as you navigate gentle currents, observe the vibrant flora and fauna, and create lasting memories with your family.
Outdoor Escapade at Go Ape
Treat  dad to an unparalleled outdoor experience at Go Ape. Get ready to embark on an exhilarating journey through the treetops, conquering daring obstacles and exploring the forest from a whole new perspective. With multiple ziplines offering breathtaking heights, this adventure is sure to make your dad's heart race with excitement.
Go Biking on the Monon Trail
Rent bicycles and explore the scenic 26-mile Monon Trail that winds through Indianapolis. Pedal through vibrant neighborhoods, lush parks, and charming towns, witnessing the city's rich history and stunning natural landscapes. There are plenty of rest stops, eateries, and attractions along the way.
History Buffs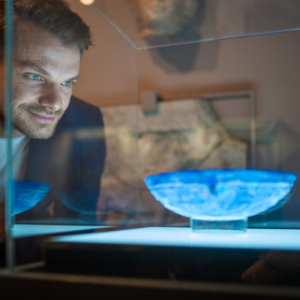 For history-loving fathers, Indy offers a treasure trove of captivating historical sites and attractions. From immersive exhibits to magnificent landmarks, this vibrant city in Indiana provides endless opportunities to step back in time and explore the rich tapestry of its past. 
Here are some of the must-visit destinations in Indy that are sure to ignite the passion for history in any dad's heart.
Visit Conner Prairie
Nestled on 1,000 acres of picturesque land, Conner Prairie is a living history museum that allows visitors to experience Indiana's history firsthand. Take a stroll through the 19th-century Prairie Town, interact with costumed interpreters, and engage in hands-on activities that bring the past to life. Whether it's milking a cow, cooking over an open fire, or exploring a Native American wigwam, Conner Prairie offers an immersive experience that both dads and their families will cherish.
Tour the Indiana State Capitol
A visit to the Indiana State Capitol is a must for any history enthusiast. Marvel at the grandeur of this iconic building, designed in the neoclassical style, as you explore its halls and chambers. Guided tours provide fascinating insights into Indiana's government and the state's rich political history. Admire the beautiful artwork, intricate architecture, and learn about the significant events that have shaped the Hoosier State.
Visit the Indiana Military Museum
For dads with an interest in military history, the Indiana Military Museum is a true gem. This expansive museum houses an extensive collection of military artifacts spanning different time periods, from the American Revolution to the present day. Explore exhibits featuring tanks, aircraft, uniforms, weapons, and more, while gaining a deeper appreciation for the sacrifices made by our brave servicemen and women.
Explore the Indiana Historical Society
The Indiana Historical Society offers a captivating journey through Indiana's past. With engaging exhibits, interactive displays, and thought-provoking programs, this institution brings history to life in a dynamic way. Discover Indiana's diverse cultural heritage, delve into the stories of notable Hoosiers, and gain insights into the state's pivotal role in American history. The Indiana Historical Society regularly hosts special events and lectures, providing even more opportunities for dads to deepen their historical knowledge.
Discover Historic New Harmony
Step into a different world as you visit Historic New Harmony, a charming town known for its utopian experiments and intellectual heritage. Explore the meticulously preserved buildings, stroll along the picturesque streets, and immerse yourself in the unique atmosphere that inspired great minds such as Robert Owen and Thomas Say. Historic New Harmony offers a tranquil escape and a chance to reflect on the fascinating social experiments and intellectual pursuits that unfolded here.
DIY Enthusiasts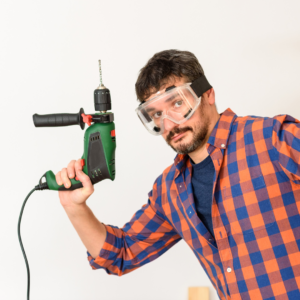 If your dad loves to roll up his sleeves and get creative with DIY projects, Indianapolis offers a plethora of opportunities for him to indulge in his passion. From unique materials to hands-on classes and inspiring workshops, Indy is a DIY enthusiast's haven.
Visit the Indianapolis ReStore
The Indianapolis ReStore is a treasure trove for any DIY enthusiast. It's a nonprofit home improvement store that sells donated new and gently used items at a fraction of their original cost. From furniture to appliances, building materials to home décor, your dad will find a wide range of unique materials and items that can fuel his creativity. Explore the store together, and you might stumble upon some hidden gems for your next DIY project.
Explore the Indianapolis Art Center
For dads who enjoy working with their hands and exploring different artistic mediums, the Indianapolis Art Center is a must-visit destination. This vibrant art center offers a variety of hands-on classes, including woodworking, pottery, metalworking, and more. Sign up for a class together and let your dad unleash his creativity under the guidance of experienced instructors. It's a wonderful opportunity to learn new skills and bond over a shared passion.
Nature Lovers 
If your dad is a nature lover, Indy  is the perfect destination to spend quality time together amidst breathtaking natural landscapes and serene surroundings.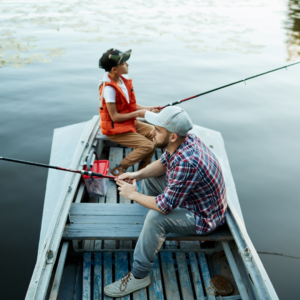 Visit the Indianapolis Zoo
The Indianapolis Zoo is a haven for animal enthusiasts and nature lovers alike. Take your dad on a captivating journey through diverse animal exhibits that showcase creatures from around the world. From majestic elephants and playful dolphins to colorful birds and endangered species, the zoo offers a unique opportunity to connect with wildlife. Additionally, don't miss the chance to explore the tranquil White River Gardens, where beautifully landscaped gardens and serene water features create a peaceful atmosphere.
Stroll through the White River State Park
For a leisurely escape into nature, head to the White River State Park. This expansive urban park offers a variety of trails that wind along the banks of the White River, providing stunning views of the water and surrounding greenery. Take a leisurely stroll with your dad, breathe in the fresh air, and enjoy the peaceful ambiance. The park also hosts concerts, festivals, and outdoor activities throughout the year, adding to the vibrant atmosphere.
Explore Holliday Park
Holliday Park is a hidden gem nestled in the heart of Indianapolis. Treat your dad to a memorable hiking experience as you meander through picturesque woodlands, marvel at towering trees, and discover beautiful wildflowers. The park is home to an impressive nature center that offers educational exhibits and programs. Spend some time connecting with nature and wildlife, and perhaps even catch a glimpse of local wildlife such as deer or owls. The serene surroundings will provide a perfect backdrop for father-child conversations.
Discover Fort Harrison State Park
For dads who enjoy outdoor adventures, Fort Harrison State Park is a must-visit destination. This expansive park offers a range of recreational activities, including hiking, fishing, biking, and golfing. Explore the scenic trails that wind through forests, fields, and along the banks of Fall Creek. Engage in friendly competition with your dad on the golf course or cast a line and try your luck at fishing. The park's natural beauty and tranquil atmosphere make it an ideal place for bonding and creating lasting memories.
And there you have it, folks! We've reached the end of our exhilarating blog journey exploring the myriad ways to celebrate Father's Day in Indiana. It's time to put those creative gears in motion and plan an extraordinary day for your dad. Whether it's an adrenaline-pumping adventure, a relaxing outdoor escapade, or a thrilling sports experience, Indiana has got you covered!
But wait, we've got a little something extra to spice things up! If you've been daydreaming about finding the perfect home for your family, why not turn this Father's Day celebration into a chance to explore real estate opportunities in Indiana? And who better to assist you in this exciting journey than the experts at RE/MAX Advanced Realty!
Imagine surprising your dad with an unforgettable day and then revealing your plans for a future filled with cherished memories in your dream home. RE/MAX Advanced Realty's team of dedicated real estate agents is ready to guide you through the process, helping you find the perfect property that suits your family's needs and desires.
So, as you embark on a Father's Day adventure to remember, keep in mind the fantastic real estate options waiting for you in Indiana. Reach out to RE/MAX Advanced Realty today and let their expertise turn your homeownership dreams into a reality.
Now go on, celebrate Father's Day in style, create lifelong memories, and embrace the thrilling possibilities that await you and your family in the beautiful state of Indiana. Happy Father's Day to all the incredible dads out there!
Remember, the greatest gift you can give your dad is your time, love, and a future filled with joy and togetherness. Cheers to all the superhero dads who make our lives extraordinary!