Home is where the heart is; for many, that's in Indiana. It is sometimes referred to as "The Crossroads of America" due to its central location and extensive network of interconnected roadways. 
You might ask, "Is it a good idea to move to Indiana?" To answer your question, this article will outline some of the most captivating and significant advantages of relocating to Indiana, whether you are looking for apartments for rent in Indianapolis or homes within the state.
Many tourists and families with young children choose to have their vacations in this state because it is a well-liked vacation destination. 
In addition, some of the questions you have can be answered by reading the rest of this post. However, you should get yourself ready because we will go over several essential benefits of why you should consider moving to Indiana.
Why Should You Move To Indiana?
Below are the seven fascinating pieces of info about moving to Indiana that you may indeed consider why you should move to Indiana:
1. AFFORDABLE COST OF LIVING
The cost of living in Indiana is around 18% lower than the average in the United States, making it one of the most affordable states in today's country to make your home. This can be attributed partly to the fact that the cost of housing in Indiana is far lower than the average cost across the country. Because Indiana has a relatively low cost of living compared to other states, it is easier for people to make a living there. The average sale price of a home across all 50 states is $412,000, whereas the median sale price in Indiana is $255,000. This compares to the national average sale price of a home, which is $412,000.
2. ACCESSIBILITY TO NATURE
The Indiana Dunes National Park and the Indiana Dunes State Park can be found in the area located further north and next to Lake Michigan. Both of these parks may be found in the Indiana Dunes region. More than 200,000 acres of property are included in the Hoosier National Forest, which may be found in the state's southeastern part. 
Living in Indiana has its benefits, one of which is the state's commitment to preserving its natural resources. In addition to its state parks, Indiana is also home to three national parks, making the total number of parks in the state a stunning 24. You can also have access to a large number of lovely green parks as well as other amazing outdoor sights if you want to move to Indiana.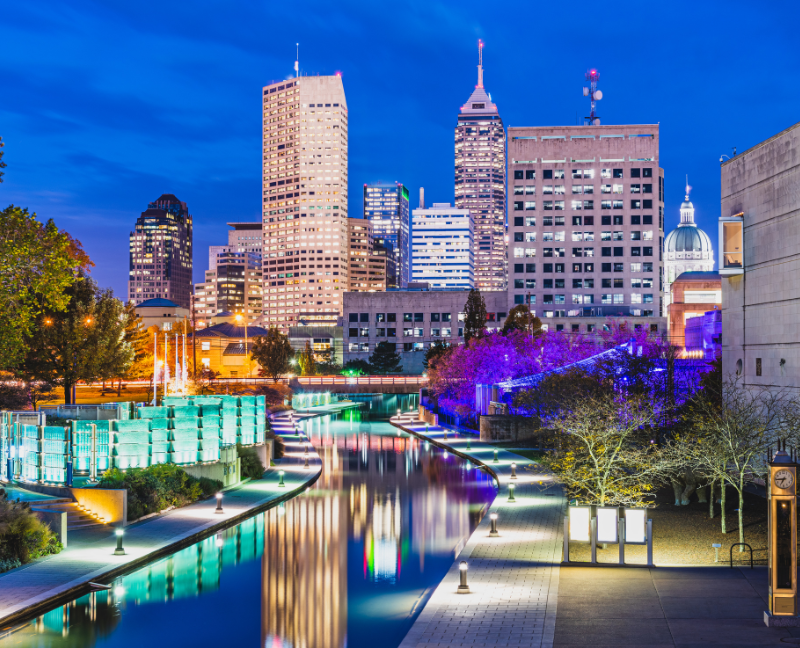 3. THE THRIVING FOOD SCENE IN INDIANA
You'll be able to satisfy almost any food craving in Indiana, which is home to various restaurants serving various cuisines. The state of Indiana, also known as the "Hoosier State," is well-known for a variety of different foods, including peanut butter and hamburgers, chicken and waffles, dough, chili and noodles, and popcorn. The state's restaurant and food scene are very fantastic. A fun fact is that Orville Redenbacher, famous for the popcorn brand that bears his name, was born in Indiana.
4. THERE IS MINIMAL TRAFFIC
If you have ever lived in a city or a city-like location with a lot of traffic, like New York City, Chicago, or Atlanta, you are familiar with the battle it can be to get to and from work on time, as well as to keep dinner reservations on schedule. Moving to Indiana will allow you to spend less time commuting. Also, you can have more time to engage in the activities you enjoy, whether settling in a large city or a small town. There is some road traffic on busier roads, but it is still manageable.
5. YOU HAVE A LOT OF THINGS TO DO
You can also go to Lake Michigan and participate in sports like boating, kite surfing, scuba diving, and fishing while you're there. Indiana offers quite a few to choose from if you're interested in visiting museums, including the Indianapolis Museum of Art,  the Children's Museum, and the Indianapolis Motor Speedway Museum, amongst others. In addition, day visits to neighboring cities such as Chicago or Cincinnati are easily accessible from Indiana, making this state an excellent choice for vacationers.
Click this link to check out more fun activities to do in Indiana.
6. THE WEATHER
If you appreciate living in a place where you can experience all four seasons and their benefits, you should move to Indiana. The summers are mild, with highs averaging approximately 85 degrees. Despite this, the winters may get chilly and snowy, with the lowest temperature averaging 18 degrees in January.
7. THE SPORTS
Not only do the educational programs of Indiana's colleges consistently rank among the best in the nation, but the state's universities also have a strong reputation in the realm of collegiate athletics. The state of Indiana is home to Indiana University and Butler University, both renowned for their basketball programs. The University of Notre Dame has one of the oldest football programs in the country. As a result, it is nationally recognized for its college football team. 
Several professional sports clubs, such as the National Football League's Indiana Colts and the National Basketball Association's Indiana Pacers, call the state of Indiana their home (NBA). Last but not least, this state is the site of two iconic auto races, the Indy 500 and the NASCAR Brickyard 400, both of which you should watch.
In the United States, Indiana is one of the states with some of the most breathtaking natural attractions, as we can see from the information presented above. It is a good idea to move to Indiana if you want to move to a city with affordable housing options, a low cost of living, and a thriving art and music scene.
Living in Indiana is a wise decision because of its high level of safety and protection. Some one-off events take place here every so often, which can make things more entertaining. Indiana is an excellent choice for those looking to move to a state that offers a higher quality of life.
If you're interested in moving in or buying a new home in Indiana, REMAX Advanced Realty is here to help. Reach out to us by clicking this link.