It's Farmers Market season once again! Now we can enjoy fresh produce, artisan goods, and so much more while supporting our local farmers. If you are looking for one close to home or want to explore the available farmers' markets in and around Indy, here's our recommended list to visit and support.
Indianapolis Farmers Market







Hamilton County Farmers Markets





South Farmers Market



Eastside Farmers' Markets

Westside

Southwest side

Your go-to-market not on our list? Let us know and we'll add it.
What makes a good bagel? The answer is, nobody knows. Nobody besides a select few that is. The art of baking a bagel is similar to that of alchemy, in that it can only be learned or taught by one who has spent countless hours dedicated to perfecting their craft.
Luckily, we have one such gent right here in Indianapolis in Josh Greeson. And while he is a bit too humble to call himself The Bagel Alchemist, we have no qualms in doing it for him.
Josh initially started to sell his delicious bagels at Amelia's, a bread bakery in Fountain Square, on Wednesdays, and quickly realized his demand was outgrowing just that one day.
In comes delivery! While you can still get Side Door Bagels at Amelia's on Wednesdays, Josh now does fresh bagel delivery to Indianapolis and surrounding areas for free! (some areas may include additional charge). So you can now support a local and amazing business, while getting the freshest and most tasty bagels in Indianapolis!
Delivery days are Monday, Thursday, and Saturday. You can also order fresh cream cheeses and schmears! More info on Side Door Bagel's Facebook and Instagram. We sat down (virtually of course) with Josh to ask him some questions below, we love his story!
Q: Indy Home Pros - How did you get into baking, and then how did you get into bagels specifically?
A: Josh - I am a self taught home baker. I have worked full time at Amelia's for 9 months now, and I have been doing my own bagel delivery for about 7 months. I've always enjoyed cooking but gravitated towards baking and sourdough bread about 5 years ago. I got pretty into it where I was planning my weekends around my baking schedule and giving loaves of bread away to friends and family I was making so much.
Q: What inspired you to start Side Door Bagel, and when did you start it?
A: I've always made bagels for family gatherings because bagels were one of my favorite foods growing up. I've always noticed the lack of a good bagel shop in Indy, so whenever I started at Amelia's I asked the owner if I could make bagels to sell there. He gave his full support and since then I went about perfecting my bagel recipe.
It's taken me probably close to half a year to almost feeling confident in it. (Still not completely happy with them lol). **The Indy Home Pros would like to note that this is the sign of any true craftsman/arist, never being satisfied even though everyone loves your work, or bagels!)
Side Door Bagel was supposed to be a pop up bagel shop that I was going to do on Saturdays out of an actual side door at Amelia's, and it never really happened, but the name still stuck! The owner decided we could do bagel Wednesdays and it's kinda snowballed where every week we decide to make more and they always sell out.
The owner has been generous enough to let me do my own thing with the bagels, and I decided to have a side bagel hustle where anyone could message me about bagels and I would deliver them straight to their door. I have found that the more I deliver, the more the word about my bagel delivery business has spread. Orders have picked up a lot within the last month to where I've had to limit my delivery days to 3 times a week. (Monday, Thursday, and Saturday).
My dream has been to hopefully have my own spot for bagels and coffee. But for now I'm really enjoying working with the crew at Amelia's and doing a side gig of delivering bagels around the city.
Q: What is unique about a sour dough bagel, and how, if at all, does it differ from what one may call a "traditional bagel"?
A: When bagels are considered "sourdough" bagels, it means that they're leavened with wild yeast instead of commercial instant yeast that most bagels are made with. Using commercial instant yeast allows you to bake bread within a couple of hours. Wild yeast or "sourdough" is superior in flavor because it benefits from an overnight cold fermentation.
Want to order some fresh, delicious, sourdough bagels right to your door? See the Full Menu Below, and contact Side Door Bagel to order via sidedoorbagel@gmail.com or via their Instagram @sidedoorbagel!
EXCLUSIVE OFFER FOR INDY HOME PROS TEAM FAMILY!
Mention this blog post to receive a FREE SCHMEAR with the order of Any Dozen Bagels!
Let me begin by saying I am not a good critic, even there, that was a typo that I find too fitting to fix. I am not a food critic, but I like to think I know a good bagel when I taste one. And while I may be a Google Certified Local Guide, (basically the twitter or instagam equivalent of having a blue check mark) that still doesn't mean I'm a good critic nor food critic, and it definitely doesn't mean you should listen to me. Except on this, listen to me on this article.
From Brooklyn to Chicago, I've made it a point to try local bagel shops, yet I didn't know the bagel experience could be elevated to such a pure level until I tried Sidedoor Bagel in Indianapolis. And while I am of the belief that one won't be able to fully comprehend this bagel experience until they've digested it, I will attempt to describe it.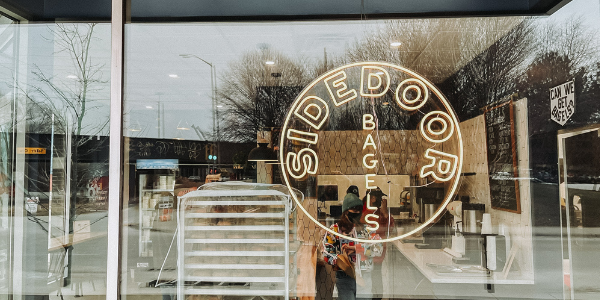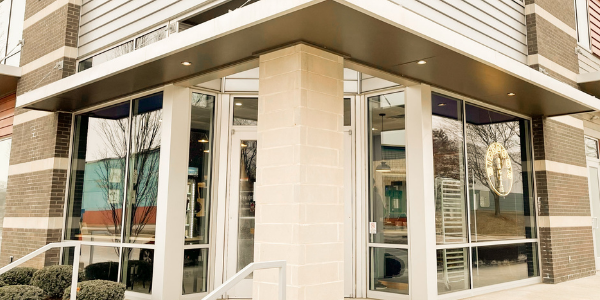 Sidedoor Bagel sits rather unassumingly at the northeast corner of 10th and Dorman, just minutes from Indy's famous Monument Circle. As you walk up, you're greeted by the warm glow of the Sidedoor Bagel neon sign. If you listen close enough, you can hear the sign beckoning to your taste buds and stomach to enter this sourdough sanctuary.
That's correct, sourdough. Bagels. Sourdough bagels. I've got to think this is a major part of what makes these bagels taste so unique. And while I know other places around town might use sourdough or a sourdough base, they just aren't as chewy and fluffy as Sidedoor in my opinon. Anyway, for more info on the sourdough process, go to youtube. To taste the process, go here.
Walk inside and you're greeted by a smell that inspires you to do your best Emeril, "BAM!", but you don't, because you dont' want to make things awkward. If you're lucky enough not to have a line in front of you, you'll see the modern counter set in front of a wall of modern tile complete with a menu.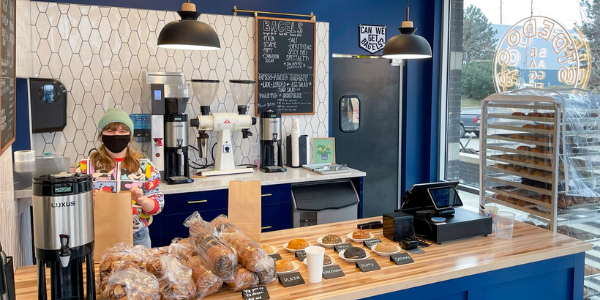 Now what you do next is up to you, and I can only base my recommendations off my experience. That being said, I'm confident there is no such thing as a wrong next choice; unless you walk out without ordering for some unfathomable reason.
I ordered the everything bagel with jalapeno cream cheese (pictured below), or schmear as it is referred to at Sidedoor. I did not stop there; you do not come this far for just one bagel. I then ordered a chopped chocolate bagel (available Friday's only I believe) and went with the recommended orange marmalade butter which, unbeknownst to me at the time, would soon change my life. I ordered both bagels toasted and pre-schmeared.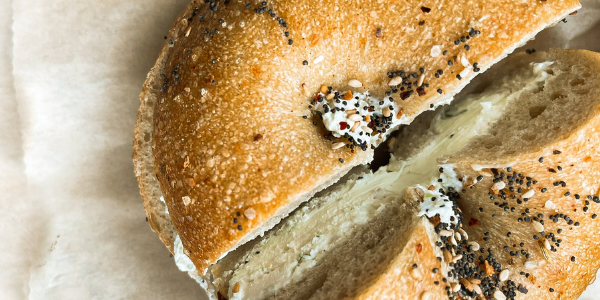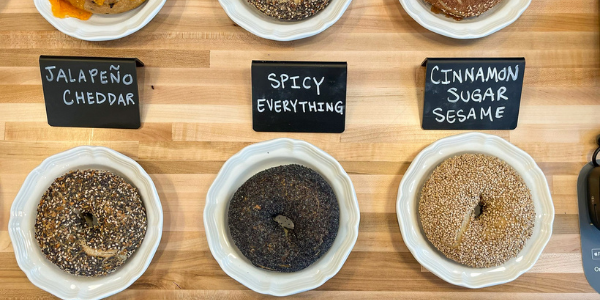 I get to my car because sitting at one of their seats to eat wasn't the type of private experience I felt I needed for what was about to happen. I started with the everything bagel because you can't start with sweets first, it's a rule. The moment you take a bite you know something is different.
It's chewy, in the best way. The exterior is crunchy, but not too crunchy. The flavors are what other everything bagels want to be, distinct and not overpowering. I'm not going to google what's in an everything spice, like garlic and stuff? But I love it. I ate it so fast I'm surprised I am able to recollect as much as I just did.
Now for dessert; chopped chocolate bagel sliced, toasted, with orange marmalade life changing butter. I did not know a bagel experience could be this blissful. The chocolate and the orange pairing, and the warm marmalade butter on a bagel, I simply don't have the culinary vernacular needed to better describe it. So I recommend you..go try it!
And if you do visit Sidedoor, tag us at "RE/MAX Advanced Realty" on Facebook or Instagram @remaxindy and tell us about your experience! Links below.
Retiring Soon, 55 and Over Communities You Would Love In Florida
Are you close to retiring and are searching for 55 and over communities where you can settle down? Are you looking for excellent 55 plus adult communities where you can spend your retirement? Do not look further; we have put together some 55 and over communities with the best facilities in the most beautiful environment suitable for your retirement in Ocala, Florida.
Having worked all through your active years, you deserve to spend your retirement in a location that will enhance your wellness and grant you the best relaxation possible to enjoy your retirement. In view of this, this article focuses on Ocala 55 and over communities for the best post-retirement life.
1. Ocala Palms
One of the best 55 and over communities for you is the Ocala Palms. Ocala Palms is located on Highway 27 in Ocala, Florida. It is one of several 55 plus adult communities in Florida located in a well-established neighborhood.
The construction of Ocala Palms took place in the mid-1940s. Hence, the community features modern plans with excellent landscaping and is a close-knit neighborhood. This community features several active adult homebuyers due to the luxury of living without the typical hustle and bustle of the city and its noisome nature. Ocala Palms is strictly a 55 plus adult community without large crowds and ongoing construction.
Ocala Palms may seem small unlike other 55 and over communities in Florida; however, it has all the necessary amenities you may desire in any 55 plus adult community. Starting from a clubhouse to event hall, indoor pool, fitness center, table tennis, sewing studio, card room, arts and crafts studio, and a library with ample space for relaxation and recreation.
One of the premier golf courses in central Florida is the 18-hole Ocala Palms Golf Course. It is the place to be if you are a golfer, or if you'd like to learn. The course features ponds, oaks, waterfalls, and rolling fairways. Ocala Palms is a great location for retirement life due to its serenity and the flexibility the area affords its residents to plan the community's activities.
Some of the attractions in Ocala Palms include the Ocala National Forest, the Appleton Museum of Art, the Marion Theater, the Howard Academy Community, and the Don Garlits Museum of Drag Racing.
2. The Villages-The Villages, FL
The Villages is one of many 55 and over communities in Florida. The neighborhood started in 1978 and has grown to be a big community that is desired by all people searching for 55 plus adult communities. The Villages is a self-sustaining town with several healthcare centers, banks, restaurants, retail establishments, and recreational amenities.
As part of the uniqueness of this location compared to other 55 and over communities, residents of The Villages are referred to as Villagers. To affirm the name, The Villages, there are three town squares with various amenities for recreation. The squares are Lake Sumter Landing Market Square, Spanish Springs Town Square, and Brownwood Paddock Square.
The lifestyle in this 55 plus adult community is never-ending fun and a wide variety of activities. The Villages is an exciting location that centers on allowing residents to enjoy the best of their retirement life with a wide array of activities like woodworking, quilting, painting, and ceramics. Dancers have different options like ballet, balloon dancing, tap, square dancing, line dancing, and jazz. Residents that are into health and fitness can choose their favorite class from yoga, aerobics, weight training, and power walking. There is also a choir group, as well as a theatrical group. The Villages is one of the most exciting 55 and over communities in Florida.
Other exciting activities in The Villages include scuba diving, photography, genealogy, bird watching, and clowning.
3. Oak Run in Ocala FL
Oak Run in Ocala is located in the heart of central Florida. It is one of the best 55 plus adult communities in Florida and the entire world. It is a large community with a close-knit neighborhood that is renowned for its oak trees, pristine lakes, and hills. With only 30 miles to the gulf of Mexico and about two hours to famous tourist destinations in Tampa and Orlando; Oak Run has several amenities that make it a desirable place to be.
One of the essential features of 55 and over communities is to have everything that meets the needs of today's active adults. Oak Run does not fail in this regard, as the location has something for every adult from a fitness center to luxurious spa, resort-style pool, a multi-purpose bathroom, and catering kitchen, Oak Run has so much to offer.
The lifestyle in Oak Run is fantastic and fun with residents having the freedom to choose from a wide variety of activities such as tennis, dancing, cards, golf, and biking. Each day in Oak Run is filled with different activities that guarantee fun and healthy living. Close to Oak Run are famous destinations such as Disney World, Kennedy Space Center, Sea World, and Universal Studios, which are under two hours drive away.
4. On Top of the World in Ocala FL
On Top of the World is one of the high-class 55 and over communities. Just like its name, life there is really on top of the world. It is a beautiful active adult community. On Top of the World is a perfect retirement community that offers an enhanced experience to residents with world-class amenities. It is surrounded by ancient oaks and hills, and it is just six and a half miles west of Interstate 75. Active adults who need an exciting escape or getaway can get the most out of life at the most amazing of all 55 plus adult communities.
Of all 55 and over communities, On Top of the World is the location with the most amenities that span across almost all facets of life. Amenities such as tennis courts, three golf courses, restaurants, an R/C airplane field, and an R/C car track. The experience and life at On Top of the World cannot be captured entirely with words; the location is better visited.
Residents can explore or pick new hobbies such as painting, yoga, aerobics, and ceramics. There are over 200 community clubs, and countless music concerts to keep residents physically, mentally, and psychologically healthy. If you are retiring soon, On Top of the World is one of the 55 plus adult communities for you.
5. Trilogy in Ocala FL
If you are searching for 55 and over communities for your retirement, Trilogy in Ocala, Florida is one location to consider. It is more than a place to live; it offers everything you need to have a meaningful and pleasant active life after retirement. Trilogy is an exclusive gated community in Marion County. The picturesque, layout, residents and amenities – everything is exquisite and inviting.
With an extensive collection of amenities, Trilogy in Ocala, Florida is a pleasant venue where you would want to spend your post-retirement life. The Grand Living Room is the place where residents meet, discuss, and make new friends. The presence of restaurants like Salted Bricks, Rose Farm's Kitchen, and Chef's Table ensure that residents are provided with the best meals possible.
Residents that love outdoor life are assured of unending fun with a golf course, fishing, hiking, and boating activities to keep them engaged all day long day-in-day-out. If you ever plan on retiring to Florida and looking for retirement home, visit https://www.localrealtyservice.com
Indy Home Pros Team: Local Highlight
Nine Lives Cat Cafe in Fountain Square, Indianapolis is Indy's hidden gem of a coffee shop. You can get a caffeine buzz while playing with cats; whoever coined the phrase about the future being so bright you have to wear shades was likely talking about this place existing. They even host Yoga classes where you can do Yoga with Cats! Pawmaste baby, pawmaste. Find our video interview and their business info below, and get your cat and coffee fix today!
Address: 1315 Shelby St #1, Indianapolis, IN 46203
| | |
| --- | --- |
| Tuesday | 8AM–9PM |
| Wednesday | 8AM–9PM |
| Thursday | 8AM–9PM |
| Friday | 9AM–10PM |
| Saturday | 9AM–10PM |
| Sunday | 9AM–6PM |
| Monday | 8AM–9PM |
Reservations to spend time with the cats are recommended.
Visit www.ninelivesindy.com for more info!
Thirty minutes northeast of Indianapolis in Hamilton County, Fishers is considered one of the best towns for families to live in the country according to Family Circle magazine. The town has a small airport, 20 schools at all levels (as well as private schools), and a growing economy with an increasing number of job opportunities. From a population of 350 in 1963 to 82,000 and growing today, Fishers has everything you need with the added convenience of being just a short drive to the big city!
AN ACTIVE COMMUNITY
Living in Fishers, you'll find a very active Homeowners' Association, a great selection of community events such as the Freedom Festival and Renaissance Fair, a farmer's market that runs from May through September, and a wide variety of organized team sports for children of all ages.
A GREEN COMMUNITY
Fishers boasts 15 parks and natural areas and was dubbed a "Playful City USA" by KaBOOM. The town's Trail & Greenway System has more than 85 miles of trails for pedestrians and cyclists that link parks, schools, neighborhoods, and more! Several playgrounds, baseball diamonds, soccer fields, and basketball courts can also be found along the Trail & Greenway system. Fishers was ranked as one of the best golf communities in the U.S.A. by Livability. Several courses can be found in town including River Glen Country Club and Ironwood Golf Club.
CHOOSING A HOME IN FISHERS
If you are considering buying a home in Fishers, you won't be disappointed with the selection. From luxury properties to modest family homes, you'll find what you're looking for within your budget. Trulia reports that the average listing price is currently $280,000 with an average price per square foot of $75, an increase of 8.7% from last year. There are many starter homes priced under $100,000 that are a great opportunity for first time home buyers!
Located just twenty minutes outside of Indianapolis in Boone County, Zionsville is one of the most charming towns in the whole state of Indiana. With a population of just over 14,000, Zionsville enjoys a whimsical downtown area, one of the best school systems in the state, and excellent home values. The small-town atmosphere and strong economy tends to attract both families and young professionals who want access to modern day conveniences and attractions, but also desire a quaint home base.
Small Town, Big Amenities
The downtown area of Zionsville is designed to look like a charming village, with unique locally-owned shops and restaurants peeking out from beautiful rows of building that look like they might have been built in the 1800s. Visitors from nearby cities as well as local residents love walking up and down the brick-paved Main Street to enjoy a day of shopping, dining, and fun.
Beyond this charming townscape, Indianapolis is a mere twenty minutes down the road. Thus, residents of Zionsville get to enjoy both the perks of living in a small town as well as the big city amenities of the state capital.
The Best Schools in the State
Zionsville is extremely proud of their award winning public school system. The local school district has eight schools with a total enrollment of over 5,000 students. The district has ranked in the top five Indiana school districts for the past fifteen years and was a National Blue Ribbon School award winner in 2004. With an amazingly high graduation rate of 97%, it is no wonder that young families are proud to send their children to Zionsville schools.
Top Home Values in the State
Zionsville real estate has retained its value better than most other areas in Indianapolis. The area is considered quite affluent, and the average listing price in this town is currently over $476,000 according to Trulia. The median sales price year-over-year was $188,000. Trulia also reports that at this time, the average price per square foot in this community is $97. This marks a 5.4% increase compared to last year.
Contact an Indianapolis Realtor
A large number of houses are currently for sale in this desirable town including new homes, bank-owned homes, and homes available at auction. An Indianapolis realtor can help buyers sift through available houses to find perfect properties that accommodate their needs. With home prices and mortgage rates at a low point, now is the perfect time to buy. Those who are interested in looking for their dream homes should take the time to contact a knowledgeable Indiana real estate agent today at RE/MAX Advanced Realty by calling 317.298.0961.