New year, new outdoor look!
If you have an outdoor space in your home, you have the opportunity to turn it into an oasis! Whether it's a large backyard or a tiny patio, your backyard can be a good spot to invite family and friends as the warm weather arrives.
Here are some tips on how to revamp your alfresco.
7 Creative Outdoor Space Design Ideas
1. Create A Comfortable Outdoor Lounge Space 
Reminiscing about a beach vacation? Create a tropical outdoor lounge on your patio or yard. You may buy lounge chairs, chaise lounges, hammocks, and outdoor sectionals online or make your own, like a lounge bed. This outdoor space idea requires a platform bed frame, futon mattress, and outdoor fabric. Pile outdoor pillows on top for comfort and style. Add side tables, candles, and a glass of wine to create an inclusive lounge.
2. A DIY Outdoor Cinema
Making a backyard cinema is easy. You can watch movies, TV shows, or whatever you're binging. The outdoor space design ideas need a projector, a taut white sheet, and your phone. If you don't own a projector, you can improvise things like a shoe box, cardboard, and a magnifying lens to construct one easily. Gather your favorite patio chairs or outdoor cushions, make popcorn, and watch a movie with crickets singing.
3. Create A Bar Outdoors
Why not make your outdoor space a bar since it's the shortest way home? You may buy a bar online, repurpose a table or desk, or create one with cinder blocks, concrete adhesive, and 1 x 6 planks. Bring your Bluetooth speaker, cocktail ingredients, and glasses home to recreate your favorite bar's atmosphere.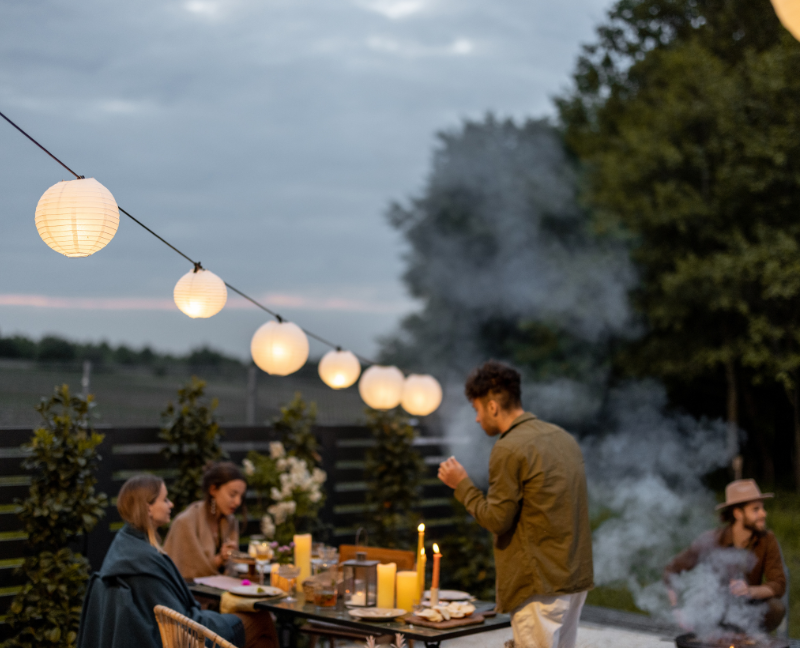 4. Beautify A Shed Or A Barn
Although a barn or shed is a functional building, that doesn't imply it has to be unattractive. Give it a redesign by painting it a striking color, adding shutters, placing flower boxes, laying a stone path, or even hanging lights to brighten up that unused backyard space.
5. Make A Fire Pit In Your Outdoor Space
If you spend too much time camping, you'll notice the firepit, everyone's favorite activity. Build an outdoor fire pit in seven easy steps with materials from your local hardware store. You may acquire a prefab fire bowl that gives out the same warm, inviting campfire glow—research local burn regulations and rules to determine the best practices in your area.
6. Create A Spot For Outdoor Dining
Make a backyard or patio dining spot to spice up home nights. Add an outdoor rug, lighting, and a chandelier to change your nighttime dinners. Show your talent as a great cook or you can simply order food you can enjoy with your loved one.
7. Make A Space For Meditation
Home is sometimes the best place to center. Create an outdoor meditation space to improve your therapeutic practice. Plant a lavender or jasmine garden, make a stepping stone walk to your meditation location, or add a standing tent or cabana with curtains to catch the mild wind.
These are just some cool outdoor space ideas you can consider to upgrade your patio and you can see more tips on the internet.
Which one is your DIY idea is your favorite?
Share your thoughts in the comment section below.