In the first part, we've shared the top six (6) questions you can ask yourself when buying a home; now, we're going to dive deeper into the process of purchasing a property.
This ultimate guide to buying a home will help you whether you're a first-time home buyer or not.
Feel free to browse our website to learn more tips on home buying and selling.
The Home Buying Process
Now that you've made the commitment, let's examine what to anticipate from the actual home purchasing process. There are numerous bids and counteroffers flying about right now, which is hectic. You can, however, get through the procedure with your sanity more-or-less intact if you are ready for the inconvenience (and the paperwork). The general progression that you might anticipate is as follows:
LOOK FOR THE RIGHT HOME
Use all of the resources at your disposal to identify homes for sale, including your real estate agent, internet listing search engines, and driving around the areas you're interested in looking for for-sale signs. Additionally, make some inquiries of your loved ones, coworkers, and business associates. You never know where an excellent lead or reference for a house might appear.
If you're truly looking to buy a house, never show up at an open house without a realtor (or at the very least, be ready to give the name of someone you're apparently working with). It is clear why negotiating with the seller's agent first rather than your own agency may not be in your best interests.
If money is tight, search for houses whose potential hasn't yet been fully fulfilled. If you want to move into a house you can afford, it can be worth it to put up with the ugly bathroom wallpaper for a time even if you can't afford to replace it right away. Don't allow cosmetic flaws to prevent you from purchasing a property if the location, size, and other important factors (the big things that are hard to improve) are all satisfactory.
In order to increase their equity and move up the housing ladder, first-time buyers should look for a home they can add value to.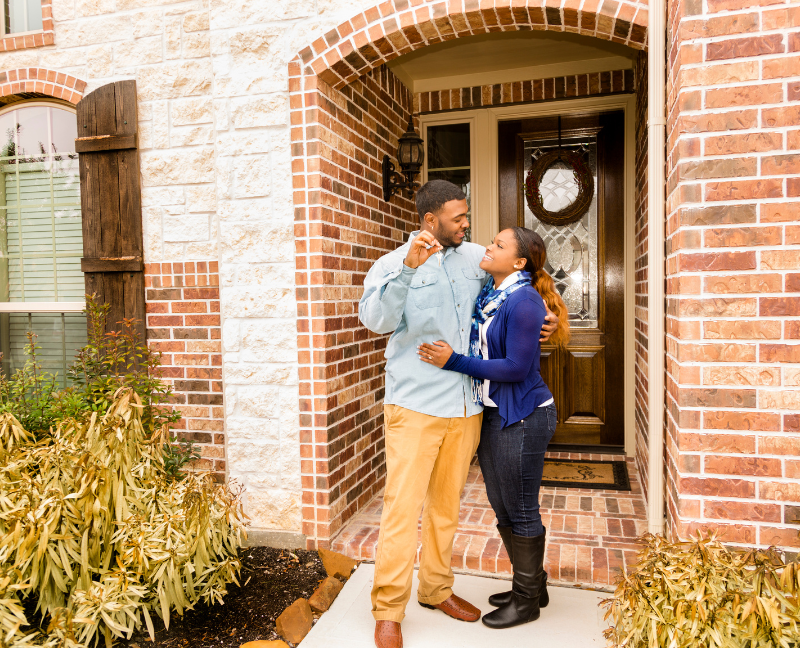 EVALUATE YOUR FINANCING OPTIONS AND OBTAIN FINANCING
Your own money should be in good shape, so make that a priority. In general, having solid credit, a history of on-time bill payments, and a maximum debt-to-income ratio of 43% are requirements for being eligible for a home loan.
These days, lenders want to keep housing costs (principal, interest, taxes, and homeowner's insurance) to around 28% of borrowers' gross monthly income, though this percentage might vary greatly depending on the local real estate market.
The lender will check all of the provided financial information once you've selected one and submitted an application (calculating debt-to-income ratios, looking at credit scores, verifying employment history,  etc.). A specified sum may be preapproved for the borrower by the lender. Be aware that if you do any actions that could lower your credit score, such as financing a car purchase, your loan could be canceled at the last minute even though you have been preapproved for a mortgage.
When looking for a pre-approval or a mortgage, don't be confined by allegiance to your present financial institution: shop around, even if you only qualify for one sort of loan. Rates of interest on mortgages and fees can both be shockingly different (which, of course, have a major impact on the total price you pay for your home).
A backup lender is also advised by some authorities. There is no assurance that a loan you qualify for will ultimately be funded because underwriting standards can change, lenders' analyses of risk can vary, and investor markets might change. When clients sign loan and escrow paperwork, there are instances where they are informed 24 to 48 hours prior to the closing that the lender has frozen funds on their loan program. A second lender who has previously approved you for a mortgage gives you a backup plan to keep things moving along at a reasonable pace.
MAKE A PROPOSAL
Your real estate agent will offer advice on how much to offer for the home as well as any restrictions you might want to include, such as having the buyer cover your closing fees. The seller will either accept your offer or make a counteroffer once your agent presents it to the seller's agent. After then, you have the option of accepting or continuing to negotiate until you reach an agreement or decide to give up.
Review your budget once again before submitting your bid. This is the time to take into account estimated closing costs, which can range from 2% to 5% of the purchase price, travel expenses, and any necessary immediate repairs or appliances before you can move in.
Additionally, plan ahead because it is simple to be caught off guard by higher or unexpected utility bills, property taxes, or neighborhood association dues, particularly if you're leaving a rental or apartment arrangement where you haven't dealt with these issues before. You might ask for the water and energy bills from the previous year to get a sense of the typical monthly expenditure.
Once you and the other party have come to an agreement, the process enters escrow once you have made a good faith deposit. Escrow is a brief time frame (typically around 30 days) during which the seller removes the home from the market with the legally binding assumption that you would purchase the home, assuming you don't discover any significant issues with it during your inspection.
REQUEST A HOME INSPECTION
There is no alternative for having a qualified professional check your possible new home for the quality, safety, and general condition, even if the house you intend to buy appears to be flawless. You should typically be allowed to withdraw your offer and receive a refund of your deposit if the house inspection reveals significant flaws that the seller failed to disclose. Other choices, if you find yourself in this circumstance, include bargaining with the seller to make the repairs or reduce the asking price.
CLOSE THE DEAL OR MOVE FORWARD
You should be ready to close if you can reach an agreement with the seller or, even better, if the inspection turned up no major issues. The process of closing basically entails signing a ton of paperwork quickly and praying that nothing goes through at the eleventh hour.
In the final stages of your purchase, you may have to deal with and pay for things like having the house appraised (mortgage companies need this to secure their interest in the house), conducting a title search to ensure that only the seller is the rightful owner, obtaining private mortgage insurance or a piggyback loan if your down payment is less than 20%, and having completed the required home loan documentation.