The holiday season has officially started, and if you're looking for activities that would make your family weekend more fun and exciting, you're in the right place!
In this post, we've gathered all the Indiana holiday family events you can visit to make this season of giving happier and more memorable.
15
Holiday Events In Indiana For Families
Indiana Historical Society – Festival of Trees
November 10 to January 6
Indiana Historical Society | 450 W Ohio St, Indianapolis, IN 46202
The Festival of Trees offers more than 75 exquisitely decorated trees in a winter paradise portraying Indiana companies, organizations, and individuals.
Christmas Nights Of Lights
November 10 to December 31
Indiana State Fairgrounds | Indiana State Fairgrounds, 1698 E
For the 2023 holiday season, Indianapolis will host Christmas Nights of Lights once again! Families will experience a mystical drive through a coordinated display of over a million lights set to contemporary and classic Christmas music that plays directly via your car's sound. 
To learn more about the ticket prices, you may click this link.
Danville Winterland Holiday Lights
Starting November 17
Ellis Park | 600 E Main Street, Danville, IN 46122
Another drive-through experience, Danville's Winterland Holiday Light Show in Ellis Park features hundreds of displays with thousands of lights to celebrate the holiday season. 
Ticket prices vary; on weekends, admission is $10 per car, while during the week, it is $5 per car.
Learn more about it here.
Carmel Christkindlmarkt
November 18 to December 24
Between The Palladium and The Tarkington Theater | 10 Carter Green, Carmel, IN 46032
This year, Carmel's Chriskindlmarkt is returning and delivering the European festive vibes. Products from Germany and other German-speaking European nations are so good and authentic here, that you won't feel like you are in Carmel, Indiana. 
Don't forget to take in the stunning outdoor ice skating rink! 
Note: Carmel Christkindlmarkt is closed on Christmas Day. You can view their schedule here.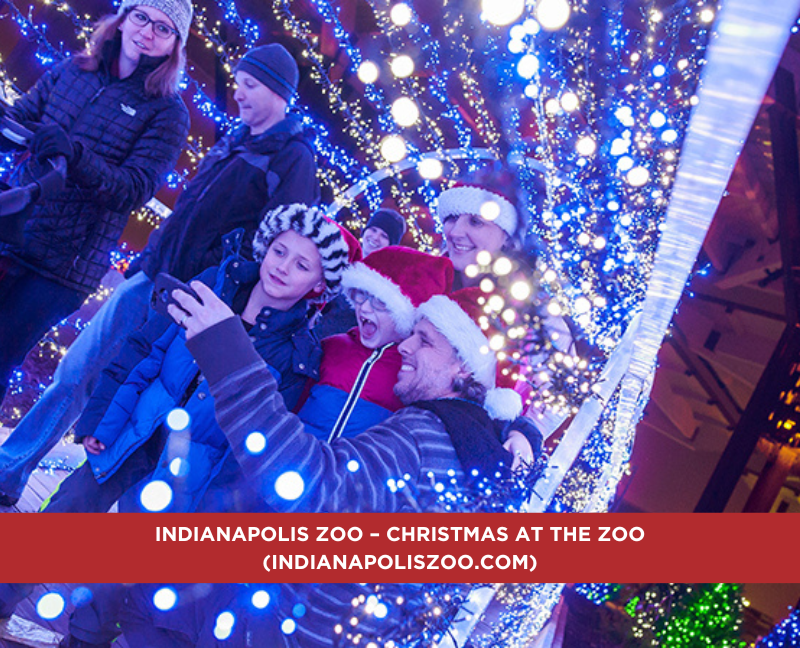 Indianapolis Zoo – Christmas at the Zoo
November 18 December 30th
Indianapolis Zoo | 1200 W Washington St, Indianapolis, IN 46222
Remarkably, tourists have been enjoying Christmas at the Zoo since 1967. 
General admission includes access to "Santa's Village" in the Bicentennial Pavilion, where you can participate in activities such as a visit with Santa Claus, a stop by Mrs. Claus' Kitchen, a look at Santa's infamous sleigh and reindeer at Santa's Barn, an adult-only Tinsel Tavern, the Penguin Encounter, and their Polar Pathway. 
Check out their event map and other details here.
Eiteljorg Museum – Jingle Rails
November 18 to January 15
Eiteljorg Museum | 500 W Washington St, Indianapolis, IN 46204
This one-of-a-kind Hoosier holiday tradition is an exciting attraction for kids and kids at heart.
It features nine model trains that wind across a miniature festive scene at Jingle Rails, a "G-scale model train wonderland." It strolls among different locations, such as the Monument Circle, Union Station, Lucas Oil Stadium, Eiteljorg Museum, Grand Canyon, Yosemite Falls, Old Faithful, the Las Vegas Strip, Hoover Dam, and Mt. Rushmore.
Learn more about it here.
Children's Museum – WinterFaire
November 18 to February 11
Children's Museum | 3000 N Meridian St, Indianapolis, IN 46208
A brand new exhibit opened at the Child's Museum, and it's no other than the WinterFaire.
Replacing Jolly Days, this fantastic indoor environment comes with a lively, carnival-like ambiance, entertaining games, endearing animals, and interactive experiences. 
Enjoy this unique winter experience together while you play, laugh, and create lifelong memories.
Go to the event website to find out more.
Newfields – Winterlights + Latkes and Lights
November 19 to January 7th
Newfields | 4000 N Michigan Rd, Indianapolis, IN 46208
For most families, taking in Winterlights at Newfields has become a yearly event, and if you're one of them, you might be glad to know that it's back.
Meanwhile, if you haven't experienced it yet, here's your chance to see more than a million and a half lights sparkle in The Garden during Winterlights. 
Learn more about the events and ticket prices here.
Sullivan Hardware & Garden – Sullivan Express
November 24 to December 23
Sullivan Hardware & Garden | 6955 N Keystone Ave, Indianapolis, IN 46220
The Sullivan Express is a well-liked holiday mainstay in Indianapolis that offers a delightful train excursion for families to visit Santa at the North Pole. A guided train ride to the North Pole awaits you when you check in at Central Station. 
You and your children get to see and take pictures with Santa Claus himself as he gets ready for his big Christmas Eve present delivery. You also get to play in Santa's workshop. 
Expect surprises along the way! 
Check out their time slots here.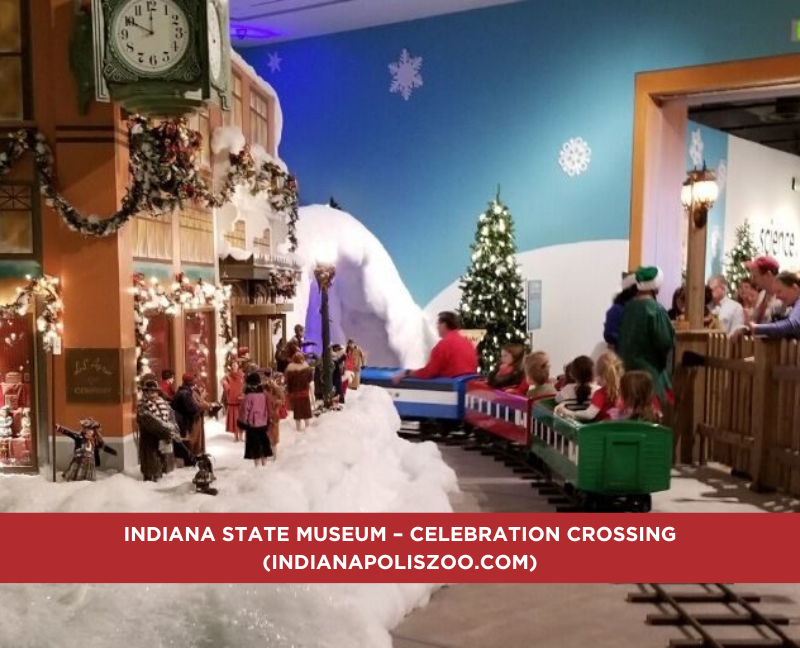 Indiana State Museum – Celebration Crossing
November 24 to December 31
Indiana State Museum | 650 W Washington St, Indianapolis, IN 46204
Take yourself and your family to the magical world of the holidays at
Celebration Crossing, Indiana State Museum.
Enjoy the highlights of Celebration Crossing this year, including visits with Santa, meeting his reindeer in the Reindeer Barn, Magical Mornings, Santa's Holiday Breakfasts, Winter Wonderland Workshops, and more. 
This year, take the Snowfall Express, an enjoyable ride that will take you to "a forest populated by charming, whimsical characters celebrating the coming winter and the first snowfall."
Learn more here.
Monument Circle – Circle of Lights
November 24 to January 14
Monument Circle | 1 Monument Circle, Indianapolis, IN 46204
The Circle of Lights on Monumental Circle in downtown Indianapolis comes to mind when one thinks about Indianapolis during the holidays. 
This year marks the 61st year the lights have been turned on, which always happens the day after Thanksgiving. 
Before the grand finale, there will be musical acts and performances throughout the traditional televised show on WTHR. Afterward, Santa Claus will turn the monument's lights on, and they will stay bright until January 14th.
The Lighted Trail
Starting December 3
Greenwood Amphitheater Park | 300 S Washington St, Greenwood, IN 46143
Take a stroll through Amphitheater Park and enjoy the festive lights! You can make this a new holiday custom with your family as you take photos and create memories together.
Enjoy wonderful attractions, such as the 3600 lights on the bridge, the 12-arch candy cane tunnel, and 85 light trees!
Conner Prairie – Merry Prairie Holiday
December 21 & December 22
Conner Prairie | 13400 Allisonville Rd, Fishers, IN 46038
Every member of your family will enjoy themselves at Conner Prairie's yearly Merry Prairie Holiday. 
Take part in all of your favorite regular activities, such as the 150-foot Polar Bear Plunge tubing hill with a new light tunnel to take you through, the historic Prairietown, the gorgeous light displays, Kringle's Carousel, and Trinket Puddingmoon featuring Santa's official naughty or nice list. 
This year, the William Conner House will transform into a 3D projection mapping holiday production, showcasing "Twas The Night Before Christmas," creating nostalgic festive vibes. 
Don't miss the Winterland stroll where you may travel from the 1836 Prairietown to the 1863 Civil War Journey under a brand-new set of holiday lights.
Zionsville Winterfest
To Be Announced
Mulberry Fields Park | 9645 Whitestown Rd, Zionsville, IN 46077
Mulberry Fields Park in Zionsville is transforming into a wintry paradise in preparation for Winterfest. 
Experience the nostalgia of ice skating and stroll through the festive town to eat and take in live entertainment. 
You can also go sledding and make a wreath!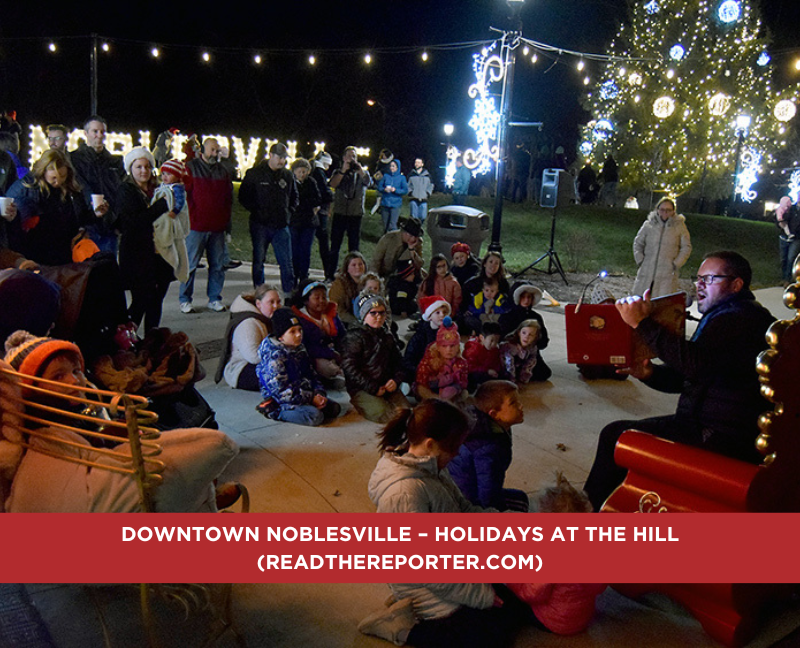 Downtown Noblesville – Holidays At The Hill
To Be Announced
Federal Hill Commons | 175 Logan St, Noblesville, IN 46060
Go above and beyond this holiday season at Federal Hill Commons, Noblesville as you enjoy a private carriage ride, go ice skating on Market Plaza, explore the walking light display, and leave a note for Santa in a designated mailbox at the Christmas Cottage, to name a few activities. 
Everyone has access to their snacks and beverages so you won't get hungry.
Learn more here.
Did we miss anything? If yes, feel free to share your favorite Indiana holiday events in the comments below.
There are tons of reasons why it's good to buy real estate in Indiana. For one, the home prices here are much lower, making it practical for families and even real estate investors to buy homes at an affordable price.
No wonder Indiana is growing in popularity as a real estate investment hub; other than affordable housing, it's known for its strong economy, excellent universities, and excellent growth. So, if you're looking for a home for sale in Indianapolis, below are good areas for real estate investment.
The Good Areas For Real Estate Investment
Here are the ten good areas for real estate investment that you need to know if you want to invest in Indiana:
1. Downtown Indianapolis
Downtown Indianapolis draws families and young professionals due to its thriving companies, vibrant nightlife, and many cultural attractions. Due to the area's strong demand and low vacancy rates, investing in condos or flats here can result in substantial rental revenue.
2. Broad Ripple Village
Broad Ripple Village is a sanctuary for millennials because of its thriving artistic community and diverse eateries and businesses. The distinct appeal of this area and its robust rental market make it a great place to invest in real estate.
3. Fountain Square
Fountain Square has changed dramatically from a forgotten area. Today, it's a trendy neighborhood with a booming arts scene and many new restaurants and stores. As the area gentrifies, fixer-uppers can yield high profits.
4. Carmel
Carmel is one of the best areas to live in the U.S. due to its excellent schools, minimal crime, and good quality of life. This upscale area has single-family houses with regular rental income and appreciation potential.
5. Fishers
Fishers, a family-friendly town with outstanding schools and a robust employment market is another highly regarded suburb. This neighborhood is a good place to invest in real estate because of the increased house demand.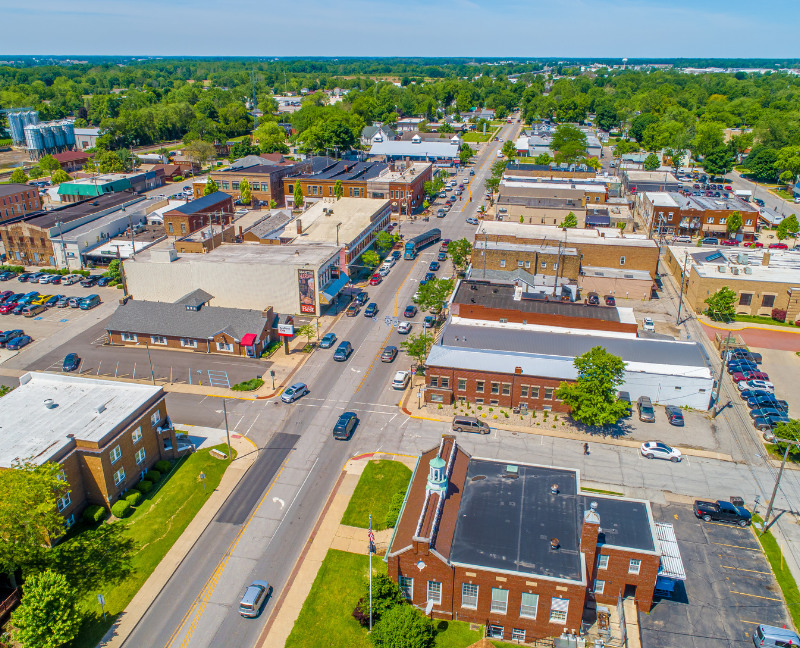 6. Zionsville
Zionsville is a delightful tiny town with a feeling of an ancient village. Wealthy families are drawn to the area by the high-end mansions, top-notch schools, and low crime rates, allowing investors to enter the luxury property market.
7. Meridian-Kessler
Meridian-Kessler is one of Indianapolis' most desired neighborhoods because of its historic homes and tree-lined avenues. The robust housing market and great demand in this area make investing profitable.
8. Greenwood
Greenwood, a suburb of Indianapolis, has a robust rental market and affordable housing. Its convenient location in downtown Indianapolis makes it a desirable alternative for commuters and a wise real estate investment.
9. Westfield
Westfield is a rapidly expanding community with a robust housing market. Because of its consistent growth and generally high standard of living, the area is an attractive prospect for real estate investment.
10. Noblesville
Noblesville is a well-liked option for families due to its charming downtown, distinguished educational system, and robust labor market. Investing in this neighborhood has the potential to generate reliable rental income in addition to capital appreciation.
Conclusion
Indianapolis has many real estate investment opportunities. Each community provides investors with various possibilities, from downtown to the lovely outskirts. This dynamic city offers excellent opportunities for condo, single-family, and fixer-upper investors.
Need help finding the best real estate investment? Let our experts help you!
We Offer World-Class Real Estate Service
RE/MAX Advanced Realty has been the top RE/MAX team in Indiana for 12 years, and we couldn't have done that without our top-notch realtors. 
So if you need help buying a real estate in Indiana or even selling your home, we are confident that our real estate services can help you.
Talk to us today by calling 317-316-8224 to learn more!
Indianapolis has family-friendly suburbs, but a few repeat offenders stand out. Suburbs in Indianapolis, like Fishers, Zionsville, Carmel, and Greenwood, are ideal places to raise a family. Most suburbs of Indianapolis, Indiana, are huge, and not everyone wants shopping and movie theaters.
But which suburbs in Indianapolis are quieter, smaller, and still suitable for raising a family? Below are the family-friendly suburbs of Indianapolis, Indiana, which are great if you're searching for a rural lifestyle, a lakeside community, or developments with a little more room.
The Small Suburbs Of Indianapolis, Indiana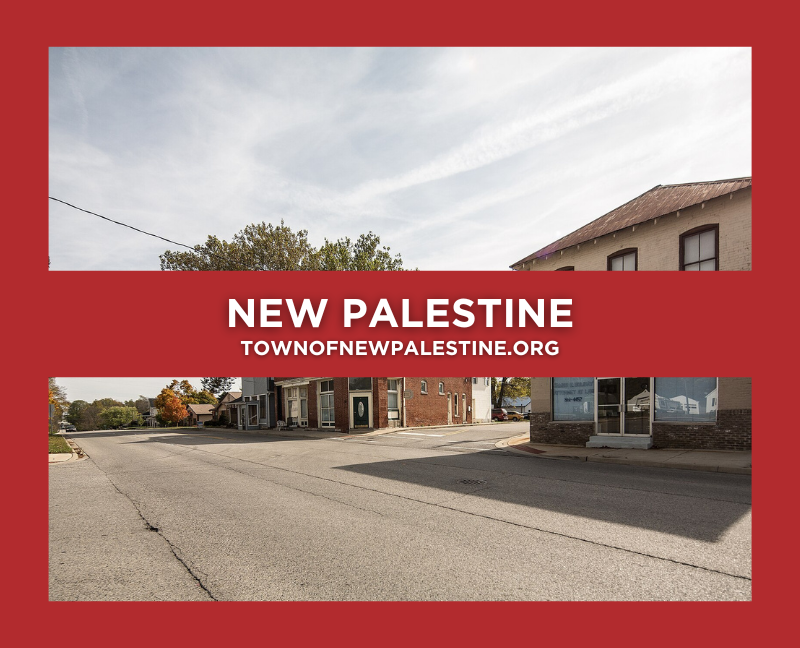 1. New Palestine
Indianapolis residents who wish to feel like they don't live in the suburbs will love New Palestine. This rustic, open area is called "New Pal" by locals. New Palestine is a great area to reside in an agricultural setting and increase your land.
Those seeking the county-adjacent front porch swing lifestyle must forego some conveniences. In New Pal, nothing is within walking distance. There's nothing within a few minutes' drive. Although New Palestine has limited conveniences, you can get what you need. The town has grocery stores, clinics, and other necessities, but you must go to a larger city for comprehensive shopping.
New Palestine has an excellent school system. Though small, these schools are good. Many Hancock County students attend New Palestine High School even though they don't reside there. New Palestine is a safe, family-friendly suburb that appreciates the simple things in life.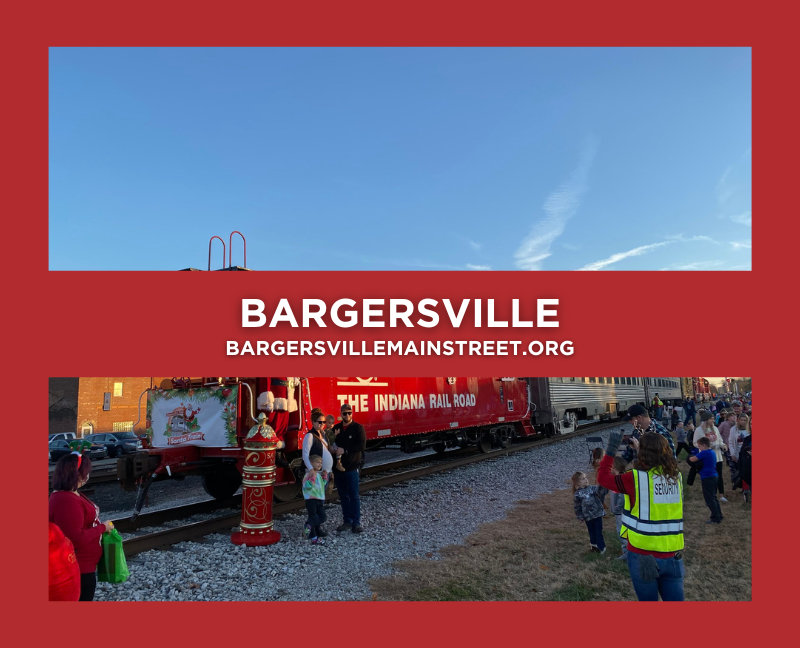 2. Bargersville
Population growth in Bargersville. As far south as the Indy Metro Area can go, this family-friendly suburb of Indianapolis is. Bargersville is farther south than Greenwood but still has much to offer: good schools, lovely residences, and exciting things to do almost year-round.
Outdoor lovers love Bargersville. South of the Mighty Ohio River on Indiana's southern border, undulating hills and lush forests replace central Indiana's plains. A nature lover's paradise is the Hoosier National Forest and Brown County State Park south of Bargersville. Bargersville, Indiana, feels like the woods with fishing, camping, hiking, and great mountain biking trails.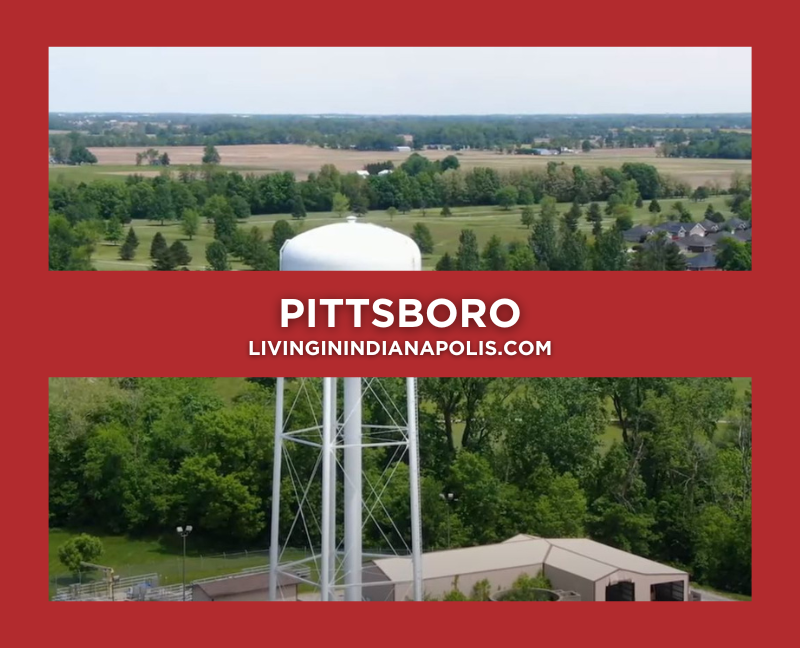 3. Pittsboro
West of Brownsburg, IN, Pittsboro is a lovely suburb of Indianapolis. Pittsboro is smaller than Bargersville or New Palestine but has 3,500 residents. Residents in Pittsboro enjoy a quieter lifestyle yet have all the facilities of Brownsburg, one of Indianapolis' largest suburbs. Although rural and open, Pittsboro is adjacent to Eagle Creek State Park, making it a good compromise between New Palestine and Bargersville.
Choosing public education in Pittsboro means sending your kids to Brownsburg High School. Although vast, this school's evaluations speak for themselves. Brownsburg High School is an excellent choice for your kids, with many activities, athletics, and organizations.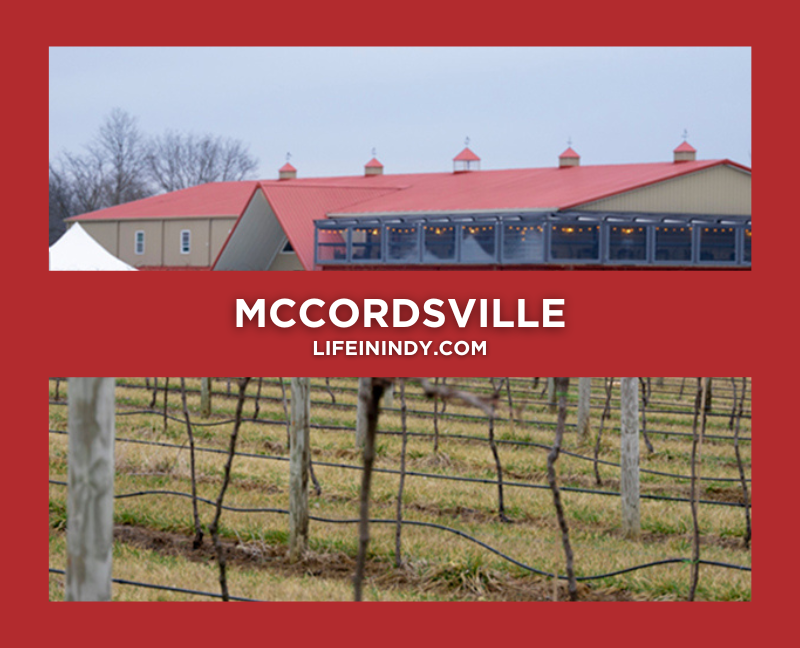 4. McCordsville
McCordsville and Fishers are often mistaken as the same, but it's not since it's smaller and quieter. 
Being close to Fisher allows McCordsville to have suburban and rural vibes while being one of the fastest-growing in the Indy Metro location.
The Geist Reservoir is a significant benefit of this modest, family-friendly community. One of Central Indiana's most prominent attractions, this stunning water feature has over 1,900 acres of water. Residents near the reservoir enjoy fishing, boating, swimming, and aqua fun, letting them enjoy lake life. This location explodes in summer, so be prepared to welcome a more significant population if you move here.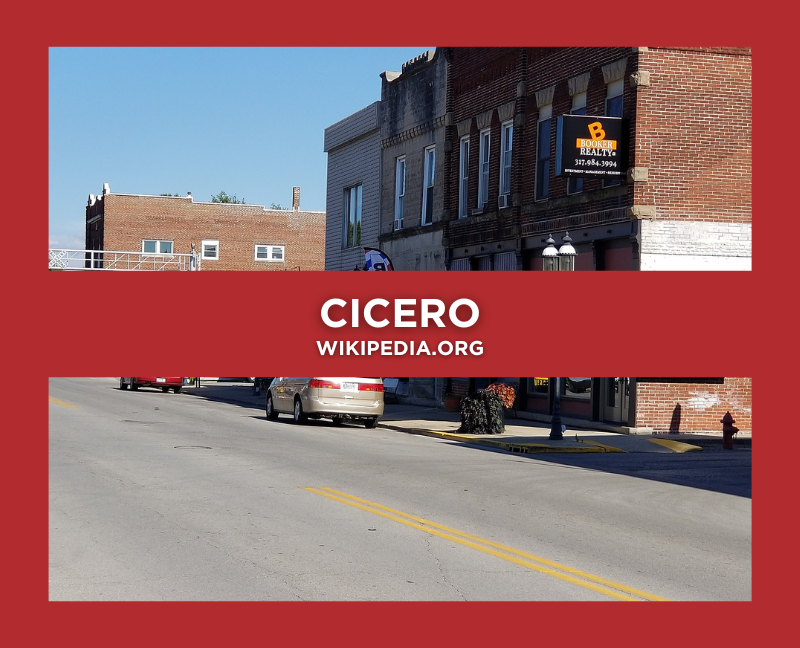 5. Cicero
Cicero is a drive on the northern end of Indy if you work downtown or frequent the city. Despite being an overlooked suburb, its merits outweigh its cons.
Cicero has several fantastic school districts, depending on where you live. In most Indianapolis suburbs, public schools are well-ranked. It also offers a love of the outdoors in Cicero Red Ridge Park.
There's a busy scene in downtown Cicero. Recently, Cicero's newly revitalized downtown has become charming and none of the other little suburbs have a golf course like what they have. Although smaller than Indianapolis' suburbs, this area has a little of everything.
Did we miss anything? Which suburbs in Indiana do you like the most? Feel free to share them in the comment section!
We don't know about you, but we adore the Indiana fall foliage. That's why we can't wait for this lovely season to come.
The Farmers' Almanac says that the best time to view Indiana fall foliage is between October 5 and 21 in the northern and October 12 and 28 in the southern part of Indiana in 2023. This would make an excellent time to organize a lovely weekend road trip.
The Best Fall Foliage In Indiana
Looking for beautiful spots to experience the best fall foliage in Indiana? Here are our top 7 recommendations: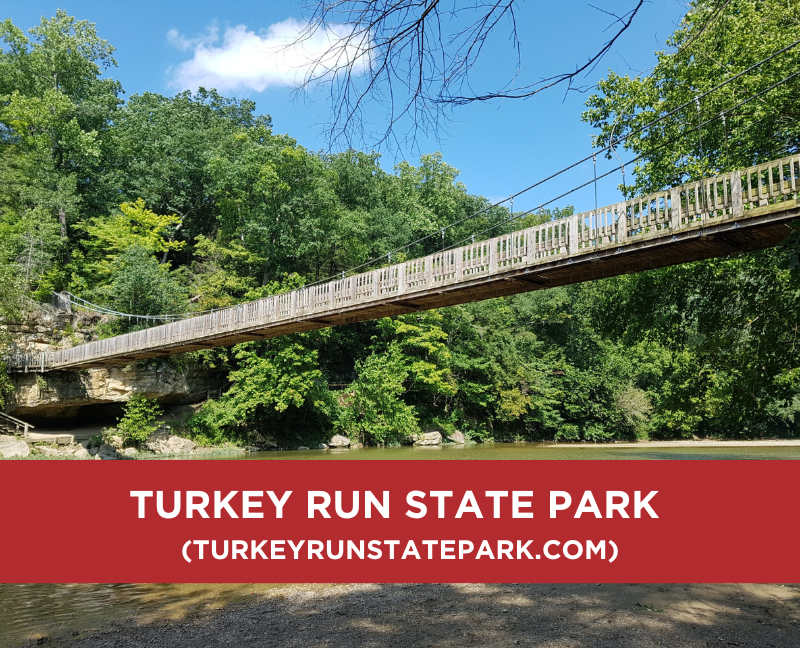 1. Turkey Run State Park In Marshall, Indiana
The fall season is one of the most beautiful times to visit Turkey Run State Park, located southwest of Crawfordsville and accessible by State Road 47. Take a hike along one of the many magnificent routes that wind through sandstone gorges and cliffs and follow in the footsteps of Miami Indians. From the Suspension Bridge in the park, you may get a panoramic view of the ancient trees that line Sugar Creek.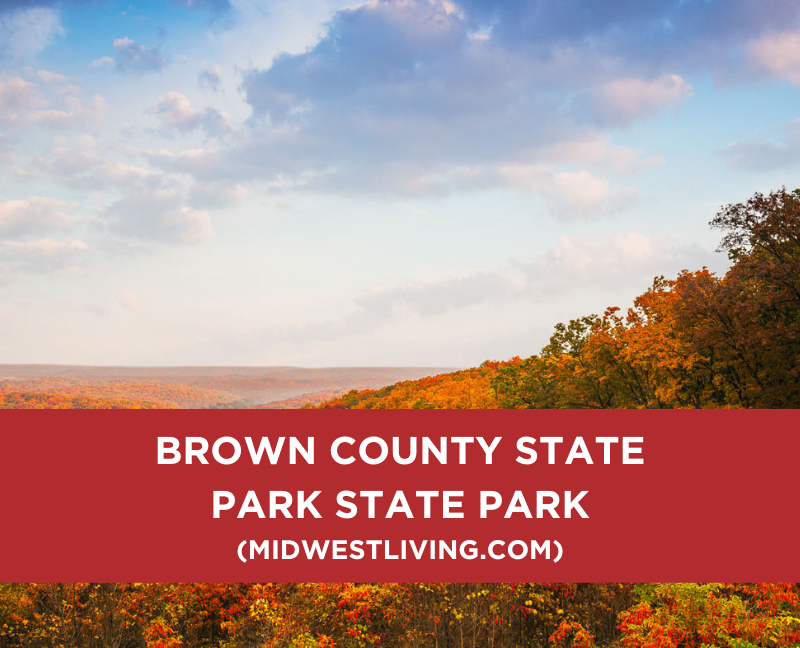 2. Brown County State Park State In Nashville, Indiana
Brown County State Park is an obvious requirement on any list of places to view the fall leaves in Indiana. This is the most significant state park in Indiana, covering 16,000 acres, and it features a multitude of hiking paths, beautiful drives, and even guided horseback excursions that bring visitors face-to-face with the grandeur of autumn. The historic district of Nashville, Indiana, is a nice area to stroll among the charming shops and have a bite to eat.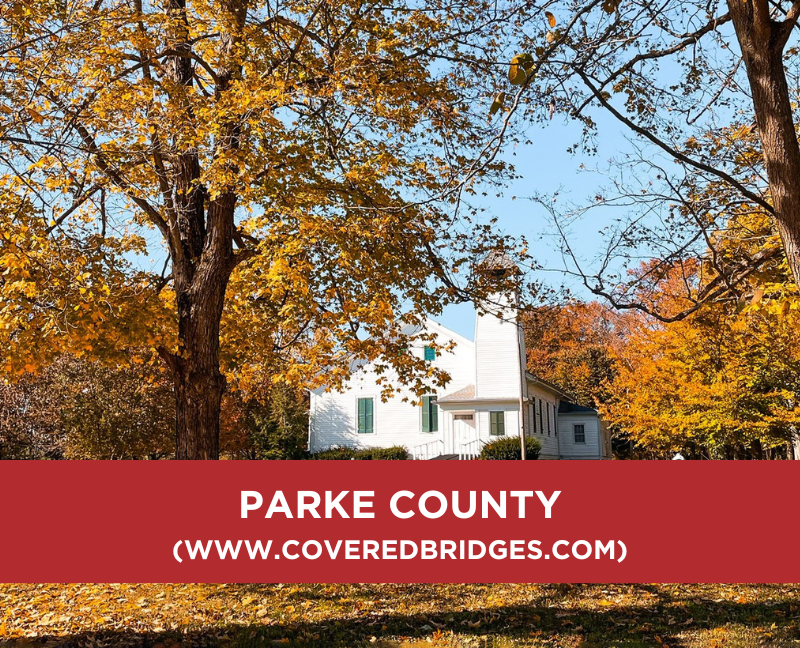 3. Covered Bridge In Parke County
Parke County, Indiana, is also known as the "Covered Bridge Capital of the World" because of the county's staggering number of 31 covered bridges. And autumn is, without a doubt, the most beautiful season to travel through this picturesque location. Before going out on your adventure, you should read up on the history of each bridge in this area. Make it a point to stop by the Amish community if you're in the region while you're there. At the Parke County Covered Bridge Festival, which will take place from October 13-22, 2023, remember that the location will have a higher-than-normal population density.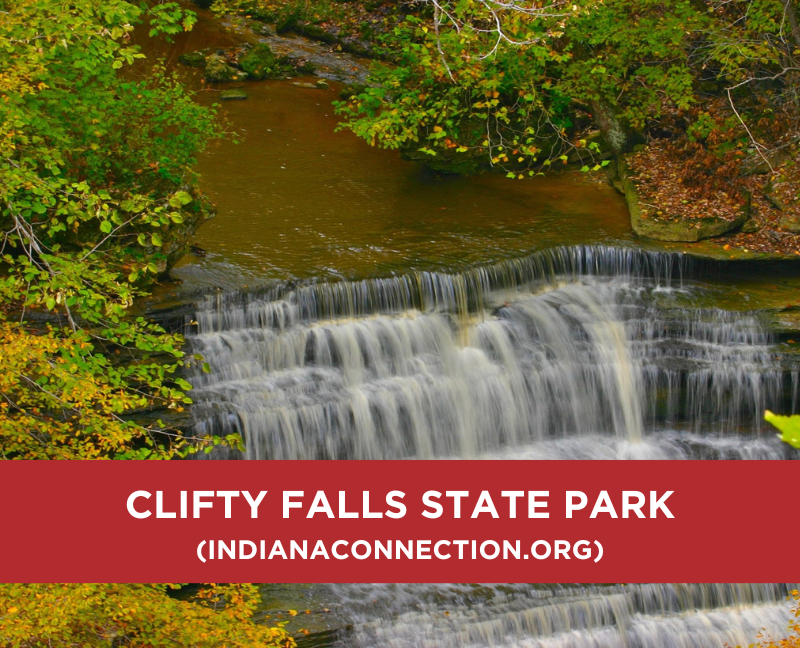 4. Clifty Falls State Park In Madison, Indiana
This beautiful state park may be on Route 56, just west of Madison, Indiana. It is perched atop the hills and looks out over the Ohio River. Take in the fall splendor as you wind your way through the park on a meandering road and enjoy the stunning waterfalls, rocks, and steep gorges. Additionally, there are a variety of well-maintained trails that can be explored on foot. The park is lovely for those who enjoy taking pictures.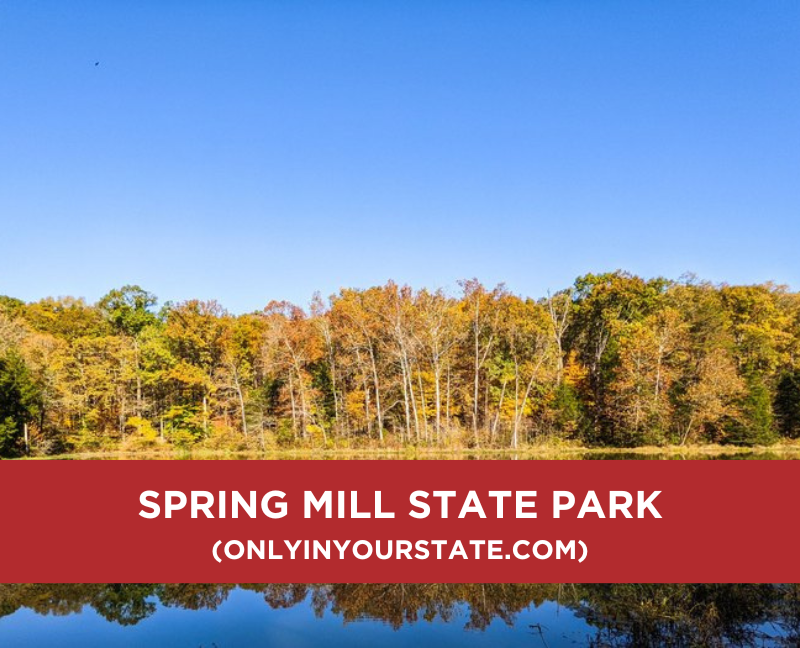 5. Spring Mill State Park In Mitchell, Indiana
The Spring Mill State Park, located just outside of Mitchell, Indiana, features gorgeous panoramas that are always buzzing with activity, and it is set against a backdrop of tall oak trees and rolling scenic hills. Discover the reconstructed pioneer village that will take you back to the 1800s. Travel below ground on a tour that will take you into the Twin Caves. Be sure to go to the Virgil I. Grissom Memorial while you are in the neighborhood. This memorial is an homage to the astronaut Virgil I. Grissom. "Guss" Grissom, a native of Mitchell and a pioneer in the United States space program was named "Guss."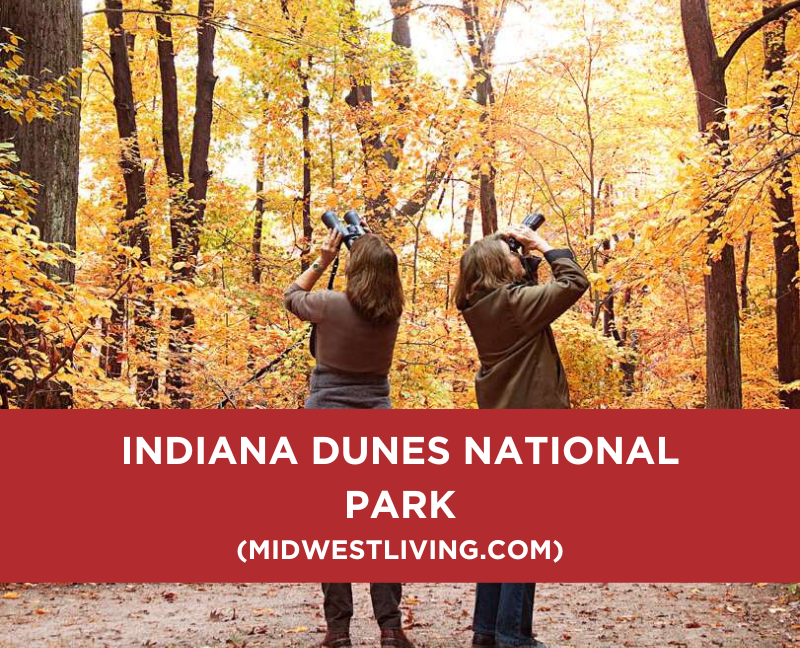 6. Indiana Dunes National Park
The Indiana Dunes State Park has seven routes that lead tourists through various ecosystems, such as a beach, dunes, black oak woodlands, wooded wetlands, and a button-bush marsh. These places are home to some of the Midwest's most diverse vegetation and fauna. The variety of fall scenes at the state park is tough to match.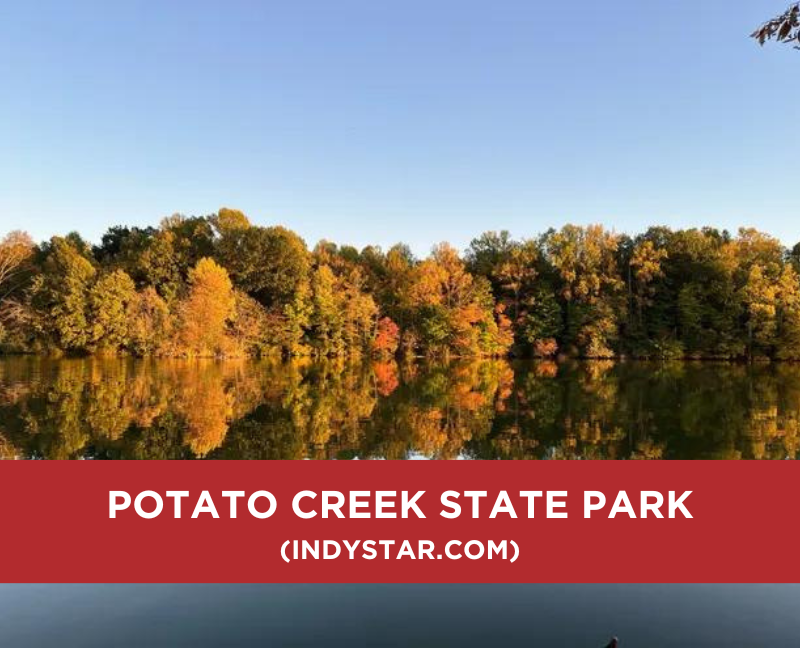 7. Potato Creek State Park
Potato Creek State Park, only 20 minutes southwest of South Bend, is an outdoor lover's paradise. The park's main point is Worster Lake, and there's no better way to admire the leaves than by canoe or kayak. Glide through the 327-acre lake in a kayak or canoe to get a closer look at the autumn leaves as the weather cools. 
Want to learn more about the Hoosier State? Visit our website today!
Autumn in Indiana is magical. It has something special that makes us yearn for it after a long, hot summer. The fall season is one of the most beautiful times of the year, and it hosts many festivals to celebrate.
The Most Popular Indiana Autumn Festivals To Get You In Seasonal Mood
Other than the lovely weather, the local events happening this time are one of the most anticipated things in the Hoosier State.
The following are some of the popular Indiana autumn festivals -- ones you cannot say no to.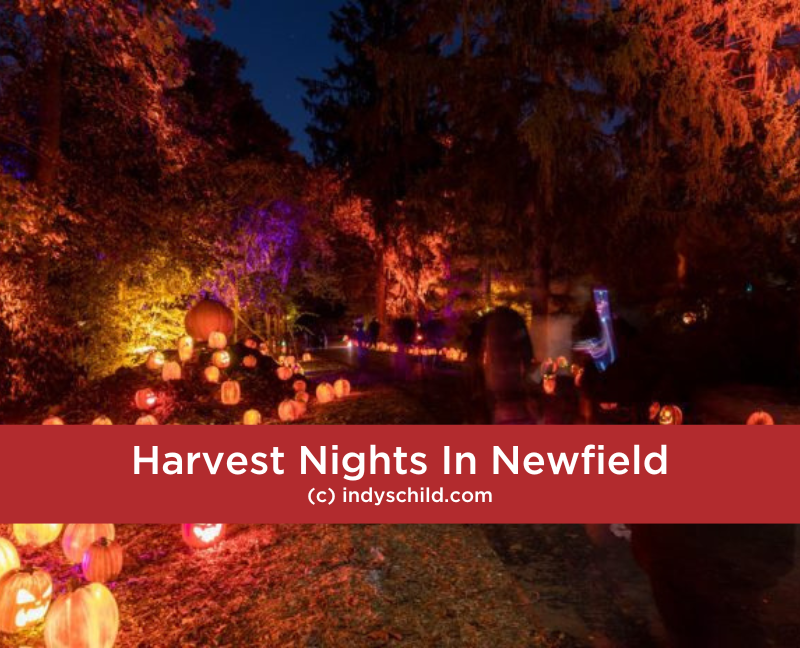 1. Harvest Nights In Newfield
The Garden of Newfields hosts an incredible autumn-themed array of fun, games, and other activities from the first to the last day of October (October 1st through October 30th). A creepy ghost train, a bright jack-o'-lantern path, food and drinks, and plenty of activities at Mischief Manor can all be found in this location. 
It is one of the most enjoyable events for families that you don't want to miss. A range of pricing options are available, and the performance opens at 7:30 p.m. each night.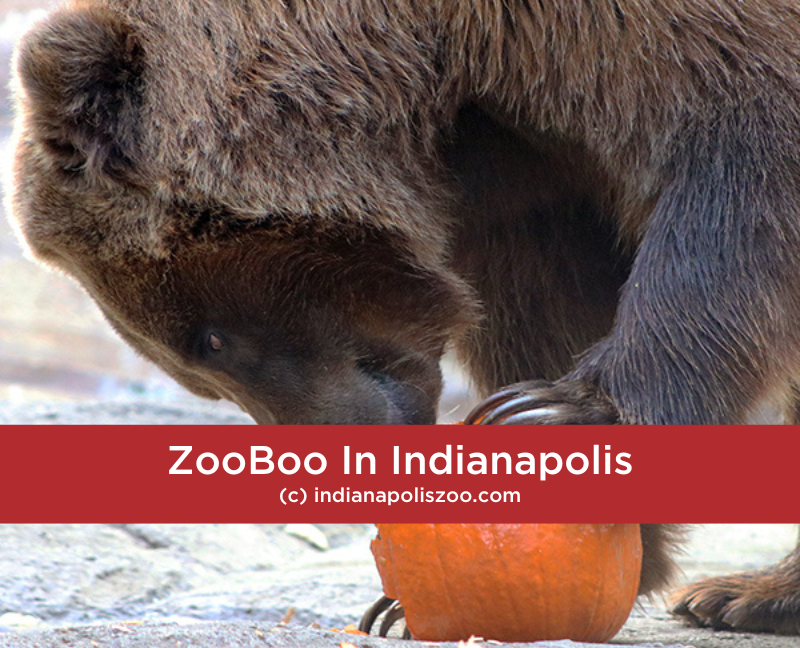 2. ZooBoo In Indianapolis
ZooBoo is a great tradition held by the Indianapolis Zoo. From September 27th through October 31st, 2023, people can enjoy a live DJ, magic acts, a mirror maze, and more. 
The event's fee is included in the admission of non-members while it is free for the zoo members. A grown-up trick-or-treat path runs from 5 to 8 p.m. on Fridays and Saturdays.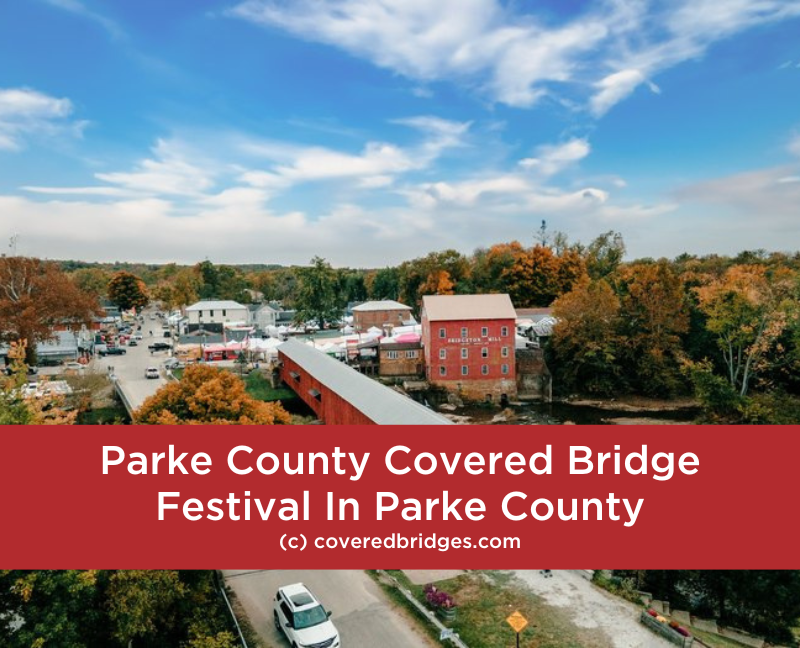 3. Parke County Covered Bridge Festival In Parke County
The beautiful Parke County Covered Bridge event is a fantastic celebration that serves as a reminder of Indiana's history, present, and future. It is also the most significant event in the state of Indiana. 
The most well-known covered bridge festival in the United States of America is an essential part of autumn and cannot be skipped. It hosts lots of opportunities to eat and shop and is a great Indiana event for the entire family. Since the celebrations will continue from the 13th to the 22nd of October, you can spread out the visits to each location.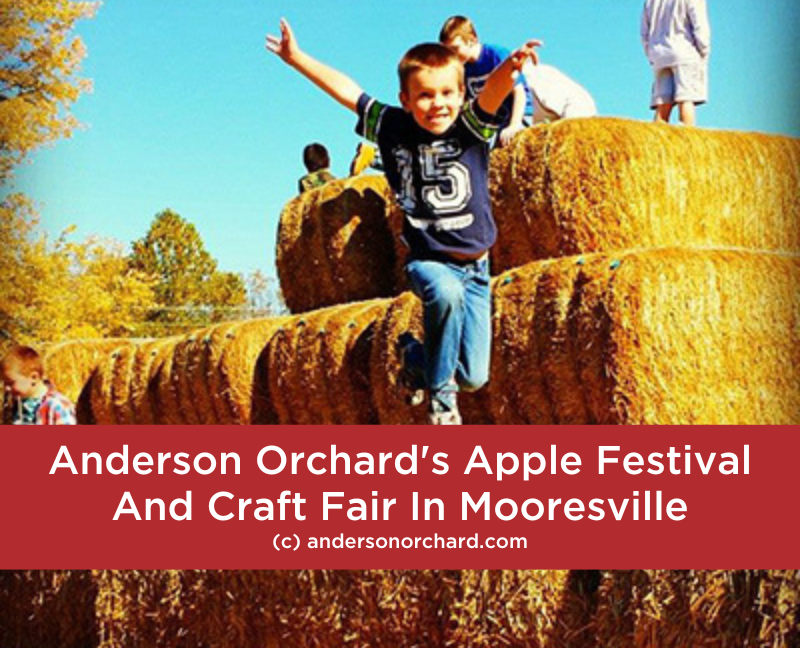 4. Anderson Orchard's Apple Festival And Craft Fair In Mooresville
Participate in the activities at Anderson Orchard from the 30th to the 1st of October. This year's festival will feature more than one hundred different vendors.
The apples in the orchard will be hand-picked, and there will also be a petting zoo and face painting available. The children even have access to a playground and a climbing structure made of straw.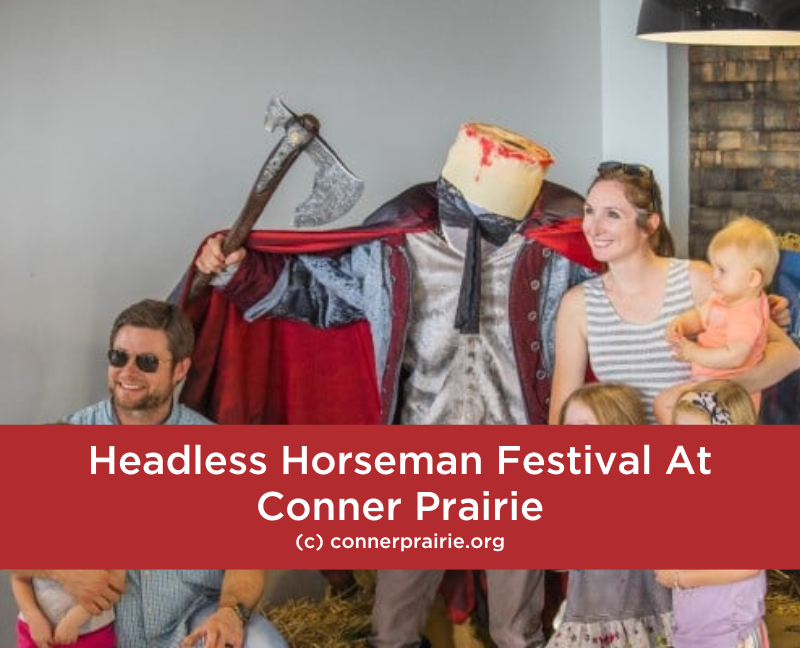 5. Headless Horseman Festival At Conner Prairie
This one is entertaining for all family members, although it is most likely best suited for families with children aged 12 and up. 
In the fall season, Conner Prairie hosts its annual Headless Horseman Festival. At this event, visitors can immerse themselves in the eerie world of the well-known horror story concerning --- you guessed it --- a horseman without his head. 
From the 5th to the 29th of October, every Thursday through Sunday from 6 p.m. to 10 p.m. there will be an abundance of events and shenanigans. 
Be prepared to have a good time because fortune-telling and other carnival-style activities, games, and rides will be there.
Now that we've got that out of the way, here are five of the most popular Indiana autumn festivals to get you in a seasonal mood and make fall even more enjoyable.
Did we miss anything? If yes, feel free to drop your favorite Indiana autumn events below!
Are you on the hunt for your dream home? Look no further! We have just released a stunning lineup of new listings for September 2023 that are sure to catch your eye. From spacious family homes to cozy condos, there's something for everyone in this selection. Let's dive into the details of these fantastic properties and see if your dream home awaits.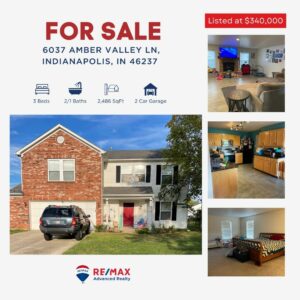 Are you on the hunt for the perfect home? We invite you to join us and visit our 7 Scheduled Open Houses this weekend, where you'll have the opportunity to explore a variety of stunning properties. Whether you're in search of a spacious family home, a cozy starter abode, or a brand-new move-in ready gem, we have something for everyone. Mark your calendars for an exciting weekend of open houses hosted by RE/MAX Advanced Realty Agents and get ready to find your dream home.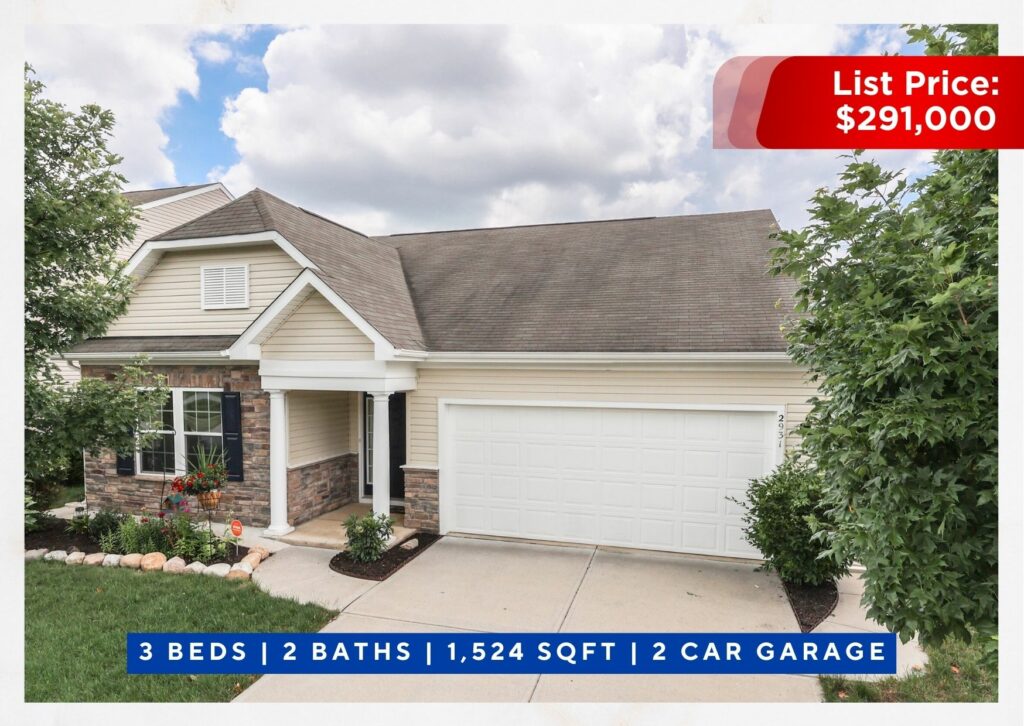 Step into opulence with our luxurious offering in Greenwood. This property stands as a testament to sophisticated living, boasting an upscale gourmet kitchen adorned with brand new granite countertops, stainless steel appliances, and an exquisite stone/ceramic backsplash. Elegance resonates in every corner, from the 7.5mm thick Luxury Vinyl Plank and Tile flooring to the meticulously painted walls. Every detail is meticulously designed, right down to the quartz vanity tops. The cultured stone exterior, alluring landscaping with a generous garden box, and a 6' cedar fence evoke a serene outdoor haven. Prepare to be captivated by this pristine dwelling, where meticulous updates intertwine with unrivaled luxury.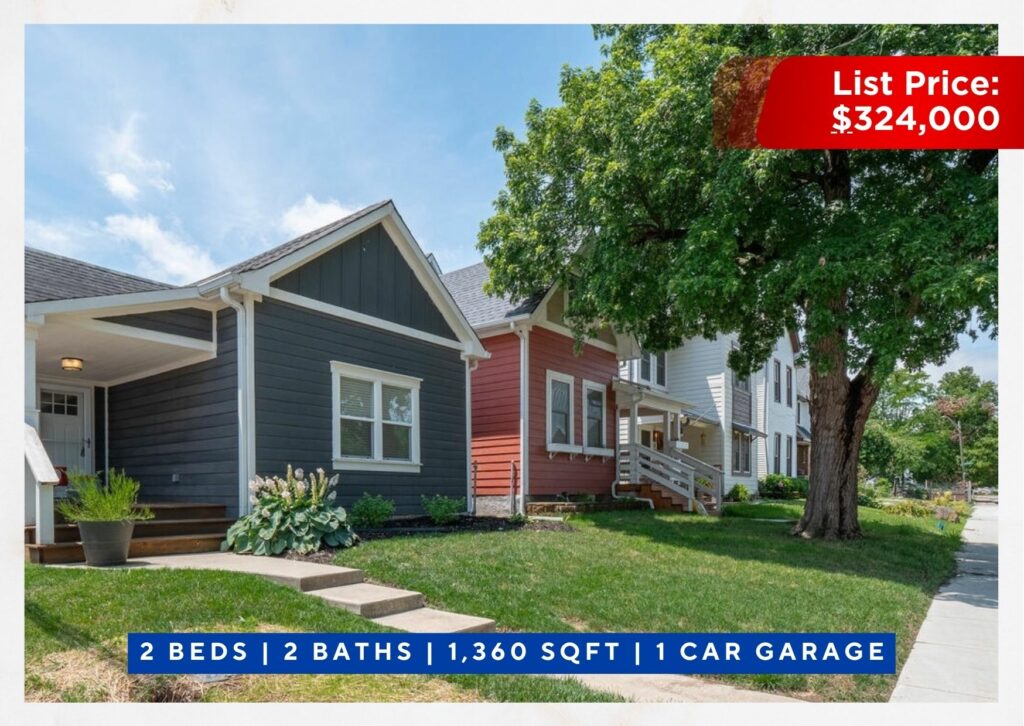 Embark on a journey to Bates Hendricks, where classic allure meets modern convenience. This home is a seamless blend of contemporary upgrades and timeless elegance. The open floor plan invites you to explore the harmonious living spaces, culminating in a stunning kitchen adorned with white Shaker soft-close cabinets, Quartz counters, and Stainless Steel appliances—a culinary haven for connoisseurs. The outdoor area is equally enchanting, boasting a private fenced yard, a deck area for relaxation, and custom lighting for enchanting evenings. Crafted with meticulous attention, this home is a canvas of comfort and sophistication.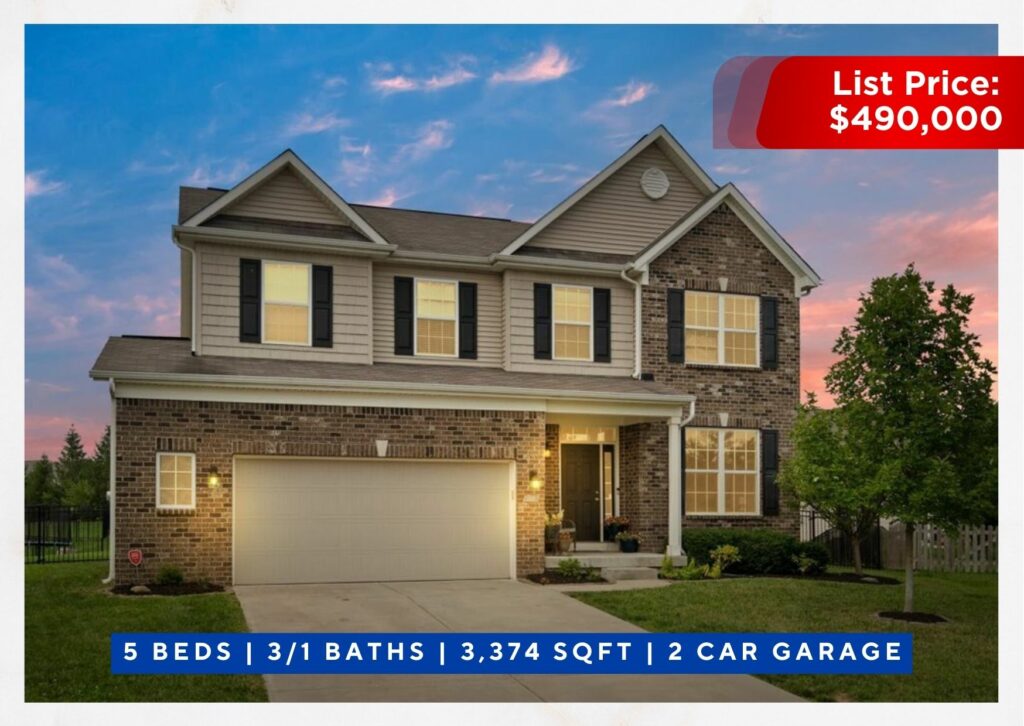 Discover this exquisite 5 BD, 3.5 BA home with office, offering an open-concept layout for spacious living. Nestled on a fully fenced lot, enjoy ample outdoor space and new flooring on the main floor that seamlessly blends aesthetics with durability. Don't miss the fully finished basement with storage galore and the convenience of walk-in closets. Situated on a peaceful cul-de-sac near community amenities and just minutes away from shopping and entertainment at Hamilton Town Center & Ruoff. Experience modern comfort at its finest!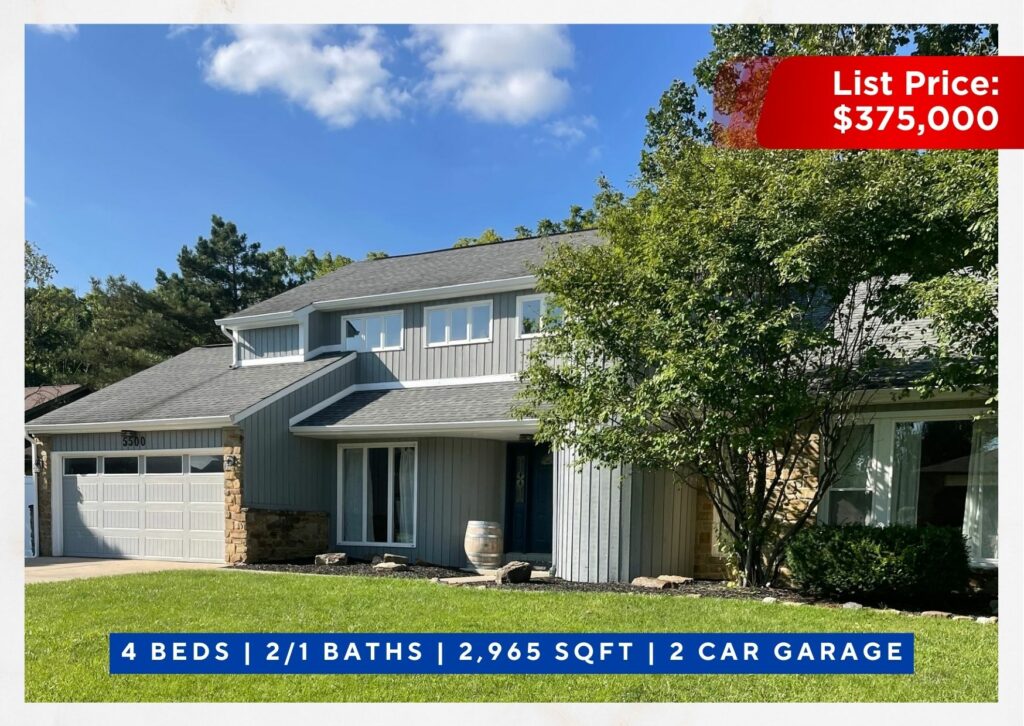 Discover the epitome of elegance in Avon—a captivating 4-bedroom, 2.5-bathroom haven with a finished basement. Enter the grandeur of the great room, crowned with a cathedral ceiling and a stone fireplace, emanating warmth and grandeur. The kitchen is a chef's delight, featuring pristine white cabinets, gleaming stainless steel appliances, and a modern update. Convenience reigns with the master bedroom on the main floor, while the loft and 3 bedrooms on the upper level provide abundant space. Nestled in a golf course community with a nearby playground, this dwelling offers indoor luxury and outdoor leisure. Bask in your private backyard with partial fencing and a spacious deck—your personal sanctuary.

Welcome to Regency Estates. Denali model designed to accommodate gatherings with a huge great room. Prepare to be captivated by the stunning kitchen, complete with a generous breakfast nook and a stylish island. The kitchen is a true delight, featuring dazzling quartz countertops, a tile backsplash, stainless steel appliances, a gas stove, and a generously sized walk-in pantry. On the main floor, you'll find a full bath for added convenience, as well as an office/bedroom. Four bedrooms await, including a fabulous master suite. The master bedroom is a sanctuary, featuring a beautiful ceramic-tiled shower, a relaxing garden tub, a double vanity, and a spacious walk-in closet. Additionally, a concrete path throughout the property ensures ease of movement.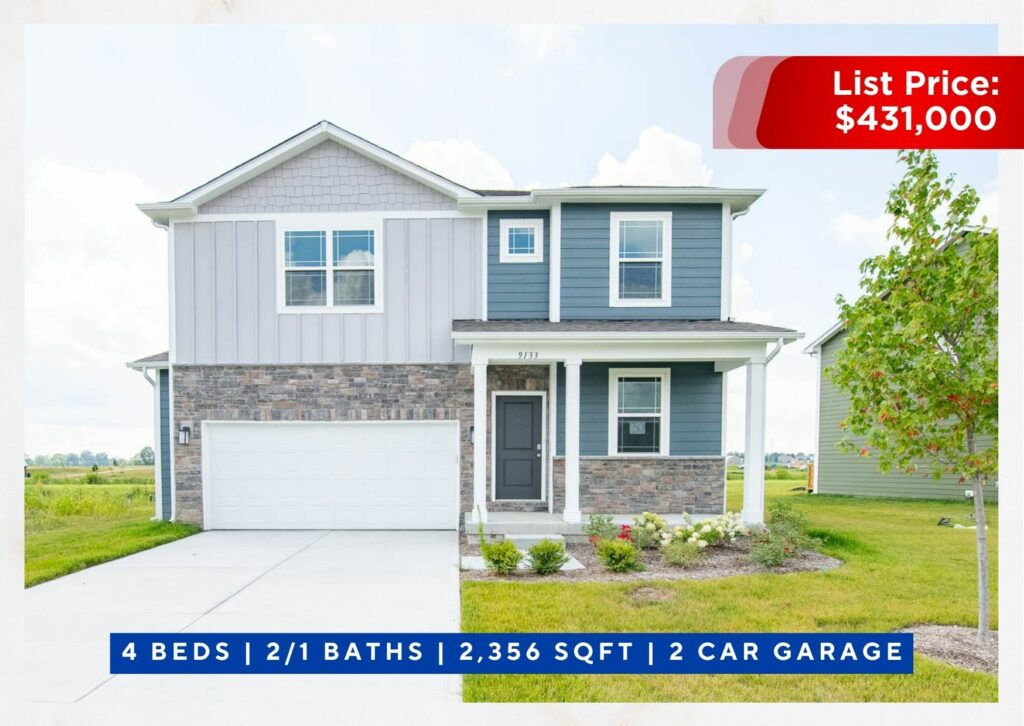 Take  a glimpse of your new beginning in The Fields at New Bethel. This expansive two-story residence boasts 4 generous bedrooms, 2.5 baths, and a full basement—crafted for spacious living. The open concept layout, adorned with solid surface flooring, creates an inviting ambiance for daily life and entertaining. The kitchen is a marvel, featuring elegant cabinetry, a roomy pantry, and an inviting built-in island. Upstairs, the oversized bedroom includes a deluxe bath with abundant storage in the walk-in closet. With an additional 3 bedrooms and a practical laundry room, this home caters to modern lifestyles. Embrace convenience and a sense of community in Southeast Indianapolis.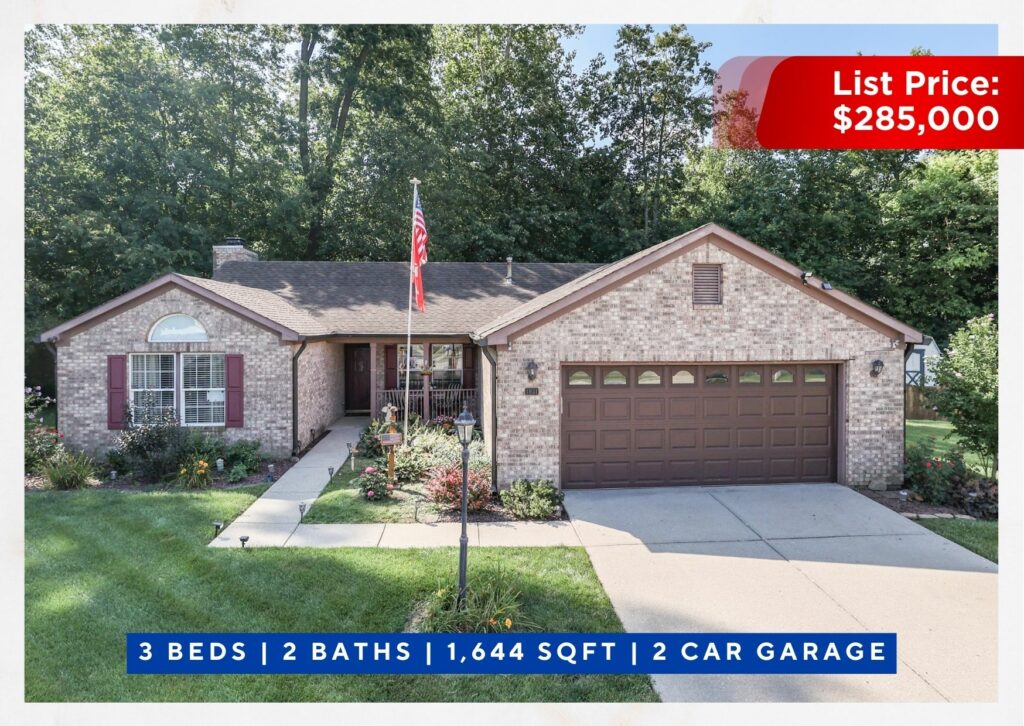 Journey further into comfort and tranquility with an enchanting all-brick ranch nestled on a cul-de-sac in a picturesque Indianapolis setting. The spacious great room with a fireplace sets the tone for cozy gatherings, while the beautiful kitchen with stainless steel appliances and a breakfast bar offers a delightful space for culinary creations. The split-bedroom floor plan ensures privacy, with a spacious en-suite providing the perfect retreat. Step outside and be captivated by the beautifully landscaped yard, complete with a deck and a large paver patio surrounded by the serene backdrop of trees and nature. Embrace the tranquility with a firepit, walking paths, and a sense of serenity that's second to none. This meticulously maintained home is a true gem, embodying a lifestyle of comfort and natural beauty. Don't miss out—come experience it before it's gone.
Don't miss out on this exciting opportunity to explore these exceptional homes during the RE/MAX Advanced Realty Open House Weekend. Whether you're a first-time homebuyer, a growing family, or someone looking for a fresh start, these homes have something extraordinary to offer. We look forward to welcoming you to these open houses and helping you find the home of your dreams!
Where to Visit In Avon Area – The Best Guide For Local Folks
Local folks always enjoy natural and children attractions in Avon Area, which is one of the most popular cities from tourists' attractions point of view. As far as the tourists' attractions are concerned, Avon Area has already been made up to the mark to meet the international tourists' needs. With some of the best tourists' sites, Avon Area has become one of the most preferred places of tourists in Indiana State of United States of America. You can always follow some of the top tourists' attractions in Avon Area. Avon Perennial Gardens is considered as one of the top sites in Avon with its year-round feast for soul.
Natural Attractions: Avon Perennial Gardens covers social gatherings, live music, parties, and showcase of attractiveness of landscape, natural trees, shrubs, herbs, and perennials for sale. Prestwick county club is another top addition in the Avon area tourist's attraction. Opened for both local folks and international tourists, Prestwick county club provides you with a calm and quite environment to enjoy your best time with your family and friends.
Tourists Attractions: Not much of a tourism site, but for adventurers, the haunted bridge of Avon could behave as an interesting site. The haunted bridge of Avon is popular for screams of ghosts. Nevertheless, that is something adventurous for people who love to visit haunted sites. Of course, this place is for people with +18-age mark.
Children Attractions: Finally, the best place for children in Avon area is Washington Township Park. The park is full of life as it gives your children numerous ways to play and enjoy the best moments of their life. The park has some great playing areas, swimming areas, water boating and water fun slides for children. Adults can also enjoy there and have fun.
For children and adults, who love skating, hot skates, is the perfect place to visit. With promotional coupons, you can get exciting wave off prices on your best deals in skating. Parents going out with their children can enjoy seeing their young ones having fun out there in the roller skating center. Therefore, concluding the above discussion, Avon area is one of the most economical areas for tourism attractions. You can enjoy with your family and friends in Prestwick county club, haunted bridge of Avon, Washington Township Park, and Hot Skates.
Note for New Tourists: New Tourists should always try to manage their flights in accordance with new events and festivals in Avon Area. If you can manage this, you would easily get a chance to attend some of the exciting events and festivals in Avon Area.
Wynbrooke and Wynbrooke Estates is located in beautiful Avon Indiana at the intersection of 21st street and N Raceway Road in Avon.  It is on the eastern side of Hendricks County.  Both neighborhoods children attend Avon Schools.  Wynbrooke has many fun things to offer families in Avon.  The neighborhood includes a swimming pool, lighted tennis courts, basketball and volleyball courts, and softball and soccer fields.  Find all active homes for sale in Wynbrooke here:  Call The Indy Home Pros Team at 317-298-0961 for information.