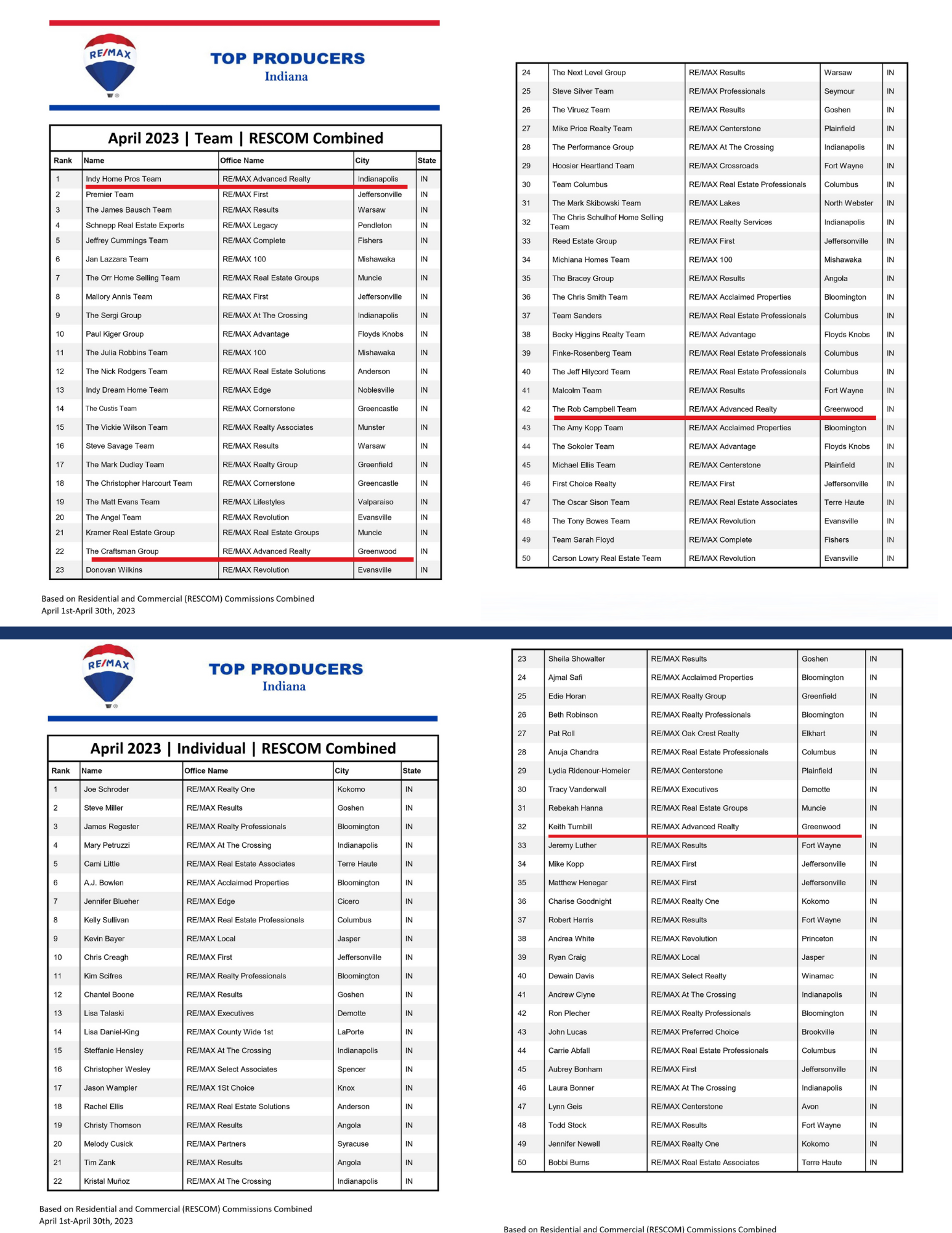 The real estate industry is a bustling world where agents and teams strive to achieve greatness and secure their positions at the top. Last April's RE/MAX Top Producers Report has yet again proven that RE/MAX Advanced Realty is truly Indiana's Leading Brokerage, bagging top teams and individual spots for residential and commercial production combined. 
Let's get to know RE/MAX Advanced Realty's  Top-performing Teams and Agents.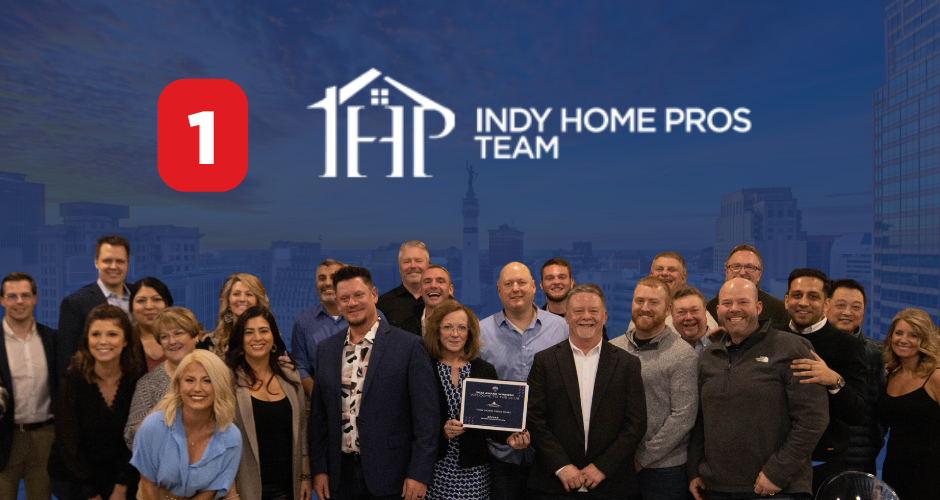 Indy Home Pros Team: Reigning Supreme at #1
Leading the pack and stealing the spotlight is none other than the Indy Home Pros Team, securing the coveted #1 ranking. Led by RE/MAX Advanced REALTY Broker/Owner and Team Leader Dennis Nottingham, the Indy Home Pros Team has consistently held the #1 spot, proving that their exceptional expertise, dedication, and unparalleled service have propelled them to the forefront of the industry. With a proven track record of success, they continue to dominate the real estate landscape, helping countless clients find their dream homes.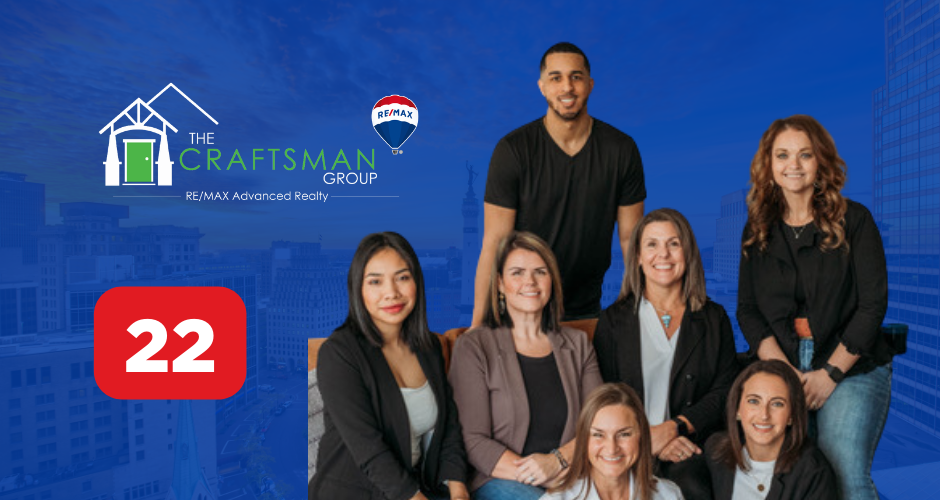 The Craftsman Group: Mastering Excellence at #22
With a client-first mentality, The Craftsman Group, led by Team Leader Cate Waggoner-Lee, has earned a well-deserved place at #22. Their attention to detail, creative approach, and unwavering commitment to delivering exceptional service have made them a formidable force in the market. The Craftsman Group has crafted a reputation as true artisans of the real estate industry, leaving a lasting impression on their clients and peers alike.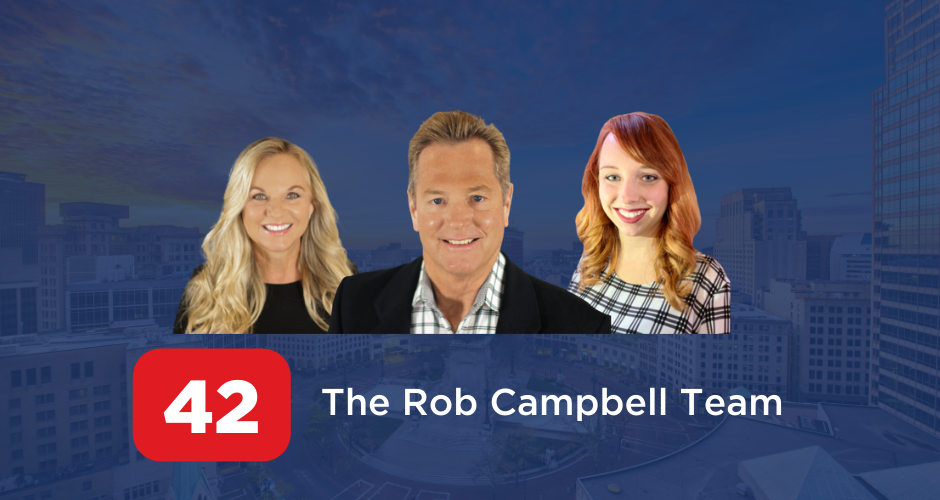 The Rob Campbell Team: Striking Success at #42
Led by Team Leader Rob Campbell, who boasts over 30 years of experience as a top-producing agent in Johnson County, The Rob Campbell Team has secured the impressive #42 position. Their expertise extends to both residential and commercial real estate, showcasing their prowess in diverse markets. With their exceptional solutions and unwavering dedication, The Rob Campbell Team continues to make waves, solidifying their standing in the industry.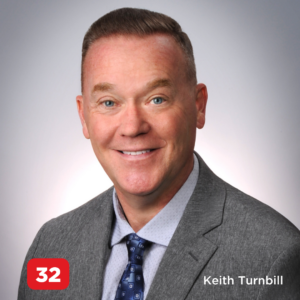 Keith Turnbill: The Epitome of Residential and Commercial Excellence at #32
At the remarkable #32 spot in the Residential and Commercial Combined category, RE/MAX Advanced Realty Green Wood Office's Head of Commercial Division, Keith Turnbill, has made a lasting impact. His versatility and adaptability have allowed him to thrive in both sectors, catering to the unique needs of his clients. With an impressive skill set and an unwavering commitment to success, Keith stands out as a true champion in the real estate arena.
RE/MAX Advanced Realty raises a toast to the Indy Home Pros Team, The Craftsman Group, The Rob Campbell Team, and Keith Turnbill for this feat. Congratulations on your outstanding accomplishments, and here's to an even more successful future!Here at RE/MAX Advanced Realty, we aim to continue leading the way, providing a platform for top-performing agents to shine and offering unparalleled service to clients across Indiana. Our commitment to excellence is what makes us home to the finest real estate agents in the state.
You've always thought Spring to be the best time to list your house for sale, and in the past, you would have been spot on correct. However, in Central Indiana's current extremely seller friendly market, this is no longer the case.
SET UP YOUR FREE IN HOME CONSULTATION WITH AN INDY HOME PRO
The "Spring Market" is still indeed one of the best times to list your home for sale. But in 2020, this Spring Market is happening much sooner than Spring; it's happening now.
This is especially true for homes roughly $250,000 and below. And your home may be closer to selling than you think, meaning you may not have to make nearly as many updates as you believe.
Set up a Free In-Home Consultation and an Indy Home Pro will come to your home and access what you could do to sell it for the most money possible. Some cosmetic work and quick projects, opposed to larger scale fixes, may allow your home to sell for top dollar and quick! 
Set up a Free In-Home Consultation Today with An Indy Home Pro from Indy's #1 Selling Team!