Professional home stagers are aware of how to highlight your property's values while minimizing its drawbacks to appeal to buyers.
It's helpful, but can be costly.
But don't worry, we took the liberty to collect the DIY decorating tips you can use to update the rooms in your house on a tight budget.
Cheaper Ways To Update Your Home's Look
TIP #1: SELECT THE RIGHT COLOR FOR THE FRONT DOOR
They say, "first impression lasts," and most of the time, it really works.
So, if you want to take advantage of this, you might want to consider painting the entrance door a vibrant, glossy color to give a wonderful first impression of your home.
The colors orange and yellow are also popular right now. Both hues are linked to happiness and warmth.
For items that you might want to remove, an obsolete screen door could be one. Get rid of it or swap it out for a storm door with full-length glass and a screen panel that you can swap out.
TIP #2: GO NEUTRAL
When decorating the first floor, keep the color scheme neutral by sticking to beige or gray. The most decorative flexibility is provided by neutral walls, which make it simple to change up your accessories.
Additionally, painting adjacent tiny rooms with the same neutral shade makes them appear bigger. If you want to create minor variations from room to room, you might want to move one or two shades up or down.
TIP #3: CREATE HARMONY IN THE LIVING ROOM
If you go to a well-designed hotel lobby, you can see how the furniture is fixed -- each piece is nicely placed to invite conversation.
You can try to achieve the same thing in your living room, and come out with a space that has harmony and intimacy.
If you want to create a perfect conversation space, you can consider an H-shaped set up with a sofa directly across from two chairs and a coffee table in the middle.
You might also want to consider a U-shaped setup with a sofa and two chairs facing each other at either end of the coffee table.
To make the room feel bigger, avoid making the frequent error of pushing all the furniture up against the walls.
TIP #4: LET THE NATURAL LIGHT SHINE IN YOUR KITCHEN
Window dressings should be two things -- useful and tasteful: think sheers mixed with full-length panels. A naked window is better than heavy, outdated drapes.
The most recommended lightweight fabrics for panels are cotton, linen, and silk blends because they tend to hang nicely, and if your space gets a lot of sunshine, use bright colors that won't fade.
Looking for the worst home renovations that could hurt your home? If yes, click here. 
TIP #5: ONE MIRROR PER ROOM
Mirrors reflect light, so it's a good tool to increase brightness in a room. However, putting one in the wrong place might be almost as awful as leaving one out altogether.
So when placing mirrors, make sure that they are perpendicular to the windows.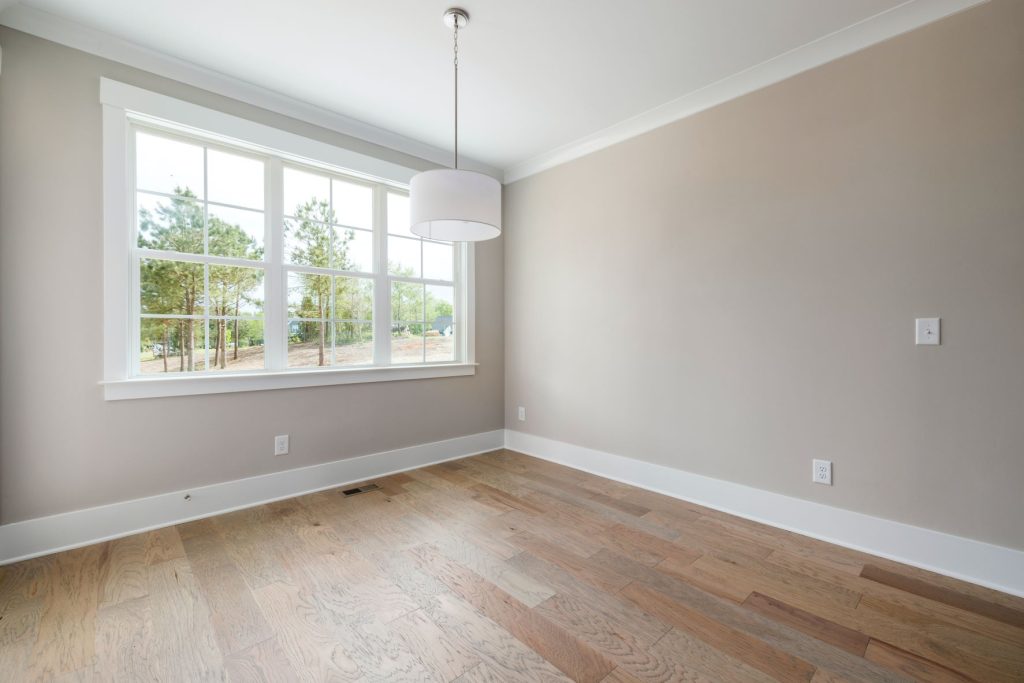 TIP #6: LAYER YOUR LIGHTING
There should be three different types of lighting in every space:
ambient or the overall lighting that most ceiling fixture usually provides
task or the illumination found in a reading nook or over a kitchen
accent, which is the more stylish or aesthetically pleasing highlights usually found in artwork
To make a room look bigger, let's say a living room, you can use a canister uplight or torchiere and place it in the corner to create a glow on the ceiling.
TIP #7: PLACE ARTWORK CORRECTLY
The key is to put artwork on the right level -- not too high and not too low.
If one is tall and the other person is short, the artwork should be average for their height and its middle at eye level.
Also consider scale; for a large wall, go big with one giant piece or group together smaller works in a gallery-style arrangement. Avoid placing the images too far apart; 2 to 4 inches between each item typically looks the best.
TIP #8: USE RUGS TO DEFINE SEATING AREA
The rule of thumb for the living room is to have a sofa and chair fit on a rug. It means that it should be big enough to define the seating area, covering all four legs of the furniture or at least its front two legs.
Even small-sized living rooms often need an 8x10 or a 9x12 foot rug to accommodate a seating area. If the rug size is too small, everything will appear out of proportion.
TIP #9: MAKE CEILING APPEAR TALLER
If your ceilings are not high enough, consider painting them white to give them a wider look. You can also hang drapes higher than the windows to make the area look taller. The majority of common curtain panels are 84 or 96 inches long, which allows you to extend them about 3 inches over window casings before they become unwieldy. Custom-ordered curtains will do the trick if you want them to hang higher.
A fan of patterned walls? Try vertical stripes; the lines will make your walls appear longer. Another way to make a space appear taller is to lean a big mirror against a wall.
TIP #10: REINVENT OLD FURNITURE
If you want a cheaper way to update an old fixture, using spray paint and low-cost refurbishing supplies to transform them is the key!
With a quick coat of hammered-bronze or satin-nickel spray paint, a 1980s brass chandelier can be given fresh life, advises Breining.
A few coats of white paint can improve old kitchen cabinets. A quick coat of spray paint can give an outdated chandelier a newer look. A DIY counter-coating can make even the ugliest countertops look better.
These are just some foolproof DIY home decorating tips you can use to make your home more appealing.
Feel free to drop some more tips in the comment section below.