One of the most crucial instruments in today's real estate market for property sales is technology. Among those technological tools, one of the newest and most important ones for selling a house quickly is a virtual tour of real estate. This technology allowed military members to be transferred, investors to increase their portfolios, and homeowners to select vacation properties. Virtual tours enable real estate agents to help buyers find homes and give sellers unique marketing tools.
Buyers want to rapidly find their next secure haven, which may be their office, gym, or classroom over months or years. Sellers want to prevent strangers from entering their homes while reaching enough buyers for the greatest offer. Virtual house tours are popular, but there are many choices for buying or selling a home.
Tips On How To Do Virtual Tours Of Homes
1. The Development Of A Virtual House Tour
Many real estate specialists who had never utilized virtual tours had to adjust rapidly during the pandemic. Not everyone can produce a "virtual tour" as last year due to time and resource constraints.
360° photos are used in traditional virtual house tours to show all sides. These let virtual tour viewers see up, down, and around a home's interior and exterior. A dollhouse-like digital model can be created from 360° photographs using software. Agents may also use Virtual Staging to embellish spaces with digital furniture and wallpaper or paint.
Online Walkthroughs show you strolling about the home, unlike traditional virtual tours. The seller or agent will hold a camera or smartphone and go through the house to make a video. Online walkthroughs can be pre-recorded or live. 
They are also called Virtual Showings or Online Open Houses if live. A scheduled, one-on-one Virtual Showing begins at the exterior and moves around the home like an in-person tour. Virtual Showings include FaceTime or Skype from your agent from a home you're interested in. Online Open Houses are more flexible, allowing viewers to join and leave group video calls on Instagram, Facebook, or Zoom.
2. Not All Things Virtual Are Impersonal
These kinds of virtual tours show property details more clearly than static images. However, a new refrigerator or the size of the master closet aren't the only variables when buying a property. It's a good thing virtual tours are great for human connection.
Virtual house tours let buyers see the house from every angle, visualize themselves living there, and assess if the flow and features suit their lifestyle. Live video walkthroughs in the real estate agent reveal non-visual details like creaking floors, quick internet, and community dynamics. Plus, you may ask concerns and get an insider's take on the home's best features.
Virtual tours are now my standard recommendation for sellers to showcase their homes and attract buyers. You can be sure that interested buyers are still seeing your house up close and personal, which will inspire their best offers.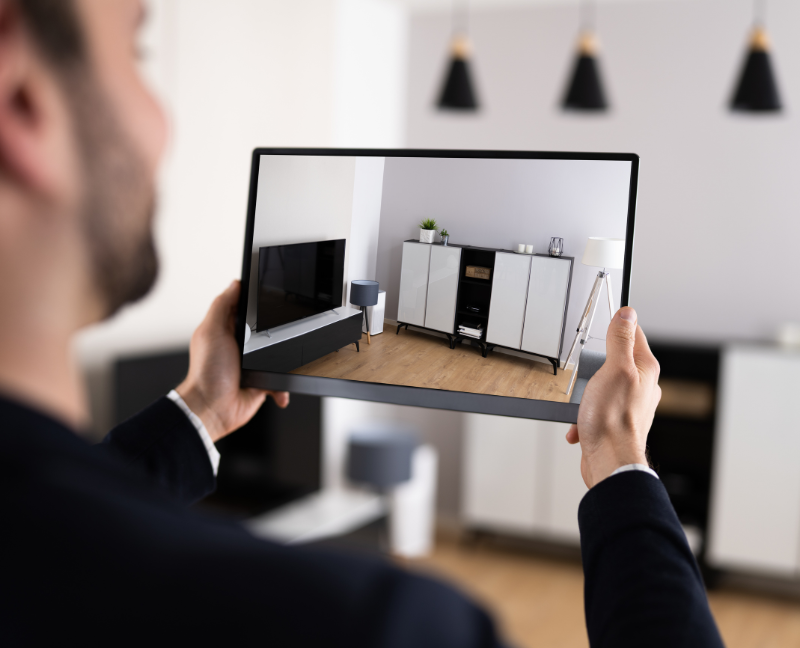 3. Virtual Only Represents The Beginning Of Safe Home Sales
Even though certain government limitations are lifted, virtual tours are still advised for buying and selling real estate. Buyers don't have to worry about previous visitors, while sellers lose foot traffic. Some data suggest virtual house tours make agents safer by reducing in-person showings and open houses.
Many virtual tours are available, but some buyers need to view a home to feel secure enough to make an offer. Realtors may advise purchasers to stay in their cars and wear gloves and face covers on the day of the in-person tour. Many sellers give hand sanitizer and ask buyers not to touch any surfaces. The agent will turn on lights, doors, and curtains. 
4. Your Objectives Will Affect How Quickly You Close
Real or not, virtual tours are expanding buyer and seller alternatives. The average buyer saw ten homes over ten weeks before making an offer in 2019. However, virtual tours save them time and allow them to view many homes quickly to create their ultimate pick.
As a buyer looking at a home from a couch, know you're not alone. You're competing with other buyers viewing the same properties, so collaborate with your real estate agent to make a solid offer when you find the property of your dreams. Sellers should evaluate the desire for a quick sale against the temptation to accept additional bids, which can extend the listing period by six percent. Agents can help you choose the best plan for your priorities.
5. The Best Option Might Not Always Be Virtual
Virtual tour creation, editing, uploading, and promotion for listings are expensive. Virtual staging and advertising will increase a listing's marketing expense. Even affordable methods like video call walkthroughs involve seller and agency time and effort.
These costs imply sellers may not want a comprehensive virtual tour bundle. Your agent may advise against a lengthy virtual tour, showing, and open house while marketing your home. That style of promotion may not appeal to your potential buyers, the investment-to-return ratio may not be favorable, or there may be other ways to get eligible buyers to notice your listing.
Buyers, some listings in your search may have something other than virtual tours. Those for-sale homes may have yet to need a full virtual marketing package to attract buyers or be better marketed traditionally. 
Have you tried a virtual tour? If yes, how was your experience with it? We'd love to hear your thoughts in the comment section.