One of the most crucial instruments in today's real estate market for property sales is technology. Among those technological tools, one of the newest and most important ones for selling a house quickly is a virtual tour of real estate. This technology allowed military members to be transferred, investors to increase their portfolios, and homeowners to select vacation properties. Virtual tours enable real estate agents to help buyers find homes and give sellers unique marketing tools.
Buyers want to rapidly find their next secure haven, which may be their office, gym, or classroom over months or years. Sellers want to prevent strangers from entering their homes while reaching enough buyers for the greatest offer. Virtual house tours are popular, but there are many choices for buying or selling a home.
Tips On How To Do Virtual Tours Of Homes
1. The Development Of A Virtual House Tour
Many real estate specialists who had never utilized virtual tours had to adjust rapidly during the pandemic. Not everyone can produce a "virtual tour" as last year due to time and resource constraints.
360° photos are used in traditional virtual house tours to show all sides. These let virtual tour viewers see up, down, and around a home's interior and exterior. A dollhouse-like digital model can be created from 360° photographs using software. Agents may also use Virtual Staging to embellish spaces with digital furniture and wallpaper or paint.
Online Walkthroughs show you strolling about the home, unlike traditional virtual tours. The seller or agent will hold a camera or smartphone and go through the house to make a video. Online walkthroughs can be pre-recorded or live. 
They are also called Virtual Showings or Online Open Houses if live. A scheduled, one-on-one Virtual Showing begins at the exterior and moves around the home like an in-person tour. Virtual Showings include FaceTime or Skype from your agent from a home you're interested in. Online Open Houses are more flexible, allowing viewers to join and leave group video calls on Instagram, Facebook, or Zoom.
2. Not All Things Virtual Are Impersonal
These kinds of virtual tours show property details more clearly than static images. However, a new refrigerator or the size of the master closet aren't the only variables when buying a property. It's a good thing virtual tours are great for human connection.
Virtual house tours let buyers see the house from every angle, visualize themselves living there, and assess if the flow and features suit their lifestyle. Live video walkthroughs in the real estate agent reveal non-visual details like creaking floors, quick internet, and community dynamics. Plus, you may ask concerns and get an insider's take on the home's best features.
Virtual tours are now my standard recommendation for sellers to showcase their homes and attract buyers. You can be sure that interested buyers are still seeing your house up close and personal, which will inspire their best offers.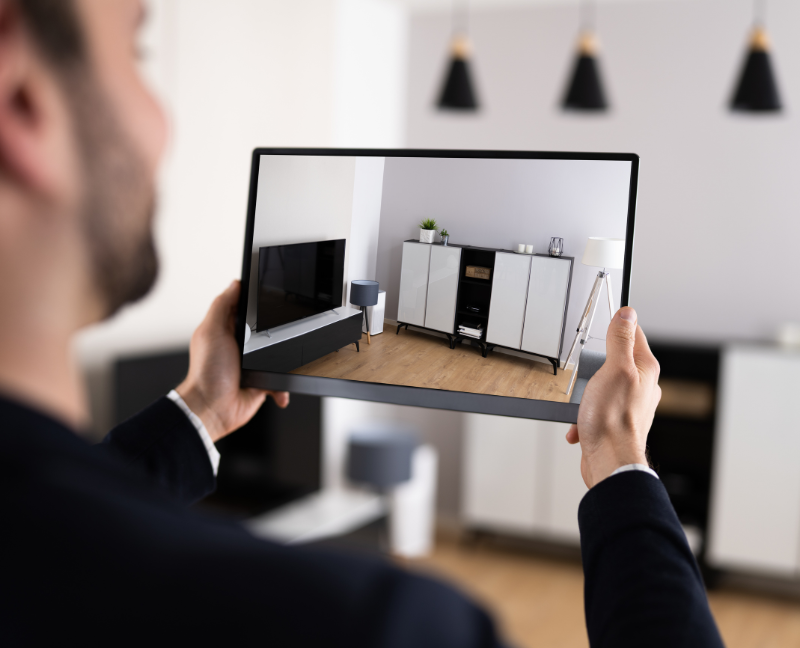 3. Virtual Only Represents The Beginning Of Safe Home Sales
Even though certain government limitations are lifted, virtual tours are still advised for buying and selling real estate. Buyers don't have to worry about previous visitors, while sellers lose foot traffic. Some data suggest virtual house tours make agents safer by reducing in-person showings and open houses.
Many virtual tours are available, but some buyers need to view a home to feel secure enough to make an offer. Realtors may advise purchasers to stay in their cars and wear gloves and face covers on the day of the in-person tour. Many sellers give hand sanitizer and ask buyers not to touch any surfaces. The agent will turn on lights, doors, and curtains. 
4. Your Objectives Will Affect How Quickly You Close
Real or not, virtual tours are expanding buyer and seller alternatives. The average buyer saw ten homes over ten weeks before making an offer in 2019. However, virtual tours save them time and allow them to view many homes quickly to create their ultimate pick.
As a buyer looking at a home from a couch, know you're not alone. You're competing with other buyers viewing the same properties, so collaborate with your real estate agent to make a solid offer when you find the property of your dreams. Sellers should evaluate the desire for a quick sale against the temptation to accept additional bids, which can extend the listing period by six percent. Agents can help you choose the best plan for your priorities.
5. The Best Option Might Not Always Be Virtual
Virtual tour creation, editing, uploading, and promotion for listings are expensive. Virtual staging and advertising will increase a listing's marketing expense. Even affordable methods like video call walkthroughs involve seller and agency time and effort.
These costs imply sellers may not want a comprehensive virtual tour bundle. Your agent may advise against a lengthy virtual tour, showing, and open house while marketing your home. That style of promotion may not appeal to your potential buyers, the investment-to-return ratio may not be favorable, or there may be other ways to get eligible buyers to notice your listing.
Buyers, some listings in your search may have something other than virtual tours. Those for-sale homes may have yet to need a full virtual marketing package to attract buyers or be better marketed traditionally. 
Have you tried a virtual tour? If yes, how was your experience with it? We'd love to hear your thoughts in the comment section.
TOUR: RE/MAX Advanced Realty and Indy Home Pros Team Brokers Jason and Joel Give You an Exclusive Tour of the Model Home in Inglenook of Zionsville Pocket Neighborhood Community of Cottage Homes.
RE/MAX Advanced Realty and The Indy Home Pros Team are excited to announce our newest partnership in the New Construction home space with Inglenook Communities. Specifically, Inglenook's Zionsville Community.
WATCH: Exclusive Interview with Pocket Neighborhood Expert and Inglenook Architect, Ross Chapin.
Per their website, "Inglenook's Zionsville community is a quiet Pocket Neighborhood tucked away on 17 acres of woodlands just minutes from Zionsville Village. Designed by award-winning architect Ross Chapin, Inglenook of Zionsville is a mix of two, three- and four-bedroom Cottage-style Home designs. The pockets of Cottage Homes will be built on 9 of the 17 acres.  The remaining acreage to the south is currently planned to remain woodlands.
Community is at the heart of this one-of-a-kind neighborhood. Whether it's walking your dog along the community greens or simply sipping tea on the front porch, you'll quickly find that these small daily interactions with your neighbors bring you closer together and build lasting relationships. After all, building a neighborhood is more than just constructing houses and streets; it's about creating a community of homes and people."
For info on securing a lot of your own, looking at an existing home, or any questions about the community, contact Indy Home Pros Team Realtors:
Jason Kraus
317-714-9580 | jason@indyhomepros.com
Joel Ogburn
317-699-2259 | joel@indyhomepros.com
Indianapolis and Central Indiana is currently a sellers market, and the number of homes available for sale is lower than ever. In fact since 2016, Indy's available home inventory has declined nearly 26 percent! And with fewer homes on the market, buyers are facing the frustration and stressful situations of multiple offers and bidding wars.
But have no fear, a solution is here! This great solution for Indianapolis area home buyers is to purchase a new construction home. With a new build home, a buyer receives a brand-new, never-lived in home that is more energy efficient than a resale, and which usually comes with a warranty provided by the builder. There is no stress from bidding wars, and buyers get to choose the flooring, countertops and other finishes in their home. And new build floor plans are often more open and modern than existing homes on the market.
However, when considering buying a new home, it's crucial that a home buyer uses a Realtor. And the best thing about using a Realtor when building a new home, it's completely free to you! Yes, the Home Builder pays your Realtor so you don't have to! The sales agents that you see working for the model homes are employees of the builder. In other words, they ONLY represent the builder and ONLY have the builder's best interest in mind.
To make sure that you have someone looking out for YOUR best interests when building a new home, it's a must that you work with a Realtor. We're there to negotiate the best price and terms, and make sure that you receive all the discounts and incentives possible! And our service doesn't end there; we'll continue to monitor the entire build process to make sure that it all goes smooth for you.
To learn more about building a new home in the Indianapolis market, please contact us today. Message us on Facebook, or give an Indy Home Pro a call at (317) 298-0961. We know Indianapolis area new construction better than anyone, and we're here to help!
Thinking of building a New Home but need to sell your current home? We will sell your home or we'll buy it, guaranteed!* That way you can have comfort and security going into your New Home Build. Learn more here, and fill out the contact form below and we will reach out to you! 
Photo Property of Ryan Homes
Whether you're Buying a New Home or searching for an existing, chances are you've heard of Ryan Homes. You've likely driven by one of their various New Construction Neighborhoods; Neighborhoods that are becoming more and more prominent in Indianapolis and the surrounding Central Indiana Area. You may even know someone who has purchased one of their gorgeous new homes, and you may find it tough not to want to do the same after visiting said person in that New Home. Lucky you, because Ryan Homes is set to nearly double the number of neighborhoods they have in Central Indiana in 2018 by adding 6-7 new communities! And because Ryan Homes is quickly becoming a prominent New Home Builder in Indianapolis, The Indy Home Pros Team knew we had to sit down with their Representatives and learn more about the company.
We sat down with Ryan Homes' Division Sales Manager of Indianapolis, Bob Konopinski, in their Branches Community and chatted about the importantance of using a Realtor when Buying a New Home, the environmental and economical benefits of buying a Ryan Home, and the overall process of Buying and Building a New Construction Home.
Bob explains the benefits that come with a New Home, how a New Home can be comparable to the cost of an apartment's rent, and how New Homes are now more energy efficient than ever before!
Hear what the Branches Community has to offer in the video below!
We also toured the Model Home in the Ryan Homes Branches Community which you can view below!
Want to discuss your options for having a Realtor assist you with building your New Home? Have questions about the New Construction process? | Call 317.298.0961 or email dennis@indyhomepros.com !
Good Luck and Congratulations on Starting This Exciting Process!
-The Indy Home Pros Team
Building a new home provides you with limitless possibilities which can both be amazing and overwhelming. That's why it is very important to have a professional realtor on your team who will make sure that your specific requirements and financial limitations are met throughout the process of turning your vision into a reality.
But what skills and qualities do you have to look for in a realtor to help make your dream home come true? This article will guide you on how to choose the best realtor to assist you if you've decided to build a brand new home.

Find a realtor who is experienced and knowledgeable in the new construction field. One who will be able to provide important insights and guidance in selecting long-term benefits of certain features of your homes, such as durability, impact on eventual resale, or timelessness

Building your dream home is very exciting and you can be enticed to avail all the endless upgrade options which could lead you to overspend. Your realtor should be someone who can help you achieve your dream home while staying on budget. One who has an industry insider perspective to act as your advocate, and help you spend your money wisely by educating you about the upgrades that are worth to help you prioritize.

The realtor you choose should be someone who has a strong foundation in the inner workings of various building companies and the way they do business. He/She must be able to understand your needs and provide appropriate recommendations of potential builders who will be able to match your needs.

The right location makes all the difference when choosing a place to live in. Your realtor should be knowledgeable about the construction and available amenities, as well as the housing development and general community vibe in multiple areas in order to provide the most appropriate recommendations that best suit your lifestyle.

I
t is not a secret that you can choose to build your new home without working with a licensed realtor, and the main reason for hiring one is to have a representative who is in your best interest. That said, it is imperative that the realtor you choose when building your home is someone who is well equipped with the knowledge, skills, and attitude to effectively deal with any unexpected crisis that could arise in the process of building a new home. 
Choosing a realtor with the skills and qualities mentioned above will ensure that you get the most value for money with the least hassle and frustration. If you are considering building a new home, reach out to us to speak with our new home build specialists.
317-298-0961 | dennis@indyhomepros.com