Pumpkin Spice is to Fall, as Andrew Luck is to the Colt...wait, too soon?
Over the past decade, Pumpkin Spice has all but become the official face of Fall's Annual Campaign to be elected Best Season.
But here at RE/MAX Advanced Realty and The Indy Home Pros Team, we wanted to know WHY Pumpkin Spice is so popular with hipsters and soccer moms alike. Stay tuned for more info on that.
To better understand why Pumpkin Spice has captured America's collective heart through its collective stomach, we must first understand its history. Just kidding.
No way we are going to bore you with its entire history; we might as well put a "click here to go back to whatever you were doing before you started reading this" button.
BUT! According to the History Channel, people have been using variations of Pumpkin Spice for roughly 3,500 years! The combination of spices listed below, nutmeg in particular, have been found in ancient pots in Indonesia, the Middle East, and Northern Africa.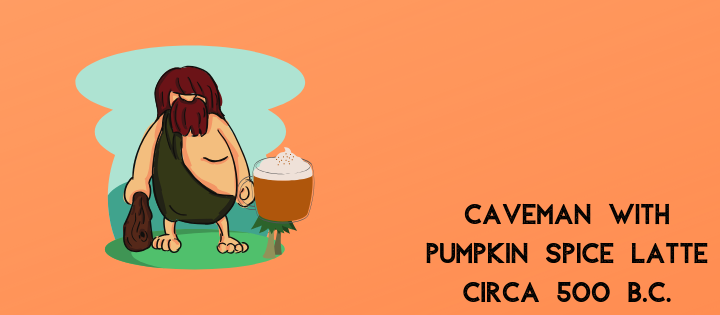 So, what exactly is in this "pumpkin spice" concoction? That is what we wanted to get to the bottom of---Starbucks lists the official ingredients of the PSL Spice component (Pumpkin Spice Latte) as…..
Cinnamon, ginger, nutmeg, and cloves; (the trifecta common to most Pumpkin Spice related items around the country being cinnamon, nutmeg, clove). The non-spice flavoring ingredients include some pumpkin puree and other interesting ingredients.
Okay let's break these ingredients down because you didn't ask--the following ingredients as defined by Merriam Websters:--------
Cinnamon: - the aromatic, dried bark of any of several tropical trees (genus Cinnamomum) yielding a culinary spice, oil, and flavoring
Ginger: - a thickened pungent aromatic rhizome that is used as a spice and sometimes medicinally
Nutmeg: - an aromatic seed produced by an evergreen tree (Myristica fragrans of the family Myristicaceae, the nutmeg family) native to the Moluccas
Allspice: - the berry of a West Indian tree (Pimenta dioica) of the myrtle family
Clove: - the dried flower bud of a tropical tree (Syzygium aromaticum synonym Eugenia aromatica) of the myrtle family that is used as a spice and is the source of an oil
How cool are those? And, most importantly, each time you sip that PSL from now on, you can impress your friends and say things like, "Wow! That nutmeg truly complements the allspice….and (pause for effect) if I'm not mistaken, am I getting hints of...clove?!"
Now, you may see one very interesting item that is left out of the Pumpkin Spice Latte ingredients...what is it now…hmm...oh that's right, PUMPKIN?!
Is pumpkin just being exploited for its popular and likable nature and figure?
Fear not, Starbucks officially lists on it's PSL ingredients a tiny amount of "Pumpkin Puree". While all of the other flavors carry the drink and are surely the stars, you can rest assured knowing there's at least a lil bit of pumpkin in that item that you'll undoubtedly order way too many of this beautiful fall season.
TAG US IN YOUR PUMPKIN SPICE LATTE PHOTOS ON FACEBOOK AND INSTAGRAM ALL THROUGHOUT THE MONTH OF OCTOBER AND BE ENTERED TO WIN A STARBUCKS GIFT CARD!
FB: INDY HOME PROS TEAM AT RE/MAX
IG: @REMAXADVANCEDREALTY
TWITTER: INDYHOMEPROSTM