So, you've finally decided to buy a property. The question is, would you purchase a new one or an old home?
In the first part, we talked about the pros and cons of buying an old home; now, we're going to do the same with a new house.
So sit back, relax, and let us help you decide.
Pros Of Buying A New House
A few advantages of purchasing a new home include upgraded appliances, modern floor layouts, and fresh paint. However, there is also something to be said about the psychological advantages of moving into a brand-new house. Let's look at some of the benefits of the new building. When you're the first person to live in a house, the home is what you make it.
Costs of Delayed Major Maintenance
Because new homes are constructed to last, owners of recently constructed residences frequently experience lower monthly maintenance costs. 26% of homeowners reported paying $100 or more a month or more for maintenance, according to the American Housing Survey. However, the percentage of homeowners who bought recent construction residences is substantially smaller. In actuality, 73% of these homes only paid $25 or less a month on these expenses. It is also simpler for new homeowners to obtain a house warranty because of the reduced maintenance requirements.
Energy Savings
The importance of energy efficiency has grown over time, therefore generally speaking, a home's environmental impact decreases with age. Due to their thicker, dual-pane windows and more well-insulated walls, ceilings, and floors, new homes better retain heat in the winter and air in the summer.
Given that some modern homes have built-in solar panels and other renewable energy sources, there may be an even greater emphasis on efficiency depending on the home's design.
Safety Seal of Acceptance
Along with ensuring your family's physical safety, homes that are code compliant also offer many advantages. Newer homes require less upkeep and are given the safety seal of approval since they must adhere to stronger safety requirements, which often leads to cheaper insurance costs and higher resale value.
Greater Living Areas
Although flowing, open-floor designs have become more popular, we have seen similar trends reflected in recent home development. However, new homes aren't always bigger than older ones. As a result, there is more storage space, more open areas for entertaining, and a higher average square footage.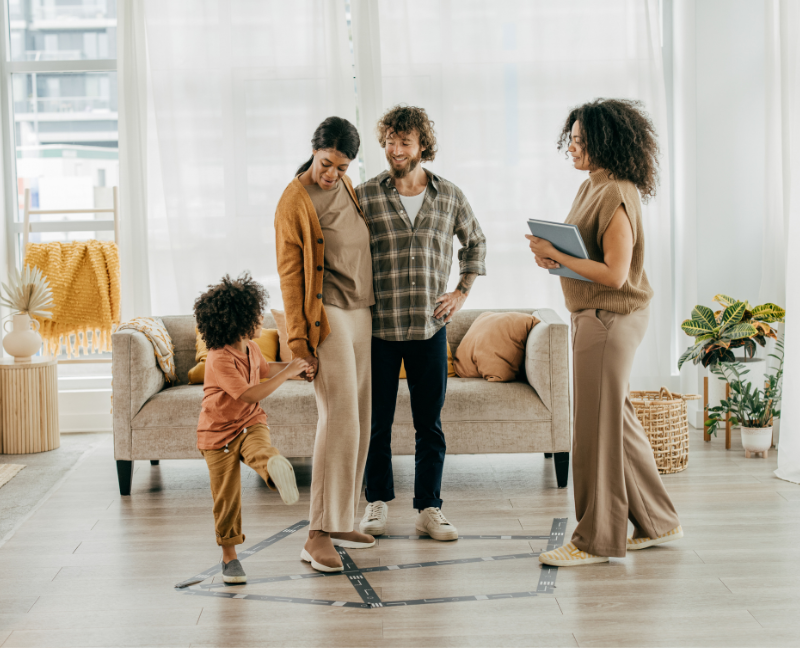 Cons Of Buying A New House
There are numerous reasons why opening a brand-new home is exciting, but there are also a few disadvantages when compared to existing homes. You must keep in mind that nothing remains brand new for very long, regardless of how recently built the house is or how recently it was built. Keeping that in mind, think about the following drawbacks of purchasing a new property. 
Potentially Less Centralized
Newer homes are generally less centrally located and frequently found in the suburbs because city centers are typically crowded with older residences. Some prospective home buyers may find this distance from the downtown area to be less than ideal because it frequently results in longer commutes for both work and leisure.
Less Spacious Outdoor Areas
Close-quarters living has resulted from home builders learning to sacrifice yard space to maximize the square footage of the house as land becomes more scarce.
The vegetation in these smaller outdoor areas is also younger. Older homes have had decades to develop their landscape, but newer homes have had much less time to develop their landscaping, hence new homes frequently have simple landscaping. In the long run, poor landscaping can reduce curb appeal, which could make it more challenging to sell the house in the future.
Higher Initial Expenses
As was already established, newly constructed homes cost 30% more on average than older ones. If high upfront costs won't work for your financial situation, you may be better suited for an older home, as they typically require less money upfront and will allow you to stagger home maintenance costs throughout the life of the property. However, if higher upfront costs won't work for your financial situation, you may be better suited for a newer home.
Conclusion: Age is just a number.
Making the best choice for your home requires a lot of compromises. Homebuyers must be very clear about what they want and need in a home, and the age of the property is only one factor to take into account.
Older homes might be a perfect choice for homeowners that place a high value on distinctiveness and are prepared to invest the required time, effort, and money to preserve and protect that uniqueness. These historic homes may age gracefully and serve as a reminder of simpler times for their owners with the correct maintenance. However, a newer home might be more appropriate for you if modern convenience is your main concern.
If you're ready to purchase your first home or you want to find which house is best for you, our team at RE/MAX Advanced Realty Indy Home. Pros are here to assist you!
Ranked as the #1 RE/MAX Team in Indiana, our seasoned professionals are more than willing to answer your questions and/or make buying or selling a home fast, easy, and exciting!
Call us at 317-298-0961 or click this link to get started.