Let me begin by saying I am not a good critic, even there, that was a typo that I find too fitting to fix. I am not a food critic, but I like to think I know a good bagel when I taste one. And while I may be a Google Certified Local Guide, (basically the twitter or instagam equivalent of having a blue check mark) that still doesn't mean I'm a good critic nor food critic, and it definitely doesn't mean you should listen to me. Except on this, listen to me on this article.
From Brooklyn to Chicago, I've made it a point to try local bagel shops, yet I didn't know the bagel experience could be elevated to such a pure level until I tried Sidedoor Bagel in Indianapolis. And while I am of the belief that one won't be able to fully comprehend this bagel experience until they've digested it, I will attempt to describe it.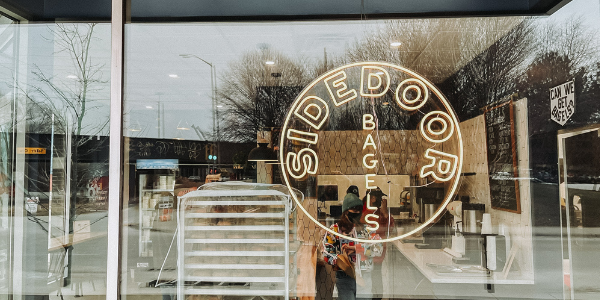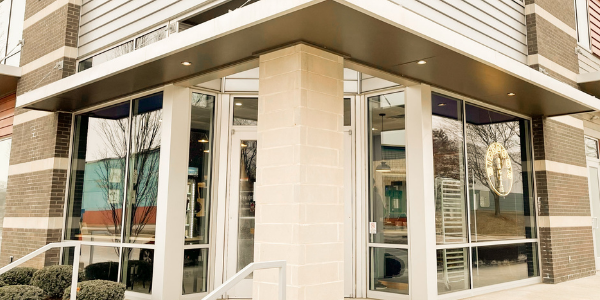 Sidedoor Bagel sits rather unassumingly at the northeast corner of 10th and Dorman, just minutes from Indy's famous Monument Circle. As you walk up, you're greeted by the warm glow of the Sidedoor Bagel neon sign. If you listen close enough, you can hear the sign beckoning to your taste buds and stomach to enter this sourdough sanctuary.
That's correct, sourdough. Bagels. Sourdough bagels. I've got to think this is a major part of what makes these bagels taste so unique. And while I know other places around town might use sourdough or a sourdough base, they just aren't as chewy and fluffy as Sidedoor in my opinon. Anyway, for more info on the sourdough process, go to youtube. To taste the process, go here.
Walk inside and you're greeted by a smell that inspires you to do your best Emeril, "BAM!", but you don't, because you dont' want to make things awkward. If you're lucky enough not to have a line in front of you, you'll see the modern counter set in front of a wall of modern tile complete with a menu.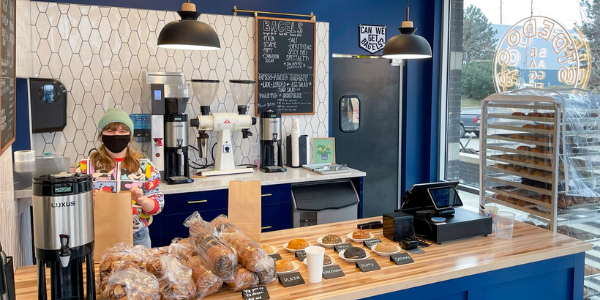 Now what you do next is up to you, and I can only base my recommendations off my experience. That being said, I'm confident there is no such thing as a wrong next choice; unless you walk out without ordering for some unfathomable reason.
I ordered the everything bagel with jalapeno cream cheese (pictured below), or schmear as it is referred to at Sidedoor. I did not stop there; you do not come this far for just one bagel. I then ordered a chopped chocolate bagel (available Friday's only I believe) and went with the recommended orange marmalade butter which, unbeknownst to me at the time, would soon change my life. I ordered both bagels toasted and pre-schmeared.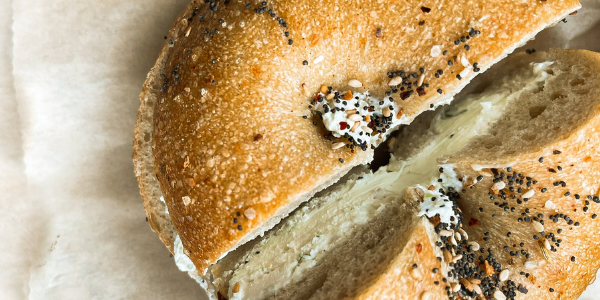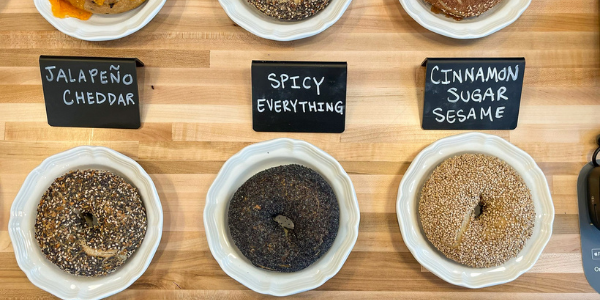 I get to my car because sitting at one of their seats to eat wasn't the type of private experience I felt I needed for what was about to happen. I started with the everything bagel because you can't start with sweets first, it's a rule. The moment you take a bite you know something is different.
It's chewy, in the best way. The exterior is crunchy, but not too crunchy. The flavors are what other everything bagels want to be, distinct and not overpowering. I'm not going to google what's in an everything spice, like garlic and stuff? But I love it. I ate it so fast I'm surprised I am able to recollect as much as I just did.
Now for dessert; chopped chocolate bagel sliced, toasted, with orange marmalade life changing butter. I did not know a bagel experience could be this blissful. The chocolate and the orange pairing, and the warm marmalade butter on a bagel, I simply don't have the culinary vernacular needed to better describe it. So I recommend you..go try it!
And if you do visit Sidedoor, tag us at "RE/MAX Advanced Realty" on Facebook or Instagram @remaxindy and tell us about your experience! Links below.