Social media gives your brand a face. Through this medium, businesses can showcase their products and services and serve as a form of customer service. Understanding the impact that social media has for almost every business will help develop your social media plan. Check out these 4 reasons why social media plays a key role in business.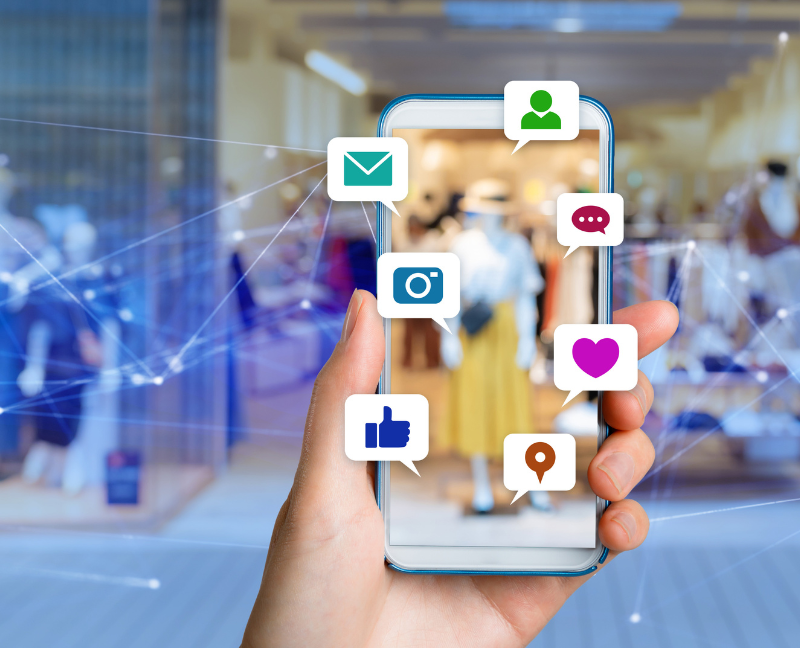 Gives the Stage to Show Your Brand
The social media world provides businesses with the proper stage and tools to showcase their business, services and products. There are many platforms to choose from, so choosing your preferred platform should be a breeze. Platforms businesses can choose from include Instagram, Twitter, Pinterest, Youtube, Facebook, Snapchat and many others. What platform a business chooses depends on what and how they choose to market. For example, a clothing brand would thrive on Instagram and Pinterest because those are platforms that are rooted in photography and aesthetic. There's a chance that advertising a clothing brand on a platform such as Twitter may not do as well as it would on another platform.
Another example are blog articles. For this form of media, Twitter would be a great platform to publish this content on. Twitter is a text-based platform, so blogs and other articles are sure to thrive on this platform compared to let's say, Snapchat. In picking your main platform, businesses will be able to showcase their brand for all to see. In utilizing social media businesses will be able to showcase their brand however they see fit. They may post what they like (under the rules of that platform) whenever they choose to do so. This freedom gives businesses room to try different strategies and post different forms of their content to see which does the best on a platform.
A Path to Reach Your Target Audience
Social media provides businesses with an easy way to share new information, services and products with its target audience and customers. This demographic is able to see what's new in the target market and keep up with all that's going on. This also keeps the target audience and customers consuming that business' content. Even if they don't choose to make any transaction with that business at that moment, they can still be given quality content on their timelines in preparation for any potential future purchases.
Understanding this ties in with the responsibility of keeping up with your account and ensuring that there is fresh and engaging content on that account's timeline. As previously mentioned, this keeps customers and the target audience in the loop of what's going on with that company. This could include sales, new products, new team members, business reviews and much more. This content allows the target audience and customers to stay informed on the business, builds trust and credibility, and also allows them to keep any possible transactions they might want to make with this business in the future on tabs.
A Cost-Efficient (and Fun) Way to Market
In today's world, it is more accessible than ever to market your content on social media. Facebook is a great resource for many when creating ads because they allow users to extend those ads to other platforms, Instagram being the most popular one. When creating ads, you are able to choose the ad's visual structure, text, image and what platform it will be marketed on. Each social media platform has the ability to track how successful your marketing strategy is by providing users with an analytics page. This page will show you how each post is performing. It will also target which post is outperforming the others.
When creating an ad, you are able to target it towards a desired outcome. For example, if you would like to drive more traffic to your website, there is an option specifically designed to do just that. Or if you would like to promote a particular post with a product or service there is an option for that as well. As mentioned before, users will be able to select the desired ad layout based on the layout options available.
Creating content is great for a business, but being able to properly market that content also holds great value and responsibility. We are lucky to live in a time in which marketing can be executed by the average person. If you are having a difficult time grasping the best way to create ads and how much to spend on them, check out some Youtube videos on the subject. There's a plethora of extremely valuable information from people in the industry who give free information on how to navigate this field.
Customer Service Can Be Achieved
Last on our list is customer service. Social media paves a way for customers to reach a business quickly and easily. They are also able to inquire about particular products and send it along with their questions through Direct Messaging (DM). They may also write in the comments section. It is important for authorized business account users to keep on top of the comments and direct messages, as they show other potential customers how your business interacts with and assists others. Using social media in this way also allows the business' team members to get more acquainted with social media usage if they are not so familiar with it.
As mentioned above, team members should ensure they reply to and are engaging with all who inquire. These members also serve as the "face" of a business' brand because they are who both current and potential customers will bring their questions to and/or interact with. When you provide a comfortable space for this group to respond, they are more likely to have a better view of the business, and with this, there is a higher chance of them making a purchase or supporting the business in the near future. These customers will speak well of the business and may possibly recommend it to others. Esteban Kolsky reports, "72% of consumers say that they will share a positive experience with a brand with 6+ people". 6 people per 1 person can accumulate tremendously and rather quickly as well. This increases your presence online, likeability, and of course, revenue. Great customer service on a business' social media platforms is critical to reach both old and new customers, and to build a healthy relationship with them.