If you're new to real estate, whether as a buyer or an agent, decoding the industry itself can be challenging.
It's complex to learn the process of selling, buying, or investing alone, and so is learning all its jargon. However, it's critical to know even just the basics before you dive into it to avoid further confusion.
In this post, we've listed some of the commonly used real estate terms to know.
Real Estate Terms To Know
ADJUSTABLE-RATE MORTGAGE (ARM)
In layman's terms, it is a mortgage with a variable interest rate. During the initial period, the interest charged to the loan is fixed, but after that, the rate will adjust at monthly or yearly intervals.
APPRAISAL
To determine the approximate worth of the real estate, an appraisal is necessary. The mortgage lender sends a property appraiser to assess the asset's worth. This helps the lender determine if the amount that the borrower is asking is worth it.
APPRAISAL CONTINGENCY
If the appraised value of a home is less than the sale price, an appraisal contingency allows a buyer to cancel the purchase agreement.
To guarantee that the loan is secured by a suitable house value, the buyer's lender hires an appraiser to assess the worth of the property. Lenders want to make sure they aren't "overpaying" for a piece of real estate.
BACKUP OFFER
If the initial transaction fails, a buyer who is interested in buying a property that is already under contract with someone else has the option to make a "backup offer." To ensure that a backup offer is the next in line, it must still be negotiated and any funds, like earnest money, must be provided. Legally, there can only be one backup offer because a backup to the backup cannot exist.
BLIND OFFER
Even when viewing the property as possible, a buyer making an offer on it without seeing it was deemed as a "blind offer." It is an approach frequently used in highly competitive situations.
BUYER'S / LISTING AGENT
A buyer's agent also referred to as a selling agent, is a qualified real estate agent whose responsibility is to find a buyer's next home and to represent that buyer's interests by negotiating on their behalf to secure the best possible deal.
COVENANTS, CONDITIONS & RESTRICTIONS (CC&RS)
A neighborhood association, a homeowner's association (HOA), a builder, or a developer will typically impose these rules and regulations on real estate to outline any requirements and restrictions on what a homeowner is permitted to do with the property. Additionally, it could include special, yearly, or monthly assessments.
CONVENTIONAL SALE
The owner could sell their home when the said property is owned outright (has no outstanding debt on the mortgage) or the owner owes less on their mortgage than what the market suggests they may get for it. 
CLOSING
When the home transaction closes, it is deemed complete. Typically, this occurs when all parties have signed the necessary paperwork, transferred all funds, and if a lender is involved, received full lender approval. The very last stage of closure for several marketplaces around the country is documenting the deed with the county clerk's office. Considered the new homeowner, once each of these requirements has been met, the buyer is granted entrance to the residence.
DAYS ON MARKET
DOM for short is the period between the day a property is advertised for sale on the multiple listing service (MLS) of the neighborhood real estate brokers and the day the seller and buyer enter into a contract to sell the property.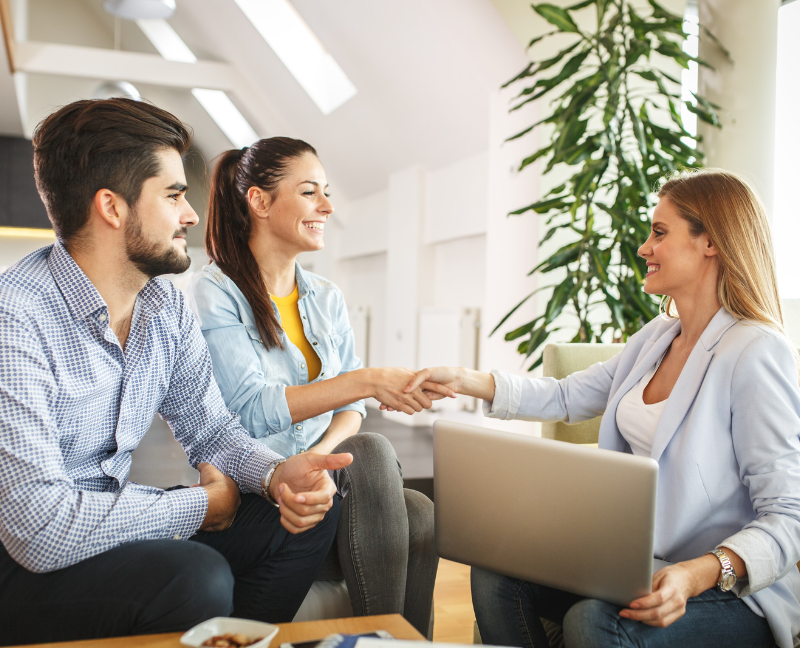 DEBT-TO-INCOME RATIO
A mortgage lender's debt-to-income ratio, or DTI, is calculated by dividing your monthly housing payment and all other debt payments by your gross monthly income and multiplying the result by 100. This enables lenders to estimate how much you can afford to pay monthly for a mortgage by using their available lending programs to calculate affordability.
EARNEST MONEY DEPOSIT (EMD)
When a seller accepts a buyer's offer, the buyer will be required to make an earnest money deposit (EMD), sometimes known as a "good faith deposit". It demonstrates the buyer's seriousness about the purchase as well as their willingness to back up their words with deeds.
The EMD might be between 1 and 5 percent of the sales price in amount. The EMD is frequently kept by an escrow business or by other provisions of the purchase and selling agreement (PSA).
ESCROW HOLDER
This is the depositary (impartial third-party) and agent who gathers the funds, necessary documents, personal property, written instruments, and/or other items of value to be held until specific events or the performance of described conditions happen, usually outlined in mutual, written instructions from the parties.
EQUITY
Equity is the investment made by the homeowner in their house. Your home's equity is calculated as the amount that is left over. To get this, take the home's market worth and deduct any mortgages or liens from it.
FHA LOANS
A set of loans that are insured by the federal government includes FHA loans. In other words, the FHA insures banks and other private lenders against potential losses they might sustain if the borrower does not repay the loan in full or on time.
FHA 203K REHAB LOAN
Known as a "fixer-upper," this combines a mortgage loan with a loan to help pay for improvements or repairs, like structural or energy-related changes. However, it can't be used for luxury improvements, such as adding tennis courts or swimming pools.
FIXED RATE MORTGAGE
As the name suggests, the interest rate will not change during the term of a fixed-rate mortgage. They are frequently offered as 10, 15, 20, and 30-year loans.
Hard Money Loan
An alternative to using standard lenders is to take out hard money loans. Hard money lenders often demand a sizable down payment and a quick payback plan and base the loan's eligibility on the property in issue rather than the credit score.
HOMEOWNER'S ASSOCIATION (HOA)
A private organization called a homeowner's association oversees a condominium or planned community. You agree to adhere to the HOA's rules and pay monthly or yearly HOA dues when you purchase a property that is managed by an HOA. They frequently have the right to foreclose on the property if you don't pay and/or don't comply, and/or they can file a lien against the property.
HOME SALE CONTINGENCY
Using a house sale contingency, a buyer might tell a seller that one of the requirements for buying their property is that they can successfully close on their existing home. This is frequently negotiated as part of a clause or addition to a contract. If a buyer needs to sell their home to have the down payment needed to buy the new home or would prefer to utilize the sale money rather than their savings to make the down payment, then such a contingency could be employed.
INSPECTION
Inspection is a process wherein a potential home buyer hires a certified professional inspector to visit the house and create a report on its condition and any required repairs. The inspection frequently takes place during the period of due diligence so that buyers can decide for themselves whether they want to purchase a particular home as-is or ask the seller to make or pay for specific repairs.
INSPECTION CONTINGENCY
The inspection contingency, sometimes known as a "due diligence contingency," is a provision occasionally included in a purchase agreement that gives buyers a certain period during escrow to do any required inspections.
LAND LEASE
Traditionally, when you buy a house, you become the owner of both the building and the land it is situated on. A land lease may be necessary in some situations, in which case you would own the house while paying the landowner's rent.
LOAN CONTINGENCY
A loan contingency is a clause or addendum (also known as a mortgage contingency) in an offer contract that permits a buyer to back out of a purchase and keep their deposit if they are unable to get a mortgage with specific parameters within a set amount of time.
MORTGAGE PRE-APPROVAL LETTER
Property purchasers must obtain a mortgage pre-approval letter because it outlines their financial capabilities. After examining the buyer's debt-to-income ratios, cash on hand, and credit history, the lender issues a mortgage pre-approval letter outlining the terms, loan type, and loan amount the buyer qualifies for.
MULTIPLE LISTING SERVICES (MLS)
Real estate agents and broker members use a database that gives them access to modify or add information about properties that are available for sale in a specific area, and this is called Multiple Listing Service (MLS). The MLS is frequently checked by buyer's agents to see what properties are available and what they have recently sold for. 
NATURAL HAZARDS DISCLOSURE (NHD) REPORT
Most states require this report, and this discloses when a property is situated in an area where there is a higher risk of natural disasters. Typically, the seller pays for the study and provides it to the buyer during escrow.
In an NHD report, the following natural hazard zones are included:
Area with heightened flood risk
Potentially flood-prone area
Zone with a very high level of fire hazard
Wildland areas that could have a high risk of forest fires and other dangers
Seismic fault zone
Earthquake hazard area
OFFER/COUNTER OFFER
Customers submit a formal offer for the house they wish to buy. Depending on what you and your agent believe to be the fair market value, the offer may be the full list price.
After getting your signature and putting the offer in writing, the buyer's representative sends it to the seller's agency for consideration. The seller has two options: either accept it right away, in which case it becomes the parties' purchase contract, or make a counteroffer. It is the art of negotiation that is documented in writing.
PRE-APPROVAL
Homebuyers must complete an application to obtain pre-approval, which enables a lender to assess their financial condition, including their debt-to-income ratio, repayment capacity, and creditworthiness. Once this is obtained, the lender can provide a letter to the buyer indicating the precise loan amount for which they have been pre-approved as well as the total sales price for which they are approved.
Typically, the letter will state the projected interest rate as well as the buyer's anticipated down payment. The majority of sellers want to see a pre-approval letter along with an offer because it is far more detailed than a pre-qualification letter.
PRELIMINARY REPORT
To deliver a clear title, the seller must take care of any title problems that are revealed by a preliminary assessment. The information provided includes easements, liens, and the history of ownership. By looking through the county recorder's office's database of past property transactions, the title business compiles this report.
Before a title insurance provider may provide title insurance coverage, they must receive this report. To safeguard their interest in a property, most lenders require borrowers to buy title insurance coverage. Even though it is a negotiating point, it is common practice in many places for a seller to cover the cost of this insurance.
PRINCIPAL
The sum of money owed to the lender on a mortgage loan, excluding interest, is known as the principal balance. Take a loan of $300,000. That is the loan principal or the amount you borrowed to purchase the house. The interest, which is computed daily for the majority of loan types, is paid by buyers each month together with the principal. Almost always, interest is paid on payments before the principal is deducted. After all, the bank only agrees to provide the loan because of the interest.
PROBATE SALE
When a homeowner passes away without creating a will or deciding to give a property to someone, a probate sale takes place. The probate court would then provide permission to an estate lawyer or other representative to engage a real estate agent to sell the house under such circumstances.
The entire process will typically be a little more difficult and time-consuming than a typical transaction.
REAL-ESTATE OWNED (REO)
The term "real estate owned" refers to homes that a lender now owns after an unsuccessful auction foreclosing on them.
REO homes occasionally offer a chance for a buyer to purchase a property for less than market value because the majority of banks would rather reinvest the proceeds than waste time promoting the property for a prolonged period.
Financing can be challenging because the bank frequently markets the property "as-is," meaning they are not willing to make any modifications to it.
REALTOR®
Although the terms "REALTOR®" and "actively licensed real estate agent" are frequently used interchangeably, not all real estate agents are REALTORS®. A member of the National Association of REALTORS® is a REALTOR® (NAR).
A REALTOR® commits to maintaining the association's Code of Ethics and to keeping one another responsible for providing the public, customers, clients, and each other with high-quality service.
RENT-BACK
When a buyer, who is now the new homeowner, agrees to let the seller, who is now the tenant, remain in the home after escrow closes, this arrangement is referred to as a rent-back, sometimes known as a leaseback. In advance of the event, the terms are agreed upon, and they frequently include a leasing deposit, a daily rental charge, and a permissible time frame.
It is occasionally feasible to calculate the rate by taking into account the new homeowner's monthly mortgage out-of-pocket costs as well as any potential trouble this may cause them by postponing their move.
SELLER CONCESSION
To get purchasers to buy the home or make the deal more appealing, sellers may make concessions.
Up to certain restrictions and with the lender's consent, concessions are most frequently considered as a contribution toward the buyer's closing costs, which, in the end, puts more money in the buyer's pocket.
SELLER DISCLOSURE
A seller's disclosure is a statement made by the seller that, to the best of the seller's knowledge, contains facts about the property or that could influence a buyer's choice to buy the property.
In addition, a seller is required by law to disclose any information that may affect a buyer's enjoyment of the property but is not directly related to it, such as pest issues, boundary disputes, knowledge of significant construction projects nearby, military base-related noises or activities, association-related assessments or legal issues, unusual odors from a nearby factory, and even recent fatalities on the property.
SHORT SALE
When a property is sold short, the amount received for it does not cover the loan it is used to secure. Since the proceeds of a short sale will fall just "short" of the debt, the lender(s) of the seller will need to approve the transaction. Because most lenders' clearance procedures for short sales are drawn out and time-consuming, a short sale will take longer to finalize than a standard one.
SUBJECT TO INSPECTION
The seller is not allowing the property to be examined before an accepted offer when they use the phrase "submit offers subject to inspection" or "submit offers subject to inspection". Tenants who are uncooperative or who have privacy concerns are two prominent causes of this.
You can take advantage of the typical buyer's apprehension regarding buying a house without seeing it because it will surely reduce interest in the market as a whole.
Additionally, it's not as bad as it first appears because, under the typical purchase agreement, there will be an inspection period during which you can end the deal without incurring any fees.
TENANCY IN COMMON (TIC)
A sort of joint ownership of a property, whether it be a single-family home or a business building, is referred to as tenancy in common. The property is owned by all of the common renters, though in various proportions.
The simplicity or complexity of obtaining finance will depend on the type of property. Additionally, tenants in common do not have the right of survivorship, therefore the deceased tenant's ownership stake or percentage truly belongs to their estate, as determined by their will or the applicable law, rather than the remaining owners receiving a share of it.
TERMITE REPORT
Small, whitish, soft-bodied termites feed on wood and can cause a lot of damage. A diagram of the property and the locations of current and/or past WDI activity are included in the WDI report, often known as the termite report.
The report may also, and in some cases, mention what could be required to deal with such potential infestations, such as spraying or tenting. The cost of such products won't typically—if ever—be mentioned in the WDI report because it might be seen as a conflict of interest.
TITLE SEARCH
During a title search, the history of the property is analyzed from public documents, including sales, purchases, tax liens, and other types of liens.
To find out who is listed as the property's official owner, a title examiner will often search title plants and occasionally county records. The Preliminary Report will detail this information, along with any liens or encumbrances that are recorded against the property, for the parties to evaluate before the conclusion of escrow.
TRUST SALE
In a trustee sale, the seller is a trustee of a living trust rather than a private individual. Most frequently, this is due to the original homeowner's passing away or the placement of their assets in a living trust.
Since the trustee may choose to sell the property, they might accept a less desirable offer because they are not as emotionally invested in it as a regular owner would be.
VA LOAN
A VA loan is a mortgage loan provided by the U.S. Department of Veterans Affairs. 
Veterans, active duty personnel, and the surviving spouses of these individuals can obtain VA loans to buy homes with a small downpayment, no private mortgage insurance, and better interest rates.
These are just some of the real estate terms to know. 
For more content like this, be sure to visit our website or follow our official Instagram account.