2019 was another stellar year for the Indianapolis real estate market and the rumors are true - homes still sell in the cold months.
Year over year numbers haven't been fully released yet, but when we can take a general snapshot of what 2019 looked like compared to 2018, some of the numbers are staggering.
The house you bought, or passed up on, in December of 2018 that was priced at $177,500 is now valued at $195,000. Imagine that...buying a home and it essentially has paid you $17,000 to live there. That's a great thing for sellers! Not so great for buyers...
There are certain price pockets that aren't moving and, if you're reading this from a house over $500,000 in value, you know what price range that is. If you've been shopping for a house under $200,00 or, even worse, a house under $125,000, then you feel the pain that Indianapolis is suffering from - low inventory. Really low inventory.
Active inventory as recent as May of 2015 was 12,583 homes. Today, it sits at under 5,000. Builders can't build fast enough. Buyers can't offer fast enough. And the lower price range of the market in Indianapolis isn't getting better as builders are looking at communities priced above $200,000 primarily. And anything under $200,000 has out of state (and out of country) investors interested. Paying cash!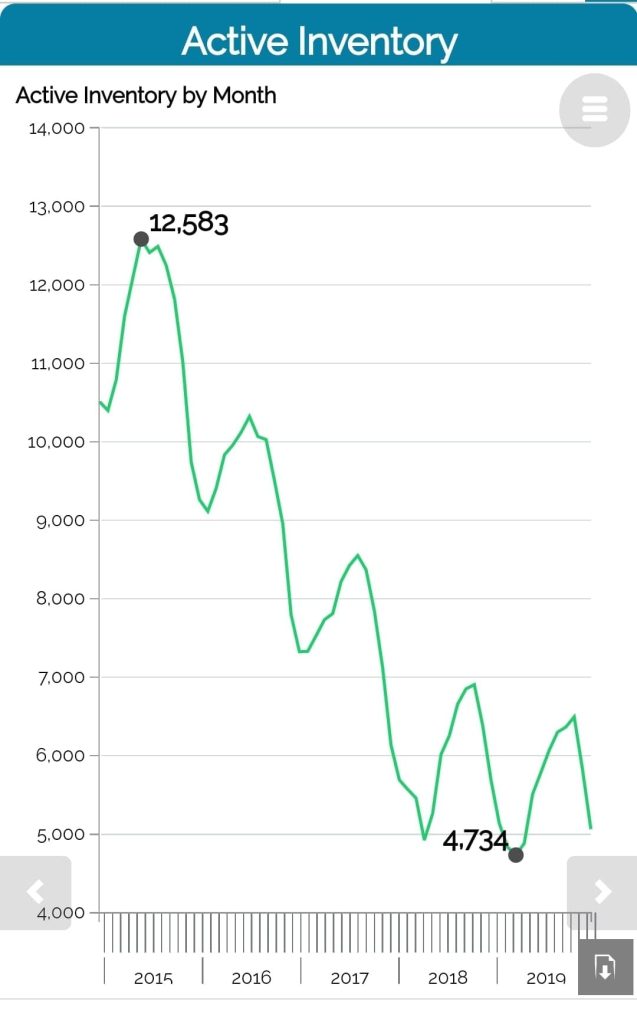 So, it's still extremely competitive out there. And if you're a buyer, you need to come to the game prepared. Shoes tied, suited up, ready to take the ball and run with it. In real estate terms - have your preapproval for a mortgage ready, your tax returns and W2s on hand for the lender, and know that the house you see for sale that's priced at $165,000 is what it will sell for. Not for $130,000 or less, like you see on TV.
Another interesting item to note is the growth of a perceived bubble that will burst around the US in the next 10 to 15 years. We can thank the Boomers for this one! "OK, Boomer..." This wonderful generation owns almost 2/3rds of the residential real estate in the good old US of A, and they are slowly starting to feel the strain of age. Instead of moving and downsizing, however, they've remained in place. Upping the average time in a home from around eight years to over 10 years. What's this mean to the market?
It means, less homes to buy NOW but in the near future, a LOT of homes to buy. And in some parts of the country, almost HALF of certain city's inventory will go on market. Either because the Boomer has passed on, or moved into assisted living or in with their own children.
This can become a huge deal in the years to come. In fact, it's already taken a toll on the rental market, with some Boomers electing to give up on maintaining a house and moving into rentals. Which then takes away from those who needs lower cost of living residencies. Like... Millennials.
All in all, it's an interesting dynamic to keep our eyes one over the coming years. In the meantime, in the Indianapolis market, unless something creates a massive slow down or the arket collapses, there still seems to be a proggressive shift month over month with regards to pricing. And a progressive movement downward with regards to inventory.
Authored by Josh Latham. Josh Latham is the Director is Sales for RE/MAX Advanced Realty and an Associate Broker for RE/MAX Advanced Realty and The Indy Home Pros Team.