Although directly owning investment properties is the best real estate investing strategy, investors have other ways to generate money from real estate, like what we've mentioned in Part 1. This includes:
Buy and hold rental properties

Reinvest rental income

Buy, remodel, rent, refinance, repeat (BRRRR)

House fixing and flipping
To continue this part, we will give you additional investment strategies in real estate that you may want to consider in the future.
The Best Real Estate Investing Strategies
Below are the additional five investment strategies in real estate:
1. Real Estate Wholesaling
The investing strategies in real estate through wholesaling are similar to those of investing in real estate through fixing and flipping, except that a wholesaler does not take ownership of the property they are investing in. 
For a small wholesale fee, a real estate wholesaler finds a distressed property with an inspired seller, puts it under a contract at a below-market price, estimates repairs and fair market value, and assigns the buying and sale agreement to another investor.
Like mending and flipping, real estate wholesaling needs a lot of effort, market knowledge, and negotiation skills to get an owner to sell for less than market value. In several states, property wholesalers must be licensed.
Real estate wholesaling may be an excellent business for those with limited capital. Many professional real estate distributors use "real estate bird dogs" to find distressed property and pay a small referral fee.
2. Real Estate Investment Groups (REIGs)
Small funds known as real estate investment groups (REIGs) buy collections of rental properties and then make those properties available for investors. 
REIGs promote vacant properties, screen tenants, collect rents, manage property, and maintain them for a percentage of monthly rental income. REIG investors benefit from ongoing rental income and equity appreciation when the houses are sold. 
People searching for a hands-off real estate investing strategy may find REIG a viable alternative. Still, it's essential to look into management and their prior record of success or failure.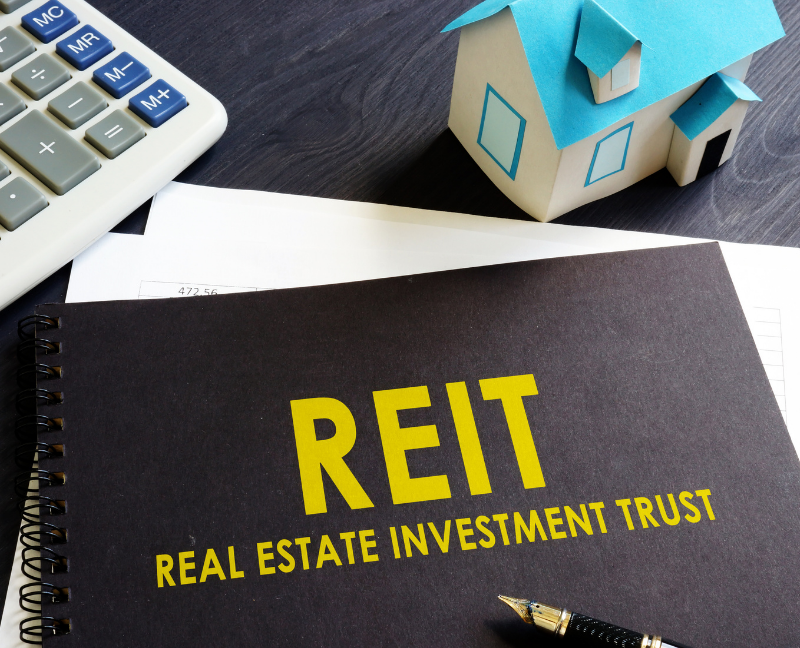 3. Real Estate Investment Trusts (REITs)
REITs are publicly or privately held companies that invest in residential build-to-rent (BTR) subdivisions, commercial real estate, and special-use properties like data centers and cold storage facilities. 
At least 90% of REIT profits must be distributed as dividends. They can diversify an investment portfolio, generating real estate income without owning property. Typically, REITs lease investment-grade properties to credit tenants for long periods. Publicly listed REITs are more liquid than other real estate investments because they may be traded.  
REITs do not offer the pros of owning a rental property, such as directly influencing property management decisions.
4. Crowdfunds
Investors in crowdfunding platforms buy shares in high-quality commercial and residential assets like new house developments, apartment buildings, and stable commercial real estate. 
Crowdfunding can expose investors to homes they cannot afford directly. If a project is lucrative, crowdfunding investors receive pro-rata net income distributions and a part of any sales revenues. 
Crowdfunding's illiquid shares may be locked up until a project is stable or during economic uncertainty. The crowdfund sponsor's experience in identifying profitable possibilities, financing and developing the project, and leasing and managing the property to optimize asset value and cash flow is also important to investors.
5. Private Lending
Private lenders buy real estate debt instead of equity. Private lenders finance real estate investors like home flippers who want an alternative to regular lending. Like banks, private lenders profit through lending fees and interest rates; however, most fees and interest rates are higher.
Although private lending can offer continuous interest income, a borrower may default, and a lender may have to take back a partially restored home. Since private lenders have real estate investing knowledge, they know how to protect themselves from foreclosure.
Did we miss anything? If there are other real estate investment strategies you know, feel free to drop them in the comment section below!