Help Us Bring A Smile To Our Veterans This Christmas
Christmas time is undoubtedly the season of giving. It is also the perfect time to reflect and consider those who are most in need. As a Christmas Tradition, The Indy Home Pros Team makes it a point to give back to the community. This year, we are proud to partner with the Indy Blue Star Mothers and Lincoln Apartments in ensuring that our Hoosier Veterans will have a merrier Christmas!
Empty heading
ADOPT-A-VET: Each Christmas, Lincoln Apartments does an Adopt-A-Vet holiday program. The vets that want to participate provide a list of six items they'd really like.
Now's your chance to make one of our heroes Christmas truly special. Adopt a veteran of your own and together let's work to make sure that everyone at Lincoln Apartments receive the gifts they want this Christmas! For more details, contact Chandra Cadogan at chandra@indyhomepros.com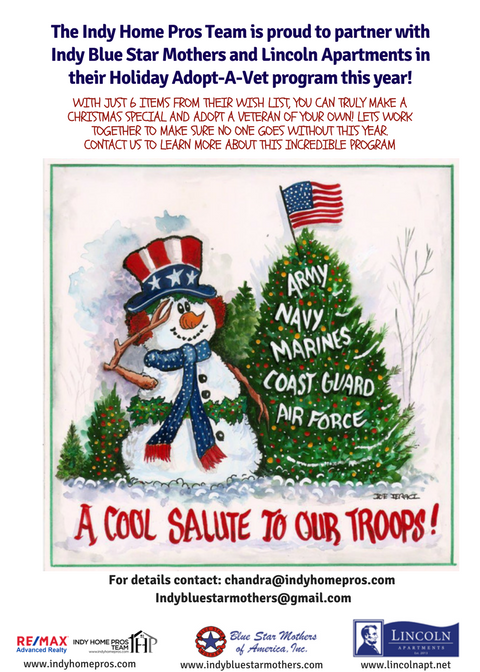 STOCKING STUFFERS FOR LINCOLN APARTMENT VETS - There are 75 stockings to fill! Let's work hand in hand to make sure that all will be filled with goods for our veterans. Below is a comprehensive list of what they need.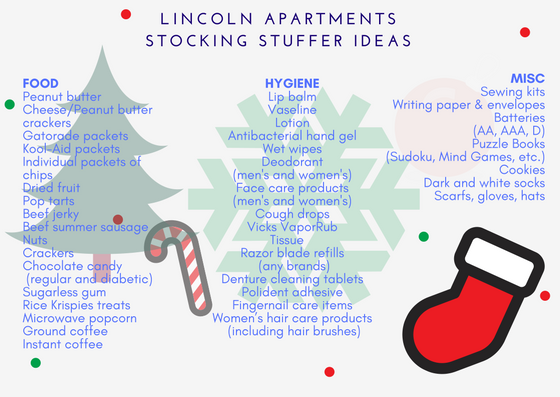 Contact Chandra Cadogan at chandra@indyhomepros.com for the designated areas on where you can drop off your donations. Make sure to visit www.indybluestarmothers.com for updates.
Let us make Christmas more meaningful by giving a life-changing gift, donating some of your time, and bringing a smile to those in need this festive season.
Discussion
#1 By Denise Biers at 11/24/2017 1:20 PM
I want to take this time to thank you to the Indy Blue Star Mothers -14 and Indy Home Pros for helping the Lincoln Veteran Residents Council (aka LVRC) by bringing holiday and cheer and heart felt sentiments as we all work to get all the Veteran residents matched with a sponsor. "Adopt a Veteran for the Holiday' Program. The LVRC has had 44 of our Veteran Residents sign-up for the program. We have 20 left to be adopted this year. Thank you so much for your donation of your time shopping for those who are adopted, and for the love that is felt every time a Veteran is adopted. Thank you too for your support. The Veterans at Lincoln Apartments are very appreciative. Denise Biers, President, LVRC