To celebrate and honor the life and achievements of Dr. Martin Luther King Jr., numerous establishments in Indy are Offering Free Events and Admissions this Monday, January 16, 2023.
3000 N Meridian Street, Indianapolis, IN 46208
Phone 317-334-4000
Free Admission! Some special events may require advanced tickets.
Celebrate and enjoy special activities and performances dedicated to the achievements and legacy of Dr. Martin Luther King Jr. at the Children's Museum this January 16, 2023, from 10 am - 5 pm.
13400 Allisonville Road, Fishers, IN 46038
Phone: 317-776-6000 or 800-966-1836
Tickets are only available at the ticket desk on the Day of the event.
Celebrate Identity, Belonging, Community and Love throughout the Day
this January.
500 W Washington St. Indianapolis, IN 46204 | 10 am - 5 pm
(317) 636-9378 | Free Admission
Celebrate Martin Luther King, Jr. Day by learning about famous quotes from Dr. Martin Luther King Jr. and participating in a community art project at the Eagle Commons Hallway.
Eugene and Marilyn Glick Indiana History Center
450 West Ohio Street, Indianapolis, IN 46202
(317) 232-1882 | Free Admission | Donations Encouraged
Storytelling, service activity, musical melodies, and beats of Keisha Ballinger and the University United Methodist Church Praise Team await everyone visiting the Indiana Historical Society on Martin Luther King Jr. Day, Monday, January 16, from 10 am - 5 pm.
Those who wish to contribute to a local community project can bring new children's clothes, books, or cash donations for Charity Cares Early Academy. 
650 W Washington St. Indianapolis, IN 46204
(317) 232-1637 | Free Admission | Donations Encouraged
Celebrate Dr. King's dream and explore the story of the fight for civil rights. Learn some of Dr. King's most iconic speeches and experience activities themed around civil and human rights. 
Visitors who plan to make donations are encouraged to make monetary donations of any amount via Dip Jars to Gleaners Food Bank instead of non-perishable items.
1200 W Washington St, Indianapolis, IN 46222| 9 am - 4 pm
317-630-2001 | Free Admission
Everyone with generous hearts and a sense of adventure are invited to the Zoo! Hardier animals will be out to enjoy the Day, including Arctic foxes, sea lions, walruses, tigers, brown bears, and others. 
The Zoo is Open for Free on Martin Luther King Jr.'s Day. Donation dip jars will be on site for monetary donations benefitting Gleaner's Food Bank. Food pantry donation items will be given to The Exchange at the Indianapolis Urban League.
Walker Theater 617 Indiana Ave., Indianapolis, IN 46202
(317) 236-2099 | Free event, but registration is required.
Madam Walker Legacy Center is a 501 C3 non-profit organization and Indiana Avenue's last iconic building dedicated to promoting and supporting cultural education, social justice, entrepreneurship, and youth empowerment.
This Monday, January 16, 2023, at noon, they will be hosting their 41st Annual Day of Celebration with their featured speaker Tamika D Mallory, Time 100's award-winning social justice leader and movement strategies.
Get your Free Tickets Here!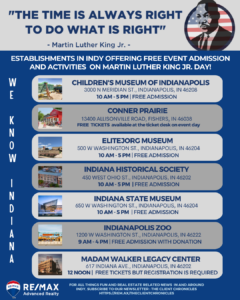 Note: We've rounded up the list based on the information these establishments have posted on their website and official social media accounts and have no control over any changes or ticket availability; we've provided links to their official website; feel free to check to confirm before going.
If you're a home buyer searching for a home, RE/MAX Advanced Realty's roster of real estate agents is READY TO ASSIST YOU FOR FREE throughout the year! Give us a call at 317-298-0961 or visit our website at www.indyhomepros.com 
Happiness is eating Tacos in your dream home; RE/MAX Advanced Realty can get you both! So let's Taco bout it! Below are the best deals around Indiana that you'll find on October 4 for National Taco Day.
Get ten mini-tacos made with shredded beef, green chiles, jalapeno peppers, and cilantro for just $2.
You need to sign up as a 7Rewards or Speedy Rewards member to avail this deal.
Enjoy Tacos all day for only $1.50. Place an order on the Fuzzy's Taco shop app on October 4, or scan your receipt from the day into the app for a chance to be among the 100 winners of free tacos for a year.
Get two Monster Tacos (A larger version of its regular Taco with two slices of American cheese, shredded lettuce, and taco sauce) for just $3 from October 4 through October 31.
$5 off any meal kit on Taco Day for Moe's Rewards Members with Promo code TACODAY22.
On The Border Mexican Grill & Cantina
Enjoy an all-day taco happy hour for only $2 classic ( beef, chicken tinga, or veggie )or $4 premium ( Southwest chicken and brisket) tacos.
One-day-only Taco Lover's Pass Exclusive on the Taco Bell app.
Order one of seven tacos daily for 30 days for a flat $10 fee.
Crunchy Taco
Crunch Taco Supreme
Soft Taco
Soft Taco Supreme
Spicy Potato Soft Taco
Doritos Locos Tacos
Doritos Locos Tacos Supreme.
Grab the classic bean and cheese tacos for only $1 or unlimited bean-and-cheese dozen boxes for $12.
Free beef Taco Bravo with any purchase in-store, online, or through the Taco John's App for Taco John's Bigger Bolder Rewards loyalty program members.
Make sure to visit the stores' website for updates and complete details of the deals. If you want to Taco bout real estate, we have you covered all year round; visit our website at www.indianapolisrealestate.com or come by any of our offices to get started with your real estate journey.
Here are our 4 Office Locations:
West Office: 8313 W 10th Street Indianapolis, IN 46234
Carmel Office: 600 E Carmel Dr Suite 148, Carmel, IN 46032
Plainfield Office: 4310 Saratoga Pkwy Ste 200, Plainfield, IN 46168
Greenwood Office: 65 Airport Pkwy #140 Greenwood, IN 46143
The sights, the food, the entertainment, and learning new things. Nothing is more exciting than Indiana's State Fair and it is easily one of the most looked forward to days for Hoosiers. Make your visit to the festival funner and wallet-friendly with these free 100 Things to Do at the 2022 Indiana State Fair.



































































































Excited for St. Patty's Day? Irish or not, St. Patrick's Day is always a fun time of the year to celebrate with a little jig! Lucky for hoosiers, Indy offers numerous activities both for kids and adults to enjoy the holiday. Here are some activities to check-out this year.











Discussion
#1 By BILL at 4/9/2022 -1:06 PM
Had a great time at Greening of the Canal it was our first time with the kids will go back next year the day skate looks fun also
A number of central Indiana attractions are offering free admission to visitors on Monday, Jan. 17 to celebrate Dr. Martin Luther King Jr. Day.

Free tickets required, get them here: www.childrensmuseum.org/ or call 317-334-4000

Timed Entry with Limited Capacty: Get Your Tickets here: https://bit.ly/3nmAHtv

Advance ticket reservation is encouraged: https://eiteljorg.org/martinlutherkingday/

Get tickets here: https://tickets.indianahistory.org/Info.aspx?EventID=101

More info available here: https://www.indianamuseum.org/programs/free-day-martin-luther-king-jr-day/

Free admission with donation: https://www.indianapoliszoo.com/events/mlk-day/

More info on Indiana National Parks here: https://www.nps.gov/state/in/index.htm

Event details available here: https://ncaahallofchampions.org/whats-new/

Reserve your free tickets here: https://discovernewfields.org/Checkout?eid=8922
Happy Halloween! Before you head out to do some trick or treating, let us treat you first to some spine tingling real life horrifying experiences that RE/MAX Advanced Realty agents have experienced first hand. Sit back, relax, and relish into these true to life horror stories.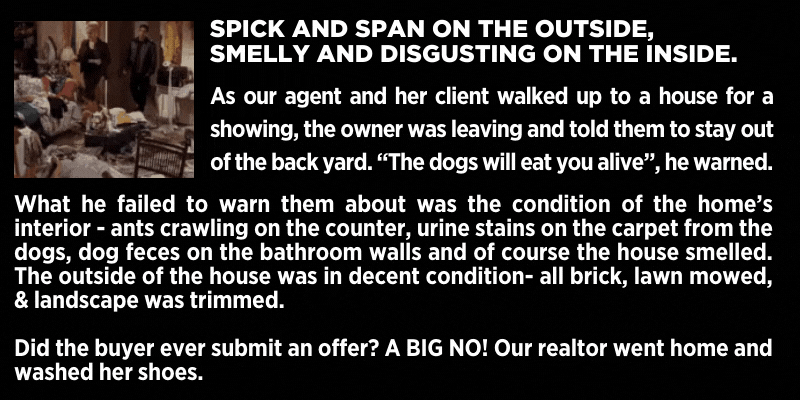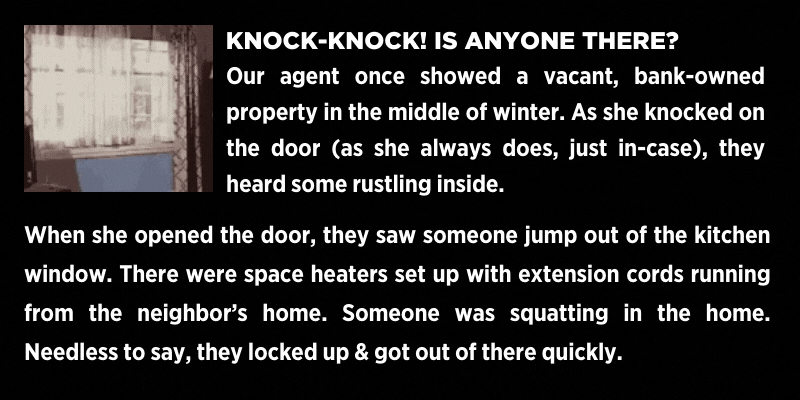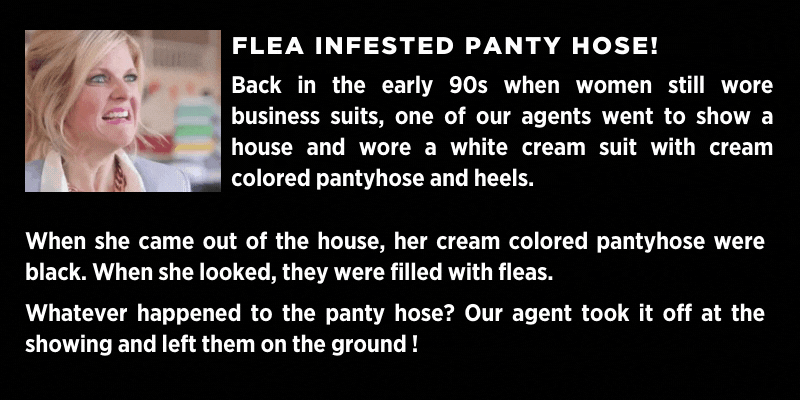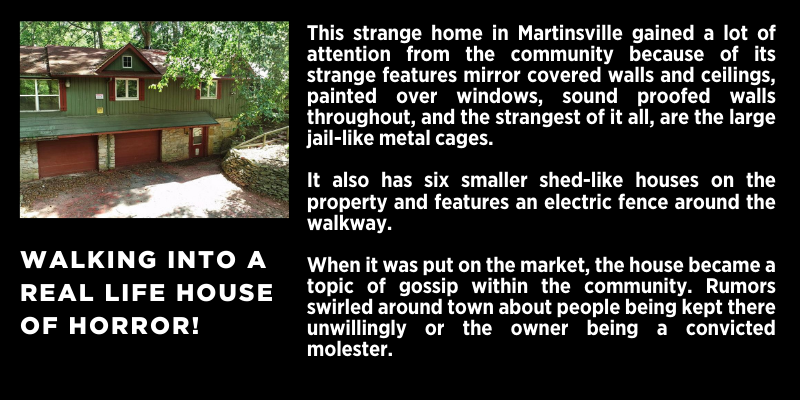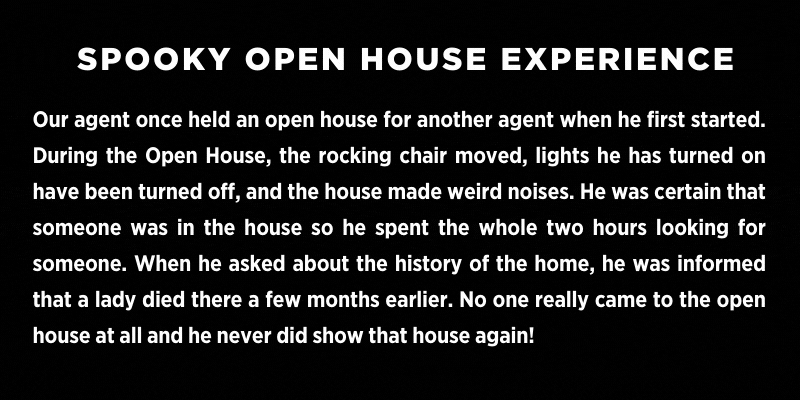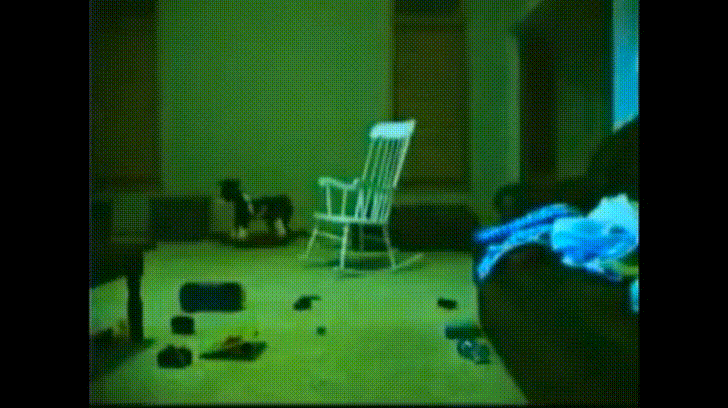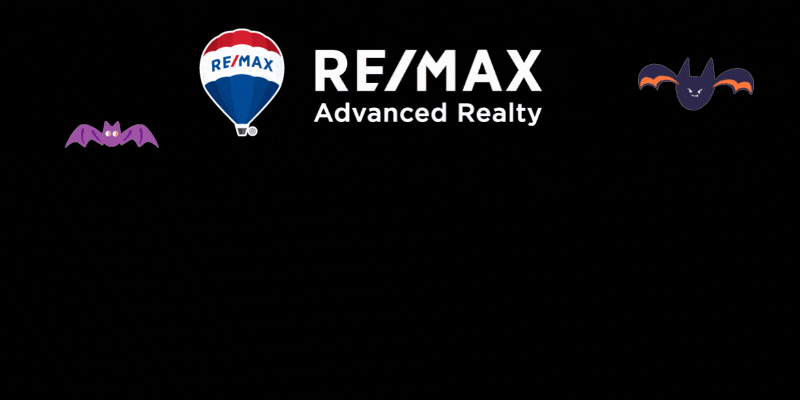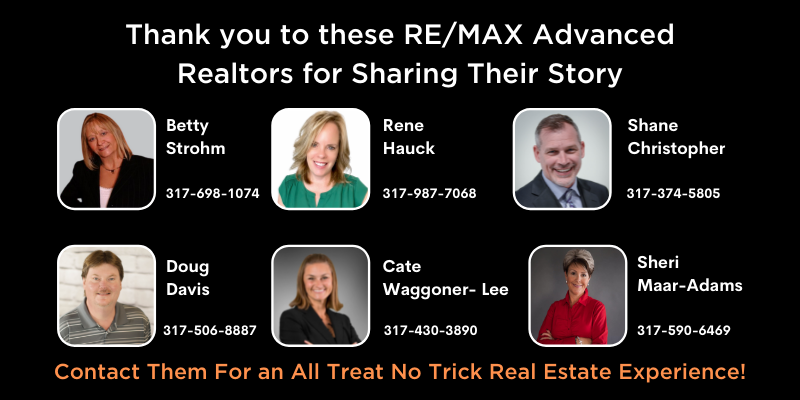 Father's Day is a time to celebrate all the superheroes in our lives who we call "Dad". If you're still scratching your head while trying to figure out how to make your favorite guy feel extra special, here are some Father's Day activities you can do around Indy to let Dad know how much you appreciate him.







We wish all Dads and Dad Figure a wonderful Father's Day Weekend!
This year more than ever, our mothers need to be celebrated. After all, mothering through a pandemic is no easy task - from being home all day while minding the children, running a household, taking on the role of primary educator for those with school-aged children, plus working remotely. So this Mother's Day, make sure to make your MOMS feel extra loved.
Haven't figured out how to celebrate mother's day yet? Don't worry, we got you! Here's a quick guide on the things you can do around Indy to celebrate MOM!
1. The Classic Mother's Day Brunch
Planning to treat mom to a sumptuous Mother's Day Brunch? Here are a few Indy Favorites to Consider:
 Good Morning Mama's Cafe | 1001 E 54th St Indianapolis, IN 46220 | 317-255-3800
Treat your mom at this cafe with a quirky building style (in a renovated gas station) that has a very vibrant atmosphere with great food, plus a friendly and pleasant staff.
 The Garden Table Mass Ave |  342 Massachusetts Ave., Indianapolis  | 317-638-0321
    Perfect for health-conscious moms, this local eatery offers simple, yet creative dishes, made from fresh and natural ingredients. 
The Gallery Pastry Bar|110 S Pennsylvania St.,Ste B Indianapolis | 317-820-5526 ext. 4
Features delicious sweet food in a great atmosphere. Their desserts are to die for! Your sweet loving mom will definitely enjoy brunch here.
Trader's Point Creamery | 9101 Moore Road Zionsville, Indiana | (317) 733-1700
  Choose between dining in their picturesque setting situated right on the farm or order an entire brunch menu to go.
Newfields | 4000 Michigan Road Indianapolis, Indiana 46208 | 317-923-1331
Newfield's Brunch with Mom in the Pop Up: Wine space next to the IMA Galleries before they open! Each brunch course will be paired with specially selected wines by their in-house Sommelier Joshua Ratliff. Proper social distancing will be observed so be sure to reserve ahead. Reserve here!
2. Mother's Day Dinner
Don't wake mama early on Mother's Day. Instead, take her out for dinner in the evening. Here's a list of some restaurants in the Indy area with Mother's Day Dinner Offers.
Kona Grill - Carmel | 14395 Clay Terrace Dr. Ste 180 Carmel | 317-566-1400
Treat mom to a night out of rosé & roses, delicious food, and a relaxing atmosphere that your mom will definitely love.
Fogo De Chao | 117 E. Washington St. Indianapolis, IN 46204 | 317-638-4000
A definite choice if your mom loves to eat meat! Mom receives a $25 dining card. Children 6 and under are complementary; children 7-12 enjoy a half-priced meal.
  McCormick & Schmick's Seafood  | 110 North Illinois St Indianapolis | 317-631-9500
A fine dining experience with an exclusive three-Course Special starting at $47
Hollyhock Hill | 8110 N College Ave, Indianapolis, IN 46240 | 317-251-2294
Mother's Day family-style menu that features their famous fried chicken and includes mimosas or bloody marys and petit fours from Taylor's Bakery.
3. Relaxation, Recreation & Other Unique Mother's Day Activities
Whether it's a day at the spa, some arts and crafts, gardening, and other recreational activities, Indy offers a variety of activities that mom can truly enjoy this Mother's Day.
Spa Session - Let mom enjoy an indulgent, pampering, and relaxing experience and treat her to a Spa Day! Here are the top 3 Recommended Spas & Wellness Centers in Central Indiana According to Trip Advisor.
A Place to Float | 425 W South St #110, Indianapolis, IN 46225 | 317-426-2625
This luxury float spa in downtown Indianapolis is an oasis in a hectic world that will let mom relax and recharge in a private float tank filled with an Epsom salt solution to relieve her pain and stress away.
Indy Massage Company | 4735 Statesmen Dr., Suite D Indianapolis | 317-721-3189
This Spa offers a variety of modalities to target optimal results. Treat mom to either a rejuvenating facial, a customized massage, or even both. It is mother's day after all.
Indianapolis Salt Cave & Halo Therapy Center |8899 Kent Ave. Indianapolis | 317-991-4921
A truly unique experience awaits your mom as she steps into 9 tons of salt used to recreate the environmental conditions found in a natural underground salt mine. This man-made salt cave creates the ideal atmospheric breathing condition.
Arts & Crafts - Is your mom into arts or crafting? Then these activities are for her.
MOTHERS DAY OUT @PHIRI ART " Painting on Canvas / Mimosas " 120 E Market Street Indianapolis | Sun, 5PM- 9PM | 404.759.053
For only $60, treat mom to a fun night to remember at Phiri Art Gallery where she will enjoy fine cuisine, mimosas, canvas painting & some R&B music/soul & old school.
Anders Ruff Workshop | 14643 North Gray Road Westfield, IN 46062 | 317-747-020
Mom and Me Craft Class Includes a plank wood sign, porch sign, framed wood sign, and more for adults and one free wooden sign to paint for children for every adult purchase.
Other Fun and Unique Mother's Day Activities Around Indy
Mother's Day Outing at Oinking Acres | 8420 N County Road 650 E Brownsburg | oinkingacres@gmail.com
Celebrate Mother's Day out on the farm! The event includes a tour of the farm, time to spend with the animals, photos in the loft, and light refreshments.
Mother's Day Mini Market + Plant Sale Emily's Backyard Blooms
741 North Madison Street Fortville, IN 46040 | Sat, May 8 | 9AM – 2PM
An awesome option for moms who love gardening. Veggie & flower starts, hanging baskets, fresh bouquets, a succulent bar can be purchased at this event, plus so much more!
Baptiste Power Yoga Indianapolis | 1021 West Main St. Carmel, IN 46032 | 317- 296-7496
Free Flow & Reset All Levels Class Yoga Class Followed by Champagne Toast
We hope these suggestions have helped you in finding the best way to celebrate Mother's Day Around Indy!
Help Us Bring A Smile To Our Veterans This Christmas
Christmas time is undoubtedly the season of giving. It is also the perfect time to reflect and consider those who are most in need. As a Christmas Tradition, The Indy Home Pros Team makes it a point to give back to the community. This year, we are proud to partner with the Indy Blue Star Mothers and Lincoln Apartments in ensuring that our Hoosier Veterans will have a merrier Christmas!
Empty heading
ADOPT-A-VET: Each Christmas, Lincoln Apartments does an Adopt-A-Vet holiday program. The vets that want to participate provide a list of six items they'd really like.
Now's your chance to make one of our heroes Christmas truly special. Adopt a veteran of your own and together let's work to make sure that everyone at Lincoln Apartments receive the gifts they want this Christmas! For more details, contact Chandra Cadogan at chandra@indyhomepros.com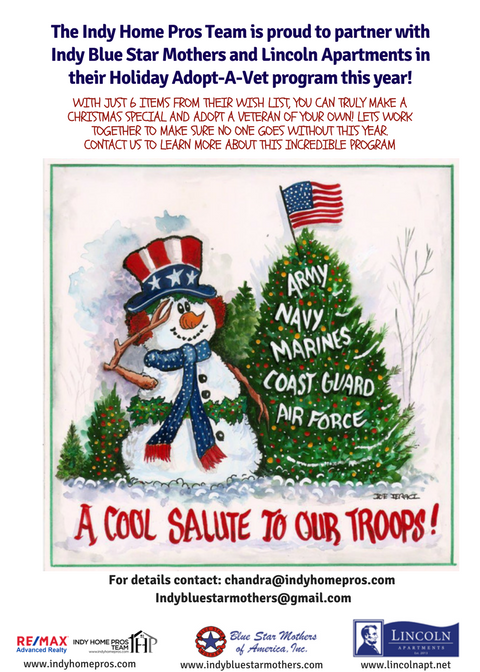 STOCKING STUFFERS FOR LINCOLN APARTMENT VETS - There are 75 stockings to fill! Let's work hand in hand to make sure that all will be filled with goods for our veterans. Below is a comprehensive list of what they need.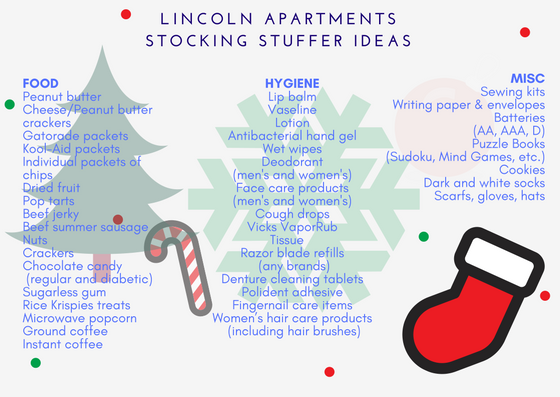 Contact Chandra Cadogan at chandra@indyhomepros.com for the designated areas on where you can drop off your donations. Make sure to visit www.indybluestarmothers.com for updates.
Let us make Christmas more meaningful by giving a life-changing gift, donating some of your time, and bringing a smile to those in need this festive season.
Discussion
#1 By Denise Biers at 11/24/2017 1:20 PM
I want to take this time to thank you to the Indy Blue Star Mothers -14 and Indy Home Pros for helping the Lincoln Veteran Residents Council (aka LVRC) by bringing holiday and cheer and heart felt sentiments as we all work to get all the Veteran residents matched with a sponsor. "Adopt a Veteran for the Holiday' Program. The LVRC has had 44 of our Veteran Residents sign-up for the program. We have 20 left to be adopted this year. Thank you so much for your donation of your time shopping for those who are adopted, and for the love that is felt every time a Veteran is adopted. Thank you too for your support. The Veterans at Lincoln Apartments are very appreciative. Denise Biers, President, LVRC