The unpredictable housing market in Indiana is complicated, so buying a house here can be difficult. Navigating such a market demands expertise and careful planning, regardless of whether you're purchasing for the first time or planning to make a strategic investment. 
But don't worry! In this post, we'll give you detailed information and tips on buying a house in Indiana and what you need to know about it as a first-time homebuyer. 
Buying A Home In Indiana: What You Need To Know
The Hoosier State is known for being able to combine a great quality of life with a low cost of living, and these are just two reasons why buying a home in this state is a must. Here are seven simple steps on how to get started:
1. Assess Your Financial Health State
Financial readiness is vital when buying real estate. Here are some actions to prepare financially for buying a house in Indiana:
Determine The Affordability Of Your Home:

Home affordability calculators assess financial readiness. These calculators include income, debts, location, and down payment. Find out your monthly mortgage payment and other homeownership expenditures.

Check Your Credit Score:

Your

credit score

determines your mortgage rate; higher scores mean lower rates. Your bank or credit card business may offer free credit report access.

Provide Proof Of A Steady Work History:

Lenders check employment history to verify safe investments. Mortgage brokers will review your work history, family, and job profile. You may receive a home loan quickly with stable work.

Check Your Debt-To-Income Ratio (DTI):

You can get your DTI ratio by dividing monthly debts by gross income. Mortgage lenders in Indiana utilize DTI to determine loan amounts. Lenders considered a DTI of 36% or less safe.
2. Plan For Closing Expenses And Your Down Payment
Make a plan for your down payment after determining your house budget. You can set your down payment; however, 20% is the norm. Homebuyers' down payments vary by mortgage type. If you put down less, your lender may require private mortgage insurance.  
Indiana first-time buyers may be surprised by closing costs. Closers, like down payments, are out-of-pocket charges for home financing, purchase, and ownership. Set aside 2%–5% of the buying price for closing charges.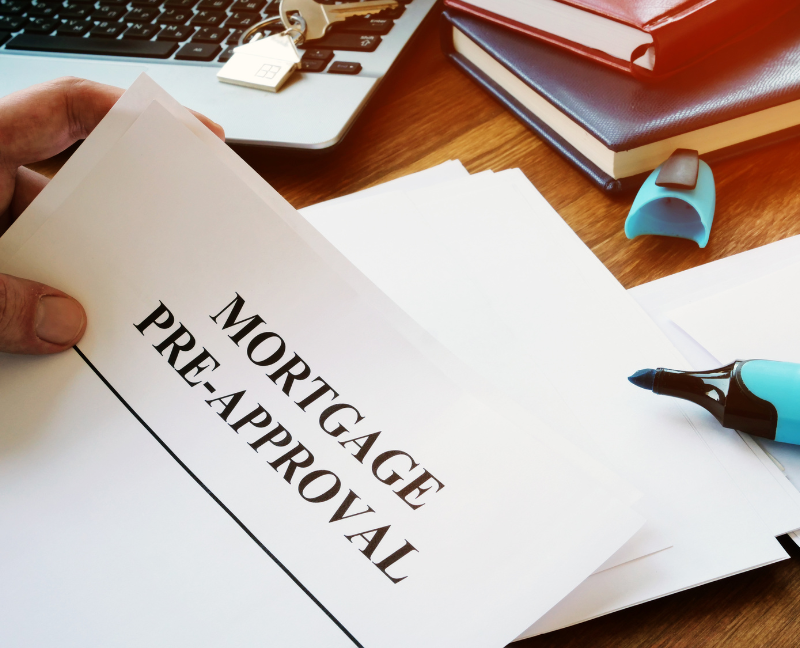 3. Get Your Mortgage Pre-Approval Letter
In Indiana, mortgage pre-approval decides how much you can borrow to buy a property. Pre-approval letters demonstrate your seriousness in financing a home with lenders. 
You must understand house loans and choose the one that suits your needs before applying for pre-approval:
Conventional Mortgages:

These are not government-backed; these are Indiana private mortgage lenders that offer conventional loans. The pre-approval depends on their guidelines, down payment, credit score, and interest rates.

FHA Loans:

Lower credit scores and greater DTI ratios qualify for

FHA

loans. Remember, low credit scores raise interest rates.

VA Loans:

VA loans are provided to veterans by the US Department of Veterans Affairs. Even with poor credit, you can obtain a VA loan with no down payment and forgiving credit criteria.

USDA Loans:

Rural low- to moderate-income homebuyers can get USDA loans. USDA closing charges of 2% to 6% apply to zero-down-payment loans.
4. Get Started On Your House Search
Traditionally, real estate agents assist homebuyers. Your agent shortlists properties from the MLS and local inventory. However, Indiana For Sale By Owner websites let you find FSBO houses. 
When searching, take these in mind:
View Houses In Person:

The first step is to look at property listings online, and then shortlist the homes you want to view. A personal visit will assist you in visualizing your future in the home and provide you with information about the neighborhood.

Have An Open Schedule:

Make sure you have some free time to visit the recently listed homes.

Visit Open Homes:

Check out the area that interests you. If you find any properties that interest you, visit the open houses.
5. Put Up An Offer
After choosing a home, make your offer appealing. It should consist of the offer price, pre-approval letter, and down payment proof of funds, including purchasing terms and contingencies.
Appraisals, property inspections, etc., are common house purchase contingencies. You might give cash or waive contingencies to attract home sellers. 
Homeowners usually counteroffer. Counteroffers might be accepted or rejected. When the seller confirms your offer, they'll sign the purchase agreement and set escrow. 1% to 2% of the purchase price must be held in escrow.
6. Get A Home Appraisal And Inspection Scheduled
Indiana house inspections reveal property issues. The property must be inspected and reported by an Indiana home inspector. There may be structural or mechanical flaws in a home inspection report. Reports allow you to demand repairs from home sellers. Consider canceling if the property is severely damaged.
Your mortgage lender requires property appraisal. A home appraisal prevents them from lending more than fair value. Get a professional Indiana house appraiser to determine its market value. The loan amount equals the appraised value. If the down payment is low, you can raise it or renegotiate.
7. Close The Deal
You can close the deal if everything goes according to plan and the final walk-through is agreeable. The final stage involves paying closing costs, signing paperwork, and getting the keys.
The closing disclosure is provided by your lender three days before closing. It includes your mortgage type, monthly payment, interest rate, origination fees, closing costs, etc.
The closure will include your agent and others. Sellers, their agents, and settlement agents—real estate attorneys, escrow representatives, or title companies—are involved. The escrow will transfer the closing costs and down payment onto the seller after deducting them.
Buying a Home in Indiana: Some Helpful Tips
Buying a house in Indiana can be intimidating but thrilling. Here are some Indiana home-buying tips to prepare you:
Start Saving Early:

Before buying a house, calculate the down payment, closing costs, move-in expenditures, and property taxes.

Maintain A Healthy Credit Score:

Credit scores determine home loan eligibility and interest rates. To improve the credit score, pay bills on time, keep credit cards open, and monitor payments.

Prepare Loan Paperwork:

Lenders need financial data to verify income, assets, and debts.

Use First-Time Homebuyer Programs:

Check out state and city first-time homebuyer programs for low-interest loans, down payments, closing costs, and more.
Buying a home can be overwhelming; however, with the right knowledge and help from experts, you can make this journey fun and easy. 
If you're looking for a new home in Indiana, our team at RE/MAX Advanced Realty - Indy Home Pros is here to help. You can check out townhouses, condos, and other properties for sale here.