Looking for DIY ways to improve your home? If yes, then you're in the right place!
Whether you are looking for simple projects or something more creative, this post will give you ideas on what to do.
You might be one of the many homeowners who have considered starting a home improvement project but ultimately decided against it due to a lack of time or motivation.
Don't feel bad. Half of the homeowners cite finding time to work on home improvement ideas as the most significant challenge. This may be one explanation for the number of unfinished home improvements that homeowners report.
But now that you have the interest, you can start to challenge yourself by doing these DIY ways to improve your home, and let your progress inspire you.
Since many of us are spending most of our time at home, now might be a good time to channel a little of that cabin fever into a project that might add value to your home or infuse it along with new energy.
9 Easy DIY Home Improvement Ideas
The following is a list of DIY ways to improve your home:
1. Making New Faucets
No plumbing experience is required, and a gleaming new faucet can generate a lot of daily pleasure for only a little effort. All you need is a great attention to detail if you want to avoid flooding your kitchen just because you failed to turn off the water valve.
If you have no idea how to get started, there are lots of installing faucet tutorials online you can follow.
2. Add Switches And Lighting Fixtures
Lighting is one of the few elements that can completely transform the mood of space in such a short amount of time. A new atmosphere can be created for any event simply by replacing an old fixture with a new one or switching from an on-off switch to a dimmer one. If you are familiar with changing out light fixtures, then you should also be comfortable working with switches because they use the same kinds of cables.
3. Making A Firepit
This is a good idea for you and your family to work on in advance so you're ready to spend more time outside when the weather gets nicer. You can make your fire pit in the backyard and throw a S'mores party to celebrate one's accomplishment.
4. Upgrade And Use Smart Tech
You have various choices to upgrade your home into a smart one, some of which may be as simple as installing a light bulb or plugging in a gadget. It might also include:
Smart Camera/Doorbell:

The installation process is comparable to replacing a light switch. To complete the process, you must remove your previous doorbell and connect the device to your home's Wi-Fi network.

Smart Lights:

Buy and install light bulbs. Each smart home system comes with its requirements and controls. Thus upgrading requires coordination with it. Choose lights that work with your home system. Consider how a new system will interact with your existing items before buying one.

Smart Home Hub:

Smart home hubs, which let you communicate with compatible devices through a centralized system, are offered by companies like Amazon, Google, Apple, Nest, and Samsung. Most hubs are "plug and play" and simple to set up. To connect your gadgets, however, you should conduct some preliminary troubleshooting.

Smart Locks:

Do you know someone in your family who consistently misplaces their house key? It is simple to switch out a regular door lock for one that only requires access to a touchpad or smartphone app.
5. Cabinet Renovation
Your kitchen can be updated without undergoing extensive remodeling. By replacing the door and drawer pulls, painting your cabinets, or removing the cabinet doors to create an open shelving impression, you may give your space an entirely new appearance. You may create open shelves from scratch if you have too much wall space and need more cabinets.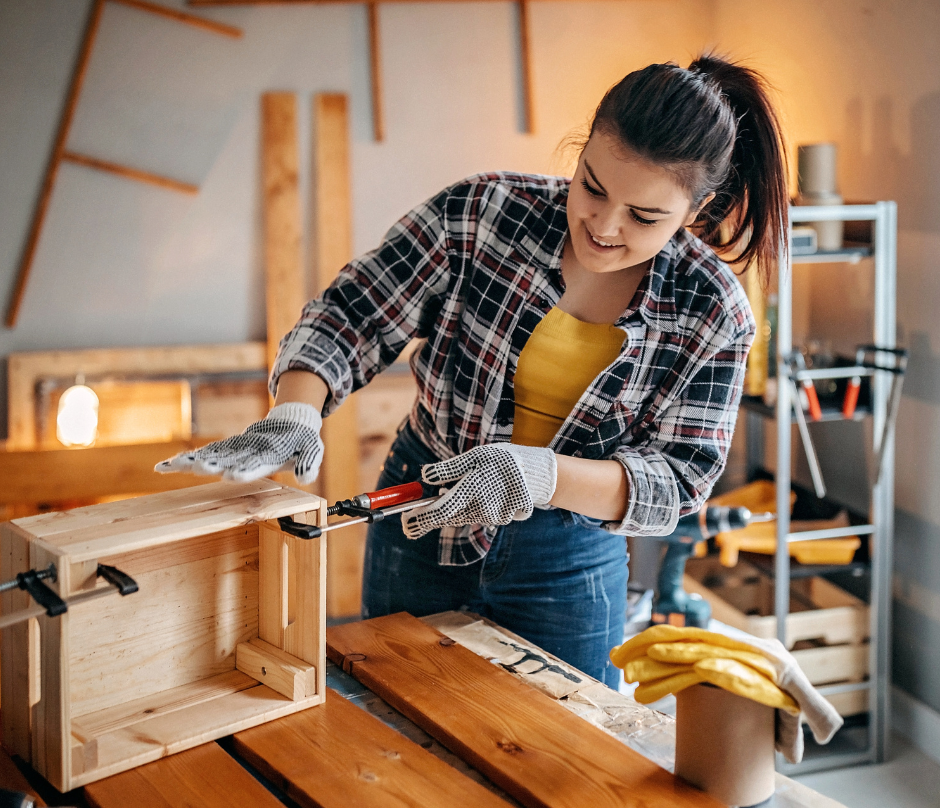 6. Build Your Barn Door
A barn door that slides on a rail can free up space, modify how furniture is arranged, and give your room a dramatic appearance by replacing a typical swinging door or closet slider. A few tools, an extra set of hands, and detailed step-by-step instructions that explain how to build and install the sliding barn door are needed.
7. Making Of Board And Batten
You may not know the word, but you've likely seen this time-honored design feature in various homes. Because accuracy is necessary for this particular task, you will need the right equipment, including a measuring tape, a level, and a miter saw. In addition, patience. But if you can picture a three-dimensional element on your drywall, you're ready to continue to the next step.
8. Build A Garden Shed
If you have the skills to build a garden shed, you may discover various blueprints and how-to guides online that are customized to fit your preferences. And if you need more time to get up to that challenge, you can always add enhancements to the one you already have, or you can go out and purchase a standard model and make it your own. First, consider whether you need it for storage, additional workspace, or additional living space, and then go from there.
9. Add A Heating Element On Your Floor
If you have yet to find your vocation and wound yourself at a desk job, this is the type of endeavor you can take on. You will become a hero or heroine in your home if you successfully warm your home from the ground up. This labor-intensive idea requires the confidence of an experienced tradesperson and some math abilities. This idea is perfect if you have already decided to replace a room's flooring and have the chance to do so while also including a heating element.
Feel free to share your DIY projects in the comment section below.