First time buying a home in Indiana? Then look no further! In this post, we'll list down the programs and grants offered to homebuyers in Indiana. 
Hoosier housing prices are considerably lower so if you haven't bought a home before, this might be good news. But wait, there's more! Indiana helps first-time homebuyers greatly. You may move into a new home sooner if you qualify for down payment assistance. 
Where To Start?
Below are some essential details on buying a home and the home-buying programs and grants they offer.
Overview For Indiana Home Buyers
According to the Indiana Association For Realtors, Indiana's July 2023 median house sale price was $258,700. Over the past year, that price fell 3.8%. However, high housing prices can make down payment savings challenging. 
Luckily, there are various financial assistance to choose from:
Loans for Indiana First-Time Home Buyers
At a 20% down payment, first-time homebuyers in Indiana can acquire a conventional loan with a low-interest rate and without PMI. Indeed, few first-time buyers are saving 20%. 
Some low-down-payment mortgage programs allow borrowers to buy a property with 3% or even 0% down:
VA Loan

USDA Loan

IHCDA Loans

Conventional 97
FHA, VA, and USDA loans need principal house purchases. Therefore, these loans cannot be used for vacation or investment properties. In most programs, you can use the given money or Down Payment Assistance (DPA) for your down payment and closing costs. Meanwhile, your mortgage loan may allow you to buy a house with little cash. Your lender might recommend a first mortgage program based on your finances and home purchase aspirations.
Indiana Home Buying Programs
The Indiana Housing and Community Development Authority (IHCDA) discounts FHA and conventional mortgages. Though specific target communities offer these, first-time homebuyers are the primary beneficiaries. As with state-run mortgage schemes, you must choose an IHCDA-approved lender. There are also income and housing price constraints. A 640 or 680 credit score is required if you have many debts.
The IHCDA Mortgage Credit Certificate - With the help of Indiana Housing's Mortgage Credit Certificate program, you may receive a federal income tax credit worth up to $2,000 in yearly mortgage interest. Applicants for a participating lender loan can request the mortgage credit certificate for a first-time home buyer. Despite the $800 MCC application fee, most consumers save more over the tax credit.
Indiana Home Buyer Grants
Assuming you'll live in your new house for nine years, the IHCDA's down payment aid programs are better than many states.
These programs allow you to borrow 3.5% to 6% of the sale cost for:
Closing Costs

Prepaid Items

Down Payment
Better, a DPA loan has no monthly dues or interest; your loans will be forgiven after nine years of home ownership without refinancing. Throughout those nine years, you must repay every cent borrowed if you sell, move, or refinance. Think about the long-term homeownership goals before signing up.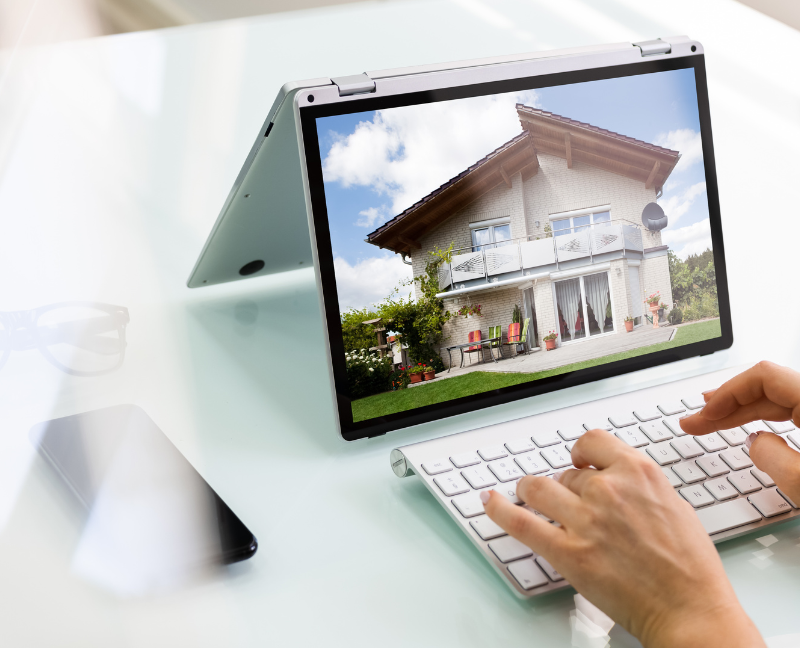 The IHCDA First Place Program
First-time homebuyers, homebuyers in target areas, and veterans who qualify can borrow up to 6% of their purchase price under the First Place Program. This help is a forgivable second mortgage for 30-year FHA mortgages. 
The second home loan comes with zero interest and monthly payments. After nine years, if the buyer doesn't sell or refinance, it's forgiven. The First Place Program won't work with the mortgage credit certificate.
Borrowers have to fulfill the following DTI and FICO score requirements:
DTI under 50% and 680 credit score

DTI under 45% and a credit score of 640
The agency regulates single-family homes, condos, townhomes, planned unit complexes, and mobile homes. In addition, the buyer's income must meet agency requirements. Remember that most eligible applicants have moderate to low incomes.
The IHCDA Next Home Program
Indiana Housing may help first-time and return homebuyers via Next Home. However, a 30-year FHA loan is necessary. Still, you can utilize the 3.5% purchase price for your down payment.
The down payment subsidy is forgiven after two years if you don't sell or refinance. Aid and mortgage credit certificates can be combined.
Helping To Own (H2O)
The Helping To Own Program provides up to 3.5% of the FHA loan down payment; however, only Indiana first-time homebuyers qualify. 
There are choices if IHCDA home buyer help did not work for you -- one is to ask your loan officer or two, a realtor for local down payment grants and loans.
How To Get Help When Buying A Home In Indiana
All the organizations mentioned should offer free help to first-time homebuyers in Indiana or their localities. HUD offers statewide, regional, and local resource lists in addition to:
The homebuyer assistance programs include FHA loans and conventional mortgages.

Offering homebuyer education classes and both downpayment and closing cost assistance.

And other programs
Have more questions? Send us an email or call us at 317-316-8224 today!
In the first part, we learned some facts about Indiana, the average salary of those who live there, the status of the job market, its population, the cost of living, weather, and climate, and many more.
Now, we'll dive deeper into the Hoosier State and discover more things about this beautiful place.
Crime Rate In Indiana
The rate of violent crime in Indiana is slightly higher than the national average. According to recent data, there were approximately 400 violent crimes and approximately 2,600 property offenses per 100,000 persons. Indiana's violent crime rate is thus around 9% higher than the national average. Property crime was close to the national average.
On the other hand, the place offers some fantastic cities and villages. The Northwest Indiana region is home to nine of Indiana's top twenty safest cities. St. John was ranked first, Crown Point was ranked fourth, and Valparaiso was ranked fifteenth.
Transportation
Because five distinct interstates intersect in Indianapolis, IN, Indiana is known as the "Crossroads of America." Indiana is the entryway from the east coast to the west coast. The rail system in the United States is vital to the highways that transport products. Indiana is home to several major freight rail lines. Indiana is home to rail intermodal, the Ohio River canal, and the Port of Indiana on Lake Michigan.
Indiana is home to five transcontinental routes.

Indiana has more than 3,700 miles of railways.

There are 11 main airports in Indiana.
Real Estate In Indiana
You will need a place to reside whether you are relocating to Indiana or visiting for another purpose. Indiana real estate, homes, and houses will continue to be in high demand in 2020. In 2019, the number of homes for sale in Indiana climbed by 3% to slightly more than 4%. Several factors are contributing to Indiana real estate's high demand and value growth.
Real estate values in Indiana rise as a result of both business and inhabitants. Indiana is a low-regulation, business-friendly state. The minimum wage is cheap, schools are excellent, and public services are extensive. Furthermore, tax rates in neighboring Illinois are encouraging more firms and residents to relocate to Indiana. Finally, Indiana has shown to be a secure, thriving state that is also a fantastic location to live.
Northwest Indiana real estate had some of the most significant improvements in 2019. Last year, the number of homes for sale in Northwest Indiana climbed by 5.6%. We anticipate that this tendency will continue. The most significant contributing elements are the increased number of residents from Illinois and the recent economic expansion in Northwest Indiana.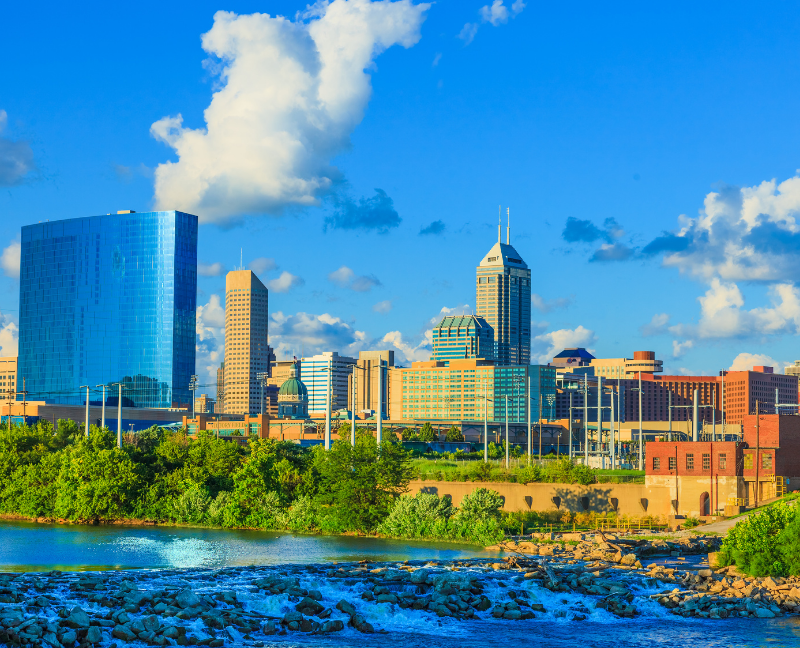 Nature
 One advantage of residing in Indiana is the state's dedication to environmental preservation. Indiana is home to some spectacular natural places.
The state's northern boundary is with Lake Michigan. You can visit the Indiana Dunes State Park and the Indiana Dunes National Park while you're here. You may relax on the beach, climb the sand dunes, or go for a trek through the woodlands along the lakefront.
Hoosier National Forest is located in the state's south. The United States manages this forest preserve. The Forest Service. The Hoosier National Forest encompasses about 200,000 acres of property in southern Indiana's Appalachian foothills.
In Indiana, there are 24 state parks.

Indiana is home to three national parks.
Culture Of Indiana
Indiana's culture is diverse. There are several densely populated places in Indiana. Among these are Ft. Wayne, South Bend, Indianapolis, and the Northwest Indiana region all within commuting distance of Chicago, the third-largest city in the United States. These regions have the commerce, entertainment, and cuisine that you would expect to find in a bustling metropolis.
There are several smaller cities in between, separated by extensive farmland. This provides tremendous balance for Indiana people. Those who reside in the city might live a more urban lifestyle. People who live in the country might enjoy a calmer, more communal existence.
Indiana has a little bit of everything, so there is something for everyone. When you need a change of scenery, get in your car and drive down the highway (Indiana is known as America's Crossroads) to meet a new portion of this great state.
Reasons Why People Love Indiana
Here are some things to consider before relocating to Indiana.
Low taxes and living expenses

Strong public and private higher education systems

Local economies that are stable with pockets of fast growth and gentrification

Housing expenses are low, but values are steadily rising, and in some locations, quickly rising values continue.

Indiana is a lovely, free-spirited location to live, with vibrant communities brimming with Midwestern charm.
Indiana Real Estate Agent
Whether you're planning to move to Indiana or want to learn more about real estate in this area, our team at RE/MAX Advanced Realty - Indy Home Pros is more than willing to help.
With 8 years of average experience as a real estate agent, we ensure to make your relocation plan seamless and hassle-free.
Contact us by clicking this link!
It is simply a matter of being familiar with Indiana to determine whether or not it is a good decision to relocate there. This guide will help you get familiar with the state and determine whether Indiana is an appropriate area for you to reside. 
Indiana Facts You Should Know
The taxes are one of the reasons people choose to reside in Indiana. It has a 3.23% flat state income tax.

Capital gains

, whether long or short-term, are taxed at the same rate.

Indiana's typical household income is $56,303.

In Indiana, the average travel time is less than 24 minutes.

Over 88% of residents in Indiana have a high school education, and 27% have a bachelor's degree.

The median price of an owner-occupied home is $141,700.

Another factor that makes Indiana a desirable place to live is that the state constitution limits your primary residence's property tax to 1% of its assessed value. Indiana also has some wonderful property tax exemptions to help you save even more money.
Income In Indiana
Before you move to Indiana, you probably want to know how much money people in Indiana make. According to the latest recent data, the average wage in Indiana is over $47,000, and the average household income is around $55,000. Personal per capita income in Northwest Indiana is somewhat less than $46,000. The average salary in Indiana's capital, Indianapolis, is over $52,000, 10% higher than the state average. Learn more about the typical Indiana income across the state.
Job Market
The state's job market provides an answer to the issue of why relocate to Indiana. Indiana is home to small, medium, and large firms. Indiana's key sectors include agriculture, energy, manufacturing, steel production, healthcare, and professional services. Manufacturing employs around 17% of all nonfarm employment. Major corporations are concentrated in medium and bigger cities. One of the advantages of relocating to Indiana is that the state has a lower unemployment rate than the national average.
Certain industries in Indiana are heavily concentrated in tiny geographic areas, which is a distinctive feature of the state's economy. Northwest Indiana, for example, is home to some of the major steel mills in the United States. More than half of the blast furnace capacity in the United States is located in Lake and Porter Counties.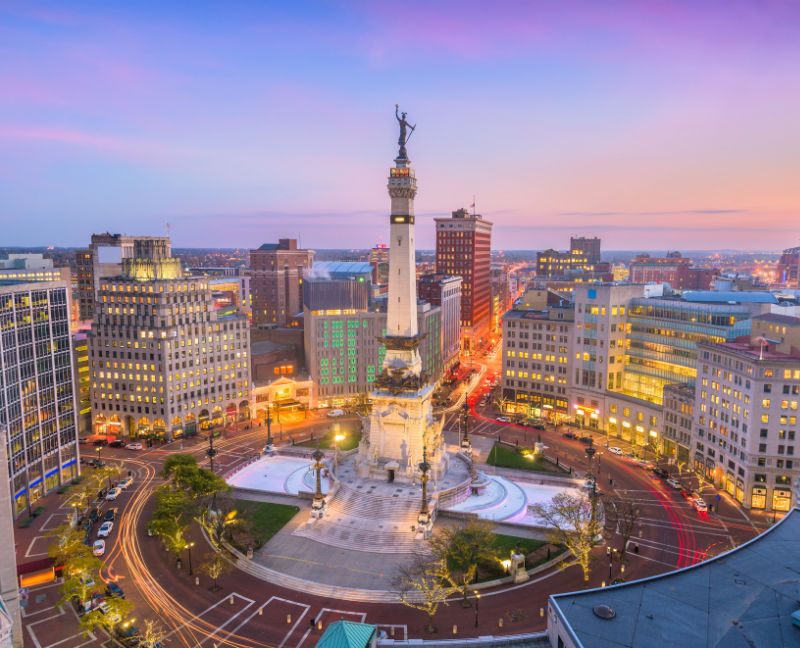 Another example is that 80% of recreational vehicles (RVs) manufactured in the United States are constructed in Northeastern Indiana, in places like Goshen. Elkhart County is known as the "RV Capital of the World," whereas Warsaw, Indiana is known as the "Orthopedic Capital of the World" due to the presence of three large orthopedic medical equipment firms.
Here are some more details on the Indiana job market:
Indiana produces 27% of all steel produced in the United States.

Indiana is home to five Fortune 500 firms.

Several pharmaceutical and medical device businesses, notably Eli Lilly and Zimmer Biomet, are headquartered in Indiana.
Indiana's Population
The population of Indiana is increasing. Indiana now has a population of approximately 6.79 million people. This is a 300,000 increase over 2010. More information about Indiana's current population can be found here. In addition, the Indiana University Kelly School of Business publication INContext offers an excellent chapter on Indiana's predicted population growth until 2050.
The Hoosier State is home to 6.79 million inhabitants, according to the 2020 Census.

Indiana's population increased by 4.7% between 2010 and 2020.

Indiana has about 2.5 million households, with an average household size of 2.5 persons.
Indiana's Cost of Living
Many surveys have placed Indiana as one of the most affordable states to live in. Yes, our wages may be slightly lower than those in other states. We make up for it, however, with a low state-income tax rate, constitutionally protected property tax caps, near access to important resources, and a competitive business environment that welcomes new companies.
According to U.S. News & World Reports, Indiana is the third cheapest state. If you search the internet for this question, you will most likely discover multiple studies ranking Indiana as one of the top ten most affordable states. 
Indiana's Climate And Weather
The four seasons have been experienced in every section of the state. Winter, on the other hand, is a wildcard. Temperatures in the spring and fall are mild, with highs in the 50s and 60s and lows in the 40s. Summer brings days in the 70s, 90s, and even over 100 degrees. Winter is a wild card.
Indiana is a large state that stretches for 250 miles from north to south. The southern portion experiences snow and cold in the winter, as does the center section, albeit slightly more and slightly colder. Northern Indiana, on the other hand, has all the hallmarks of a hard midwestern winter. 
Lows in the teens and single digits are common in Northern Indiana throughout the winter. Temperatures below zero are not uncommon. Northern Indiana has the most snow, and there is a phenomenon known as lake effect snow in a few select areas. 
In essence, snow bands form off of a huge body of water, like Lake Michigan, and, if conditions are ideal, these bands will dump snow on a region. I have always resided in northern Indiana, which is one of the select locations where this occurs occasionally each year. Sincerely, there was a time when my neighborhood had a 20-inch snowfall in a single day. They had five inches at two miles. They had none five kilometers distant. 
Due to its proximity to the Great Lakes, Indiana experiences lake-effect snow in several areas.

In Indiana, the high temperature in January is 36 degrees.

Winter lows are often in the teens, but the state's northern region can occasionally see single-digit and below-zero temperatures.

On average, summertime highs in the state range from the mid-to upper-80s.

Indiana receives snowfall. The state's southern regions receive roughly 20 inches of snow annually, while central Indiana receives closer to 25 inches. The average annual snowfall in some northern Indiana communities is over 60 inches due to lake effect snow storms, however many only receive 40 inches of snow.
Education In Indiana
The educational system of Indiana is strong. In Indiana, approximately 87% of students complete high school. Of those, over 63% enroll in colleges right away. You may get more information on Indiana's schools here. The Indiana Department of Education works hard to make information about the state's public schools readily available. 
Indiana's colleges and universities are among the best in the country. In the past, Purdue University excelled in the sciences and math, producing generations of graduates. Indiana University, Notre Dame, Ball State, Butler, and Valparaiso University are a few of the state's other prestigious universities. 
These are just some of the basic things about Indiana. In our next post, we'll learn more about this beautiful Hoosier State.
Check out this amazing value!  Listed at 34,000 won't last long!  This 3 bedroom 1.5 bath condo features main level entry and 1 car garage.  Call the Indy Home Pros Team at 317-298-0961 for showings!  
Search Indianapolis HUD Homes for Sale
In today's economy many potential home buyers are looking for a home at a great value.  HUD listings may be the answer.  Many Indianapolis HUD homes can be purchased for as little as 100 dollars down using FHA financing.  Most HUD homes are sold at a reduced amount due to needing a little fix up and repair.  HUD homes are not always the right fit for some potential home buyers.  One of the other great programs that HUD offers is the FHA 203K loan.  This loan allows for buyers to finance in the cost of repairs and updates!  With that said HUD homes in Indianapolis area can be of a great value.  For information on HUD homes in Indianapolis, Avon, Brownsburg, Danville, Greenwood, and all of central Indiana call the  Indianapolis HUD home experts RE/MAX Advanced Realty - Indy Home Pros Team 317-298-0961
Related Links
Just listed at 120,000 located in Avon Community School system 1515 Danielle Drive Indianapolis Indiana REMAX.  Home features 3074 sq ft of open living space 3 bedrooms and 2.5 baths home was built in 2006.  Home is HUD owned and can be purchased for as little as 100.00 down!  Call The Advanced Realty Team at 317-298-0961 for showings!  Let us show you how to roll in the cost of improvements with your loan! 1515 Danielle Drive Indianapolis IN 46231