Why is curb appeal so important?
What does it mean?
Before stepping inside, homebuyers form an opinion of a property based on its curb appeal. What a person can anticipate finding on the other side of the front door can be inferred from the aesthetic appeal of a home's front. Buyers' interest in entering the home will, at the very least, be influenced by the exterior. Therefore, it makes sense to concentrate on enhancing the curb appeal of your house if you want to optimize its worth. Buyers won't ask more questions until they are certain that the interior is worthwhile seeing.
But first, what is curb appeal?
The term "curb appeal" describes how appealing a home appears from the outside, from the street. However, in its most basic form, curb appeal is a subjective evaluation of a physical asset. For instance, people who see a home on the street find it attractive when it has a high curb appeal. The yard is kept up, the paint is brilliant, the siding looks good, the roof is intact, and everything is in its proper place. The house presents itself beautifully.
Benefits Of Curb Appeal
Empty heading
Effective curb appeal is a clever marketing strategy that goes beyond how homes seem. If not for another type of marketing intended to sell a house from the outside in, what purpose does curb appeal serve? Exterior appeal creates anticipation.
If potential purchasers enjoy what they see from the exterior, they are more likely to look inside. When it comes to selling a house, first impressions matter. Though it may not be as interesting as trying to decide what to do with the kitchen, improving the exterior of a property is more crucial in many respects.
Your property should be visually stunning when someone first views it. It shouldn't, at the very least, turn away the vast majority of customers. In contrast, the home's curb appeal ought to encourage consumers to request more information.
CURB APPEAL STARTS ONLINE
Nearly 90% of purchasers start their web search for a new house there. However, if you want to pique the interest of potential buyers, you absolutely must have images that show off your home's curb appeal. The optimum time of day for lighting is when you can take multiple shots of your house without any additional clutter, such as automobiles, bikes, toys, etc. You want to present your house in the best possible light.
DOES YOUR HOME'S CURB APPEAL INCREASE ITS VALUE?
Your property will gain value and sell more quickly if you improve the curb appeal. Financial companies struggle to quantify the exact contribution of curb appeal to property value because homes are often valued mainly on the condition and amenities of the interior. However, properties with well-kept lawns and expert landscaping often sell for 7% more than comparable properties with unsightly front yards or exterior flaws.
THE CONSEQUENCES OF POOR CURB APPEAL
Sadly, unattractive curb appeal may make some purchasers reluctant to examine a property that is for sale. Buyers typically form their first opinion of a property based on the yard and exterior. Before a showing, if people pass by by car, they might not be enticed to go inside. Additionally, purchasers can contrast the house with nearby yards. Buyers can be wary if a house is the least desirable in the community when compared to other, more alluring offerings. It might be a mistake to neglect curb appeal in markets where competition is fierce.
TOP TIPS FOR INCREASING CURB APPEAL OF YOUR HOME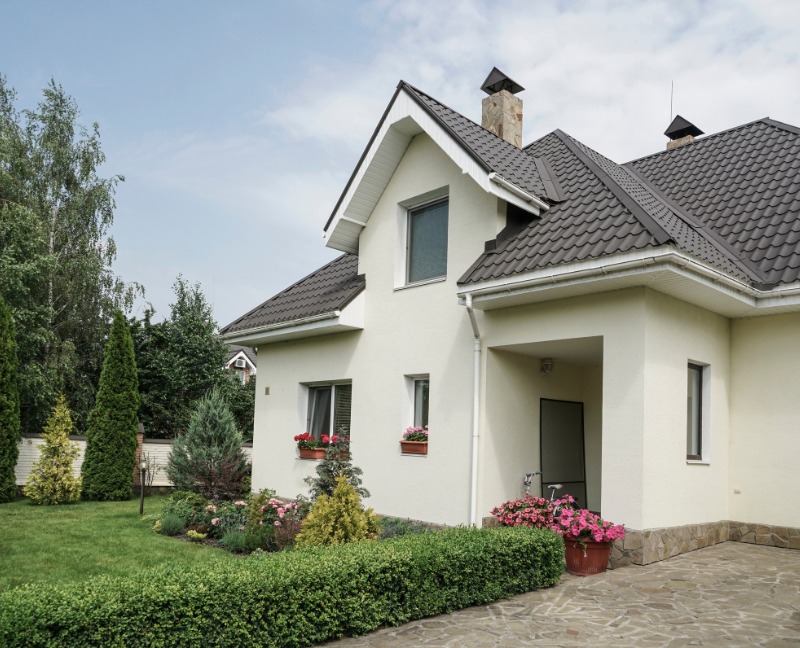 The best part about curb appeal is that it's simple to improve with a few relatively few changes. Here are six strategies to raise your home's curb appeal:
1. Grass, Gardening, and Trees
If the exterior of your property is a disaster, spending your entire budget on inside improvements is useless. The state of the lawn, landscaping and any other greenery close to the front of the home should serve as the foundation for your curb appeal. You can make landscaping upgrades as simple or as complicated as you like. The grass is a good place to start, then move on. The property appears outdated, burned down, and uncared for.
Most of the time, the solution is as simple as sowing some seeds and watering the lawn for a few weeks. If the issue is more serious, you might want to think about installing sod or fake grass. You might also want to concentrate on the region that is closest to the house. Bushes that are overgrown or withering are unsightly.
As a result, they need to be cut back or eliminated. Mulch is another area that needs updating. The façade of a building can be radically changed by adding a fresh covering of mulch. Drive down your street and pay attention to the first feature that sticks out when you pull up to get a thorough sense of the home's curb appeal. Other people will also notice these things.
2. Roof Of The House
You should also consider your property's physical condition, specifically the house's roof, in addition to enhancing the landscaping. Few aspects will either turn away or entice potential buyers more than a home's roof, even though it is not often thought of as its most attractive feature. If the roof is old and just has a few years remaining, replacing it and attempting to sell the house for a better price will provide you with a return on your investment.
Unless they are receiving a terrific deal, buyers won't want to spend their own money on a new roof once they have moved into a house. The likelihood is that they will make a lowball offer if they anticipate needing a new roof shortly.
The color of the roof also counts. The temperature in your attic can vary significantly, typically by 20 to 40 degrees, depending on the color of the shingles on your roof.
As light hues tend to reflect sunlight and make your home cooler, lighter shingles perform better in warmer climates. On the other hand, dark shingles absorb heat, making them ideal for colder areas. They also have a tendency to hasten the melting of snow.
Of course, style. Lighter hues complement light-colored homes the best. On the other hand, dark hues complement homes of similar hues well.
3. Outside Of The Building
You must consider the siding and exterior of the building in addition to the roof. Don't ignore something that seems unclean from the outside. Although it won't take long, power cleaning your property's siding or deck can make a significant difference. Imagine that you are attempting to sell a dirty car. Selling a clean, well-kept car is considerably simpler than one that is unclean. If you want to sell your house, the same applies.
4. Driveway
The driveway is another outdoor space that gets disregarded frequently. Your driveway doesn't need to be replaced or resealed, but it also shouldn't be in disrepair. Your property won't look its best if your driveways are overgrown or have cracks in them. The solution is as simple as a bottle of weed killer and twenty minutes of work. Make sure to only touch up the areas that require the most attention if you're on a tight budget.
5. First Door
When you enter your home, what is the one thing you can hardly avoid seeing? Your front door holds the solution. Check to determine if a new coat of paint will be sufficient to give the door an updated look before completely replacing it. A new door is unquestionably money well spent and will have an outstanding return on investment if you're seeking a more long-lasting solution.
6. A Few Extras
There are a few additional areas you should address to enhance your curb appeal if you want to offer yourself the best chance to rent or sell your property. Consider what parts of the house need to be updated. Examine the current condition of your own house to determine which elements need to be updated. Remember to look out for these things:
Windows & Gutters: Gutters and windows both contribute significantly to curb appeal, whether they need to be cleaned, changed, or added.
Lighting: Curb appeal isn't just for the day. Making sure the house is just as appealing at night as it is during the day is therefore in your best interest. Install low-voltage lighting around significant landscaping components, your driveway, and sidewalks. Feel free to adorn your front porch with a decorative lamp. Your efforts will be rewarded if you use appealing lighting to illuminate your home at night.
Upgrade Mailbox: Upgrade your mailbox to improve curb appeal if it is located in front of your house. You don't need to spend a lot on doing so; sometimes, as little as $20 can go a long way. Take Note: Before installation, confirm that you are adhering to all local laws and ordinances.
Mold & Mildew: Address any mold or mildew signs immediately because they are guaranteed to turn away potential purchasers. Do your utmost to stop any sources of moisture that might be the issue, or better yet, eliminate them.
New House Numbers: To improve the curb appeal of your home, you should replace any outdated, faded, or damaged house numbers. New numbers start at just $2.00 each, but personalized plaques cost between $50 and $100. Try to match the new numerals' finish to your home's light fittings for aesthetic purposes.
Equipment: No one wants to see the tools you employ to keep your property up. To avoid confusion, place everything where it belongs. You should properly conceal everything, including garbage cans, hoses, and lawnmowers.
Coordination Of Colors: Try to choose colors that go well together while painting or choosing new ones for the exterior of your home. For instance, match the railings' stain to the front porch's dark wood stain. For a splash of color against the neutral siding, think about utilizing plants. Coordination rather than color matching can produce a fantastic overall image.
Final Notes
Now that you know all the ways you can improve the way others see your house, you probably know the benefits of curb appeal and what it can do to your home.
Some of these projects might be more expensive than you anticipated, but they might significantly affect your sales price. Although investing time and money in the interior of your home is crucial, increasing its curb appeal will be well worth the cost to draw in purchasers.