We are going to be halfway into the year, but we bet it's never too late to share with you our predictions for Indiana's real estate market this 2023. 
We know a lot of people are interested to know this so if you're one of them, sit back, relax, and keep on reading.
Indiana & Northwest Indiana Housing Market Statistics For 2020–2021
It's no secret that house prices in Indiana have risen in recent years. Let's find out more about this increase from 2020 to the present along with some observations regarding what is causing the state's home prices to rise so quickly.
Home Prices In Indiana
In Indiana, rising property prices have been a consistent trend in the real estate market. Over the past three years, home prices have risen all over the state. 
Indiana's average house sale price rose 7.9% from 2021 to 2023 on a state-wide basis. Additionally, there are larger increases in some regions. More crowded places tend to have higher appreciation rates. 
Northwest Indiana is one of the state's markets that is growing the fastest, with a significant increase in the number of homes for sale. Home prices in Northwest Indiana climbed by 11% in 2020, 10% in 2021, and 7% in 2023.
Real Estate In Indiana
Indiana property values are rising as a result of various factors. The demographic problem comes first. During the past ten years, Indiana has seen an increase of 340,000 residents. Indiana's steady economy, low levels of crime, and low taxation draw people there.
The housing market is under strain due to two additional population challenges. The first is that there are more people aged 25 to 35 than ever before. For Indiana's housing market to be stimulated, this age group is crucial. Second, there are now more individuals living alone than ever before. We consequently require additional homes, as a result.
The absence of development and new home construction over the previous ten years is the second problem. The building of new homes plunged dramatically following the Great Recession of the Aughts (the decade from 2000 to 2009). There were too many incoming buyers, but there were not enough homes built. 
Finally, the cost of housing is being impacted by the lack of infrastructure expansion. Since it would be prohibitively expensive to expand a town's municipal water and sewer services, this is most common in small towns. Due to the low taxation, it is difficult for towns, particularly smaller ones, to grow. As a result, the few remaining residences are increasing in value. 
Commission Rates For Real Estate Agents In Indiana
One of the residential real estate market trends to watch is what real estate agents are charging for their fees. Real estate commission rates have stayed high in some markets and have lowered in others. The Northwest Indiana market seems to have seen the greatest reduction in real estate commission rates.
Real estate commission rates in other parts of the state, particularly around Indianapolis, are still higher and range from 5% to 7%. The market has managed to resist some of the more recent business concepts that have emerged. OK, up till now.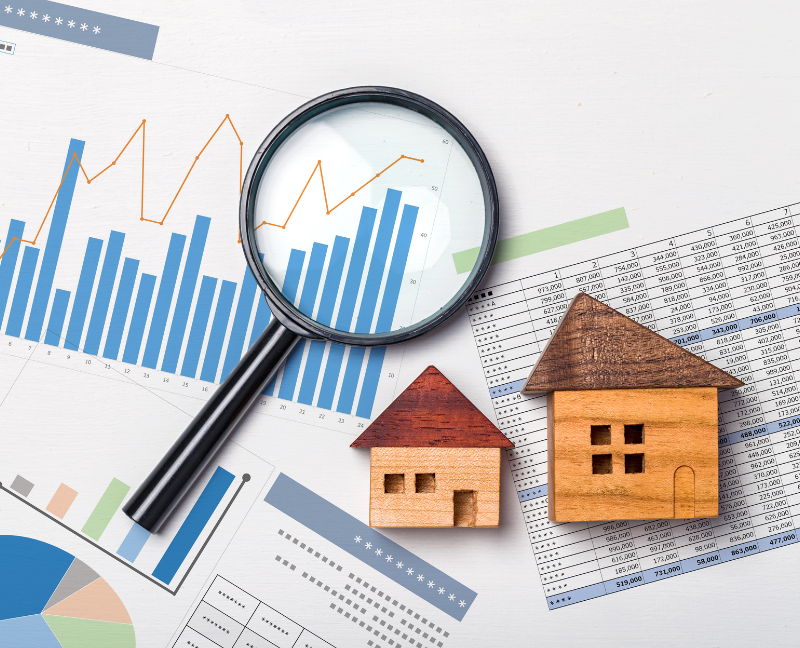 Real Estate Trends And Predictions For Indiana 2023
Increase In Home Pricing
The first prediction for the 2023 real estate market is that property prices will continue to rise in 2023. The rate of appreciation year over year will be slower, though. In general, it is expected that Indiana home prices will rise between 3% and 6% between 2021 and 2023. Inflationary pressure and rising interest rates will be the main causes of this decline. Larger homes with lots of amenities could experience a decline in value. 
Housing Supply Will Slowly Develop
Another forecast for the housing market is an increase in inventory. Two years have passed since the COVID pandemic began. Therefore, the frequency of significant life events is probably already in motion. Changes in housing are brought on by significant life events, including those that tempt some homeowners to sell and others to acquire. 
At the end of the first quarter of 2023 compared to the end of the first quarter of 2021, we found that there were approximately 30% more homes for sale in Northwest Indiana. In 2023, new residential buildings will also increase significantly. Which brings us to our next forecast.
Increase In New Homes
An overall rise in the number of new homes for sale is another trend we'll observe in the real estate market in 2023. Housing starts in the US will significantly rise in 2023. Finally, opportunities for new construction are being seen by builders. Additionally, in 2023 many of the supply chain bottlenecks that hampered the industry in 2021 will be resolved. Building more homes will begin as home builders look to seize the chance that is presented to them. 
Demand In Rural Real Estate
More people going to more rural locations is one of the current real estate market trends that will persist in 2023. Nothing about COVID, city evacuations, or any of that is relevant to this. Truthfully, not many of those widely reported headlines actually occurred. Instead, the affordable home prices in rural towns and hamlets within a 30-minute drive of larger cities make them appealing.
Home prices are rising everywhere and inflation is at an all-time high, but wages are barely rising. Prospective homeowners looking for value. In quest of affordable homes, consumers will go from a 15-minute commute to a 30-minute one. Small towns of a few thousand people within 30 minutes of a city of 30,000 or 40,000 people will frequently have the highest appreciation rates. 
Quick Increase In Mortgage Interest
Another prediction for the real estate industry is that mortgage interest rates will rise and continue to be high compared to the previous 36 months. The first quarter of 2023 will see a sharp rise in mortgage rates. Highly qualified buyers may be able to obtain a mortgage in the threes by late 2021. It was in the low fives as the second quarter of 2023 got underway. This will significantly down property prices. The purchasers and sellers of properties in the top 20% of any local real estate market would suffer the most as a result of the high mortgage rates. 
Reset In Real Estate Tech
The newest dot-com startup that is set to upend the real estate sector is one of the current trends in the market. Numerous innovative tech real estate ideas were released in 2019 and 2020. There was a lot of chatter regarding iBuyers. There were also some other avant-garde concepts. Many fell short quickly. For others, it's amazing how few stories are making the news. 
The real estate broker is still in good health. Furthermore, we go above and beyond simply opening a door, writing an offer for 15 minutes, and collecting a commission. Big tech in real estate has realized this and is probably taking a step back to reconsider how to enter the sector.
More Negotiable Real Estate Commissions
The ability to negotiate real estate commission rates is one of our favorite residential real estate market trends to follow. Some real estate agents may be more flexible regarding their real estate commission rate if there are too many agents and not enough work. While it sounds valid, we hope that consumers will continue to be aware of what real estate agents actually do to help sell their homes.
What Buyers And Investors Should Do To Get Ready For The Real Estate Market Trend 2023?
Stop attempting to time the market, homebuyers. Market timing is extremely tough and will probably end up costing you more money in the long run. In addition, despite growing inflation and mortgage interest rates, it is unlikely that home values would drop too much in 2023. 
This year, obstacles will be faced by real estate investors. The price of money will first rise. Real estate investors will be impacted by rising interest rates, rising mortgage interest rates, and hard money lenders seeking a bigger return. Second, finding properties at competitive pricing will continue to be difficult for real estate investors. This is because there are still a lot of buyers competing for homes on the market. 
What Sellers Should Do To Get Ready For The Real Estate Market Trend 2023?
Homeowners should be ready for a change in the market in 2023. Home sellers will continue to benefit in early 2023. The second half of the year, though, will provide greater difficulties. A rise in housing inventory levels was visible by mid-2022. Additionally, the number of days that homes spend on the market has been rising in almost every market. As the market grows more difficult for house sellers, those who must sell their homes should be realistic in their expectations.
Selling in 2023 would certainly be preferable for homeowners seeking to time the market. In 2023, it's expected that housing appreciation rates will return to normal. If you're hoping for the next wave of fast appreciation to happen, reconsider. Even though demand is still high, prices have decreased due to high inflation and rising mortgage interest rates.
The Indiana Real Estate Market in 2023 will conclude Through 2023, the Indiana real estate market will be stable. The momentum shown in the rest of the United States will be followed by the Indiana real estate market. However, Indiana is a resilient state; fluctuations that happen elsewhere in the nation also occur here, but not as intensely. It's a lighter swing, to put it another way.
The same issues affecting real estate in many other parts of the country are present in Indiana. Particularly, there aren't enough suitable homes for today's homebuyers. There are tens of millions of Americans between the ages of 25 and 35 who are great homebuying candidates. Indiana's age distribution is comparable to that of other states. The eager and willing homebuyers will prevent the Indiana housing market from collapsing. 
If you're looking for a new place in Indiana, our team at RE/MAX Advanced Realty is here to help!
Call us at 317-298-0961 or click this link to know more.