Are you going to be hosting Thanksgiving dinner at your house this year? If so, you are probably feeling a bit nervous, excited, and maybe even a little overwhelmed. You are looking to make this special holiday perfect and for all of your guests to be happy and full! Ultimately as much as you try to control things and have every little detail ready there will inevitably be things you miss and aren't thinking of right now. To help relieve some holiday stress here are a few little tips that can make this a holiday to remember.
1. Make a plan to tackle some cleaning: No one wants to host a holiday meal in a dirty or unkempt home. Start brainstorming a list of what needs to be cleaned, fixed, or put away. A list will help you to keep organized as well as keeping you in check for what needs to be done next.
2. Go grocery shopping now!: Don't wait until the last second to pick up your thanksgiving ingredients. Going to the store now is a good way to avoid busy stores full of last minute thanksgiving shoppers. Shopping earlier will make you feel much more relaxed when the week of Thanksgiving comes.
3. Think of the cooking utensils you might need for you and your guests this holiday: Nothing is more annoying than making a full dish and realizing that you don't have the proper plate or platter to serve it on. Before you go out and buy a brand new cooking set make sure you've asked a friend or family member if they have something you could borrow instead of digging in your pocket to buy something brand new.
4. Start cooking: It's never too early to get ahead on Thanksgiving cooking. Thanksgiving meal can be a lot to manage at once, take any opportunity you can to prepare things in advance. A few Thanksgiving food items that can be prepared before the big day include: rolls, cranberry sauce, turkey stock, gravy, and even some simple appetizers are easy to prepare a day or two before hand.
5. Buy some nice smelling candles: Everyone wants their home smelling nice when hosting family and friends. Purchasing candles is a quick way to decorate and set the mood for your holiday. Candles are inexpensive and make a great addition to any Thanksgiving centerpiece.
6. Pick up a fresh bouquet of fall flowers: Flowers make for great centerpieces at the Thanksgiving table. Flowers are also an easy way to bring bright colors and scents into your home.
7. Bust out some games for the kids attending your meal: While the kids aren't eating they will need to be entertained. Pull out the board games from the cupboard and make them accessible to your little guests. Having the kids busy will help you stay busy with your cooking and entertaining.
These are a some the ideas of The Indy Home Pros Team at RE/MAX Advanced Realty and a few ways to make your home holidays ready. Don't stop here, get creative, make lists, and most of all, be prepared!
Related Links
Our homes play a very important role in protecting us against extreme climate and weather conditions, giving us peace of mind of our families' safety and providing us all the comfort we need. If you can make your home as your family's best comfort zone, everybody will be at home right after school or work, weekends need not to be somewhere else to unwind and everyone can spend more time to each other developing stronger bonds and closer relationship. Customize your home to become your family's best comfort zone by:
Gardening. Make use of your lot space and grow some plants like flowers to make the exterior of your home more charming to look at or vegetables that can help you save and eat fresh and nutritious food or go natural using some medicinal plants for cough and for other external ailments. You can have the kids help you for them to learn the jobs of gardening and become cooperative with nature.
Landscaping. This will make your home look externally beautiful and presentable at all times. You can create the design you desire but think of the most ideal one that you would truly love or if unsure, you can search over the internet for additional ideas or consult someone professional to help you come up with the perfect landscape. This will let you and your family enjoy the refreshing ambiance and feel the relaxing environment just right in your home.
Interior Designing. This will surely make your whole family fall in love and proud with your home. Be creative and design the rooms according to everyone's life-style and interest. Arrange objects to maximize visual appeals. Make sure that your design is carefully thought to make the room look organized, inspiring and harmonious. A look that brings calmness, relaxing thought and delightful view. Learn plenty of ideas and the DIY online to wonderfully improve your home.
We should love our home. How it looks can reflect our attitude and the ways we live. Make your home the best comfort zone by customizing it accordingly. Every family member will feel great whenever at home if it has a comfortable environment, clean surroundings and coordinated design where they feel connected. Working all together will develop can also help you build a happier family who serves one another. Remember that " Family solidarity is the key to success."
Related Links
The Indy Home Pros Team at RE/MAX Advanced Realty has been recognized as the #2 leading All Star Team in Indiana for 2013.  Results are based on Team Sales volume only.  The Indy Home Pros Team leads all Indiana Teams based on number of transactions with the runner up nearly 800 shy of the Teams 1829 closed transactions for 2012 and 2013.  Sales are up for 2014 and we would like to THANK all our current, past, and future clients!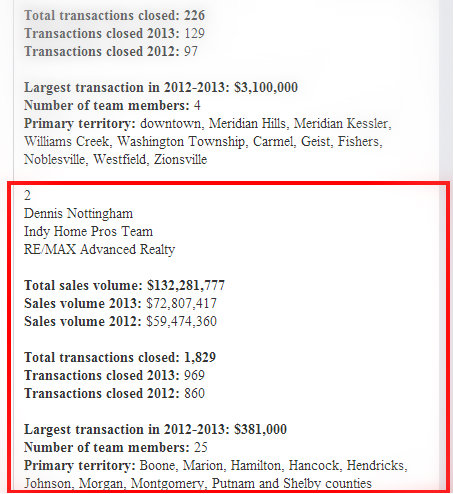 Related Links