In the quest for your ideal home, we bring you an exceptional selection of residences that perfectly balance charm, luxury, and affordability. These reduced-price listings offer not only the picturesque living spaces you desire but also incredible value for your investment.  From lakefront retreats to cozy suburban havens, these listings offer the perfect blend of comfort, style, and affordability. Let's dive into these remarkable opportunities: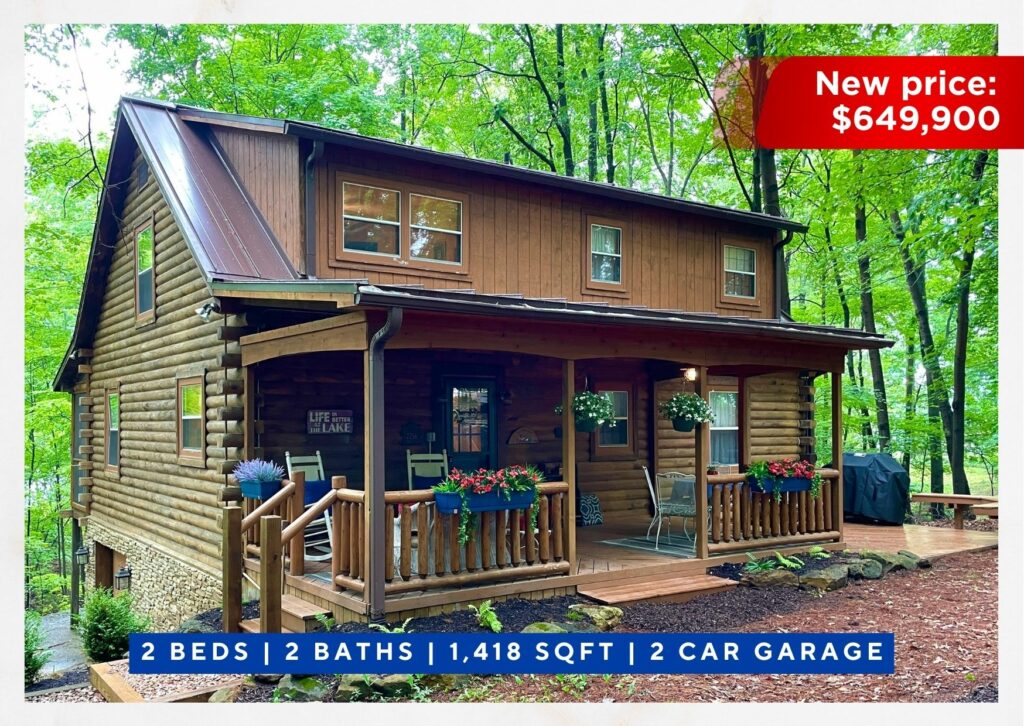 Listed by Rob Campbell | (317) 695-1315
Indulge in the allure of lakeside living with this enchanting log home by Lamb Lake. Featuring a covered porch and a screened area with a lake view, this turnkey haven offers a serene escape. Custom kitchen cabinetry, stainless steel appliances, and an open layout define the heart of the home. A 2-story ceiling, built-in cabinets, and a cozy fireplace elevate the living experience. With a party deck, covered boat lift, and more, this property is a true gem.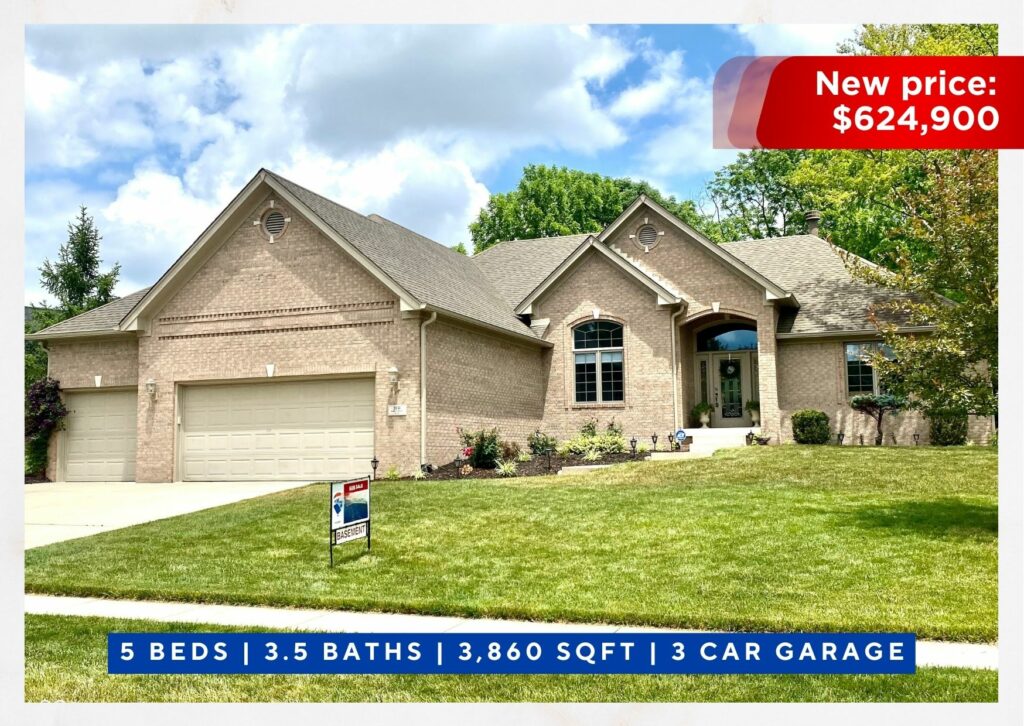 Listed by Rob Campbell | (317) 695-1315
Experience unparalleled elegance in this meticulously maintained custom ranch. A spacious kitchen with granite counters, cherry cabinets, and SS appliances sets the tone for culinary delight. The sunroom opens to a garden-like backyard with a firepit for cozy evenings. Indulge in the luxury
of a tray-ceiling master suite, additional bedrooms with a Jack N Jill bath, and versatile living spaces in the lower level. This is your dream home in waiting.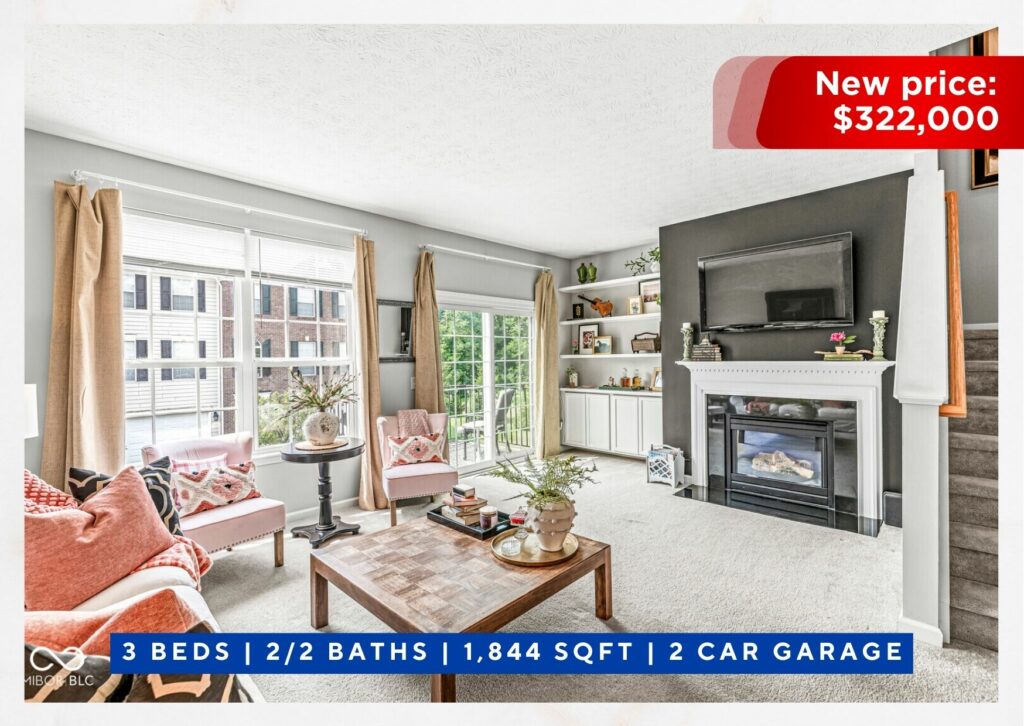 9010 Mercer Dr, Fishers, IN 46038
Listed by Jeff Cloyd | (317) 775-8600
Unlock incredible savings with an assumable 3.375% mortgage in the heart of Fishers. This professionally designed townhome showcases 3 bedrooms, 2 full baths, and 2 half baths. The updated kitchen is a chef's paradise, and a family room with a gas fireplace adds a cozy touch. Ensuite bedrooms with walk-in closets provide comfort, while the Nickel Plate Trail offers outdoor adventure. Your furry friends are welcome too!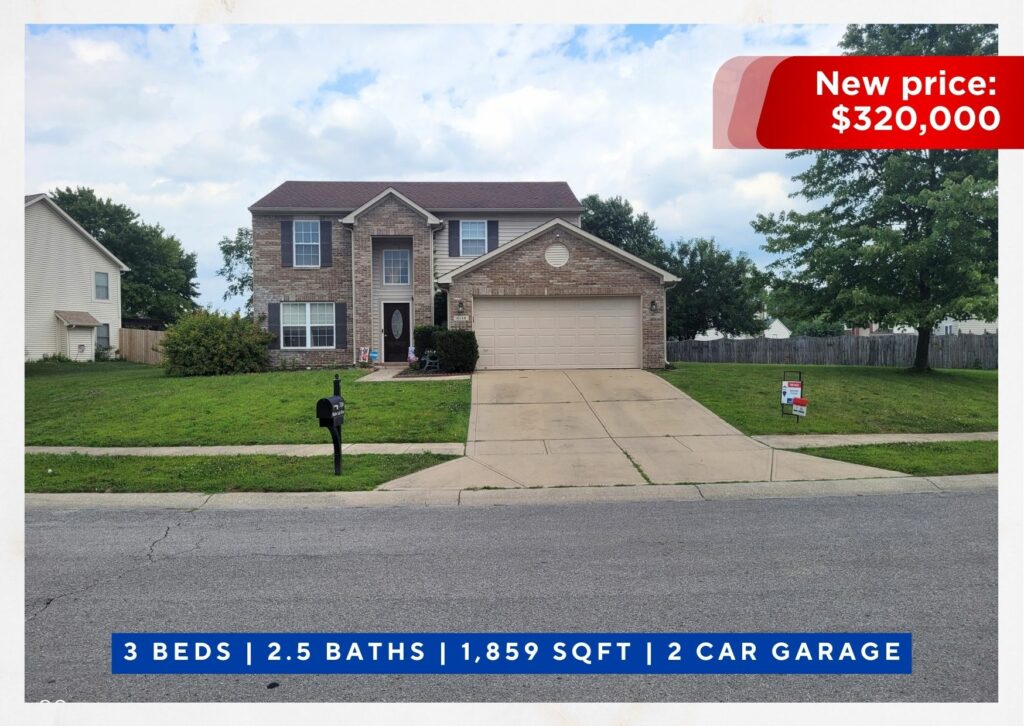 Listed by Doug Davis | (317) 506-8887
Highly appealing two-story home on an expansive third-acre lot with ample spacing between neighbors, boasting an inviting open entry, sizable formal dining, and a contemporary open-concept kitchen connected to the great room. Abundant countertops, cabinets, island, and walk-in pantry complemented by newer appliances and updated fixtures, ensuring a turnkey experience. The upper level offers a versatile loft, perfect for family, office, or creative use. The master bedroom features elevated ceilings, a luxurious soaker tub, separate shower, dual sinks, and a walk-in closet. Bonus storage beneath the stairs and a well-appointed laundry room. Enjoy the outdoors on the open backyard patio, all set for immediate occupancy, with newer lower-level flooring.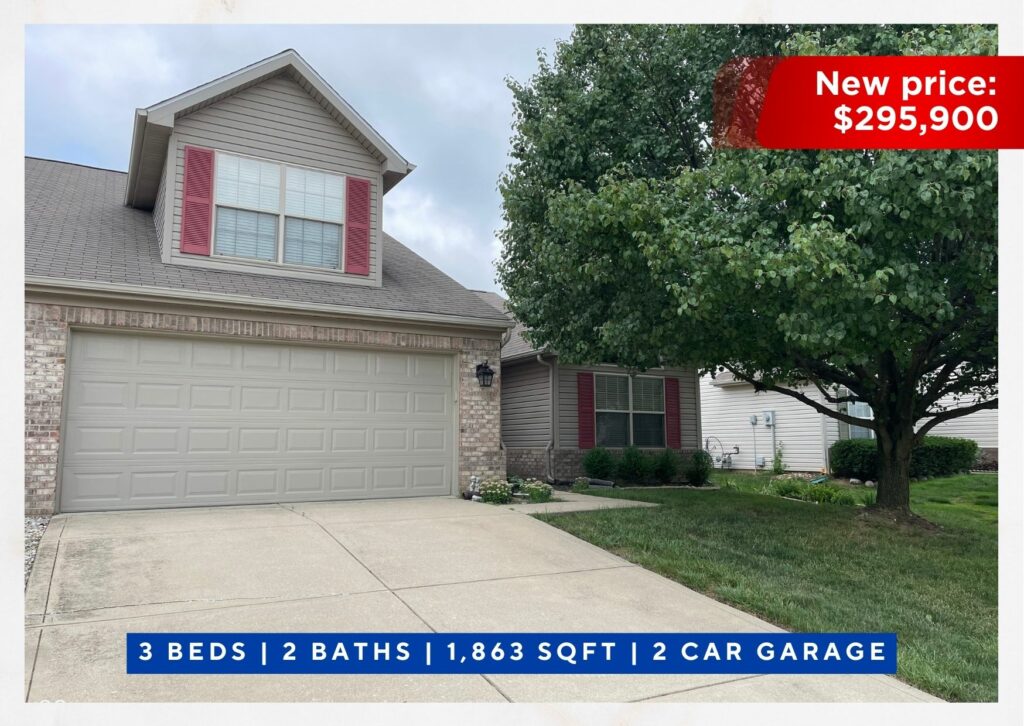 Listed by David Cook  | (317) 319-7895
Discover spacious living in the sought-after Crooked Bend subdivision. This 3-bedroom patio home boasts an open floor plan, built-in shelves, and a double-sided fireplace. The upper bedroom offers versatility as a loft, playroom, or exercise space. With meticulous care and a new roof, you can enjoy worry-free living while the HOA tends to lawn and snow removal. Convenience and comfort await.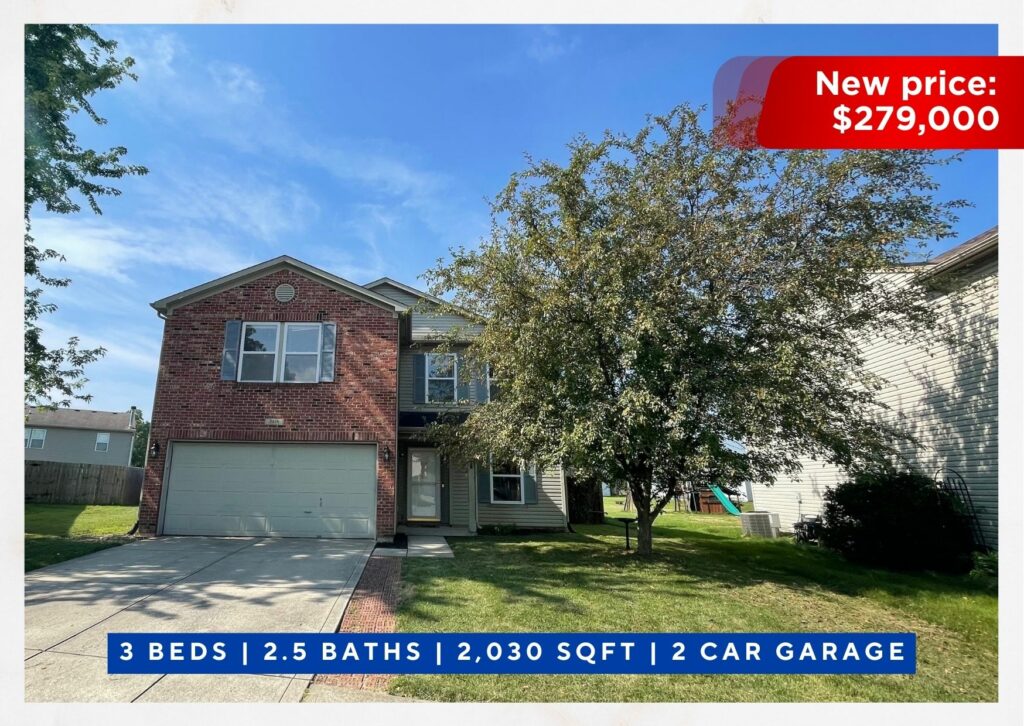 Listed by Mukul Khanna | (317) 203-9593
Embark on a journey of comfort and sophistication in this splendid 3-bedroom residence. A spacious living room and family room cater to relaxation and entertainment. The expansive kitchen with a commercial-sized refrigerator and stainless steel appliances is a culinary haven. Generous bedrooms provide individual sanctuaries, while the fenced backyard beckons outdoor gatherings. Avon school district adds to the allure.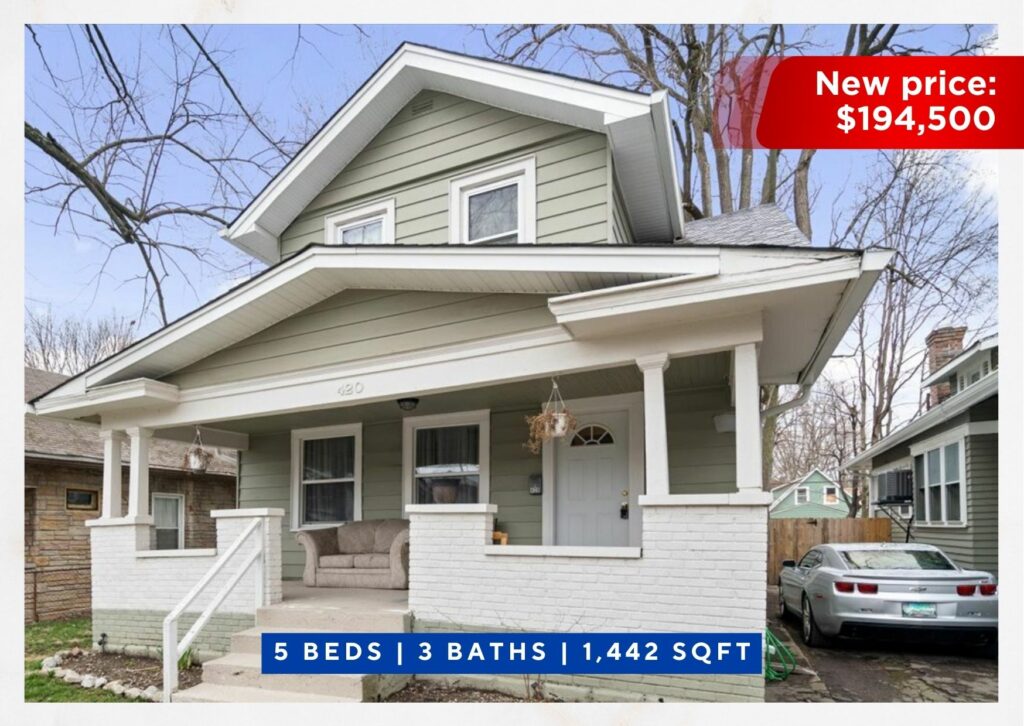 Your move-in-ready dreams come true near downtown Indy. Updates within the last 4 years include HVAC, Water Heater, Plumbing, Electrical, Windows, and Flooring. The oversized covered front porch offers relaxation, while the finished basement with a full kitchen, bath, and bedroom offers versatility. Embrace this opportunity today.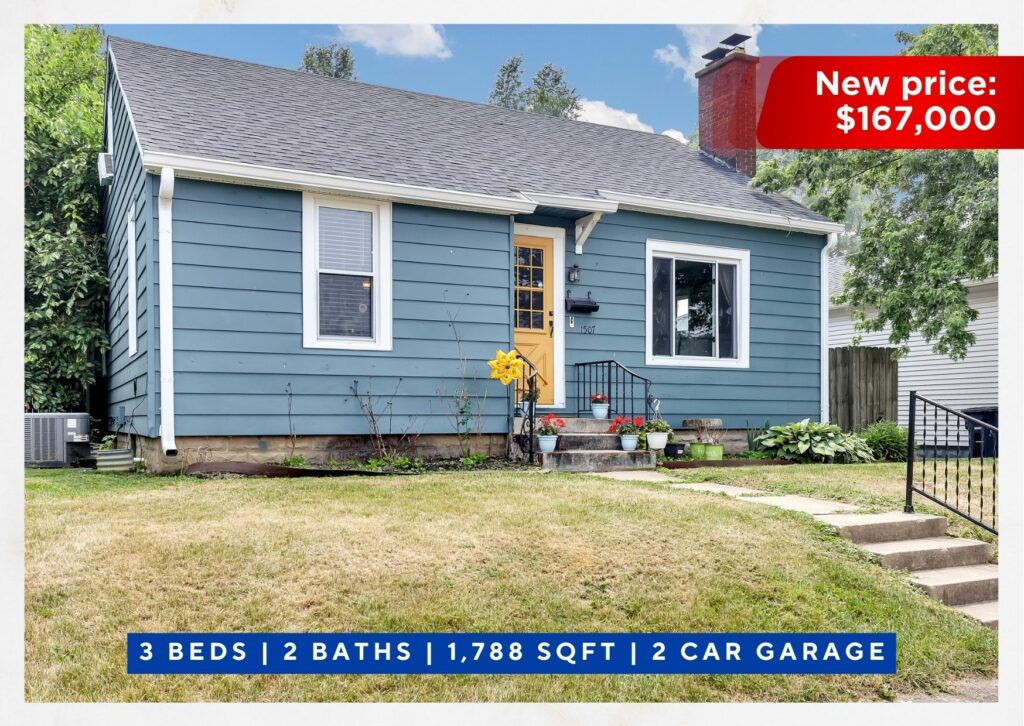 Unveil hidden space in this 3-bedroom gem boasting an office/den, dine-in kitchen, large basement, and more. With luxury vinyl plank flooring, an ensuite primary bedroom, and abundant potential, this property offers flexibility and style. Enjoy the patio, fenced backyard, and the convenience of a detached two-car garage. USDA loan eligibility opens doors to your homeownership dreams.
Discover your perfect abode among these enticing price-reduced listings. With homes that merge elegance, comfort, and value, you're closer than ever to finding the haven you've always dreamed of. Reach out to the listed agents and seize the chance to transform these houses into your very own home sweet home.
Contact
RE/MAX Advanced Realty
now at

317-298-0961 

(West office) or
317-881-3700
(Greenwood Office) to schedule showings, ask questions, and take the first step toward owning one of these amazing properties! 
When thinking of the Hoosier state, many think of Indiana's robust auto industry, corn fields, or Colts. However, real estate investment in Indiana has become popular. This Indiana real estate market guide will show investors why this attractive Midwestern state must be part of their investing plans.
Brief Background Of Indiana
The Circle City, or Indianapolis, blends the buzz of the Big City with the rustic charm of the Midwest. Additionally, it has fantastic cash-flowing assets and a sizable expansion ceiling. Real estate analysts praise its ongoing growth and robust rental market.
Indianapolis homes are in high demand due to investors from other states. According to HousingWire, Indianapolis is where remote real estate investors rank highest for having affordable real estate and larger profits.
Before investing in any real estate, many details need to be figured out, and here is the investing guide for Indiana's real estate that you can consider:
Benefits Of Making An Investment In Indiana
Indiana is not the first place people think of living. If you look deeper, it's no wonder that this state has new inhabitants and property investors seeing Indiana as a place to invest and expand their fortune through real estate. Indiana is worth considering if you want a change of scenery, a new house, or a rental property.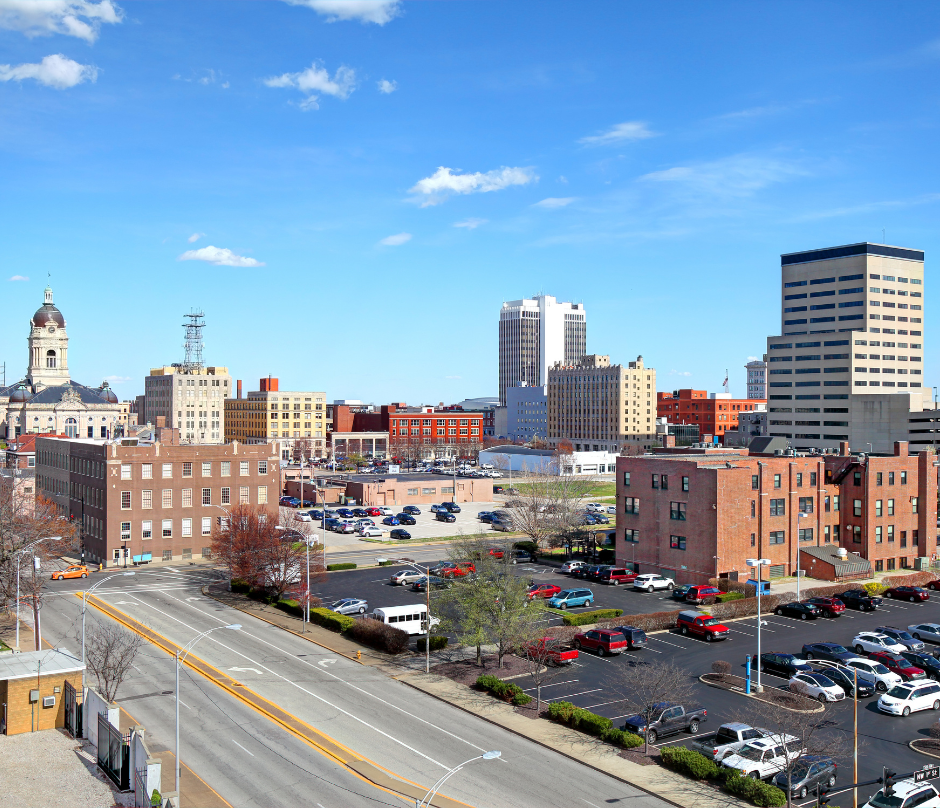 Population Growth
According to the World Population Review, Indiana's population is 6.8 million, up 300,000 from 2010. As the population grows, real estate values will rise. Indianapolis, the 15th largest US city, is also desirable. Fort Wayne, Evansville, Carmel, and South Bend are Indiana's four most populated cities.
The Diverse Economy
A diversified economy can be found in Indiana. Healthcare, logistics, the public sector, and technology are a few sectors that are essential to Indiana's economy. The state is also home to several reliable businesses. However, the 100 most prominent companies in the state include Go Electric, Anthem, and numerous others.
Job Growth
Indiana has a high job growth rate, which is advantageous for those looking for new professional prospects. However, many of these people will also need new homes. In terms of job growth, Indiana is in the lead. The market has increased by 2.5% in the past year, putting the state at 4% over the national average.
Friendly To Both Businesses And Real Estate Investors
Low taxes make Indiana a business-friendly state. Indiana is also a landlord-friendly state. Landlords can raise rent with a 30-day notice. State landlords can levy security deposits, late fees, and deductions. Ten days for not paying rent, landlords can evict tenants, making dealing with the delinquent tenants easier.
High Occupancy Rates
Indiana has a high occupancy rate, meaning tenants or their owners occupy most homes. The vacancy rate in Indiana is about 8.7%. A high occupancy rate indicates a steady market in the state, which increases the likelihood that your prospective property will be quickly rented out after you invest.
Conclusion
It's important to remember that Indiana has cost-effective homes, enabling landlords to charge affordable rates and fostering a steady rental market for those looking to invest. Indiana's real estate investing trends encourage expansion for a growing state. 
RE/MAX Advanced Realty just listed the Iconic Mug-n-Bun for Sale! This vintage drive-in has been serving fine food on Indy's West side since 1960. Located just a stone's throw away from Indianapolis Motor Speedway, Mug-n-Bun has been a staple to the community for 63 years. They have served generations of Speedway diners, including race lovers, tourists, and Hoosiers.
Featured on an episode of the television series Man Vs Food,  Mug-n-Bun Indiana is well known for their burgers and homemade root beer . They also serve tenderloins, hand-dipped onion rings, milkshakes, and healthier options like grilled chicken, salads, plus so much more! Mug-n-Bun has something for everyone, and one can eat however they want with their various dining options - In car service for the drive-in traditionalists, at their outside picnic area, or at their indoor seating.  They also accept call-ins for pick-up orders and offer the option to rent their facilities for special events.
Currently owned by master electrician Jay Watson, the business was purchased 23 years ago as his retirement project. Now that he is 63, he decided that he is ready to get out of the restaurant business, hence the decision to put the booming restaurant business up for sale.

Listed at $2,199,000 by RE/MAX Advanced Realty's top commercial agent Keith Turnbill, 5211 W 10th St. Speedway, IN 46224 is located right at the heart of Speedway on nearly 2.50 acres.
The sale includes:
The drive-up restaurant
A sit-down restaurant
A pizza shop
A residence
Plus, all the restaurant's equipment, furniture, and fixings.
All that one could need to keep the business running.
In an Interview with Indy Star, Mug-n-Bun owner Jay Watson said that he is proud of both the service and delicious food they have served throughout the decades.He hopes that whoever buys the Mug-n-Bun will continue the business. If there's one piece of advice he can give to whoever buys his business, it's the same advice he received shortly after taking over. "Don't change anything" If ain't broke, don't fix it.  With over 3000 positive Mug-n-Bun reviews  on their google page, many agree with Mr. Watson.
Have you already dined at Mug-n-Bun in Indiana and tried the Mug-n-Bun special? What are your favorite dishes?How do you feel about the sale of this iconic Drive-in in Speedway? What's your favorite memory while eating at this diner? Leave your thoughts in the comment section below!
If you have any real estate related questions about the listing, contact RE/MAX Advanced Realty Greenwood Office's Head of Commercial Division, Keith Turnbill at 317-626-0800 or drop by our office at 65 Airport Pkway Ste 140 Greenwood, IN 46143
How do we really determine a successful living? And what are the factors behind that would help someone achieve it? The ways that a family practices at home can greatly affect the life of the children in the future. Parents must set the examples that their children may adopt and posses the right attitude. Here are some ideas on how you can build a happy home and also evaluate your progress in achieving a successful life.
1. Learn To Prioritize. Clear up your way and learn to distinguish your needs from your wants. By doing this, you will be able to organize things and act upon them accordingly. It would be easier for you to decide and can accurately accomplish the work since you are not so overwhelmed with all your to do's.
2. Believe In Yourself. Do not be hesitant to share your ideas and opinions. Optimism towards the things you do will not just trigger you to pursue. With this attitude, you can inspire others to be positive as well. People around you will then support you due to the efforts you exert and the passion you show.
3. Display Perseverance. Failures are part of our lives. These would help us learn to become mature and be molded to a better individual. You will surely come out on top if you never give up. What is important in this is that you have earned the wisdom and knowledge that would come in handy for you to apply when a new opportunity comes.
4. Contentment. This is where you can measure success. It is the stage of your life wherein your desires are confined and satisfied. Once you feel the fulfillment in every area of your life and have no regrets with the decisions you have done, then for sure you are already cherishing true happiness and success.
Achieving true happiness can never be reached by anyone alone. We need each other to help hand in hand, learn how to properly deal with any situation and start giving hope and sharing happiness to those around you especially to your loved ones. A home plays a very important role in molding a someone's personality and attitude. So always display love at home since a person's success starts at home.
Related Links
Like any other businesses, the real estate industry has its own key in order to achieve success. Professionals inclined with this job do not just merely assist you in selling or buying a home. But they do it with passion, display optimism and ensure accuracy.
A Realtor who is passionate about his work can be easily determined. It is when he is pro-active in suggesting ideas which is truly helpful, considers the situation to properly engage and come up with the right resolution and always excited to do things for the your convenience and satisfaction. In this way, you and the agent build up a relationship which would make you both comfortable in working things out together. The real estate agent should also have a positive attitude and perspective where he would be hopeful and take actions to close the deal within the given time-frame. He also needs to be meticulous when it comes to paper works to make sure that all pertinent information is provided and 100% correct. This would avoid confusions, delays and conflicts as your transaction progresses.
A successful transaction depends on the amount of effort that you and most especially the agent is exerting and dedicating. This includes the time you give in conducting open houses and/or showings and in reaching out to all potential buyers you can. These attributes have been practicing by the Indy Home Pro's Team leading them to meet client's expectations, bringing great achievements in the real estate industry of Indiana to remarkably boost.
Related Links
Just listed at 120,000 located in Avon Community School system 1515 Danielle Drive Indianapolis Indiana REMAX.  Home features 3074 sq ft of open living space 3 bedrooms and 2.5 baths home was built in 2006.  Home is HUD owned and can be purchased for as little as 100.00 down!  Call The Advanced Realty Team at 317-298-0961 for showings!  Let us show you how to roll in the cost of improvements with your loan! 1515 Danielle Drive Indianapolis IN 46231