Fitting your belongings into a limited area can be difficult and irritating; however, leaving them outside can make your home feel and look cluttered.
Why not offer yourself peace of mind by decluttering? After all, studies have shown that a cluttered home can contribute to anxiety. Below are easy organization tips for small places.
Must-Try Small Space Storage Solutions
Here are the three small space solutions you can try at home:
1. Kitchen Decluttering
Kitchen counters can often be the messiest area of a home. Several quick small space storage solutions are:
Maximize Your Vertical Space: Hang spices or wine glasses beneath cupboards, add hanging pot racks, mounted dish-drying racks above the sink, and poles with hooks for towels, aprons, etc. These are amazing clutter-organizing methods.

Hooks And Holders Should Be Attached To The Backs Of Cabinet Doors: It will help keep foil or cleaning products organized and stored.

Store Appliances: This includes appliances like blenders and toasters. When not in use, keep them in the pantry or lower cabinets.

Consider Storage Space When Buying For Groceries: Costco-sized goods aren't the best fit for small areas.

Consider A Kitchen Island: Even the smallest space can use a microwave cart or

butcher-block island

. Consider a compact cart with wheels to add counter space and storage anywhere.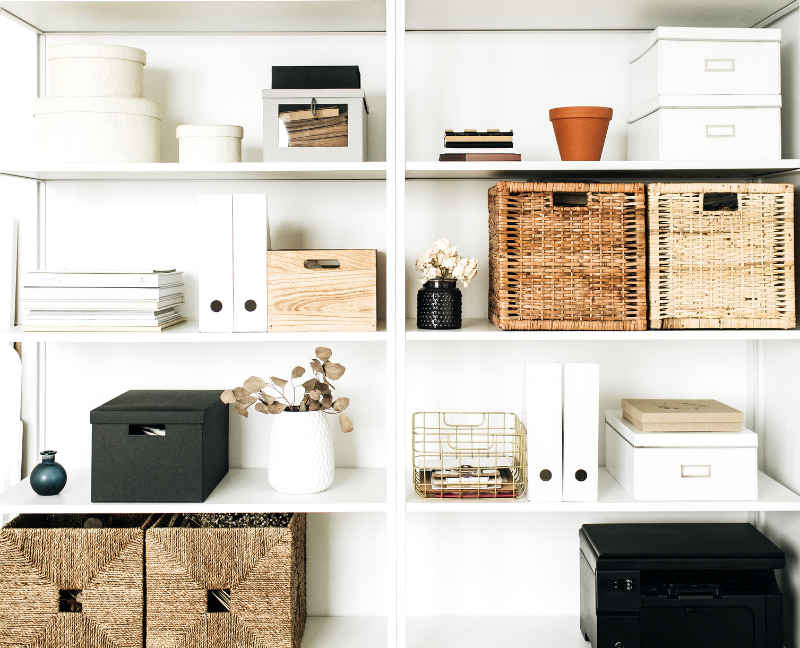 2. Find Space-Saving Items
Unexpected places can offer storage opportunities. Unexpectedly, there is more space behind the door. A storage gold mine can be found under the bed. Space-saving solutions that are frequently used include:
Utilize The Whole Closet: A lot of space is often present behind and above your hung clothing.

Look Behind Doors: Try behind-the-door hooks or pockets. They can store jewelry, hair dryers, dog leashes, cosmetics, cleaning materials, and shoes.

Utilize The Space Under Your Bed: Store off-season clothing and linens under the bed. Use vacuum storage bags and a vacuum cleaner to remove the air. Your goods will shrink dramatically and be protected.

Look Up: The ceiling or the upper half of the wall can be a great place to hang more oversized items like bicycles.

Spend On Furniture That Has Two Uses: 

Think Vertical: Items in bins or baskets can be kept on tall shelves.
3. Minimize Your Things
If you have limited storage, minimizing often can be helpful. As you organize or find a home for your items, consider these basic letting-go methods:
Think About The Usability Of Your Item: Consider whether you've worn or used it in the past year.

Find Uses For Sentimental Things Of Value: Ask yourself if you can paint tiny furniture or household items to match your decor. Can you digitize memories by taking pictures of stuff you can't store?

Organize Things In Piles: These include "yes" and "no" piles and piles for charity, family, friends, and online sales.

Schedule Seasonal Or Monthly Minimizing Times: To avoid clutter, try the "one in, one out" strategy or donate a specified number of things each time you declutter.
These are just some small space storage hacks you can try at home. These solutions can help add space to your kitchen, bathroom, or living room. Find more content like this by visiting our website.