People yearn to have a place that offers warmth and safety, and it's evident even during earlier times.
For instance, the Stone Age people who lived in caves protected by warm fire and round wooden or stoned huts with thatched roofs that Bronze Age People lived in.
Even until now, the same principle is applied, whether it's a 10-bedroom luxury home or a 250 sq ft studio apartment.
The need for an accommodation that offers safety and coziness is essential, and is part of being human.
So the question remains: how to make your home cozy? Here are some tips that might help!
How To Make Your Home Cozy On A Budget
CREATE A MOOD
A cozy atmosphere requires candles as a fundamental component.
They don't just emit lovely, delicate lighting, but they also make the room seem cozier and smell better.
Advice: Use festive aromas to get in the holiday spirit, or pick a summery scent to chase away the winter blues, such as coconut and flowery.
BAKE! BAKE! BAKE!
The comfortable environment is centered on comfort food. However, it starts even before you bite into the cake (or cookie) or slice of pumpkin pie -- it begins with the idea of baking something good.
Go through your cookbooks or recipes passed on to you or check delectable baked goods online. Purchase the ingredients and mix them with love. The beauty of baking lies in taking time to appreciate the process at hand. The fact that your baking will fill the air with scrumptious aromas and taste good is merely a bonus.
Tip: Want to level up your skills? You can ask a friend or relative whose dishes deserve praise by asking them to demonstrate their amazing cooking skills for you. If meeting in person isn't possible, you can arrange a video call.
ADD TEXTURE AND PATTERNS
A room looks considerably more inviting with plush rugs, sheepskins, and pillows. Place as many plush textiles and pillows when you find surfaces that need to be covered, and curl up.
Tip: Don't hesitate to use faux or any inexpensive alternatives to make your place look cozier.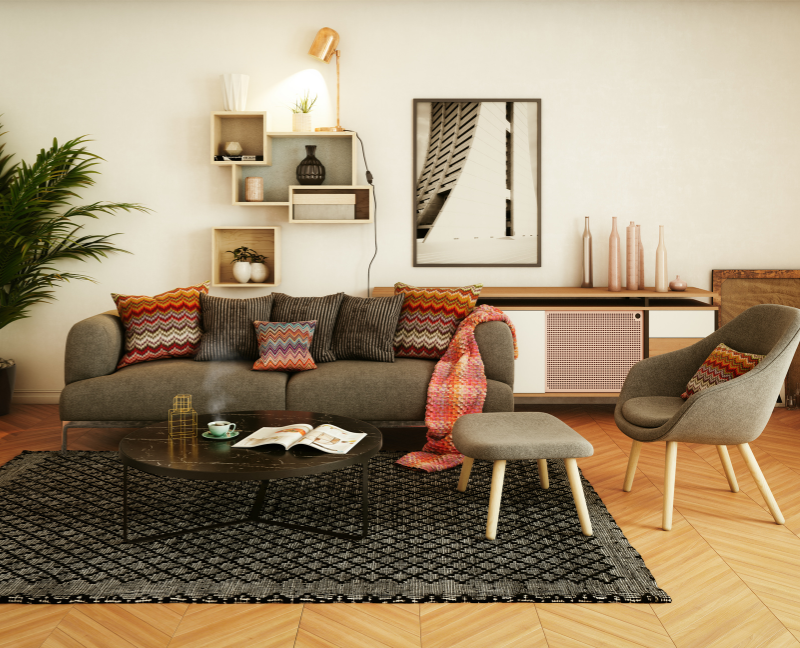 TAKE ADVANTAGE OF A GOOD LIGHTING
There's a reason why good lighting is a must when you want to make your home feel cozier. It's the key to creating the atmosphere you're aiming for.
But first, ask yourself these questions:
Are you using warm or cool bulbs?
How many light sources do you have in your room?
Do you like the design of each light?
If you don't like any of it, or if you find anything overhead lighting that's harsh, avoid it.
If you want to know how to make your home cozy on a budget, you can focus on adding warm bulbs only to places you want to feel cozy.
However, if you have extra cash that will allow you to add more or re-arrange your lights, feel free to do so.
Make sure you have enough lighting, table and floor lights, candles (ideally scented! ), and task lighting.
Make clusters of lighting on places you want to focus on and have conversations with after the sun goes down.
STIMULATE WITH PLANTS AND FLOWERS
Don't have any plants yet? This is a sign to get one (or a couple more!)
Unless it's a spider, any living thing in the house will assist create a warm atmosphere. And because they are living beings, plants provide comfort.
If you're frequently traveling, you can ask a friend or a neighbor you trust to come over and water your plants so they won't perish.
But take note: eventually, some of your plants will perish.
Don't give up; it happens to even the most experienced gardeners.
It is a step in the educational process.
Worried about spending so much? The truth is, plants can be pricey; however, there are several ways to cut costs without sacrificing a lush, green environment in your home:
Learn about plant propagation
Ask permission from store managers to gather fallen succulent leaves and propagate them. Chances are, they might say yes since they're just going to discard them anyway.
Ask your friends and family for plant cuttings
And now, fresh flowers. Colorful blossoms always add a magnificent touch in the room, and we bet every decorator or interior designer would agree to that.
Fresh flowers can stay quite a while if you're meticulous about changing the water and cutting the stems, despite the fact that it may seem expensive.
One bouquet can alternatively be divided in half and placed in several vases around the home.
USE FAUX PLANTS AND FLOWERS
Still hesitant about living plants? Want to learn how to make your home cozy on a budget with flowers?
Then try faux greenery.
There's nothing wrong with adding fake plants or flowers in your home; however, try to avoid anything that is obviously artificial.
AVOID WALLS THAT ARE TOTALLY EMPTY
Get hanging if you have absolutely nothing hanging on your walls and you're wondering why your home feels so bare.
Keeping a wall completely empty and displaying only one piece of art might already add a dramatic result.
Make sure it's intentional and not just because your wall art was an afterthought if you choose to go that way with your art.
Prints are always an excellent and (usually) affordable option if you aren't in a position to spend on original art.
These are just some ways on how to make your home cozy. If you have more tips, feel free to add them in the comments section.