To celebrate and honor the life and achievements of Dr. Martin Luther King Jr., numerous establishments in Indy are Offering Free Events and Admissions this Monday, January 16, 2023.
3000 N Meridian Street, Indianapolis, IN 46208
Phone 317-334-4000
Free Admission! Some special events may require advanced tickets.
Celebrate and enjoy special activities and performances dedicated to the achievements and legacy of Dr. Martin Luther King Jr. at the Children's Museum this January 16, 2023, from 10 am - 5 pm.
13400 Allisonville Road, Fishers, IN 46038
Phone: 317-776-6000 or 800-966-1836
Tickets are only available at the ticket desk on the Day of the event.
Celebrate Identity, Belonging, Community and Love throughout the Day
this January.
500 W Washington St. Indianapolis, IN 46204 | 10 am - 5 pm
(317) 636-9378 | Free Admission
Celebrate Martin Luther King, Jr. Day by learning about famous quotes from Dr. Martin Luther King Jr. and participating in a community art project at the Eagle Commons Hallway.
Eugene and Marilyn Glick Indiana History Center
450 West Ohio Street, Indianapolis, IN 46202
(317) 232-1882 | Free Admission | Donations Encouraged
Storytelling, service activity, musical melodies, and beats of Keisha Ballinger and the University United Methodist Church Praise Team await everyone visiting the Indiana Historical Society on Martin Luther King Jr. Day, Monday, January 16, from 10 am - 5 pm.
Those who wish to contribute to a local community project can bring new children's clothes, books, or cash donations for Charity Cares Early Academy. 
650 W Washington St. Indianapolis, IN 46204
(317) 232-1637 | Free Admission | Donations Encouraged
Celebrate Dr. King's dream and explore the story of the fight for civil rights. Learn some of Dr. King's most iconic speeches and experience activities themed around civil and human rights. 
Visitors who plan to make donations are encouraged to make monetary donations of any amount via Dip Jars to Gleaners Food Bank instead of non-perishable items.
1200 W Washington St, Indianapolis, IN 46222| 9 am - 4 pm
317-630-2001 | Free Admission
Everyone with generous hearts and a sense of adventure are invited to the Zoo! Hardier animals will be out to enjoy the Day, including Arctic foxes, sea lions, walruses, tigers, brown bears, and others. 
The Zoo is Open for Free on Martin Luther King Jr.'s Day. Donation dip jars will be on site for monetary donations benefitting Gleaner's Food Bank. Food pantry donation items will be given to The Exchange at the Indianapolis Urban League.
Walker Theater 617 Indiana Ave., Indianapolis, IN 46202
(317) 236-2099 | Free event, but registration is required.
Madam Walker Legacy Center is a 501 C3 non-profit organization and Indiana Avenue's last iconic building dedicated to promoting and supporting cultural education, social justice, entrepreneurship, and youth empowerment.
This Monday, January 16, 2023, at noon, they will be hosting their 41st Annual Day of Celebration with their featured speaker Tamika D Mallory, Time 100's award-winning social justice leader and movement strategies.
Get your Free Tickets Here!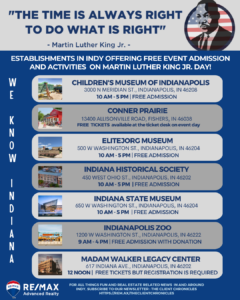 Note: We've rounded up the list based on the information these establishments have posted on their website and official social media accounts and have no control over any changes or ticket availability; we've provided links to their official website; feel free to check to confirm before going.
If you're a home buyer searching for a home, RE/MAX Advanced Realty's roster of real estate agents is READY TO ASSIST YOU FOR FREE throughout the year! Give us a call at 317-298-0961 or visit our website at www.indyhomepros.com 
RE/MAX Advanced Realty just listed the Iconic Mug-n-Bun for Sale! This vintage drive-in has been serving fine food on Indy's West side since 1960. Located just a stone's throw away from Indianapolis Motor Speedway, Mug-n-Bun has been a staple to the community for 63 years. They have served generations of Speedway diners, including race lovers, tourists, and Hoosiers.
Featured on an episode of the television series Man Vs Food,  Mug-n-Bun Indiana is well known for their burgers and homemade root beer . They also serve tenderloins, hand-dipped onion rings, milkshakes, and healthier options like grilled chicken, salads, plus so much more! Mug-n-Bun has something for everyone, and one can eat however they want with their various dining options - In car service for the drive-in traditionalists, at their outside picnic area, or at their indoor seating.  They also accept call-ins for pick-up orders and offer the option to rent their facilities for special events.
Currently owned by master electrician Jay Watson, the business was purchased 23 years ago as his retirement project. Now that he is 63, he decided that he is ready to get out of the restaurant business, hence the decision to put the booming restaurant business up for sale.

Listed at $2,199,000 by RE/MAX Advanced Realty's top commercial agent Keith Turnbill, 5211 W 10th St. Speedway, IN 46224 is located right at the heart of Speedway on nearly 2.50 acres.
The sale includes:
The drive-up restaurant
A sit-down restaurant
A pizza shop
A residence
Plus, all the restaurant's equipment, furniture, and fixings.
All that one could need to keep the business running.
In an Interview with Indy Star, Mug-n-Bun owner Jay Watson said that he is proud of both the service and delicious food they have served throughout the decades.He hopes that whoever buys the Mug-n-Bun will continue the business. If there's one piece of advice he can give to whoever buys his business, it's the same advice he received shortly after taking over. "Don't change anything" If ain't broke, don't fix it.  With over 3000 positive Mug-n-Bun reviews  on their google page, many agree with Mr. Watson.
Have you already dined at Mug-n-Bun in Indiana and tried the Mug-n-Bun special? What are your favorite dishes?How do you feel about the sale of this iconic Drive-in in Speedway? What's your favorite memory while eating at this diner? Leave your thoughts in the comment section below!
If you have any real estate related questions about the listing, contact RE/MAX Advanced Realty Greenwood Office's Head of Commercial Division, Keith Turnbill at 317-626-0800 or drop by our office at 65 Airport Pkway Ste 140 Greenwood, IN 46143