The solution to your storage is to organize your garage. The garage could be the answer, whether your home is overflowing with clutter or needs more storage space. To make the most of this area, you will first need to bring order out of the anarchy that now exists in it.
This should be simple if you implement the best way to organize your garage storage. You can turn your garage from a disorganized dumping ground into a practical and well-organized annex to your home with careful design and a little bit of hard work.
The Best Way To Organize Your Garage Storage
1. REMOVE AND RESOLVE
You need to discard the unwanted items first. Then after cleaning up your garage, organize everything into groups. Garden tools and sports equipment should be kept together. Put similar goods in clear plastic containers with lids. Use opaque bins, but mark them. Handy stackable containers. They protect your items from insects and rodents, enhance floor space, and reduce aesthetic clutter.
2. VARIOUS STORAGE SOLUTIONS
Getting items off the floor is essential for organizing and storing them in the garage. Wall space allows you to pack the most into your garage while keeping everything accessible and visible. Depending on your storage space, project budget, and personal tastes, you can choose different types of wall storage. The following storage solutions are popular choices among homeowners.
Pegboard: It is cheap and simple to install. As long as it's not too heavy, it can fit with various hooks, clamps, bins, and shelves to store and organize almost anything.
Open-Shelving: Whether wall-mounted or stand-alone, they are inexpensive, adaptable, and user-friendly. 12- or 16-inch-deep shelves can also hold larger goods, depending on the structure.
Closed Cabinetry: If you keep your car in your garage, cabinets with doors could be best because you won't have to see paint cans and waste bags daily. Cabinets come in many materials and styles but are usually more expensive. Cabinets work best with other storage systems because they cannot hold huge goods.
Panelized Systems: Walls are covered in panels that hold hooks and shelving. Panelized systems are stronger than pegboards. However, licensed personnel must install patented items; thus, strength and utility come at a premium.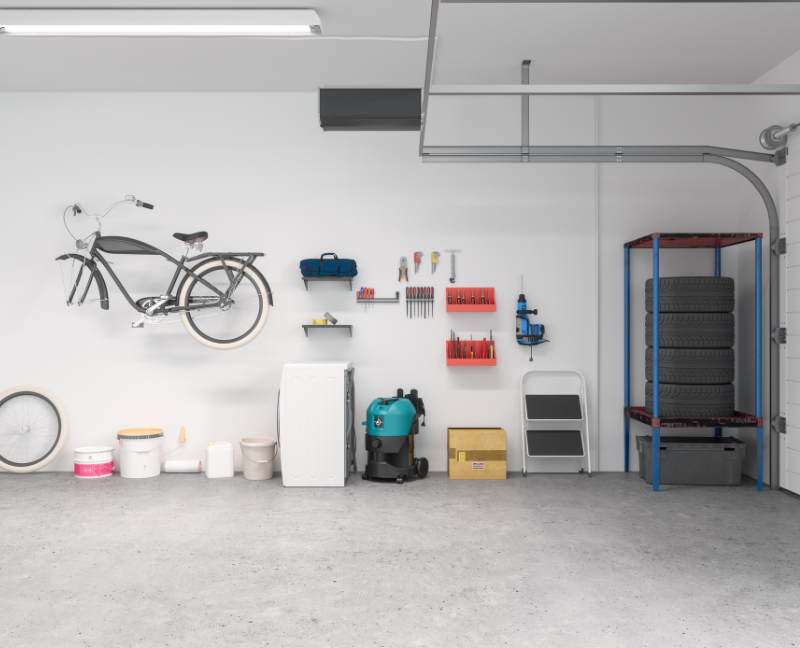 3. USE YOUR CEILING STORAGE
For seldom-used items, the ceiling is great storage. Clips or straps on the ceiling joists can hold ladders and seasonal gear. You can also use hoist pulley systems, which work like window blind cords. The ceiling storage must be arranged, so it does not block or get in the way of the garage door.
Note that positioning items to be stored thoughtfully and strategically is a key component in efficiently using the available space. Safely organize your garage.
Keeping flammable liquids like gasoline and propane in the garage is dangerous since even the slightest spark could start a devastating fire. Keep fertilizer and pesticides out of reach if you have kids or pets. Locked cabinets are ideal for poisonous materials like power tools and sharp objects.